Form your table
Ergonomic. Stylish. For you!
Designer tables made of wood
Tables from form.bar are real designer pieces, because they can be individually adapted - by you! You can adapt the table perfectly to your room. The unique 3D table configurator allows you to choose the form, color and measurements of your furniture. With the characteristic wood look of the edges and the real wood veneered surfaces the tables provide a particularly cosy and homely atmosphere. A special highlight are the stylish table legs which you can choose according to your taste. With a table from form.bar you get a very special designer piece for your home.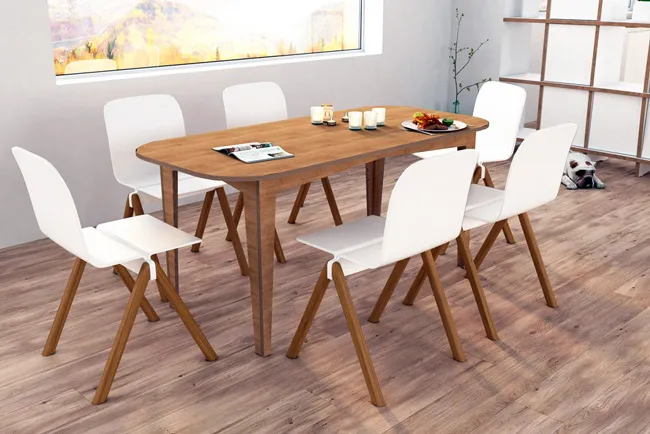 Made to measure by master craftsmen
Regional carpenter quality with tradition
Your individual table will be manufactured according to your measurements, which you choose yourself in the 3D table configurator. One of our master carpenters takes over the production. The network already has more than 50 partners throughout Germany. In addition to these, there are other carpenters in Austria, Luxembourg, Switzerland and Italy. Your furniture is thus produced regionally in your vicinity, thus avoiding long delivery routes. Our carpenters manufacture your furniture with highest precision and years of experience. This is how you get a Made-to-measure furniture of the highest quality through loving hand finishing.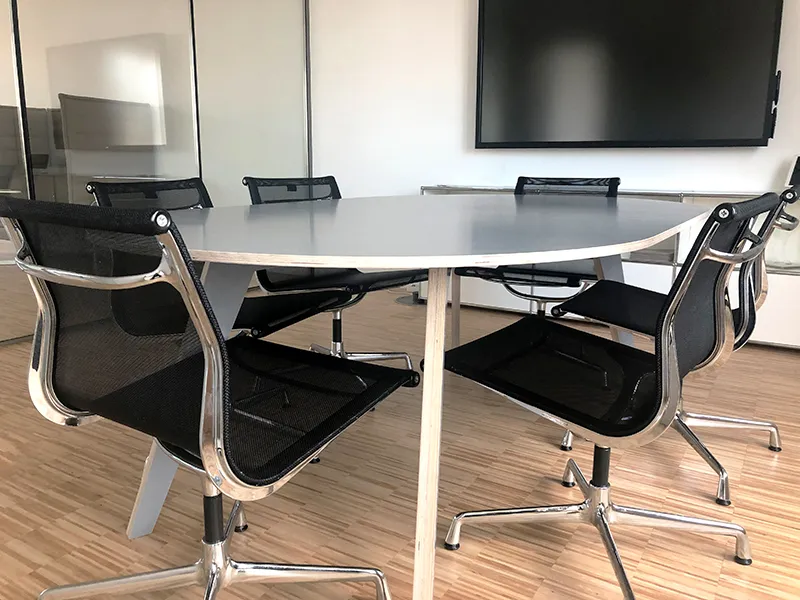 Individual tables made to measure
Create your own unique table
A table is more than just a shelf or food tray. It is where friends come together. This is where new taste experiences are celebrated. This is where magical ideas are born. But each room has its own individual floor plan. But tables are often only available in standard sizes. This means that valuable space is wasted or the available space is not used optimally. But a table is so important. We spend a lot of our life here. It should fit us and our room perfectly.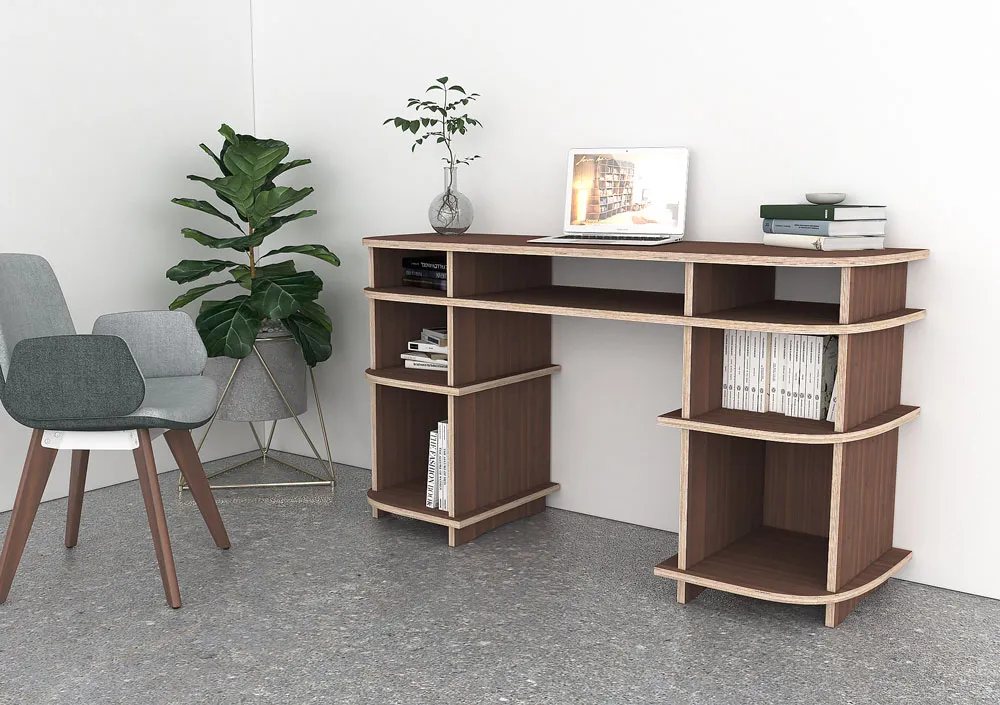 Every room is different.
Tables, too, at last!
Configure tables with form.bar
Digital design made easy
You like unusual furniture? Then you will surely find what you are looking for. With form.bar you are able to design your own custom-made table in just a few steps. In our table configurator you can adapt the design of your individual table to your needs. In addition to desks, dining tables and couch tabes, you will also find table tops that you can adapt to your table frame. Individual dimensions allow you to plan to the centimetre and make the best use of your space. But our tables are not only especially valuable from a pragmatic point of view, because you can also adapt the design with form.bar. An attractive range of materials and colours allows you to integrate your designer table harmoniously into the room. And even the table legs can be changed and independently from the table top.
Planning tables to measure
With our intuitive table configurator, we are expanding our furniture range with attractive tables. In just a few minutes you can reach the goal of your configuration and have your table in the 3D view. So you don't lose any precious time and can view your table creation interactively from every imaginable angle. Step by step we guide you through the important details of your table - incomparably simple and fast. In addition to obvious features such as the measurements or the colour, you can also determine how far the table legs are from the the edge of the table should be removed. Legroom plays an important role, especially with dining tables or desks. You have the choice between two different frames. Both are appealing and stylish - it is up to you to decide which ones suit you.
Tables in the colour of your choice
Classic or colorful?
Whether you shape your shelf so that the organic curves exactly match your ideas or configure your dream table in the colours of your choice - form.bar stands for variety. This is what our tables are all about. Because you can choose the colour of the table top and the frame independently of each other. Just pay attention to the rest of your interior design, like carpets, decoration, other furniture or murals. A yellow table top combined with blue table legs in a dining room furnished in dark tones definitely goes beyond the scope of this article. Although we believe that it should only be your own taste, we do allow ourselves a few discreet tips. Black table tops with real wood veneer frames are particularly appealing - an extremely appealing combination.
Determine table measurements yourself
The configurator knows almost no limits. Although the possible dimensions for tables in the configurator are very extensive, they are in fact limited. The height can be varied between 30 cm and 110 cm. A common height for couch tables is 50 cm, for bar tables 110 cm and for dining and writing tables about 70 cm to 78 cm. For the latter, however, the table height should be adapted to chairs, if already available. The table height should be approx. 30 cm above the seat height. of the chairs. The configurator knows widths between 40 cm and 110 cm. Dining tables usually have a width of 100 cm, so that opposite persons can dine undisturbed. The The length of your table creation can be between 40 cm and 300 cm. The thickness of the tabletop ranges from 18 mm to 30 mm. Quite a lot of numbers, but important for the planning of your table.
Exceptional dining tables
Individual like you
At form.bar you won't find 08-15 furniture off the peg, but extraordinary custom-made individual pieces - unique pieces that will beautify your living space. Especially with the design of the dining area, special attention should be paid to the dining table. The dining room is the place to eat first and foremost. This means that when buying a dining table, you have to consider how many people will regularly sit at it to dine. But the dining table is not only used for eating, but also for cosy get-togethers with family and friends. Whether for a a fun games evening or a traditional drinking party - the dining table should suit most situations. Therefore a foresighted and detailed planning is advantageous to To estimate the measurements of your future table correctly.
Buy table tops separately
If you are only interested in a special table top, we can help you in the best possible way. Because if you already have table legs or a nice frame, all you need is a matching table top. We offer you a perfect solution in this respect. Configure your individual table top with the measurements, colour and shape that suits you. Whether square or round, black or red, large or small - we have an answer for everything. If you do not reach the desired destination in the configurator or if you have any questions, please feel free to contact our friendly team of designers so they can support you.
Tables of all kinds
Individual office desks
In order to be able to work undisturbed, you should pay special attention to the workplace when designing your office. In addition to the desk chair, the desk to a pleasant working atmosphere. First of all, you should measure the workroom so that you make the best use of the space and don't waste space. With our table configurator you can table can be tailored exactly to your needs. A pleasant working atmosphere promotes productivity, which should not be underestimated. In our assortment are also desks for children, so that your children can also do their homework in peace.
Stylish sofa tables
With us you will find everything but ordinary couch tables. Whatever style of furnishing you prefer, you will find a wide variety of coffee tables. From modern and angular to curved and soft shapes, from classic and timeless, we at form.bar have a selection of different styles from which you can choose your own table. The designer couch table from form.bar is the prime example for an eye-catcher. Your living room will be staged in a way that you only get at form.bar.
Your advantages:
Made to measure
Highest quality
Top service
Regional manufacturing
Free shipping
How our table configurator works
1. Choose desired measurements
To change the height, width or length, simply move the sliders with the mouse.
2. Design of the table
Choose between two different frames and select your favourite material. You can also change the panel thickness.
3. Order
After you have ordered, we will deliver the table within 4-6 weeks.
Do you have special ideas or questions when planning? Then contact our friendlyservice or have a look at our FAQ's.