Questions & Advice
Here you will find answers to frequently asked questions and tips about form.bar.
You can find saved designs in the user area under "My designs". To do this, click on the avatar to the left of "Sign in" in the navigation bar. If you have sent your design to your e-mail address, you can click on the link contained therein to access your design.
In the rare event that the design is lost, we recommend you use our free design service. A designer from form.bar will be happy to assist you and design your unique piece of furniture together with you. You can contact us by phone, email or live chat contact us.
Your design is continuously checked in real time during configuration by the smart form.bar 3D configurator. for technical features and their feasibility. In case of discrepancies you will be contacted by our design team, to optimize your design. If desired, we can also perform an individual design check and clarify open questions with you. Contact us for this purpose.
You can freely configure the dimensions of your piece of furniture within the form.bar 3D configurator in steps of 1 cm. The position of the horizontal boards can be configured in steps of 0.5 cm and that of the vertical boards in steps of 1 cm. The specification of the compartment size is a rounded value, so there may be deviations of a few millimeters
Important: The dimensions of your furniture will always be exact in width, height and depth to the centimeter
If you need planning accurate to the millimeter, contact please contact our designers.
Yes, you can. You can find information and prices here: special customizations.
With form.bar there is basically no limit to your creativity.
You are welcome to tell us your special requests in the order comment when you place your order. We then get in touch with you if necessary.
If you would like a customization that is not listed here, please feel free to contact us. Our design team will be happy to discuss your wishes with you and try to implement them individually.
If you wish to make special adjustments to your form.bar PURE design, it may require an upgrade, which may result in a different price structure due to production.
The price is calculated individually based on your design, the current market price of the chosen material and the production effort. All work steps such as the milling of the components or the finishing of the surfaces are included in the price calculation. The price is adjusted in real time in the 3D configurator with every change. So you really only pay for what you have configured. At form.bar PURE, production processes are so optimized, that there are enormous cost savings, which we pass on to you.
In the configurator, you can configure the overhangs via the "Shape freely" step. By clicking on the 90° button, you can edit the overhangs of all the horizontal at the same time. The minimum protrusion is 4 cm. In addition, you can configure the finish to be square or rounded. As special adjustment the overhangs can also be removed completely.
You can simply note the desired customizations in the order comment when ordering.
In the PURE Configurator, the overhangs up to a minimum dimension of 8 cm are always retained due to the design.
Until now, our furniture can only be configured with curves on one side. A double-sided swing is among our special customizations. If you want a double-sided curved furniture, feel free to contact our expert design team.
In the 3D Configurator, you can remove or add sections from floors and walls in the "Recesses" step. All you have to do is click on the symbols displayed in the 3D view. If you are in the PURE configurator, upgrade to be able to use this function. Do you want to remove internal overhangs? Please Contact our design team for this special adjustment.
If you have created a design via the category "TV furniture" or via the TV furniture configurator, you will automatically find a 10 x 4 cm (W x H) cutout in the bottom center of each back panel. With form.bar PURE designs, the cable cutout is not automatically present. If you want an additional cutout or a different size, contact our design team. Our friendly team will be happy to take care of this special customization.
You can conveniently note the change request in your order in the order comment or send us a sketch by e-mail in advance.
Back panels are automatically added from a certain size to stabilize your furniture in certain places. In addition, back panels are always automatically placed behind doors and flaps. You can also have them removed if you wish. Depending on the situation, we recommend stabilizing the furniture there with an angle.
In the 3D configurator, it is not yet possible to set back panels yourself. You can order additional back panels separately. You can find the prices for this in the price list for special customizations. You can easily note the desired back panels with quantity and size in the order comment.
In the 3D configurator, you can add doors, flaps and drawers in the "Fronts" step. The stop side can also be adjusted. Which type of front is possible depends on the dimensions of the respective compartment. With form.bar PURE, you can add doors directly by column or row by row. To add or remove fronts simply click on the +/- icons in the 3D view. If you have any difficulties, just contact our design team.
Yes, there are differences. All configurators have the same base. Depending on the type of furniture you choose, functions may differ from each other. You can find an overview of the configurators here:
With every form.bar PURE design you can upgrade. This will give you the full functionality. You can upgrade in your account under "My Designs" or on the overview page of your design.
The 3D display of the form.bar 3D configurator is based on WebGL, a technology, which is used to display 3D content in the internet browser. If WebGL does not work on your computer, this may be related to your hardware, operating system, or your Internet browser.
On this page. you will find all relevant information so that you can use the 3D configurator.
If you would like to see a piece of furniture in real before buying, you can do this currently only in our offices in Saarbrücken. In our customer gallery you can be inspired by the designs of other customers.
To get an impression of the material, you can download 2 free material samples free of shipping costs.

Our plug-in system ensures high stability of the furniture. As a rule, each piece of furniture is different and represents an individual unique specimen. As a guideline, we recommend a maximum load of 20 kg on a maximum compartment width of 60 cm. If you still have concerns or questions in this regard, contact our design team.
For the cleaning and care of your furniture, it is best to use a slightly damp microfiber cloth. Make sure that no water remains on the furniture.
Never clean the furniture with sharp objects or irritating cleaning agents, as these can attack the surface.
Your furniture will be manufactured and delivered by one of our approximately 100 partner carpentries in Germany and Europe, as close to you as possible. In this way, we want to guarantee short delivery routes that protect the environment. In addition, we strengthen local craftsmanship.
Depending on the location and material availability, the production can also take over a supra-regional carpenter, to ensure compliance with the delivery time. On the partner map. you can see in advance how far our carpenters are from you.
Our furniture is divided in height or width from a dimension of 249 cm. In addition, we recommend in this case the additionally bookable assembly service. You can add this in the shopping cart for each piece of furniture. Should you have further questions about this, contact our designers.
The birch veneer laminated wood (multiplex) is our premium material. It is particularly characterized by its extreme robustness, stability and durability. The special feature is the crosswise glued veneer layers of real wood, which give the material its special edge look. We recommend the birch veneer laminated wood especially for larger furniture and in places where the furniture is exposed to increased humidity.
For MDF (medium density fiberboard) is characteristic velvety uniform edge, which is created by the homogeneous appearance of the core. Compared to birch plywood, the heavier MDF scores with a more favorable price.
Here you can find more information about our materials.
The surface and edge depend on the chosen material.
Our birch plywood materials are finished with a colored melamine resin coating. This can be completely opaque or translucent (eco materials) so that the wood grain shows through slightly. The edge is not oiled and only broken. Our Exclusive variant is the birch plywoods with a surface of real wood veneer, where both the surface and the edge are oiled.
Our MDF materials also have a colored melamine finish. The edge is also visible and available in natural or black, depending on the color-material combination.
In addition, we offer edged chip materials, as well as acoustic materials.
You can find a detailed listing in our Configurator under "Material".
Yes, we offer material samples. We will gladly send you material samples free of shipping costs, so that you can convince yourself of the look and feel of our FSC®-certified materials. You will receive two free material samples. Order now.
When selecting our FSC®-certified materials, we pay attention to the highest quality and sustainability of the wood materials. This also includes compliance with applicable standards and limits for harmful substances. For the production of our materials, organic chemicals are used in very small quantities. These quantities are harmless to your health and have no influence on your living environment. If you need detailed information about this, please feel free to contact us at contact us.
Delivery, Pickup & Returns
Our innovative manufacturing principle enables the production and purchase form.bar furniture anywhere in the world. Because we send the data of your furniture to a carpenter near you, who will produce your furniture for you. Our network is constantly growing, but is currently concentrated in Germany.
If you order from Germany, Austria or Luxembourg, delivery costs are included. We will gladly make you an offer for the delivery of your furniture to other countries. If there is no form.bar partner in your country, the connection of a new carpenter from your region for the production of your furniture is also possible to avoid higher delivery costs.
>At form.bar PURE you have the possibility to pick up your furniture in Germany or or Luxembourg at one of our manufacturing plants. Delivery is possible for an additional charge.
Contact our service team and we will advise you on availability or shipping to your country.
form.bar PURE furniture can be picked up within 50 km of your home. The pickup location is based on your billing address. If you specify a different address, we will use this to assign a carpenter in your area to produce your furniture.
For shipping to Switzerland and other non-EU countries there is an export fee of 180.00 EUR, which is charged by the forwarding agency to form.bar (this is a lump sum for the provision of the forwarding agency at the customs).The export fee is listed as a separate item in the form.bar invoice.
The invoice is issued by form.bar without German VAT. Customers in Switzerland pay the import sales tax after the delivery, for which the forwarding agency makes advance payment at customs. The accrued import sales tax will be invoiced by the freight forwarder at a later date.
Deliveries to other countries may be free of charge depending on size, weight and distance. Please contact us in advance for this. We look at your design and tell you the further costs, if any.
For the assembly and/or other services in Switzerland and other countries may incur additional costs, in addition to those already shown in the shopping cart. Please contact us in advance for this, for example if you want an assembly in Switzerland.
The delivery time is usually 4 to 6 weeks. Please note that the delivery time does not begin with the date of purchase, but with the deposit made. If after the down payment still order changes are made, the delivery time begins with the last final change.
Since the delivery time is basically dependent on material stock and capacity utilization of our partner carpenters is, we can on request the possibility of a express delivery at an additional cost of 120.00 EUR per piece of furniture with delivery time from 2 to 3 weeks to check.
Current note: Due to the current Corona situation, delivery may only be made to curb.
The furniture will be delivered by our regional manufacturing partners if possible. If this is not possible, we hand over your furniture to a shipping company. In both cases, you will be contacted in advance to coordinate the delivery date and your furniture will be brought to your front door.
Our coffee tables "Ciottolo" and "Lorenzo" are delivered on pallet free curbside.
The furniture will be delivered in parts, i.e. the horizontal and vertical and vertical boards and, if necessary, additional back panels delivered. If the height or width of the design exceeds 249 cm or is particularly complex, we recommend an assembly service.
Furniture that has not been configured, you can return within 14 days without giving reasons. For configured furniture that is individually manufactured for you, this return option does not apply. Under configuration is understood in particular an adjustment of color, dimensions or other changes to the original design.
If you are dissatisfied with your furniture, you can of course contact us at any time free of charge. contact us. We'll be happy to help you resolve any discrepancies.
Excerpt of the cancellation policy §10 para. 2, sentence 1:
"Contracts for the supply of goods that are not prefabricated and for the manufacture of which an individual selection or determination by the consumer is relevant or which are clearly tailored to the personal needs of the consumer."
Yes, you can pick up your furniture yourself. In principle, our furniture is delivered. In the case of form.bar PURE, you have to pick up the furniture yourself and a delivery is bookable for an additional charge in the shopping cart. If you would like to pick up a product other than form.bar PURE yourself self pickup, please contact us in advance of your order, so that the collection can be coordinated with the responsible carpenter.
Yes, you can change data such as delivery address, delivery date, delivery method or payment method later. Please contact for this as soon as possible our design team or the responsible carpenter, if he or she is already known to you.
Our furniture will be checked for damage and carefully packed before delivery. However, if parts of the delivery are damaged during transport, please use the complaint form in the order in your customer account.
We ask you to take photos of the externally damaged packaging as well as the damaged parts and provide us with a description of the damage. and send us a description of the damage items with the board number via this way.
If, despite all the care, parts or accessories are missing, we ask you to use the complaint form in the order in your customer account. Alternatively, you can also directly contact the delivering carpenter, if you already know this. Your delivery will be checked and the missing parts or accessories will be delivered as soon as possible.
You have four different payment methods at your disposal. Invoice (with 50% deposit), PayPal and credit card & direct debit (via PayPal, without PayPal account possible). Learn more.

Payment reminders are sent automatically by our system. Sometimes it can happen that the payment receipt and the sending of the payment reminder overlap. In this case, please ignore the payment reminder. However, if any discrepancies or general questions arise, just contact our service team.
Your data is safe with us. Our website is secured with an SSL certificate, which makes it impossible for third parties to access your data. Internally, your data will be treated strictly confidential according to the DSGVO regulations and only used for the purpose of order and delivery processing.
Coupon codes can be easily entered and redeemed at the bottom of the shopping cart in the "Coupon code" field provided.
You have two ways to create a form.bar account.
For one, you can go to "Log In" to create a full account und "New Customer" and log in conveniently.
On the other hand, when you save a design, you can have your design emailed to you. This will send you a link to your email address, which you can always call to log in. This way you can have multiple designs sent to you, all of which will be saved in your "My Designs" design area.
If you have completely registered with name, email address and password, you can log in via the tab "Sign in" in the navigation under the item "Sign in". If you forgot your password, you can reset it under "Lost your password?".
If you only entered your email address when you saved your design and had it sent to you, please click on the link you received in the email and you will automatically be logged in. If you can no longer find the email, feel free to contact us and we'll resend it to you.
If you are not logged in while configuring, it's no problem. If you are fully registered, save the design and log in using the "Sign in" tab in the navigation bar and your design will automatically be transferred to your account. If you are only registered via your email address, save your design and have it sent to the same email address you used previously and use the appropriate link in the email to log in.
In principle, we only work with our certified partner carpenters. The carpenter you trust can join our network, as long as he has at least a 3-axis milling machine at his disposal. As soon as he is a partner, we can commission him with the production of your form.bar furniture.
Our measurement service offers you the opportunity to have one of our regional partners visit you at home and take professional measurements in your own four walls. In this way, hidden measurement errors can be avoided, which can be caused, for example, by sloping walls or uneven floors. You can find more information about this here.
Yes, with pleasure. Our team of designers will help you to design the furniture of your choice. You can send us your sketch via e-mail or via the contact form.
Yes, there is a planning service. Our friendly and competent design team will be happy to plan your new unique furniture. Contact us simply via e-mail, contact form, phone or live chat. You can find more information about the planning service here.
Contact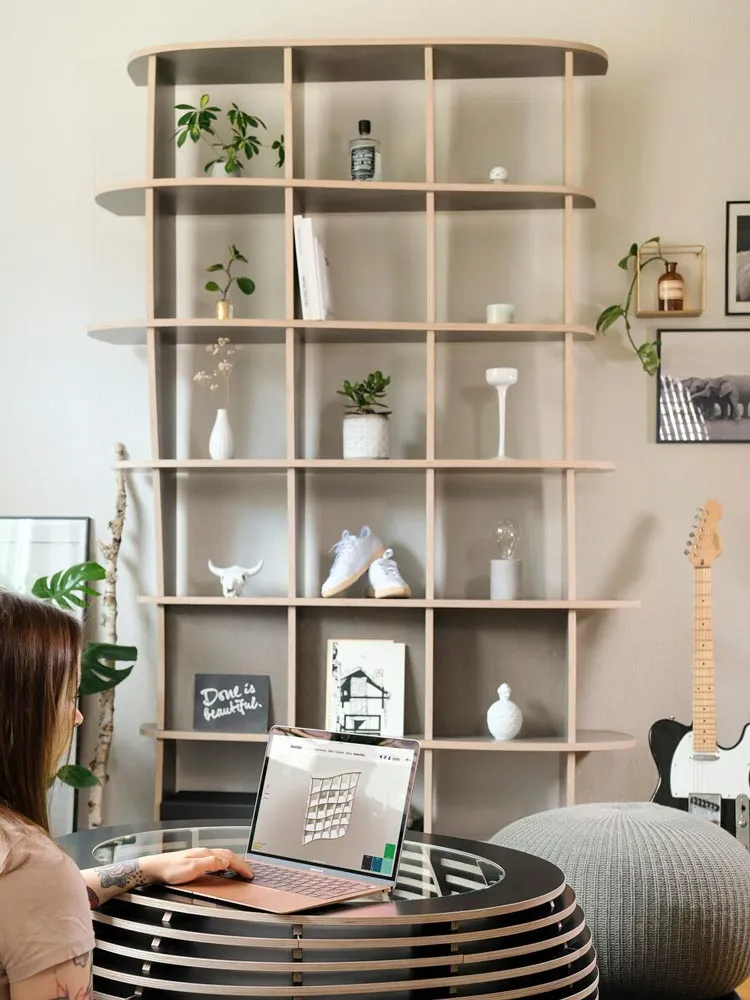 Your question is still not answered? Simply get in touch with us using the following contact options. We look forward to your inquiry and we will be happy to help you.
Hotline
+49 (0)681 410 976 42
Monday to Friday
9:00 - 18:00
form.bar by Okinlab GmbH • Ursulinenstraße 35 • 66111 Saarbrücken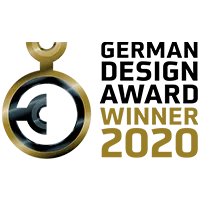 Renowned award for design & manufacturing
Very nice and quick contact with questions, individual advice, delivery to the living room without leaving much waste, assembly for two well doable, quality top and just beautiful! We are very satisfied.
We have ordered 2 pieces of furniture so far (shelf for office and chest of drawers for room with sloping roof) and are totally thrilled both times. Everything worked out: friendly, telephone support with the design, good service of the carpentry, delivery date and assembly were accurate and the quality or the appearance of the furniture we are happy every day.
I am really super satisfied with the shelf. The special shape and excellent quality make it a gem. The executing carpentry has done a great job. No long waiting time and the delivery was carefully packed and delivered to the apartment. Highly recommended!
A beautiful unique piece, very well finished, super friendly, fast and competent communication between the form.bar team as well as the carpentry, highly recommended We are very happy with our new piece of furniture and have already received several compliments from friends and family.
The contact to formbar was super, any time I was informed about the exact state of production, delivery, etc. The carpentry H. from Diekholzen has done a super job, the communication was also there best, the commissioning of the assembly for such large parts is recommended. The furniture is much better to look at live than in the photos.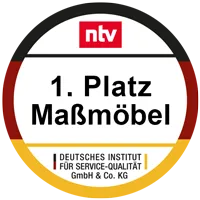 Germany's best online store for made-to-measure furniture for the 6th time in a row