Quality
What makes form.bar so special?
"form.bar has fundamentally changed the way furniture is designed and manufactured"
- Quote Deutscher Gründerpreis -
Manufacturing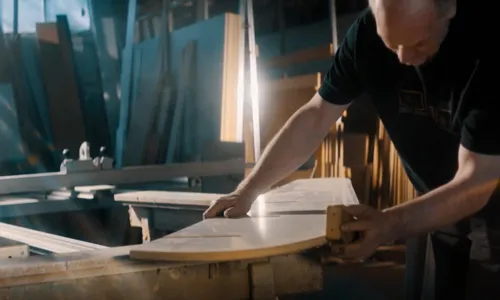 How does your personal design become reality? Due to our decentralized production, a partner carpenter from your region will always produce your unique furniture for you.
Regional craft
Design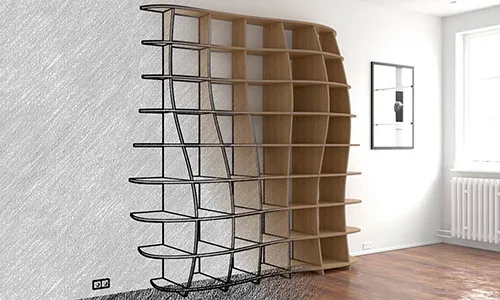 Our characteristic design combines aesthetics and functionality. It originates from the organic forms of nature and flows into the shape-optimising 3D configurator.
Natural shapes
Sustainability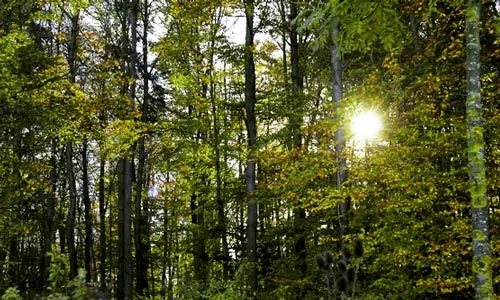 Environmental protection is important to us. That is why we work exclusively with FSC®-certified wood materials and innovative, environmentally friendly production processes.
Short ways
Manufacturing
The way furniture is made is a moral question
Made by a master carpenter
Your unique piece of furniture will be made on request by a carpenter who is part of our partner network. He is a master of his craft and the quality of his work is controlled by us. Our carpenter partners have a total of 1,000 years of valuable experience that you can rely on.
Crafts 4.0
We are paving the way for the digitalization of the furniture industry and thus initiating a new way of thinking. Because nowadays individuality can be automated. With our 3D configurator we would like to enable you to access the capacities of ultra-modern CNC milling machines. With a mouse click you can determine the design of your furniture and thus indirectly control the manufacturing process with a CNC milling machine.
Design
Our design language combines aesthetics with functionality
Unique design language
Our unique design originates from the organic forms of nature. Curved and rounded shapes subconsciously provide a sense of well-being and harmony for people. The swing of our furniture can be compared to a flock of birds or sea waves. The free form offers you unlimited possibilities to realize your ideas.
< width="100" height="100" loading="lazy" class="img-responsive center-block margin-top-20 hidden-sm hidden-md hidden-lg" style="max-width: 90px" alt="3D-Konfigurator Icon" src="https://static.form.bar/img/svg/icon-trophy-bluegrey.svg">
Award-winning 3D configurator
You can give shape to your individuality in the award-winning 3D configurator. You yourself become the designer of your unique furniture. Numerous configuration options offer infinite combination possibilities. All important details such as dimensions, colour, shape, compartments and much more can be adapted to your living situation and your taste. The price is calculated and displayed in real time, giving you a transparent insight into the pricing.
Natural shape optimization
The 3D configurator and especially the "Shape" area is based on a mathematical algorithm. It ensures that your personal shaping always looks attractive and harmonious. In addition, the configurator is designed in such a way that the statics of your furniture are always guaranteed.
Simple plug system
Our plug system is as smart as it is simple. Numbered components allow our furniture to be assembled in the shortest possible time. No additional working materials or connecting elements are necessary for the assembly. This simplicity saves valuable resources for the production of metallic materials and guarantees a fast and uncomplicated assembly.
Sustainability
Our company philosophy puts nature in the foreground
Short delivery routes
Thanks to our decentralized manufacturing principle, our partner companies are scattered throughout Germany and beyond Since your furniture is always made by a master carpenter from your region and he delivers the furniture to you himself, we can ensure short delivery routes. This means less CO2 emission, almost no packaging material, minimized pollution and therefore a sustainable protection of the environment.
Minimal waste
Your furniture is made of wood panel materials. This results in a scrap of unusable residual wood. We take care with the production data of your furniture to nest the individual boards to be milled in such a way that a minimum of waste is left. The intelligent cutting patterns and the resulting material efficiency benefits you and the environment.
FSC® certified materials
When selecting our materials, we attach great importance to the responsible and sustainable use of resources. Therefore we only use FSC® certified woods. The primary objective of FSC® is to promote environmentally friendly, socially acceptable and economically viable forest management.
High quality wood
Only well-chosen woods find their way into your home. On the one hand we carry medium density fibreboard (MDF), which consists mainly of glued coniferous wood. Our premium material is birch plywood. It is also called multiplex because it consists of cross-bonded veneer layers, which gives it a characteristic edge appearance. It is lighter and at the same time more robust than MDF, but also more expensive.