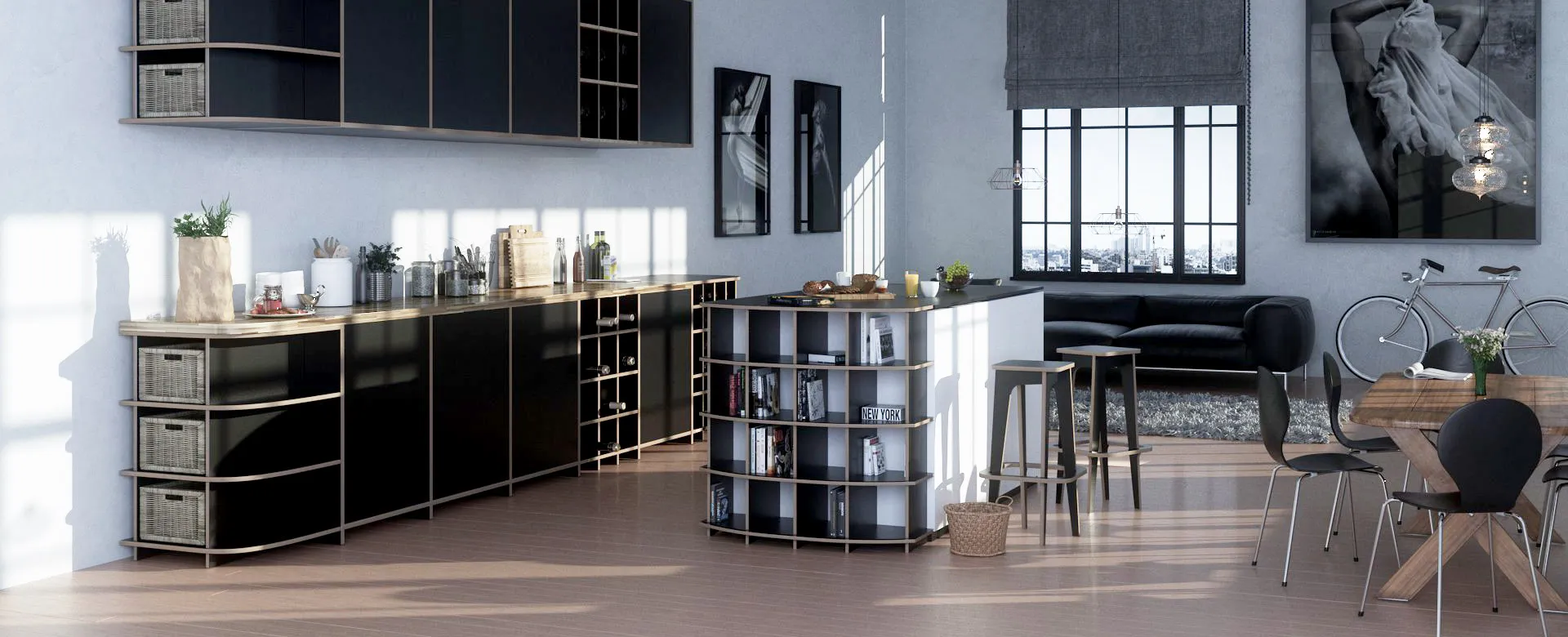 Adventure loft apartment - stylish furnishings
So that you can furnish your loft optimally, we will give you valuable furnishing tips below and show you the current living trends as well as living ideas for your new loft. In addition, we go into the different rooms and provide you with the right ideas in terms of color schemes and accessories.
We also show you some interior styles as well as fancy furniture from our form.bar online store and offer you unique inspirations for your loft.
Highlights from form.bar for your loft
Choose your favorite design and customize it
The design innovation with momentum
A loft apartment is usually found in former industrial or commercial buildings or factory buildings and is one of the most unique forms of housing:
When we enter a loft, we are immediately fascinated by the vastness of the space, the high walls and the exceptionally large windows. So, a loft is a living paradise for everyone who likes unusual living styles with architectural elements and appreciates urban style. Moreover, a loft offers a lot of space and a spacious or airy feeling. That's why such properties are highly competitive on the market and especially sought after by artists or designers.
The spatial conditions of a loft apartment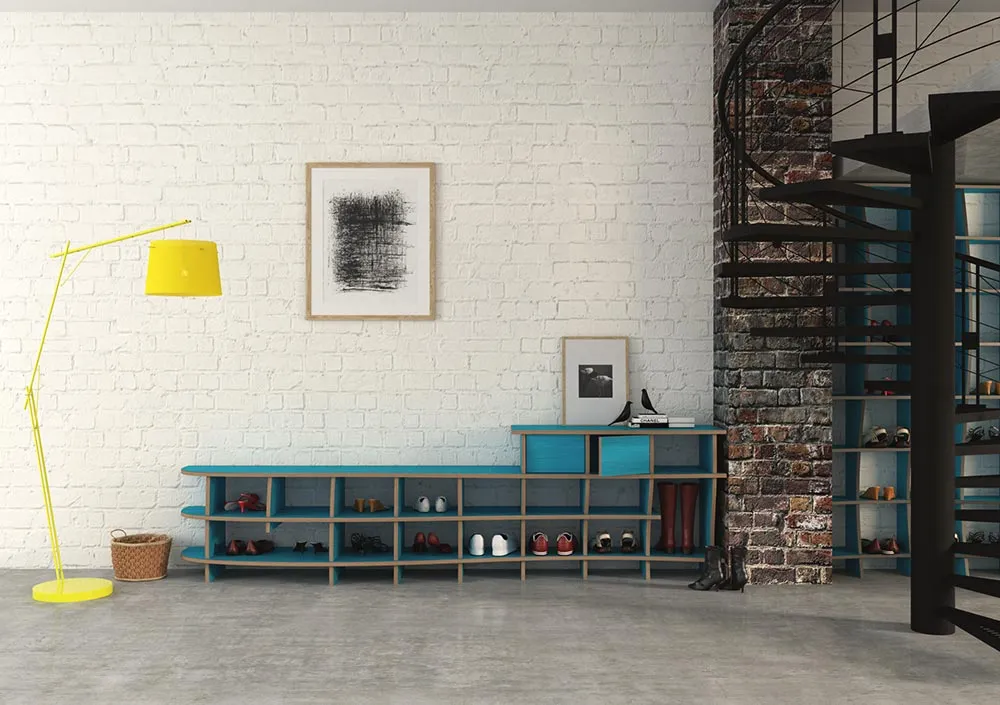 There are different types of lofts that differ in various ways. Whether you want to furnish a large or small loft, we will show you different home trends and loft interior ideas that are ideal for your loft apartment modern.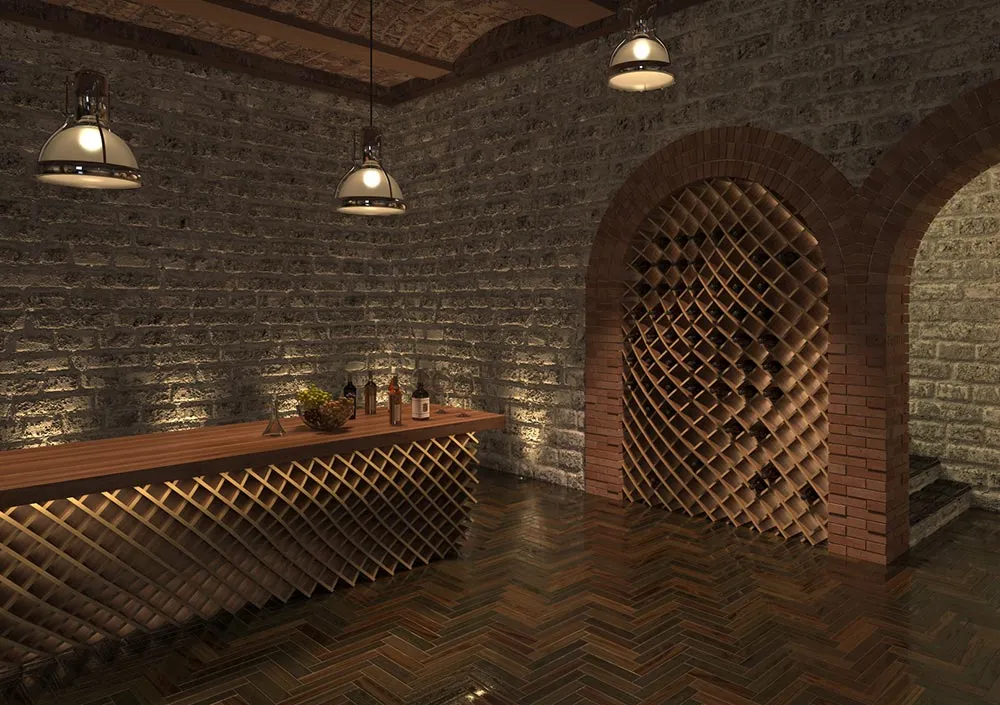 Highlight structural elements of the loft
A loft apartment in former industrial and commercial buildings is often characterized by impressive architectural features. Their high ceilings and open as well as flexible floor plans make them highly desirable. Especially interior designers and designers can live out all their creativity in such a place. When decorating an industrial style loft, you can emphasize structural elements such as columns, beams or even the characteristic stone walls. Whether with paint, wallpaper, matching lighting or beautiful mirrors.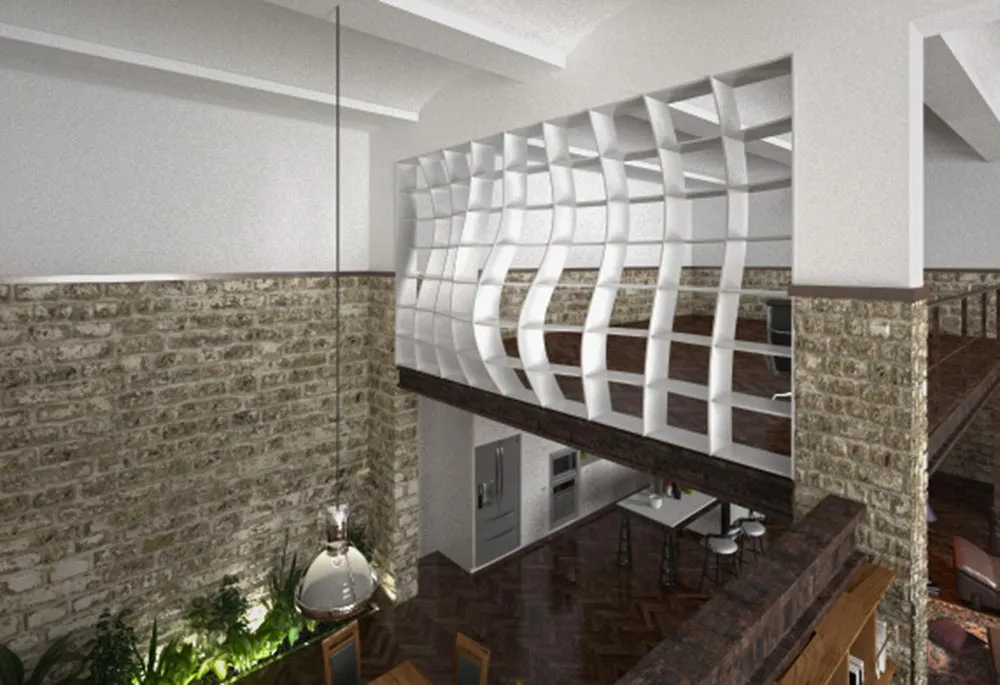 Adding additional floors to the loft
The high ceilings offer the possibility of adding one or more floors to create additional living space. You can also create your study or bedroom on the additional floor. So you get a cozy atmosphere for sleeping and by an open design of the floor you can overlook the entire living space. However, the privacy is limited by the open design in the bedroom. So you have to decide for yourself if this could be a problem for you.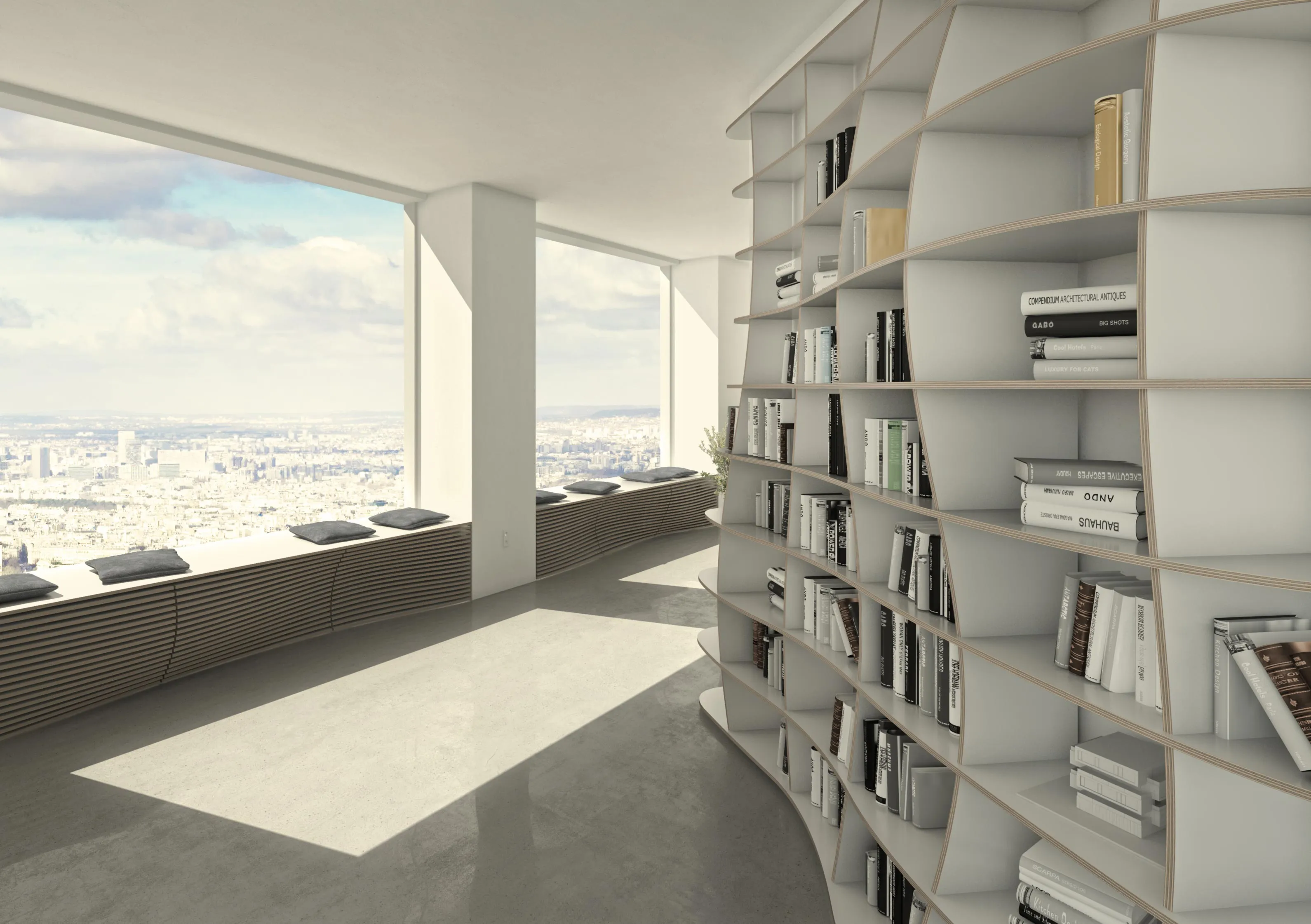 Take advantage of the high ceilings of the loft
High ceilings create an airy feeling of space and give a palace feel due to their open spaciousness. However, so that your loft does not look like a hall and gets a cozy atmosphere, it is important to take advantage of the high ceilings of the loft and design accordingly. For example, a beautiful mood can be achieved through noble chandeliers or beautiful hanging lamps. In addition, high ceilings allow an eye-catching or colorful wall design. Of course, the appropriate decoration may not be missing in the connection.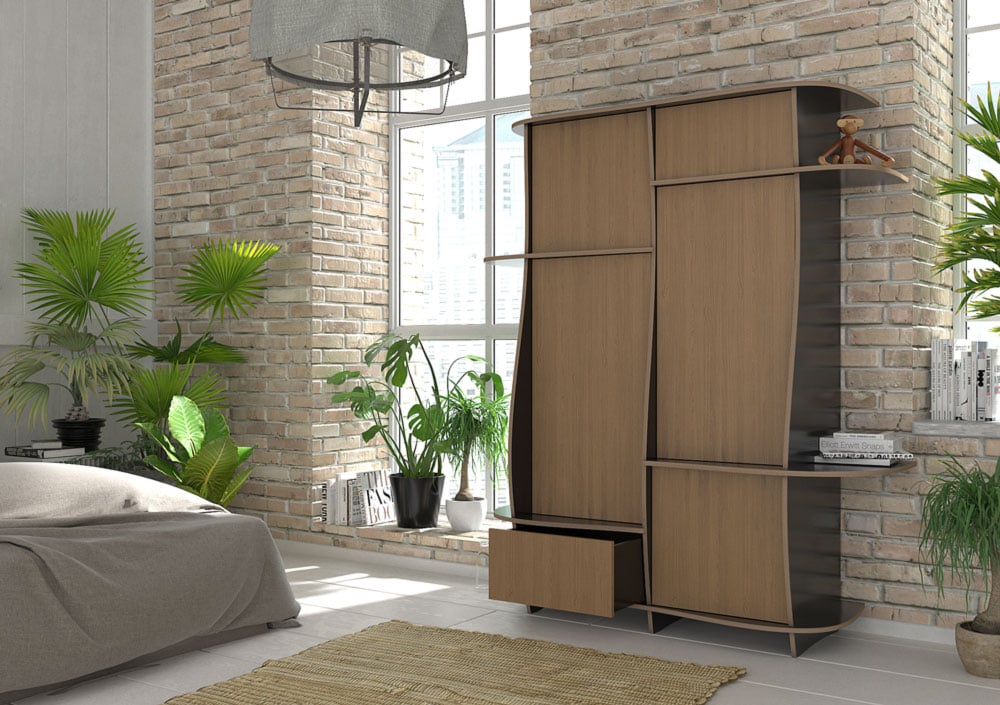 Use large windows of the loft
A loft usually has oversized, tall or unusually designed windows, making it a sun-filled space with lots of natural light. This means that you should use the natural light throughout the day to save electricity. So don't cover your windows with heavy curtains or drapes. Window blinds, on the other hand, are a good alternative and should be pulled up during the day.
Sufficient lighting of the loft apartment
An open loft apartment also requires adequate lighting in all living areas of the room. That's why you should use multiple light sources. As mentioned above, chandeliers or hanging lamps are particularly suitable and create a beautiful atmosphere. With ceiling spotlights you can set accents and highlight special furnishings or sections of the room. Recessed floor spotlights are also a good alternative. They give the room depth and also create a nice mood. Of course, there are also attractive designer floor lamps or modern light chains for cozy evenings.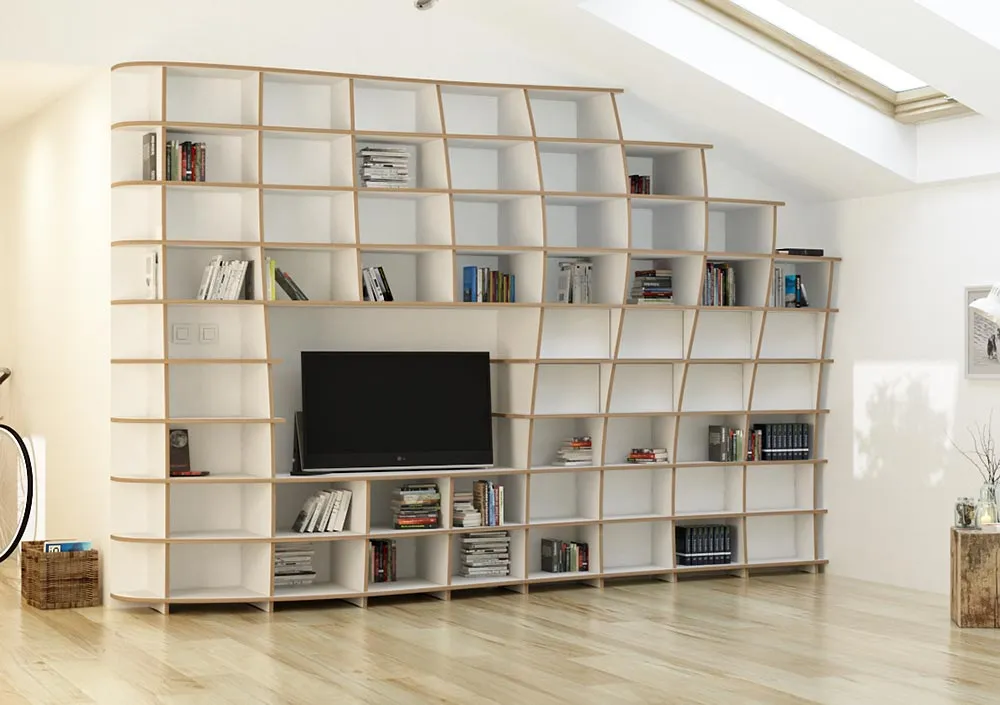 Use sloping roof of the loft
Some lofts, like ordinary attic apartments, also have sloping walls. Due to the high ceilings, you have the possibility to add an additional floor to create a beautiful gallery with a sloping roof. In addition, our furniture can also be adapted to your roof slope with millimeter precision. For example, configure a beautiful step shelf and thus do not waste space.
We plan your dream loft for you
Get your designer loft designed by our professional team of designers.
To the design service
Feel-good atmosphere in the loft apartment
Divide living space of the loft into zones
Many loft apartments have few interior or partition walls separating your rooms. Most lofts consist of only one large room, so living areas need to be divided specifically. So creating private living areas, such as the bathroom or bedroom setup could become a challenge. Kitchen or the dining area, for example, can be integrated into the living room and used together as an open space with the living room. The same goes for the work area, which can find its place in an empty corner. With an additional floor can be created further living space, which additionally helps to divide the apartment into different areas. Room dividers are the optimal solution to divide your large living space into different zones.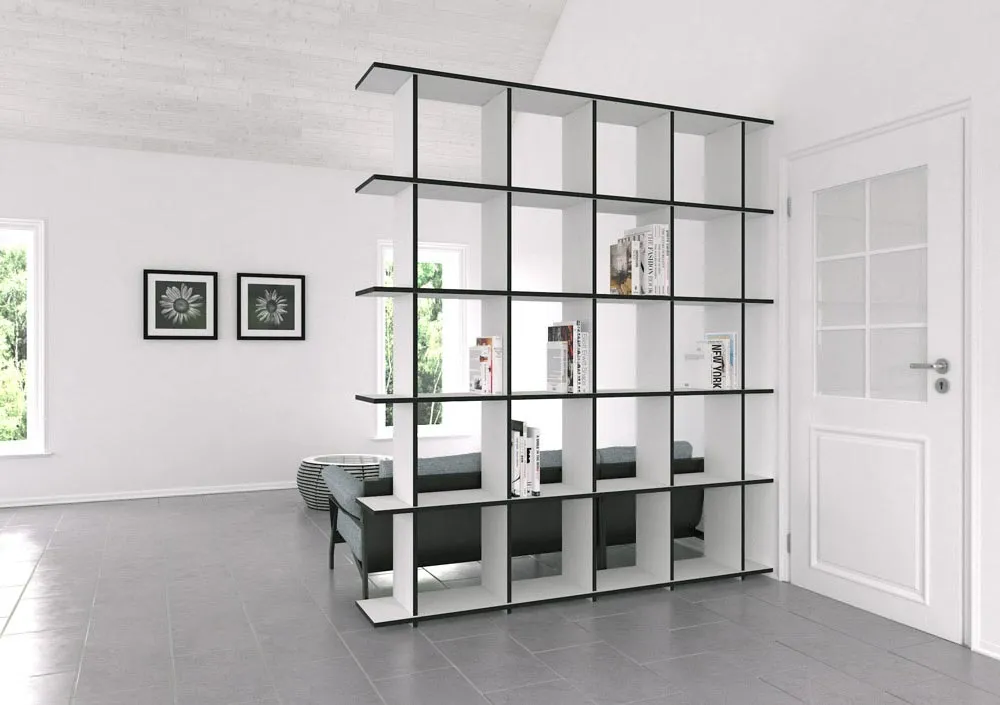 Separate living area in loft with room divider
You want to furnish your loft and divide the living space to create several small as well as functional zones? Then a room divider shelf from form.bar is the perfect option for you.
They adapt to your space and wishes to the millimeter and kill two birds with one stone! They not only provide a clear structure, but can also be placed freely in the room, so that they allow you a flexible placement in the loft.
The open shelves, which you can determine by size and number, allow light to penetrate into your separated area and consequently your loft does not lose its spaciousness. With our form.bar configurator you can easily choose your favorite color and material and then form your new room divider according to your wishes. In the living room, for example, you can easily separate the work area from the living area or create a reading corner with an armchair. You can also easily divide your kitchen into a dining and cooking area with a modern room divider.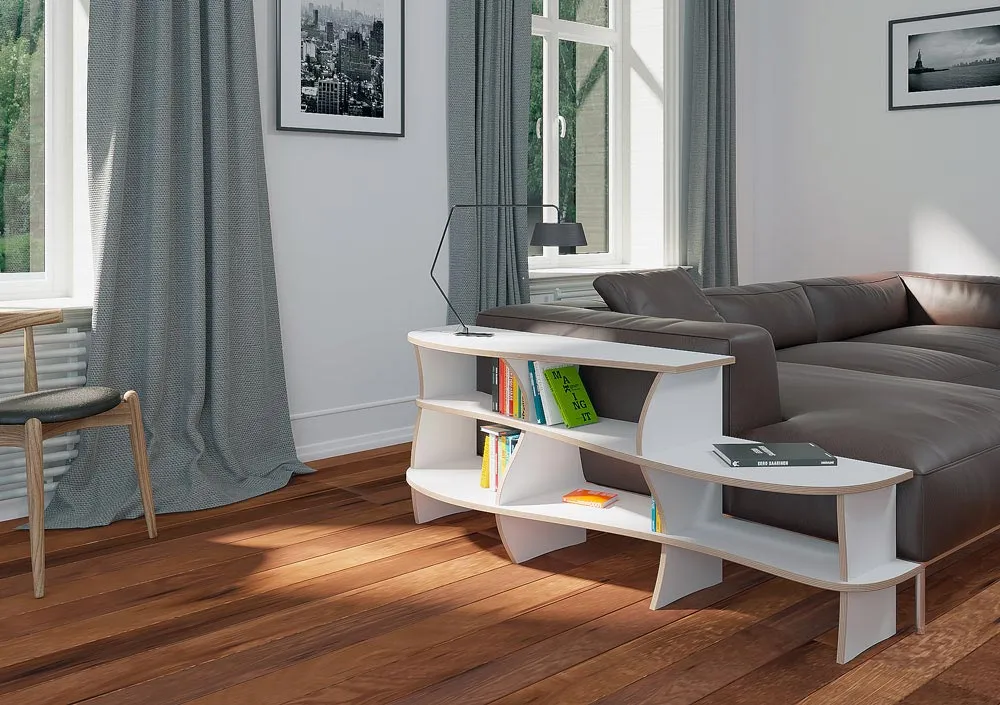 Form "islands" in the loft
If your loft has two floors, you need fewer partitions, but several islands. By islands we mean, for example, a large dining table including matching chairs and a beautiful lamp above it. Another option is a large sofa with armchairs or stools grouped around the coffee table. Island-forming furniture, in order to create a beautiful effect and personality, needs a lot of space and clearance around it.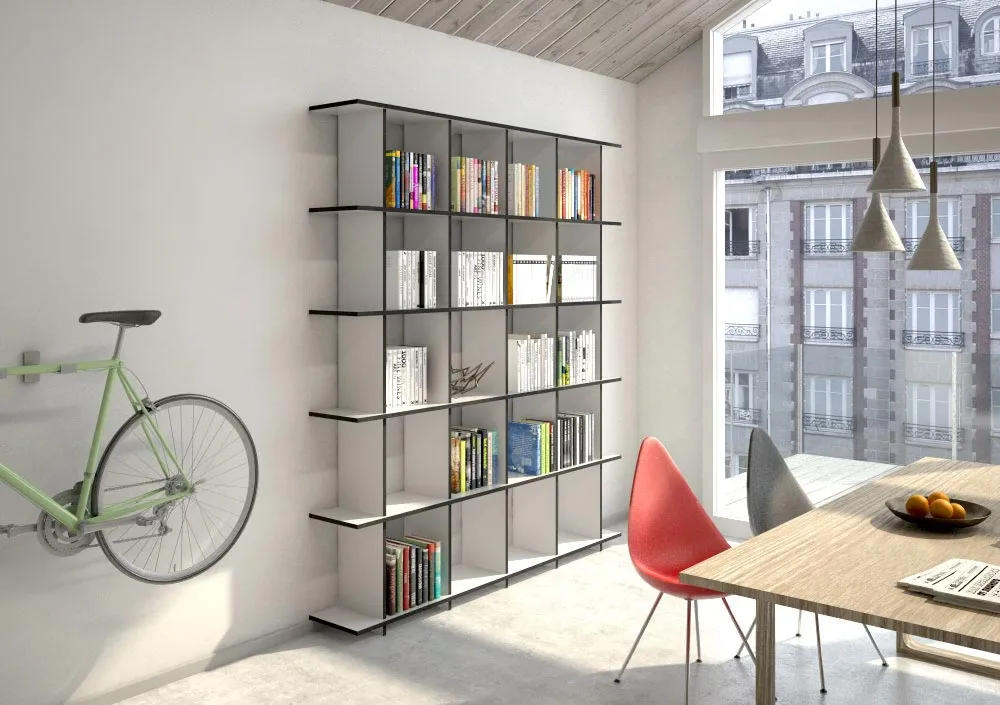 Subtle colors for the loft apartment
Basically, minimalist furniture with simple design and subtle colors best suit the bright and open ambience of a loft. The loft style is primarily characterized by colors that are related to factories. So, gray tones combined with white and black are indispensable. Red is also well suited to fill the loft with intensity and warmth. Masonry walls can retain their original look or be colored. Whether you prefer to choose a subtle design or use eye-catching colors and unusual patterns depends on your taste.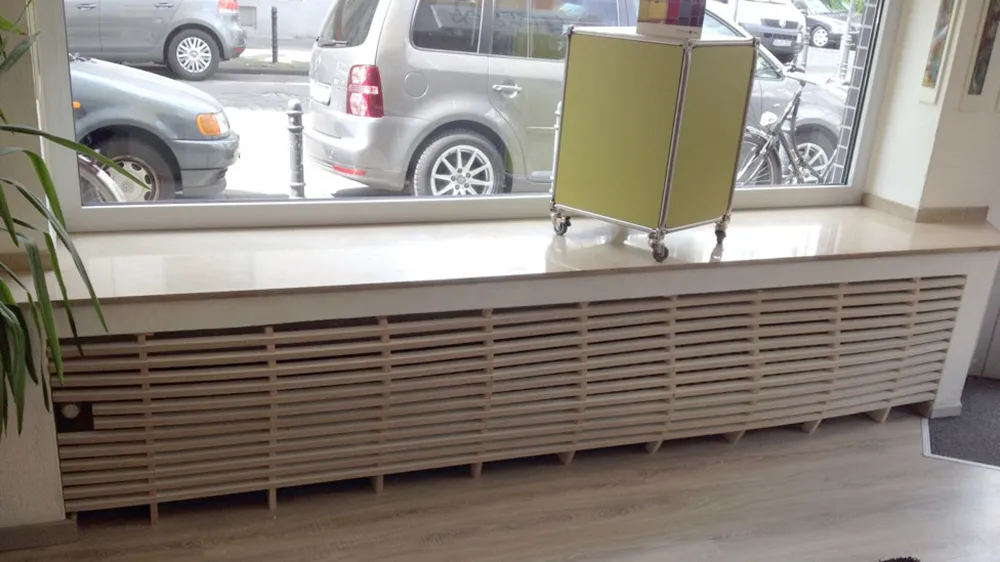 Sufficient heating of the loft
Often in industrial buildings there is insufficient heating to live in them in the long term. Therefore, it is important to provide proper heating. There are several options for this. Underfloor heating, for example, is always advisable in a loft. Wall heaters are also recommended. These work like underfloor heating, but radiate heat more effectively into the room. With conventional radiators, you have the option to create a beautiful cladding and use it as a bench at the same time. We at form.bar offer you benches that you can customize to fit your heater to the millimeter. In the best case, you should consult an energy consultant to find the best heating option for your loft apartment.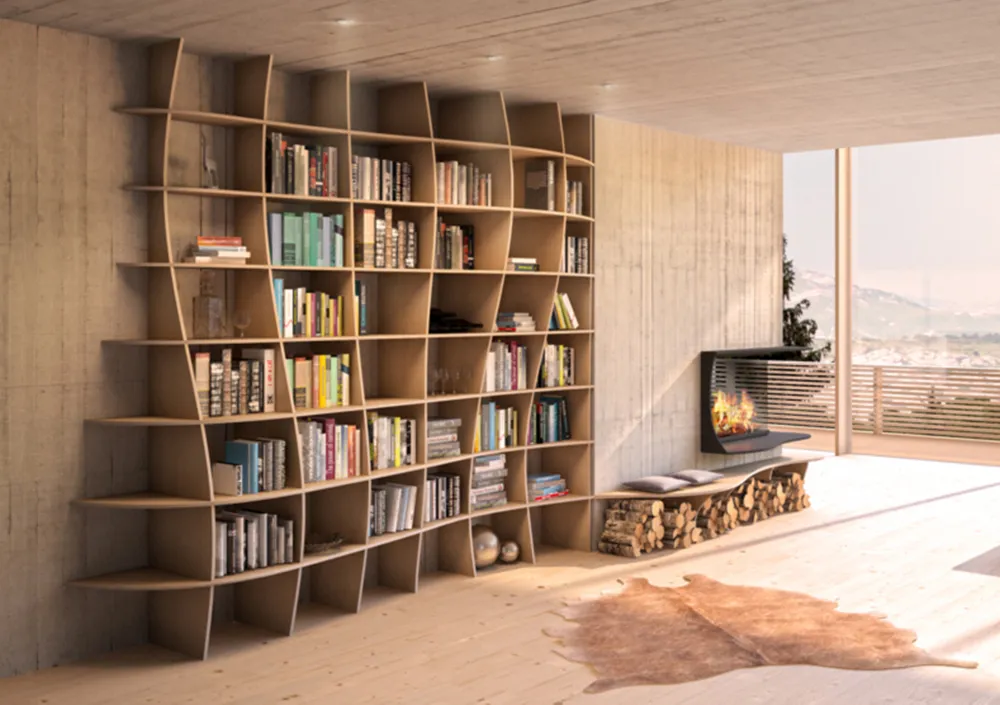 Fireplace stove for loft apartment
In a loft also can not be missing a fireplace. A fireplace is not only a good source of heat, but also a beautiful element of interior design, because it allows you to stage living rooms in a very individual way. In addition, they give the room a sense of security, as well as a cozy, industrial ambience.
Insulation and multiple glazing
Originally, industrial spaces, where lofts are created today, were not built for living. That's why it's important to create a feel-good environment in the loft. You should start with the outer shell, i.e. with the windows and walls. The better the insulation, the easier it is to keep large rooms warm. Multiple glazing of the windows is also mandatory in the loft.
Ventilation inside the loft apartment
In your loft, you should also make sure there is adequate ventilation. Lofts often have large, high windows that are difficult to open. That's why there are special living room ventilation systems that ensure optimal indoor air quality.
Contain acoustics in the loft apartment
In a loft apartment consisting of a large room with a small amount of furniture and large windows, the sound does not refract enough, so the room reverberates unpleasantly. For this purpose, we also offer acoustic furniture, which has a sound-absorbing effect and reduces the reverberation time in rooms. Furthermore, you should not skimp on other furniture and any kind of textiles. Curtains, cushions or carpets also help to dampen sound. Also large plants, small shelves or pictures prevent too loud acoustics in the loft.
Curtains for the loft apartment
Since a loft usually has large windows, you should take advantage of the daylight and not cover your windows with heavy curtains. Besides, they don't fit into the ambience of a modern loft. So it's better to choose light panel curtains or classic roller blinds or venetian blinds.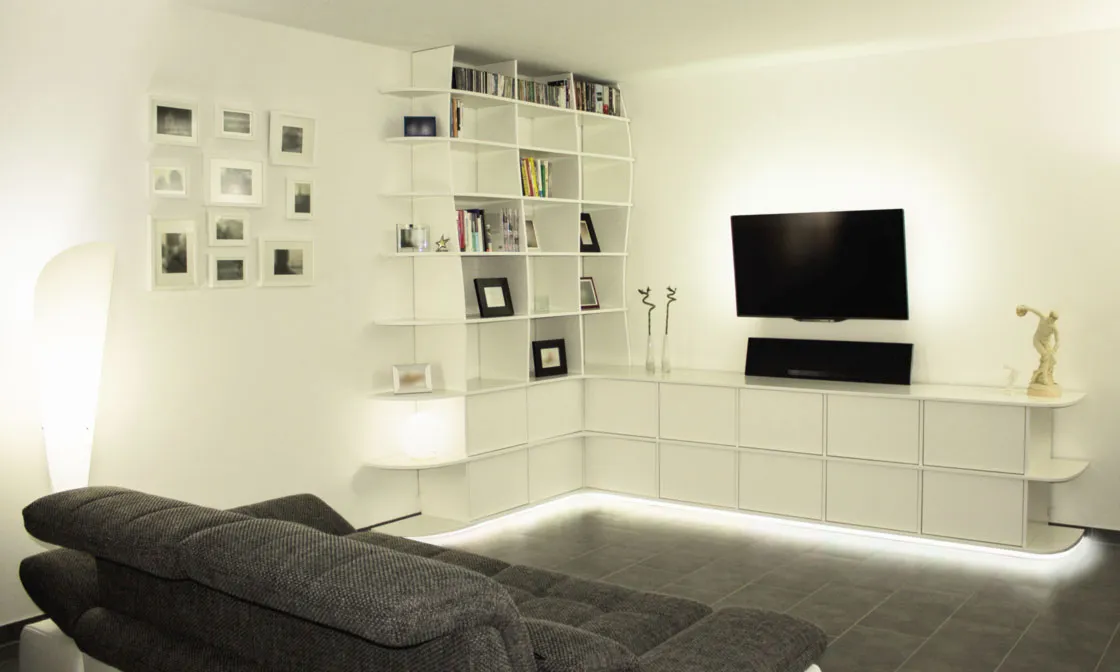 Carpets for the loft apartment
Carpets are the ideal way to give a large, cold room a homely atmosphere. This is because a carpet transforms any floor into a soft feel-good zone. Also, different carpets are ideal for strategically creating a clear division of space in your loft.
Plants for the loft apartment
Large plants also contribute to better room acoustics and additionally give the room a homely and refreshing atmosphere. Here you have a large selection at your disposal. Due to the high ceilings of the loft, you have the possibility to integrate imposing indoor trees into the room, but also hanging plants have a beautiful effect. If you want to set colorful accents, flowering plants are the perfect choice.
Cushions for loft apartment
Tasteful cushions are ideal for making your loft more cozy and setting colorful accents in the room. They come in different forms, colors and patterns. They also help to improve the acoustics in the room.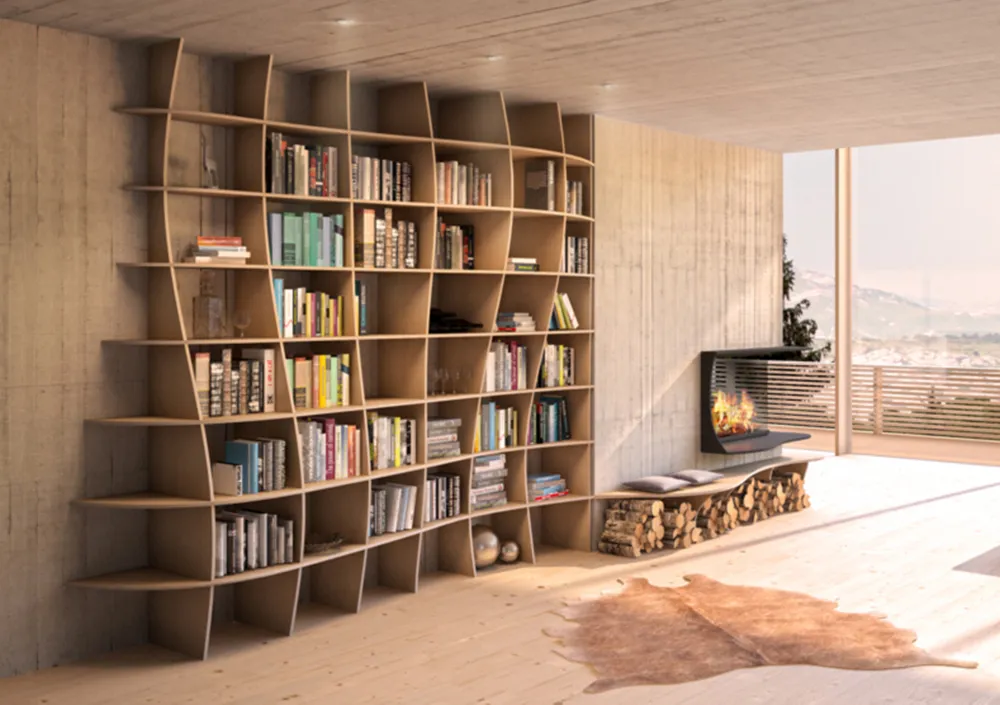 Room divider for the loft apartment
Our room dividers adapt to your room situation and needs with millimeter precision and not only provide a structured room separation, but also contribute to better acoustics in the room. At form.bar you have the possibility to freely configure your new room divider according to dimensions, form and color, so that it fits exactly to you and your loft interior.
For example, choose a room divider from our Strada series such as room divider Strada S, Strada M, Strada L or Strada XL and further configure it according to your ideas. Let us inspire you in our diverse customer gallery.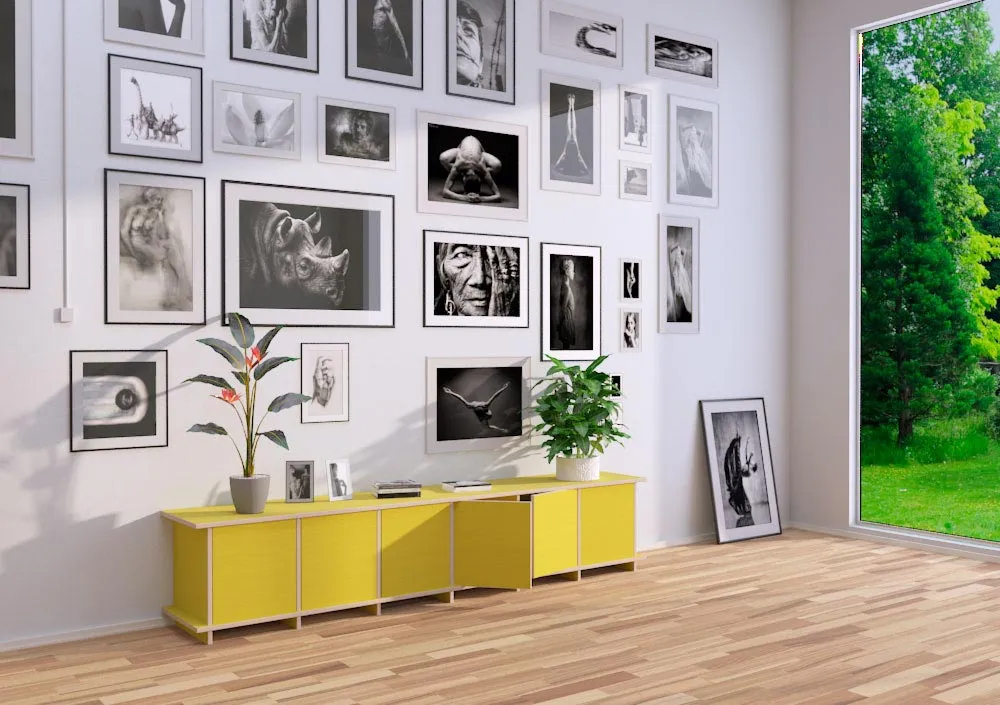 Pictures and accessories for the loft apartment
Despite the intended industrial character, the harmonious coziness should not be missing in a loft-style apartment. Therefore, you should definitely integrate personal as well as individual decorative objects into your interior. They also contribute to better acoustics in the room. Murals with modern motifs or photos of family and friends are always welcome. Black and white photos with old motifs are also good to decorate your walls. Metal industrial lamps, factory clocks, beautiful candlesticks or figurines are also perfect for the loft interior style.
Furniture choice within the loft
There are many ways to equip your loft. However, here you should pay attention to several things.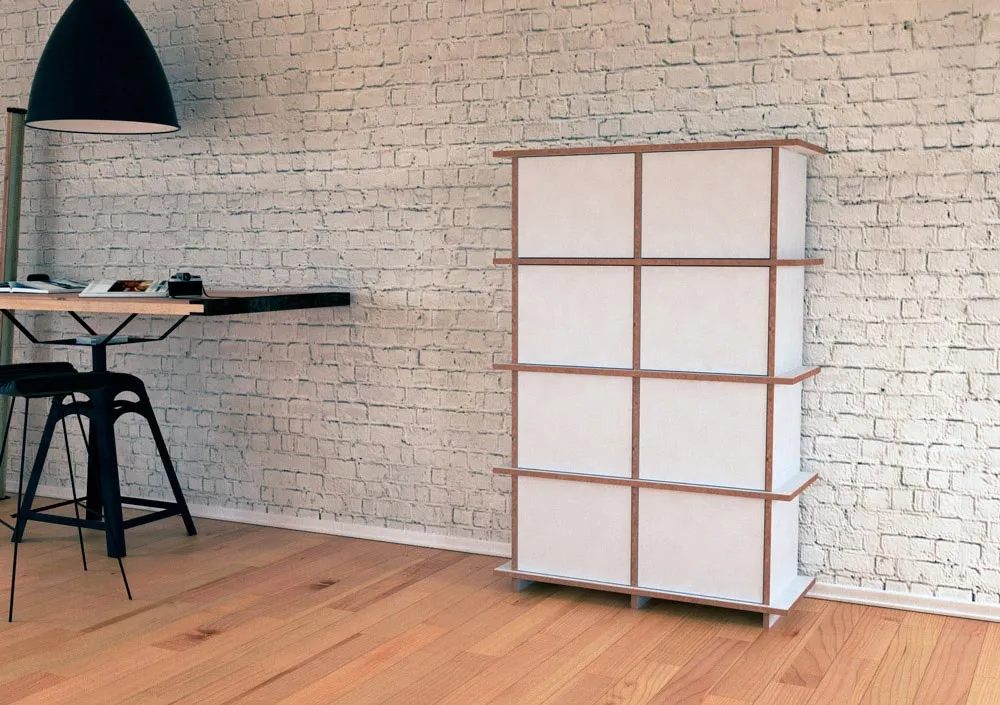 Uniform style of furniture in the loft
In your loft, second-hand furniture can stand next to modern furniture, and even fancy designer furniture can be placed. The only important thing is that all the furniture reflects a uniform style. Especially the modern style is very popular, because the clean lines can be harmoniously integrated into the ambience of the loft.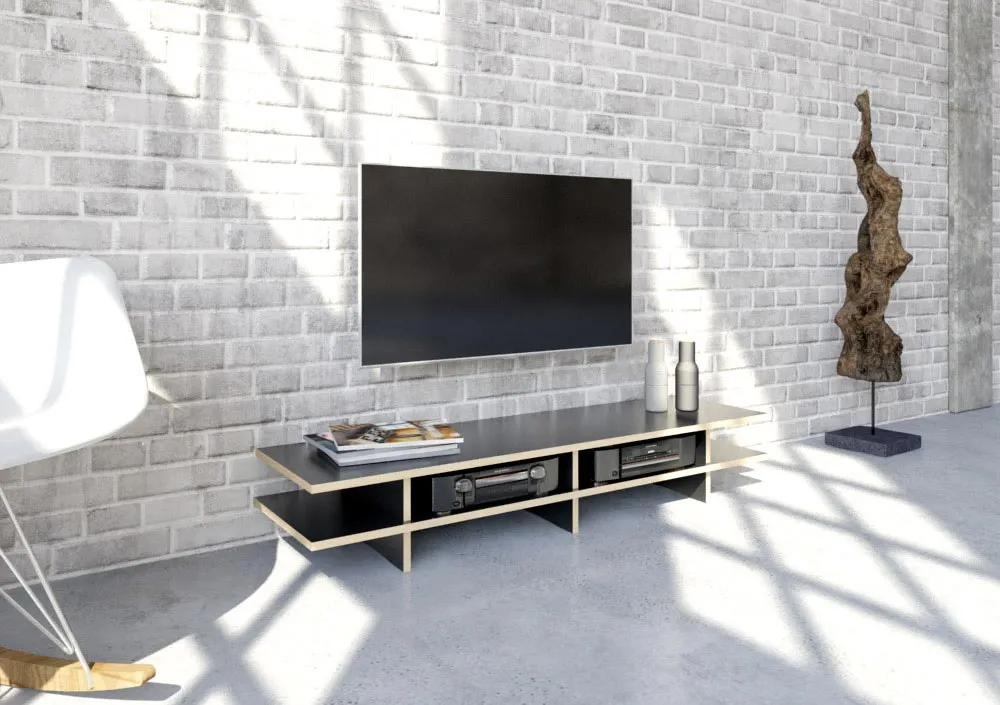 Use timeless furniture inside the loft
You should tend to use minimalist furniture in your loft. Because a simple, timeless design and subtle colors fit perfectly with the bright and open ambience of the loft. Especially if the walls are brightly designed, you can style confidently sometimes reach for darker furniture and set colorful accents with accessories.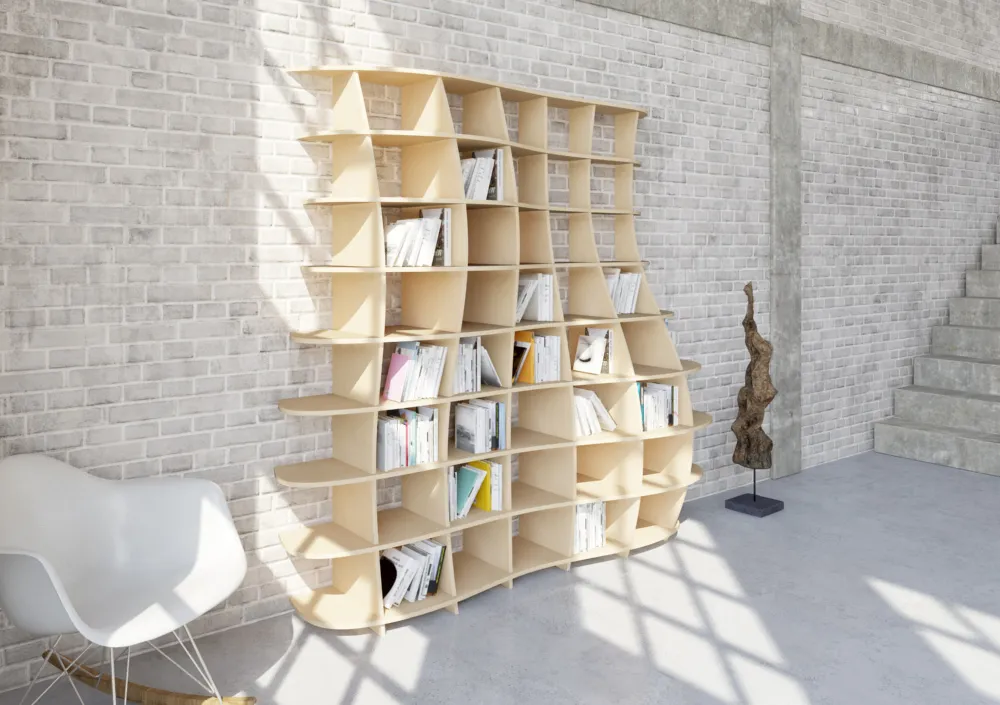 Robust furniture for the loft
An industrial-style loft allows for almost anything in terms of furniture. But above all, it includes high-quality furniture that also looks robust. At form.bar, we rely on extremely robust finnish wood materials with various high-quality surface variations. The wood of the finnish birch is characterized by its robustness and is therefore the optimal wood material for any furniture. Just try our furniture configurator and decide on your favorite material.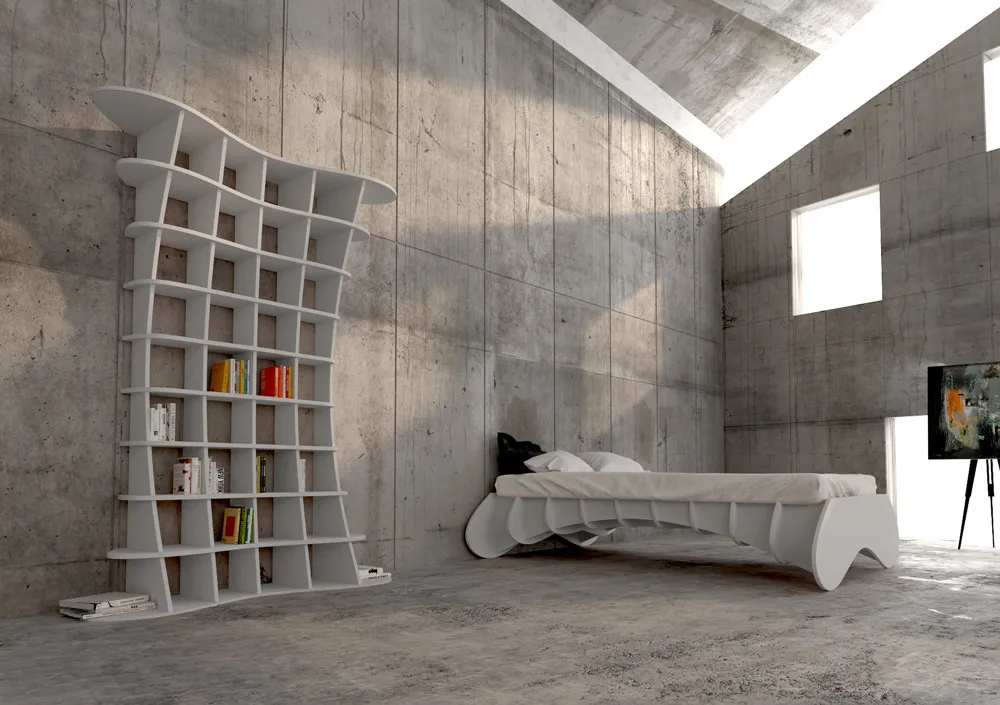 Combine lowboards and highboards in the loft
Loft furnishings examples: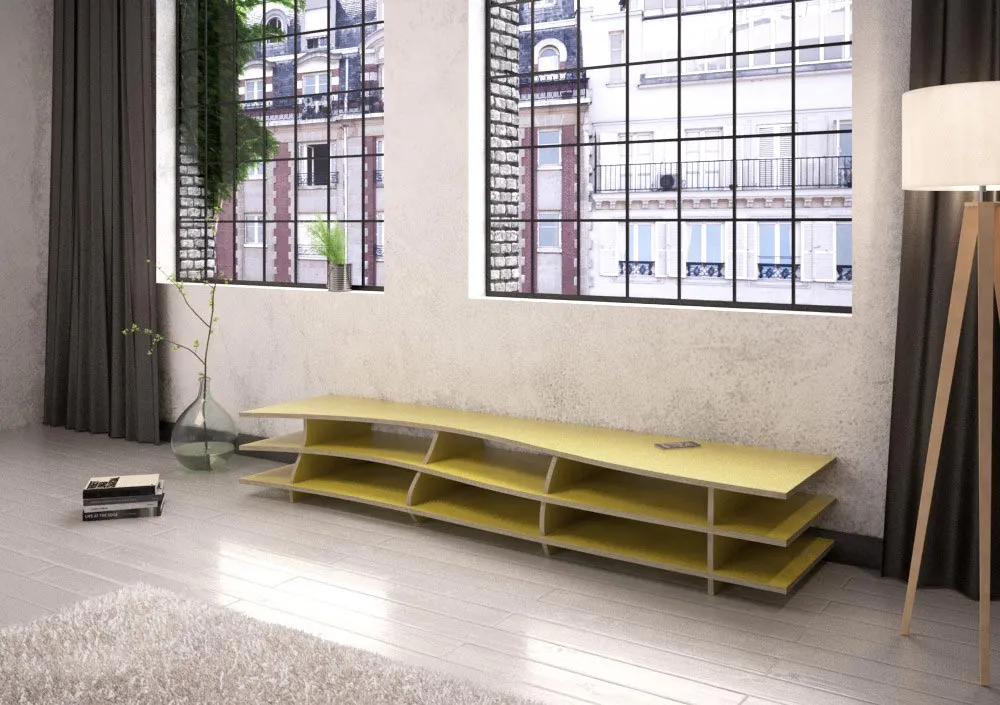 Do you want to have a practical and functional furniture that will give you a lot of storage space? How about a beautiful lowboard or highboard for your loft?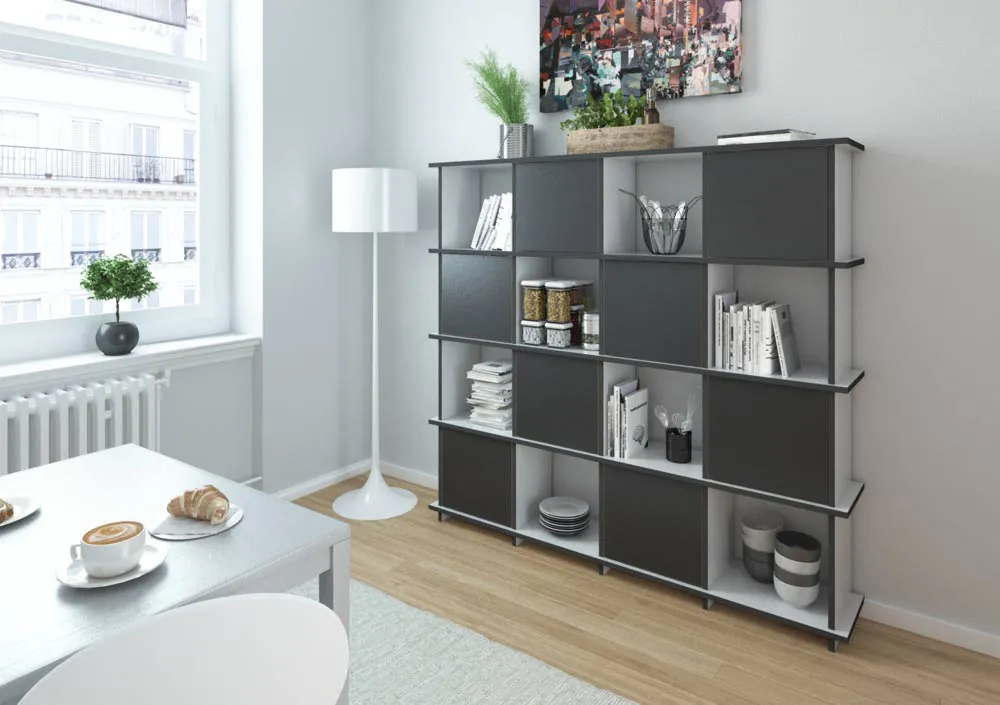 A lowboard has a maximum height of 60 cm and is perfect for TV as well as hi-fi equipment. In a large room it can be configured well in length and thus offers plenty of space for a large TV or beautiful accessories. A highboard such as our highboard Garri starts from a height of about 100 cm and usually has additional drawers, doors or shelf elements, often with glass doors or matching lighting. In addition, it is very practical, because it does not go in width, but in height, so you can make the most of your high ceilings of the loft.
Integrate TV furniture in the loft apartment
You want to furnish your loft apartment and are looking for a suitable TV furniture on which you can put your TV in the best possible light?
We offer you a wide selection of TV lowboards, wall units or TV cabinets. A special eye-catcher is definitely our wall unit Giuseppa, which could soon stand in your loft. Simply determine your desired dimensions, color and form and then order your new TV furniture directly online.
Fazit
Do justice to your loft
The loft is an unusual form of a living space. Therefore, you should do justice to your loft and also plan an extravagant, if not even form-playful interior. With free-form furniture from form.bar you have the very best possibilities to perfectly adapt your interior to your loft and at the same time establish a sweeping design. From TV lowboards to bookshelves, you have all the freedom you need.