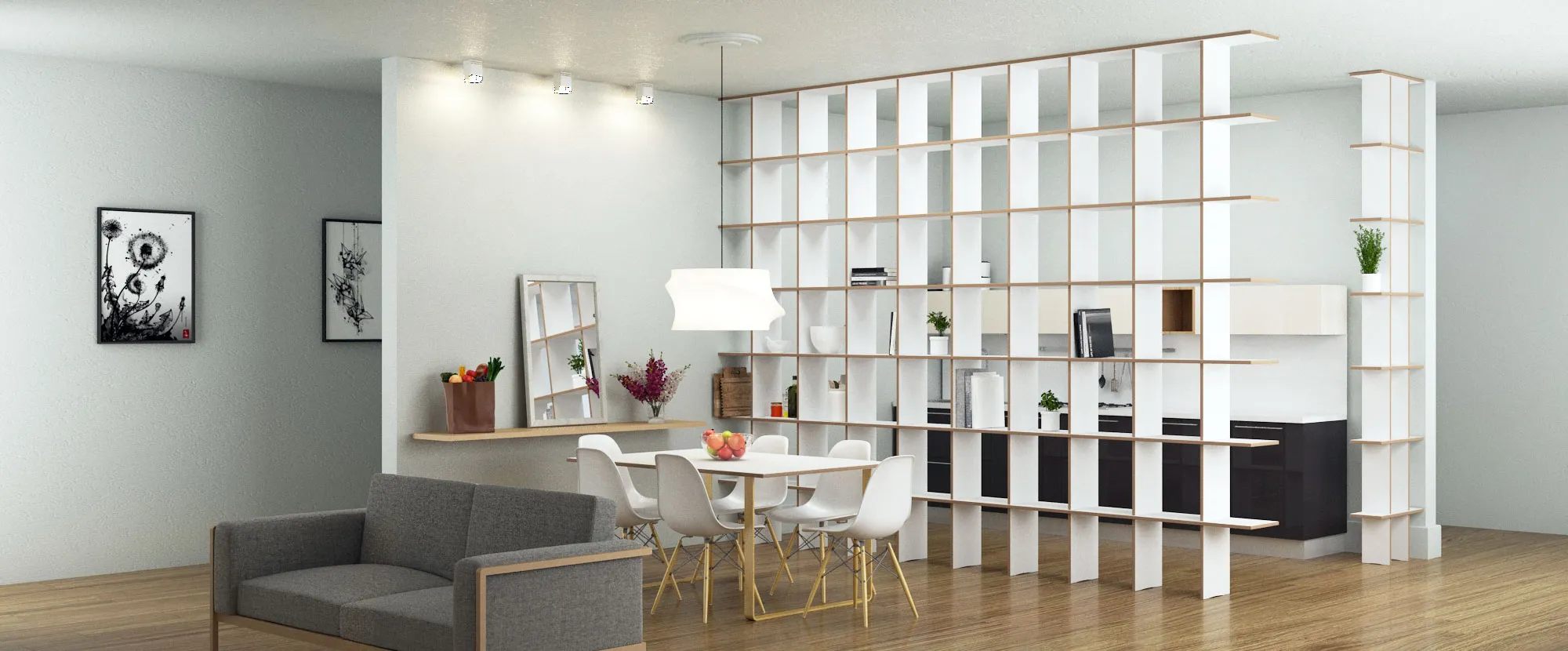 The perfect room divider
With our guide to the perfect room division.
Here you will find your room divider shelf, which can be adapted exactly to your room situation. Simply choose your favorite model and then configure your room divider according to colors and form! Whether straight or curved, with or without doors, in a simple design or totally unusual - there are no limits to your configuration!
Room dividers not only provide you with protection and privacy, but also offer you an optimal separation of the various functions in your home. This is important for the well-being of people and leads to a comfortable and harmonious indoor climate.
Room dividers come in a variety of designs and models. To help you decide and make the most of your room situation, we'll tell you how to turn your dream into reality in the following guide! We also discuss the different styles, give tips for useful storage space and provide you with some room divider ideas.
Room divider highlights from form.bar for your home
Choose your favorite design and customize it
Ideas for your perfect room divider
In advance we show you some room dividers and inspirations from our form.bar online store.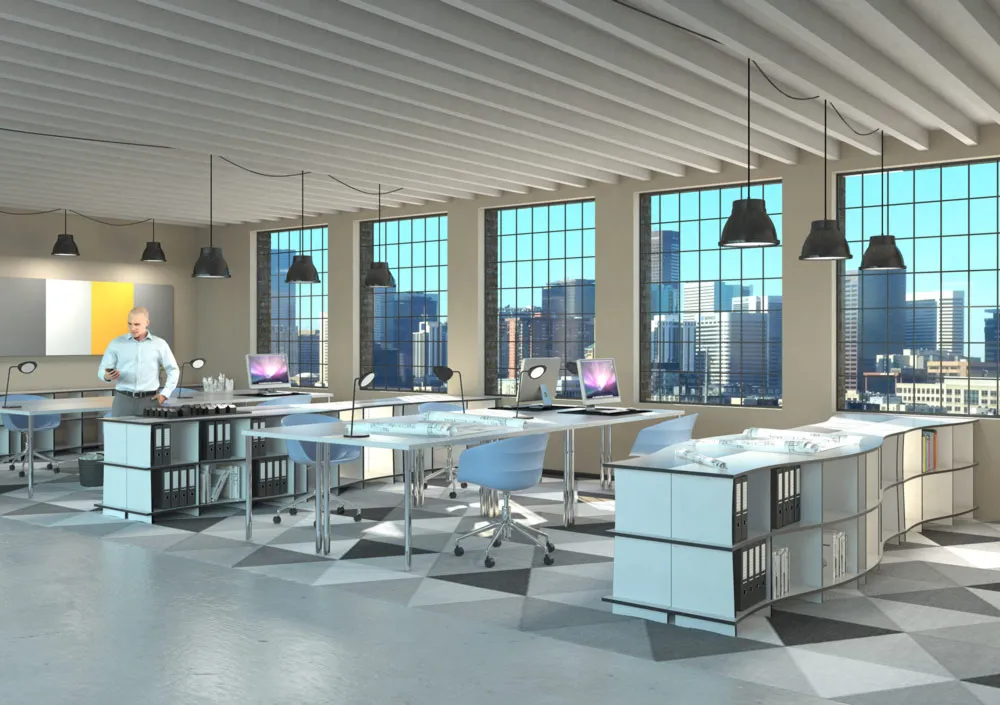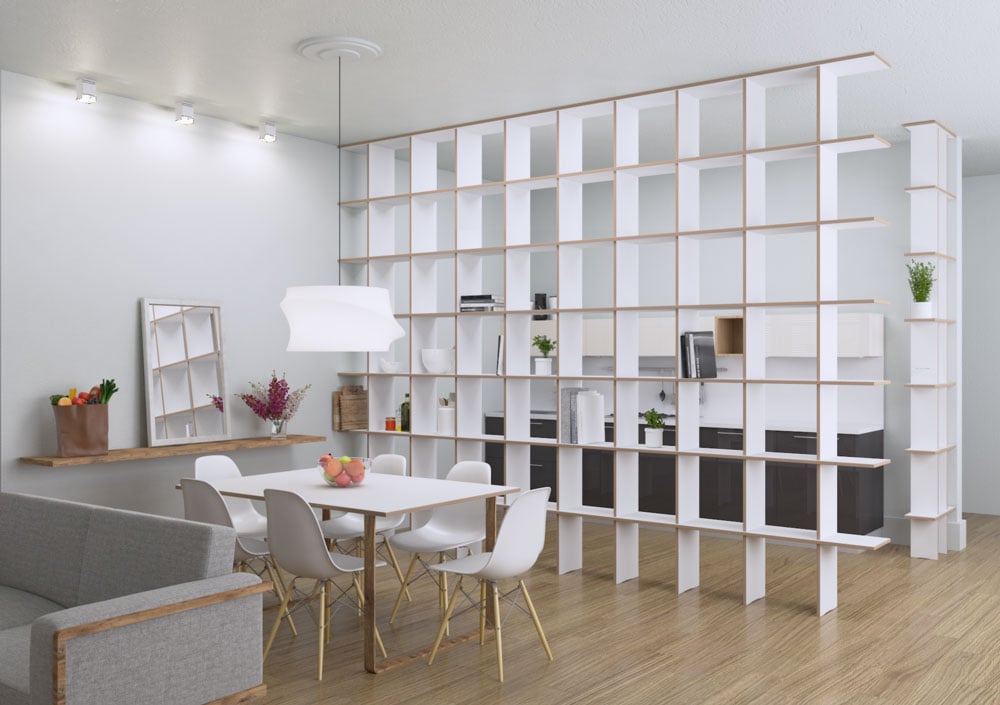 What purpose will the room divider serve?
Your facility your decision
Beautiful, functional or both?
Room dividers are very popular in large living or dining areas, or bedrooms. But they are also an optimal solution to separate the children's or teenager's room into different areas, without giving away much space and gaining additional storage space. A room divider office also brings a pleasant atmosphere. Depending on its type and size, there are different ways to divide your space.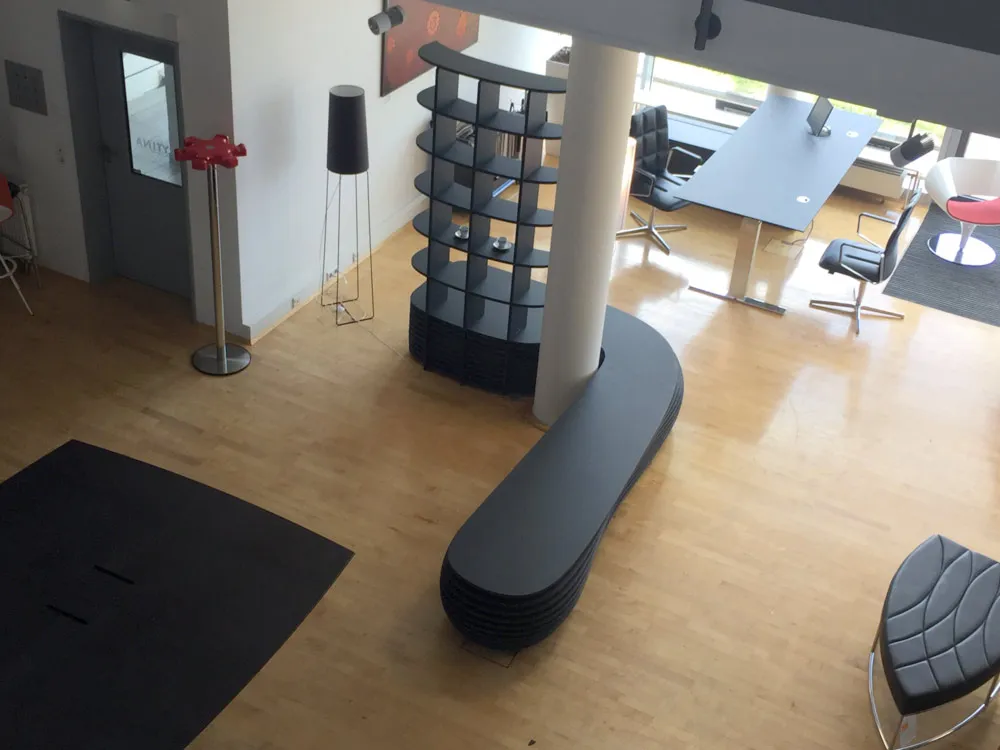 Separation of a large room
You want to divide a large room so that several small functional zones are created? Then a room divider shelf from form.bar is the perfect solution for you! They adapt to your room situation and wishes with millimeter precision and kill two birds with one stone! Not only do they provide structure and coziness, but they can be placed freely in the room, allowing you flexible placement in the room. Instead of giving away space, you'll gain new space for your everyday items as well as decor! The open shelves, which you can determine by number and size, allow light to penetrate into the separated area, so the room does not lose its spaciousness. In a large living room, for example, you have the opportunity to create a separate reading corner with a cozy chaise longue. You can also easily divide a kitchen into a dining and cooking area with a room divider. Think of different zones of the room and play with the different variations in your head. If you can't imagine how your idea will look in your room, you can also use a temporary room divider to try it out.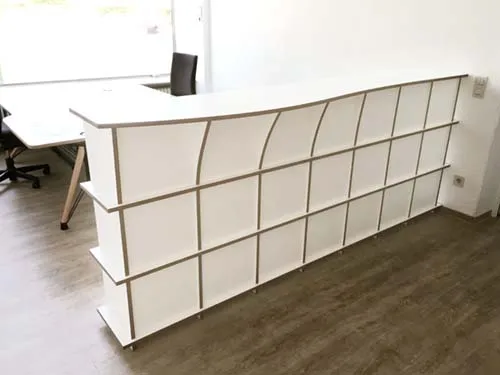 Development of storage space
Room dividers are also very practical in smaller rooms. Due to their dual function, they give small rooms not only visual lightness, but also additional storage space, which is usually always needed. Another positive feature of a standing shelf is that it can be used and filled quite conveniently from both sides, which makes them an ideal display area for your favorite items. Of course, you can also equip your wall shelf with doors, so that the compartments are visible only from one side. Also, nice boxes or baskets are a great way to store your items without being seen by other people right away. What kind of shelf you choose is completely up to you. For example, decide between a bookshelf, shelf wall, sideboard or a beautiful step shelf. Size of the shelf and compartments can be freely determined, so you end up with a room divider that suits you and your space!
The room divider as a bookshelf
People are always reading, so a bookshelf is a great individual room divider. A shelf in which you can present your books not only looks beautiful, but also divides your room into different areas depending on the size. A shelf wall or a beautiful step shelf from form.bar is definitely an eye-catcher and gives your room a special atmosphere. You decide, from the comfort of your home, what you like and we implement your wish. Choose your personal design for your new bookshelf from 24 different materials and colors, and form it freely according to your ideas, without compromise. Become a designer now and realize your room divider as a bookshelf!
Room dividers in gastronomy
Room partitioning in the restaurant industry is also an important topic. Because with sensibly placed room dividers in a restaurant, the rooms gain in atmosphere and appealing flair. In addition, guests feel more comfortable when there is more of a sense of privacy and they are not sitting directly table to table next to other guests. Another option is to separate non-smoking and smoking areas. This option is much cheaper than building a solid wall. In addition, room dividers can be flexibly moved as needed.
Use in living room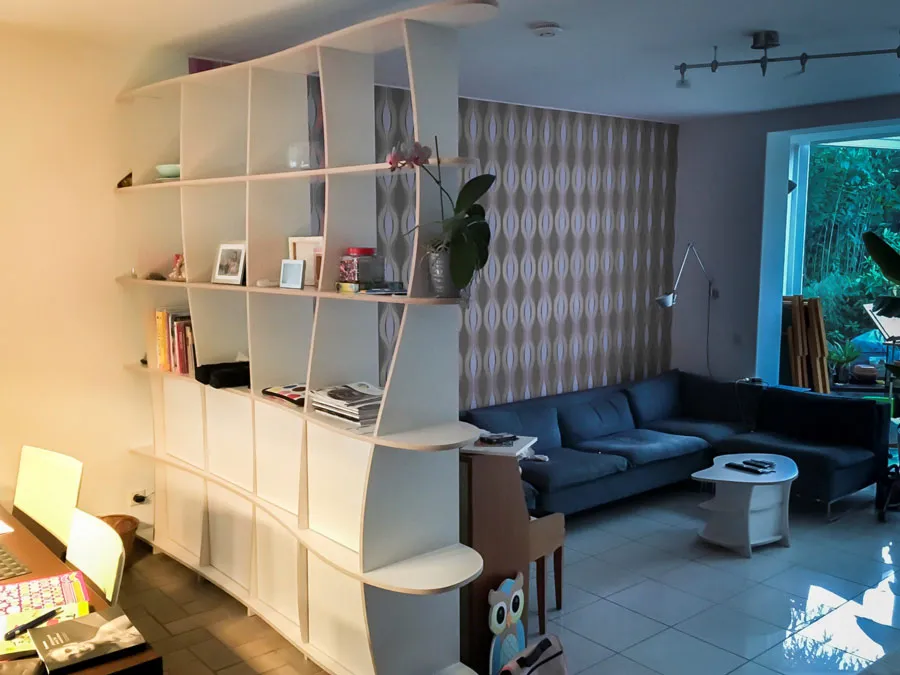 You want to divide your living room into different areas, or make two smaller rooms out of one big room? A room divider with a maximum number of compartments in the size of a partition wall makes it possible! This way, you can easily set up a separate dining area in your living room next to the living area, or even a cozy reading corner to relax. A separation of living and working is also possible. But it does not necessarily have to be a separation by a shelf. You can also use a fireplace as a room divider or sit for a special effect an aquarium room divider for your living space.
Use in the bathroom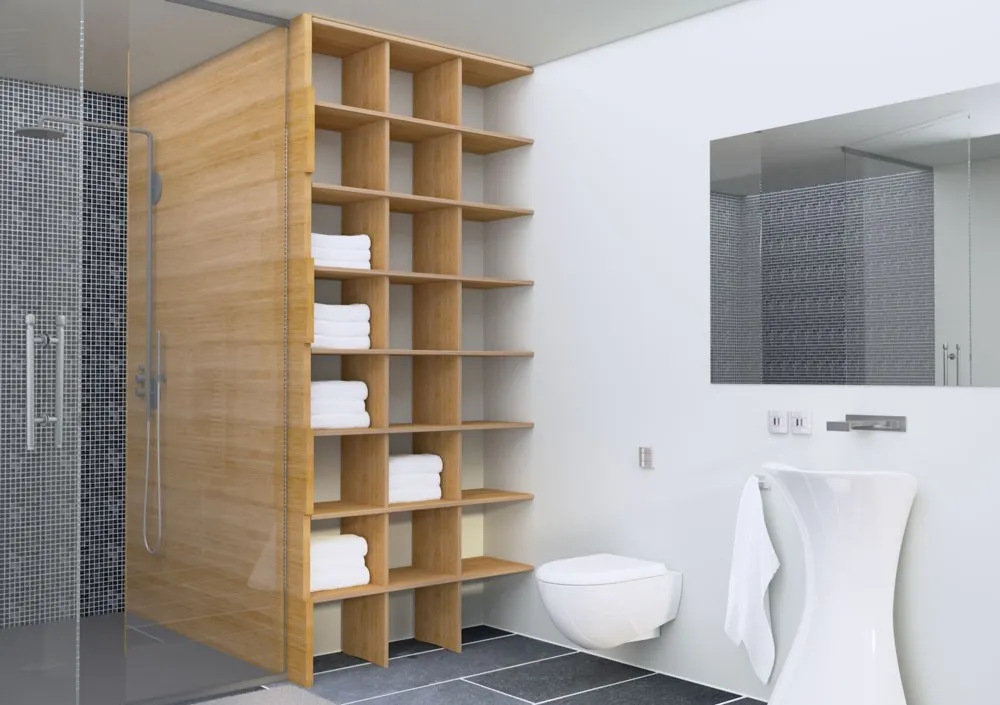 The shelf room divider in the bathroom is not only practical, but also space-saving. You get additional storage space for towels, cosmetics or care products and can divide your bathroom into different zones. Bathrooms with room dividers are also better to use, as it adds design accents and gives you more privacy. One possibility, for example, is to separate the toilet area from the shower or washing area.
Garden use
Even in outdoor areas such as garden or terrace, a room divider can find a useful use. Not only do they help to structure your garden and protect your garden from prying eyes of the neighbors, but they can also be used to create cozy corners. For example, you can separate your seating area or dining area or create a practical barbecue corner. You have the possibility to create a separation with a hedge room divider or to use a flowering plant room divider. Another option is a wooden room divider. However, when choosing the wood material, you need to pay attention to weather resistance. Our room dividers are more suitable for indoor use, but it is also possible to find a solution for your outdoor area on request.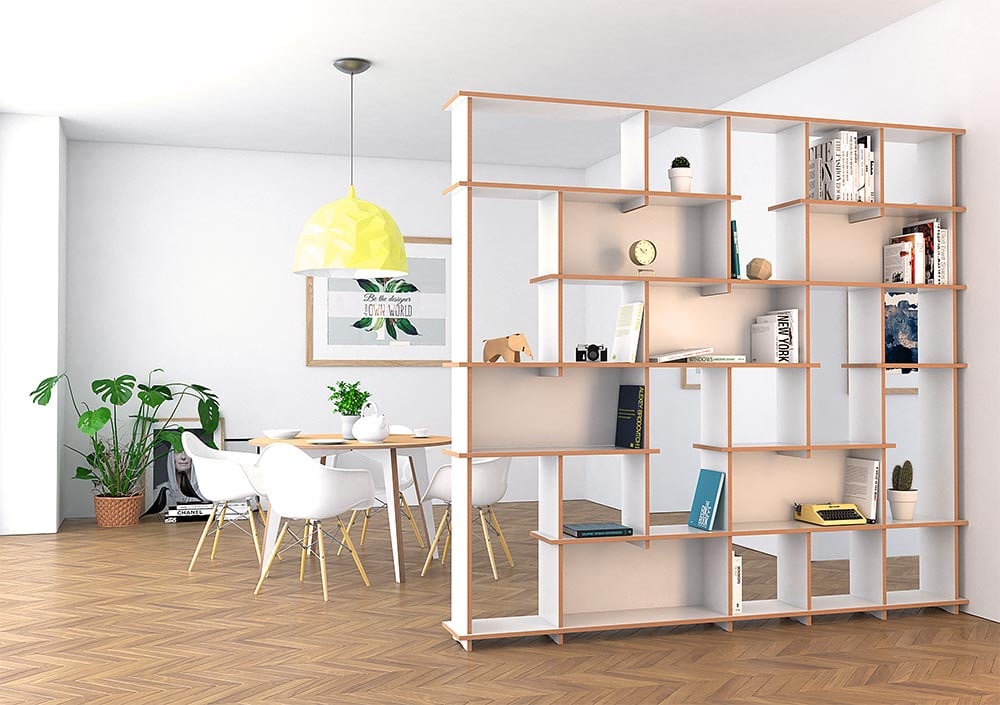 Spatial use of a room divider
Of course, to properly use a room divider, you first need to visually divide your space. Where you put your shelf wall depends on the size of the room and the spatial conditions. For example, you can divide your kitchen into a separate dining and cooking area or create an additional storage room or corner with storage space. Another option would be a beautiful commode or a practical shoe shelf for your bedroom or hallway. In the living area, you also have many options open to you. Whether a cozy reading or TV corner or small play area for the kids. Be creative and give your home a new effect, without directly renovate everything new!
We design your room divider for you
Let our professional team of designers furnish your living space aesthetically and functionally.
To the design service
Room divider made to measure
Special designs made easy with form.bar
At form.bar you have the possibility to adapt your room divider individually to the conditions of your room in the form of height and width as well as form. Because furniture should adapt to us and not vice versa!
Adapted to room size
When choosing the right room divider, you can choose between different variants. Whether for a large or small room, our room dividers can be easily adapted to any situation with our furniture configurator! Simply choose your favorite model and configure it to the millimeter according to your wishes. So you get a flexible unique piece that fits perfectly to you and your home.
Adapted to slopes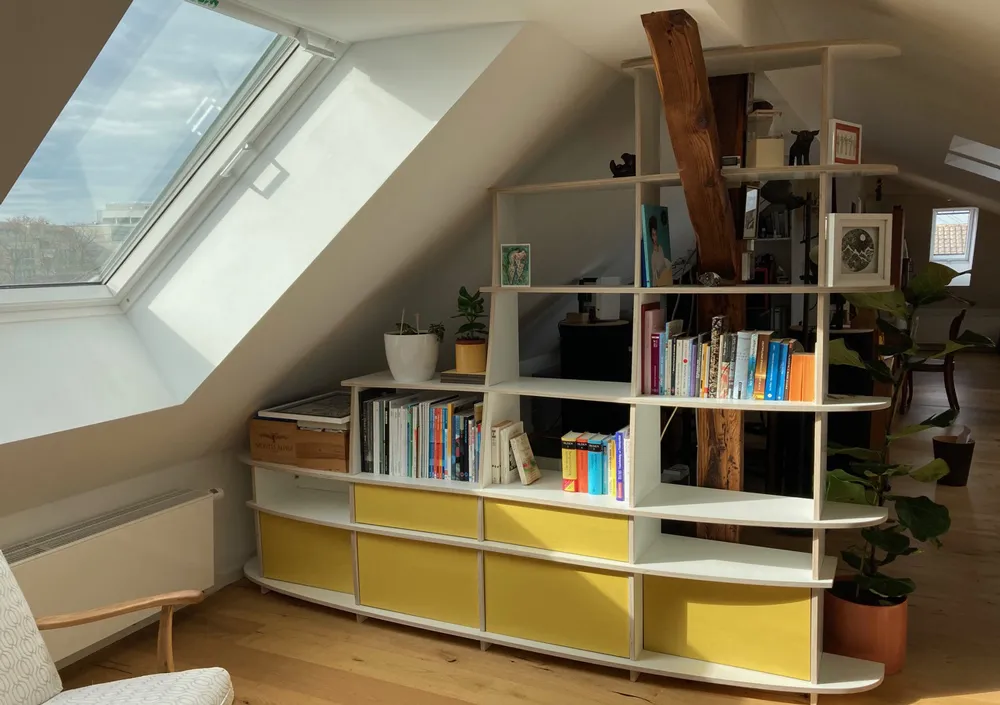 You live, for example, in an attic apartment with sloping walls and are somewhat limited with your space? No problem! For example, configure a beautiful step shelf as a room divider shelf. This will definitely become the visual highlight in your apartment! In addition, your room will be divided into two halves, making it seem visually larger and providing additional space for storage. You decide from the comfort of your home, which form and color you like and also have the option to include additional doors.
Adjusted for height and width
Adaptation to specific height and width requirements are also possible with our room dividers. Whether for a niche situation, particularly high ceilings or for sloping walls - we turn your wishes into reality! Simply configure your shelf according to your desired height, width and depth and form it the way you like it best! You also have the possibility to leave the planning and design of your project completely to our designer team. Tell us your ideas and we will realize them for you!
Styles and materials of room dividers
Become a designer yourself
An important step in planning is becoming aware of the style, color and material of your wall shelf. To make your home even more personal, you should base the selection of your new room divider on your decorating style to make it look more cohesive. Below, we'll go over some sample styles that might fit your home.
The room divider as a screen
Among the most famous room dividers are clearly the screens. These are mobile and easy to set up walls, which are mainly used for privacy. Untidy corners can also be optimally hidden with a screen room divider. They are available in various designs: e.g. textile, metal or bamboo.
The japanese room dividerr
Traditional japanese screen room dividers create a harmonious and relaxed atmosphere with their elegant design and artistic painting. They are flexible and easily adjustable. However, they do not provide additional storage space for placing your everyday items.
The minimalistic room divider
With the so-called minimalism, the motto is: less is more! That is, in this style of furnishing a few pieces of furniture are chosen carefully. The reduced design brings peace, simplicity and order in your room and frees your apartment from superfluous stuff. Just configure your room divider so that it suits your ideas and don't overcrowd it with too many things. However, if you have a lot of decorations and like playful things, you should choose a different style.
The modern room divider
You have furnished your apartment in a modern style and want the right modern room divider? We at form.bar offer you the possibility to design your room divider so that it matches your modern interior. Choose your individual solution from many different materials and colors.
The room divider of bamboo
For a more airy variant, for example, artificial plants such as room dividers bamboo are also suitable. Bamboo can be green, light or dark brown and therefore wonderfully fit into any existing interior. Especially with its simplicity and yet so natural material, it is perfect for giving any room a special touch. However, if you need a room divider that will provide you with additional storage space, you should opt for the classic wooden version.
The room divider made of wood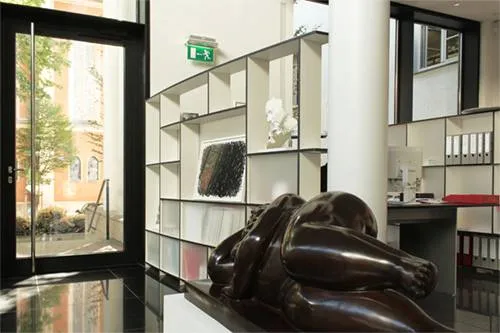 If you are looking for a wooden room divider, you have made the right choice. Wood brings a piece of nature with it and makes your living space look more lively and harmonious. For our room dividers, we offer you a diverse selection of high-quality wood types, such as solid birch veneer plywood, medium-density fiberboard with colored coating, and coarse chipboard. If you are not sure whether the material or color you have chosen suits you and your home, you are welcome to order two wood samples free of charge to view at home.
The room divider made of metal
In addition, there are also copies made of metal, which are particularly suitable for the division of large rooms or for study or commercial premises. But there are also beautiful designer metal room dividers that can also enhance your space.
The room divider made of fabric
Of course, you also have the option to separate your room with the help of a curtain or a room divider curtain. They do not take up much space and can be opened and closed as needed. This option is optimal for areas that only need to be separated for a short time or where the need often varies. You can choose between an opaque curtain to provide more privacy or protection from view, or a curtain that allows you to see through it.
Design and build room divider yourself
In the following, we will show you how you can build your own individual room divider with our form.bar configurator or design it yourself online.
Fazit
The perfect room divider for you
The style of your new room divider should be reflected throughout the room. Get inspired by form.bar and our room divider ideas and find a room divider shelf that suits you individually! Once you've decided on a style, there are plenty of ways to make your ideas a reality. We hope our tips and examples are helpful for you and wish you a lot of fun designing your room divider!