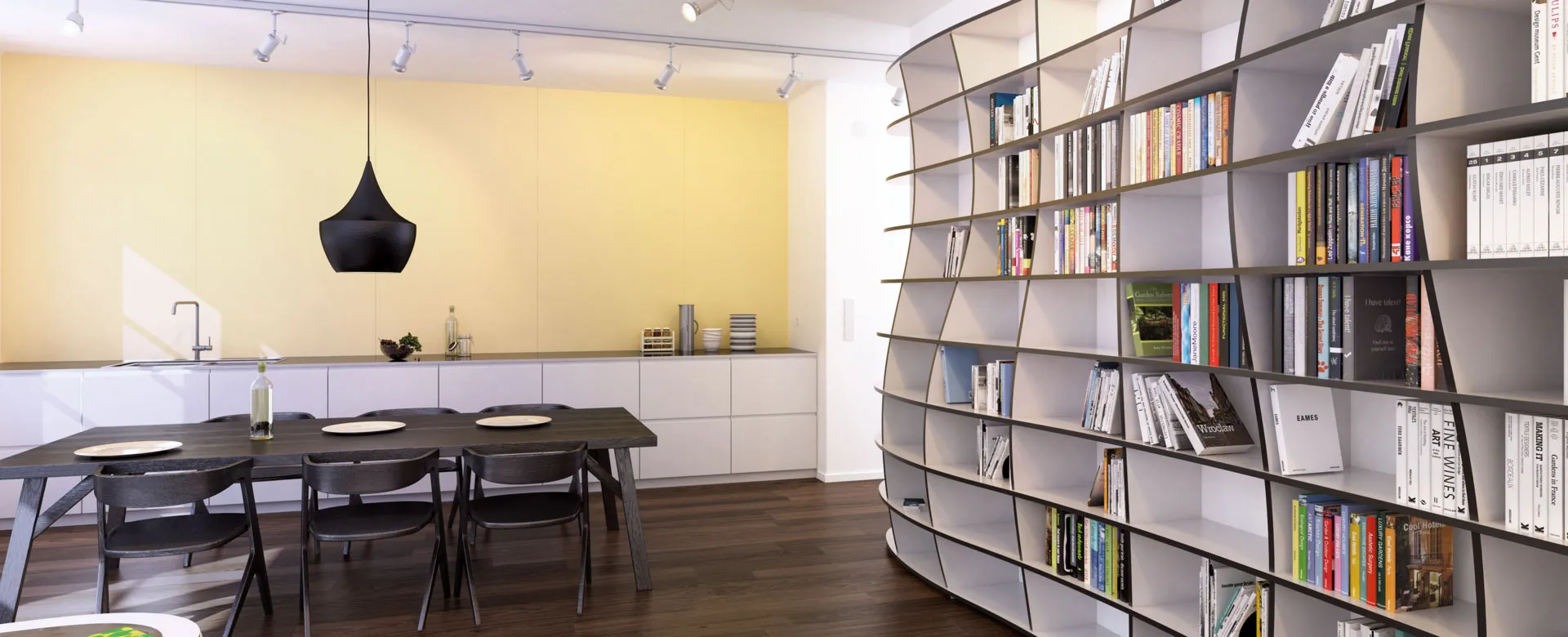 Dining room decor
with the perfect dining room furniture
Dining room decor is all about creating a space that is both cozy and multifunctional. Where and how you choose to furnish your new dining space usually depends a lot on the space available in your apartment or house. If you have your own dining room available, you are definitely freer and more independent when it comes to design. However, an integrated dining area in the kitchen or living room is also a good option.
To make your dining room look uniform and harmonious later, you should not only consider the choice of dining room furniture, but also pay attention to the wall design, lighting and, of course, the appropriate decoration.
Highlights from form.bar for your dining room
Choose your favorite design and customize it
Dining room furniture from form.bar
To help you decorate your dining room and make the most of your space, the following guide will tell you how best to proceed and plan your new dining room step by step. In doing so, we'll go over the different dining room furniture wood for a large or small dining room and help you choose the right decor. In addition, we go into different styles, give interior design tips for useful storage space and the right color scheme and provide you with some home ideas and inspiration from our form.bar online store!
Modern furniture for your dining room
We'll show you living room and dining room furniture that could soon be in your new dining room.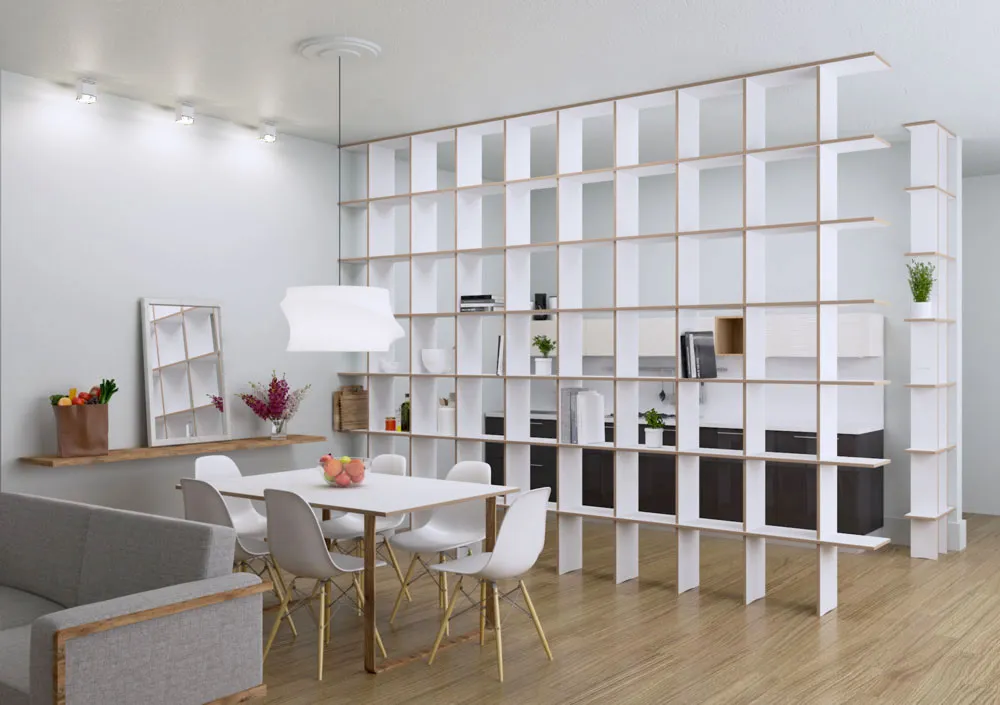 Dining room chairs
Dining chairs are a must and are part of the classic design in the dining room. They come in different variations and materials. The most popular material for a chair is still wood, due to its pleasant, warm appearance. Closely followed by metal, plastic or a leather or fabric combination. Especially an upholstered chair has a pleasant, soft seat and provides more conviviality. For an integrated dining area that has limited space, using a corner or bench seat is a smart solution. So, a bench can completely replace or complement the dining chair. With us you have the opportunity to customize your individual bench with our online furniture configurator to your dining room furnishings. to your dining room furnishings. Simply specify your desired dimensions and further configure your bench by form and color so that the furniture perfects the room.
Dining room tables
Of course, the dining table in the dining room can not be missing. Here, the right size is particularly important. In any case, it is necessary to measure every corner of the dining room beforehand, so that the furniture perfectly fills the space. In addition, you should take into account the number of people and also consider that from time to time there may be visitors. That's why extendable tables are a nice option, as they save space and can be enlarged or reduced as needed. To provide enough light, it makes sense to place your new dining table near a window.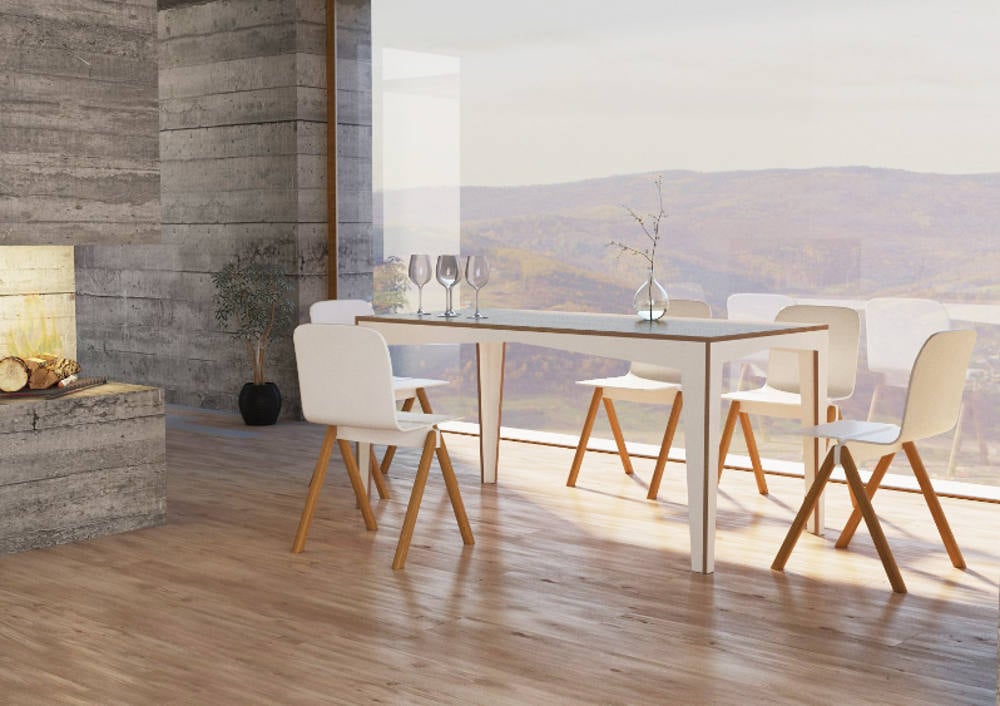 Sideboards for dining room
Of course, the dining room furniture also includes a beautiful sideboard. These provide ample storage space for dishes, cutlery, napkins and more, which should always be within reach before and at all meals. A commode or a highboard can also be well integrated into a dining room. Depending on what you want to store or present, you can either choose a closed sideboard or display your expensive dishes or beautiful accessories in a showcase with glass panels. At form.bar you have the possibility to adapt your individual sideboard to the form and color of your room with millimeter precision. So you don't waste any space and have furniture for dining rooms that exactly match your ideas.
Lights and lamps for dining room
Lighting in the dining room also plays an important role. In a separate dining room, the dining table is usually centered in the room. This is inviting for guests and makes the most of the space in your dining room. In this case, it is a good idea to install ceiling lights or height-adjustable pendant lights directly above the dining table so that it is completely illuminated from above. However, if your dining table is in a corner of your living room or kitchen, you should go for alternative lighting. Ceiling spots mounted above the table or a nice hanging lamp are a good solution. If it is not possible to install a hanging lamp above the table, floor or wall lamps are an alternative.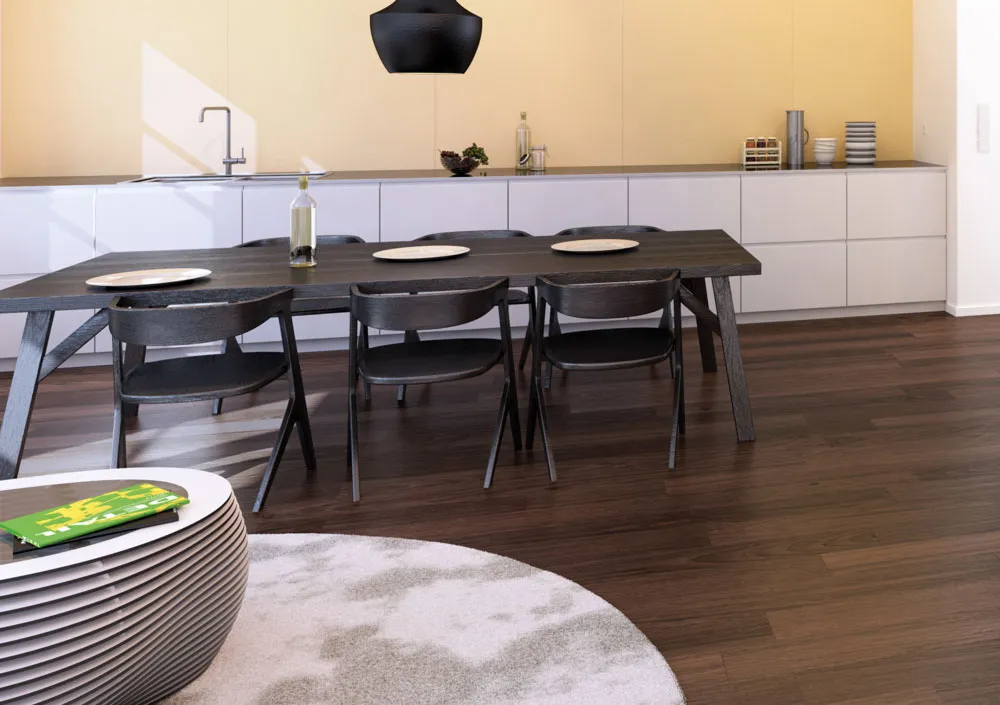 Side tables for dining room
Side tables are useful and practical helpers that provide additional space for drinks or bowls with their shelves. They facilitate the arrangement of dishes when there is not enough space on the dining table. In addition, they are a beautiful home accessory. Side tables come in different variations and materials. Whether made of wood, metal or plastic - choose your new side table from different models.
Carpets for dining room
A soft carpet in the dining area brings more coziness into the room and prevents noisy chairs and scratches in the flooring. However, you should pay attention to ease of care when choosing a carpet. After all, food scraps often fall off the dining table, potentially causing stains. Also, carpets can be used to add a bit of color to your dining room. Whether plain, colorful or patterned - choose between many different models.
Serving trolley for dining room
While the side table has its fixed place in the dining room, the serving trolley can be used in a mobile way when transporting food as well as dishes. As a rule, they have a two-tier design and large wheels or casters. The upper tier is suitable for food and the lower tier is intended for plates and cutlery.
Dining room flair
There are countless ways to furnish your new dining room. Ultimately, any style you want can be incorporated into your dining room. Whether you choose dining room furniture modern, classic style, retro or vintage style is up to you. We offer you dining room furniture in different colors and materials, which not only fit your home exactly, but can also be configured according to your interior style. Whether dining room furniture white, black or colorful - choose your favorite color! Let yourself be inspired by our living ideas and dining room decorating ideas to inspire you and find your dream furniture!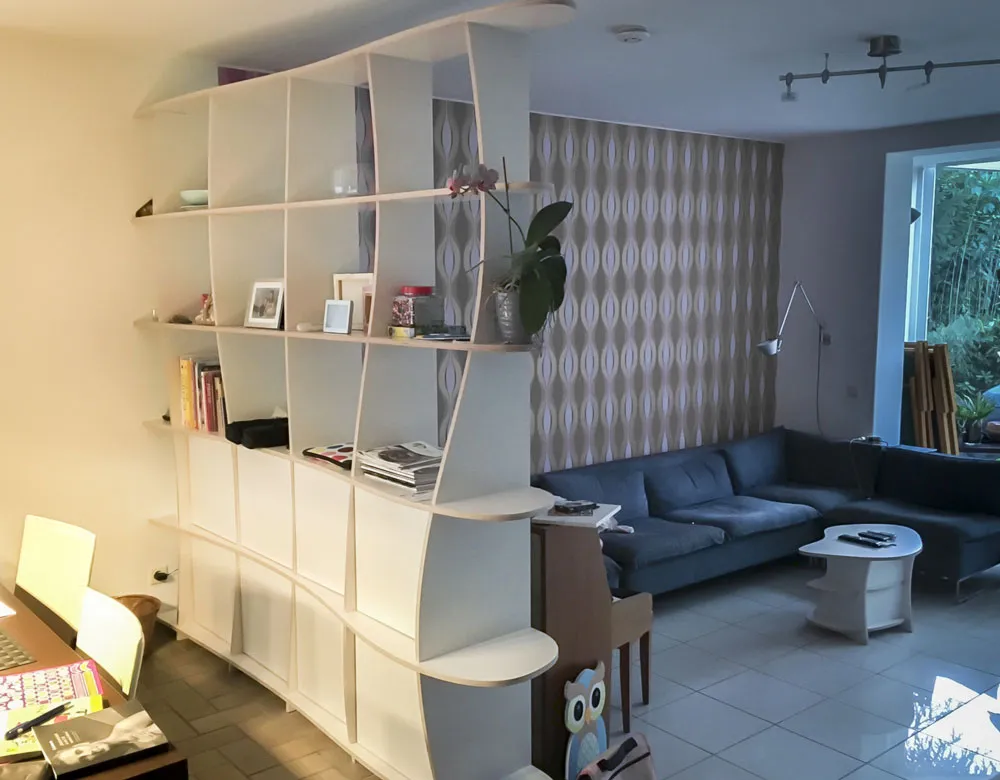 Retro style dining room
You want to furnish your dining room in the flair of the 50s to 70s?
No problem! In the retro dining room you have the option to use colorful pattern wallpaper. Dining room furniture such as table, chairs or sideboard, can either be kept simple in color, or also turn out colorful. If you opt for plain furniture, you can bring additional color into the room with selected accessories and table decorations. An eye-catcher are striking lamps in the 50s style. Wall or pendant lamps in retro style do not take up space in small rooms and emphasize the style despite everything. A popular piece of furniture in this style is a bar cart to have all his drinks at hand. Of course, not everything has to turn out in retro style, just combine your furniture and accessories appropriately according to your taste.
Dining place with elegant mix of styles
The mix of styles is an interior trend that has been used more and more in recent years. Especially if you can not decide on a specific style, the trend of style combination is perfect for you. The big advantage is also that you can transform your apartment with little effort. In principle, you can combine all styles of furniture. However, you should be careful not to mix everything arbitrarily, so that a too restless atmosphere arises from all the colors and patterns. For example, combine special antique heirlooms or found objects from the flea market with modern furnishings or combine the Scandinavian style with retro elements. What must not be missing is the courage to experiment and, as with all types of furnishings, the same applies to the mix of styles: what you like is beautiful!
Vintage dining room
If you talk about furniture in vintage style, you mean mainly objects from the 1920s to 1970s. So traces of use and scratches are welcome. They are characterized by perfect workmanship and high-quality materials and bring a touch of nostalgia to your room. If you want to combine many vintage pieces, you should pay attention to commonalities in color and material, so that a great overall picture is created, for example, in the form of chairs and the dining table.
Colorfully set dining table
If your decor is more classic style and lacks some pep in your room, you should pay attention to an appealing and inviting table decoration. Colorful flowers are very popular and bring a touch of nature and freshness to your room. You should also choose table accessories that set the mood. Black and white is outdated, put on color accents in the selection of the tablecloth, the table runner or placemats. Beautiful colored candles look cozy and give the room a pleasant atmosphere.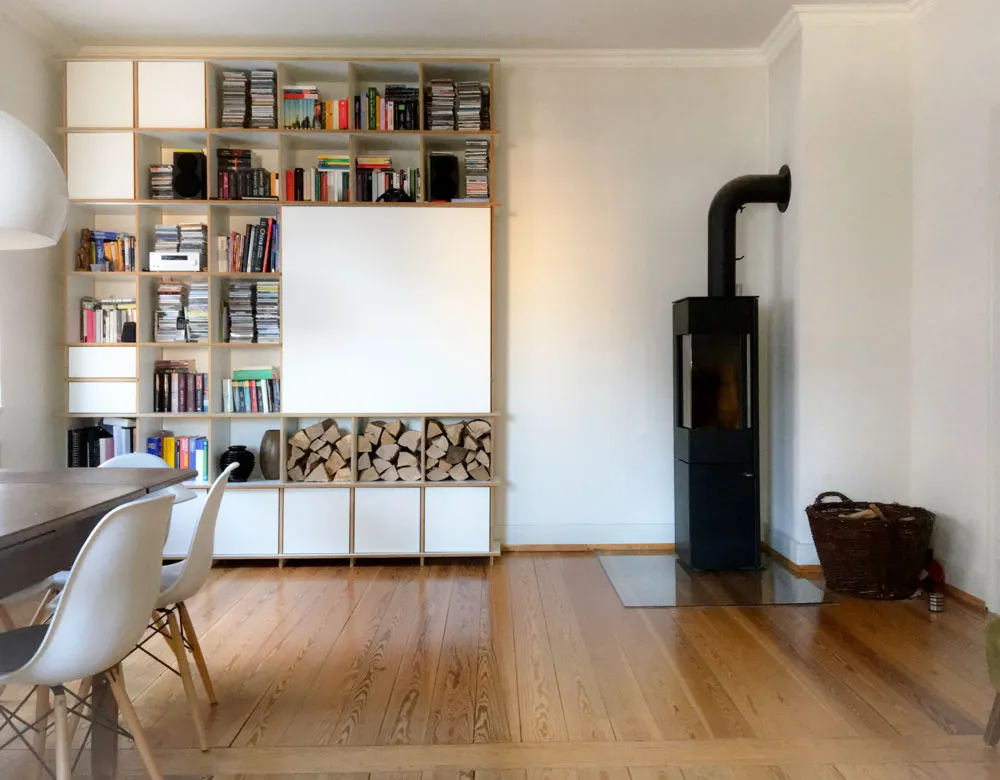 Spacious dining room
If you have a large, spacious dining room, you are very free in terms of design. So you don't necessarily have to pay attention to the size when choosing your dining room furniture. At form.bar you have the possibility to design spacious dining room furniture yourself. You want a shelf that fits exactly into a niche or is even room-high? No problem for us! Contact our designers or simply create your own furniture!
Dining room furniture wood
You like to be in the great outdoors and want natural dining room furniture that reflects just that? Then wooden dining room furniture is the first step towards that! Because furniture made of wood not only bring a touch of nature into your room, but also look cozy and harmonious. When configuring in our configurator, you have the choice between different types of wood. Should it be the solid birch veneer laminated wood with real wood veneer such as birch or oak, the medium-density fiberboard with a colored coating or prefer a sideboard made of coarse chipboard? Just click through the selection in the configurator and decide on your favorite material. When it comes to floor and wall design, you can also choose natural materials. A beautiful parquet floor offers itself or how about a beautiful natural stone wall?
Dining room wall design
Wall design also plays an important role in the dining room. This is about creating an atmosphere of well-being or a style for the dining room. Below we give you some tips for your wall design.
Wall design with color
You can either design your walls uniformly or visually delimit a wall. Whether you work with wall paint or choose a colored wallpaper is up to you. The perfect choice of color depends on the room situation, the incidence of light and, of course, your personal taste. That is, the smaller the room, the lighter the wall color should be. The same goes for the incidence of light: the less natural light that enters your dining room, the lighter the color. If your dining area is in the living room or kitchen, you can visually separate the dining area with a different color on the wall. However, the color should match the rest of the color scheme in the entire room!
Wall design with pictures
So that your walls in the dining room do not look too bare, you should look for matching pictures. However, these should match the color scheme in the room. Of course, in a plain dining room you can also set color accents with murals. Of course, you can also hang photos of family and friends or have a favorite photo printed on a canvas. This way, you'll also add a bit of personality to the room.
Wall design with tiles
There is the possibility of tiling only the wall where the kitchen unit is located, or you can tile the entire room. Here you also have a wide choice of different tiles. These also have the additional advantage that they are washable, if a few splashes should land on the wall.
Wall design with wallpaper
If you decide to wallpaper your dining room, it is important to make the right choice. After all, wallpapering an entire room requires more effort than painting one room. There are different types of wallpaper. Whether woodchip, non-woven or paper wallpaper, each type of wallpaper is suitable in principle. Depending on your taste, you can choose between white, plain, colorful or wildly patterned. Another option is a beautiful photo wallpaper with matching motif.
Wall decoration
In your dining room walls look naked and expressionless? Then you should spice up your wall with suitable decoration. There are several ways to do this. Once you have the option to hang photos with beautiful picture frames or buy a beautiful painting. Of course, there are also beautiful wall clocks or elegant mirrors to choose from. Mirrors have the additional advantage that they make the room visually larger. In addition, there are also some fancy wall shelves that you can use as decoration. No matter what kind of shelf you need, with our configurator every kind of shelf is possible and will be with a beautiful curved form definitely become the highlight in your dining room!
Decorate dining room
In addition to the basic equipment of your dining room, the appropriate dining room decoration should not be missing. Because this gives your room a personal and cozy aura. However, you should make sure that the decoration fits your interior, so that a coherent overall picture is created.
Dining room tablecloths
To protect your table from scratches and splashes, you should protect your dining table with a tablecloth. There are many tablecloths in different sizes to choose from. Whether you choose a plain, colorful, patterned or transparent tablecloth is up to you. Tablecloths made of damask or linen look particularly noble. Alternatively, there are also placemats made of cotton, felt, plastic or rattan for everyday use. These are usually quite sufficient and are very attractive to look at.
Dining room silverware
Silverware is a welcome, shiny eye-catcher on any table, the investment of which is definitely worth it. It stands not only for durability and elegance, but also for tradition. Some may have inherited the expensive silverware from grandparents and no longer need to invest in new. It is important to take good care of it, so that you can enjoy your silverware for a long time.
Candles in dining room
Flickering candles are the perfect way to bring coziness to your dining room, especially if you don't have a fireplace in your home. They come in different colors, forms and sizes. Scented candles are a great way to bring a pleasant scent and some freshness to your dining room. Scents like vanilla, cinnamon or apple, for example, are ideal for fall and winter. Of course, there are also LED candles that work with remote control and have different light colors to change. Especially if you have small children, this variant is the most safe.
Table decoration for the dining room
Of course, a tasteful interior also includes a matching table decoration. The advantage is that you can change your table decoration seasonally or according to your mood. Because with the choice of new colors and decorations on the table, your room can get a completely new effect. A popular option is fresh flowers, which bring a piece of nature into your room. A classy candlestick or tea light jars will also add individual style to your space. Vases and bowls with fresh fruit are also a popular option.
We plan your dining room for you
Get your dining area designed by our professional team of designers.
To the design service
Furnish small living-dining room
Making room combinations possible with form.bar furniture
The right furniture arrangement
If you want to furnish a small living room that should also include a dining area, you should think about the right furniture arrangement and plan your living room beforehand. In addition, your living room furniture and dining room furniture should create a coherent overall picture and fit together. In addition to the room layout, the colors and materials of the furniture and home accessories also play a major role.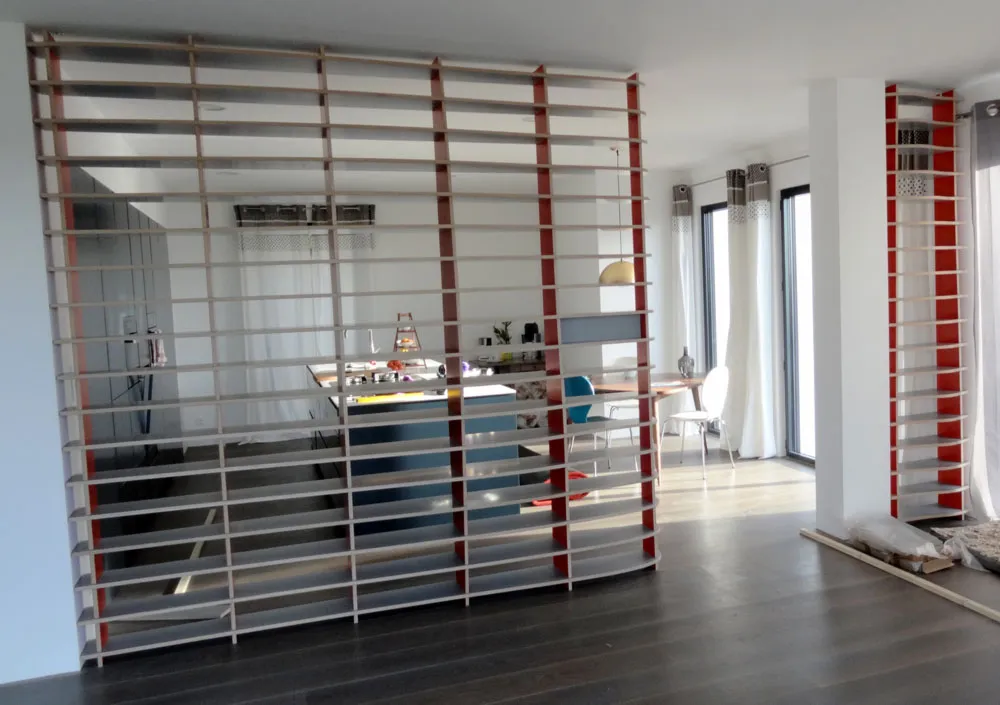 Dining table separates living from cooking area
To visually separate your kitchen from the dining room, you can place your dining table so that it divides your space into two separate areas. Another great way to separate the cooking and living areas is with a beautiful bar counter. These are usually very modern and add a nice flair to your space. Finally, selected bar chairs make the overall look perfect. This space-saving solution is also suitable not only for eating, but also as a work surface or storage area when cooking.
Separate living room from dining area
Not uncommon is a combination of dining room and living room. To visually separate the two rooms, a room divider is particularly suitable. These shelves stand in the middle of the room and thus divide the two rooms from each other. Another advantage of room dividers is that they provide additional storage space. Enthusiastic book lovers can place theirbook collectionthere. Decorations, such as a porcelain figurine or a valuable heirloom from grandparents, perfectly highlight the piece of furniture. Room dividers come in many different sizes. From room-high to medium-high - there are no limits to your taste. If you choose a room divider with doors, then you should make sure that there is enough light in both rooms.
Extendable tables
In a small room, space-saving furniture is a good option, such as an extendable dining table hat can be easily enlarged as needed. Basically, your dining table should be large enough so that everyone at the table can sit comfortably. On the other hand, it should be as small as possible, so that there is still enough space for living or even cooking. So by extending it, it saves a lot of space and is only folded out for guests when the space is really needed. Folding or stackable chairs are also very practical and space-saving.
Dining room table plan
With our unique table configurator you can plan your dining table according to your wishes and ideas. If you already have chairs, the table should be based on them, both visually and in terms of dimensions. It's easy to determine the right table height. Simply choose the seat height plus 30 cm, this ensures you a comfortable sitting position and sufficient legroom. When choosing the materials, you can orientate yourself on the chairs. However, it is not necessarily necessary to use the same material for the chair and table. Contrasts can make your living room a special eye-catcher. You should still make sure that the dining area matches the other furniture. For planning your new furniture, you should consider beforehand how many people will sit at the table every day. For rectangular tables, calculate with 60x40 (LxW) cm per place setting, this guarantees that everyone at the table has enough space to eat. In addition, one should plan an extra 20 cm in the middle with to place bowls or pots.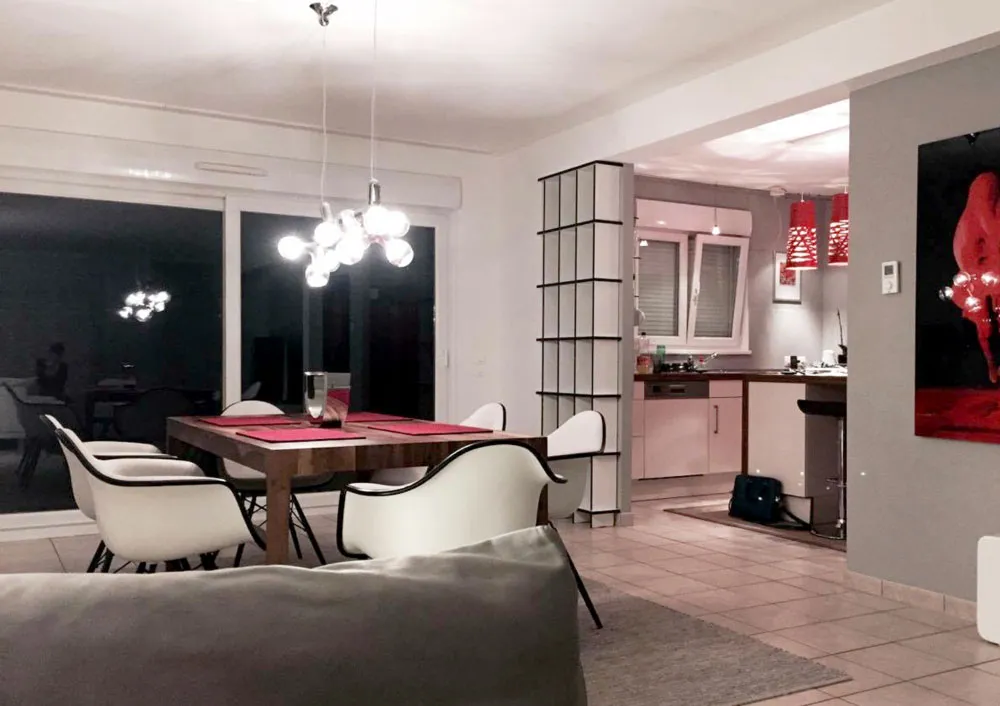 Space saving furniture
If you want to furnish a small dining room, you should go for space-saving furniture. The space-saving alternative to a dining chair are benches, because they can be slid under the dining table if necessary. Don't leave the corners of your room unused, fill them with a nice corner shelf that can be made to fit your corners to size. Furniture made to measure is useful because it allows you to make the most of your space and not lose an inch in the room. Custom furniture is also ideal for niches and wall protrusions.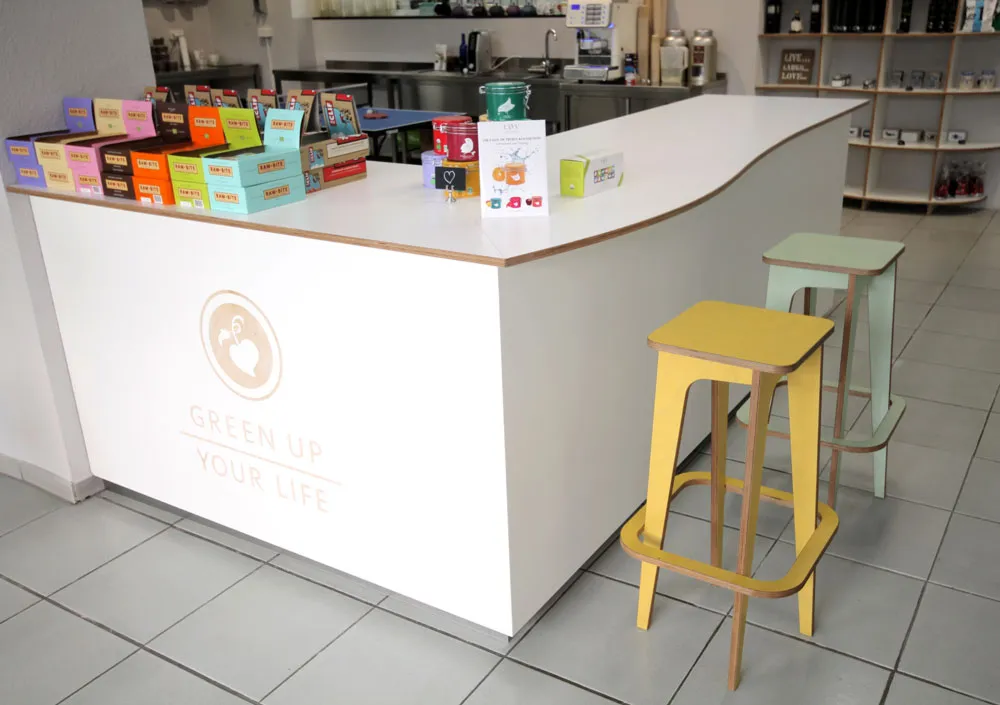 Dining table in front of the cooking island
You want to furnish your dining room in a modern way or integrate a cooking island with dining area in the room? No problem! Cooking islands are the focal point of your kitchen and form the heart in the kitchen. A cooking island can combine cooking and eating at the same time. Because if they are well planned, they can easily replace the dining table. An integrated table turns your island kitchen into a living room kitchen in no time! However, you will need a large or wide kitchen, as an island is difficult to fit into a narrow kitchen. Also you have the option to integrate a counter or bar in the kitchen island.
Inspirations for your dining room - the best ideas
Proper planning before buying: consider your personal desires, the used space for your dishes and, of course, your budget.
Measure the room thoroughly: Properly measuring the room is key, as an empty room usually looks much larger than it actually is.
Use the space available: Don't waste space and take advantage of your high walls by using wall-high shelving.
Proper lighting: if your dressing room lacks daylight, you should install additional light sources.
Made-to-measure shelves adapt perfectly to your room situation: Do not leave your room corners, niches or wall projections unused, but fill them with your personal shelf unique.
Enough storage space: make sure you have enough compartments, shelves and drawers to store your dishes.
Appropriate color choice: Choose your wall color wisely. For a small room, a light and neutral color palette is suitable.
Accessories give a cozy atmosphere: details and extras are helping you feel good.
The right arrangement: separate zones in your dining room ensure good organization.
Configure your favorite piece now!
There are no limits to your imagination!
To the design generator