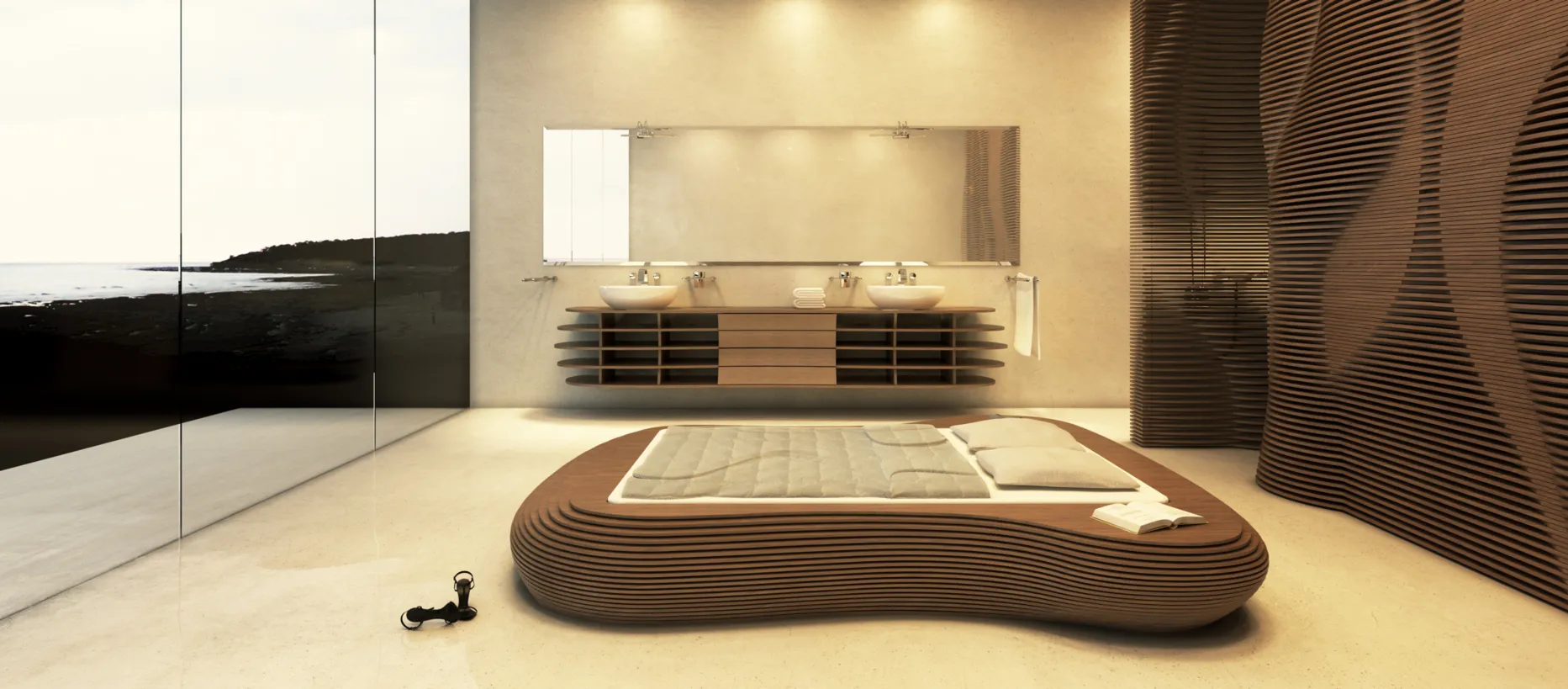 Furnish the bedroom
A harmonious interior provides peaceful nights
As is well known, the bedroom is a space for recharging energy, resting and relaxing. It's also a place to get away from the stresses of everyday life, and according to sleep researchers, the bedroom is responsible for our good night's sleep. Since we spend most of our time there, it is even more important to create an individual space in which you feel one hundred percent comfortable and which has a calming effect on you. Of course, the room must also meet the functional requirements, so you can put everything you need in your bedroom.
To help you with your bedroom decorating, we'll give you valuable bedroom tips below and provide you with useful living ideas for your new interior. We show you some fancy furniture from our online configurator, go into the different types of furnishings in a small or large bedroom and make you familiar with the different styles. We also tell you some color combinations for the bedroom and how you can furnish your bedroom according to sleep research.
Highlights of form.bar for your bedroom
Choose your favorite design and customize it
7 tips for the design of the bedroom
Set up comfortably, sleep peacefully
So that you can quickly find what you are looking for in the form.bar furniture online store, we will tell you some general tips, tricks and ideas for the bedroom, which you should consider in order to furnish your living bedroom appropriately for you and with which living trends you are right. Of course, our development consultants are also available to help you in word and deed.
Tip 1. choose the furniture according to the proportions
In order to make your bedroom look beautiful, we will explain how to combine all the furniture, choose the right proportions and arrange them in the bedroom.
Too small, too big or too high: these problems often arise when you want to design your bedroom. Especially if you want to furnish an awkwardly cut or small bedroom, you should pay attention to the right proportions and possibly optimize them. The solution to awkward room proportions: Colors can be very helpful, as they can be used to visually influence the proportions of a room. A low room will look higher if it is painted in a light shade such as white. In addition, for low ceilings, floor-to-ceiling furniture is optimal, as it visually gives the room more height. Rooms with high ceilings, which are usually found in old buildings, are often smaller in terms of floor space. To compensate for this, you can make your ceiling rather dark. This visually reduces the height and makes your room look more harmonious. In addition, a ceiling that is too high will appear somewhat lower with walls of contrasting color. A surrounding stucco edge also makes the ceiling appear lower.
How you arrange your bedroom furniture properly depends on the room size and your taste. Before you place your bed in the bedroom, you should test it with a blanket on the floor. This way, you can try out all the placement options and choose the one that suits you best. Whether freestanding in the room, under the sloping roof to get a view of the starry sky at night or next to the window. If you place your bed freely in the room, it becomes the center of your room and looks very inviting. You can also divide your bedroom into different areas, such as sleeping and dressing areas. You can also use your closet as a room divider.
Tip 2: Consider color combinations for the bedroom
Do you prefer calm, natural colors or can't you do without bright colors in your bedroom? Whatever you decide, the following applies to the color combination for the bedroom: less is more! Because with the right color can act just a bedroom visually larger. A brightly designed room, enlarges small rooms and colorful accents provide a harmonious overall picture. In general, light colors have a liberating effect and dark tones provide comfort and security. Blue tones have a cool and refreshing effect, yellow tones give us a feeling of sunlight, while red tones are more stimulating. Of course, it is also possible to have a bright room with a colored or patterned wallpaper, which will sets a highlight or an accent.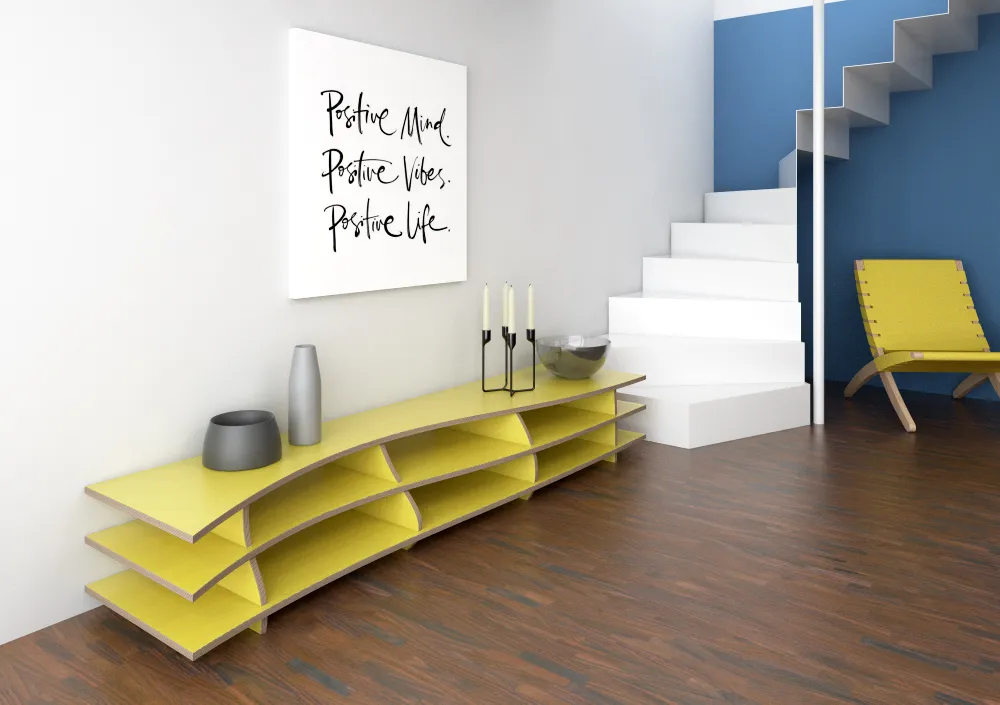 Tip 3: Find the right bed for you
Are you dreaming of a box spring bed, a bed with a bed base, a single or double bed, or even a waterbed? There are countless options and styles to choose from. If you are into naturalness, you should go for a wooden bed. Because wood looks warm and cozy. Moreover, the natural woods create charm and lively lightness. However, if you prefer to imagine an extravagant bed with luxury, a box spring bed or an unusual bed from form.bar would be the perfect solution. The metal-free custom bed called Idra , with its harmoniously curved curves, brings nature into the bedroom and provides the necessary comfort.
Tip 4: Choose blackouts correctly
There is a suitable blackout for every type of sleep. Whether you prefer to sleep with light, dim or completely darkened, you have to decide for yourself. According to this, your suitable blackout for the windows. Curtains, drapes and blinds are available in all colors, forms and sizes. You can choose between translucent, transparent and opaque materials. If the curtain or roller blind does not darken your room completely, you can help with the shutter or shalosie of course or simply use a sleeping eye mask.
Tip 5: Remove most of the electrical appliances
To keep your new bedroom a place of rest and relaxation, electrical devices such as laptop or TV should find their place in other rooms. Without these devices you will fall asleep faster and get better rest. Instead of these electrical items, you should rather put pretty houseplants, decorations or a nice bookshelf. This looks better, because there are no disturbing cables and the room situation looks more harmonious.
Tip 6: Create a reading corner for the bedroom
Use your room not only for sleeping, but also as a retreat to switch off from the stressful everyday life. For this purpose, a nice and cozy reading corner with a practical armchair, a stylish reading lamp and a bookshelf is suitable. A fluffy rug and matching pillows will make the overall look perfect. We at form.bar have some bookshelves in our assortment, which you can deform yourself according to your taste and adapt to your room situation.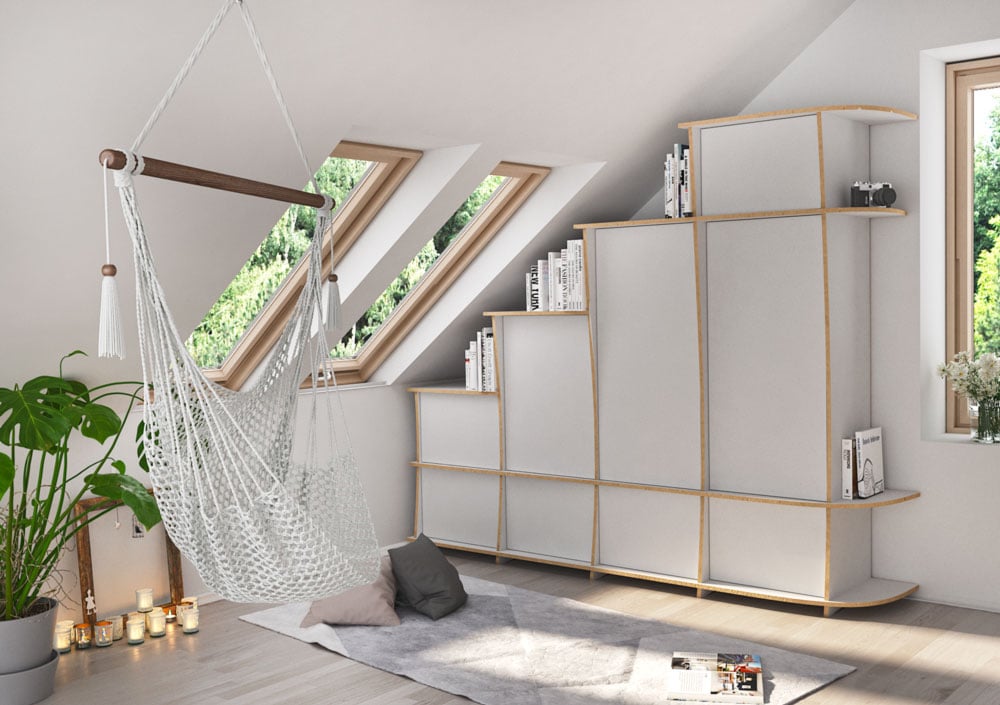 Tip 7: Create storage space
An important item that should not be missing: storage space in the bedroom. A shelf or closet for bedroom neatly stores all your clothes and shoes and makes the room visually tidy. A closet with sliding doors is space-saving and additional mirrored doors make your room look visually larger. If you have another small room available, you can also turn it into a dressing room. This way you have more space in the bedroom and both areas are well separated from each other.
The bedroom design tips at a glance
Choose furniture according to proportions: Create a harmonious overall look in the bedroom with the right furniture and color.
Color in the bedroom: when it comes to the color combination for the bedroom, less is more!
The right bed: natural woods look warm, cozy and bring charm and lively lightness to your bedroom.
The right blackout: the less light in the room, the better you get to rest.
Remove electrical appliances: According to sleep researchers, there should be as few electrical appliances in the bedroom as possible.
Reading corner in the bedroom: additionally makes your bedroom a retreat to get away from the stressful everyday life.
Create storage space: A closet with sliding doors is space-saving and offers plenty of storage space for your clothes.
We'll set up your bedroom for you
Get your bedroom designed by our professional designer team.
To the design service
Whether large, small, narrow or long bedroom.
The size largely determines the choice of furniture in the bedroom
Furnish large bedroom
Furnishing a bedroom large has a very decisive advantage: In principle, there are hardly any limits to your furnishings. So if you have enough space available, you should also use it! So that a large room does not look empty, you should also equip it with correspondingly large furniture. Large rooms tend to be restless or cold. That's why it makes sense to structure your space and divide it into several zones. One possibility would be a sleeping area, a cozy reading corner and a dressing area. To visually separate these areas well from each other, we recommend you an open shelf from form.bar, which you can use as a room divider. With our award-winning furniture configurator hast you have the possibility to create your individual room divider made to measure. Simply choose your favorite design and configure it according to form, color and material - just the way you want it! Our Strada room dividers are available in the sizes S, M and L. Convince yourself of room divider Swing and test our furniture configurator directly!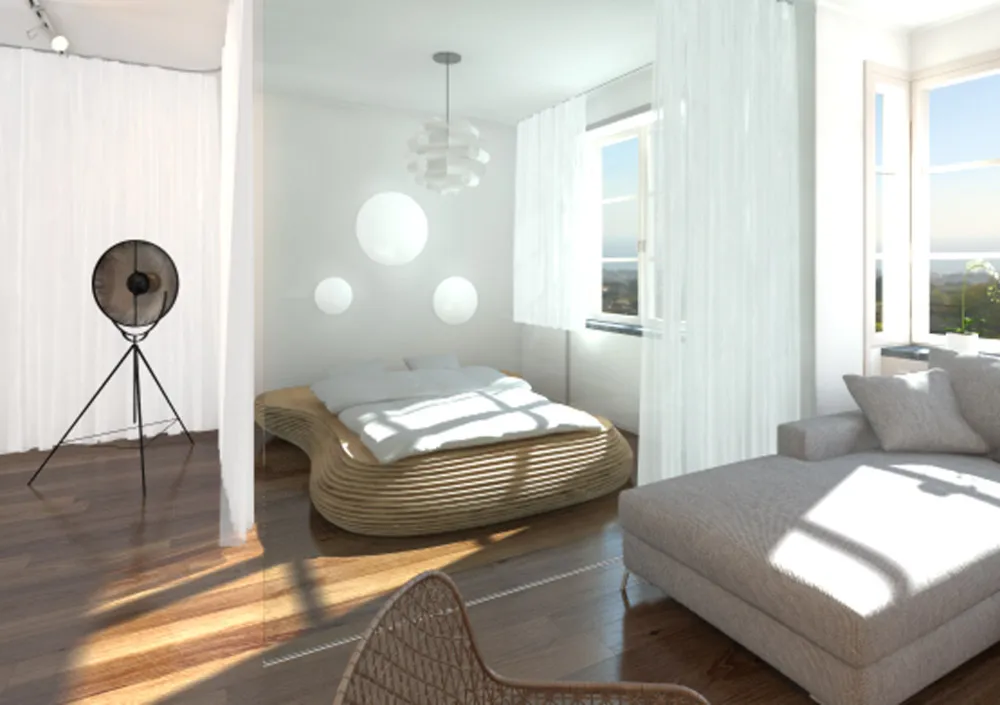 Furnish small bedroom
A classic problem in the bedroom: you put a large bed in your bedroom and thus do not have enough space for a closet. A bed with a generous bed base or practical drawers, as well as a clothes rail in the room can help you replace a bulky wardrobe. A bed with storage options is very practical, as you create unobtrusive storage space without losing living space. Also, make ideal use of your walls with wall shelves that you can spread across the width of the room. They offer masses of storage space and can be stylishly combined. In addition, you should make your room bright, because light shades make the room visually larger and friendlier. If you can't do without color, you should set accents with accessories. The right lighting also plays an important role, because even the smallest bedroom looks cozy with the right lighting. So you should make sure that there is enough daylight and indirect light sources, for example, at the bed or reading corner. In addition, you should use furniture with added value. A bedside table for bedrooms with plenty of storage space, an integrated mirror in the wardrobe or on the clothes rail, or a fold-out sofa bed as an alternative to the bed.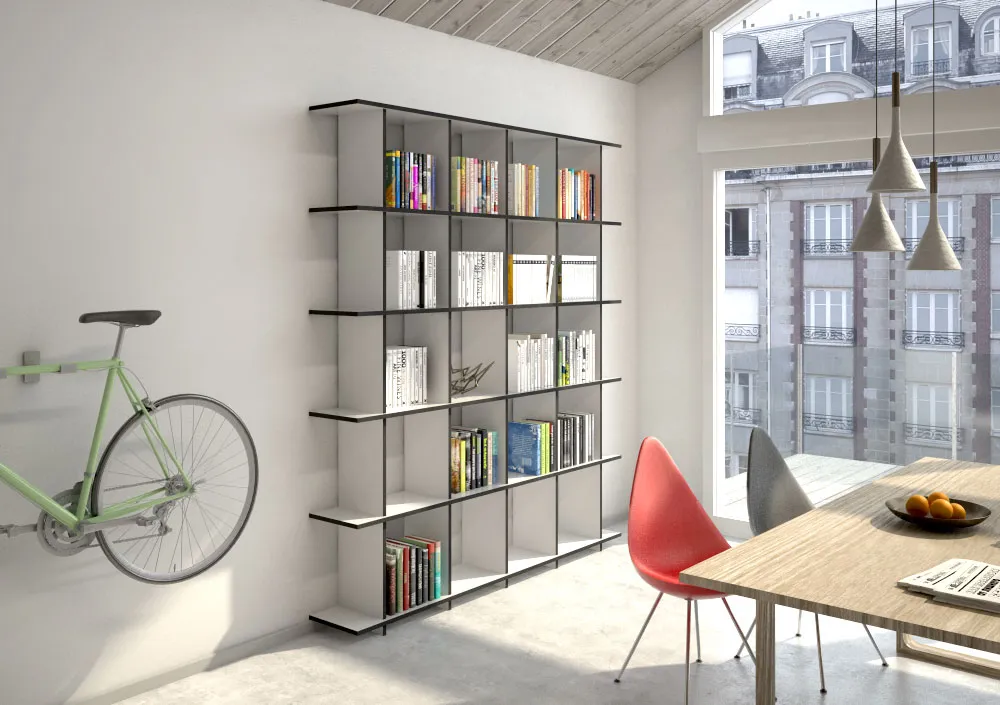 Furnish long bedroom
Most of the time, a bedroom is long characterized by cramped placement options and little space. With a few tips and tricks you can make your room look wider and still enjoy the room. Color and light play a major role in the design. In a tube room, you should rather stay away from dark colors. They look cozy but visually constrict the space. Bright colors and a lot of light, on the other hand, can distract from the elongated form of the room and make it look wider. If you can't do without color, you should only color the shorter walls, as this will make the elongated form fade into the background. You should also choose light, translucent curtains and provide additional light with lamps and spotlights.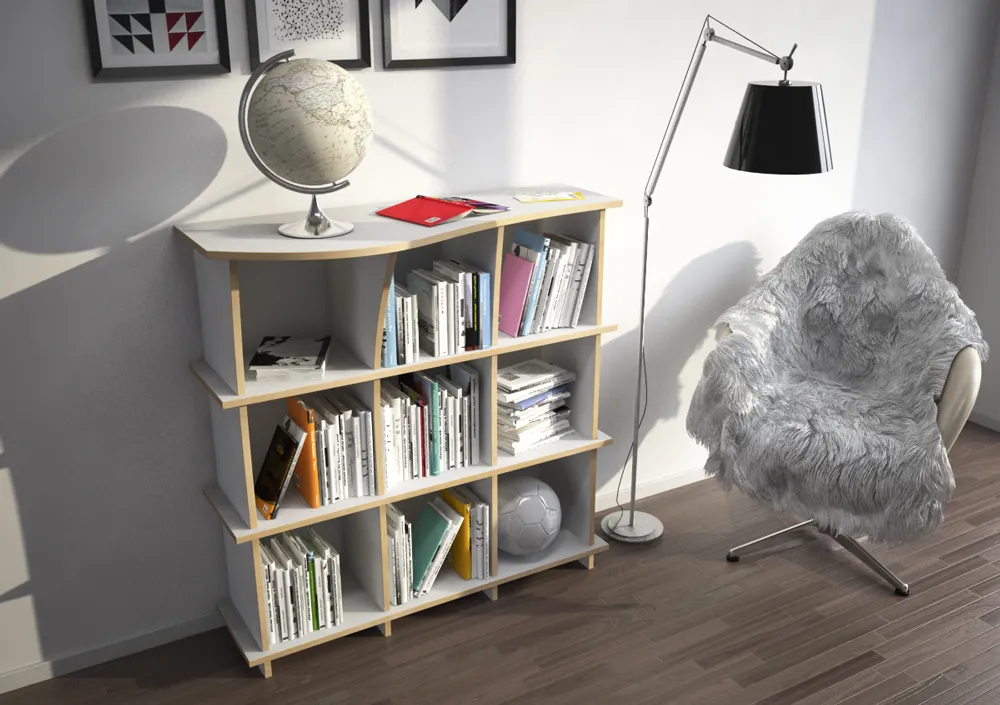 Furnish narrow bedroom
A narrow bedroom quickly tends to look crowded and cramped. That's why you should pay attention to everything when decorating to avoid this problem. First of all, it is necessary to reduce the furniture by the most necessary. Multifunctional furniture is ideal for a narrow bedroom, as it is practical and saves a lot of space. Instead of a bed, you can choose a sofa bed to fold out, which will give you extra storage space. In addition, a commode or a closet for bedrooms with integrated drawers and hidden storage options. Also, you should pay attention to bright colors , as they visually expand the space. For this purpose, you should place your main furniture, such as bed or sofa, at the front side of a room, as it will visually create a wider room. Arrange your narrow bedroom also with petite or small furniture. This will give the room more air and it will not look overloaded with furniture.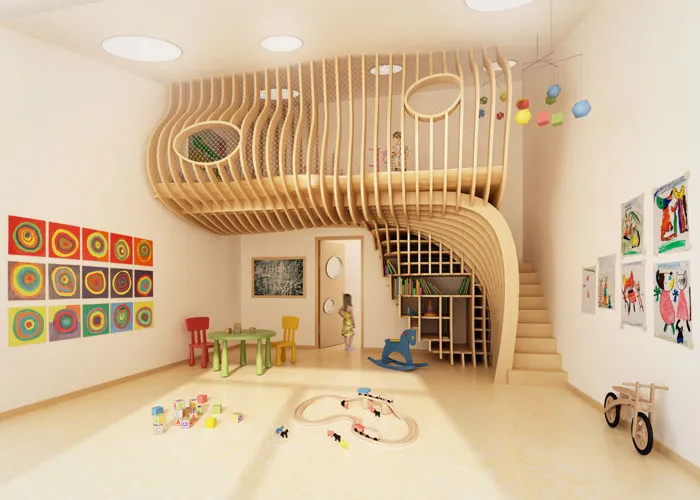 Furnish bedroom with slopes
In a sloping attic bedroom, you should make the most of the available space. It's easy to do with our made-to-measure shelving systems. They fit perfectly by height and width to your sloped wall and make your space special. Shelves that make the most of every nook and cranny and disappear behind precisely fitted doors, for example, not only look stylish but also prove their worth as practical storage space in everyday life. In addition, you should specifically illuminate the dark corners of the sloping roof with lamps. As impractical as a wall with a sloping roof may be, it can also be very cozy if you use it as a sleeping area. Because homely and harmoniously furnished, your sleeping place becomes a cozy nest. Since roof slopes make rooms look darker, you should opt for light tones that make it look friendlier and visually enlarge it.
Furnishing styles for bedrooms at a glance
Orientate yourself to others but create your own empire
You want to decorate small bedrooms? Then you will find here enough information and ideas about the different styles of interior design in your bedroom. Every person has different tastes, interests, customs and traditions. The goal is an individual bedroom design according to your own preferences. Orientation can be different styles of furniture. First of all, you should think about which styles you like the most. Whether minimalist or rustic style, modern furnishings or even a Feng Shui bedroom? We will show you different bedroom ideas from which you can choose your favorite style.
Bedroom in minimalist style
With the so-called minimalism, the motto is: less is more! That is, in this style of furnishing a few pieces of furniture are chosen carefully. Minimalism first conquered the visual arts and then followed architecture and design. Meanwhile, the art of omission has become an established style of living and frees our home from superfluous stuff. The pared-down design brings calm, simplicity and order to your space, as everyday life can sometimes be complex and stressful enough. However, if you have a lot of decoration and like playful things, you should opt for a different style.
Rustic bedroom interior
A rustic interior gives the room something rustic and refers to natural lines. Bedrooms are especially fond of this style, as it creates a particularly cozy effect. A cozy atmosphere promotes rest and relaxation, which is especially beneficial in the bedroom. Solid wooden furniture, a wooden beam ceiling and warm colors characterize this style. Of course, a fluffy carpet, cozy textiles and decorative pillows for the bed can't be missing if you want to furnish your bedroom in a rustic way. Lamps for rustic bedrooms are usually made of glass, porcelain or wood.
Modern bedroom design
Furnish a bedroom has many possibilities in modern style. You have almost no limits and every taste has a chance to be associated with the modernity of a room. In terms of color, you should keep your bedroom in light, simple and cool colors, as dark colors can often look a bit old-fashioned. By using clean lines and forms, as well as colorful accents like pillows in bright colors, you'll give your living space a bit of pep and coziness, so it doesn't look too sterile.
The Feng Shui bedroom - It becomes asian
Feng Shui describes the relationship between nature and human beings and gives suggestions on how your living environment can be positively influenced and thus increase our well-being. Rooms decorated according to Feng Shui should radiate a positive atmosphere and give its inhabitants a feeling of protection, security and strength. Following a few simple basic principles will help you get a healthy night's rest and sleep better. A bed should be placed so that you can see the door from the bed. This fulfills the basic need for safety. Also, your bed should not be placed on a wall with a lot of water pipes, because of that your night's rest can be affected. With closed closets, symmetrical arrangements and clear order, your bedroom will radiate more peace. It is recommended to use natural materials, as they contain fewer pollutants and bring a piece of nature into your space. In terms of color choice, soft and earthy tones are recommended. When it comes to accessories, stones, shells, flowers, leaves or even a bowl of water are suitable. In addition, you should integrate some plants into your living room design.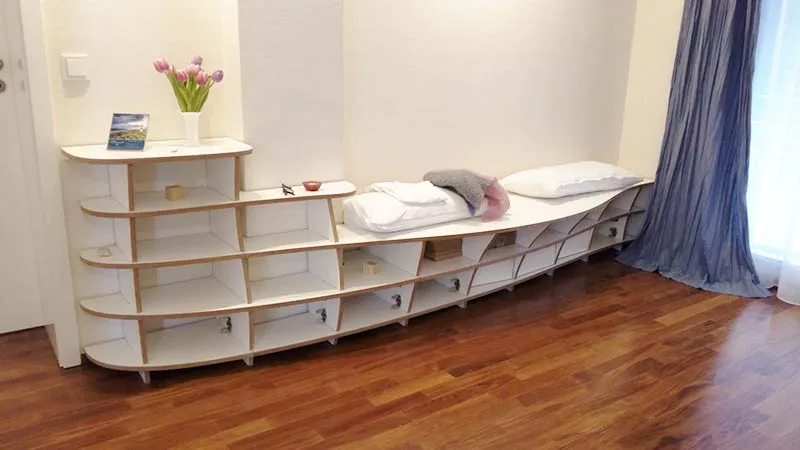 Living bedroom design
We give you some tips on how to live and sleep in one room at the same time. For sleeping, for example, in old apartments with high ceilings is a loft bed, which saves space and provides additional floor space underneath. In lower rooms, a sofa bed with storage space is advantageous, as it combines a sofa and a bed, and also stores comforters or bedding inside. It can also be folded in or out as needed. If you have more space available, you can also easily separate your living area from the sleeping area with a room divider from form.bar. Otherwise, you can simply choose different flooring to visually divide your space.
Design bedroom furnishings
If you want to stand out from the uniform furniture trends of popular furniture stores, designer furniture is the right solution for your bedroom. It will make your home stylish, unique and special. Designer furniture for the bedroom is characterized by its high quality and high-quality selection of materials. We at form.bar offer you exactly this furniture. Get inspired by our furniture and create your personal unique piece.
Some interior design ideas at a glance
Your bedroom, your decision
No matter what you are looking for your new bedroom, whether designer bed, wall shelf, room divider, or commode with each of these furniture our designers provide a suitable piece of furniture for your personal interior style.
Our furniture can be customized to your taste or favorite style with our award-winning furniture configurator. Choose your individual design for your new piece of furniture from 24 different materials and colors and form it the way you like it best - without compromise! Whether straight or curved forms, freestanding, as a corner or niche solution or even furniture specially adapted for your sloping roof - everything is possible with us! With our living trends, you make your home something special.
Freely formable room dividers
Room dividers from form.bar are available in various forms, types, colors and sizes and they are particularly practical because they not only visually delimit the room, but can also be used and filled from both sides. Moreover, these freestanding elements can be optimally moved if necessary. In addition, they offer enough space and storage space for your home accessories such as books or decorations, and with their organic form they become a visual highlight in your bedroom. Our room dividers are available in the sizes S, M and L. Convince yourself of our individual room dividers and test our furniture configurator directly!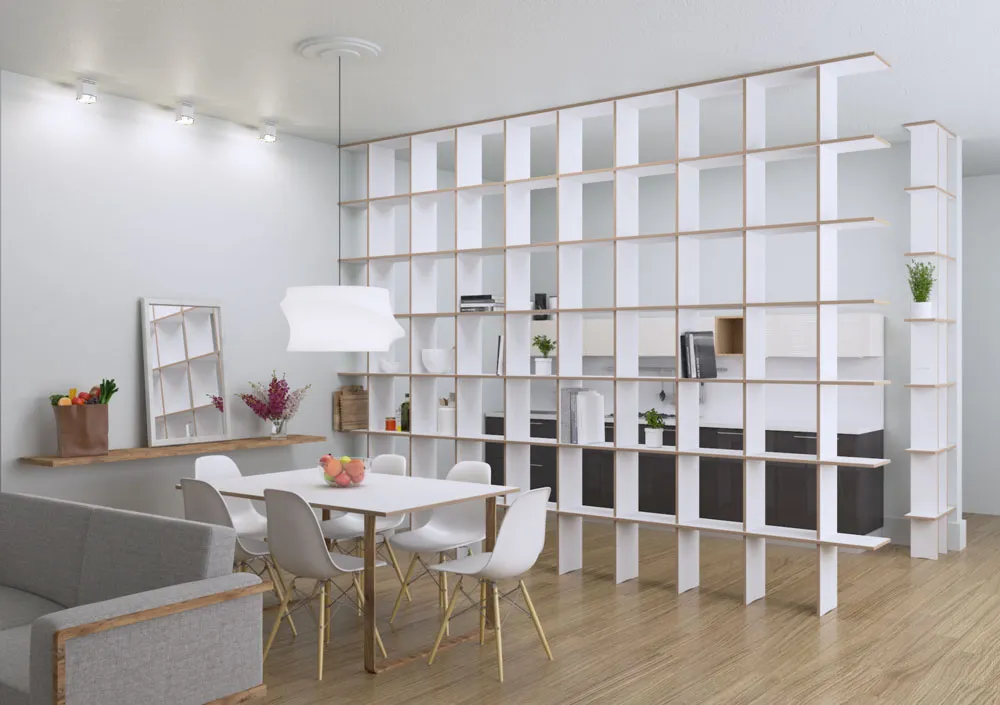 Designer beds from form.bar
Looking for an exceptional designer bed for your bedroom? Our metal-free dream bed called "DreamWave" can be the perfect solution for you. The organic design impresses with high-quality materials and exceptional craftsmanship. A simple wooden plug-in system allows you to assemble it quickly and the open structure of the bed offers you good air circulation under the mattress. The bed is available in all form.bar materials and colors and is compatible with all standard mattresses and slatted frames. If you want special dimensions or materials, this is of course also possible on request.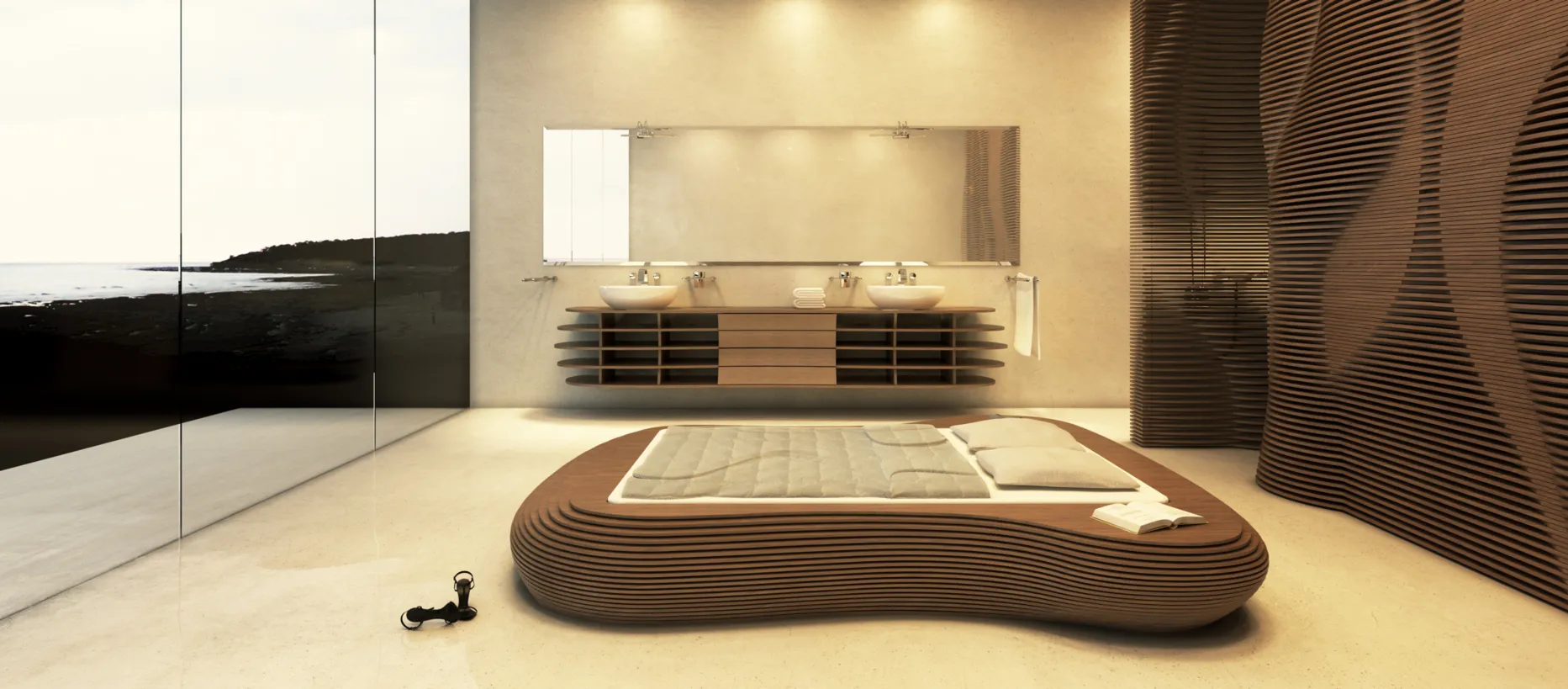 Matching designer bedside cabinets
Of course, a stylish designer bedside cabinet also belongs to a beautiful designer bed. Simply configure it to suit your taste and choose how many compartments you need for storage. There are no limits to your imagination - whether monochrome, multicolored, or colorful with curved forms!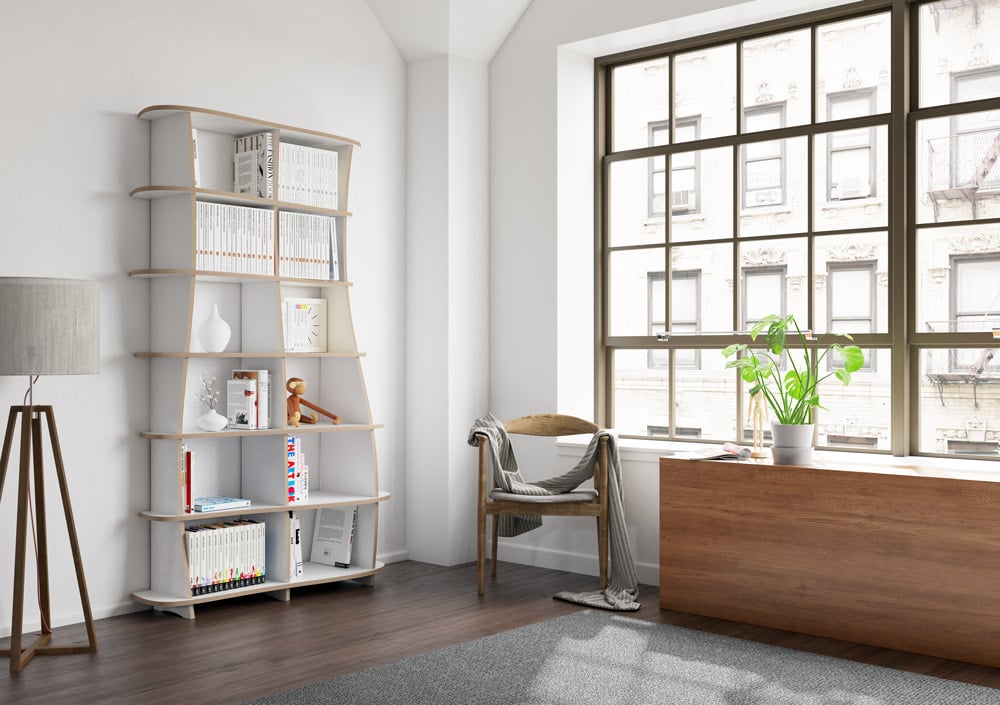 Unusual bedroom cabinets
Are you looking for an unusual cabinet or shelf for your new bedroom? Then you've come to the right place. We offer you various designer shelves made to measure, which will turn your room into something unique with their special form! They also provide ample storage space for your bedding, decorations or clothes. Whether as an open shelf or with doors, you are completely free in the design.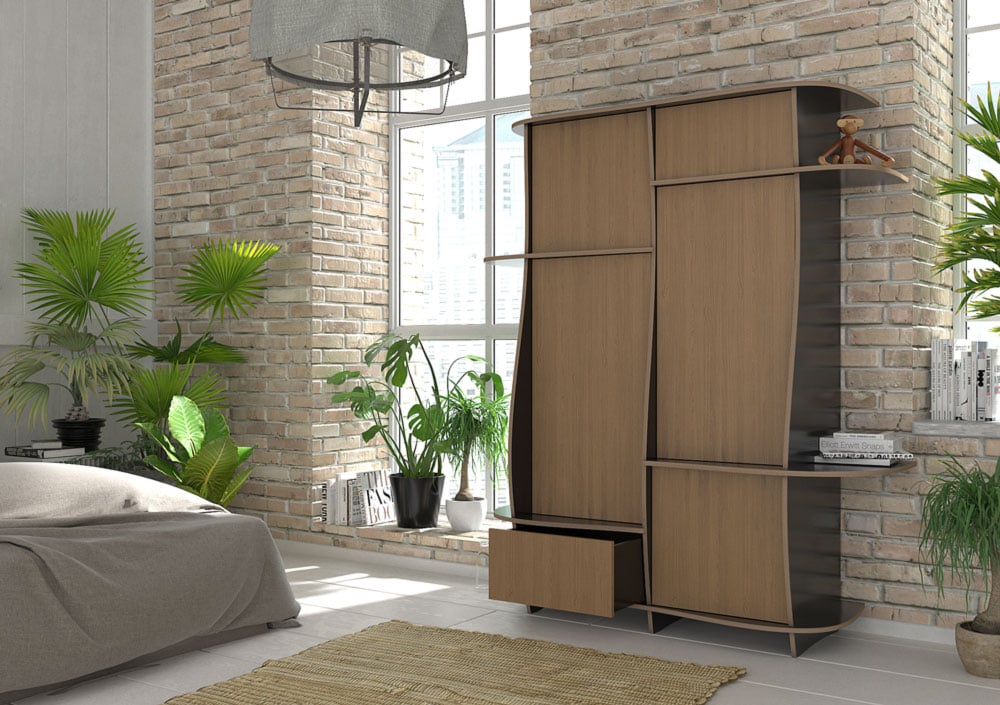 form.bar bedroom furniture
We at form.bar have many bedroom furniture in our assortment, from which you can choose your personal favorite piece of furniture and configure it yourself. For example, choose between a wall shelf, corner shelf, room divider, commode, or designer bed and design them either straight or with curved forms. Get inspired by our site and customer gallery! In just a few clicks your furniture is configured and ordered directly online.
Fazit - the right bedroom furniture
A question of personal taste
Bedroom decor should fit into the overall look of your home decor. Let form.bar and our living ideas inspire you and find a solution that suits you individually! Once you have decided on a style of furnishing, there are numerous ways to put your ideas into practice. We hope our tips and examples are helpful for you and wish you a lot of fun with your bedroom!
We hope our tips and examples are helpful for you and wish you a lot of fun while decorating your rooms!