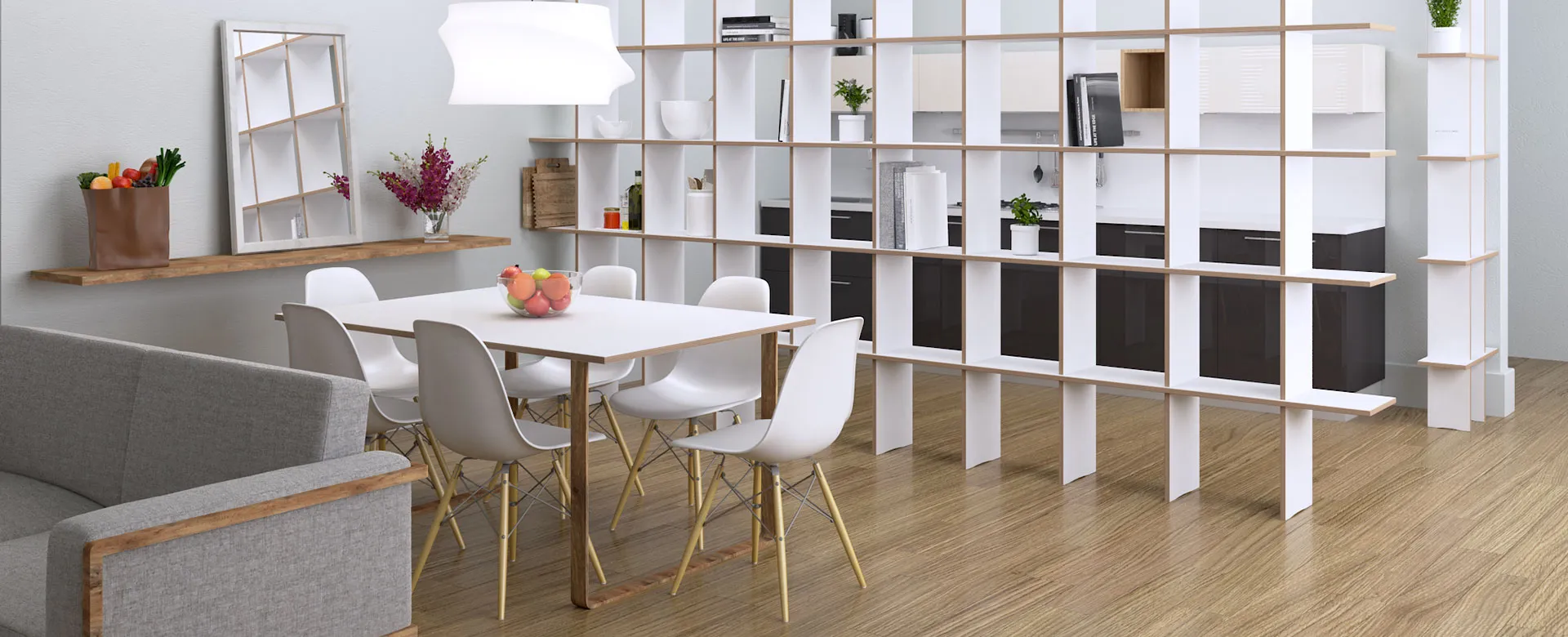 Furnish the kitchen
Inspirations, ideas and tips for any size kitchen.
To help you with your kitchen design and make the most of your space, in the following guide we'll tell you the best way to proceed and plan your new kitchen step by step. We'll cover kitchens of all types, whether they're small or large, attic kitchens or open-plan living kitchens. We also discuss different kitchen styles, give tips for useful storage space and the right color scheme, and provide you with some kitchen ideas and inspiration from our form.bar online store!
We do not offer complete kitchen systems, but you are welcome to assemble some furniture for your kitchen individually. Whether monochrome, colorful or a mix of styles - with us you can let your imagination run wild!
The design innovation with momentum
What do you want your new dream kitchen to look like? Would you rather have a functional fitted kitchen or an extravagant designer kitchen with a separate cooking island? However, if you don't like a compact solution, you can also opt for individual elements and shelves.
What is certain, however, is that you should make the decision for your new kitchen with calm and deliberation, as it will make it easier for you to work in the kitchen later on. The kitchen is usually the heart of every house. At best, this is where the whole family cooks, eats, drinks and chats together. Therefore, it is important to create a place here where you also feel comfortable.
Small kitchen, large kitchen or eat-in kitchen
Below we show you some examples and pictures of different kitchens.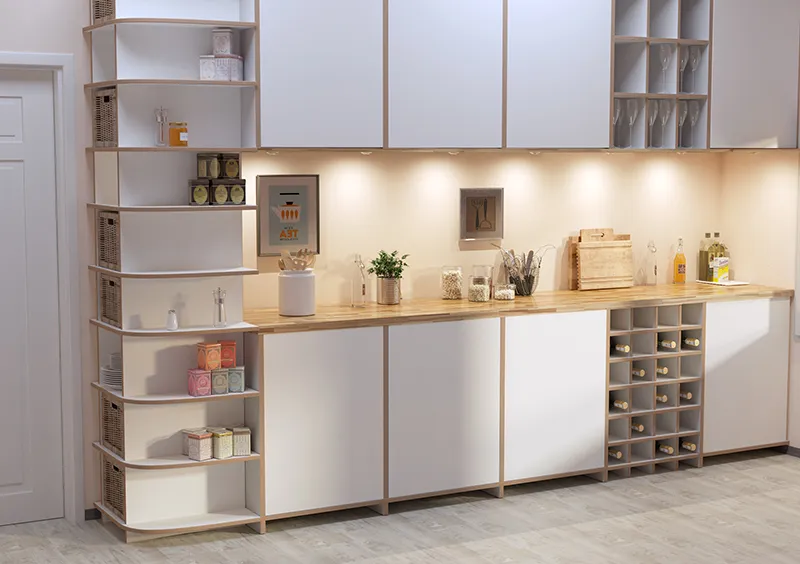 Small kitchen interior
You live in a small apartment and therefore do not have much space in your kitchen or only a kitchenette available? With the right planning, you can also furnish a small kitchen optimally and get enough storage space. Because even in a mini-kitchen, you can swing the wooden spoon quite wonderfully nowadays. And with the right accessories, everything looks homely, so that you enjoy spending time in your kitchen.
Helle Colors: Look for light shades like white, cream or pastel colors. They visually pretend size and make the room look inviting and friendly.
Höhe ausnutzen: In kleinen und schmalen Küchen solltest du die ganze Höhe des Raumes ausnutzen und sie mit Wandregalen oder schmalen Schränken füllen.
Corner shelves: Don't leave the corners of your kitchen unused, fill them with a space-saving corner shelf from form.bar!
Furniture with dual functions: Cooking islands on the wall can be used not only for cooking, but also one side as a counter or breakfast table! This eliminates the need for an additional dining table! In addition, foldable chairs are advantageous because they can be easily stored in another place when the space is needed.
Doors: You should replace a normal door with a sliding door. Not only modern, but also very space-saving. Cabinet doors are also available as sliding elements and cabinets without handles provide a tidy look at the same time.
Open kitchen furnishings
An open kitchen is a long-awaited dream for many. With the right planning, your dream can be successfully realized! However, before you decide on an open-plan kitchen, you should give it enough thought. After all, an open kitchen means that open shelves, appliances and possibly the dishes are visible to every guest. In addition, the smell of food spreads more quickly throughout the apartment. However, an open kitchen also has a great many advantages: Kitchen block or counter makes for a communicative kitchen situation and makes your space feel more spacious and homey. Kitchen systems are also often so beautiful that you like to present them and not hide them behind a closed door.
Furnish large kitchen
Furnishing a large kitchen-cum-living room has one decisive advantage: in principle, there are hardly any limits to your furnishings. So if you have enough space at your disposal, you should make the most of it! Especially in a large kitchen, spacious kitchen furniture with a cooking island is ideal. If you still have enough space available, you can also set up a cozy dining area in your kitchen.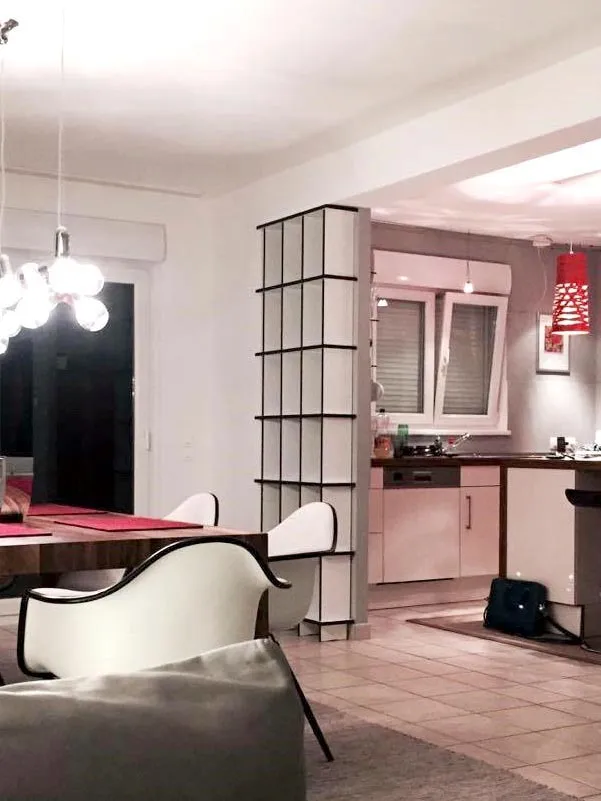 Set up kitchenette
A small kitchen in the alcove is the minimum solution when there is no other space in the apartment or not enough budget. Often they are mounted under roof slopes and are often located in student apartments. It is especially convenient when there is a lack of space and, despite everything, offers the opportunity to warm up his food, cook small portions and store all the basic kitchen items. For those who don't like to cook themselves or eat out frequently, this option is just right. However, if you frequently have family or friends over, you won't be satisfied with this solution in the long run.
Furnish attic kitchen
A challenge in the arrangement of kitchens are attic apartments with sloping walls. Open kitchens are particularly suitable for these rooms. They create a spacious living impression and combine living with cooking and eating in a harmonious living atmosphere. However, depending on the slope, it can be difficult to find the right kitchen furniture. We at form.bar offer you made-to-measure furniture that adapts precisely to your room situation. So simply design yourself a beautiful tiered shelf or adjust your shelf exactly to fit your room situation. Also a beautiful room divider with open shelves is well suited, can also be used as a counter and offers additional useful storage space.
In 7 steps to the perfect kitchen
Comfortable cooking eating and living? Nowadays, the kitchen combines living room and cooking area in one. We'll then tell you how to get to your new dream kitchen in just a few steps.
Tip 1 - The right kitchen form according to the size of the kitchen
Which form for the kitchen is right for you depends primarily on the spatial conditions, but of course the kitchen form must also fit you and your needs. Whether single-row, two-row, L- or U-form or as a completely open kitchen - there are different forms and types, which all have their advantages and disadvantages.
Single-line:: In the single-line kitchen, all kitchen elements are arranged on one wall. It is particularly suitable for narrow rooms and is very space-saving.
Two lines: Is a classic solution for two opposite working and functional areas. Here, a particularly good division of work zones is possible and this form is ideal for rectangular rooms where windows or doors are located on the shorter sides of the room.
L-form: The convenient corner arrangement allows you to have a connected kitchenette for convenient work flow. It is good to realize in rooms with several windows and doors, and also expandable by a kitchen island, provided that there is enough space. Of course, instead of a cooking island, it can also be a dining area.
Open kitchen with cooking island: Optimal for room structuring in large rooms and open living areas. It offers space for many people and, of course, enough storage space. In addition, you are completely free in the design and arrangement of dining, living and cooking area.
Tip 2 - Choose the color of the kitchen
The basic rule for color design is that light colors as the basic tone ensure a fresh and homely feeling in the room. In addition, you can conjure up great effects with the help of bright patterns and accessories. However, you should be clear about the right color before buying the kitchen. Because note: Kitchen walls are painted or wallpapered much faster and cause less effort than to replace the complete surfaces such as cabinet doors. In general, dark wall colors make light kitchens stand out more, and walls in bright colors automatically act as eye-catchers in plain kitchens.
Tip 3 - Choose the kitchen style
You want to furnish your kitchen? Then the big question arises, which style of furnishing is right for you. Every person has different tastes, interests, customs and traditions. The goal is an individual kitchen furnishing according to your own preferences. Whether in the mediterranean, or country house style, modern furnished, simple or rather fancy? We show you some kitchen ideas, from which you can choose your favorite style.
Tip 4 - The right breakfast table / dining table for the kitchen
When choosing the right kitchen table, it is especially important to choose the size, material, form and color according to personal preferences. Therefore, you should be clear in advance how many people will sit at it every day, whether it should be expandable for celebrations and, of course, how much space is available. Also, the right height is a decisive factor, because especially people with long legs, prefer a higher dining table.
Tip 5 - Custom chairs for your kitchen
You are looking for the right chairs for your dining table or bar? There is a very wide choice of materials, form and color: Would you rather have chairs with or without armrests, made of wood, metal or do you prefer plastic? Chairs that are height-adjustable are practical. So they fit under any table and can be individually adjusted to your size. If you are looking for seating for your bar, we recommend bar stools, as normal chairs are usually too low. We at form.bar offer you wooden bar stools in beautiful design. If you are interested, please contact our designers!
Tip 6 - Work light and mood light
There are many different rooms: some are bright and spacious, while others seem rather dark. The problem: lack of light! So make sure to add more light sources. A combination of ceiling light, built-in spotlights, or cozy candles will make your kitchen perfect.
Tip 7 - Create storage space
If you want to furnish your kitchen, you should first of all make sure that you have enough storage space for dishes and pots. If you already have a built-in kitchen, open shelves are a nice addition to closed cabinets. At form.bar you have the possibility to customize your individual shelf to your kitchen. For example, you can fill unused corners with a practical corner shelf or separate your space from the dining area with a beautiful room divider while getting useful storage space. A rolling cart also proves very useful in your kitchen. It serves both as a workstation and, of course, as a storage surface.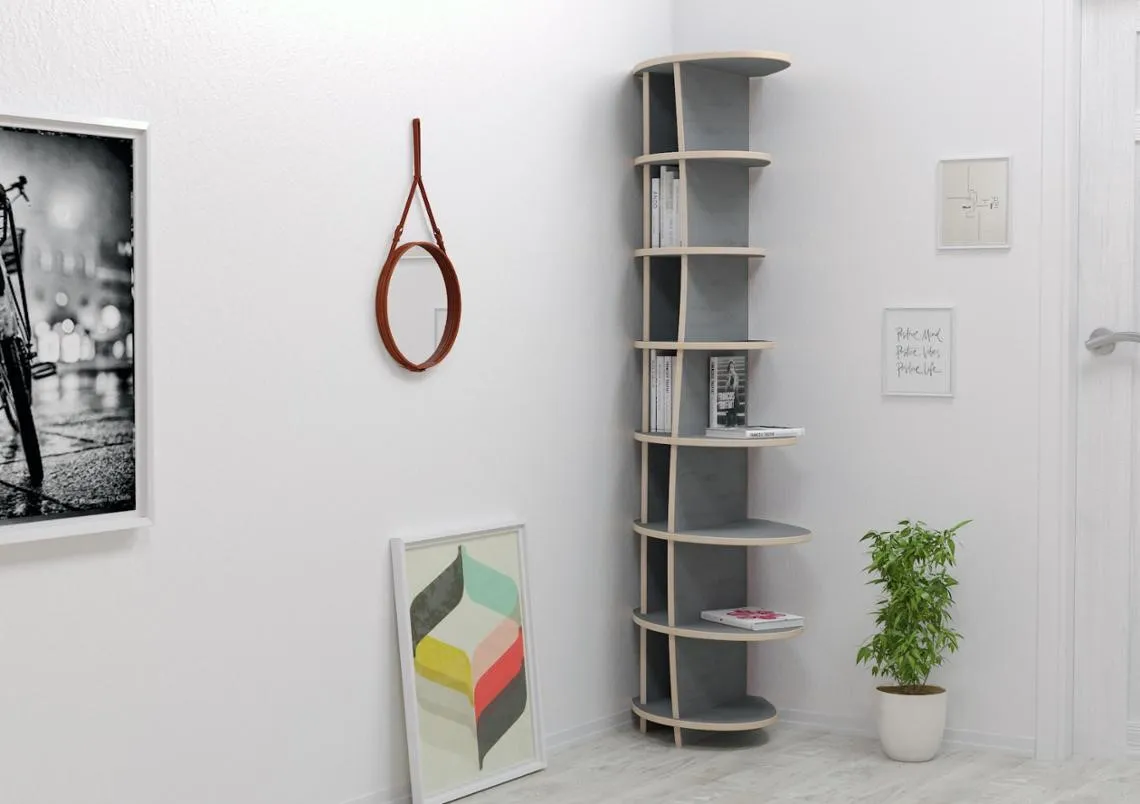 The kitchen design tips at a glance
Kitchen size: The size of the kitchen determines your entire planning significantly, whether single-line, double-line, L-shape, U-form or as an open living kitchen.
Kitchen color: Light colors as a basic tone provide a fresh and homely feeling in your new kitchen.
Kitchen style: there are many options and different interior styles for kitchens. With the right kitchen planning you will find your individual style.
The right dining table: When choosing the right kitchen table, it is especially important to choose the size, material, color and form according to personal preferences.
Individual chairs: Height adjustable chairs can be perfectly adjusted to the desired height.
The right lighting: Make sure you have enough light in your kitchen, because only then you can cook properly and also feel comfortable.
Create storage space: Open shelves, room dividers or corner shelves are not only practical, but also offer you many storage options.
We plan your kitchen for you
Get your designer kitchen designed by our professional designer team.
To the design service
Some furniture inspirations for your kitchen
Below we show you some inspiration, kitchen ideas and form.bar furniture perfect for your modern kitchen.
Freely formable room dividers
A room divider is especially practical because it visually separates your kitchen from the dining area and also offers you enough storage space. In addition, it cuts a fine figure in any room and can be filled from both sides. So you can present your most beautiful dishes beautifully and additionally equip it with home accessories and decorations.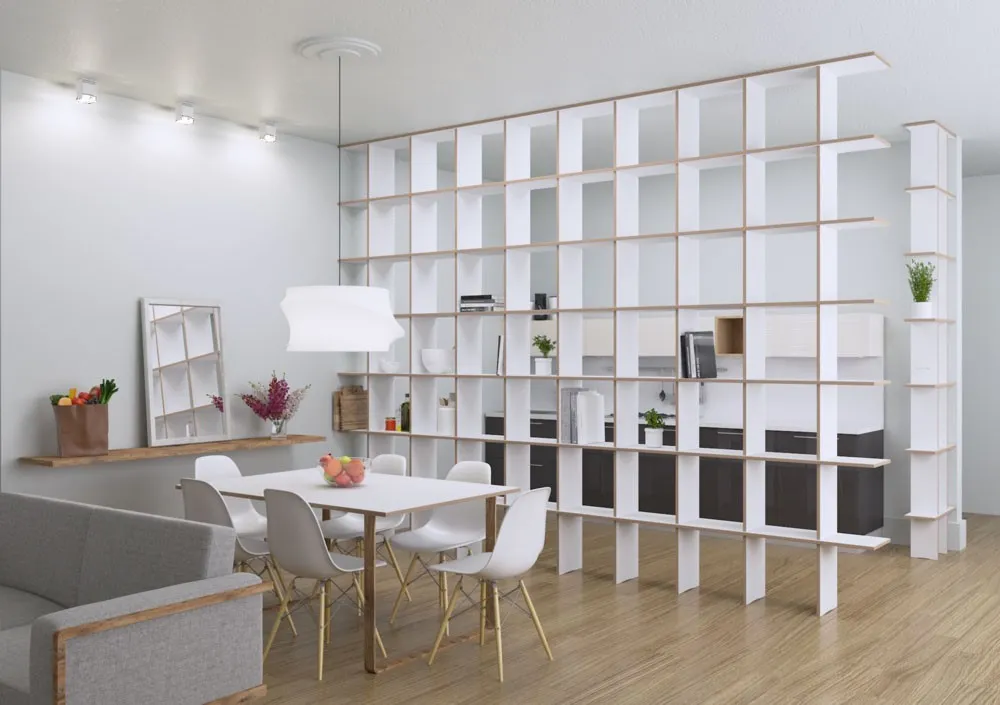 Individual shelves
You want to furnish your mini kitchen? Then fill your corners with space-saving corner shelves! They can be adapted exactly to your space situation and look good as well. Determine with our configurator easily dimensions, form, color and number of compartments and do not let your corners unused. In addition, wall shelves are also a way to beautify your kitchen. You decide whether standing, hanging, unusually curved or in a simple design. Especially in small rooms, you should use the height of your room and opt for shelves up to the ceiling.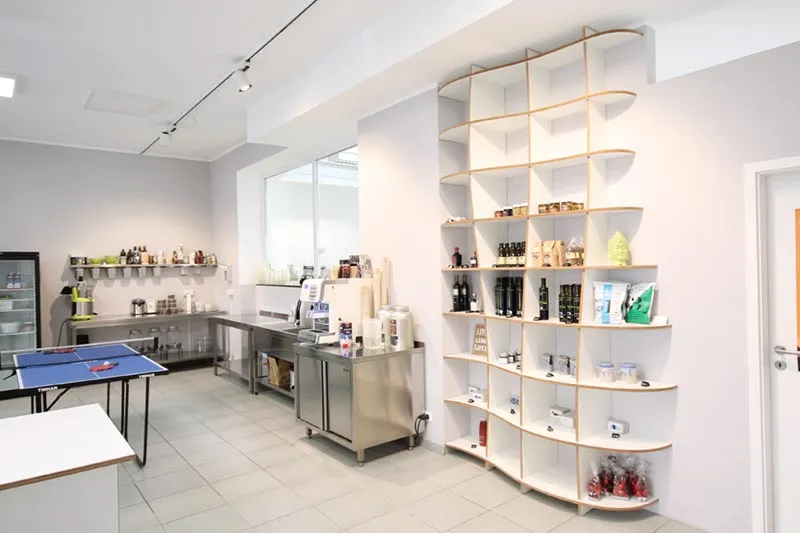 Creative seats and stools
Our form.bar wooden bar stools look great at any bar or counter! Just tell us your desired color and set beautiful accents in your new kitchen.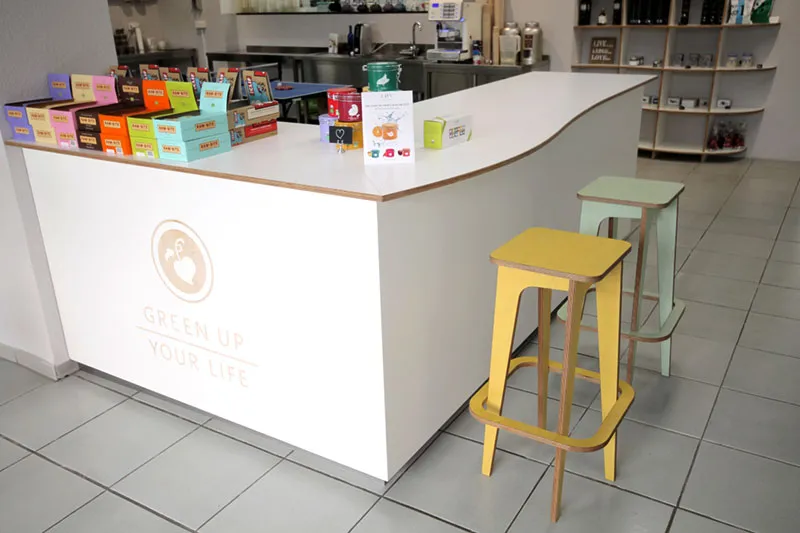 Custom dining tables and breakfast tables
We do not offer dining tables at the moment, but you have the possibility to configure an individual curved counter or bar made to measure. Matching our beautiful bar stools in different colors - definitely a highlight for your new kitchen!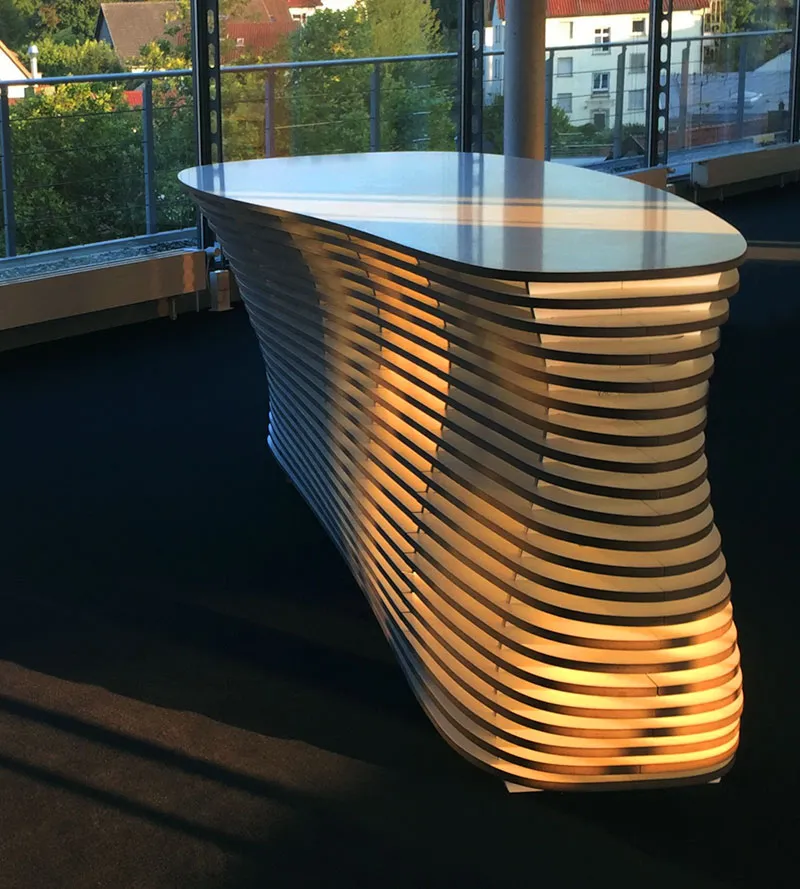 Valuable tips for decorating the kitchen
Large or small kitchen decorating tips and kitchen ideas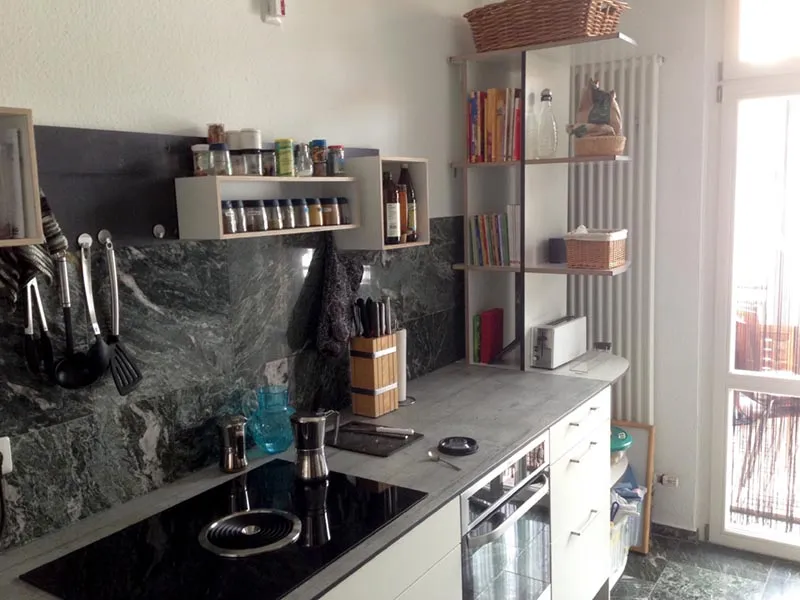 How can I expand kitchen systems individually?
You still have space in your kitchen and want to expand your kitchen system? How about open shelves, wall shelves or a practical corner shelf? Let yourself be inspired on form.bar and find your individual shelf that can be adapted exactly to your kitchen. Of course, you can also enrich your kitchen with a cooking island. To do this, you should individualize your kitchen with the help of a kitchen planner. You can only find the right kitchen planner with a targeted search. Because every planner is structured a little differently and offers different furniture.
Customize kitchen block and cooking island sensibly
A kitchen with a cooking island is not only an absolute eye-catcher, but is also considered the focal point of the homely community. It shortens working distances and offers additional storage space for your cooking utensils. In smaller kitchens, however, there is usually only space for a kitchen block or a kitchen with a peninsula.
How to make good use of kitchen backsplash?
The kitchen backsplash is ideal as a splashback on the stove and is easily washable. They combine not only functionality, but also design. There are very many beautiful motifs with which you can easily spice up your kitchen. Choose from motifs made of glass, acrylic, aluminum or plastic and give your kitchen a special look!
What floor is useful in the kitchen
When it comes to choosing the floor in the kitchen, you should pay particular attention to an easy-care floor, as something can quickly end up on the floor when cooking or baking. The most popular materials include stone, wood or concrete, while carpet is only a limited consideration, as it is more difficult to clean and stains quickly appear. However, the floor should also be coordinated with the rest of the apartment or house. This is especially important for open kitchens. Whereas a different flooring can also visually separate an open kitchen from the rest of the room. But what you ultimately decide is a matter of taste.
How can kitchen designers help with kitchen design?
Kitchen planning made easy: You want to furnish your kitchen online? With the right kitchen planner, you'll get some design ideas and a glimpse of what your dream kitchen could look like. A good kitchen planner should not only be flexible, but also cater to your individual needs. In addition, it should not be too complicated, but easy and clear to use. Besides the financial aspect, kitchen planning usually takes a lot of time, which is why good advice is also very important. The kitchen planner should make it easy for you to realize your kitchen in a spatial view. Starting with the floor plan, to the selection of kitchen furniture and the right design in the right dimensions.
What kitchen walls are recommended
Making kitchen walls attractive and functional at the same time can sometimes be a bit of a challenge. However, with a little creativity and the right kitchen decorating tips, you can find your individual solution. First, you should decide whether you want to tile, wallpaper or paint your kitchen. A combination brings variety and can create a cozy room atmosphere. Paint, for example, offers one of the cheapest and quickest ways to spruce up your kitchen walls. Light, warm colors are very popular in the kitchen, because a visually brightened atmosphere will gladly invite you to cook. Choose cream, lime green or a bright orange or yellow and opt for a painting technique with effects or a plain solution. A combination with tiles, makes your kitchen look perfect. Patterns spice up your kitchen and provide variety. They are especially recommended for the cooking area, because they are easy to clean and your kitchen back wall is protected from splashes. With wallpaper you can put great motifs in the scene and with set beautiful accents with patterns.
Fazit
The way to the perfect kitchen
Kitchen design should fit into the overall look of your home decor. Let yourself be inspired by www.form.bar and our living ideas and find a solution that suits you individually! Once you have decided on a style, there are numerous possibilities with the right kitchen planner to turn your ideas into reality. We hope our tips and examples are helpful for you and wish you a lot of fun in creating your dream kitchen!