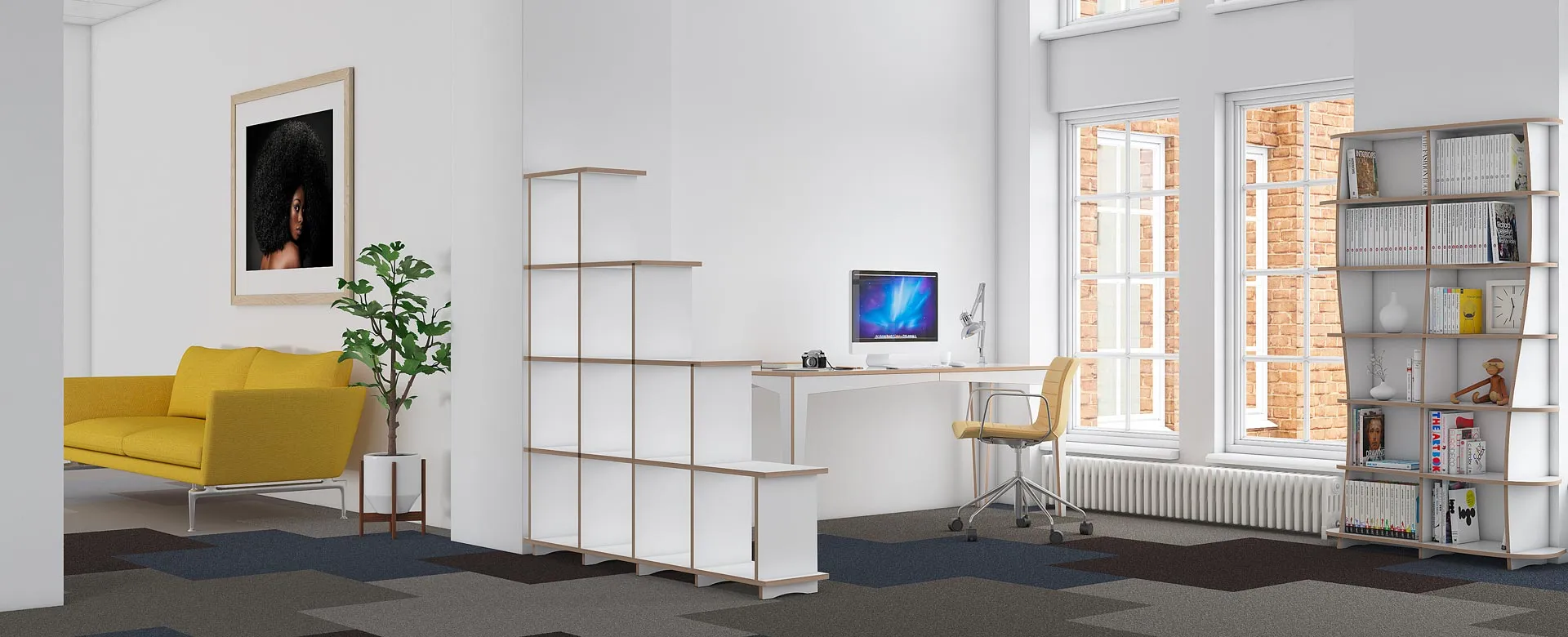 Step shelves
Good storage is the backbone of a functioning space. Successful structuring and room organization allows us to free up important space while keeping our possessions tucked away and easily accessible. Original step shelving or staircase shelving, can provide clever solutions that take full advantage of our options.
Highlights of form.bar for your step shelf
Choose your favorite design and customize it
Step shelves for any purpose
Whether you're looking to invest in a floor-to-ceiling library, a vinyl collection storage unit, or a wall cabinet to showcase favorite pieces, step shelves or stair shelves give you a customized and multi-functional solution for your home. In addition to their flexibility and functionality, step shelves add a sculptural highlight to any room, beautifully blending form and function.
What is a step shelf?
The name is program
Step shelf obviously bears its name because of its appearance. However, the steps also perform a certain function, because you can place great decorations on them, which, for example, will make your living room more personal. Especially popular are 4x4, 3x3 and 2x2 step shelves with 10 compartments, 6 compartments or 4 compartments. These compartments are equally good for displaying home furnishings. Bookshelves for displaying your favorite books are also conceivable. These shelves are also often used as room dividers, for example, to visually separate the kitchen from the dining room. Such shelves are furthermore used in the bedroom or in the bathroom and enhance the flair of your rooms. If you are still looking for inspiration for your project, you are welcome to browse through our customer gallery and guides before you go wild in our online configurator. Ready-made design templates serve you as a basis.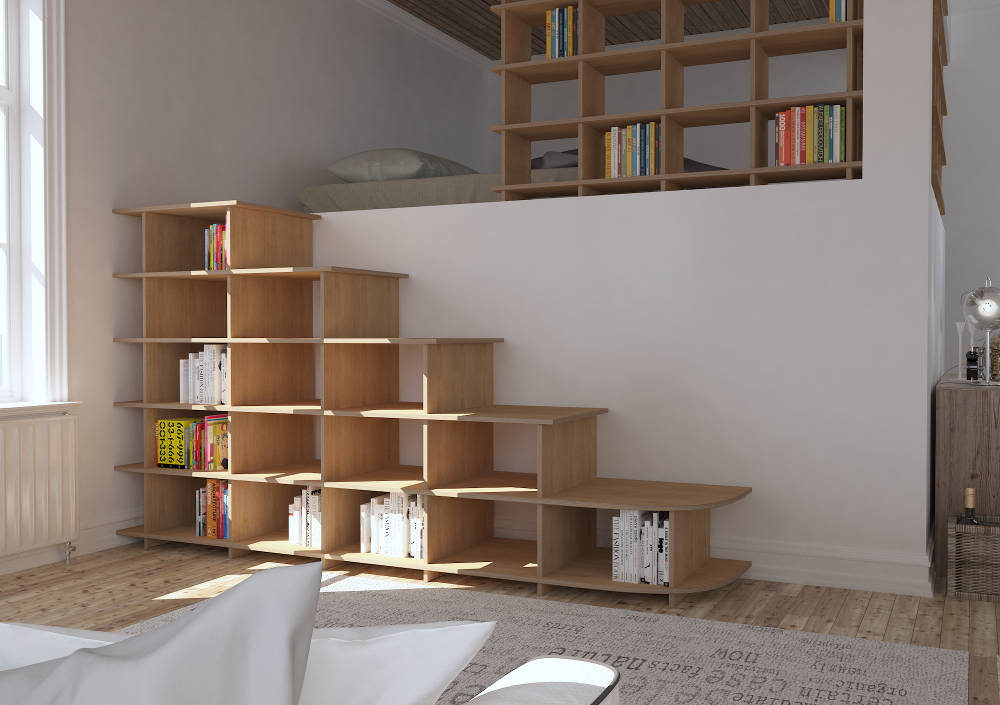 Find the right storage solution
It's not always easy to keep clutter to a minimum. With the right designer storage solutions for your home, everything will stay in top form and look great to boot. There are many different types of shelves available. Knowing which option is right for your needs may not be as obvious as it seems, because not all shelves are created equal. There are configurable, modular, adjustable, open, freestanding and many others.
Step shelves and sideboards
Depending on the available space, a step shelf is a suitable storage solution that can be used in any room. Flexible storage systems are usually made up of different units, shelves, doors and components - in a variety of configurations and colors, combined and adapted to your space. They are great because they give the feeling of having some autonomy over the design, creating standard pieces into objects that express your own style and personality. Step shelves are also great for challenging spaces - like sloped ceilings, narrow hallways or alcoves - because you can use them to divide up a storage system and use smaller units to work around restrictions or obstacles. From placing smaller items, ornaments and books, to large wall-mounted systems for organizing the entire room - step shelves allow for the most versatile solution. Sideboard-style stair shelves are also ideal for the dining room, living area, office or bedroom, providing plenty of storage without taking up too much space. By the way, our sideboards can be converted into a step shelf in the 3D configurator.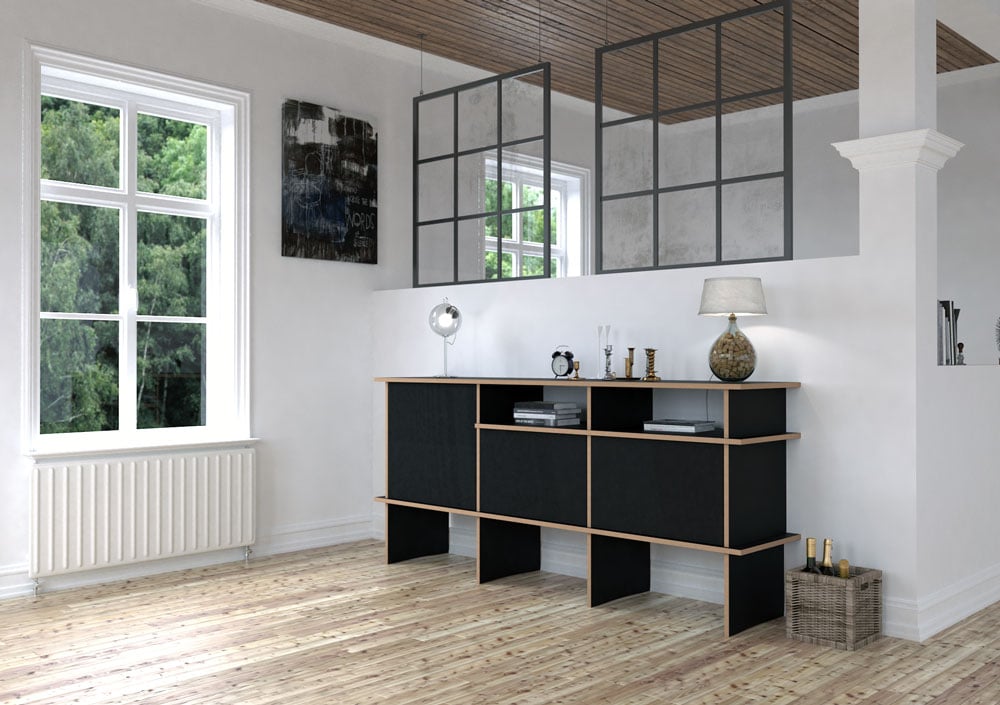 Cabinets vs. mobile units
Cabinets are often located in bedrooms, bathrooms or offices and are perfect for the essentials that you need to have at hand in a particular room. However, they are often bulky and not flexible to use. Mobile units tend to be smaller, but very convenient for easy maneuvering or transferring from room to room. At form.bar, you can also get your furniture on small wheels upon request.
Hooks, baskets, racks and stands
Often neglected storage solutions are coat hooks, clothes stands, hangers, laundry baskets, magazine and sirm stands or shoe shelves. They are usually found in hallways, bedrooms or bathrooms and are now considered not only functional necessities, but also creative storage spaces. In addition, many of these items can provide a visual focal point. This is where the step shelf is an excellent alternative.
Why step shelves are some of the best furniture
Flexible, aesthetic, practical
Our furniture accompanies us through life. In modern times, when cities become denser and living spaces smaller, it is crucial to create flexible storage space at home. There are hundreds of shelving designs, but not all of them meet the requirements of modern homeowners and their different interior styles. Modular shelving designs and step shelves are true jack-of-all-trades, fluidly adapting to specific conditions and available space. They are extremely flexible and can be configured in a variety of ways to create personalized storage areas. That's why many people increasingly prefer formable step shelves, due to the ever-changing society that demands a lot of adaptability from us and our living space. As a result, it is much easier to disassemble the components of a storage system and take them with you than it is to dismantle something that is permanently attached to the wall. The storage unit should also be designed to last and be able to adapt to your needs throughout its life. Formable elements allow you to add or subtract storage when you sometimes need more or sometimes less resources.
Things to consider
As with any big purchase, it's important to take the time to consider whether the piece of furniture you have in mind is right for you and your home. Here are essential factors to help you make the right decisions.
Dimensions and space
It's all too easy to get caught up in the look of a piece of furniture, but disregard its alignment with the layout of the room and the dimensions of the furniture you want. Both of these factors play an important role that should be placed before all other desires and paid close attention to in order to avoid trouble later. Therefore, the first thing to consider is the right place for your formable shelf. With our configurator you always have the possibility to freely vary the dimensions and thus individually adjust height, width and depth. Equally specific, you can choose the color of your furniture or veneer. Here you can choose between plain colors like white, gray, black and wood tones or more modern colors like red, blue or green. You should also think about the material. We carry high quality multiplex birch and MDF in our assortment.
Adjustable and mobile storage
For those who move often or want to remodel their home regularly, customizable or mobile storage solutions are the more practical choice. Our step shelf from the 3D configurator offers you exactly these advantages. Many of our cabinets and shelves are adjustable interior shelves that meet individual needs.
Courage to try out
Instead of looking at furniture as something conventional and necessary, try to make something unusual out of your existing space. If your main priority is function, it doesn't mean compromising on style. For functional storage that fits any interior, consider simple lines and forms, soft wood, neutral tones, and crisp black or white. Have the courage to try and be inspired by a wide variety of shelf styles.
Inspiration for your flexible storage system
Combine individuality with functionality
Step shelves and modular systems come in innovative designs, from low budget to high-end. Many are pre-structured in design, while others use easy-to-assemble snap-on mechanisms so they can be assembled and disassembled several times in their lifetime. Today's shelving configurations are inspired by a variety of shelving systems. Among the most popular variations are the six examples below:
606-Shelving system

The 606 shelving system is one of the iconic mid-century shelving systems. It was designed by Dieter Rams in 1960 and has been manufactured by Vitsœ ever since. With its clean industrial aesthetic, flexibility and versatility, the 606 is a lifelong companion. It is endlessly customizable, from one ledge to an entire library of mixed drawers, tables and shelves.

Montana system

With endless combinations and practical applications, the Montana system is a classic of the late 20th century. Peter J. Lassen founded the danish company Montana Møbler A / S in 1982 and designed his efficient shelving system. The system consists of 36 basic modules in four depths and includes shelves, doors, drawers, trays and lighting. With our 3D configurator you can very easily replicate this system and have it customized to your wishes.

OTZ system

OTZ model comes from Facmodo Design, a family business in Lebanon in 2013. Nowadays, the studio designs and develops furniture that is functional, simple, sustainable and modular. OTZ is a flexible system made of cut and bent and powder coated hot rolled sheet.

SH05 Arie shelving system

SH05 Arie shelf was designed by Arik Levy in 2008. The clever design allows for a variety of seamless combinations without visible repetition. Arie works well as a bookshelf, room divider, sideboard or storage unit. You can also easily customize this model to your needs in our 3D configurator.

835 Infinito

Modular bookshelf 835 Infinito was designed by Franco Albini. Infinito consists of vertical elements, containers with doors or flaps and shelves in two depths.

String shelving system

String furniture is based on a swedish design company that produces a lightweight modular shelving system, which was originally designed by Nils and Kajsa Strinning in 1949. The foundation of the system is based on wire ladders, which can be flexibly supplemented with shelves, cabinet elements and shelves. The String shelving system was revolutionary because it was affordable, flat-packed, easy to transport and quick to assemble. It enjoys enduring popularity to this day and carries a timeless appeal, due in part to the fact that the system can grow with its owner.
We plan your step shelf for you
Get your designer furnishings designed by our professional team of designers.
To the design service
Design your own step shelf
form.bar means freedom
Nowadays there are countless configurations and additions inspired by the listed shelving systems. Meanwhile, additions range from side panels, cabinets, drawers, desks, and wardrobes to hooks in a variety of colors and forms. Browse the photo galleries for the examples above on social media or Pinterest and get inspired for your custom design. Also on our website you will find photo galleries of various shelf models that can serve as a basis for you. With our 3D configurator, you can create your own modification of the above shelving systems by experimenting with the units individually and develop a step shelf that leaves nothing to be desired. Our products include modern designer custom furniture made from high quality materials.
Conveniently browse our website and look at our prefabricated shelving system models to use as a foundation for your personal step shelf. For example, with the Scala tiered wooden shelf, you'll perfectly showcase your book collection. The shelf is versatile. Whether under sloping ceilings, on stairs or as an eye-catcher in the living room, Scala is a special eye-catcher. 15 compartments offer a lot of space for your books. Your favorite book finds its place in the shelf as well as decoration or other personal things like awards or photos from the last vacation. Also get inspired by our sideboards for your step shelf. Sideboards can be ideally used as room dividers. For example, you can configure the sideboard Ina with just a few clicks according to your wishes and our sideboard White Sea offers you not only enough storage space, but is also a real eye-catcher for your home. With the simple white color, it fits colorfully into any room and provides a harmonious atmosphere. With or without doors, straight or curved - everything is possible with us.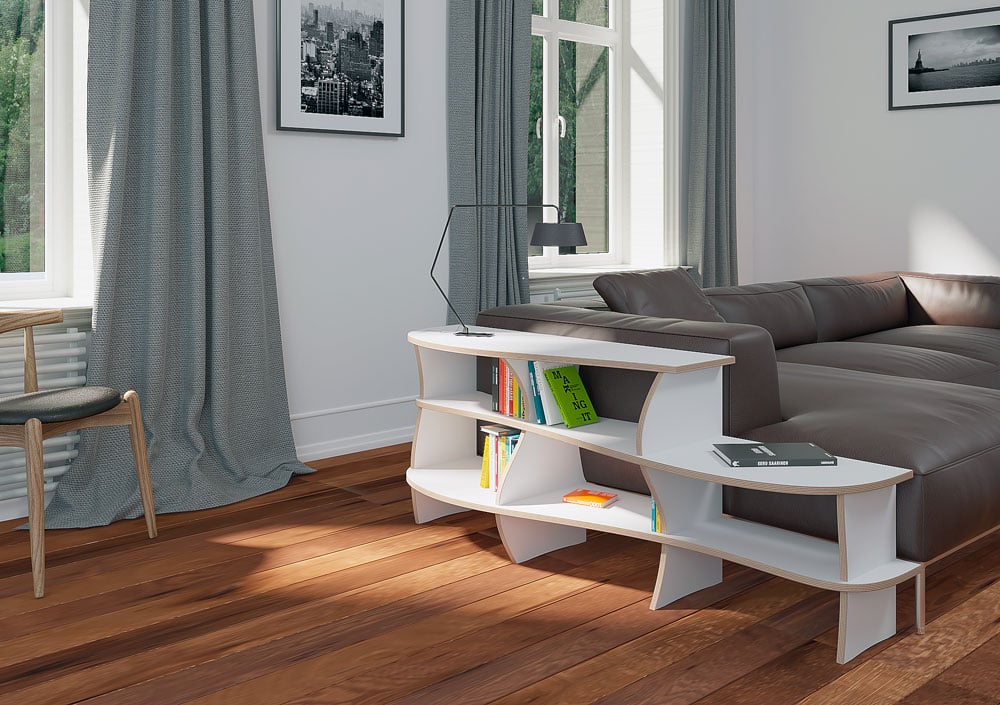 In just three simple steps you have customized your dream sideboard: First select favorite design, then configure dimensions, form, color and materials, then order online without any stress. Save designs by registering with us to continue them later. Our products will be delivered to your doorstep in just 4-6 weeks, free of charge. In addition, you can also arrange an individual delivery date with us. The uncomplicated plug-in system of form.bar enables you to assemble your furniture quickly and easily. Of course, we also offer you an assembly service from a specialist. By the way, our online store occasionally offers discounts on the most popular pieces.
Storage ideas that create more space
Be creative and your own designer
Storage space doesn't just have to be functional, it can add a whole new accent to rooms. Floor-to-ceiling furniture filled with books, framed family photos and favorite home accessories create a presence that makes you unique. If you'd rather put storage in the background, use niches. Step shelves and custom elements in the same shade as the walls create a camouflage effect and allow the background and interior to blend smoothly. Our living space needs harmony and structure to make us feel comfortable. If the available space is misused or stressed, it will disrupt the visual flow of the room. Therefore, restore a relaxing atmosphere with these storage ideas.
Use flat surfaces
Use every free flat surface in the room. Instead of cramming all your favorite things like candles, succulents, books or decorative items onto the coffee table, spread some objects out on unused flat surfaces like the fireplace surround or windowsill. If you have an extensive magazine collection, stack it under the coffee table - or use the magazine tower as a side table. The coffee table doesn't have to be left completely empty. Basically, evenly distributing the objects makes for a harmonious and orderly look. Tip: Use your radiator as a storage surface. Since we only use our radiators three to five months out of the year, the rest of the time we can use them as storage space. Building a radiator shelf yourself or buying a cover is recommended for both safety and aesthetics.
Experiment with non-traditional furniture
Think outside the box when it comes to choosing furniture for your living room. A traditional commode, for example, is an obvious choice for the dining room, but also sits beautifully in place of a bookshelf. In this case, the natural wood adds an element of rustic country character. While the boxy design blends in with the modern sofa and table, the look remains contemporary. Also, choose multipurpose furniture that can accommodate diverse items or serve more than one function.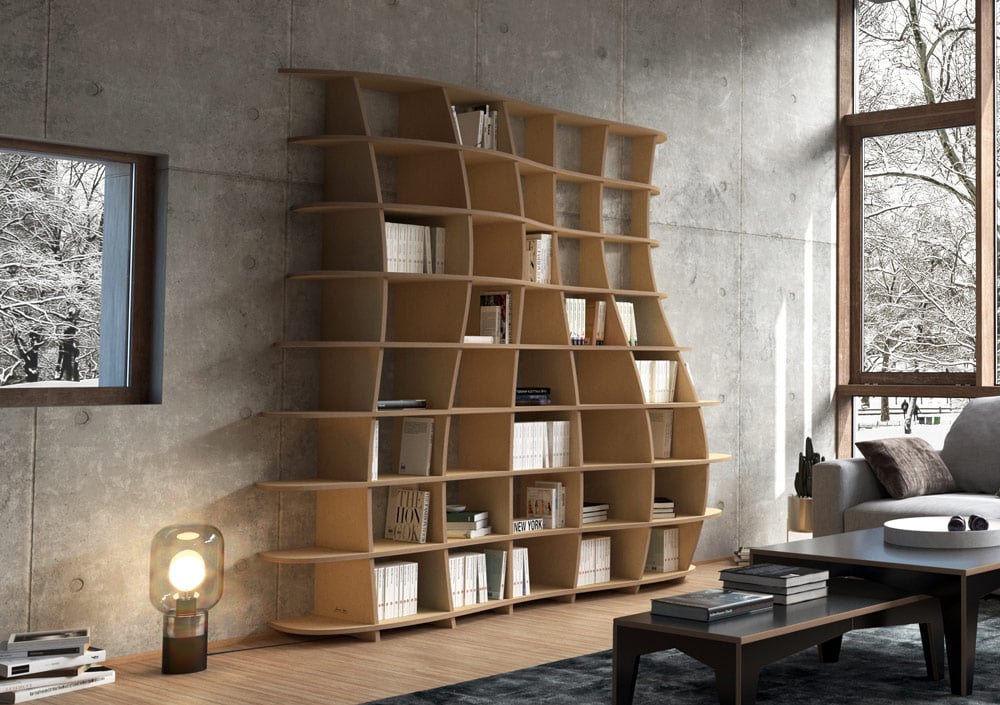 Customize cabinet wall and create wall-to-wall systems
A floor-to-ceiling wall unit gives a lot of space to useful areas and tables throughout the living room. This is obviously good for functional reasons, but it also beautifies the walls. Invest in shelving that runs from wall to wall in a living room. A row of open shelves or cabinets with glass fronts on a living room wall, opens up a lot of space for favorite finds. Combine this with low cabinets or drawers for easy access to everyday items. Here, step shelves are a perfect solution. Long commodes or sideboards also stretch the space. Just use a slim media cabinet or shallow commode in a corner to keep items out of sight. Hide cluttered items behind large tabletop decor or a large-scale painting. Floating shelves are easy to install yourself and instantly make rooms more elegant and sophisticated.
Do not forget corners and window seat
Corners often end up as dead space in living rooms. One solution is to have custom storage that perfectly fits the area. This empty corner could then be a neat workstation or home library. Step shelves in particular integrate well with this. Make the most of the space by designing windows with custom solutions. Make use of unused wall space with integrated elements, especially at height. Window seats are popular places to sit and store books or plants. With no living space, try to get the most out of the window area, even if it's just to free up a little sunlight corner so you can get some daily energy.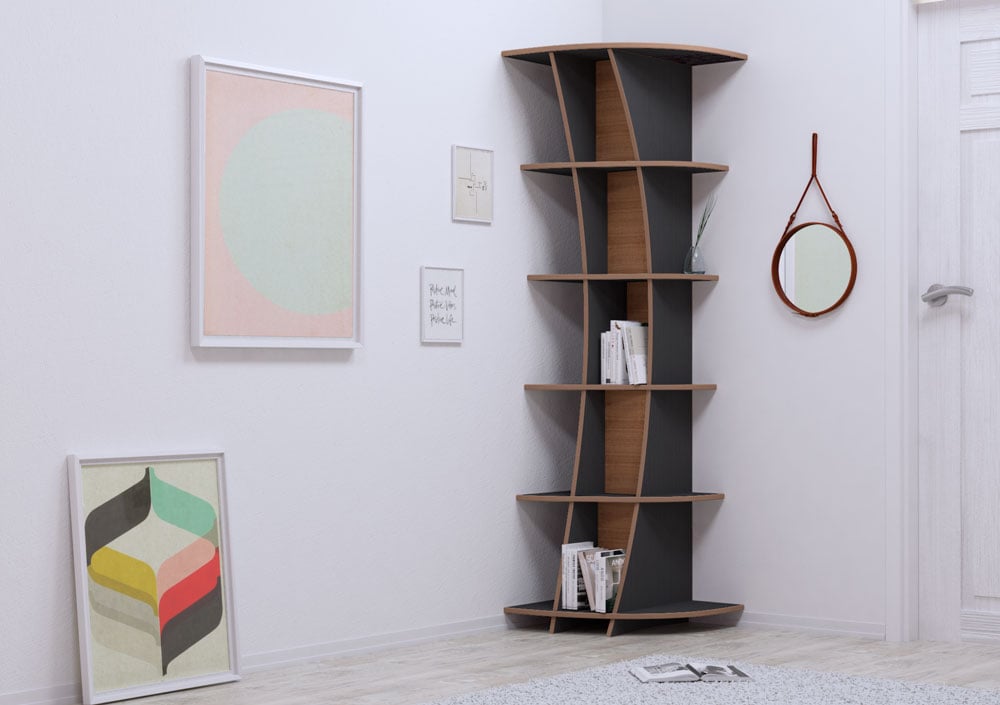 Ladder style shelves
Increase your storage space with ladder style shelving. A slanted ladder shelf is a great way to create more storage space without cluttering up your living room. Not only are they an interesting alternative to traditional shelving, but they're also great for lighter designs or rooms with limited space. However, attach the frame to the wall for safety reasons.
Freestanding furniture for niches
Make the best use of the available space. Many larger living rooms have niches on either side of a fireplace. This is a natural place for storage. The ideal choice is to install custom cabinets and shelving. If you want to save some money, you can make first-class use of the space even on a small budget. Freestanding furniture pieces are suitable here as the space is used effectively due to its width limitations. Use tall units to optimally fill every square inch of the offered storage.
Back to back
What is behind your sofa? If the sofa is not pressed against the wall and you still have space left, you can display books, plants or the magazine collection in this area. For example, a rustic wooden bench contrasts with a modern light gray sofa. Step shelves, customized with drawer and cabinet inserts as you need them, also create more storage space here and organize the room.
Hide things under furniture
You don't have to hide everything under your sofa or other furniture, but instead of going through the hassle of remodeling or installing floating shelves yourself, just sort your books into neat piles and put them under your side table, coffee table, sofa or whatever furniture has some free space. This additionally adds some color and individuality to your home's look. However, make sure you don't pack the room too full.
Use baskets and vintage storage cases
Probably the easiest and cheapest way to free up more storage space is baskets. If your living room is full of books, you can keep your shelves from looking too chaotic by using baskets to group and store books. Place similar colors and sizes next to each other for an organized feel. Organize them by subject or author. Baskets are neutral all-rounders for blankets, throws or clothes. You can also repurpose an old crate or wire basket for something more streamlined. Give new life and meaning to old, beloved pieces for a versatile interior full of charm. A vintage storage trunk not only adds a touch of history to a room, but can also be used as a coffee table. In the bedroom, it is recommended to stack the suitcases to create a particularly stylish flair and at the same time conveniently store everything. Meanwhile, you can buy sturdy, high-quality solid wood vintage pieces cheaply in antique stores, on Ebay or Amazon. Storage trunks are great for modern living spaces because they offer well-organized storage while acting as a unique piece of furniture that is full of character and personality. Optimize storage with a wooden sideboard or step shelf.
Fazit
A box-like shelf is not for everyone, and besides, many standard models do not fit into every interior. Flexible step shelves can be composed of separate modules that can be extended side by side as bookshelves or room dividers. Undoubtedly, the minimalist aesthetics and high level of flexibility, step shelves are becoming increasingly popular among people. These shelving systems come in a wide variety of colors and divisions. With our 3D configurator, you can create your own modification by experimenting with different units individually.