Designer shelves made to measure
Furniture should adapt to you...not vice versa.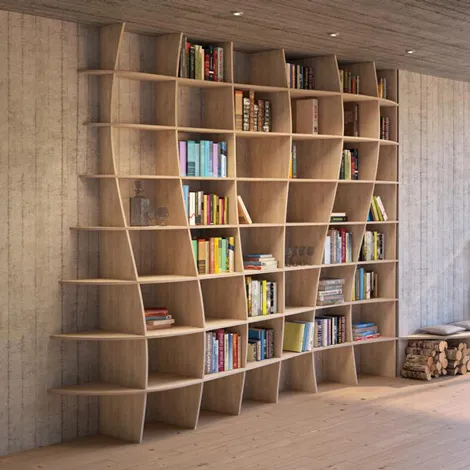 Bookshelves
Configure your bookshelf with our award-winning furniture configurator by form.bar. Choose your individual design from 24 different materials and colours and shape it just the way you want it.
Bookshelves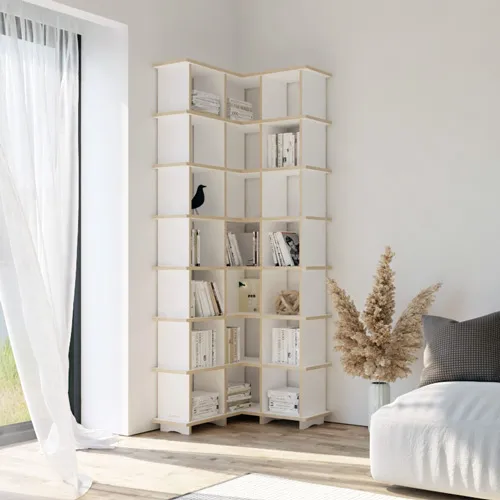 Corner shelves
Don't leave your corners unused but fill your room with a nice corner rack by form.bar instead! Corner racks are variously combinable and provide the perfect solution for furnishing small and narrow rooms.
Corner shelves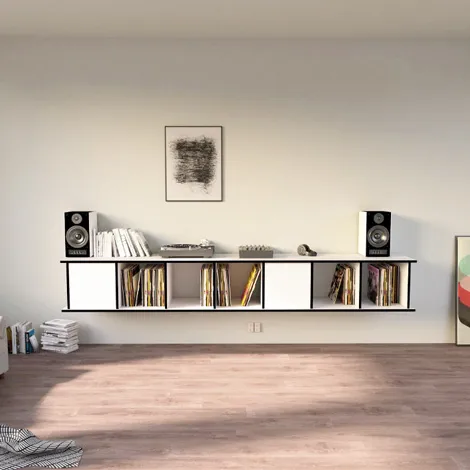 Vinyl records shelves
With form.bar and its award-winning configurator you are able to customise your vinyl records shelf on your own and visualise it at the same time. Give your vinyl records collection an adequate home.
Vinyl records shelves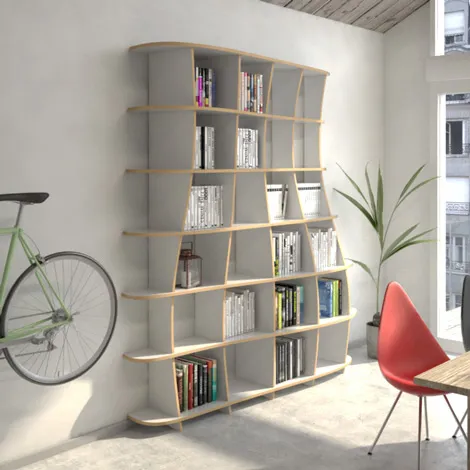 Shelving systems
Plan your top-quality, customised shelving systems with form.bar. Create the shelving system of your dreams in only three simple steps and put it up in no time with our easy connector system.
Shelving systems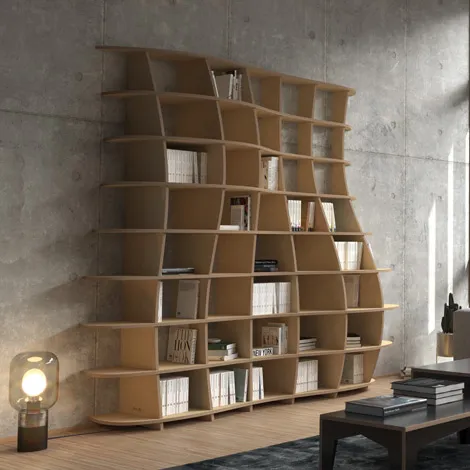 Wooden shelves
With its gently curved shape, our wooden rack becomes the eyecatcher in your home. Wooden furniture provide your living area with naturalness and a feeling of warmth and turn it into something special.
Wooden shelves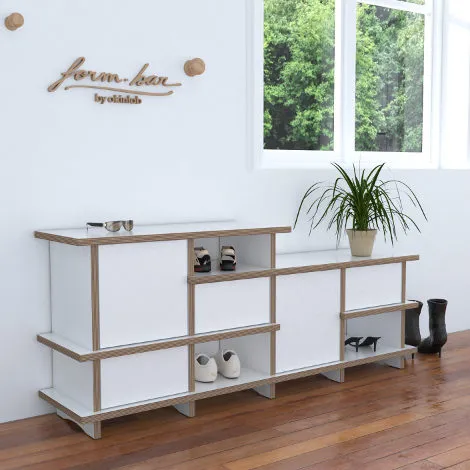 Shoe shelves
With form.bar and its award-winning configurator you are able to customise your shoe shelf on your own and visualise it at the same time. Give your shoe collection an adequate home.
Shoe shelves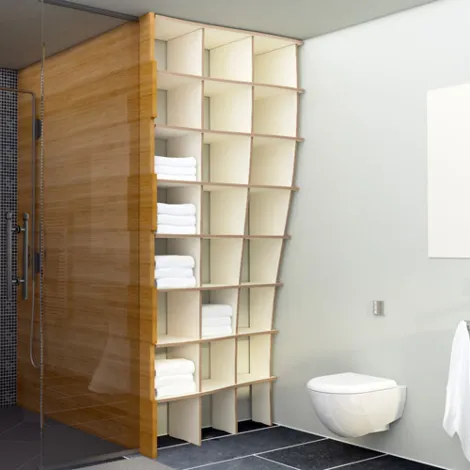 Bathroom shelves
With a customised bathroom rack by form.bar, you turn your bathroom into a haven of well-being and you create additional storage space for your care products. Try the online furniture configurator and become...
Bathroom shelves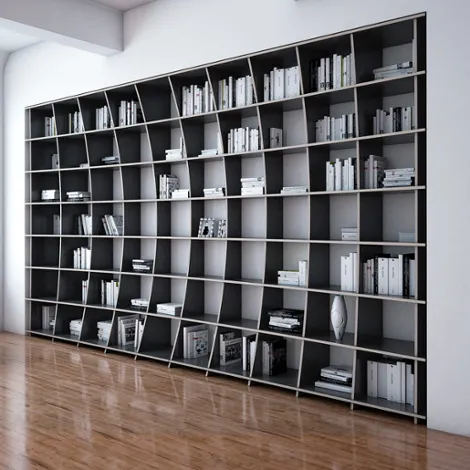 Bookshelves
Configure your Library with our award-winning furniture configurator by form.bar. Choose your individual design from 24 different materials and colours and shape it just the way you want it.
Libraries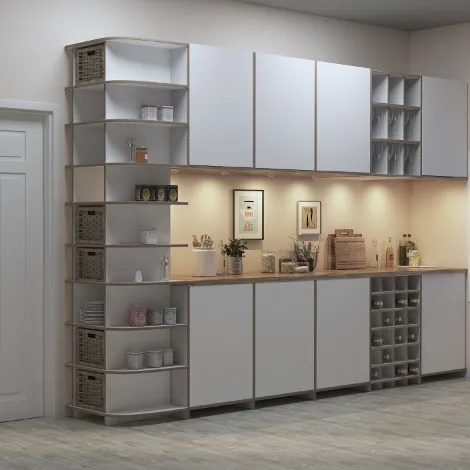 Kitchen shelves
Become a designer and upgrade your kitchen with a curved shelf. Pick a design and adapt it to your needs.
Kitchen shelves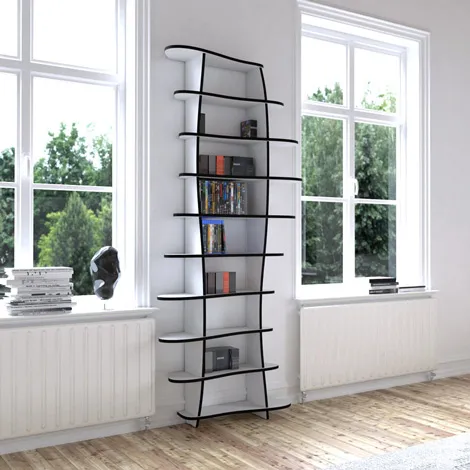 CD-DVD racks
Create a special place for your CD and DVD collection with one of our stylish and functional media racks. We offer you unique, customised racks of top-quality! Create your favourite piece now!
CD-DVD racks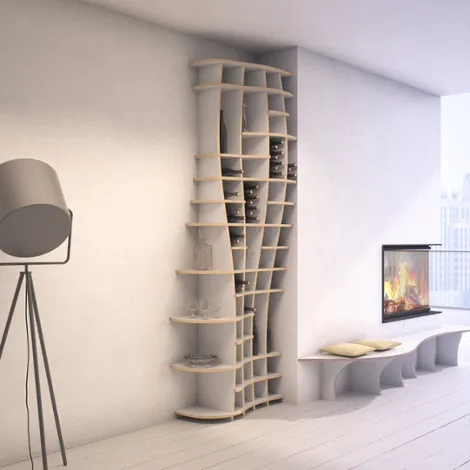 Wine racks
Every wine enthusiast should have the perfect wine rack at home!With one of your form.bar wine racks your wines are not only stored safely but they take pride of place.
Wine racks
Solutions for every room situation
Your shelf made to measure - tailored to your needs
Are you looking for a custom-made designer shelving unit that fits perfectly into your living situation and is in line with your standards?
Then form.bar is the right place for you. With our online configurator any type of shelf is possible. Browse through our different shelf categories such as corner shelves, bookshelves or shelf systems. Choose a design and customize it according to your wishes - without any compromises!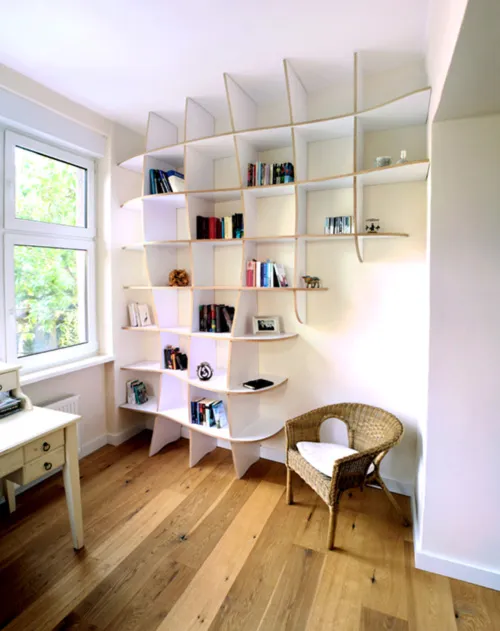 Custom-made room solutions from form.bar
Let your creativity run free!
From the idea to the perfect shelf
At form.bar you don't just get a shelf, but a designer custom-made product that offers functional and individual solutions for your living space. Due to the harmoniously curved form, our wooden shelves become an eye-catcher and integrate themselves perfectly into your home.
Configuring shelves made easy
We want you to be able to furnish your home exactly the way you have always wanted it. That's why you will find our custom-made shelves in many different variations. Each furniture is a custom-made product. Whether as office shelves for your home office, as an open walk-in wardrobe or as a closed built-in cupboard with tip-on doors - everything is possible with us!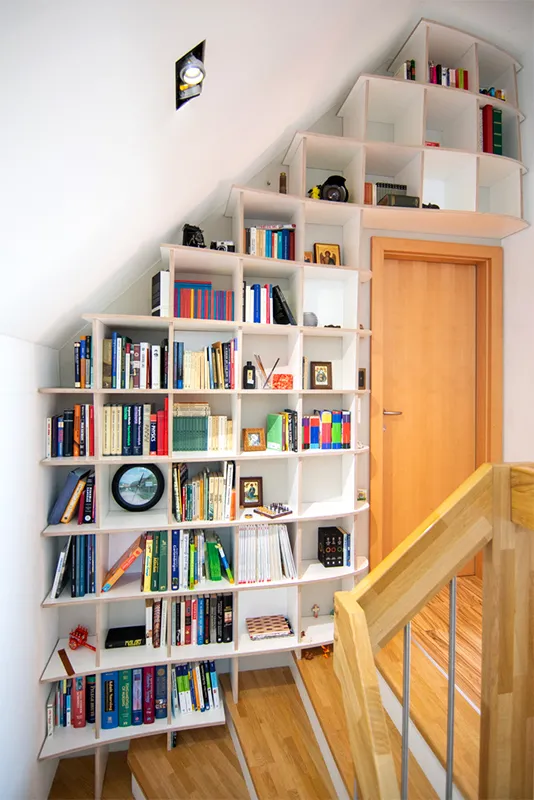 The form.bar shelf configurator
Design your own shelf easily
Create your own personal unique shelf
Put together your individual shelf made to measure quickly and easily. With our award-winning furniture configurator, you'll reach your goal in just a few steps. Height, width and depth of your shelf can be freely determined and are immediately visualised in the 3D view. Your made-to-measure shelving unit can be adjusted with millimetre precision and thus ensures perfect room solutions. Even the baseboard of your apartment is taken into consideration, because you can make recesses for the baseboard so that the back wall of your shelf can stand close to the wall of your room. Try the award-winning form.bar shelf configurator and become a designer yourself!
Our 3D configurator for custom-made shelves
The form.bar furniture configurator is intuitively structured and very easy to use. The motto here is "learning by doing" - just try it out and discover the possibilities. If you prefer to undergo a briefing in advance, you can learn about the valuable functions of the online configurator in our descriptive tutorials. These include the 360° view, the measurement tool, the individually adjustable shelves or the recesses. When you register, you can save all your designs and thus compare your designs and later decide on one of your shelf units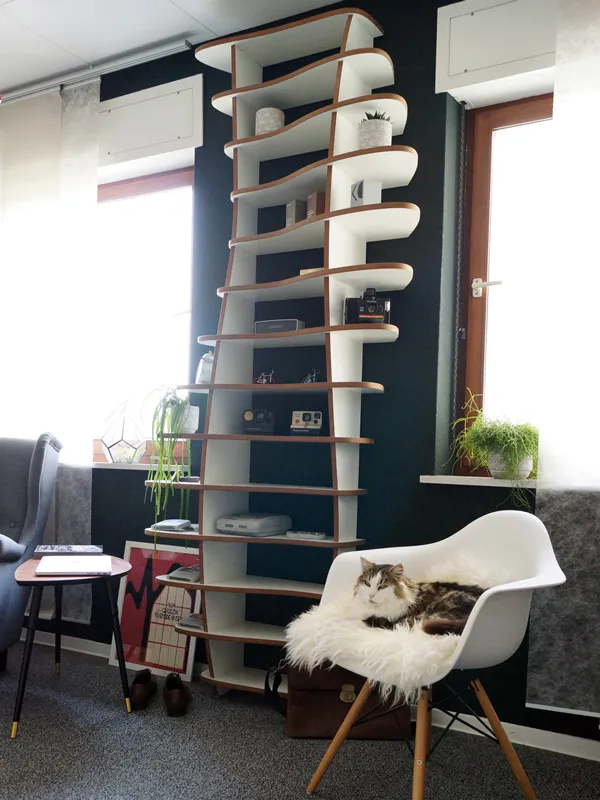 Designer shelf wood - production, colours and materials
Highest quality and sustainability down to the last detail
Digital furniture manufacture and regional carpentry combine modern technology with traditional craftsmanship
Our furniture is processed with the greatest care. The regional carpenter combines the most modern technology and traditional craftsmanship in the production of your wallboard. He makes your cabinet exactly as you designed and saw it as a 3D model. You need a heavy duty shelf? No problem! You don't need to worry about whether your new TV shelf is stable, because our form.bar designer team checks every single order before production. Due to the millimeter-precise milling, our plug-in system shelves are very stable and the shelves have a high load capacity.
Wide range of qualitative materials for your shelf
We offer you a diverse selection of high-quality wood species such as solid multiplex birch veneer laminate (FU) with real wood veneer or medium density fibreboard (MDF) with coloured coating. You can also put together your shelf in different colours. Whether you want a simple shelf in white or an extravagant shelf in pink or blue is up to you. White shelves are usually very popular, because they fit almost every interior design and look bright and friendly. If you are not sure whether the chosen material or colour matches your home furnishings, you are welcome to order two wood samples to view at home.
Environmentally friendly production processes for your wooden shelf
From an ecological point of view your new shelf can also be made to measure! As with all our products, we work material-efficiently, as we attach great importance to the responsible and sustainable use of resources. We consistently avoid harmful substances and only work with FSC®-certified partners, because nature is close to our hearts.
Contact our furniture designers
Do you have questions about the assembly service or need help planning your furniture? In our FAQ areayou will find we have answered the most frequently asked questions and put them together for you to read. Should you still have questions about your new designer shelf made to measure, please contact us by phone or e-mail contact with our service. There our specialists are there to help you with words and deeds. You can also send us a photo of your room or wall so that we can better assess your living situation and your needs and plan your new furniture for you
Configuring dream shelves with form.bar
What you should pay attention to
Individualise your personal shelf
Decide for yourself whether it should be a standing shelf, hanging shelf, built-in cupboard or an entire wall unit. No matter whether you want a sloping roof, niche or free-standing, we have the perfect designer shelf for every room situation. With us you will find a suitable shelving system for your apartment, the bookshelf for your library or even beautiful room dividers, to divide your living space in a meaningful way.
With our award-winning 3D configurator, you can design your own custom shelves with no restrictions. Should you still encounter problems or limitations, our team of designers and interior designers will be happy to help you. Special requests such as drawers or drawers are also gladly accepted. contact us and we will find a solution for you and your request.
What do you need to know before buying your custom made shelf?
This checklist can help you:
Measure the available space exactly. Pay attention to window and door openings and skirting boards.
Adjust the size of your shelf according to how much storage space you need.
Choose from over 20 different colours and two different wood materials to match your new shelf harmoniously with your interior design style.
Decide on the layout of your shelf - shelves, number and size of compartments and doors are fully customisable.
Deform your designer shelf according to your ideas - there are no limits to your configuration.
The design world of form.bar
form.bar stands not only for curved furniture
Subconscious feel-good effect through organic shapes
The unique design of our made-to-measure furniture originates from the organic forms of nature. The curved appearance reminds of waves in the sea or flocks of birds on their way south. Subconsciously, the organic forms create a homely atmosphere of well-being and harmony. In addition to the appealing appearance and the functionality in terms of customisation, we also place a great deal of value on sustainable production. Only FSC®-certified woods are processed. In addition, each shelf is manufactured regionally by a carpenter close to the customer, which Shortens delivery routes and thus protects the environment.
Harmonious interior design
Our designer shelves made to measure can also be combined wonderfully with other form.bar furniture. Take a look at our sideboards, TV lowboards or couch tables to discover possible combinations. Your whole living room can become an eye-catcher with form.bar. Find suggestions in our customer gallery, where our customers showcase their dream furniture. Our guides also provide you with valuable tips on a wide variety of furnishing themes.
Design shelves
Delivery, assembly and service - your all-round carefree package
To buy matching and stylish furniture made to measure, you no longer have to spend your evening or Saturday in crowded furniture stores. Just browse through form.bar and let us convince you of our variety and quality.
Our clever plug system ensures quick assembly
You can order your new shelf made to measure with just a few clicks of the mouse and you will have it delivered to your door free of charge. The delivery time for your individual shelf is only 4-6 weeks. The assembly of your desired piece of furniture is also quick and easy. Our intelligent boltless shelves do completely without metal connecting elements, so that you don't have to you need additional tools. With the help of the included assembly instructions, you will be able to set up the system in no time at all. Your form.bar bookshelf or room divider can also be assembled of our professionals to set it up. Our nationwide partners offer you an inexpensive construction service. You can use the assembly service during your order process on the checkout page request.
Fast delivery despite special design
Shelves made to measure are always individually manufactured. Because your personal wishes cannot be covered by mass furniture. With our nationwide network of master carpenters, we guarantee high quality craftsmanship in millimetre-precise implementation. Despite the fact that each shelf is a custom-made product, the made-to-measure furniture is delivered within 4-6 weeks. produced and delivered. Shipping to Germany, Austria and Switzerland is free of charge.