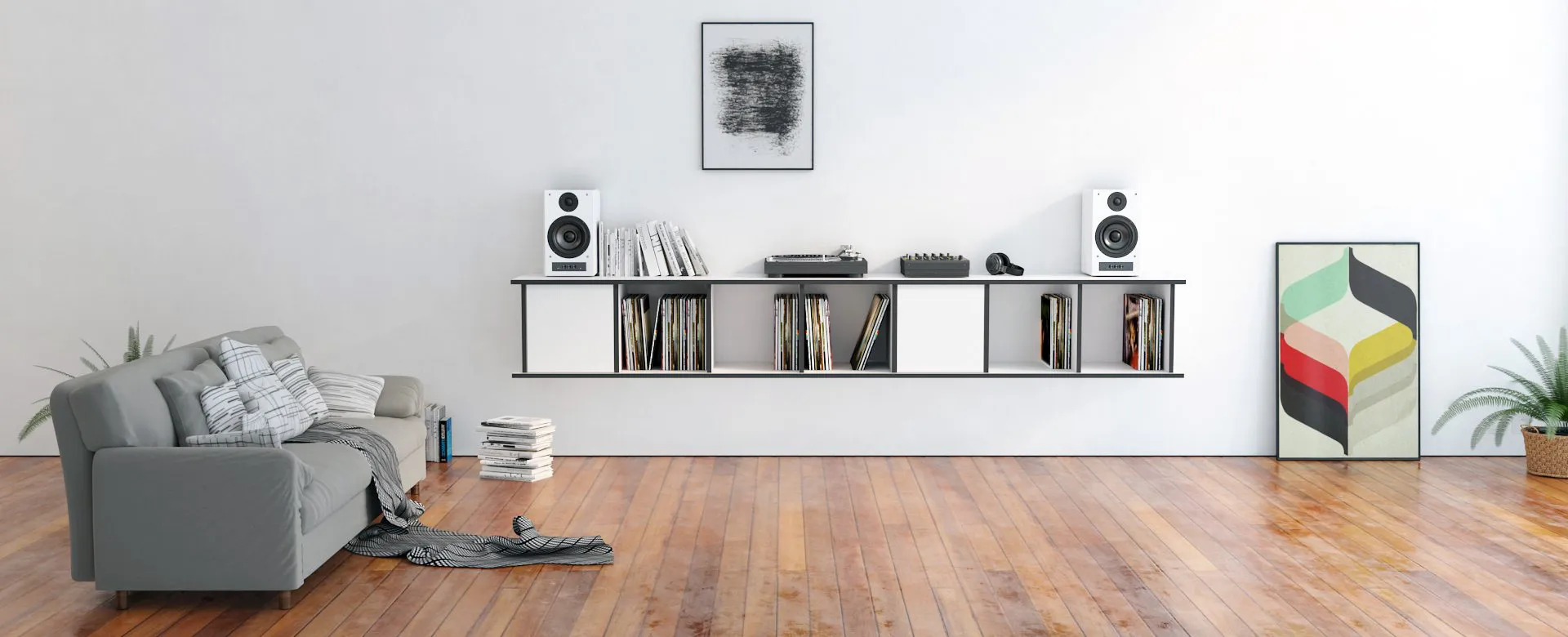 Record storage
For all music enthusiasts, turntables and records are more than objects for music playback - they are also proud collectors' items and special decorative elements. Our LPs are valuable objects. It's important to take good care of them so they last and sound great. To do this, we need some basic things to make our record storage work optimally.
A record storage for your collection
Questions that many record collectors ask are: "What do I need to consider when storing records?", as well as "Where and how do I store my records?" Our guide will help you answer these questions and find interesting record accessories and the right record storage furniture. Finally, we'll take a look at proper record care so that our collection will last a long time.
What do I need to consider when storing records?
A major advantage of records is that they are extremely stable. Compared with CDs, for example, they can last around 100 years in an optimal environment. Many factors influence the durability of vinyl records. Heat, pressure, dust and foreign objects contribute significantly to the quality of vinyl, because these influences can distort the surface and thus lead to playback interference.
Although the records themselves are very robust, the respective record covers are not. Therefore, it is also important to pay attention to the fragility of the cardboard cover when storing records. The following points must be considered when storing records.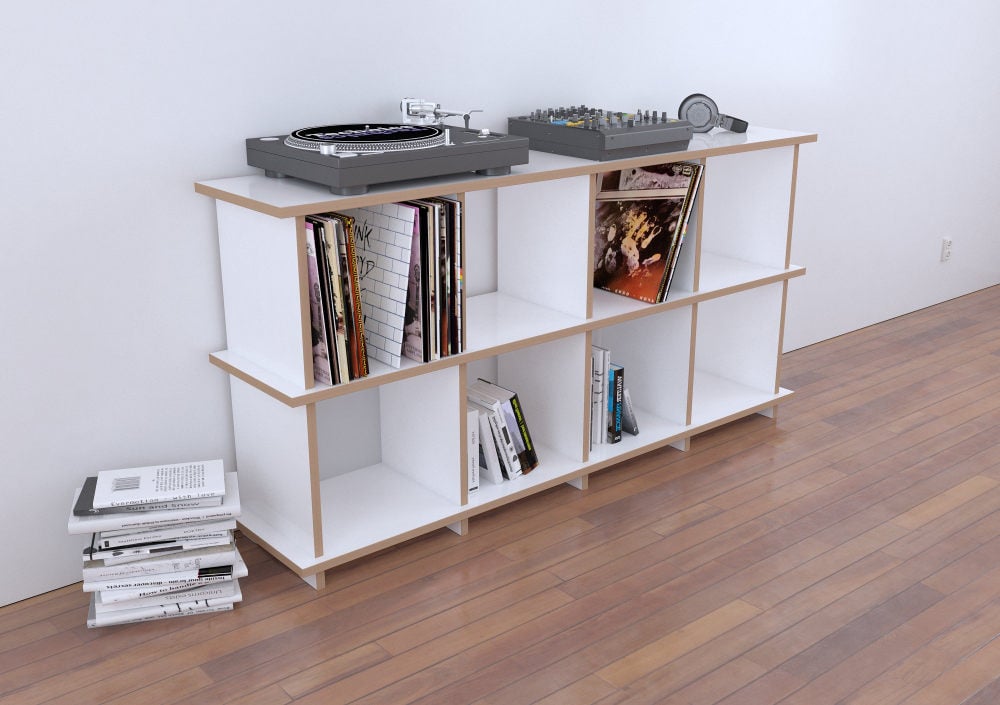 Heat and light
Generally, the vinyl collection should be stored at room temperature or slightly below. The temperature scale between 15-25 ℃ is recommended. Here it is necessary to ensure that the LPs are free from radiators, vents and other sources of heat. In terms of light exposure, no exposure in direct or intense light applies. Records are most susceptible to ultraviolet light. UV exposure can damage records in just a few minutes, so for best storage, keep your LP collection away from bright windows.
Humidity and pressure-free storage
Records should be stored in a relatively dry environment, around 35-40% relative humidity. Tip: A hygrometer is an inexpensive and efficient tool that can be used to accurately measure humidity. In addition to the correct humidity, pressure-free storage is important: stacking the LP collection must be avoided at all costs. Of course, this method saves space, but leaving enough room to browse not only has a practical advantage, but also protects the vinyl protective sleeves.
Vibration and separation sets
Just like heat and direct light exposure, vibration should be avoided as it can affect the structural integrity. At the same time, the collection should be stored at a reasonable distance from speakers, washing machines and dryers. It is also recommended that vinyl of similar diameter be stored together: For example, 30-cm records should not be mixed with 25-cm records. This avoids a cumbersome search for the desired LP and at the same time this separation provides a visually clean look. Interested people can find numerous separation sets on the market that help to organize the collection.
Regardless of where and how you choose to store records, you must always ensure adequate air circulation. Accordingly, LPs should never be stored in sealed containers of any kind - including plastic containers with lids or glued-on cardboard boxes. Sealed containers can contribute to the creation of a harmful microclimate. Thus, caution should be exercised with portable vinyl crates or boxes. Therefore, with such storage solutions, it is recommended to regularly air the contents and inspect the quality of the LPs.
We plan your record storage for you
Get your designer built-in cabinet designed by our professional designer team.
To the design service
Where and how do I store my records?
In general, it can be said that attics and basements are not the best places to store records, although there are exceptions. The main reason is that they do not meet the climatic conditions.
Avoid places where water damage can occur. Although vinyl is relatively water resistant, record covers and labels are not. Therefore, try to find an area that is relatively clean, dry and cool. Once such a space is found, let's look at how best to store the records:
Store records upright:

When albums are stored in a stack on top of each other, they may warp on the discs at the bottom of the stack due to the pressure and weight of the stack. This can also damage the artwork on the album covers.

Use protective sleeves for the LPs:

Despite the resistant material, vinyl records should be protected. Commercial records can be stored in their original sleeve, but should also be placed in a static-free polyethylene film to prevent printing through the original sleeve. By the way: To reduce static charge, ideally choose storage containers made of wood instead of metal.

Use protective sleeves for the plate covers:

In addition to storing records in a plastic sleeve, record covers should also be stored in a plastic sleeve. In other words, you put the record in a plastic sleeve and the album cover in another plastic sleeve. This will provide the best protection.

When storing, pay attention to the weight:

Make sure the selected shelf is sturdy enough to support the weight of records, which averages 15 kg per shelf foot. Note: All formats concentrate weight on the center line of a shelf, which can cause some shelves to collapse.

Use dividers and partitions:

Once the LP collection is housed in its new location, the records should be divided every 10-15 inches with sturdy dividers that cover the entire cover of the disc. Dividers promote pressure-free storage and have the added bonus of organizing the records.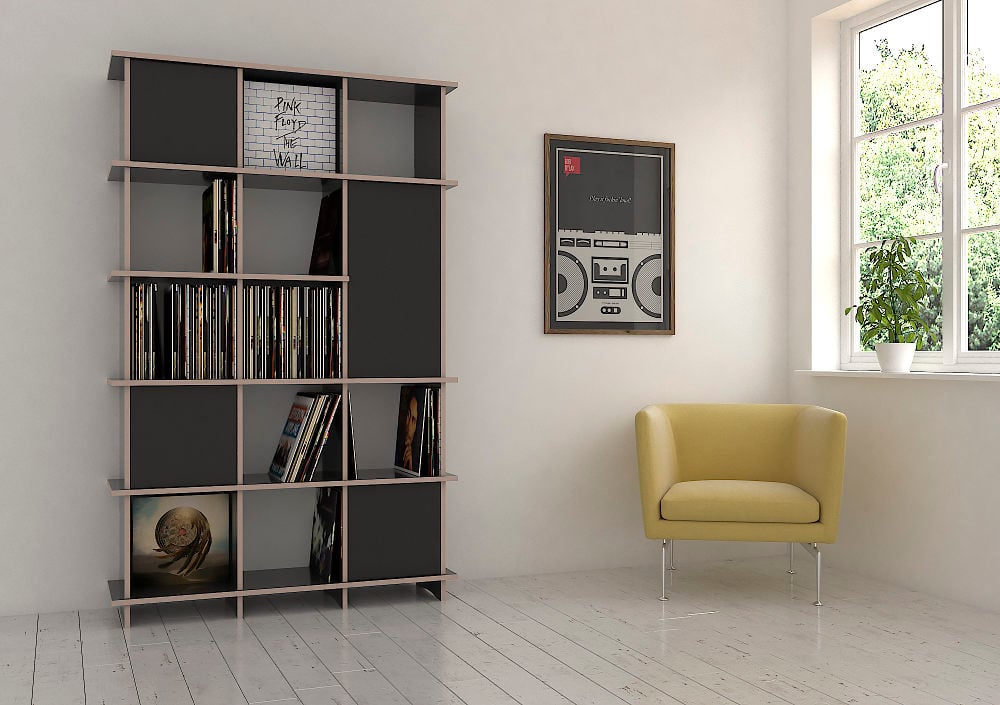 As already mentioned, it is always important to ensure sufficient air circulation during storage so that the LP collection has enough air to breathe. Apple boxes and wine boxes perform this task. However, various forms of paper boxes are to be avoided, as they do not provide the best support, break easily, and absorb water and moisture, causing them to soften when wet. Suitable record accessories, on the other hand, is not difficult to find, and the following options are among the timeless classics.
Records accessories
Record enthusiasts love to discover new record accessories. Record accessories are also always an excellent gift idea. The offer is almost endless and quickly the overview can be lost. Therefore, the most important must-have parts are listed below:
Records separation sets:

As mentioned above, record divider sets are a must-have to organize your record collection as best as possible. A popular variant are the alphabetical dividers. File sorters made of colorful acrylic not only provide the necessary stability, but also provide the colorful touch.

Crates, boxes, magazine racks:

Digging through vintage crates and boxes often evokes a sentimental old school feel. For an extra design highlight, use a few wooden LP record storage boxes to create a vinyl record store atmosphere in your home. Even a simple newspaper rack can showcase a handful of records on a writing desk or shelf.

Picture frames and picture strips:

Adding visual highlights with LPs is one of the great pleasures and is often straightforward to do. Picture frames or album frames offer a good option, but the pressure of the frames can distort the recording. Likewise, pulling the recording out of the frame every time you want to listen to it is a big hassle. Picture strips are a great alternative to the cumbersome album frame. Originally designed for photos and framed art, the standard picture rail fits in a nice row of your most treasured records and provides easy access. An added bonus is that picture ledges are available very inexpensively at most furniture or home improvement stores.

Storage cases and carrying bags for records:

For those who are new to collecting vinyl records, record storage cases and carrying bags are a cheap and cool storage option. Depending on the model, these trendy options can hold about 30 records.

Record holder made of industrial copper pipe:

For vinyl lovers with smaller collections, or for those who want a selection of current favorites within reach, handmade copper pipe racks are both functional and stylish, with an aesthetic that fits steampunk or contemporary minimalism as needed.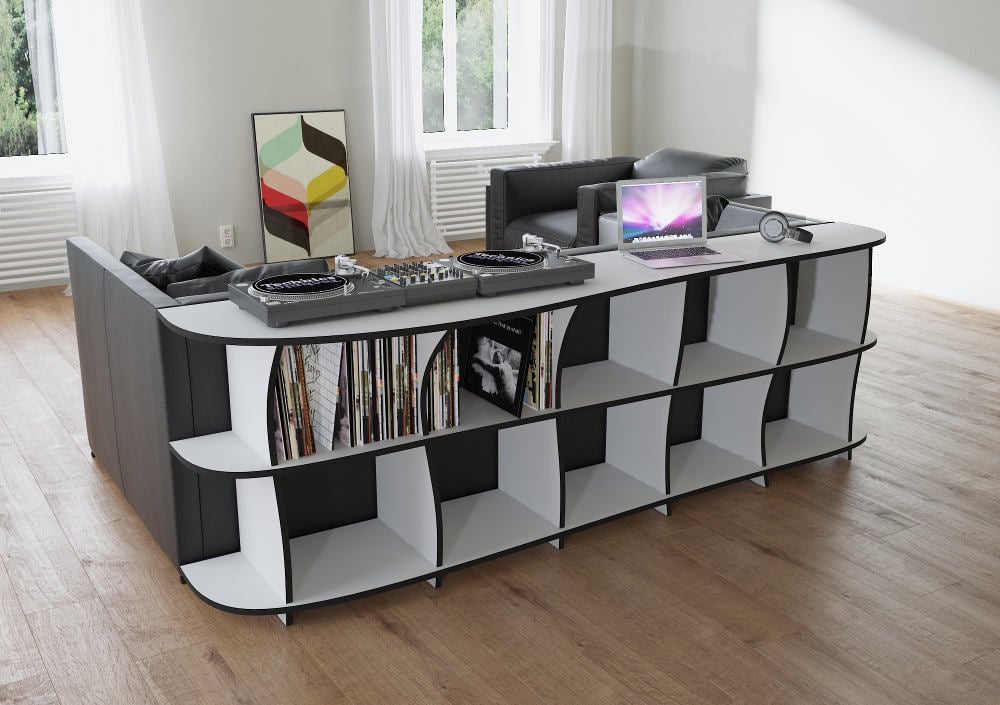 How much space do I need for a turntable setup?
Important to properly plan record storage is what you need for a turntable setup so that storage space can be properly planned. A modern record player won't take up as much space as an older model, but to achieve an authentic vintage sound, an older model is worth considering. Regardless, these are points to consider for a turntable setup:
Space for a stable surface to rest the turntable
Space for a preamplifier, which newer turntables have
Space for an amplifier
Space for one or more speakers, depending on the setup
If you know what kind of turntable setup you need, you can more effectively use the space you have and adjust your furniture. The look of the turntables is also not to be neglected: Some are minimalist and compact, while others make a more dramatic statement. Compare which models best suit your interior.
If you want to get new inspiration for record accessories and a turntable setup, you'll find a huge selection of creative alternatives on Amazon, Ebay and Etsy. Record accessories offer a straightforward and often inexpensive way to store. However, for a larger collection, this method may not be sufficient. In this case, record storage furniture is the best choice.
Records storage furniture
Many people have a limited living space at their disposal. In such circumstances, difficult decisions often have to be made: Which objects do I keep? Which ones can or must go? For those who do not want to downsize their collection, a well thought-out storage system is necessary.
Fortunately, in the search for the right record storage option, there is a manifold choice. The most important thing is to make sure that we keep the LPs upright and provide them with a stable storage. With our cabinet designs, you can customize all the necessary factors.
Modular shelves and sideboards
One of the best all-round solutions for record storage are modular shelves and sideboards. Especially for larger vinyl collections in combination with turntables or various HiFi devices, they are an unbeatable tool. With our 3D configurator you can model the respective connecting cubes according to your needs. However, we have also developed record shelves especially for the LP collection, which you can configure as a basis for further designs or buy as a finished product. It's best to take a closer look at our prototypes:
Record shelves Biggie, Jeff and Jimmy
If you want something tall, look no further than the Biggie, Jeff and Jimmy models. With their slight curve, they offer plenty of storage space for a lush record collection. Here you can sort your record covers space-saving or show the complete front cover in a compartment. Customize dimensions, color and form according to your needs in the 3D configurator by clicking on "Form yourself". The doors can be colored independently of the carcase color.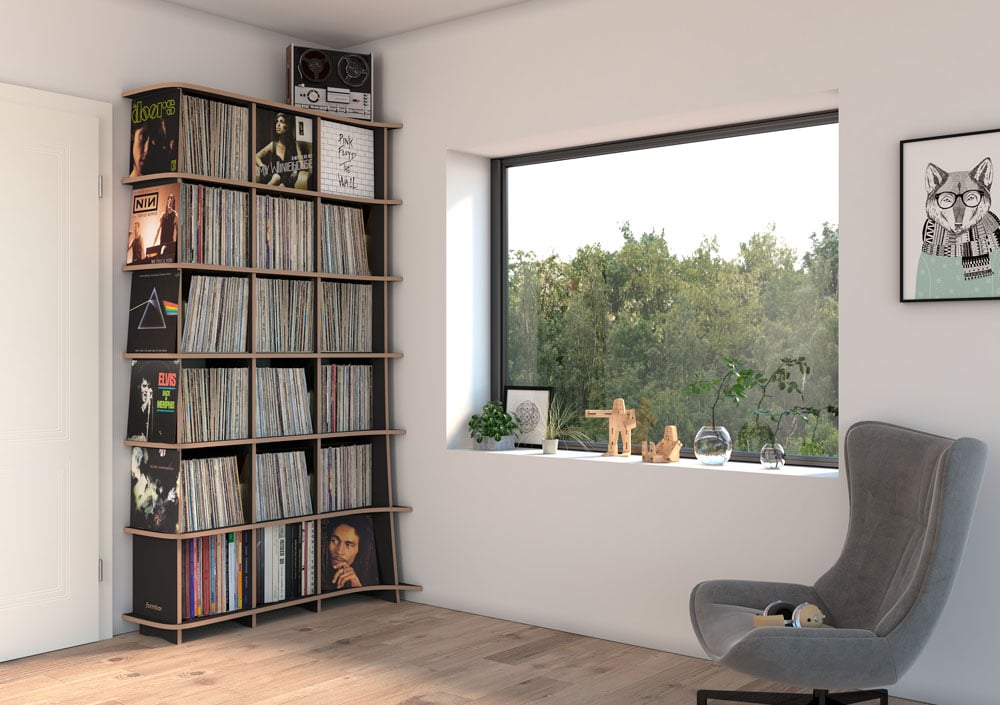 Record shelves Vinyla and Elliott
If you're looking for more horizontal designs, check out Vinyla and Elliott. The combination of large and small compartments, allow for a multifunctional storage space where you can just as well place decorations and personal pictures on it to skillfully enhance your living space. The Elliott record shelf already attracts attention with its symmetrical curve, even without a unique record collection.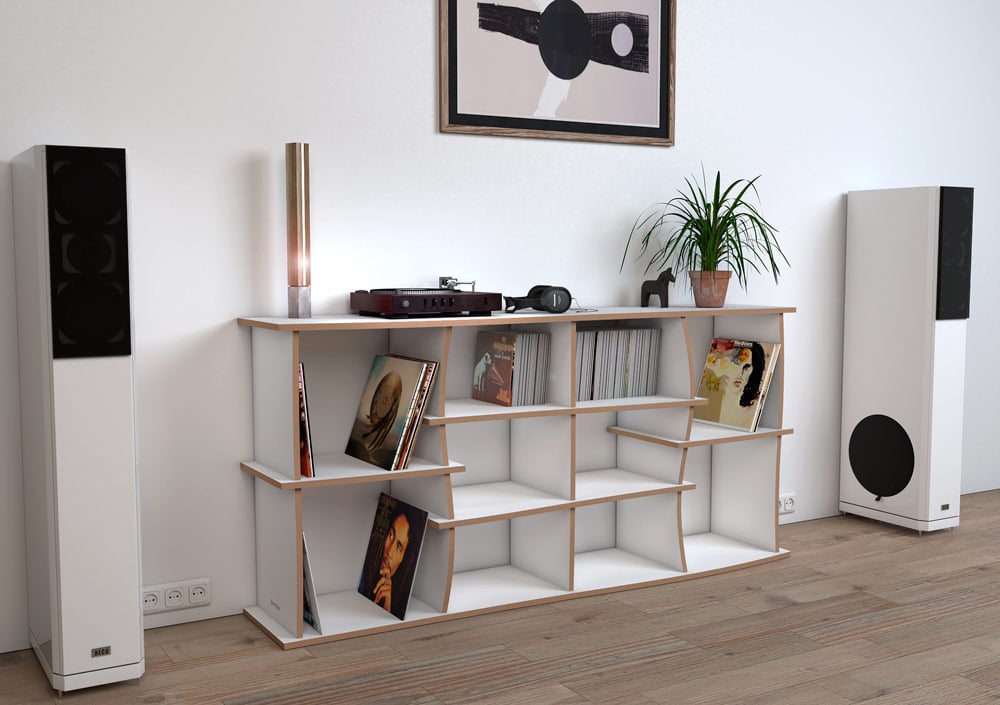 Record shelves Conco and Erika
For furniture that should stand in the middle of the room, for example, we recommend Conco and Erika. Conco offers enough storage space for your records with its nine compartments and can also be used for other purposes. No matter how big your collection is, you can customize Conco to your exact needs with our award-winning online furniture configurator.
With its contrasting appearance, the Erika model brings that certain something to your living space. It can be perfectly adapted to any size, form and color of your couch thanks to the 3D furniture configurator. Whether as storage space or as a shelf. Erika always cuts a fine figure and makes ideal use of the space.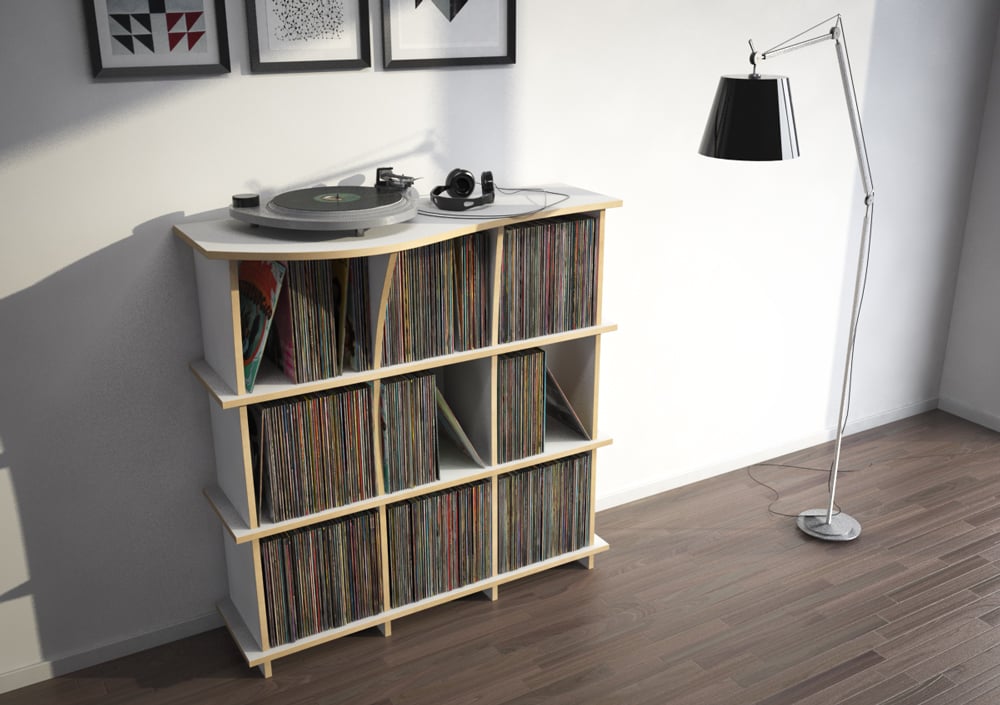 Record shelf Vinylos
If the floor space is already exhausted, then use a wall shelf for more storage space and to set a design highlight. The Vinylos variant is perfect for this. In the puristic designer shelf, your vinyl collection is presented in style. Of course, other things can also be stored there. Your collection is too big for the shelf? No problem, in our 3D configurator you can change the length and the material that it fits perfectly to your apartment. The suspension of the furniture is done by high-quality, invisible cheek hanging hardware, which are recessed per vertical.
Our other shelving systems also offer multifunctional solutions for your vinyl collection. Once you've found your cabinet and displayed your collection, don't forget to take care of the records every now and then to keep them as long as possible.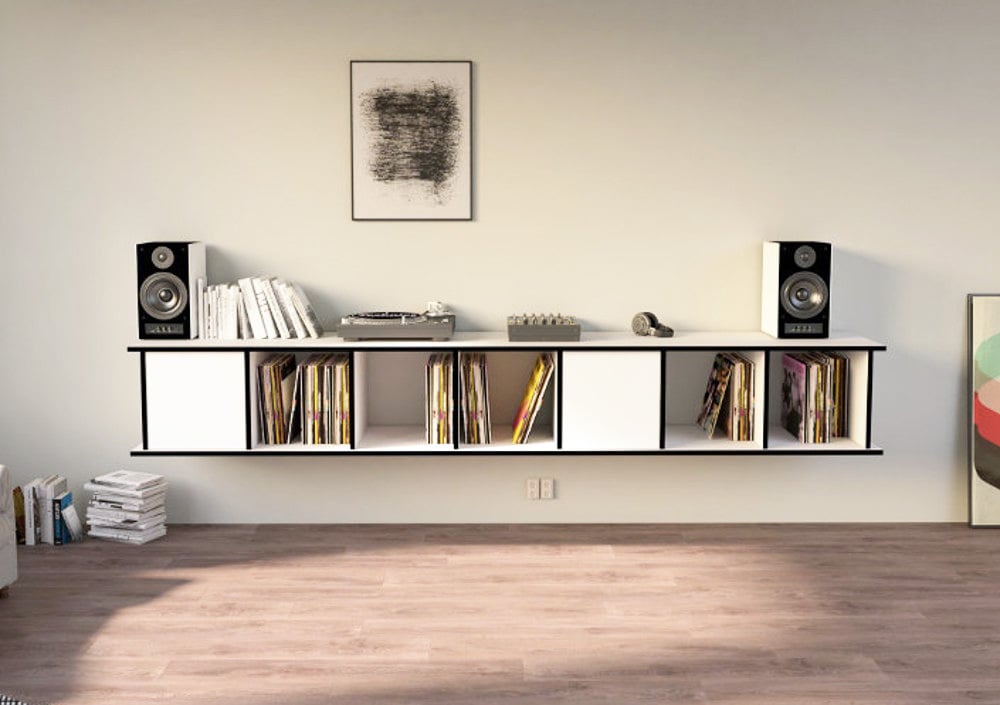 Records care
Eine passende Schallplatten Aufbewahrung ist die eine Sache, eine ordentliche Pflege der Schallplatten ist eine andere. Um unsere Schallplattensammlung möglichst lange gut zu erhalten, ist es unumgänglich in die Schallplatten Pflege zu investieren.
Important: Always wash your hands before touching records because our hands contain oils that can promote fungal growth on records. Only touch LPs at the edge and label areas. Lastly, keep the playback equipment clean and well-maintained. Make sure the mat is dust-free and replace needles as they wear out. For optimal record care, these products will help you:
Antistatic brush for dry cleaning
Records quickly become dusty. An antistatic brush for dry cleaning is important to keep LPs dust-free. Dusty records sound loud. Streaks and cracks from dusty records can greatly affect sound quality. The stylus that reads the grooves in the records is very sensitive and converts even the smallest dust particles it encounters on its way through the grooves into an unwanted sound. In order to achieve a good sound, the records must be kept dust-free. It is recommended each time to clean the record with an antistatic brush before placing it on the turntable.
Velvet brush for wet cleaning
As mentioned earlier, records accumulate dirt, grease and fingerprints over time. It is practically unavoidable. In the process, the extremely sensitive stylus on the turntables picks up all the interfering substances as it reads the grooves. This creates crackling in the speakers. Cleaning the record with a velvet brush and a solution fluid will gently and effectively remove dirt and grease from the record. It is not necessary to do this every time a record is played, but from time to time when the record is visually dirty or when the record sounds undesirable even after chemical cleaning.
It is also recommended to use a special cleaning solution for cleaning records. Ordinary household soaps can leave dirt in the grooves and worsen the situation. Attention: Alcohol can also attack the grooves. A vinyl cleaning solution is the right choice. A velvet brush for wet cleaning together with an antistatic brush for dry cleaning, as described above, fulfills the lion's share of proper record care and makes the LPs sound wonderful again.
Microfiber cloths
Buying a non-abrasive and high quality microfiber cloth can absorb moisture and oil from the record surface. Microfiber cloths are made of woven fibers and can bind dirt and dust without damaging the discs. Since this is an inexpensive accessory, it is recommended that you purchase several microfiber cloths.
Protective covers and dust covers
As already mentioned, to protect records from dust, static electricity and abrasion, it is highly recommended to use high-quality protective sleeves (for indoor and outdoor use). They are inexpensive to buy and work wonders in keeping records neat. In addition to this, dust covers for turntables are also necessary to prevent the equipment from being damaged by dirt, dust or spills. Protective sleeves and dust covers thus contribute massively to the longevity of LPs and turntables.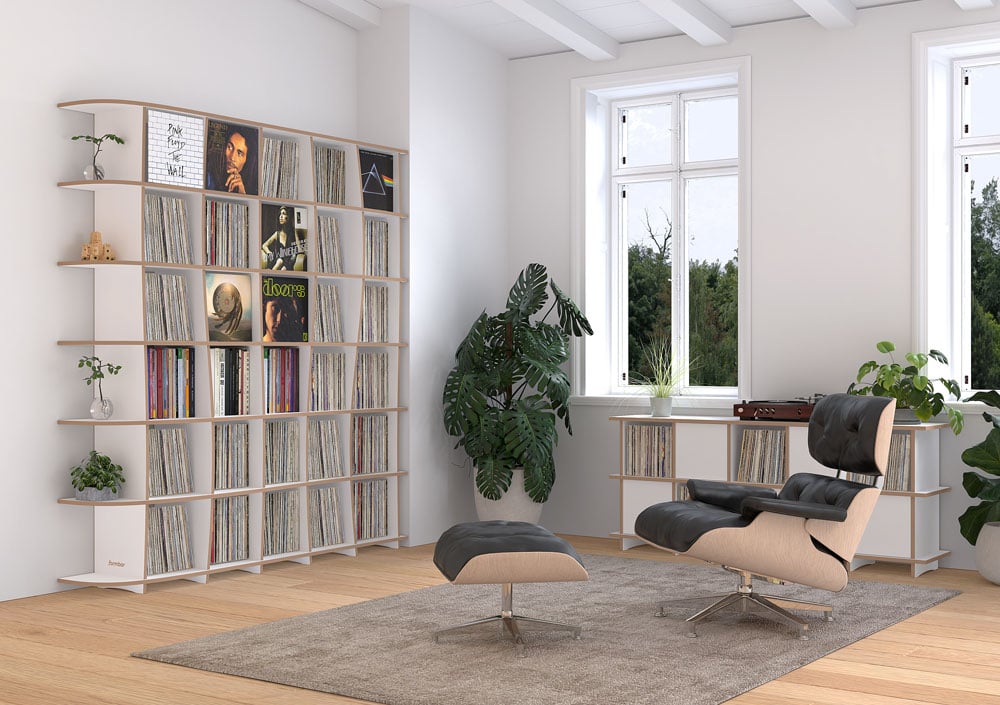 Fazit
The list above covers the most important aspects you should consider for your record storage. Now that we've looked at what to consider when storing records, where and how to store records, and what's important in proper record care, you can make the right purchasing decisions for your individual LP collection.
Our 3D configurator offers you numerous design options to configure your record shelf as you wish. There you can choose the number of compartments and columns of your shelving system to fit your space and needs. Your order will be delivered in 4-6 weeks. If you have any questions, we will be happy to advise you! Contact us easily via contact form, callback service or live chat.