Designer wooden shelves made to measure
Choose a design and configure it
Solutions for every room situation
Designer wooden shelves made to measure
Wooden shelves convince through optics and haptics
At form.bar you will find the wooden shelf with that certain something. We don't just want to create a functional shelf, we want to produce a wooden shelf with a unique design that will give you pleasure every day. No matter if you want to store books, clothes or other objects, at form.bar you will find a variety of custom-made wooden shelves that will meet your needs. Because with our award-winning 3D configurator you can design your furniture yourself and adapt it to your needs.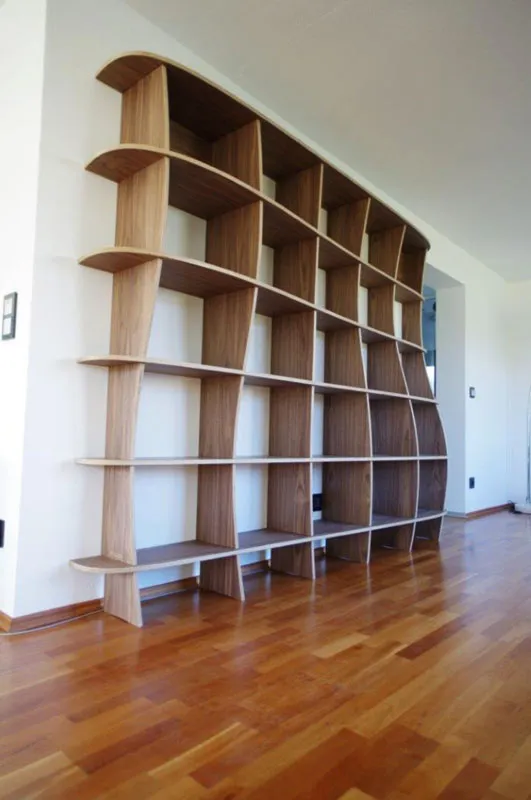 Shelf made of wood to measure
A home for your book collection
Whether chic, modern, simple or practical: Thanks to the large selection on our form.bar site, you can now choose your perfect wooden shelf. Here you can choose from standing shelves, wall shelves, book shelves, kitchen shelves and much more. You can easily and quickly configure and order your custom made shelf online. Your wooden shelf according to your wishes! Do you have a problematic pitched roof in one of your living rooms or would you like a wall shelfthat decorates the corner of your room? No problem for us! In the Furniture Configurator you can easily turn a normal bookshelf into a stepped shelf or you can adapt the edges of the wall shelf to the wall and round or square them. At form.bar you also have the possibility to have your wall shelf nestle classically straight against the wall or to form it individually curved.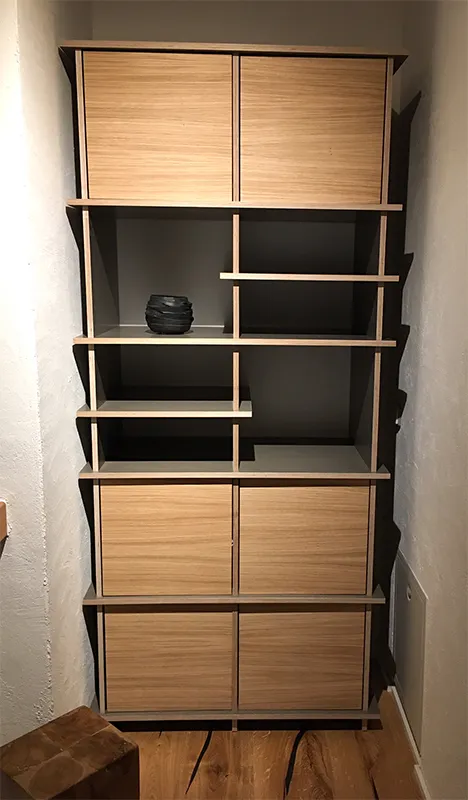 Bookshelves for every bookworm
Design your own bookshelves
If you are a bookworm and have many books to store, then choose a classic bookshelf. You can vary the width, height and depth of the bookshelf to suit the number and size of your books. Depending on the style of furnishing, your wooden shelf can be adapted to your existing furniture or combine it with cabinets, sideboards or tables to create a wonderful and cosy overall picture. Due to the harmoniously curved form our shelf will be an eye-catcher in your kitchen. A kitchen shelf made of wood adds warm accents to the kitchen and stores your kitchen utensils and cookbooks in style. You can also easily turn shelves into cabinets with the online configurator by adding doors to the kitchen shelf. Now you can use our online configurator to design your own individual wooden shelf or take a look at the shelves we have already created for you.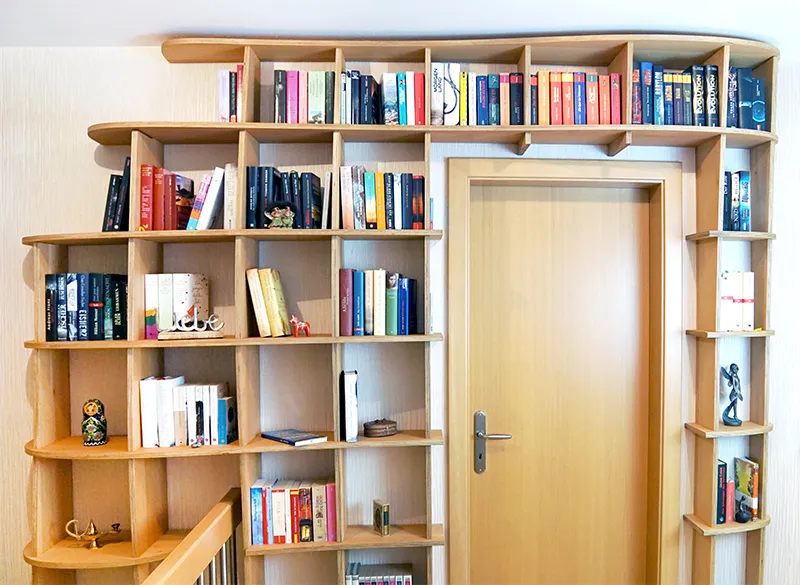 Configure Wood Shelf
FSC-certified and durable
Put together your own individual shelf system yourself - with our award-winning furniture configurator, it's quick and easy. Whether straight or curved, cabinets with or without doors, free-standing or as corner or wall shelves, with us you can let your fantasies run wild! You decide, from the comfort of your own home, which shelf you like. If you discover a basic shelf that already comes close to your ideas, change it in the configurator so that it meets your needs and personal taste 100%. Very simple, functional and individual.
The possibilities for wooden shelves
You can plan your shelf up to 350 cm high, 461 cm wide and the shelves up to 53 cm deep. The real wood veneers of beech, oak and maple or high-quality lacquers in various colours ensure a high-end appearance. So you can give a simple wooden shelf a very personal touch! By the way, you can also save different designs and get feedback from friends before you decide on a shelf. Of course, you can continue to design custom furniture here. The matching cabinets, sideboards and benches are available for shelves.
Living naturally with wooden shelves
Wood and its properties
Wood has many good qualities that make it one of the most popular materials for furniture construction. On the one hand, wood is easy to process, very stable and easy to maintain. On the other hand, it has a calming effect, contributes to the room climate and the natural colour of wood can be combined well with other colours. Thus wooden shelves fit to every interior.
Solid wood shelves
A wooden shelf is the best way to design your home as a place to rest and retreat, because wooden furniture brings naturalness and a feeling of warmth into your living area. A shelf made of solid wood is more expensive than a plastic or metal shelf, but its quality is much better and more beautiful. Furniture made of solid wood such as oak, beech or pine are robust, flexible and bring a pleasant atmosphere into your home and the investment is worthwhile.
MDF and birch plywood
However, we have decided against the processing of classic solid wood. Solid wood has the big disadvantage that it works in the long run. If it is exposed to moisture and dampness or large temperature fluctuations, the solid wood can warp. With the quality standardswe have, we naturally want to avoid this. Therefore, we use other wood materials: MDF and birch plywood or also called multiplex. MDF is easy to process and comparatively cheap. Birch plywood is the absolute premium material. It consists of cross-glued Finnish birch veneers, which can be easily recognized by the edge. This makes our furniture extremely stable and durable.
Wooden shelves are sustainable
Your new shelf is also a sight to behold from an ecological point of view! As with all our products, we work material-efficiently because we attach great importance to the responsible and sustainable use of resources. We consistently avoid harmful substances and only work with FSC®-certifiedpartners, because we care about nature.
Wooden shelves with comfort
Wooden shelves with style
To buy matching and stylish furniture, you no longer have to spend your evening or Saturday in crowded furniture stores. Just browse through form.bar and let us convince you of our variety and quality. Our form.bar furniture is manufactured with great care and attention to detail by selected carpenters. The regional carpenter combines state-of-the-art Technik and traditional craftsmanship in the production of the shelves.
Adapting wooden shelves
You can order your new shelf with just a few clicks of the mouse and it will be delivered to your door free of charge. The delivery time for your individual stand shelf is only 4-6 weeks. The assembly of your desired piece of furniture is also quick and easy. Due to our simple plug-in system, we completely dispense with metal connecting elements, so that you do not need any additional tools! With the help of the included assembly instructions, you will be able to assemble your furniture in no time at all.
Assembly and delivery
You can also have your form.bar bookshelf or shelf system assembled by one of our professionals. Our nationwide partners offer you an inexpensive assembly service! You can request the assembly service during your order process on the checkout page.
If you have any questions or need help in planning your furniture, please contact our service department by phone or e-Mail. Our specialists will be there to help you with advice and practical assistance.