Designer bookshelves made to measure
Choose a design and configure it
Solutions for every room situation
Your individual bookshelf made to measure
Find the perfect bookshelf for every room situation
Are you looking for a practical and at the same time aesthetic bookcase made of high-quality veneer laminated wood with plenty of storage space that adapts perfectly to your living and room situation? Then form.bar is the right place for you. We offer you high-quality bookcases that you can create to your own specifications with our award-winning furniture configurator. Simply determine the height, width and depth, manipulate the compartments, choose from different materials and colours and give your shelf an unmistakable swing.
After only three simple steps, your individual bookshelf is created for your small home library
Select a shelf of your choice
Customize design
Order online
If you have any questions or would like to place the planning in professional hands, feel free to contact us and take advantage of our design service.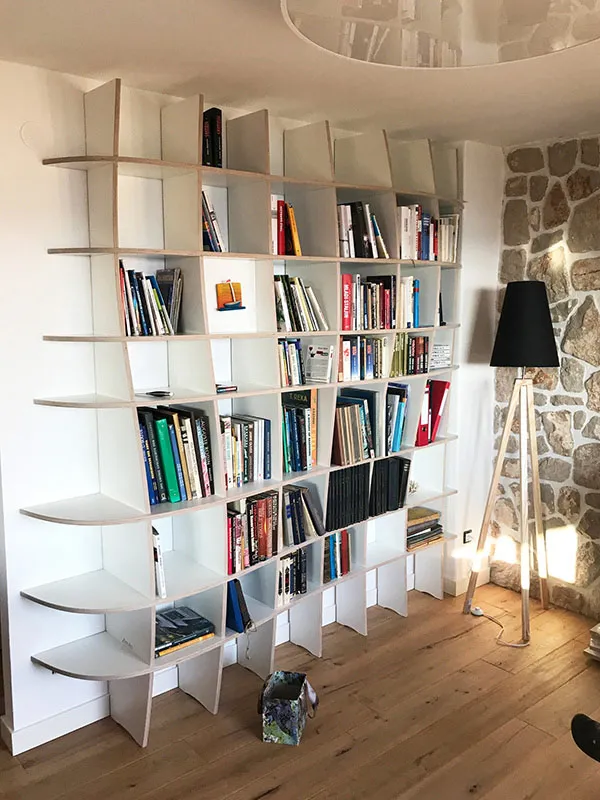 Your books wall shelf
A home for your book collection
Reading is always important, so a wooden bookshelf never goes out of fashion. A shelf in which books are stored is not only practical and easy to maintain, but it also looks nice and can often be used as a room divider A bookshelf is therefore suitable for anyone who likes to read and wants to store and present their books such as crime novels, thrillers, classics, illustrated books, non-fiction and cookery books or encyclopaedias at the same time.
Bookshelves for living room or home office
Whether very practical in your home office or prestigious in your living room - there is always room in life for a bookshelf. With form.bar, we make sure that it also finds its place in the living room. Designing the bookshelf to measure so that it fits perfectly is possible with form.bar. All important details of your shelf can be designed to meet your individual requirements.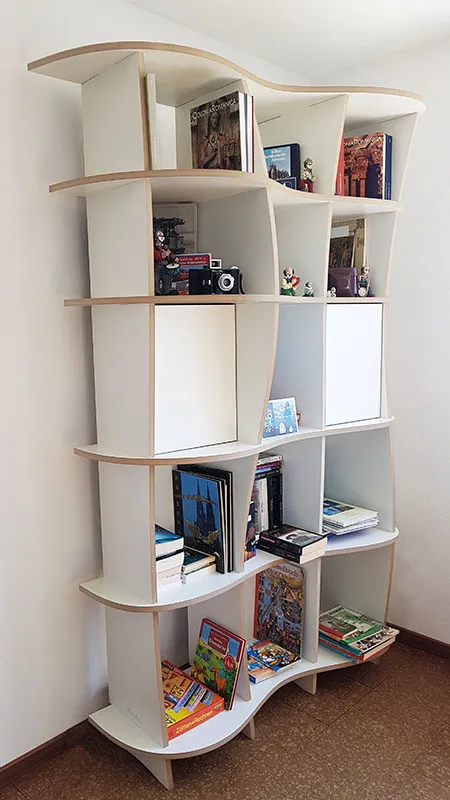 Bookshelves for every bookworm
Design your own bookshelves
Design your own bookshelf yourself and adjust it to your needs. You can even have your own library at home. Keep your book collection visually appealing and organized in a bookshelf and keep your favorite books and reference works always at hand. At form.bar you will find all variations of successful bookshelves: Low or high, open or closed shelves with straight or curved shapes. We have a suitable bookcase for every bookworm or book rat.
Individual bookshelves
Become the designer of your own book depository:
Centimetre-precise planning of height, width and depth
Various material and colour combinations
Skirting board recess enables positioning close to the wall
Individual composition of the number and size of compartments
Doors, flaps and drawers for closed compartments
Organic shapes for breathtaking designs
Why a book wall from form.bar?
Unique shelves from form.bar
A bookshelf from form.bar is a real eye-catcher and gives every room a natural atmosphere. This is due to the unmistakable verve that springs from the organic forms of nature and subconsciously creates a feeling of well-being. Furniture should adapt to you, and not the other way around. To make this possible, we offer you freely formable, extravagant bookshelves made of high-quality woods, regionally manufactured by master carpenters from your region. You decide what you like from the comfort of your own home and we implement it for you - simply, functionally and individually. Thus you get a design with your shelf wall which is not only an eye-catcher for your living room, but which is also processed with the greatest care and best quality.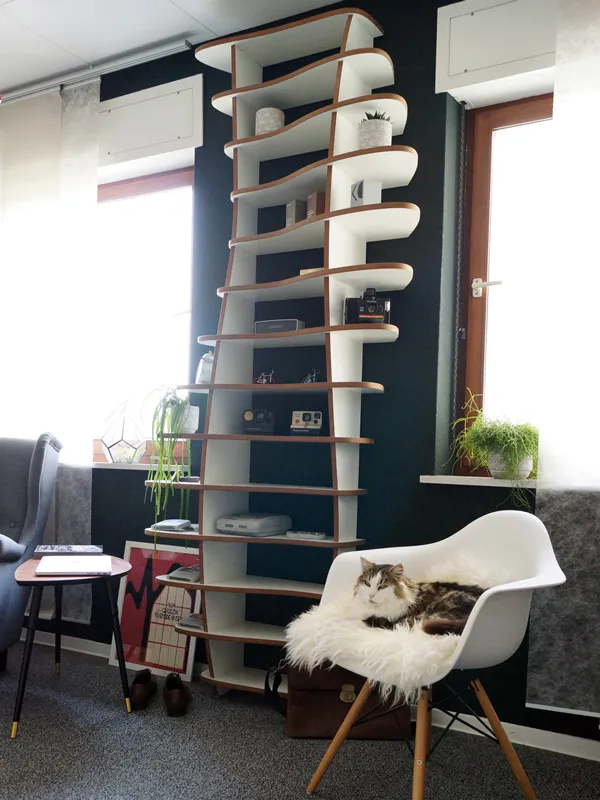 Wooden bookshelf
FSC-certified and durable
As with all our bookshelves, we work material-efficiently, as we attach great importance to the responsible and sustainable use of resources. We consistently avoid harmful substances and only work with FSC®-certified materials, denn wir haben eine grüne Seele.
Für unsere Designermöbel nach Maß verwenden wir verschiedene Holzarten in bester Qualität. Wir versichern dir eine vielfältige Auswahl an hochwertigen Materialien und Farben wie zum Beispiel das Birken-Furnierschichtholz (FU) oder die mitteldichte Holzfaserplatte (MDF) mit farbiger Beschichtung. Um deine Entscheidung zu erleichtern, kannst du dir gerne zwei Holzmuster because we have a green soul.
Delivery and assembly of your bookshelf
Despite the fact that your furniture is an individual and unique piece of furniture made by a carpenter from your region, the delivery time from receipt of payment is 4-6 weeks and there is no extra charge. The price you see in the configurator is the final price.
The
assembly
of your bookshelf is very easy due to our design, which is characterized by the intelligent plug system, among other things.
The shelf parts are labelled and only need to be inserted into the grooves. If you do not have any doors, flaps, drawers or special constructions in the furniture, the assembly can also be carried out without tools and metallic connecting pieces.
Special bookshelves
Curved stair and step shelves
A step or staircase shelf is a special type of bookcase. With these you put your book collection skilfully in scene. Especially in rooms with sloping roofs stair shelves are an advantage. This type of shelving takes advantage of the difficult room conditions and adapts perfectly to the slopes. Your detective stories, novels or other books find their place there and are a special eyecatcher. Step shelves can also be used excellently as room dividers Stair shelves are ideal for visually separating different living areas, for example the living room and dining room. The special shape of the shelving lets enough light shine through in both areas and does not darken the room additionally. In the innovative form.bar configurator you can design your personal staircase shelving according to your wishes and ideas. Should you have any problems or questions when planning your new unique furniture, you can contact our service. At the precise adaptation to roof slopes, our designers will be happy to help you and create an individual design for free.
Hanging bookshelves
Hanging or wall mounted shelves are more space-saving than normal standing shelves, as they do not take up any floor space and can also be placed above other furniture. For these reasons, wall shelves are particularly advantageous in small rooms or multifunctional rooms. For example, a wall shelf above a sideboard in a small living room provides additional storage space for books. Hanging shelves are also very useful in a reading corner. Of course, other things can be stowed away in addition to books. To make your apartment more homely, individual decorative elements help to make it more comfortable. So-called wall boards or wall consoles not only create additional valuable space for your personal things, but also visually enhance the room. Especially in narrow hallways, wallboards are a particularly space-saving eye-catcher. At form.bar you can customize your wall shelf according to your taste and needs in the intuitive 3D configurator design yourself. Edged and straight or round and curved Shapes? No matter what you decide, with a custom Hanging shelf from form.bar you make your home an eye-catcher!
Niche shelves as a solution
Bookshelves that fit perfectly into niches are not only space-saving but also a special design element for book lovers. In every house there are difficult corners that are not used. With a shelfthat is precisely fitted to the centimetre, you won't leave these corners unused and create space for your book collection. You have a niche and don't want to waste the space, but use it wisely? Then use the innovative configurator to design your custom-made niche shelf. If you need a special adaptation or have problems with planning, please contact our friendly service team. For complicated solutions, our experienced designers will gladly help you and create your individual shelf free of charge according to your wishes and performances.