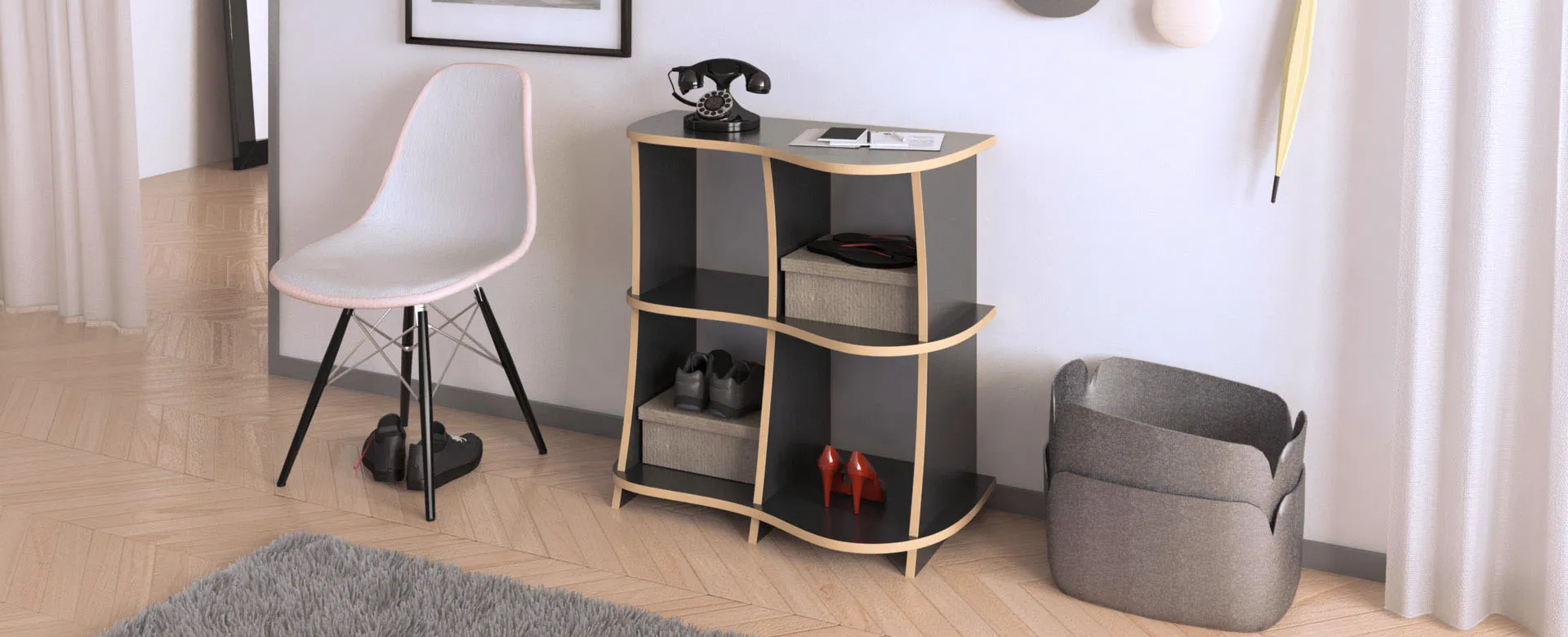 Furnish small apartment
Ideas for small rooms
Our ideas of the ideal apartment usually do not correspond to the reality of the housing market. Many people are drawn to the city because of its excellent public transportation links, extensive shopping and wide variety of restaurants. However, the apartments are usually very small, especially in popular big-city neighborhoods. You must now decide for yourself whether you want to accept this or prefer a larger apartment in a less central location. Furnishing a small apartment is in any case connected with special challenges and you can't avoid a well thought-out room concept.
Small does not mean uncomfortable
But even in the smallest apartments there is enough space, if you furnish them properly. We at form.bar offer you the right furniture for small apartments, which you can customize to your room situation and taste with our furniture configurator.
In order for you to furnish your small apartment in the best possible way, we will give you valuable living tips for small apartments below. In addition, we offer you unique inspiration and show the current home trends and living ideas for small apartments. Whether it's a small living room, bedroom, children's room or bathroom, we go into detail about the different rooms and provide you with the right interior design ideas.
5 interior design ideas for the small apartment
Below we'll tell you some general tips, tricks and ideas that are suitable for any room and that you should keep in mind to make your small apartment fit for you.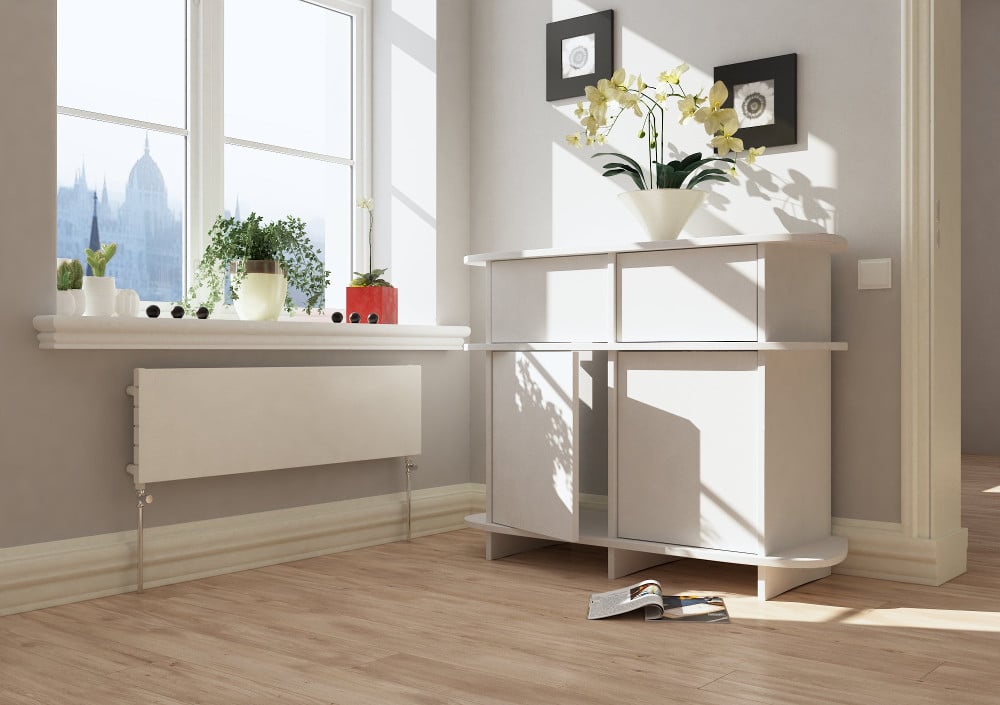 Tip 1: With the small apartment is less more
In a small apartment it is necessary to perfectly combine several areas such as dining, living and working. One-room apartments combine all these areas in one. Since it is difficult to combine all the necessary furniture in one room, you should pay attention to reduced furnishings. This draws the eye to the essentials, because massive furniture can quickly make the room look cluttered. So do not make your room too crowded and clean out regularly.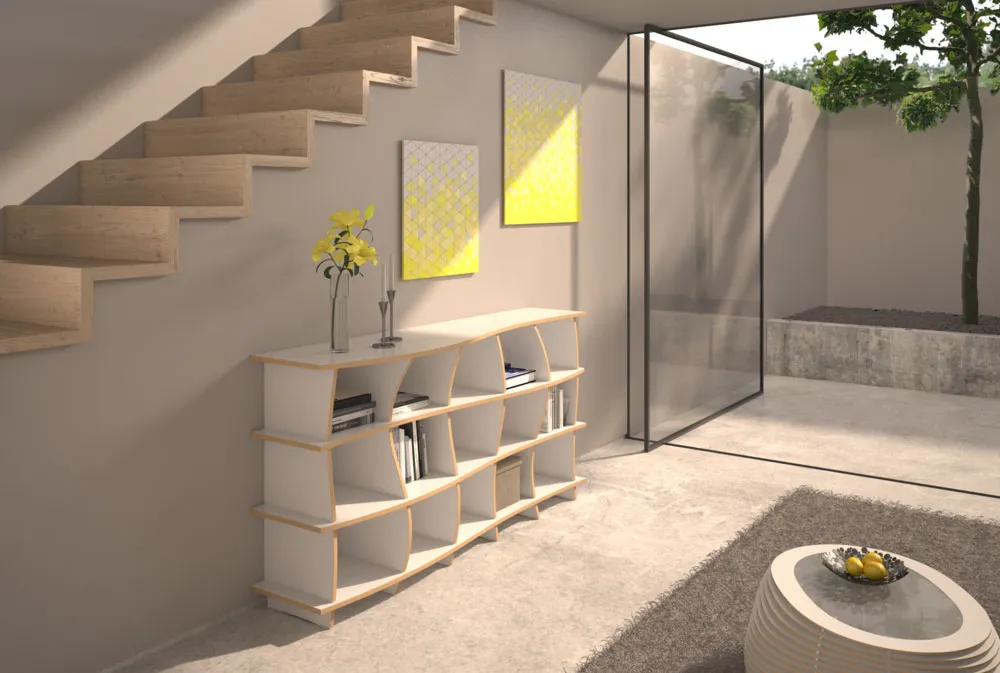 Tip 2: Small rooms need adapted furniture
If you want to furnish a small 1 room apartment, you should pay attention to flexible furniture that is not too big. Because flexible furniture and smart planning will create more space in your apartment. At form.bar you don't just get a piece of furniture, you get a designer custom-made piece that is functional and individual. You can customize your piece of furniture to fit any room situation and configure it according to color and form the way you like it best. Straight or curved, with or without doors, freestanding or as a corner or niche solution, with us you can let your imagination run wild! In addition, they offer enough storage space and are therefore ideal for small rooms.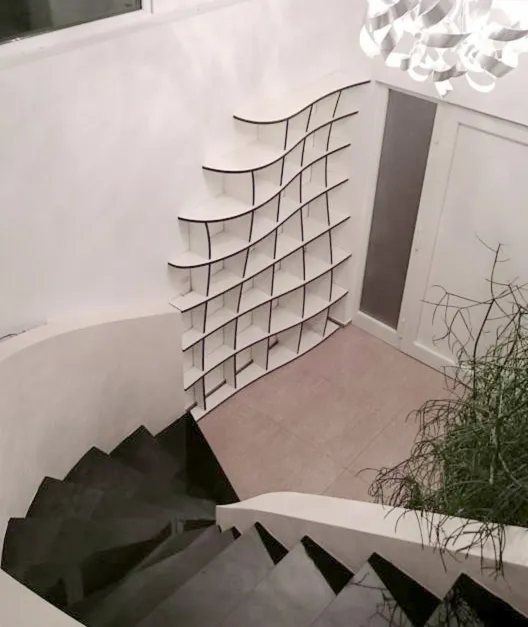 Tip 3: Create storage space and enlarge small spaces
If you don't have room for large cabinets or dressers, you should include your walls. By shelves or wall shelves you can create additional storage space. Also, don't leave corners, niches and walls above the sofa or desk unused. If you live directly under the roof, custom-made shelving systems are optimal, as they adapt perfectly to the sloping roof and offer enough space for books, clothes or dishes. Practical mobile pedestals, low TV furniture or narrow sideboards also find their place under a sloping roof. Furniture with sliding doors is also practical and space-saving. Look out for furniture with double functions, as these save valuable space.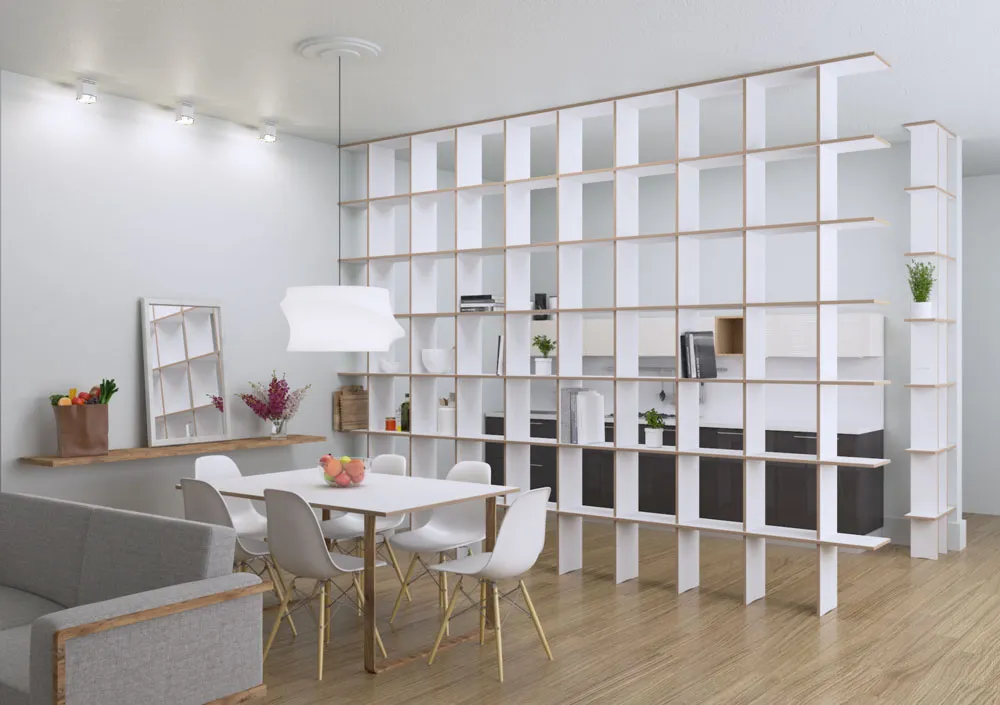 Tip 4: Against mini-rooms help furniture with dual function
The furniture in a micro apartment must perform more than one function. Combination furniture such as a stool with a lid, a sofa bed or a Ccoffee table with compartments and drawers combine several functions and provide additional storage space. Make full use of the available space, for example, above the doors, in niches and especially under the bed. There you can fill boxes and crates with everything you don't need every day. Folding chairs are great for guests and can be easily folded up and hung on the wall afterwards. Another option is a practical loft bed with extra space for a desk or a nice sofa.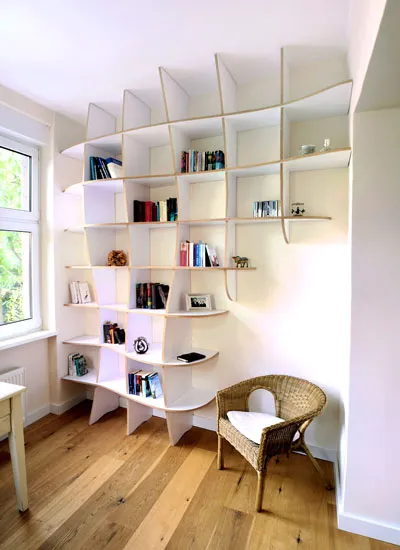 Tip 5: Light colors make rooms look bigger
Before you get to your furnishings, you can already contribute a large part to the visual enlargement with the wall design. It is true: a lot of light and bright colors create an optical enlargement of the small room. So you should design your walls as bright as possible. White or pastel shades are ideal for this purpose. However, if you can't do without color, you can create colorful accents in your small room with individual pieces of colored furniture, murals or accessories. You should also make sure you have enough daylight and lighting. Whether natural or artificial, a small room will look bigger with more light. So don't block your daylight with furniture or dark, heavy curtains.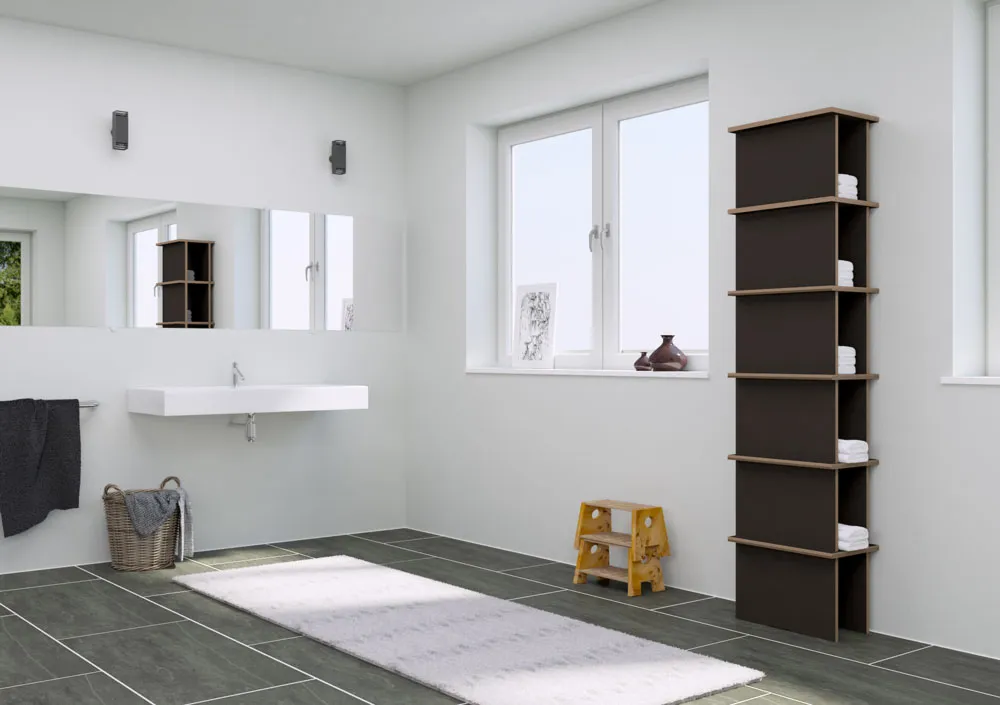 Tip 6: Mirrors visually expand the space
Mirrors give rooms new dimensions, optical depth and they reflect light and colors. A small bathroom or a narrow hallway can directly look much more spacious with a cleverly placed mirror on the wall. The mirror should ideally be placed opposite a window, door or in front of bright surfaces.
The tips for the design of small rooms at a glance
Less is more: For small rooms, you should sort out thoroughly on a regular basis.
Customized furniture: Custom furniture integrates perfectly into your room situation.
Create storage space: Wall shelves make the most of the space on your walls.
Furniture with dual functions: Combination furniture that serves several purposes at once are ideal for small apartments or rooms.
Bright colors: White or pastel shades are especially suitable if you want to decorate small rooms.
Mirror: If you want to decorate a small apartment beautifully, mirrors should not be missing, as they visually enlarge the space.
From kitchen to hallway - How to furnish your rooms optimally
If you want to furnish a small apartment comfortably, you should plan each room carefully beforehand and, above all, correctly measure and also utilize the available space. We at form.bar offer you advice on living in small apartments and show you how you can furnish even a one-room apartment without feeling cramped.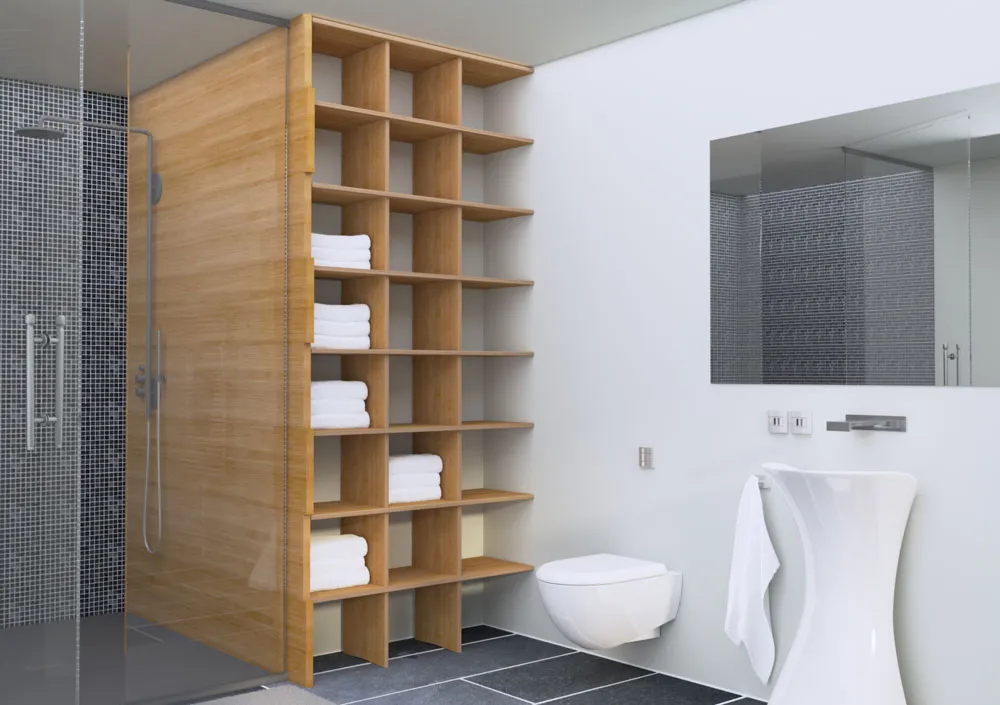 Furnish small bathroom
You only have a small bathroom with a few square meters available? Easily turn your bathroom into an oasis of relaxation and create storage space with a practical bathroom shelf from form.bar! Because bathroom cabinets with plenty of storage space not only create storage space and order, but also provide a pleasant and cozy atmosphere. In addition, your bathroom looks sensual and cozy with natural materials such as wood or stone. In addition, the light surface of wood widens the small bathroom and makes it look smaller. Light also makes a small bathroom look more spacious. So make sure you have enough light sources, such as on the mirror or spotlights or radiators integrated into the ceiling. In addition, you can treat yourself to a little luxury in your small bathroom. Because exclusive tiles and high-quality materials as well as bright furniture refine small bathrooms and still come into their own. Mosaic tiles and a pompous mirror look very noble and give your bathroom a special style. In addition, you should design the walls and floor with the same materials, so that a unity and no unrest is created.
Furnish small kitchen
Even in mini kitchens you can swing the wooden spoon wonderfully nowadays. With the right furniture and accessories, you can get the most out of your kitchen. Choose light colors for your small kitchen, such as cream or pastel shades, because they visually enlarge the space and do not seem oppressive. Furthermore, you should use the entire height of the narrow kitchen. For this purpose, wall shelves and practical corner shelves or cabinets. We offer custom corner shelves that perfectly integrate into your kitchen and provide additional storage space. In addition, you should replace your door in a small kitchen with a sliding door. This not only looks good, but it also saves a lot of space. Also, a kitchen island is beneficial, which you can use not only for cooking but also for eating. This way you save money and space for an additional dining table.
Furnish small living room
The living room is the central part of the apartment and serves to relax, meet friends as well as a place of retreat. So it is important that you feel comfortable in your living room and enjoy spending time in it despite its small size. Because even a small living room can be harmoniously furnished with the right furniture. First of all, do not overload your living room with furniture. Rather clean lines and reduced furnishings are ideal for your small living room. In addition living room furniture with multiple functions is advantageous. If you don't have a bedroom available, a nice sofa bed is a great alternative.
A cabinet with a fold-out work surface would also be a possibility. This way, the armchair can additionally serve as a desk chair and there are no additional purchase costs. If you have a large windowsill, you should not waste it on decoration, but set it up with nice seat cushions as a cozy reading corner. An absolute no-go when decorating a small living room is a bulky living wall. Decent and delicate furniture with a sensible arrangement is better for this purpose. Our shelves are perfect because they can be freely configured as needed and thus integrate perfectly into any room. If you want to get more information on how to best furnish your living room, feel free to read more in our guide "Living room furnishings".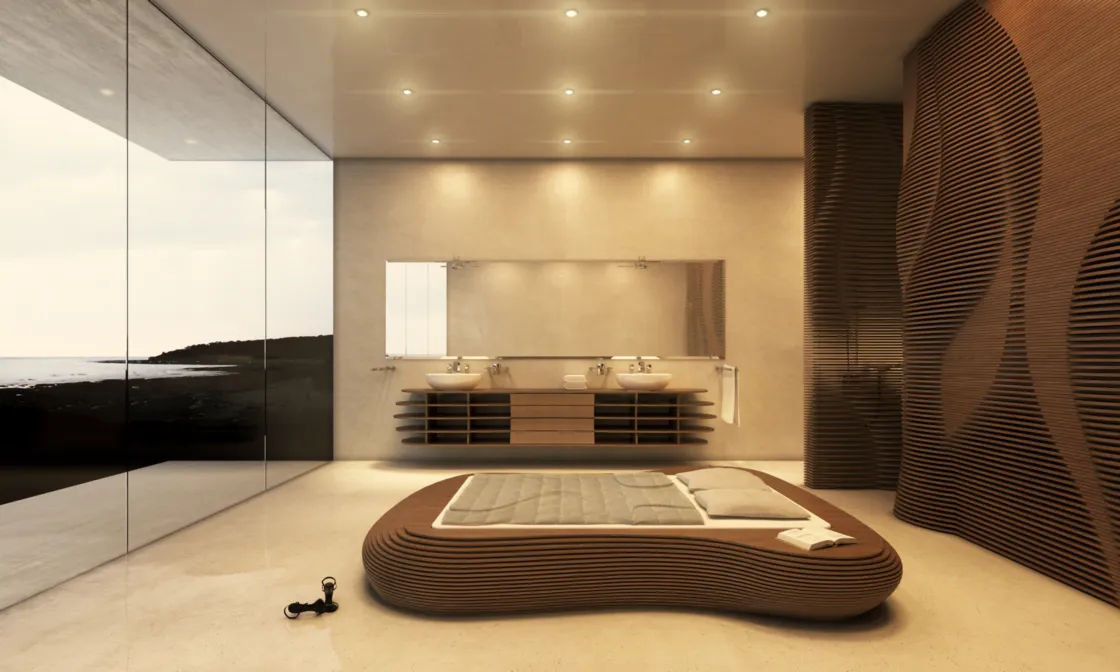 Furnish small bedroom
Especially if you want to furnish an awkwardly cut or small bedroom, you should plan in advance exactly what furniture and furnishings will work for you, so that you can relax and unwind in your small bedroom in the best possible way. If you can't do without a big bed in a small bedroom, you should place it against a free wall in the center of the room. This is the best way to showcase your big bed in a small bedroom. Also, in a small bedroom it makes sense to buy a bed with a bed base or drawers, a high bed that has space for boxes or even a loft bed. These beds are space-saving and give you extra storage space for blankets, bedding or winter jackets. In terms of closet, you should choose a closet with sliding doors, as these doors do not open outwards, saving space. In addition, mirrored doors are advantageous because they give depth to the room, make it look bigger and also act like a second window. Additionally, light colors should always be used in a small bedroom. This will make your room look brighter and, above all, friendlier. If you can't do without bright colors, you can set accents with colorful accessories such as bedding or decorations. Furthermore, the right lighting also plays an important role. Make sure there is plenty of daylight and use indirect light near the bed and, for example, reading lamps that make the room look cozy and homely. If you want to learn more information about bedroom furnishing, you have the opportunity to continue reading in our guide "Bedroom furnishing".
Furnish small children's room
Decorating even a small children's room is easy with the right furniture and accessories. One simple option is a loft bed. The free space under the bed can be used for storing toys, as a workplace or simply as a den of robbers. Often in many children's rooms the corners are not optimally used. We offer practical corner shelves that can be adjusted to fit your corners exactly. Hanging nets are another option, as they quickly make lying around toys disappear. Baskets as well as boxes with additional seating are also ideal for children's rooms, so that chaos and clutter can be quickly eliminated. For this purpose, superfluous toys should be regularly sorted out from the children's room to make room for playing and new things. In addition, the wall design in a small children's room should be rather in a light tone, because light walls also make rooms appear larger. However, a completely white room looks bare, so colors and contrasts should not be missing. A single colored wall or wallpaper panel, murals or different colored cabinet doors or drawers will create cozy atmosphere in children's room. Magnetic cabinet doors fascinate and replace an additional pinboard. Not to forget the right light! Clamp spots are mobile as well as space-saving and set punctual light for playing and reading.
We furnish your small apartment for you
Let our professional team of designers plan your dream of a perfect home.
To the design service
Some suitable furniture for small apartments
At form.bar we have many pieces of furniture to choose from, allowing you to select your personal favorite and configure it as you wish. Our furniture is ideal for small apartments, because it is flexible and can be adapted to any space situation. Whether for small niches, corners or sloping walls, with our furniture configurator you can perfectly integrate them into your small room. They are not only practical, but with their organically curved design they will become a visual highlight in your home. Choose from different shelves, sideboards, TV furniture, tables, beds as well as benches your suitable piece of furniture and then create your individual unique piece. Looking for more inspiration for your new furniture? Then take a look at our customer gallery!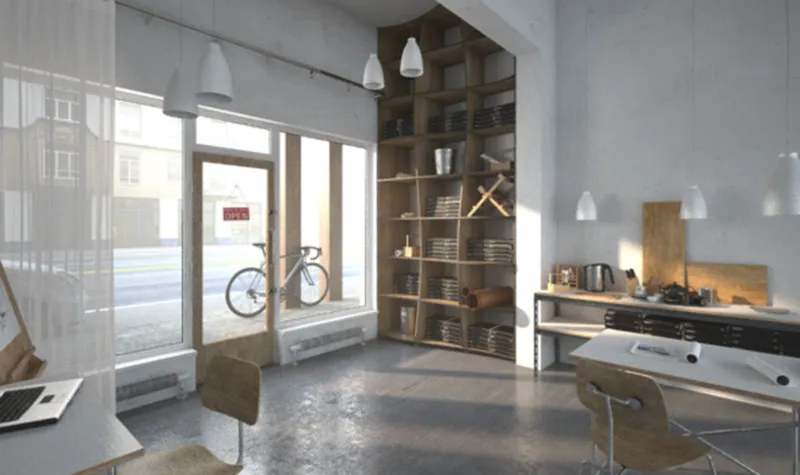 Room divider
Room dividers from form.bar gcome in different forms, types, colors and sizes and they are especially practical, as they can be perfectly adapted to your small apartment and the limited space with our furniture configurator. For this purpose, they visually delimit the space, divide it into several areas and our room dividers can be used and filled from both sides. In addition, these freestanding elements can be optimally moved if necessary. In addition, they offer enough space and storage space for your home accessories such as books, DVD's or decoration and become with their organic form the visual highlight in your small apartment.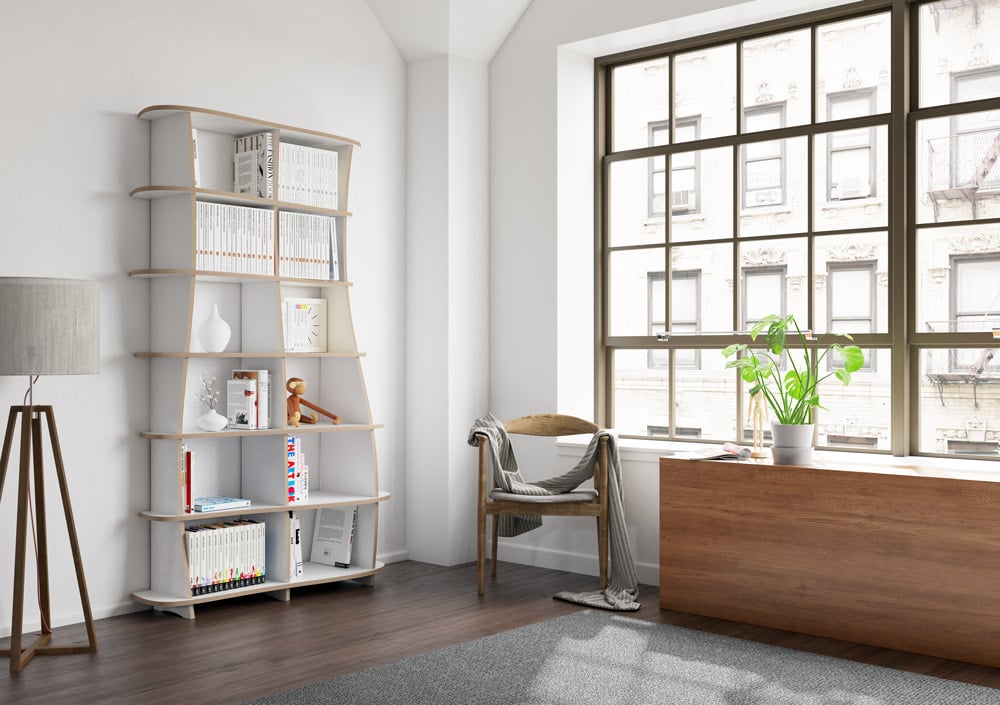 Freely formable shelves
Whether it's a sloping roof, a corner, a niche or an entire wall, we have the right shelf for every room situation. Here you will find a suitable shelving system for your home, the bookshelf of your dreams, a beautiful room divider to divide your rooms, a practical wine shelf for your wine collection and much more. Get inspired and find your suitable wall shelf for your new apartment with a very special style.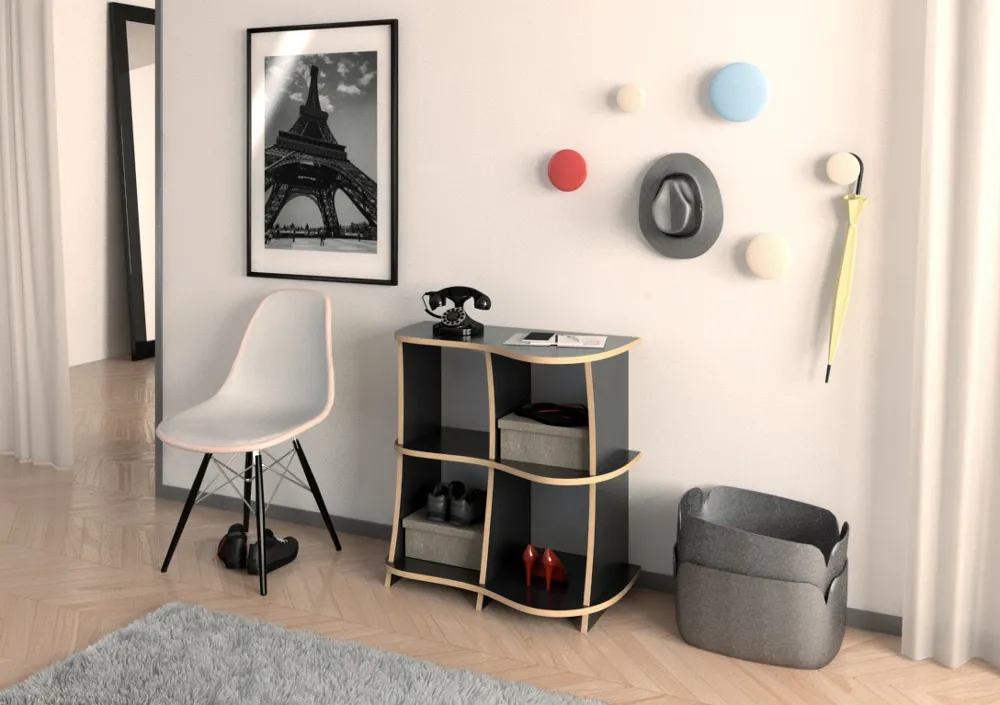 Shoe cabinets made to measure
If you want to redesign your entrance area in your small apartment, you should, for example, resort to a shoe tipper. These are particularly space-saving, since the shoes are stored vertically in it and the shoe tipper thus has only a small depth. In addition, depending on the height, it can also be used as a shelf. Another option are shoe cabinets or shoe benches made to measure. With us, you can freely configure your cabinet according to your ideas and determine the number of compartments yourself. Also the depth, width and height can of course be adjusted according to your will. A shoe bench has the advantage that it combines storage space for your shoes and additional seating.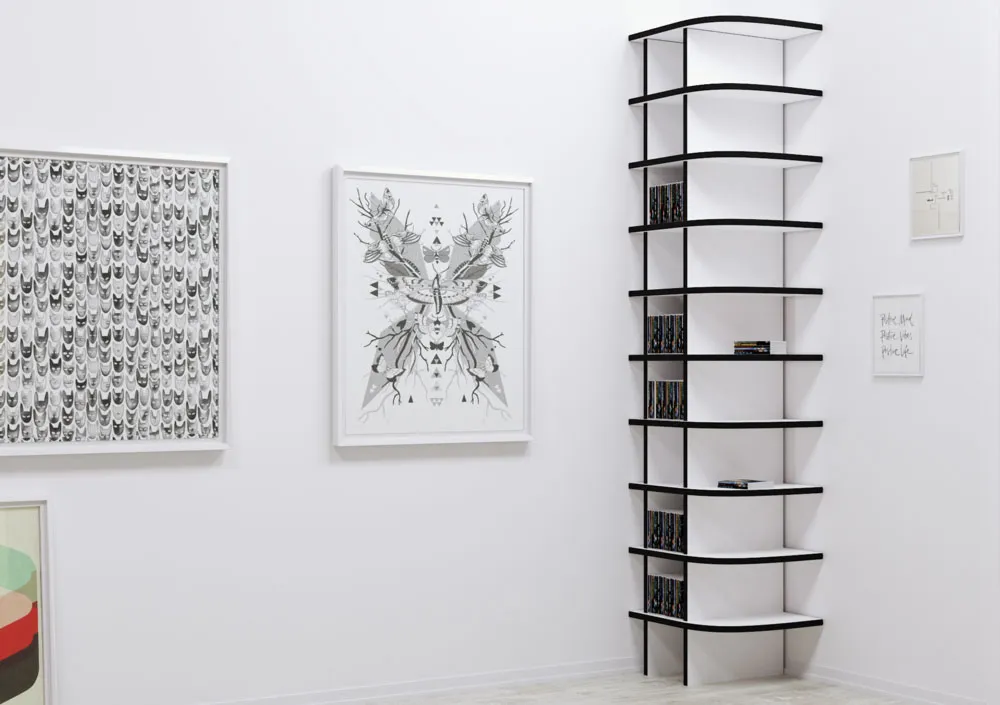 An example would be the corner shelf Glenda Corner. It is particularly practical because it saves space in height and in addition has a narrow form.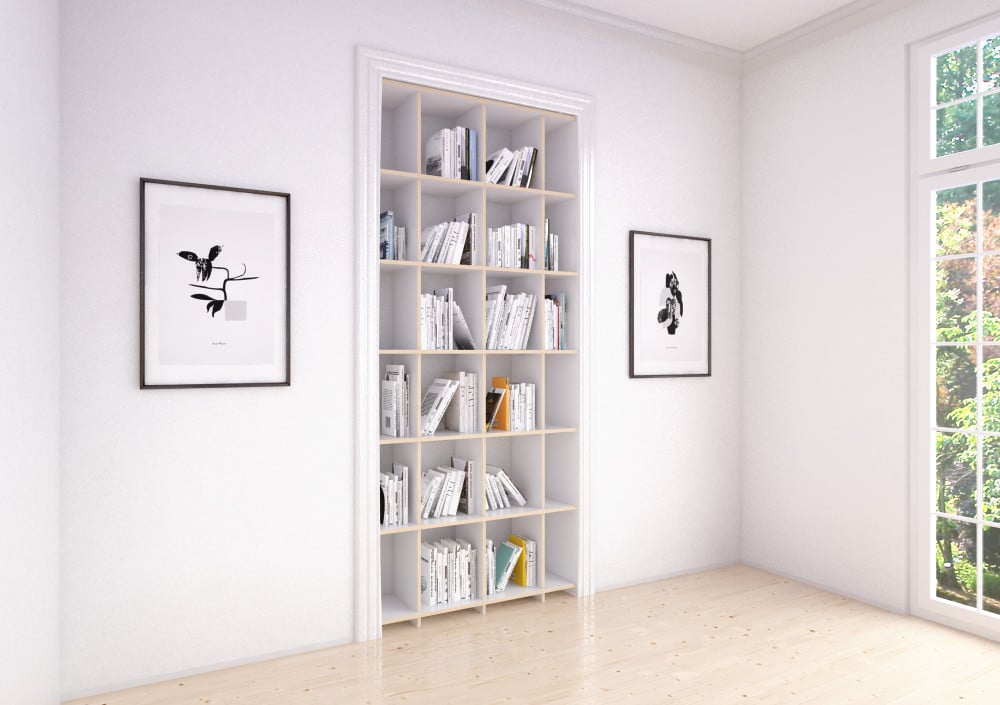 The designer shelf Stradani, integrates precisely into your niche situation and makes it a visual eye-catcher.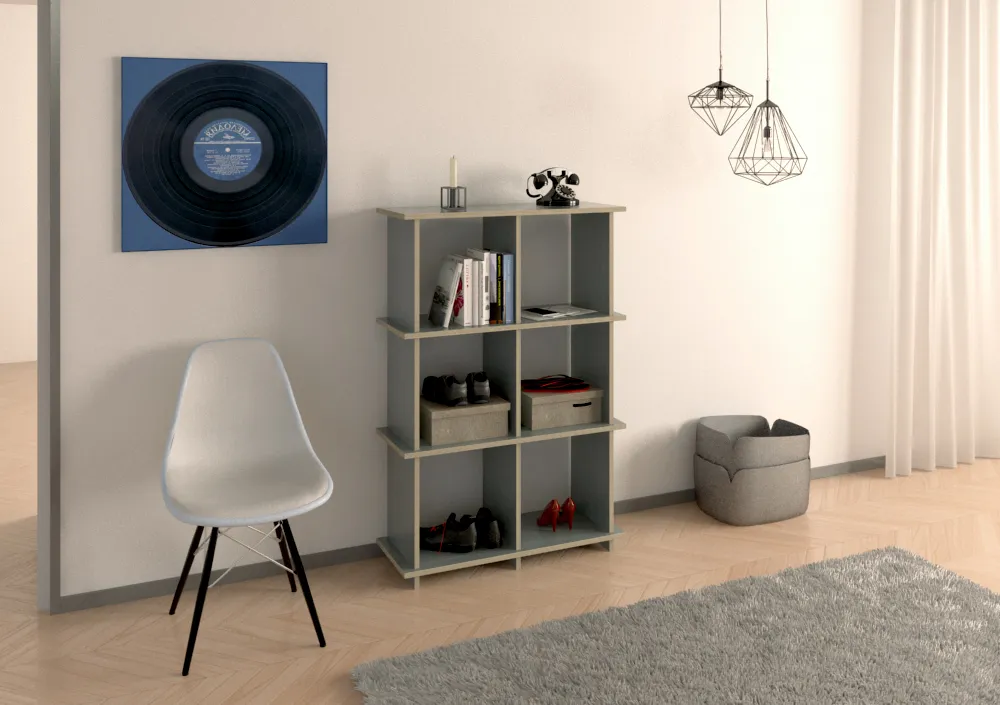 In addition, the designer wall shelf Stradino, which impresses with its linear and compact form.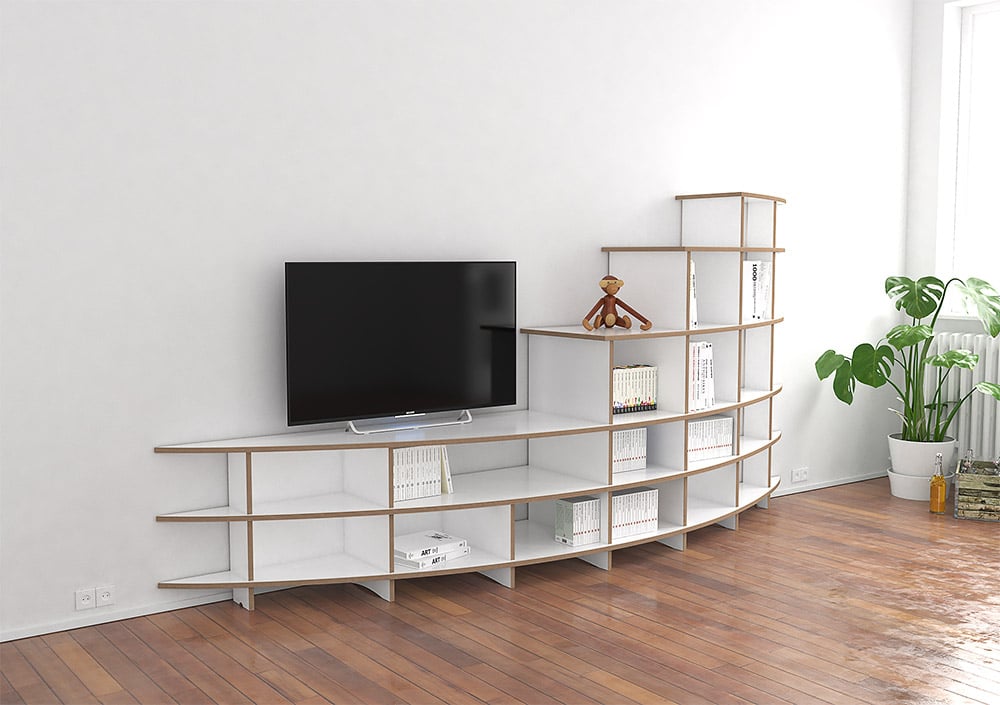 Our new wall unit Laura is especially practical, as it combines a lowboard with a shelf. It also offers open and closed compartments, which creates a harmonious overall concept.
Fazit
Furniture and ideas for small spaces - It's all a question of planning
More and more people are looking for manageable, urban and, above all, affordable living space in big cities. Most apartments in central locations have only 30-50 square meters. Now it is time to face this challenge in terms of lack of space. We hope we were able to help you with our living tips for small apartments, so that you can now settle comfortably, homely and practically in your "micro apartment". Let yourself be inspired by form.bar and our living ideas for small apartments and find a solution that suits you individually. We hope you enjoy decorating your small apartment!