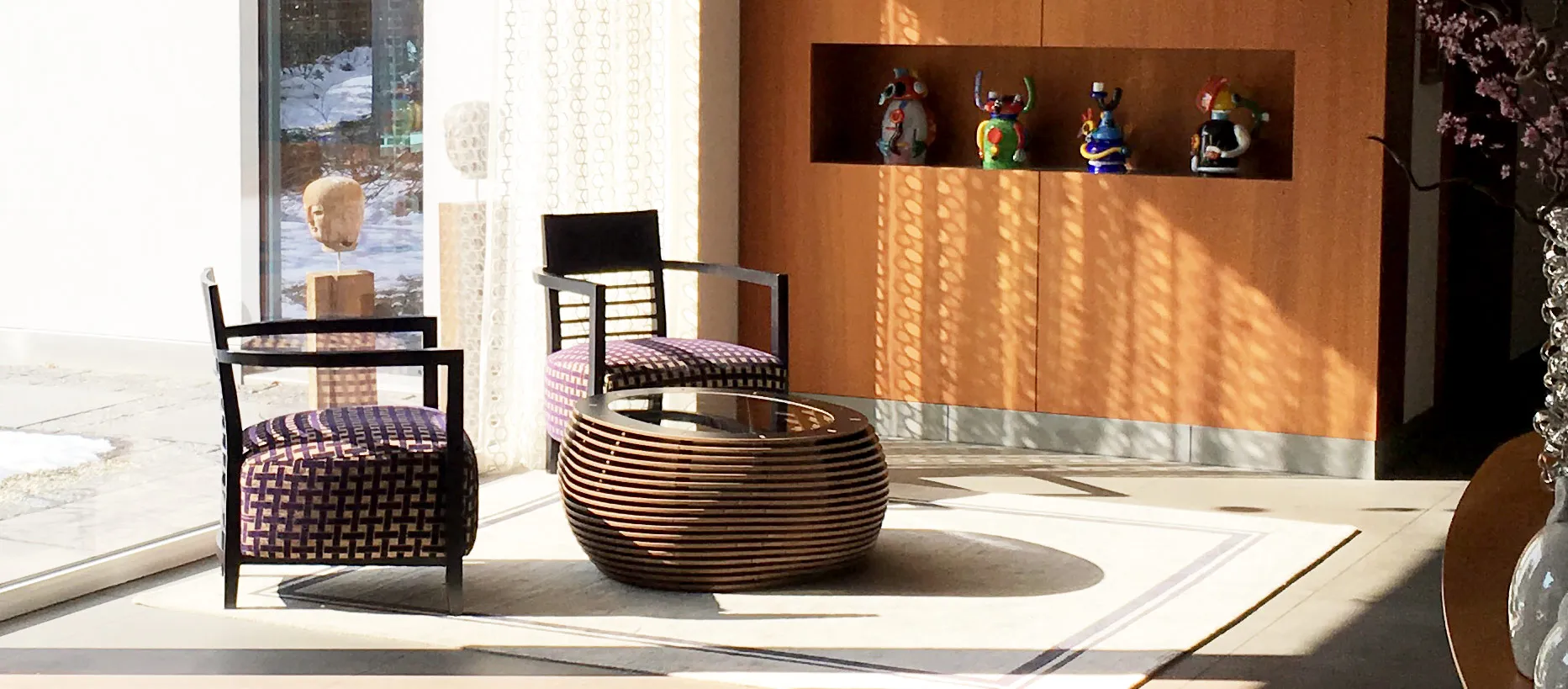 Furnish the living room
Today's demands on the living room are high: the living room has always traditionally been the center of an apartment or house. It's where you spend most of your time with your family and use it for all sorts of things. Whether it's a DVD night with your friends, sitting comfortably with your family or just relaxing or reading. Before you put all your ideas into practice, you should think everything over carefully. On the one hand, always pay attention to the conditions of your room to be furnished and on the other hand, of course, to your personal wishes and preferences in terms of design. Because a special interior also describes the character of the apartment.
Highlights of form.bar for your living room
Choose your favorite design and customize it
Bring flair to your living room
It is important that you feel comfortable in your living room and enjoy spending time in it. To help you with your living room design, we will give you valuable tips and useful ideas for your new interior. We will show you some unusual furniture from our form.bar online store, discuss the different types of furnishings in a small or large living room and familiarize you with the different styles.
7 interior design tips for your living room
Here's what you should definitely consider when decorating your living room
Tip 1: Arrangement of furniture in the living room
In order for your living room to end up looking beautiful, we'll explain to you how to combine all the furniture appropriately and arrange it properly in the living room.
The basic equipment of most living rooms includes comfortable seating furniture. There are two variants for your corner sofa or armchair. They do not necessarily have to stand against the wall as usual, but can be flexibly combined freestanding in the room. Freestanding interior or individual elements can be moved around as you like and can be optimally used as room dividers. A more generous spatial effect is achieved when the sofa bed and lowboard are not placed against the wall, but free-standing in the room or even in the center. A focal point of sofa, armchair, carpet and side table looks inviting and makes your living room a place to feel good. The rule here is: just try it out! However, if you place your furniture against the wall, you will lose less space and there will be no narrow niches or passages. When furnishing, make sure that all windows and doors can be opened and closed without any problems.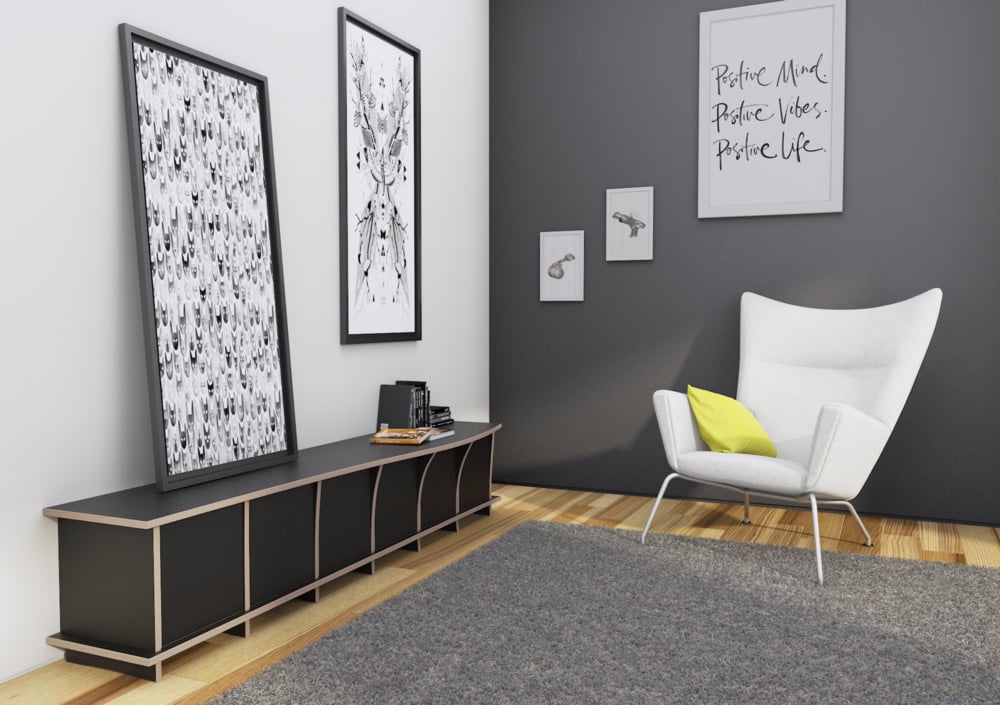 Tip 2: Your living room needs a center
Especially in the living room, a welcoming center is very important, as it is the main meeting place of the family or guests. In the living room we spend very different time, but of our free time often the most. The different areas should be visually and also spatially separated from each other and at the same time form a harmonious whole, because a center conveys peace in your living room. As an eye-catcher, a spacious sofa bed in combination with a sleeper chair, which not only provides enough space for the family, but can also be used as a guest sleeping area. More flexible than a bulky couch, however, are seating groups of armchairs, stools and two-seaters. Add modern floor cushions and small freestanding side tables and your room situation will be perfect. It offers enough storage space for your home accessories such as magazines or your decorations.
Tip 3: Colors bring the necessary variety
If you want a living room with uniform colors, a consistent color scheme should be created. Ideally, the color scheme should be dominated by two to three main colors that are repeated throughout the room. The cornerstone is provided by the wall and floor color. However, it is up to you in which color direction you go. Do you prefer calm tones or can bright colors not be missing in your living room? However, the size of the room plays a decisive role with regard to the wall color. Bright colors are more suitable for larger rooms or for individual areas, while lighter pastel shades tend to set the scene in smaller rooms. Accents are best set with coordinated decoration and home accessories such as rugs, pillows and pictures. These provide visual connections and coziness.
Tip 4: Incorporate the architecture of the house into the design
Special sections of the room, such as niches, corners, wall projections or sloping walls should not be left unused. Behind bulky wooden beams, for example, the space can be used for a large wall shelf, which, if necessary, simply disappears behind long curtains. Under a staircase or on a sloping wall you can place a beautiful step shelf, which is not only practical, but also a real eye-catcher in your room!
Tip 5: The light sets the mood
Especially in the living room lighting plays a major role, because with the right lighting you can create a cozy atmosphere in the room. Different direct and indirect light sources create different moods. A combination of ceiling lamp, floor lamp, table lamp or pure candlelight - each light contributes to the coziness in the room! During the day you should take advantage of the natural light to save electricity at the same time and in the evening the dimmed light of your lamps invites a relaxed atmosphere.
Tip 6: Harmonious patterns
To bring some life into your own four walls, you should combine bright colors and eye-catching patterns with your furniture. This way you create contrasts and especially dark upholstered furniture or carpets come with home accessories such as pillows in bright colors or with patterns, especially well. To avoid a wild mess, you should choose patterns in similar colors. The good thing is, once you get tired of one color, you can always quickly change your decoration.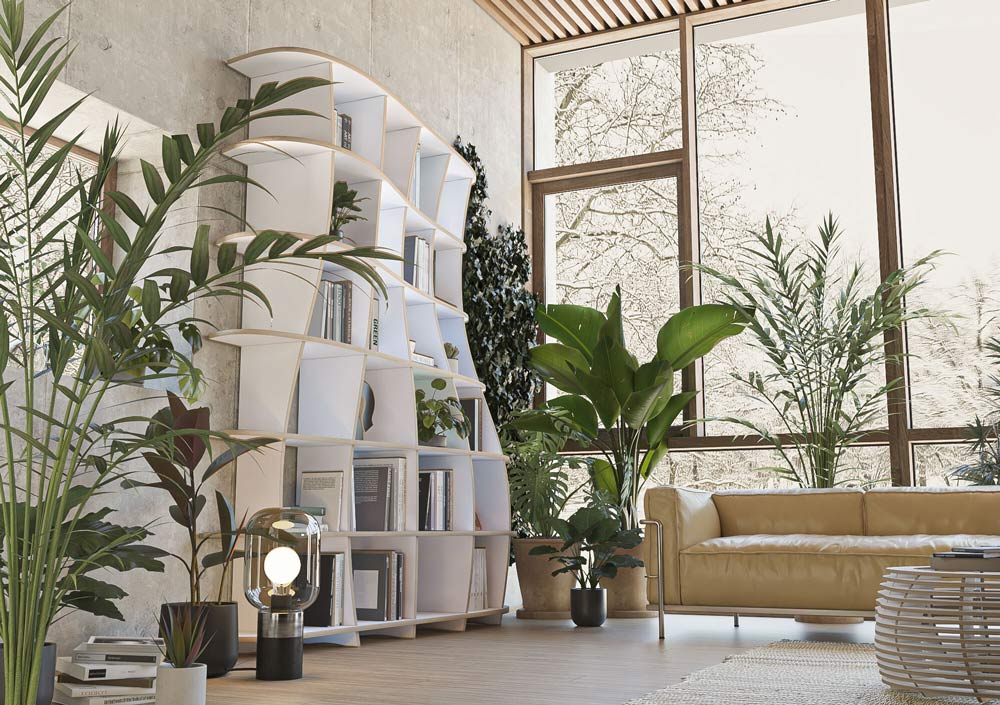 Tip 7: Furniture as a room divider
An open shelf from form.bar is also ideal to use as a room divider, as it visually delimits the room without losing the spacious feeling. It is also very practical as it can be filled from both sides. In addition, it offers enough space and storage for your home accessories such as plates, books or decorations.
The tips for living room design at a glance
Freestanding furniture in the living room: freestanding furniture creates a more spacious effect in the room.
Your living room needs a center: with an inviting center in your living room, you create tranquility and a homey ambiance.
Color design: With the right color design you provide visual connections and coziness.
Incorporate architecture of the home into the design: Special sections of space in your home, such as niches or wall ledges, should not go unused.
Plan for lighting: The right lighting plays an important role in your living room.
Harmonious patterns: With bright colors or patterns you can set contrasts in your living room and visually enlarge it.
Furniture as a room divider: A shelf as a room divider optimally delimits different areas in your living room.
The size of the living room matters
Plan your furniture true to size and fit your available space
Furnish large living room
Furnishing a large living room has one decisive advantage: in principle, there are no limits to your furnishings. So if you have enough space available, you should also use it! So that a large room does not look empty, you should also equip it with correspondingly large furniture. Large rooms tend to be restless or cold. That's why it makes sense to structure your space and divide it into several zones. One possibility would be a large sofa area, a reading corner with modern chaise longues and a dining area.
To separate these areas visually well from each other, we recommend an open shelf from form.bar, which you can use as a room divider. With our unique furniture configurator you have the possibility to create your individual room divider made to measure. Simply choose your favorite design and configure it according to form, color and material – just as you like it! Our Strada room dividers are available in sizes S,M and L. Convince yourself of our innovative furniture configurator!
Medium size living room furnishings
With a medium-sized living room, you're still relatively free when it comes to decorating. First, think about the layout of your room and how you can best use the available space. For example, a living room wall offers a lot of storage space and can be combined well with a corner sofa. Of course, you can also put two sofas opposite each other and combine them with an armchair or stool for footrest. Instead of a wall unit , there is also the possibility of your own home bar, which would definitely be an eye-catcher in your living room.
Furnish small living room
Furnishing a small living room appropriately can be a real challenge. However, there are some tricks to make your living room cozy and practical despite everything. A small living room can be stretched in length or width in several ways. For example, a good trick is to have rugs or wallpaper with stripes! Also, you should design your room with a light wall color, because brightness creates width. So that it doesn't look uncomfortable and lifeless, you should add a few color accents. They will create a cozy and inviting atmosphere. In addition, you should take advantage of the available daylight. The more light you have in the room, the bigger your room will look. Curtains or drapes should therefore be as translucent as possible. A large mirror is also a good way to enlarge your living room in a classic way. If you want to effectively furnish your small living room, be sure to pay attention to the dimensions and storage space! So buy furniture that makes the most of every nook and cranny and offers hidden storage or dual functions.
Furnish living room with slopes
A room with a sloping roof is very cozy, but has a limited floor space. Nevertheless, it can be furnished extremely functionally. We recommend you to design roof slopes rather brightly and to set color accents in the decoration. You should choose the interior in warm but subtle colors, because less is more! High shelves or a wall unit are rather unsuitable for living rooms with sloping walls. The most effective storage solution is built-in cabinets or custom-made shelves that perfectly fit your slanted wall. A practical alternative are commodes, sideboards or shelving cubes. Another solution is a beautiful step shelf, which is not only an eye-catcher in your living room, but also very practical.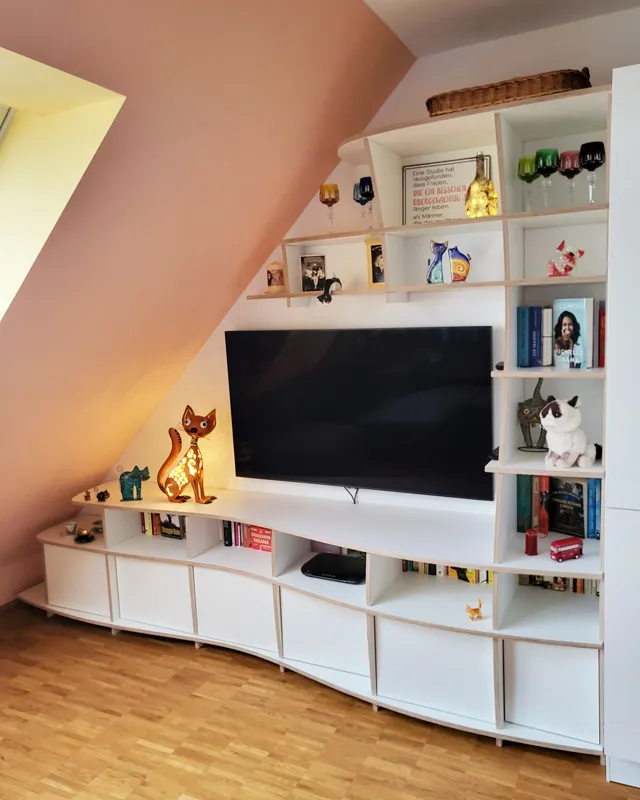 We furnish your living room for you
Let our professional team of designers create your dream of a perfect living room.
To design service
Different interior styles for your living room
Which style suits you?
You want to decorate your living room? Then you will find here enough information and ideas about the different styles of decorating the living room. Every person has different tastes, interests, customs and traditions. The goal is an individual living room design according to your own preferences. Orientation can be different styles of interior design. First you should think about which styles you like best. Whether in the Mediterranean, oriental, or country house style, modern furnishings or even according to Feng Shui? We show you different living room ideas, from which you can choose your favorite style.
Living room in minimalist style
With the so-called minimalism, the motto is: less is more! That is, in this style of furnishing a few pieces of furniture are chosen carefully. Minimalism first conquered the visual arts and then followed architecture and design. Minimalist design reached its first peak in the 80s. Meanwhile, the art of omission has become an established style of living and frees our home from superfluous stuff. The reduced design brings calmness, simplicity and order to your space, as everyday life can sometimes be complex and stressful enough. However, if you have a lot of decoration and like playful things, you should opt for a different style.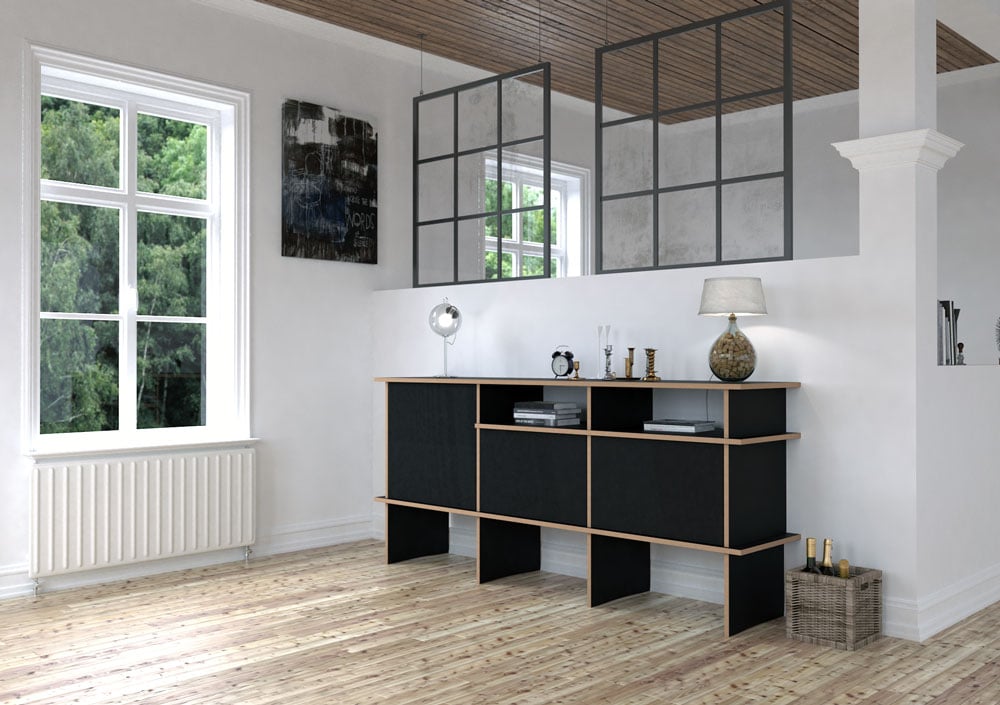 Country style living room
Over time, different styles of country houses have developed, influenced by people, land and nature. Once there is the German country style, which mostly features painted farmhouse cabinets. The Mediterranean country style impresses with its many ocher shades and the scandinavian country style with its special charm and light-colored furniture. So, the interior style brings a rural, romantic touch from the past. However, not everyone is a fan of this old furniture. Especially younger people tend more to a modern style. That is why some designers have interpreted the country style in a completely new way: modern!
Scandinavian interior style for your living room
In contrast to the country house style, the scandinavian furnishing style usually does without ornate decorations and fashionable flashiness. The clear design similar to Ikea is characterized by its straightforwardness and simple forms. The goal of the scandinavian furnishing style is to inspire as many people as possible with it. The design likes to use domestic, light wood species such as birch, pine or spruce, as they provide natural freshness. In terms of color, clear, expressive colors are very popular, as well as pastel shades. Typical for this style are also patterns and motifs such as trees or animals from nature, with which the scandinavians want to express their love of nature.
Modern interior style: modern furnishings for living room
In any case, what makes the modern living room is its modern forms and clean lines. Moreover, it is multi-faceted and uncomplicated. It can not only turn out classic, but also be totally fancy. Furnish a living room has many possibilities in modern style. You have virtually no limits and every taste has a chance to be combined with the modernity of a room. In terms of color, you should keep your living room again in light colors, because dark colors can often look a bit old-fashioned. Through colorful accents, such as pillows in bright colors, you give your living room a little pep and coziness, so that it does not look too sterile.
Living room retro plan
Retro style has survived many years and masterfully transformed during this time. However, today's retro style is not about copying the interior style of yesteryear. Rather, you want to combine a modern style of classics and contemporary design. Domestic wood species such as beech or oak play a major role, just like back then. Retro style comes from the 50s and 60s and combines simple molded wood furniture and textiles in bold colors and with geometric patterns. Strong, vivid and bright colors play a significant role in retro design. Another feature is a wall design with pop art artwork, which provides a pop color scheme. Retro style provides the most beautiful living ideasand is peppy and innovative with its new forms and colors. Be creative and combine this style according to your taste and living room ideas.
Living room in cozy interior style
It is important to feel comfortable in your own four walls and make your living room cozy. The secret of coziness is to create a harmonious room situation with furniture and the appropriate decoration, so that you feel at home especially in autumn and winter. Accessories as well as small pieces of furniture, which radiate naturalness and warmth in form and color, make your living room design accordingly loving. This includes for example, a soft, cozy carpet, comfortable pillows, candlelight and, if possible, a crackling fireplace. In addition, personal things, with which one connects a history are the basis for a place where you like to spend time. Moreover, light in the apartment creates coziness. Especially when daylight is eliminated as a major source of light, lamps are needed. You should make sure that they provide enough light, but not too bright.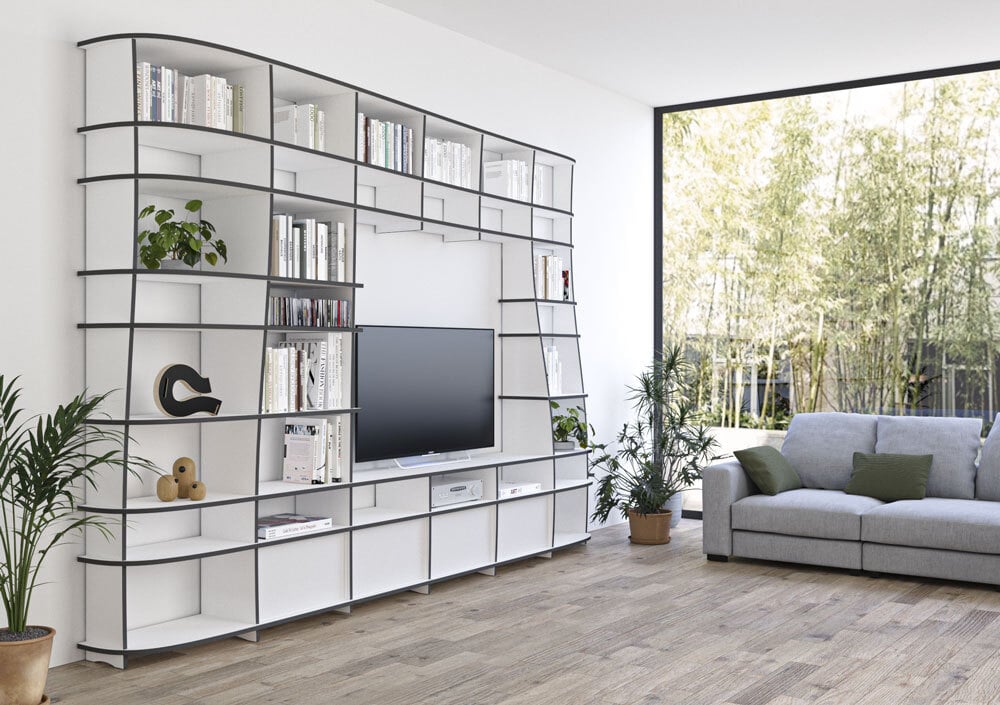 Living room Mediterranean furnishings
The mediterranean interior style has numerous influences of different cultures from all areas around the mediterranean sea. Typical of the mediterranean style are the classical art epochs of ancient Greece and the Roman Empire, which brings antique-looking furniture. These are decorated with reliefs, cornices or scroll-shaped volutes. Floral motifs and ornate mosaics also accentuate this style. In addition, wood, rattan furniture, wicker and the material marble may not be missing, of course. The mediterranean interior style relies on earth tones such as terracotta or ocher. Its facets range from yellow tones to orange and red to the color brown. Complementary are green as well as blue tones and of course violet, which symbolizes the lavender fields of Provence.
Oriental style living room
To put the oriental interior style into practice, it is especially fast with textiles. Textiles like organza, cotton, silk or brocade are typical for this style and bring a bit more "Orient" into your interior. In addition, colorful pillows and traditional rugs complement the oriental style. In addition, ornate lanterns, screens and of course accessories made of precious metals such as silver or copper. Furthermore, the oriental interior style is known for its decorations and geometric patterns. These include, for example, flowers, vines as well as leaves, which are also called arabesques and can be found on Persian carpets or pillows. In addition, decorations with sequins, embroidery, cords or Arabic characters also set oriental accents in your living room. In terms of color design, there are several variants. An intense color palette of a strong red, orange or yellow and a deep azure blue comprises the oriental color world.
The living room according to Feng Shui
Feng Shui describes the relationship between nature and man and gives suggestions on how your living environment can be positively influenced and thus increase our well-being. The words "Feng" and "Shui" come from Chinese and translated mean "wind" and "water". With the help of Feng Shui it is possible to find out which colors, forms and materials should be placed in which places in order to stimulate the invisible life energy "Chi". Because rooms, which are furnished according to Feng Shui, should radiate a positive atmosphere and give to its inhabitants a feeling of protection, security and strength. Feng Shui makes use of five different elements: Fire, wood, earth, metal and water. In order to strengthen the positive effect of Feng Shui, you should take care to coordinate your furniture and home accessories accordingly. Furthermore, you should adapt your decoration to the respective season. Especially suitable are stones, shells, flowers, leaves or even a bowl of water. In addition, you should integrate some plants into your living room design. Especially dark corners should be well illuminated with different light sources to achieve a harmonious spatial effect. In addition, the room should be neat and bring selected accessories such as crystal bowls, wind chimes, colored glasses, candlesticks or mirrors. These things can symbolize beauty and bring spaciousness into the room.
The designer living room with flair
If you want to stand out from the uniform furniture trends of popular furniture stores, designer furniture is the right solution for your living room. It will make your home stylish, unique and special. Designer furniture for the living room is characterized by its high quality and high quality selection materials. No matter what you are looking for your new living room, whether designer corner sofa, lowboard, armchair, wall unit, wall shelf or side table, with each of these furniture designers provide a suitable piece of furniture for your personal interior style.
Various interior ideas at a glance
Let your creativity run wild with form.bar
At form.bar , we want you to be able to make your home exactly the way you've always wanted it to be. To make that possible, we offer custom furniture that adapts to your home and can be formed to your taste or favorite style with our award-winning furniture configurator. Choose from 24 different materials and colors to customize your new furniture design and form it the way you like it best - without compromise! Whether straight or curved forms, free-standing or as a corner or niche solution, everything is possible with us! With our living trends, you make your home something special.
Room divider
Room dividers from form.bar are available in various forms, types, colors and sizes and they are particularly practical because they not only visually delimit the room, but can also be used and filled from both sides. Moreover, these freestanding elements can be optimally moved if necessary. In addition, they offer enough space and storage area for your home accessories such as books or decorations and with their organic form they become a visual highlight in your living room.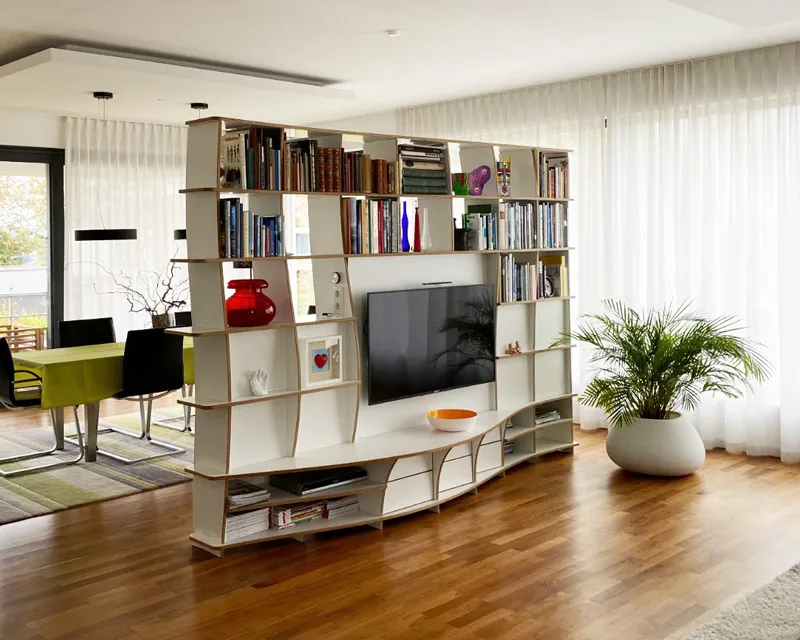 Freely formable shelves
Whether it's a sloping roof, an niche or an entire living room wall, we have the right shelf for you for every room situation. Here you will find a suitable shelving system for your apartment, the bookshelf of your dreams, a beautiful room divider to divide your rooms, a practical wine shelf for your wine collection and much more. Get inspired and find your suitable wall shelf for your new living room with a very special style.
TV racks in the living room
You are looking for a TV rack as an addition to your living room, on which your TV set is perfectly staged? At form.bar we offer you a wide range of TV furniture that you can customize and form exactly to your taste with our unique furniture configurator. Whether straight or curved, with or without doors, everything is possible with us! You decide, from the comfort of your home, which TV rack you like and you can order it directly online and without shopping stress in furniture stores. Also, if you register, you can save all your designs and thus compare your designs and later decide on one of your TV racks.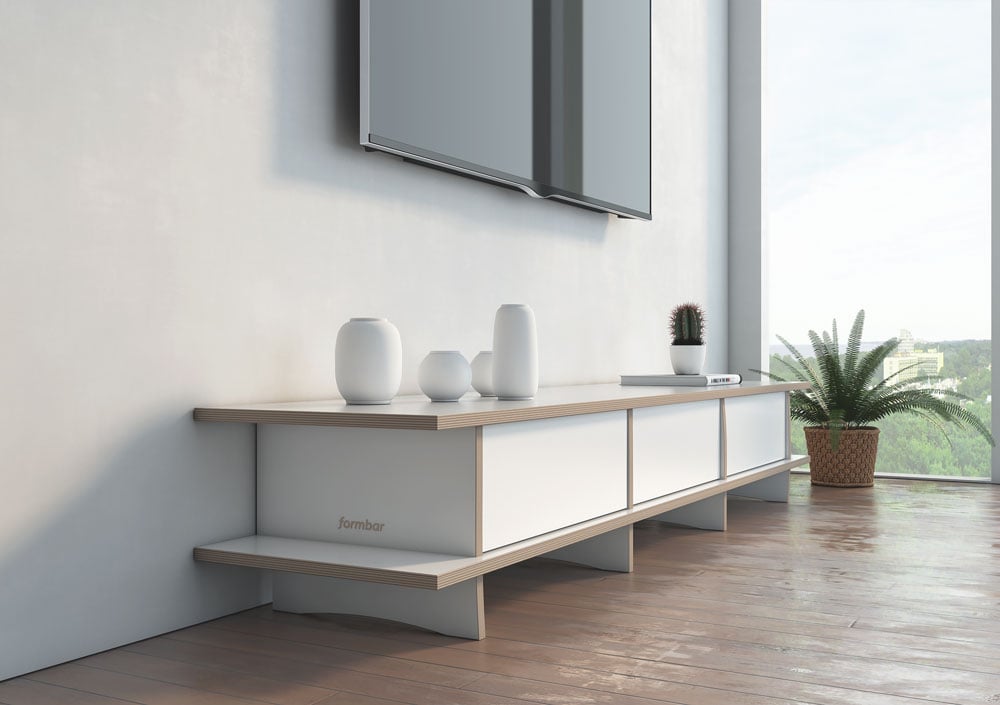 Overview of our form.bar furniture for living room
We at form.bar have many living room furniture in our assortment from which you can choose and configure your favorite piece of furniture. For example, a shelf can not be missing in your living room. With us you can choose from different options such as corner shelves, bookshelves, room dividers, etc. your favorite shelf. A popular classic is a shelf from the Strada family, which is available in sizes S, M and L, waiting for your customization. Of course, in addition to shelves, we also have the right coffee table and TV furniture for your home. Whether TV cabinet, TV lowboard or TV wall – with us everything is possible! If you need additional seating and storage space at the same time, a practical bench such as corner bench Lana would be recommended. Looking for more inspiration for your new furniture? Then take a look at our customer gallery!
Fazit
The perfect living room interior
Living room furniture should fit into the overall look of your home decor. Let form.bar and our living ideas inspire you and find a solution that suits you individually! Once you have decided on a style of furnishing, there are numerous ways to put your ideas into practice.
We hope our tips and examples are helpful for you and wish you a lot of fun while decorating your rooms!