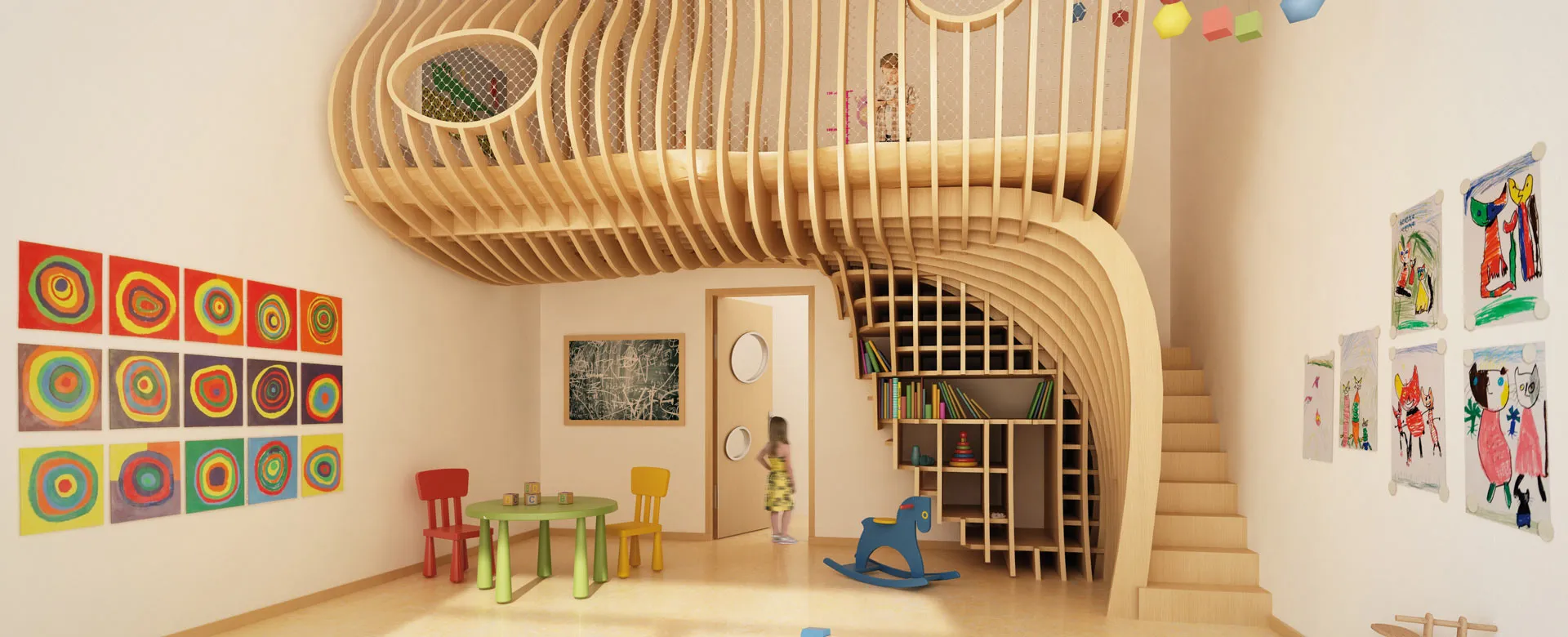 Furnish the children's room
Furnishing ideas for all ages
To help you decorate your children's room, we provide you with valuable tips and ideas for the children's room below. Whether for a girl's room or a boy's room, we show you some fancy furniture from our form.bar online store for every age. In addition, we go into the different options for wall and color design and tell you how you can create lots of storage space for your children.
Highlights of form.bar for the children's room
Choose your favorite design and customize it
Which facility for which age?
Finding the right furnishings from a baby's room to a teenager's room can be a real challenge. In the children's room, it is important to create a space for the kids in which they feel comfortable and enjoy spending time. It's also where they play, romp, tinker and sleep. It is therefore important that the furniture is robust and offers plenty of storage space for toys. Children's rooms differ significantly according to gender and age. Therefore, it is important to respond to the needs of the child and instead of buying new children's furniture every few years, you should choose changeable and flexible furniture that grows with the age of the child and can be used multifunctionally.
Your kids' interests change
Design your children's room according to age
The needs and interests of growing children change faster than those of adults, which is why the children's room needs to grow and be redesigned as the years go by. There are approximate guidelines per age, after which a children's room should be renewed or transformed.
The age limits are as follows:
Baby room
Children from 2 to 6 years
Children from 7-13 years
Youth room from 14 to 18
General furniture for any age
Perfect fit, colorful and appealing
Not every family can afford to redesign or renovate the children's room every 2-3 years. With a few simple tricks, you can transform a baby room into a room for kids and later into a youth room youth room without much effort. There is functional furniture that can be rebuilt or adapted according to height and changing needs. Good examples include furniture such as the changing table, which can be quickly converted into a sideboard or commode. Another option is wardrobes, where the doors can be easily replaced. Of course, you can also choose auch shelving systems that are expandable. Parents should choose furniture that is as plain as possible, since a garish color might not appeal to children as they get older. In addition, the many toys provide enough color and cheerful flair. Furniture that can be painted later is also advantageous. This makes it look like new, and traces of use from pens or stickers are easily covered or concealed.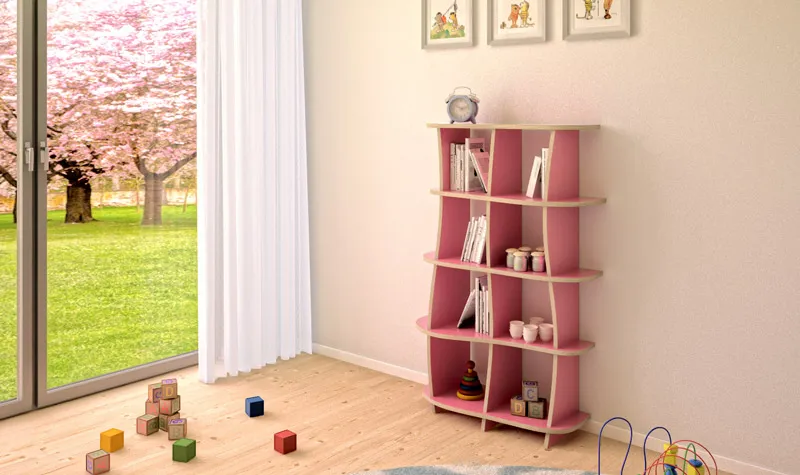 The children's room for babies
Some tips for decorating the baby room
So that you are well prepared after the birth and your new family member also immediately feels comfortable, we tell you how to furnish rooms for babies optimally and child-friendly. The basic equipment includes:
Changing table
Baby cradle
Baby crib
Mattress + overlay/waterproof molton carpet pad
Comforter covers / fitted sheets
Sleeping bag
Closet
When furnishing your baby's room, you should pay particular attention to the issue of safety. Babies have completely different requirements for their children's room than children from the age of two and up. It is important that you pay attention to rounded corners and edges so that your baby cannot injure himself. In addition, surfaces and fabrics must not emit harmful substances, and the GS test mark is a good recommendation, as this furniture has been tested according to legal requirements. It is recommended to additionally fix pieces of furniture to the wall so that they cannot topple over. You should also immediately fit child-proof sockets throughout the apartment. You should also check the distance between the bars of a baby crib. They should only be far enough apart so that your child's head does not fit between them.
From when you should furnish a baby room
In general, there is no "right time" to decorate a baby's room. However, it is recommended to have the room furnished at the time of birth, as many parents want to have everything ready as early as possible so that they can concentrate completely on their new family member after the birth.
If you want to furnish your new baby room in gender-typical colors, you should wait until the doctor is sure whether you're expecting a boy or a girl, so you don't have to redecorate twice later. However, most baby furniture is fairly neutral as far as color schemes go. If you are already sure that you want your baby room to be bright and not too colorful, you can definitely buy and assemble the furniture in light wood tones early on. You can always choose the right color and accessories still choose after the gender is clear.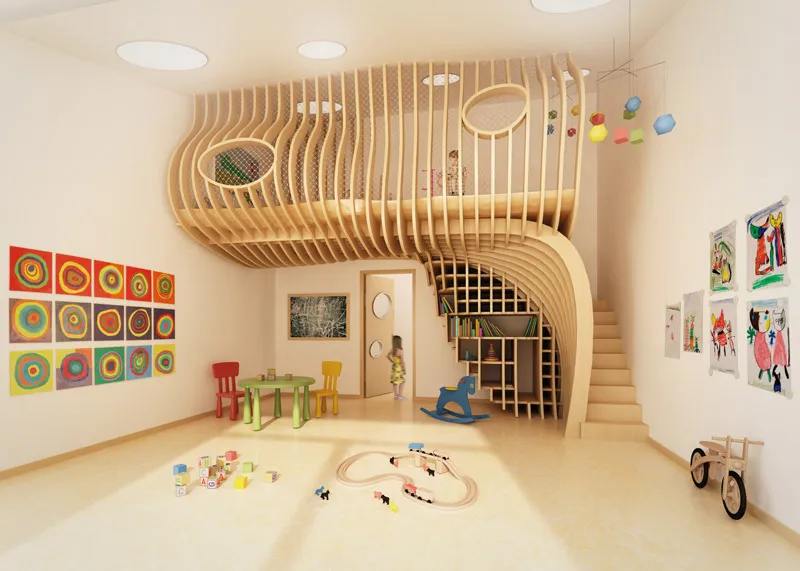 What furniture is important specifically for babies
We at form.bar offer you freely formable and also child-friendly Möbel that adapts precisely to your baby room and offers you enough storage space. They are not only practical, but also make your baby room special with their unusual curved design. In addition, our furniture is particularly child-friendly, as it can be configured without edges and corners and therefore poses no risk of injury to your children. You can choose from different furniture such as shelves, room dividers, commodes, etc. and deform and customize them as you like with our award-winning furniture configurator.
The choice of colors for the children's room for babies
Light blue for boys and pink for girls - these are the typical colors and mostly they are tradition in many children's rooms. However, there are many other beautiful colors. We recommend a warm basic color scheme, as it creates a pleasant and cozy atmosphere in the room. Children love it colorful, that's why bright colors in the room have a motivating and invigorating effect. However, you should decide whether you prefer to use bright colors in the wall design or rather in the furniture or accessories. Note that the children's room does not look too colorful, because toys are usually already very colorful. So the more restrained the basic colors are, the easier it is to set specific accents with pictures, bedding or pieces of furniture.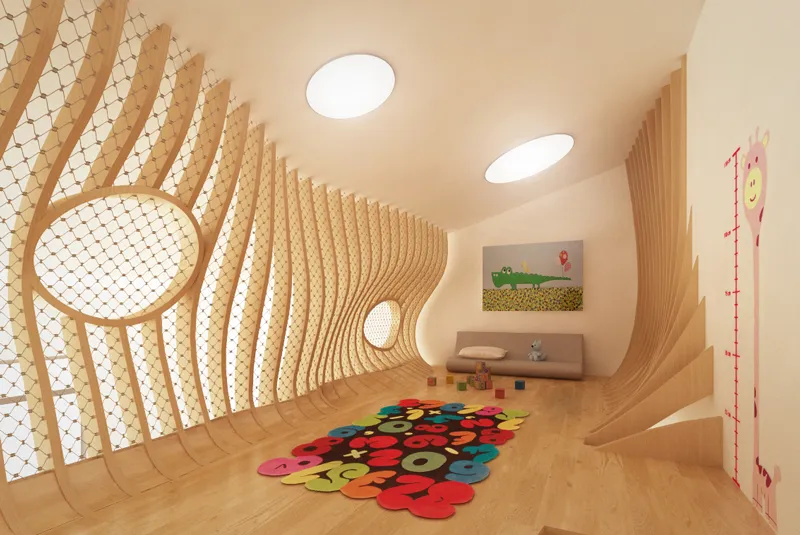 The accessories for children and babies up to 2 years old
Babies up to the age of two do not need much in the way of furnishings. The basic equipment consists of a crib, a changing unit, a cradle and a closet. When it comes to accessories, you should definitely look for toys that are suitable for children and do not pose a risk of injury, have enough clothing available to quickly change dirty clothes, and a sleeping bag, diapers and, if necessary, a potty should not be missing either.
Children's room for children from 2 to 6 years old
Time flies
As your child grows, he automatically needs more freedom and space to learn to walk and explore everything. You should also choose more age-appropriate toys and cater to the needs of children at this age. Children at this age start painting and crafting in kindergarten. They should also have the opportunity to do this at home. For this purpose, you should choose a creative place in the room with a size-appropriate table and chairs. Make sure, however, that you choose washable furniture without sharp edges. At some point, even a crib will slowly become too small, so you should reach for a bed that grows with your child. At this age, many children want a loft bed that they can use not only for sleeping but also as a cave, princess castle or knight's castle for playing and romping. In addition, these beds are very practical and space-saving, because under the bed is valuable storage space for toys. For toys such as cars, building blocks, books or dolls are particularly suitable shelves, whose compartments provide space for baskets or boxes.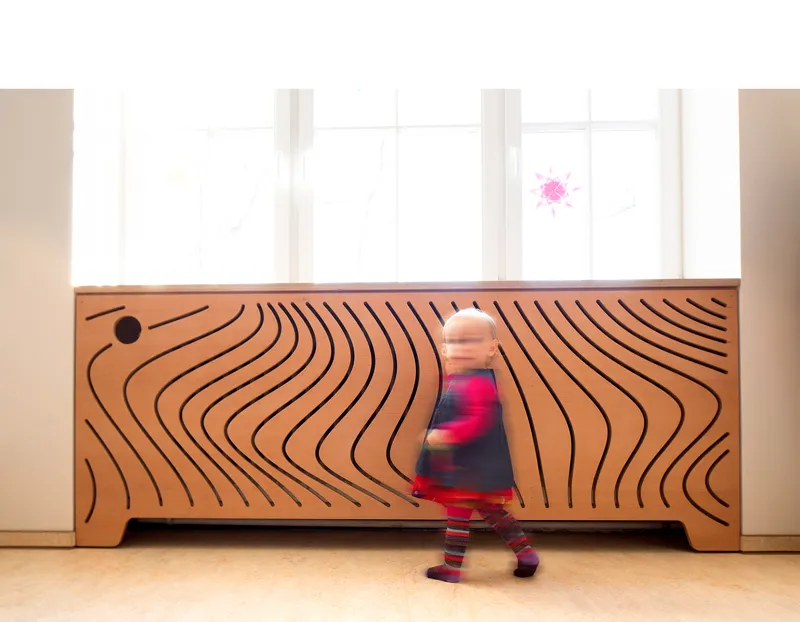 What furniture is important specifically for children between 2 and 6
We at form.bar have in our assortment a lot of furniture that is suitable to be placed in a children's room. Children at that age slowly start reading or look at many picture books. That is why a spacious bookshelf from form.bar is a nice solution. With its curved forms it will make your children's room special. You should also divide the children's room into different areas. For example, into a sleeping area and a play area. These areas can be optimally separated with a room divider from form.bar. These are particularly practical, as they can be filled from both sides and offer plenty of storage space. Corner shelves or wall shelves are also a good way to create additional storage space. For this purpose, consider a low bench.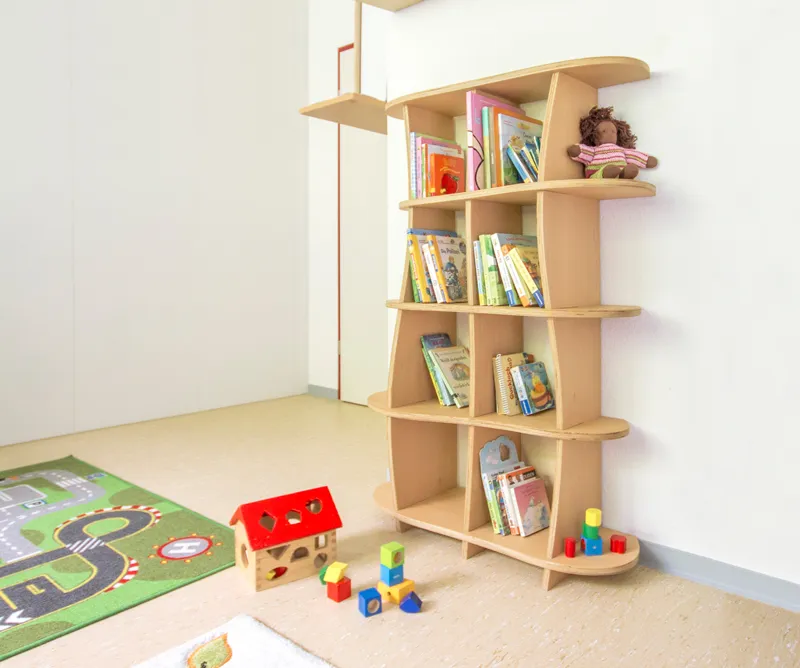 The boys room and the girls room
Knight's castle or princess castle? The differences in a boy's or girl's room are smaller than you think. Neutral furniture or colors such as yellow, orange, green or red are suitable for girls and boys at the same time. So furniture and color don't have to give away gender right away. So you can create a different flair with neutral, same furniture only with accessories. The sleeping area of a girl is usually equipped with dolls and doll strollers, stuffed animals, Barbies and accessories in pink or pink. However, with the same furniture you can decorate a boy's room and make it a knight's castle, a car paradise or a jungle. With the right accessories, wall design and color scheme, anything is possible!
Children's room for children from 7 to 13 years old
Slowly they grow up
Between 7 and 13, children discover their identity and are on the verge of puberty. They develop their own interests and usually have a favorite topic. Friends come to visit and spend the night. With little effort, you can make room for friends and thus cater to your child's personal interests. As a sleeping option, a bunk bed is a good option that offers space for two people and can otherwise be used for playing. If space is available, you can also buy a child-friendly sofa bed that folds out and offers additional storage space. offers additional storage space. Children who mature early want to get rid of some toys at an age of 10 already, because they have become too "childish".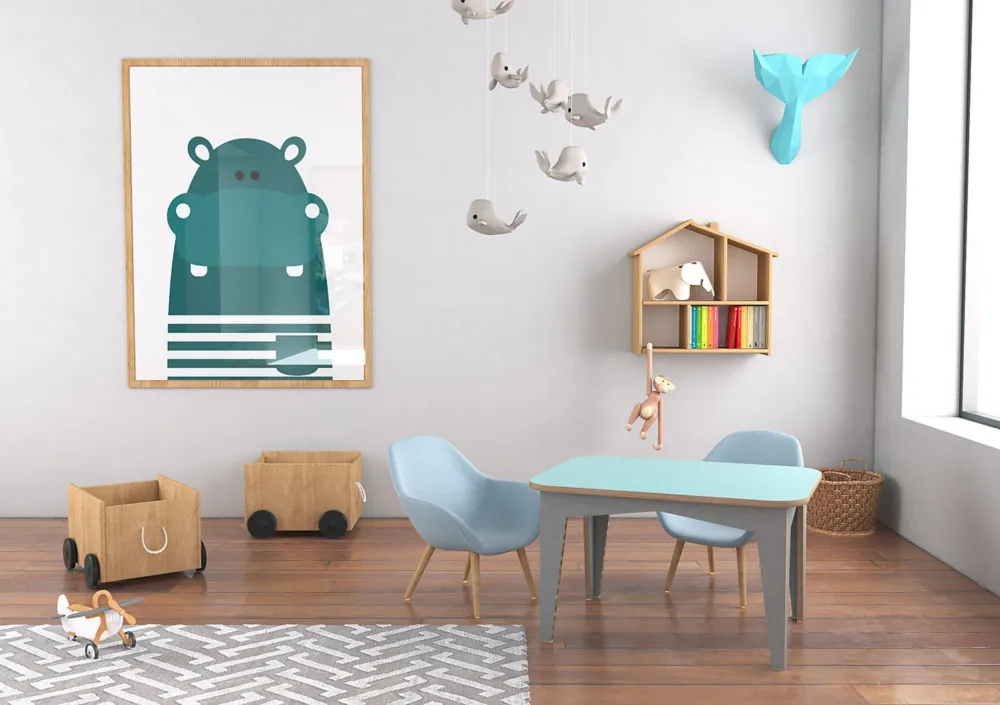 What furniture is important specifically for children between 7 and 13
Especially important at this age is a work area for the child, as he now goes to school and absolutely needs a desk. A bookshelf that safely stores school books, notebooks and folders is also essential. Whether this is used as a corner shelf or room divider depends on the room situation. Of course, since the child is constantly growing, it is worth considering a larger closet or storage space, as many things accumulate over the years. Since many friends visit at this age, there is the possibility of integrating a bench into the room, which provides additional storage space and also offers seating.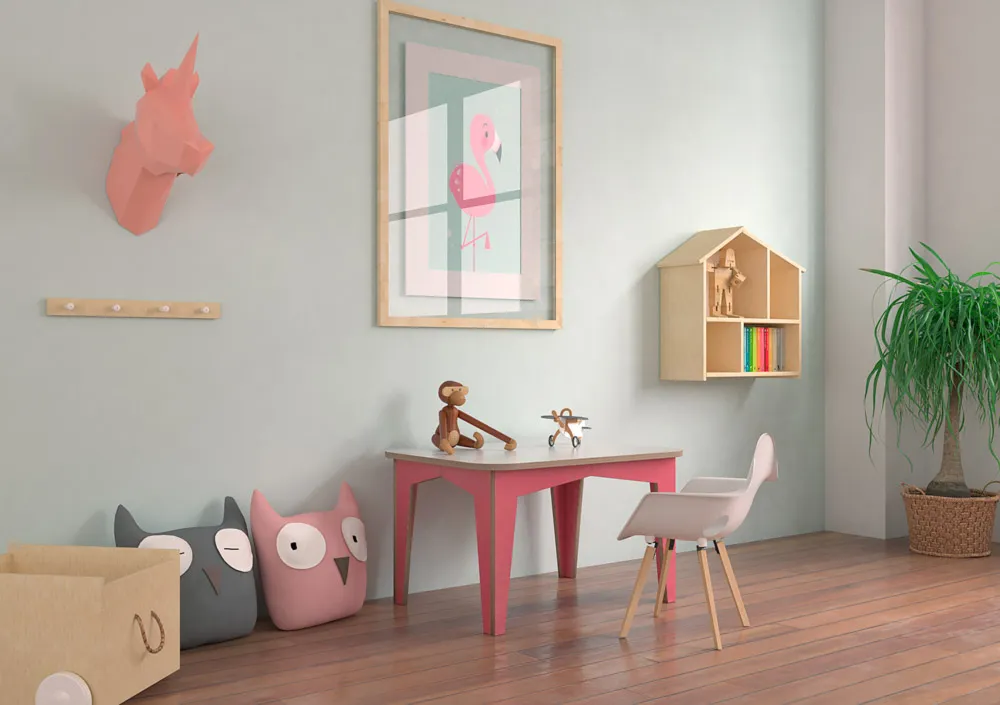 Creative ideas for the children's room
When it comes to children's rooms, you can let off steam with your child in terms of color and design. Go for your child's favorite colors or interests and create a feel-good paradise for your child with some accessories.
Wall tattoos, for example, are a nice way to add some pep to the room and incorporate your kids' favorite comic book characters. In addition, cuddly pillows, blankets or stuffed animals are important for a cozy atmosphere. Loft beds can easily be made into a pirate ship or a castle, so your child can ideally live out their fantasies. Creating a themed room would be an ideal solution. Let your imagination and that of your child run wild and create a child-friendly and playful realm with style with the individual furniture from form.bar.
We plan the children's room for your offspring
Let our professional designer team advise you and plan a perfect fitting children's room for you.
To the design service
From children's room to youth room
Changing child and children's room
There comes a point when the cheerfully colorful children's room turns into a teenager's room. Toys like dollhouses, cars and stuffed animals slowly disappear into the attic and posters now hang on the wall instead. The children no longer feel comfortable among the colorful toys and need a change, as their interests now usually change completely. It is also important to create retreat or chill-out corners so that the youngsters can retreat alone or with their friends. Also, the work area is very important at this age, so that the children have a quiet place to do their homework. To do this, consider turning the children's room into a bedsit. Of course, not every family can afford a room makeover. That's why we'll show you how you can create a cool teenager's room together with your offspring and easily convert or transform already existing furniture.
Existing shelves in neutral tones can be ideally used as room dividers to visually divide the room into different areas. A cabinet or shelf with doors, you can change, for example, by replacing the doors or paint the shelf in a different color. After all, the most visually appealing change is achieved with paint. But usually it is enough to add a few extras or accessories to the furniture , giving it a new meaning. From a normal commode, you can create a make-up corner for girls with the help of a mirror above the dresser.
The furniture for the youth room
When you are ready to invest in new furniture for the youth room, there are many options and you should ensure your child has a say, because after all, your child needs to feel comfortable in the room. It is recommended to set up the workspace by the window, as natural light and fresh air helps with learning. Storage space also plays an important role as the teenager grows. Since the teenager is still growing, the desk or desk chair should be height adjustable. The small closet is usually no longer sufficient and must be expanded. This is because female teenagers in particular want more space for their shoes and clothes. Another way to create storage space for clothes are nice clothes rails in the room, where the girls can present their most beautiful clothes. In addition, for example, corner shelves, wall shelves, bookshelves and also room dividers and benches are very practical to create more storage space.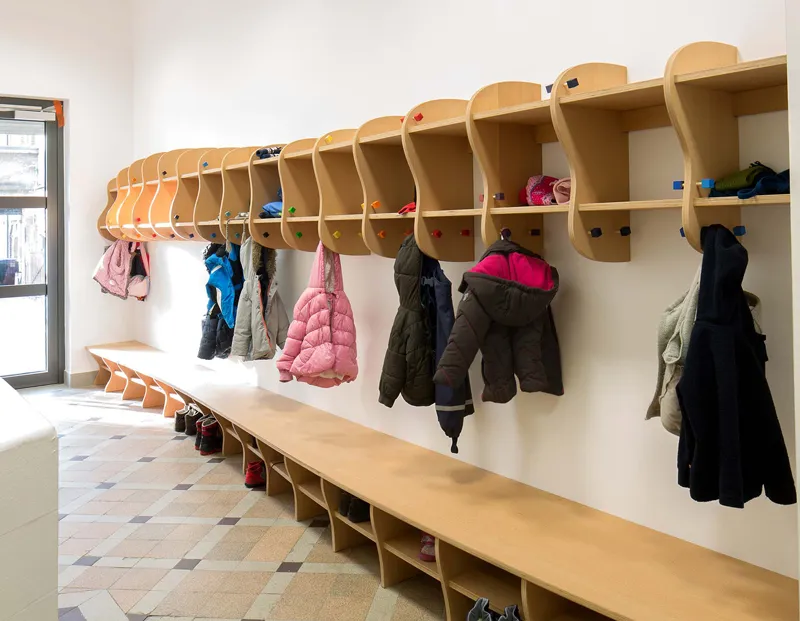 Tips and tricks for different sizes of the children's room
Children's rooms come in a wide variety of sizes.
We'll give you valuable tips to make the most of any size children's room.
Bed-sit room
There are super ways to convert the bedroom or teenager's room into a living room-bedroom. It is important for teenagers to have a retreat for themselves. At that age, it is common for teenagers to not necessarily always want to spend their free time chilling with their parents. That's why a sofa in the teen's room would be important so that they don't always have to be in bed. The sofa provides additional seating for friends and can be nicely integrated into the room. In addition, a nice little coffee table under a fluffy carpet. Whether you also want to allow your child to have their own TV is entirely up to you.
Furnish small children's room
Furnishing small children's rooms also works easily with the right furniture and accessories. For example, a bed with a shelf is space-saving and still offers the possibility to decorate the children's room. Another option is a loft bed. The free space under the bed can easily be used to store toys, as a workplace or simply as a den of robbers. Depending on whether the teenager is female or male, you can design the loft bed as a castle bed or a princess castle. Often in many children's rooms, the corners are not used to their full potential. We offer practical corner shelves that can be adjusted to fit the corner to the exact dimensions. Hanging nets are another option, as they quickly make lying around toys disappear. Baskets and boxes with additional seating are also ideal for children's rooms, so that chaos and clutter can be quickly eliminated. For this purpose, superfluous toys should be sorted out from the children's room to make room for play and new things. Furnish a small children's room is useful with floating furniture. These visually provide space and do not obstruct the view of the floor space of the room. Additionally, in a small children's room, the wall design should be more of a light tone or white, as white walls also make rooms appear larger. However, a completely white room looks bare, so colors and contrasts should not be missing. A single colored wall or wallpaper strip, murals or different colored cabinet doors or drawers create cozy atmosphere. Magnetic cabinet doors fascinate and replace an additional pinboard. Not to forget the right light. Clamp spots, for example, are mobile as well as space-saving and provide punctual light for playing and reading.
Furnish large children's room
Designing a large children's room has one decisive advantage: in principle, there are hardly any limits to your furnishings. So if the children's room has enough space, it should be well utilized, because children need a lot of space to romp and play. So that a large room does not look empty, you should also equip it with appropriately large furniture and suitable child-friendly accessories. But you should also leave some space in the room, because children can bring in their ideas. Because children like to build a cave or a camp out of blankets and pillows and rearrange the children's room furniture.
However, large rooms tend to be rather restless or cold. That's why it makes sense to structure the children's room and divide it into several zones. One possibility would be a sleeping area, a cozy reading corner, a workplace and of course an area for playing. To separate these areas visually well from each other, we recommend an open shelf from form.bar, which you can use as a room divider.
Storage for children's room
There is a law of nature in the children's room. Because no matter how big, there is always too little space for things that need to be stowed. There is no such thing as too small a room, only unsuitable furniture! In the beginning, there is still order in the baby's room, but as the years go by, the child needs more and more space, as many things such as toys accumulate. The room for babies becomes a children's room and soon a youth room. Shelves and cabinets are the classic storage furniture. Here it is important to adapt the furniture to the room situation as best as possible. If space is limited, it makes sense to buy a high shelf that makes the most of the room height. In addition, shelves with doors and drawers are advantageous, because they provide order and not all things are visible. Roll containers are also a good option to place under the desk. For this, you should design and take advantage of the children's room walls, so that wall shelves, commodes or a sideboard look good on the wall. A loft bed or a bed with integrated drawers is also very practical to store more things neatly. In addition, you should use the available window sill space available. Additional storage space is hidden in many places, the trick is to recognize it and make the best use of it.
Interesting ideas for the children's room in the attic
Children like to build hiding places from blankets and pillows. In a children's room in the attic, this is not a problem. The low ceilings can be optimally used to equip with cushions. This creates a cozy atmosphere and the low ceilings usually do not disturb the children anyway due to their small size. A children's room with sloping ceilings offers many cozy corners for reading, resting and listening to music. Under the sloping roof it is especially good to sleep and relax. If you place the bed directly under a slanted roof window, your child will have the opportunity to watch the stars at night. If there is no slanted roof window, you can also design the slanted wall with stars that glow in the dark and give off a soothing light at night. This way you won't need a night light for your child. When choosing furniture, we recommend custom-made furniture from form.bar, as it perfectly adapts to the slanted wall. Another solution is a beautiful tiered shelf, which makes the most of every angle and additionally becomes a highlight. Choose between different colors and create your individual unique piece for your offspring!