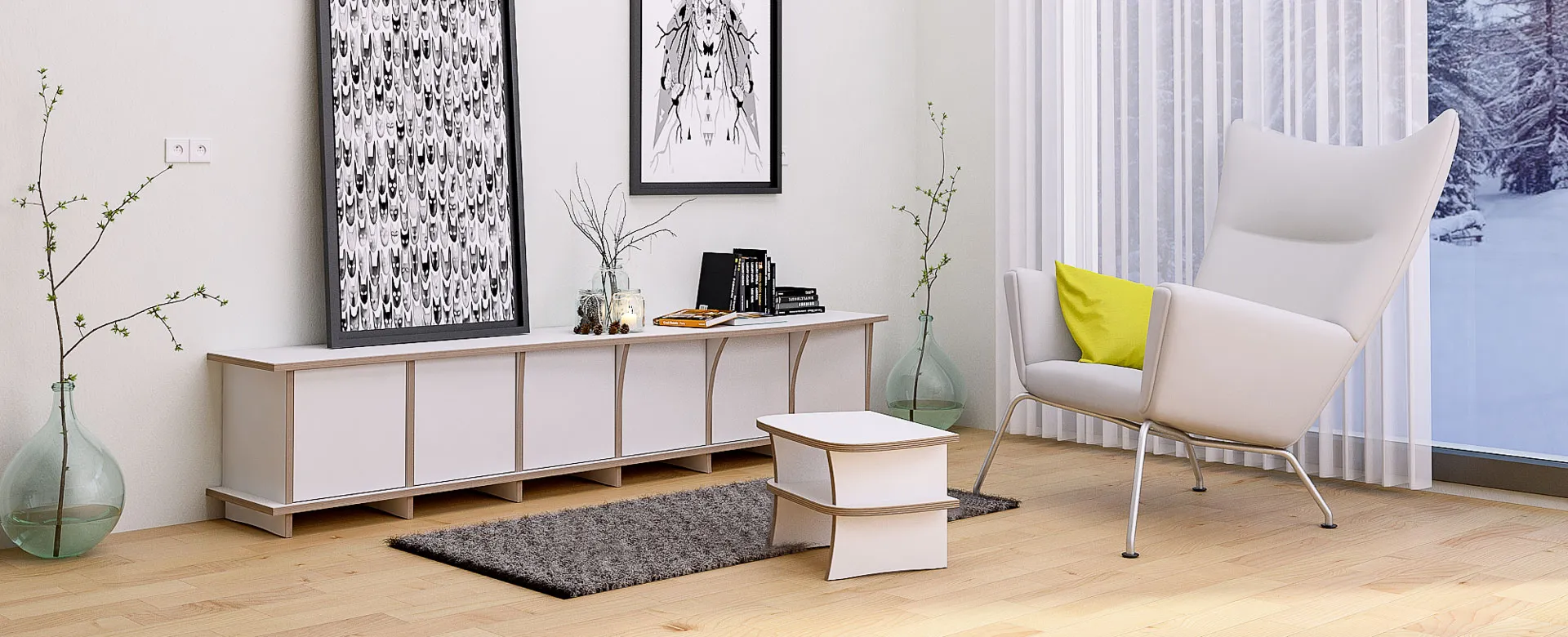 Furnish winter garden
Vacation for your senses
Whether it's sunny or rainy, a conservatory is a space that gives you a cozy retreat no matter what the weather. It can be used all year round, completely independent of weather and temperature. In addition, it provides additional living space that you can use as your private gym, light-filled studio or office in the greenery. If you don't have a garden, a living conservatory is the best alternative. It offers the ideal opportunity to bring the garden into your home. Because a beautiful interior with lots of plants makes your place of relaxation perfect.
Highlights of form.bar for your winter garden
Choose your favorite design and customize it
How to create a beautiful winter garden?
The winter garden is the perfect compromise between indoors and outdoors. Below you will get excellent tips and useful living ideas for your new conservatory. We also show you some unique furniture for conservatories from our form.bar online store.
With our guide, you are well informed about all aspects of conservatory furnishing.
How do you want to use your winter garden?
Living, leisure or working area
Conservatories come in different forms and offer a variety of uses. How you use your conservatory in the future depends primarily on the size of the room and the space available. Of course, your preferences and budget also play an important role. In the following we will show you some ideas how you can use your winter garden. Whether, for example, as a cozy retreat with reading corner, as a gym or studio.
Winter garden as living room
When planning your new conservatory, you should be aware of its purpose. Will it serve as a second living room or do you want to use it as a gym or study, for example?
If you want to create an extended living room with a piece of nature, a residential conservatory is the optimal solution for this. Conservatory and living room in one offer various advantages - you can enjoy the sun and the garden and save space at the same time. When it comes to furnishing your conservatory, we of course offer you the right conservatory furniture. Whether shelves, sideboards, wall units or TV furniture. With us you can design your dream furniture according to your ideas with our furniture configurator and then easily order online.
Classic winter garden
A classic winter garden usually consists of a glazed roof and integrated sliding doors. As flooring tiles are very often seen, because they are particularly easy to maintain. Between a cozy seating area with table and chairs or even a comfortable armchair, plants must not be missing, of course. As storage space options are particularly suitable shelves of all kinds. Whether corner shelves, wooden shelves or room dividers. But of course, commodes or benches are also excellent.
Winter garden as a place for relaxation
A conservatory is the ideal place to relax, read or drink coffee with family or friends. For the coziness in your new extension conservatory provides the appropriate interior. It is important that purpose and your personal ideas form a unity. At form.bar you can create your conservatory furniture to the millimeter according to your wishes. Let us inspire you in our customer gallery and configure your unique furniture.
Winter garden as a gym
A popular option is a private gym in the winter garden. This way you can exercise at home in any season and you don't have to pay any travel or membership fees. It's up to you whether you line the room with sports mats and use it for yoga or gymnastics exercises, or whether you prefer to buy sports equipment. Often used are cross trainers, treadmills or a bicycle. But sports balls and weights are also welcome. But also for dancing a winter garden is suitable, if it offers enough space. All you need is a big mirror and a music system. Sports accessories and clothing can be stored in a suitable shelving system. So you have everything stowed in one place and ready to hand.
Winter garden as a studio
A winter garden can also be ideally used for artistic activities of all kinds due to the good light conditions. Because the view of your own garden and nature increases creativity and allows great works to emerge. In addition, it offers additional storage space for all working materials such as brushes, paints, pens, etc. and also serves to present your works of art.
We plan your winter garden for you
Let our professional team of designers design your winter garden for you.
To the design service
The types of winter gardens
Gain an impression of the possibilities
Winter garden as terrace roofing
Of course, you also have the possibility to convert your terrace into a winter garden. Because if the terrace is covered, it can be used all year round. Before you can build your winter garden, you have to make sure that all installation requirements are met and that you are well informed about the statics of the terrace roofing. You should also choose the right material and pay attention to quality. As soon as the basic construction is in place, the glazing of your conservatory extension and the window and door installation follow. Not to forget is a sufficient ventilation, heating and shading of your winter garden.
Glass pavilion as winter garden
A glass pavilion is not only a stylish eye-catcher in your garden, but also versatile. Due to its attractive appearance and unrivaled comfort, it is very popular and a nice alternative to a winter garden attached to the house. Through its large glass windows, a lot of daylight enters the conservatory, so it is also ideal for keeping plants. In addition, the glass pavilion provides protection from annoying insects and is the ideal place for reading or relaxing. Moreover, with appropriate ventilation or heating, it can be used all year round.
As a separate area in the garden
Your winter garden does not necessarily have to be classically attached to your house. There is also the option to integrate your winter garden as a separate area in your garden. This is the most flexible solution for a cozy sitting area in the garden.
Attached to your house
The classic winter garden is attached to your house. If you rarely use your terrace or balcony, there is an option to simply glaze it and use it as a winter garden. This way you have additional living space and storage possibilities that can be used all year round.
North side of your house
Heat and light determine the atmosphere and climate in your winter garden. However, these factors depend on the orientation of your conservatory.
A winter garden located on the north side of your house tends to be a relatively shady place during the day, as it only catches the first and last rays of the sun in summer. If you want to use your conservatory on the north side all year round, it is necessary to heat there daily in winter.
South side of your house
If your conservatory is located on the south side of your house, it will be illuminated by the sun for the longest time of the day and can therefore heat up very strongly. Tropical and subtropical plants, such as palm trees, feel particularly comfortable in such a warm climate.
However, you should therefore also plan for necessary shading and ventilation measures.
Winter garden with sloping roof
If your conservatory has a flat roof, the water cannot drain off completely. So dirt deposits can not be washed off.
Therefore, a winter garden with a roof slope is recommended. The greater the slope, the better the rain can clean and keep clean the roof of your winter garden. Also, you should take advantage of the area of the roof slope. Our furniture adapts precisely to any roof slope, so you don't have to waste any space. For example, configure a custom step shelf or get advice from our designers.
Sunshade and winter garden shading
Do not underestimate the force of nature
Sun protection for your winter garden
Especially on sunny days, reliable winter garden shading is necessary to avoid severe heating in your winter garden. In the following, you will learn how to set up your sun protection winter garden, so that the light conditions and temperatures always remain comfortable.
Awning against incoming sun rays
In summer, the sun's rays can make your winter garden unbearably hot, which can significantly affect the quality of your living space. That's why you should install an awning on the outside of your winter garden to protect it from the sun. They block the sun's rays even before the glass wall, which prevents the interior from heating up in the first place. A conservatory awning is of course available to fit any size conservatory and is the ideal way to prevent sunlight and heat.
Blinds against incoming sun rays
Of course, you can also counteract the sun from the inside. Blinds serve as ideal sun protection. They can be raised or lowered as needed and the orientation of the slats can be adjusted as desired. In addition, they serve not only as sun protection, but also as privacy from prying eyes.
The right roofing for your winter garden
When you plan your winter garden, you have to decide not only on a roof form, but also on a roof type. Basically, you have the choice between a closed roof and a glass roof. However, both types have their advantages and disadvantages.
Cover with glass roof
Glass roofs prove to be elegant and are very popular among most people. You feel like you are outdoors, you have a great view of the sky and at the same time you are protected from wind and weather. However, a glass roof also brings a few disadvantages. For example, in summer, glass roofs reach their limits. The blazing sun that shines into the winter garden heats up the room enormously, so that temperatures can reach well over 35 degrees. Therefore, with a glass roof is absolutely to think of an appropriate winter garden shading, which brings further costs. In winter, heating costs are also higher, because no heat is stored.
Roofing with normal roof
Unlike a glass roof, a normal closed roof serves as a sunscreen in summer, and in winter the heat is stored much better than in the variant with a glass roof. Thus, the winter garden with a closed roof can also be used more as a living space. Of course, with a closed roof the free view of the sky is lost. In the end, you have to decide what is important to you and how much budget you have available.
Heating and ventilation of your winter garden
Good heating is just as important as a proper ventilation system. Therefore, thoughtful planning is necessary for a comfortable indoor climate, so that a feel-good climate is created for people and plants. You can choose between natural or motorized ventilation. The higher your winter garden is, the more comfortable the temperatures inside it will be, as warm air rises to the top. Openings in the upper part of the windows or the roof lead the warm air outside, while openings in the lower part of the winter garden bring fresh air into the room. But there are also ventilation systems that ensure that a comfortable climate prevails in the room. Of course, the climate depends not only on ventilation, but also on heating, which is necessary especially in winter. Here, too, there are various options. Whether a fireplace, underfloor heating, convector heating or special heat pumps that independently cool or heat the climate in the winter garden as needed.
Winter garden with fireplace
A fireplace in the winter garden is not only a source of heat, but also a real eye-catcher.
Fireplaces come in different sizes and forms, but your winter garden must also be suitable for this method of heating. If the spatial conditions correspond with the approval of the responsible chimney sweep, nothing stands in the way of a fireplace in your winter garden.
Before you buy a fireplace, you should plan in advance and think about how often you will use your new stove, and then decide on a suitable model. Models that store heat, have a small bench or have a beautiful cladding of natural stones are especially popular.
The stylish interior of your winter garden
The details matter
Winter garden lighting
The prerequisite for a particularly atmospheric winter garden is the right winter garden lighting. Natural sunlight is best for your plants. Nevertheless, your winter garden needs additional lamps that provide further light. LED spots or lamps, for example, consume very little electricity and create a particularly pleasant atmosphere in your winter garden with their warm light. But also beautiful wall or ceiling lamps are well suited. There are also some models that can be dimmed so that the light can be perfectly adapted to the respective situation.
Stone wall as a unique accent
A stone wall is an absolute eye-catcher not only in the living room. Also in the winter garden this is a nice way to design his wall. A stone wall gives us a piece of naturalness and increases the well-being in your own home.
Because with the view of a beautiful, natural stone wall and in the blooming green of the garden, it is wonderful to relax.
Solid flooring for your winter garden
Your winter garden, your decision
Cozy carpet
To create a summery feeling in the winter garden, you should equip it with a fluffy carpet. It provides warmth and a cozy atmosphere and is also easy to clean. Pet hair and dust can be easily vacuumed away. There is a large selection of different carpets. Whether you want to cover the whole winter garden with them or choose individual small carpets depends on your preferences. Also with the color choice you are completely free - whether colorful, monochrome or with a beautiful pattern.
Stylish wooden floor
However, more insensitive than the carpet is the parquet floor in the winter garden. Beautiful wood creates a cozy living ambience and is particularly easy to maintain. In addition, it brings a piece of nature into your room. As an alternative, there are also parquet floors made of plastic, which are also very easy to clean.
High quality tile floor
The flooring in your new winter garden modern should not only aesthetically convince, but also must meet many requirements. Since there are often large temperature fluctuations in the winter garden, tiles are the ideal flooring.
Tiles store the heat from the sun's rays and release it in the cool evening.
they are easy to clean and insensitive to scratches
they do not fade due to sunlight
they are durable compared to other floor coverings
Stone floor for your winter garden
Stone floors, like tiles, are ideal for winter gardens: They are sturdy, easy to maintain and give your room a classy character. There are many different varieties and colors. Natural stones such as limestone, granite, sandstone, quartzite, slate or even marble are very popular, for example. However, you should inform yourself sufficiently when buying, because marble is not frost-proof and also slippery.
Plants in your winter garden
For a relaxing ambience
Plants bring a bit of nature into your winter garden and also make it cozier. However, there are a few things to keep in mind when choosing plants, because the demands of the plants need to be matched to the temperatures in your winter garden. Depending on whether you have a cold, temperate or warm winter garden, you should therefore select the appropriate plants.
Hanging plants
Herbs, plants and flowers of all kinds grow particularly well in a winter garden. So a winter garden is optimal to create your own green oasis. Hanging plants with colorful flowers cut a good figure and bring some color into your winter garden. Of course, you also have the option to mount your plants on the wall. For this, there are beautiful planters with wall mounting in a special design.
Mediterranean plants
Mediterranean plants are also very popular in the winter garden. Especially olive trees, figs and potted plants such as hibiscus, as well as citrus plants are welcome.
Flower tables
Flower tables are great decoration tools for the winter garden and at the same time present your favorite plants. They come in different colors and models. Whether made of wood, metal or glass elements - decide what you like best. But not only flower tables but also beautiful, small shelves can present your plants in the best light. With us you have the opportunity to configure your shelf so that it fits perfectly into your winter garden, because form, color and dimensions can be adjusted as desired.
Small herb/vegetable bed
Of course, you also have the option to grow your own herbs or vegetables in your winter garden. After all, what could be better than using freshly harvested herbs and vegetables from your own bed? In addition, such a bed requires little space depending on the planting and provides regular benefits with proper care. The only thing to consider is the right choice of location for your greenhouse, so that the plants get enough light depending on the species and are protected from frost in winter.