Designer benches made to measure
Furniture should adapt to you...not vice versa
Solutions for every room situation
Your custom-made bench
The optimal combination of seat and storage space
Our bench is the perfect solution to beautify your living space while creating more seating for friends and family. It is particularly suitable for saving space, as it can also offer a lot of storage space in addition to the seat and storage space. Our benches are also a good replacement for a chair or stool. Because they have no backrests, they are very flexible and can be placed freely in the room or against a wall. On request our team of designers and architects can remove the limitations of the configurator and create wardrobes , which are a mixture of bench and cabinet .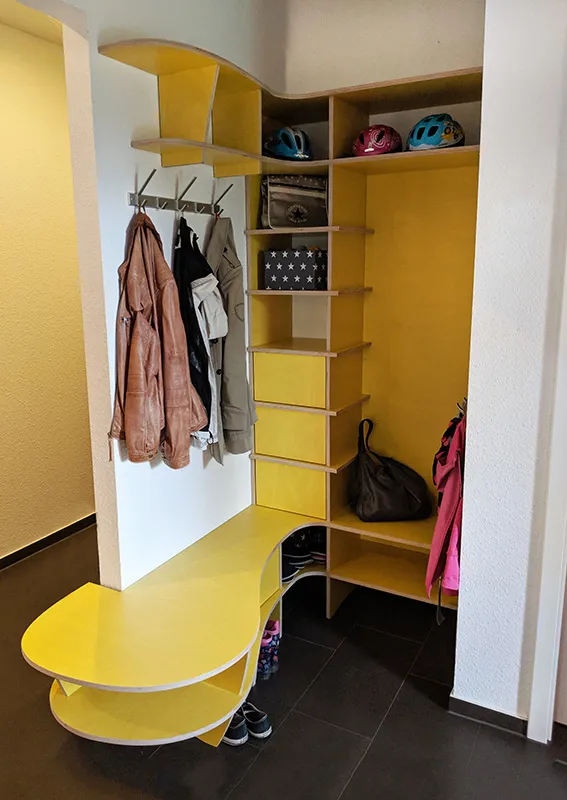 Why a bench from form.bar?
Plan with millimetre accuracy
We want you to be able to furnish your home exactly the way you have always wanted it. To make this possible, we offer you the freely formable extravagant Seat made of wood in top quality. You decide, comfortably from home, what you like and we implement it for you. Quite simply, functional and individual! Thus you receive with your bank a quality product, which is not only an eye-catcher for your living space, but also with the greatest care was processed.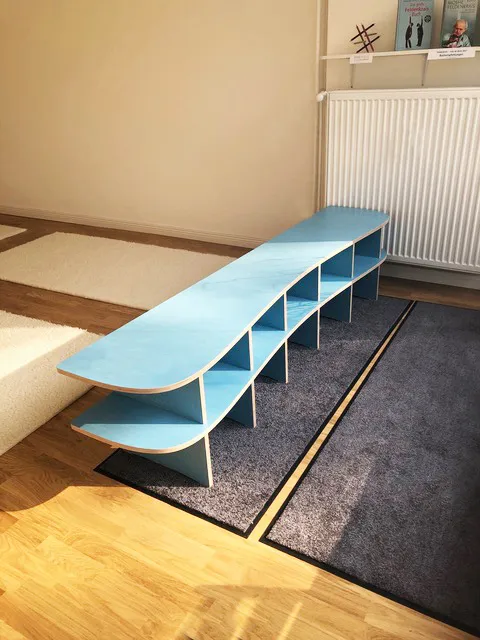 Benches as eye-catchers in the entrance area
Made to measure and shapely
Whether straight or curved, free-standing or as a corner or niche bench, everything is possible with us! Especially in the entrance area, hallway and hall our benches come into their own. If you need a seat and at the same time some storage space in a narrow hallway, a curved bench is an excellent choice. Because in addition to the obviously important dimensions for every piece of furniture, at form.bar you can also design the form yourself.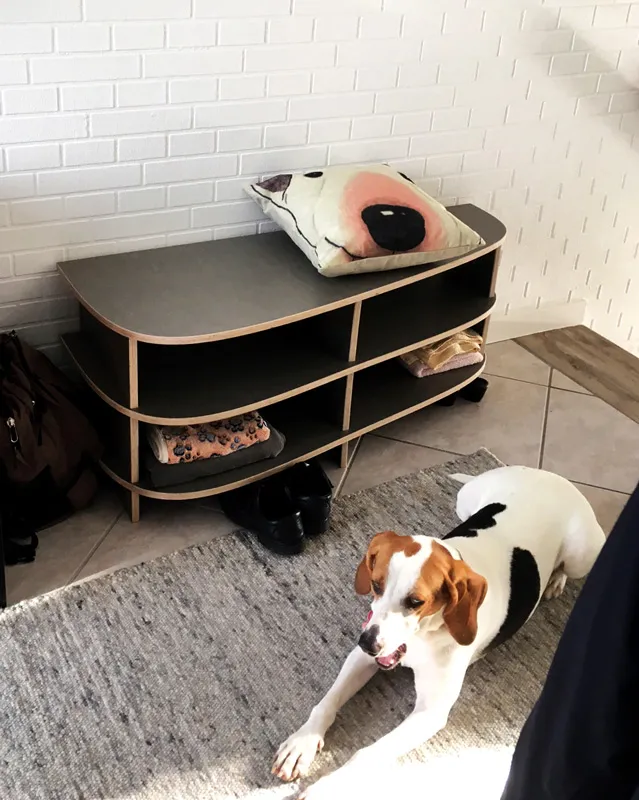 Production and material of your seat
Highest quality from form.bar
The innovative production process
The regional carpenter combines the most modern technique and traditional craftsmanship in the production of your upholstered bench. He manufactures your desired piece of furniture exactly as you have designed and seen it as a 3D model. We simply send him the production data of your configuration. He is located in your immediate vicinity. So you not only get a stylish and practical unique piece of furniture, but also supports the regional handicraft.
Materials for eternity
As with all our products, we work material-efficiently, as we attach great importance to the responsible and sustainable use of resources. We consistently avoid harmful substances and only work with FSC®-certified partners, because nature is close to our hearts.
When it comes to furniture, there is simply nothing wrong with this material: Wood! However, wood is not all the same - every type of tree, every trunk, every branch is different from the other and thus combines nature and modernity. We use many different types of wood for our custom-madedesigner furniture. We offer you a diverse selection of high-quality materials such as solid birch veneer laminate (FU) with real oak veneer or medium-density fibreboard (MDF) with coloured coating. To make your decision easier, you are welcome to order two of your selected wood samples to view at home free of charge.
Delivery and assembly of your designer benches
Besides the free delivery directly to your door, the assembly of our furniture is made as easy as possible! Due to our simple plug-in system we completely dispense with metal connecting elements, so that you do not need any additional tools! With the help of the included assembly instructions you can assemble the furniture in no time at all.
But you would rather leave the assembly of your desired furniture to a professional? No problem! Our nationwide partners are of course also happy to offer you an inexpensive assembly service! You can request the assembly service during your order process on the checkout page.
Do you have any questions about the assembly service or need help planning your wooden bench? In our FAQ area we have answered the most frequently asked questions and put them together for you to read. If you still have questions, contact us and convince yourself of our friendly service!