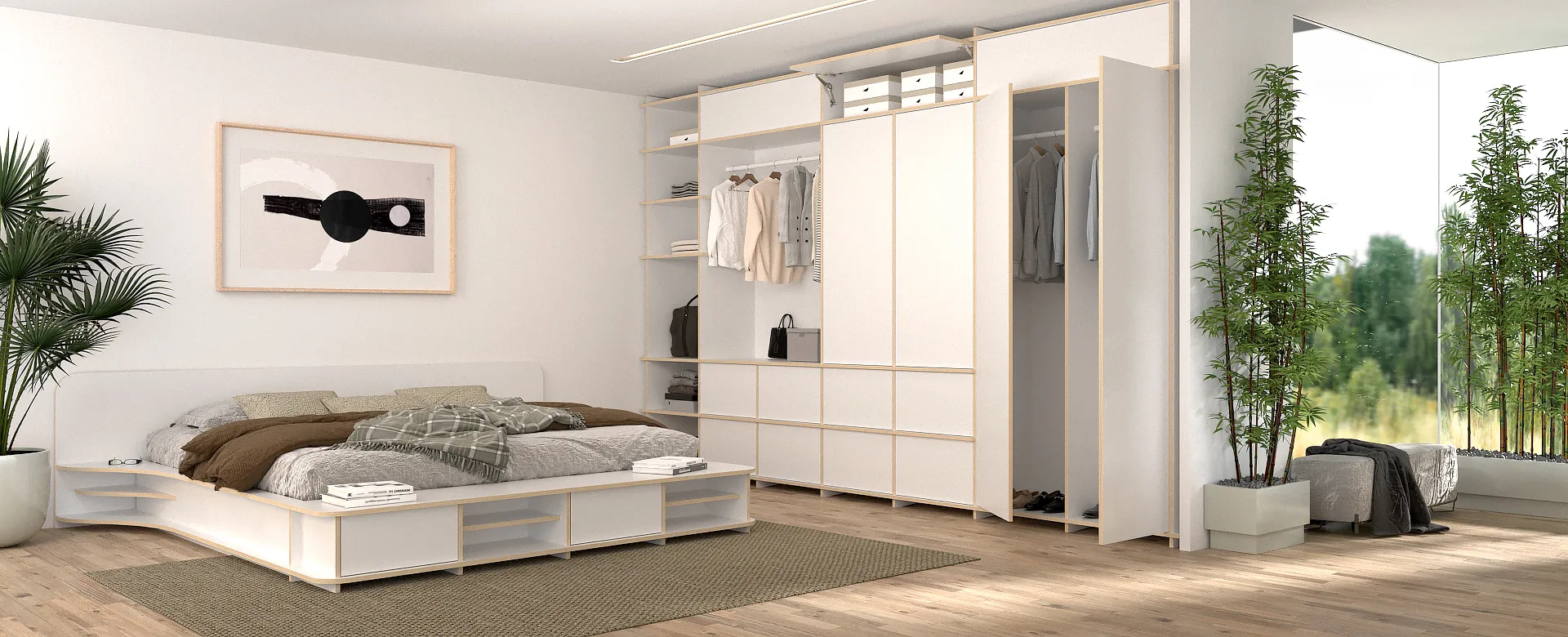 Built-in cabinets
One simple way to improve the storage of a room is to use built-in cabinets. Built-in shelves are available in all forms and sizes. They create more space and can be tailored to any room and lifestyle. Valuable décor, clothing and shapely accessories can be the focus of attention if they are specifically staged and highlighted with accent lighting.
Creating a custom cabinet design involves a lot of planning. Getting organized and designing the right cabinet for your needs is a time consuming task, but it will always be worth it! We will guide you through the design process of your built-in wardrobe. Our step-by-step guide is designed to help you consider important factors before removing a customized wardrobe.
A built-in cabinet for any room
Personalized interior systems add style, personality and storage space. Because modern built-ins can be designed to meet the particular needs of the household, the design possibilities are endless. Built-in cabinets can be integrated into almost any room with a variety of modifications. By using a custom furniture solution, a room can be repartitioned.
For example, a cabinet with two sides divides a room into two separate rooms, which contributes to the visual structure. Slopes and stairs offer a lot of unused potential. The extra-deep design variations of our models can model countless storage options for under stairs or sloping ceilings. In the dining room, built-in cabinets with open shelves help display dishes decoratively, while in the living room, a custom bookshelf adds a personal touch. Experiment with different cabinet forms in our 3D configurator and create your perfect built-in cabinet.
Built-in cabinet or freestanding cabinet?
Freestanding closets have gaps at the top and side, which can be filled with different things. The disadvantage of these gaps is that they can easily get dusty. In contrast, built-in cabinets are tailored to the entire height of the room. Even if the bedroom has a difficult form, a built-in cabinet can be integrated into the narrowest corner. The disadvantage: unlike a freestanding closet, a built-in closet cannot be taken with you when you move. Therefore, it is important to think carefully whether a built-in wardrobe or a freestanding wardrobe is the better option. Here are the advantages and disadvantages of a built-in wardrobe at a glance:
Advantages
Fits perfectly into the room and is ideal for unusually shaped rooms
Maximizes and optimizes the available space
Built-in cabinets make a room appear visually larger
All elements of the cabinet can be adapted to individual needs
Can be coordinated with the interior design and color scheme of the room
Disadvantages
Lack of mobility: when moving, the cabinet can not be taken with you
Later rearrangement of the room is possible to a limited extent
Built-in cabinets are usually more expensive than freestanding furniture
The installation takes longer
So before you decide on a built-in cabinet, consider the above pros and cons as well as your future plans.
By the way, when planning, do not forget to consider the rest of the house, because the bedroom closet does not have to bear the brunt of the storage solution. Keep as much as possible in other utility areas of the house to save the cost of a built-in cabinet.
Create a wardrobe inventory
Before starting to plan a built-in cabinet, it is necessary to make important preparations. First of all, it is recommended to conduct a wardrobe inventory. This is a necessary preparatory measure for the creation of a custom wardrobe solution, which should not be skipped.
Carefully evaluate your closet and make an inventory of all the items that will later need to be placed in the new closet. Ask yourself the question: what can be folded and what can be hung? What is the ratio of blouses, pants and jackets? Count everything out exactly to see how much space is needed for hanging and folding.
What are the storage dimensions of garments?
One aspect of custom closet design is the width of hanging and folded clothing. Most folded clothes occupy a space of about 30 cm in diameter and 35 cm in depth. Most hanging garments, including shirts and blouses, jackets and coats, will fit in a 55 cm deep area.
Anything with less depth often does not fit as a storage space for clothes, which means that the clothes stick out or hangers are pressed against the wall at an angle. By the way, don't build shelves too deep or the items stored there may be forgotten indefinitely. Here are some general storage space measurements of clothing items to help with planning:
Folded sweaters and shirts each require 20-40 cm of linear space
Coats need up to 175 cm vertical space
Pants and jeans require up to 130 cm of vertical space - about half of it when folded
Skirts need up to 115 cm vertical space
If you are aware of the basic dimensions that your clothes or items need, you can more accurately plan the ratios and design of your commode.
Where to put the shoes?
If space is limited, it is often not possible to store all the shoes in the cabinet. If there is enough space, store the shoes on medium height shelves so you can see them. Whether you choose regular shelves, pull-out shelves or drawers, you don't have to plan too much storage space for shoes, as they are usually only 30 cm deep and can fit in tight places.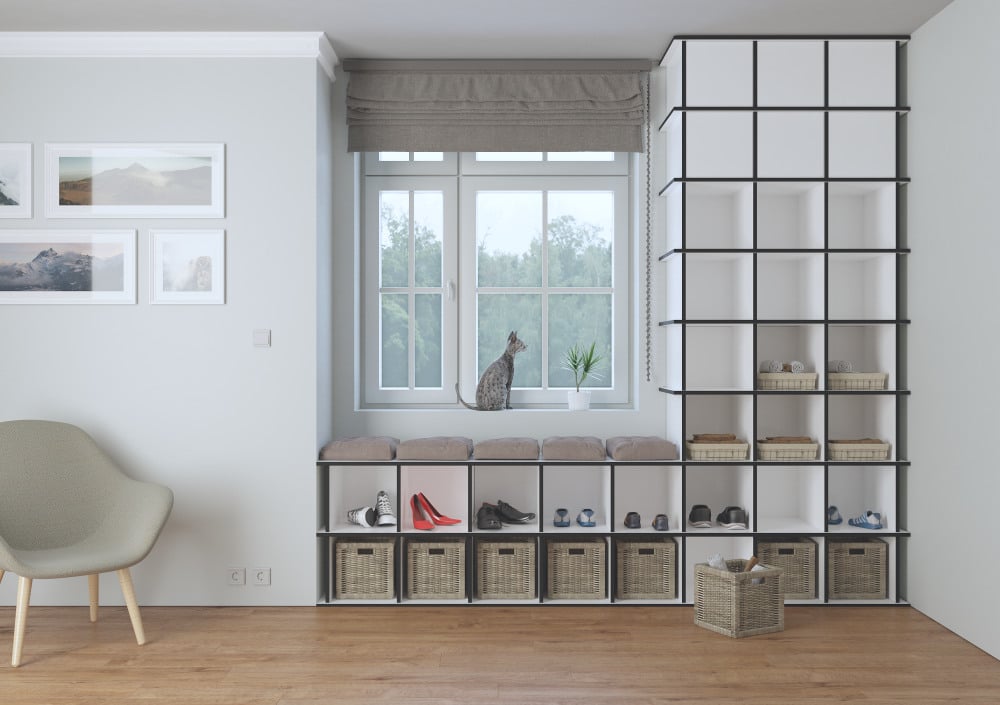 Basically, a pair of women's shoes is between 17 to 20 cm wide, while a pair of men's shoes is 22 to 25 cm wide. There should be enough linear space to accommodate all the pairs that are present. The rule of thumb is to leave 17 to 25 cm of space per pair. For boots, the height of the shelves and cubes must be adjusted accordingly: Ankle-high boots usually start at 7 cm high, while medium-high and knee-high boots range from 22 to 43 cm high.
Create space for accessories and decor
Don't forget the space for accessories and supplies! To create an organized space, you need a permanent place for accessories like bags, purses, belts, ties and jewelry. Belt and cable ties can be compact and mounted on any dead space along the walls.
What works well are racks for belts, ties and scarves that slide in and out. Adding a dedicated rack to hang accessories helps put an outfit together faster and keeps the look organized. Adding a jewelry tray to a drawer is also a great option for storing and displaying valuables.
We plan your built-in cabinet for you
Get your designer built-in cabinet designed by our professional designer team.
To the design service
Measure the room correctly
After we determine the storage dimensions of our wardrobe and items, we need more measurements: Does the room contain ceiling or baseboards? If so, make sure to record the dimensions of all the solid details above. First, determine the ceiling height at both ends of the room, as well as the height in the middle. This will show whether or not the closet will need to accommodate a sagging ceiling.
Besides these measurements, the wardrobe must be measured in terms of width, depth and height. Ideally, 10 cm should be left free to the side and
8 cm above to provide enough space for hinges and mounting.
Do electrical plugs need to be moved before installation? If moving an outlet is not possible, custom built-in furniture provides a solution to hide unsightly cable clutter or controls for integrated lighting and ensure easy access.
Check if the floor is level: Here it is recommended to mount the built-in cabinet on a hard floor. If the closet is mounted on a carpet, it may fall over time due to the settling of the carpet, which will negatively affect a flawless appearance.
What else should be considered in the built-in cabinet?
Once a wardrobe inventory has been taken and the room has been measured, the next items need to be thought through:
Open or closed concept?
While most people tend to stick to closed closets, more and more people are getting into the open wardrobe trend. With open closets, you can see all of your clothes at a glance, which sometimes saves time when getting dressed. It can also provide a greater incentive to keep things neat and tidy in the closet.
Open cabinets are also often less expensive because they eliminate the need for doors. However, if your home tends to get dusty quickly or there are pets in the household, invest in clear glass doors to achieve an open concept while keeping dust at bay.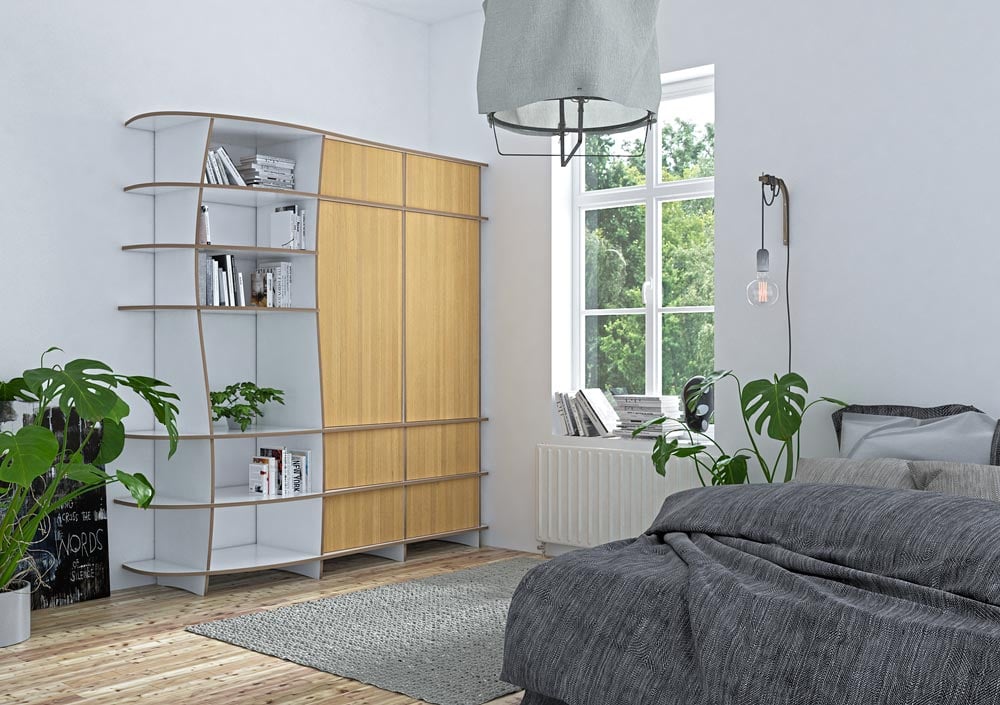 Wardrobe ergonomics
When designing, the focus should be on ergonomics. Make the space more ergonomic and you'll find that things are much easier to find or reach. Positioning shelves above the hanging area is an ergonomically wise move. Hang the top bar high enough so that there is enough space between the bottom of the hanging clothes and the second bar below. Shelf widths in 30 cm increments are best for providing adequate space for folded clothing.
Use open shelveswhere folded clothes are positioned at eye level so you don't have to keep bending over to reach for them. Pull-out drawers and trays can be placed at lower levels. Bulky items and less frequently used items such as bedding or winter clothing should be stored on open shelves above the hanging area. Objects stored on upper shelves should preferably be stored in labeled boxes or organizers to prevent dust.
With or without doors?
When choosing cabinet doors, think about the size and form of the bedroom, as well as your personal preferences. If space is at a premium, opt for sliding or folding doors, as they require less space to open. Small bedrooms benefit from mirrored doors, as they create the illusion of a larger space and provide a full-length mirror without taking up valuable space.
Depending on whether sliding doors or hinged doors are used, the position of shelves and drawers changes to maximize access and use. With sliding doors, shelves as well as drawers should be placed on the side. For hinged doors, it is recommended that they be placed in the center. For narrow rectangular walk-in closets, place the door on the long wall instead of the short wall, as this provides better accessibility.
Compartments and drawers?
A typical walk-in closet can have drawers on different walls as long as they don't hit anything when opened. Drawers can add visual interest to a closet and at the same time create more storage space, as they can hold 2 to 3 times more clothes than hanging. Drawers can also fully expand, so that the stowed things can be conveniently pulled out.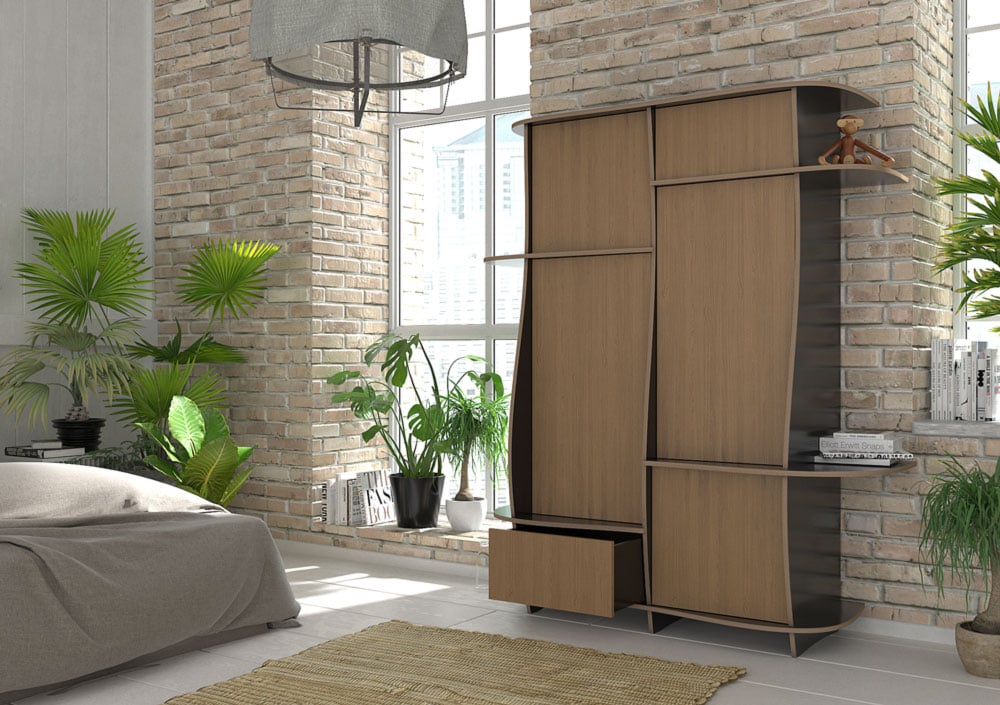 NBesides the advantages, depending on the situation, adding drawers can also be disadvantageous. Therefore, consider whether you really need drawers, because drawers increase the price of a built-in cabinet. When in doubt, be resourceful with space instead. If you already have a dresser or nightstands in the room, you don't need extra compartments and drawers for your built-in closet. If space is at a premium, the trick is to make full use of every storage space.
One way to create more storage space is to separate folded clothing from hung clothing. It makes little sense to store folded clothes in deep closet shelves - it will result in a mess. Hanging your clothes looks neater than folding them. Therefore, use plenty of space for hanging clothes and place folded clothes and shoes in a different place. For example, use the space under your bed to put drawers. This is a better option than storing items at the bottom of a closet.
However, some garments are more suited to drawers or shelves - for example, knitted sweaters, leggings and shorts. So make sure you have a good mix of different organizing systems. The key to making hanging space look good is to not overcrowd it.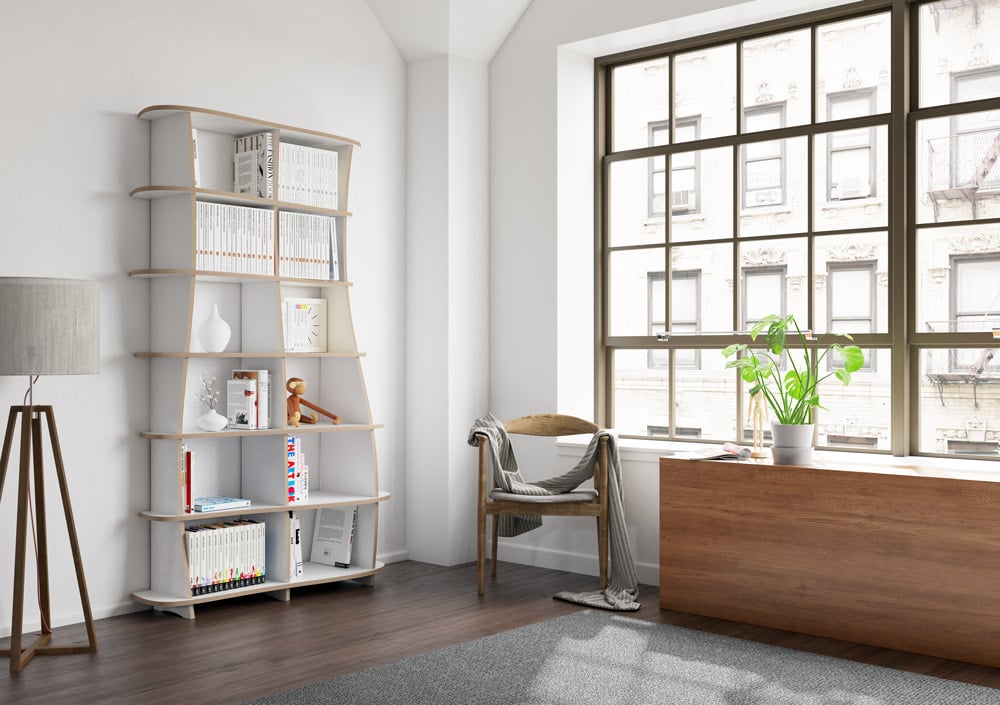 Segment the hanging areas according to the type of clothing and use different hangers for different types of clothing. Slippery materials like silk or satin should be hung on padded hangers or those with rubber tips. Opt for special pants hangers with a long bar to prevent pants from slipping, and special skirt hangers with padded clips to avoid leaving dents on fabrics.
Lighting
Lights in the built-in cabinet are not always necessary, but it is a great way to add ambience to the bedroom and make the surfaces of the furniture shine in a new light. If the closet is in a dark place in the room or if the commode is packed full, it may make perfect sense to invest in some good lighting for the closet. If you want the cabinet lighting to be diffused to distribute as much light as possible to all parts of the cabinet, use LEDs. They are less harsh than traditional fluorescents and don't give off as much heat.
Choose a color temperature between 3000 K and 3500 K for more neutral lighting. For warmer lighting, values below 3000 K are recommended. Warm lights look better with a wood-laminated closet or a closet with dark colors, while cooler lights go well with a white closet.
Color, style and material
Choose the color and material for your wardrobe. Color experimentation with built-ins is a great way to contrast or complement other colors in the room, as well as add impact and create a central wall. A classic white piece of furniture with closed storage below and open top is so versatile that it can fit into almost any style of home. Choosing a simple cabinet style will ensure that the fixtures will fit even if tastes ever change and everything needs to be rearranged. Consider the style of the room when choosing the perfect finish. Wooden cabinets - either plain or in gray, white or blue - are best for traditional or Scandinavian style bedrooms. Mirrored closets with metallic or monochrome effects are suitable for rooms with an industrial touch.
Built-in furniture doesn't have to be overly decorative or ornate to make a statement. Simple designs remain timelessly chic. Take a look at our cabinet variations for this. The streamlined silhouettes of our models captivate with their geometric simplicity and contribute to a contemporary sense of space.
Built-in cabinets can be built of different material. Most built-in cabinets are made of plywood, as they are sturdy enough and can support heavy weight. The only drawback is that they tend to release a smell of glue used to join the pieces of plywood. However, this circumstance can be easily remedied by placing odor-absorbing substances such as baking soda or activated carbon after assembly to eliminate the odors.
Design the perfect built-in cabinet with
our 3D configurator
After we have clarified all the requirements, we can start designing. Basically, build only what you need. Decide how big or small you want the closet to be before you start designing.
First, create a floor plan of the room and then mark the area where you want to place the wardrobe. Keep the following guidelines in mind so that the custom furniture can be perfectly integrated into your overall interior system:
The length of the wardrobe should meet the requirements
In front of the closet should be enough space to walk, at least 80 cm
If the closet is located next to the door or entrance, there should be a distance of at least 50 cm between the closet and the entrance
If you want to maximize your space, group clothes of similar size together so as not to waste space. The same goes for a group of similar items. Use our basic models to experiment with different forms in the 3D configurator.
What do I do with corners and sloping roofs?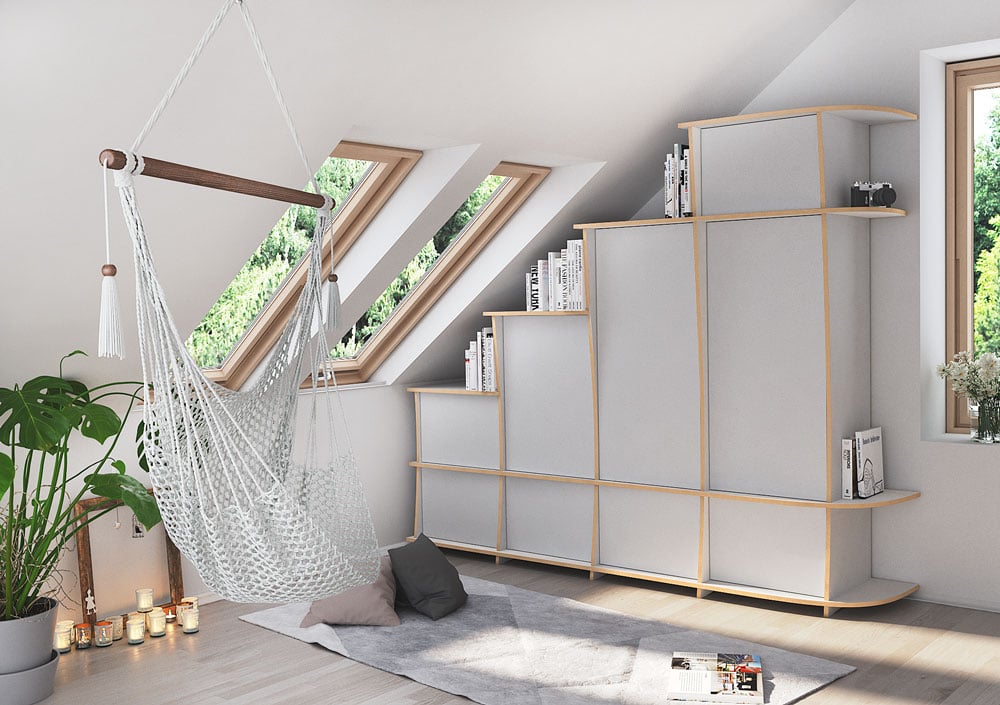 Sometimes it can be difficult to figure out what to do with corners. However, when properly integrated with the furniture, they merge visually seamless and create new storage space. With corners and sloping ceilings, it's important to remember never to hang clothes vertically next to each other.If the two rows of clothes meet in the corner, you can only hang from one side, which means losing about 60 cm of valuable storage space.
Built-in cabinets can be easily customized for difficult corners of a room using our 3D configurator. Alternatively, any shelf form can be turned into a corner shelf - or a modified built-in cabinet.
Create space for an island
Islands are the dream addition to any walk-in closet. But the spacing has to be right. A 90-cm walkway on each side of the island is optimal. You can also plan with 75- or 60-cm walkways if you accept clearance restrictions to do so. This means that at least 3 by 3 meters of space is needed. Generally, the more clearance there is for islands with pull-out drawers, the better. Islands should create a touch of luxury. If there is little space, it is better to do without them!
Fazit
The most important thing to consider when designing a custom built-in cabinet is precision and quality. Therefore, think carefully about what you want and what you need before designing your cabinet with our cabinet planner. Create an inventory of clothing. This step will help anticipate the space you need as accurately as possible. For the best way to fill your furniture, follow these tips, how to store clothes in a space-saving way and which extras are necessary.
We are happy to advise you and help with the correct measurement of your interior system. We can also help you find the right clothes rails, shoe racks, trouser shelves, and special pull-out shelves to meet your needs. Our wide variety of custom designs offer you made-to-measure furniture for functional wardrobe interiors of the highest quality.