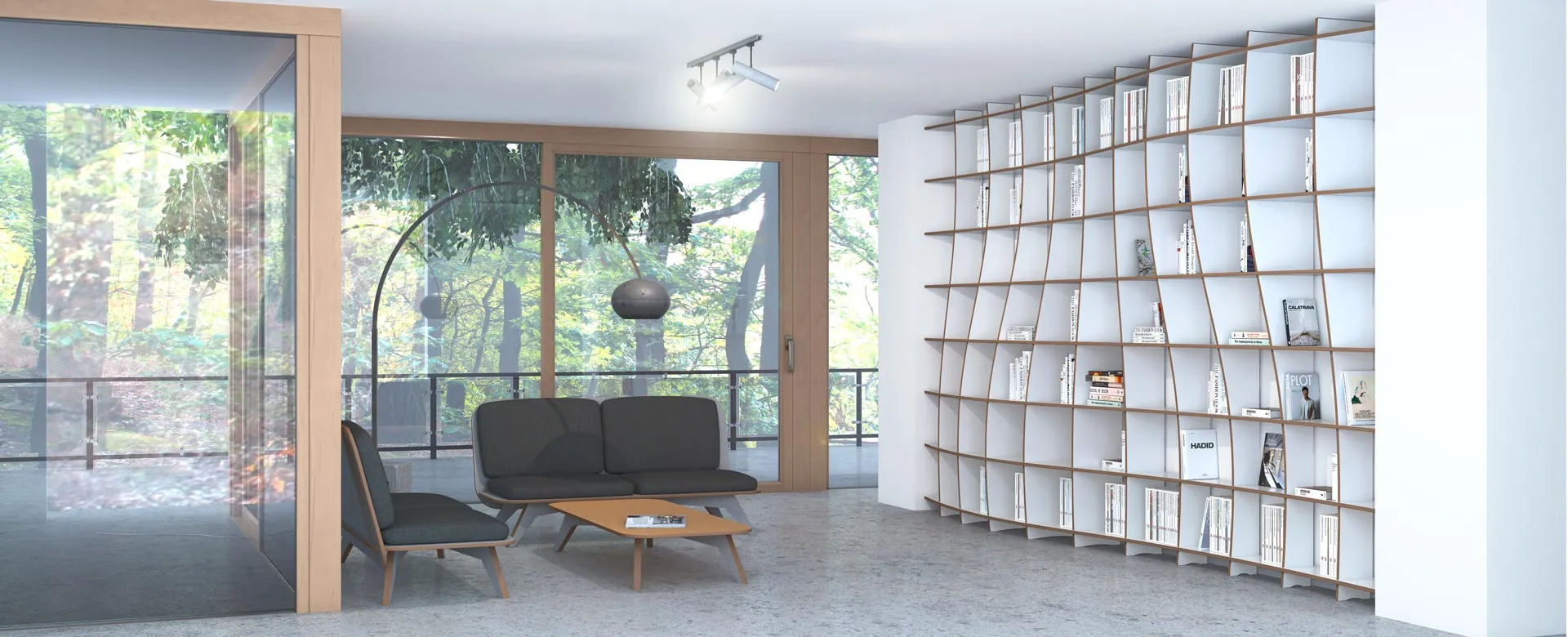 Set up home library
Books are among our best friends. In the history of mankind, there have never been so many different kinds of books. When we speak of a library, we often associate the idea of an old-fashioned place with leather-bound books and uncomfortable furniture. However, home libraries offer much more and can be a dynamic expression of their owner's personality. Most bookworms dream of having a space where they can immerse themselves in another world with a good book. More and more people are building or adding an additional room where they can file and store their books. Since these rooms are very personal, much of the design and sorting depends on individual taste.
The home library of your dreams
However, there are some tips you can use to ensure that your home library, without compromising its aesthetics, functions at its best. Before you start building your own home library, do a little planning before you get started. While there is no right or wrong way to design a library, some questions can seem overwhelming, especially for people who own a lot of books. How do I organize? How do I get everything to fit?
In unserem Ratgeber wollen wir dir ein paar hilfreiche Hinweise dafür geben, wie du deine Traum-Bibliothek herrichten kannst.
What kind of home library should it be?
Functional - Aesthetic - Curved design?
First, you should figure out how much budget you have. Building a home library on a small budget is definitely doable, but it requires good planning and a willingness to compromise. Write down a list of priorities. Which purchases are really necessary and which are more optional? Do I simply need storage space for books or a complete cozy reading nook? Do I value long-lasting quality or can I set up a new home library every few years?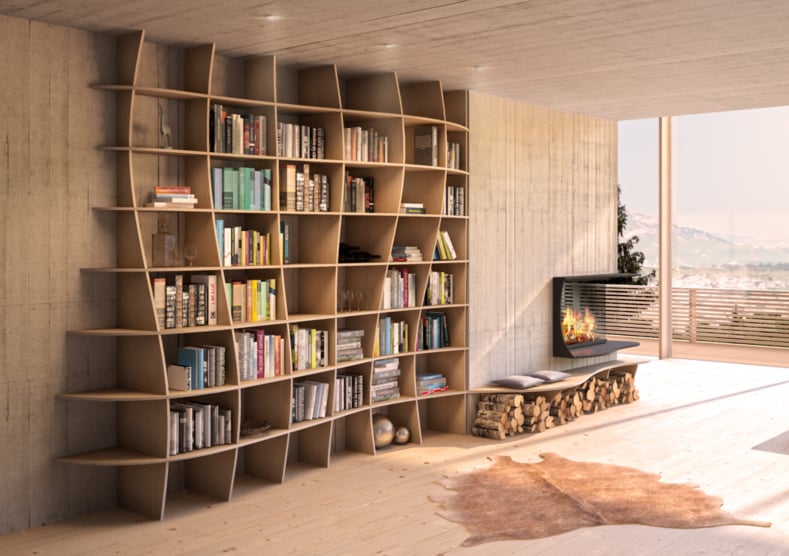 Types of furniture for home libraries
Second, you should consider the type of shelving you want your book collection to sit on. Would you rather have one large cabinet or many small sideboards? Something affordable and purely functional? Or should it also be chic and aesthetic? form.bar provides you with a combination that exudes design and subconsciously creates a sense of well-being.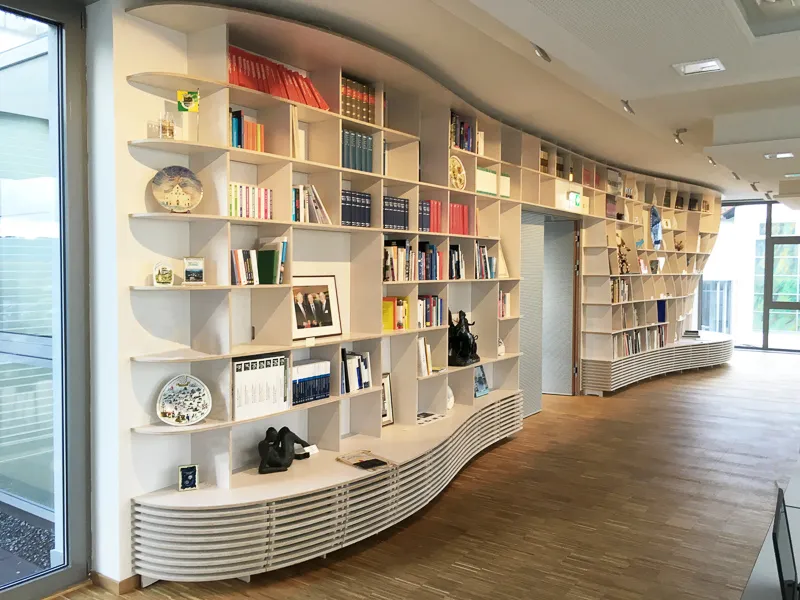 How many books need to be stowed?
Third, how many books do you want to store? Paperbacks generally take up less space and weight than hardcovers. It's best to go through your collection and think about what makes the most sense. To do this, simply see how many books can fit on the width of a single shelf, then multiply by the number of shelves to get an idea of how many books can be stored in a cassette. Numerous online portals offer free photo galleries where you can get additional inspiration for your home library.
Keep an eye on the weight of the books
As we know, books can be very heavy, which can put a lot of stress on the shelves of the shelves, as well as the floors. Therefore, make sure that they can fully support the weight of the bookshelves and their load. This is especially important if you have a large amount of books. If you are unsure whether the cabinet as well as the floor can withstand the load of your home library, consult an expert for safety.
Where should the home library be built?
Find the right place
After you've addressed the above questions, it's time to choose the best location. Home libraries are generally not dark, purely academic spaces. However, not everyone can dedicate an entire room to this project. That's why it's common to find creative ways to make the most of the space you have available, or even to rearrange it. One tip is to keep the books where they are most useful. That is, cookbooks belong in the kitchen or pantry, novels to read before bedtime fit in the bedroom or home reading nook, craft and hobby books go where that activity takes place, and so on.
Creative home library
Often, a smaller reading corner can be carved out of a previously unused space. This is a result of the dimensional use of your living space. If you don't have enough space to put all your books in one place, use the height of your room. Floor-to-ceiling shelves are an ideal solution here. Furniture for under a window seat, or a table with shelves can also be very helpful. Therefore, check even the smallest spaces for their home library suitability.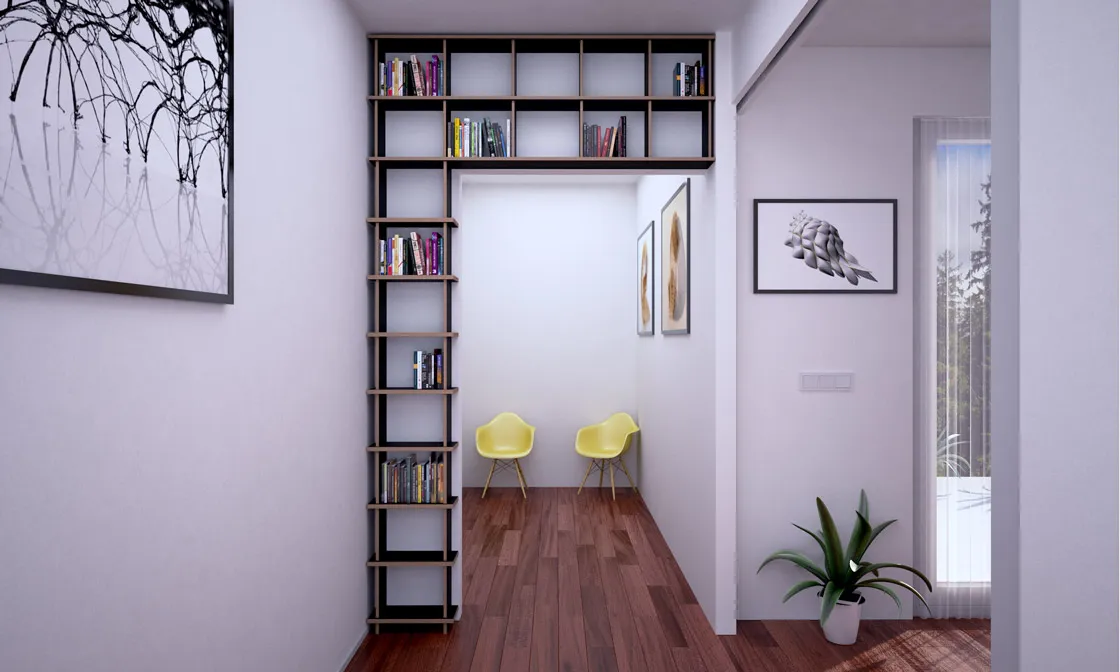 Home library and stairs
For example, if you have stairs whose landing is large enough, this space can also be turned into a home library. A plus: This helps dampen the acoustics of an otherwise empty, vaulted room. You can also turn a wider-than-average hallway into a home library of sorts by adding bookshelves on either side. Floor-to-ceiling shelves are great, but using the half-wall adjacent to a staircase is also a sensible use of space. Even without vaulted ceilings, the top or second section of a room is often wasted space, so it's great to add wall shelving.
Home library and doors
Where space and architecture allow, even the front or back of an interior door can serve as a surface option. To do this, build the shelves on one side of the door and reinforce the hinge so that it is sturdy enough for the weight. Don't forget about the space above the door, which provides additional storage. Keep in mind that while reading in a room with large windows and plenty of light is refreshing, storing books in natural light is harmful to our printed materials. Moisture-laden attics and basements cause mold and attract insects. In addition, basements are prone to flooding - not places for valuable collectibles.
Modern home library
Once you've found the place where you want your library to take form, it's time to look at the materials and design of the cabinets. Floor-to-ceiling shelving or built-ins are the traditional choice. However, homeowners are getting more creative these days. Find design inspiration that works for your unique space at form.bar.
Choose the right furniture for your home library
Shelves, sideboards or closed cabinets?
Now we come to the bookshelves. Especially here, creative models provide more space and that certain something. Built-in bookshelves allow for floor-to-ceiling storage and space saving. They can be installed under stairs or other hidden places. However, they are not always a good choice for renters and can be a large investment in terms of price and installation. Freestanding bookshelves are available in a variety of sizes, colors and price ranges. You can also mount hanging bookshelves on the wall or buy showcases. This may be preferable if your collection includes antique books.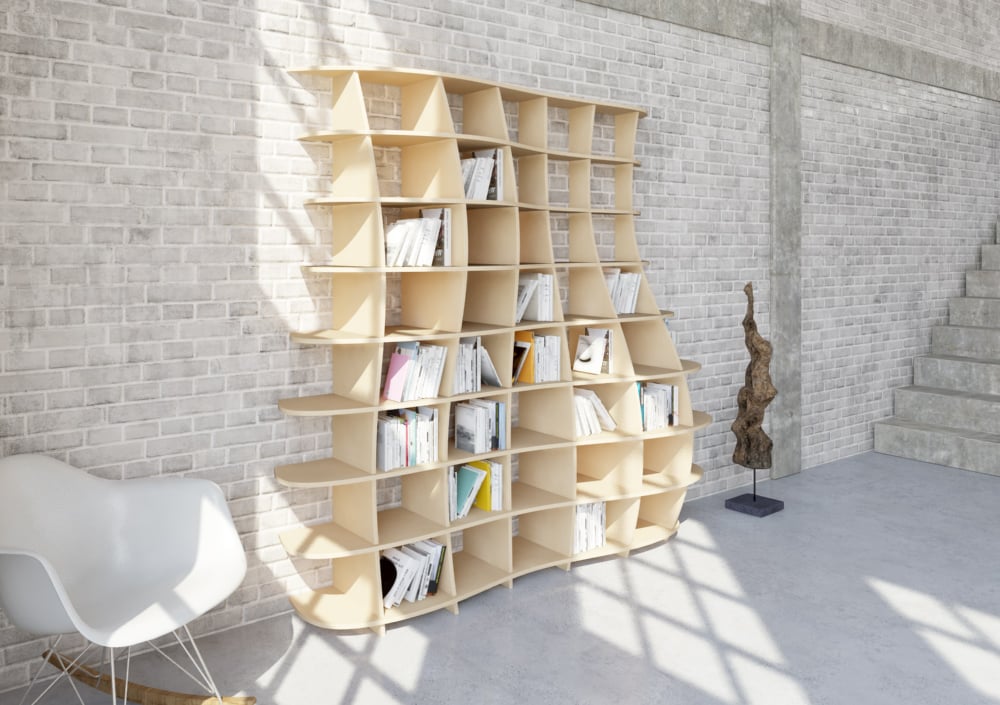 Sagging is the main threat to bookshelves. A bookcase with a length of 91 cm should be at least 2.5 cm thick. If it's longer, it should be thicker so it doesn't sink under the weight. A tip to maximize shelf space is to use adjustable bookshelves so that very small books do not take up space that is better suited for larger books on the coffee table.
When designing your home library, also pay attention to the empty space in the room. Some benefit from having one or two empty or very sparsely decorated shelves. This breaks up the visual mass of the book spines.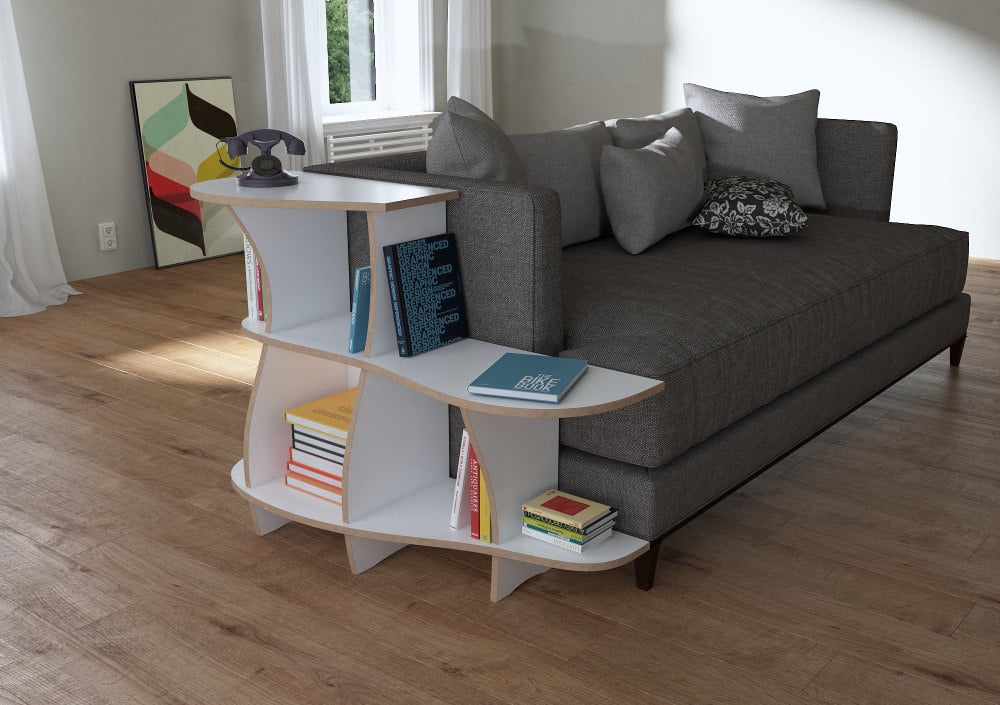 Organize your home library books
Melvil Dewey is known for his organization system for classifying literary works for libraries. The Dewey Decimal Classification has ten comprehensive categories for organizing books. Each category is assigned a number. But there are many other classification systems. No matter which system you choose, a good organization system will help you quickly find the book you want in your home library. Here are some other suggestions for organizing a collection:
Alphabetization by author works well for fiction, but not necessarily for nonfiction.
Try sorting into fiction and non-fiction.

Fiction can be divided by genre - romance, crime, science fiction, fantasy, etc. - and then alphabetized by author. Non-fiction can be organized into categories such as history, biographies, art, and more. These sections can in turn be structured by subject: For example, art books can be divided into subsections such as Impressionism and expressionism.

Sorting by cover color can be particularly aesthetically pleasing.

This strategy helps against a cluttered look and creates a neat and bright decor. This option comes into its own especially with white bookshelves, because they highlight the colors and make everything look fresh.

Chronological organization is very interesting

Sorting chronologically by the year the book was purchased can show the progression and development of your life - from beloved childhood books to college literature to books for parents.

Also popular is the division into: read and unread.

Keep unread books at the forefront of your collection as well as the books you use frequently, such as reference books or favorite novels.

Organize your collection electronically

Numerous online and software programs help you inventory your collection and bring your home library into the age of digitization. Organizing your collection electronically makes it especially easy to keep records of holdings or quickly replace books in the event of loss.
There is no right or wrong way to organize books, especially since no sorting system is set in stone and can therefore be reorganized. Be inspired by the different sorting systems and try around until you find something that works well for you.
We plan your home library for you
Get your designer furnishings designed by our professional team of designers.
To the design service
Arrange the right seating arrangement of your reading corner
Would you like a little Feng Shui?
After choosing the best location, the next important part of a home library is the right seating. There's nothing quite like curling up in a comfortable chair with a good book or sprawling out on the sofa. Therefore, it makes sense to incorporate inviting seating into your home library. It's recommended that you keep your home library furniture neutral so that the spines of your books can stand out all the more.
Generally speaking, there are very few hard and fast rules here - whether your space holds just a single chair or an entire seating area, it should be comfortable. Once you have your seating in place, designing a proper layout is the next step. Of all the seating arrangements in your home, this one should feel particularly inviting. When doing this, try to arrange each seating arrangement at a slight angle to each other to bring a casual and calming atmosphere to the room. Sofas and armchairs can also be positioned in the center of the room.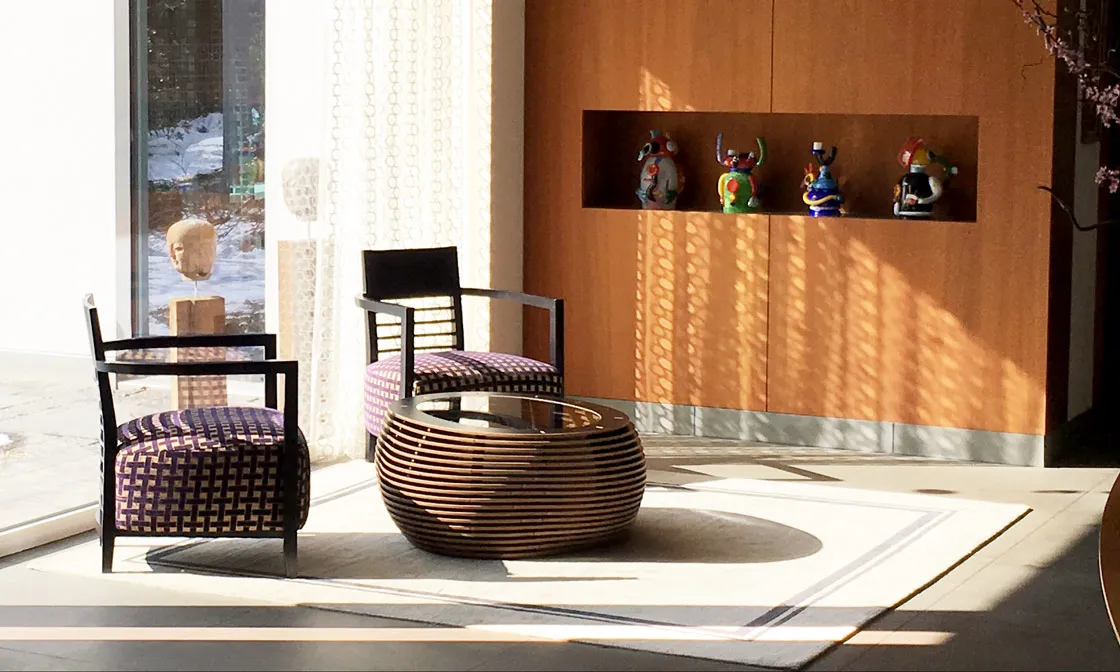 Make sure you have the right lighting in your home library
Proper lighting plays an important role in any room of the house. Of course, the lighting of your home library largely depends on your own style and the room itself. However, it is especially important in a library, as it not only serves aesthetic purposes, but also protects the health of your eyes. Providing an appropriate lighting scheme, as well as the right type of light, is crucial to the functionality and aesthetics of a home library.
First, check your existing lighting. Ambient and task lighting is most important here. When choosing lighting, look for a lamp that allows you to read the smallest text easily. The lamp should be positioned over your shoulder so the light doesn't shine directly into your eyes. Positioning it this way also helps minimize glare. Your lamp should be brighter than the rest of the room, but not much brighter. Make sure there is one light source directly above or next to each seat in your seating area. Also, make sure you have the right light temperature: daylights in the 5,000°K to 6,500°K range are the best choice for reading.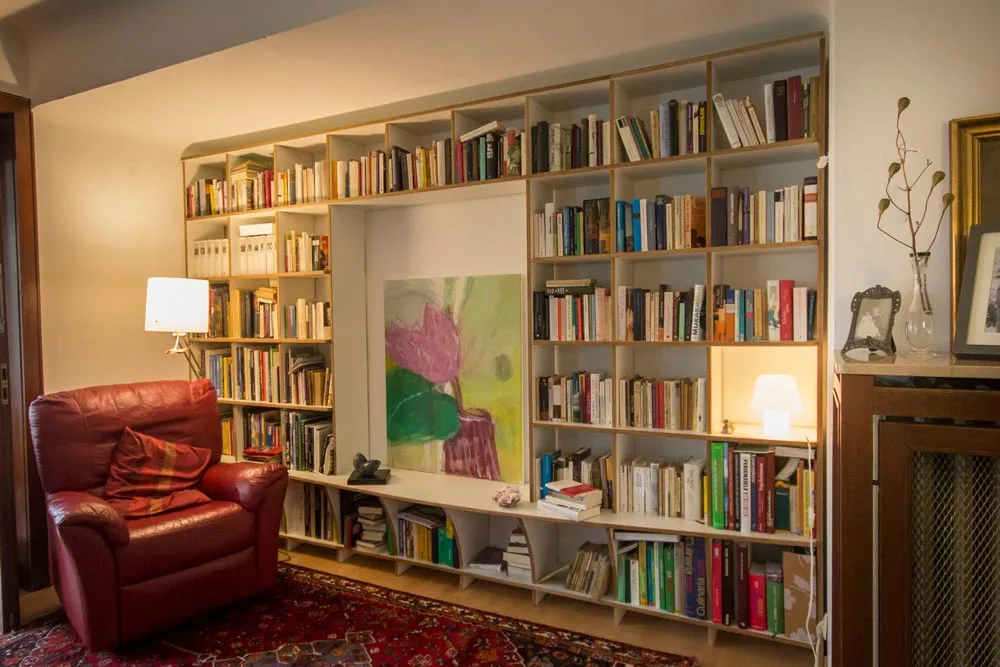 Make your reading oasis cozy
The final component of a home library is coziness, because after all, this place is supposed to be a retreat for rest and relaxation. Your final product needs to feel like a place where you'd love to spend hours relaxing with a good book. Fresh flowers, an upholstered armchair and a rug - these are just a few of the many details you can beautifully incorporate into your home library.
Using textiles in particular is a great option to add a level of comfort to the room. For example, you can ground the room with a nice, soft rug. Then add a few pillows to each chair or sofa in your seating arrangement. Whether it's a piece of wall art or a specific decorative object, all of these elements add a personalized touch to your home library.
Sometimes you don't want the books to be visible at all times, as they can make a space look too crowded. In this case, a floor-length curtain hung from the ceiling is recommended to keep the books easily accessible while keeping them well hidden. Also conceivable but more costly are doors, flaps as well as drawers for lockable compartments of your bookshelves.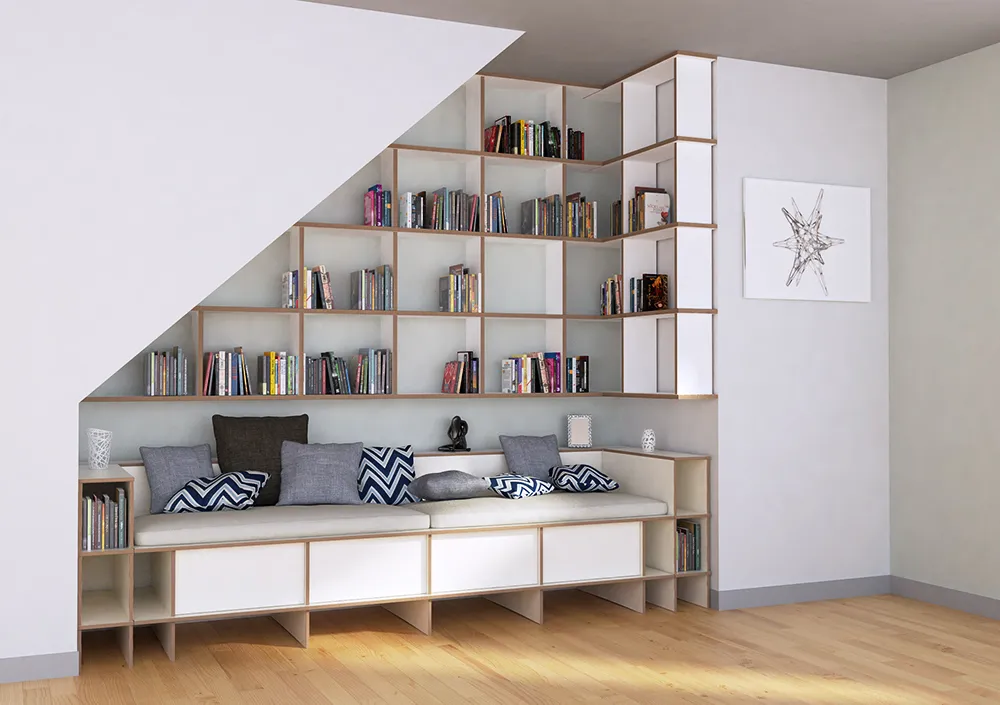 Deco and accessories for your home library
A ladder as a tool and decor
If your bookshelves are piling up against the wall, you may need a library ladder to reach them. While any step stool or ladder will do, rolling library ladders add an elegant touch. Ladders are attached to the shelf by a track bar, and the bottom of the ladder has wheels so you can move effortlessly from one end of the library to the other.
Consider how you will use the space if other library furniture is to be added. If you want to write and take notes on what you read, maybe you need a desk or folding table? Desks and bookshelves are also helpful for reading large volumes that are too heavy to hold comfortably.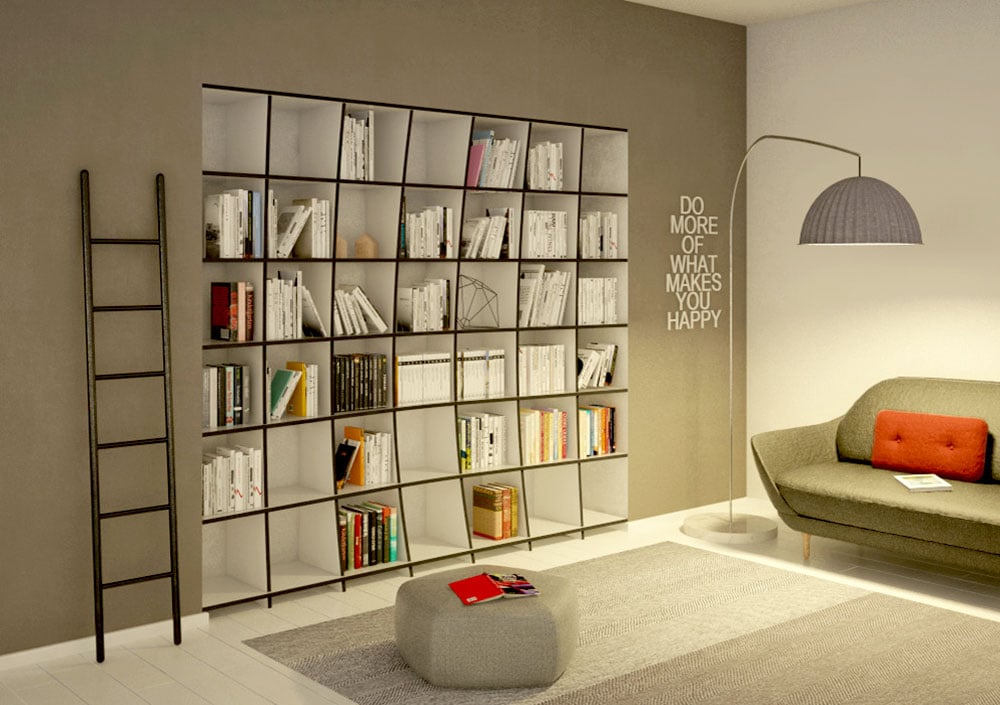 Tips for decorating bookshelves
Bookshelves are more than storage places for books. Only in combination with various accessories they become true highlights of a room. Often less is more, because not all shelves or compartments need to be filled with books or decorations. Playing with empty spaces adds dynamism to any collection. Here are some tips for decorating bookshelves:
Open shelves are practical in almost any room, because they help to keep everything neatly organized and within reach. One variation is to reserve a single shelf or a specific area on a wall unit just for books. Deep bookshelves have the advantage of allowing you to play with layers. To decorate the bookshelf, place a few small pieces of art in the front of the shelves to give them more depth.
Keep a clean look by choosing a solid or matching color scheme for vases and figurines. Go wild with the arrangement and keep checking how the overall look works. Play with different positions and forms of the objects. Place the selected objects between the books to create a loose symmetry. If you have a picture frame or square form on a shelf, mirror it with a collectible of similar form and size on the opposite side.
Use your decor as a bookend. Eye-catching accessories and picture frames are great for this. Bookends go well with paperbacks and slimmer books that are less likely to stay upright. To make the book collection more interesting, stack the books alternately horizontally and vertically. You can also achieve special effects by arranging the top and bottom shelves in opposite order. Vary the height of each stack of books to create an eye-catching effect. Vertical books can also serve as platforms for other objects such as small potted plants. If you don't have many books, you can fill the empty spaces with other things like vases, plants and photos.
Use holders and boxes for more organization and visual highlights. Slide magazine holders into open shelves to hold loose papers. Storage boxes hide clutter and can look more exciting in a bold color.
If the spines of the books do not visually match the bookshelf, painting the furniture can remedy the situation and provide the appropriate style. To emphasize the color even more, choose a single contrasting tone.
Books do not necessarily have to stay on the shelves and can be used as decor themselves, strategically positioning them in various places in the room. There are no limits to creativity here.
Pay attention to the right book care
Home libraries mean responsibility
As mentioned above, light can damage books. Natural light is the most dangerous. If your library has windows, draw the blinds or curtains to prevent light damage. Limiting light intensity and exposure time will help preserve your books. Depending on where you store your books, other dangers lurk, such as insects, rodents, mold, and moisture.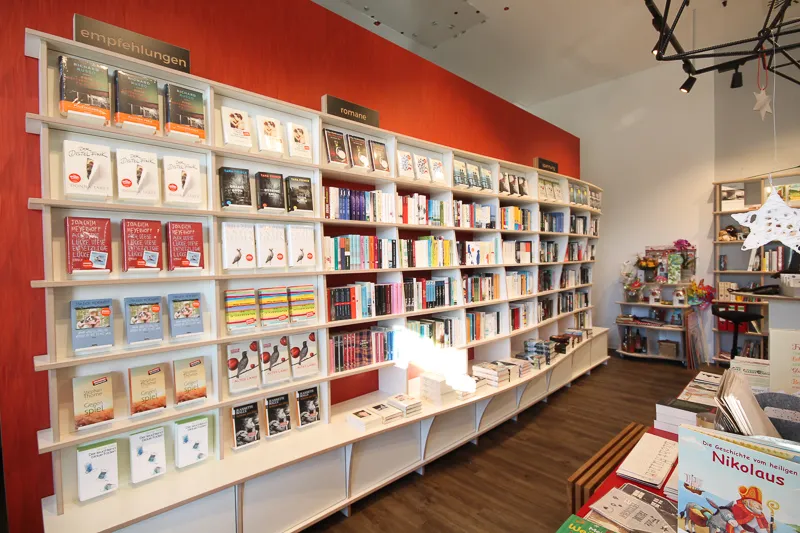 Some insects love books. Silverfish like to feed on the glue and paper. Cockroaches leave a telltale brown liquid on the pages of a book if they haven't devoured paper and book bindings. Bookworms literally eat the pages and lay eggs inside. Book lice thrive in dark, dusty corners where they can eat book paste, glue, and fungus. Termites are attracted to wooden bookshelves and also find delicious paper there.
If you have found an infestation, isolate the affected books. In some cases, sealing the books in plastic bags and freezing them will help kill the insects. Keep your library free of excess moisture and dust to prevent insect and vermin attacks. Controlling moisture and dust doesn't just keep book bugs away, however. Humidity also promotes the growth of fungi and mold. Mold develops at temperatures above 21°C and a relative humidity of 65%. Dehumidifiers suck excess moisture out of the air, which can otherwise lead to loose bindings, stains and mold. In contrast, too little moisture can dry out books. So use a humidifier during the drier winter months. Dust is also a magnet for moisture and mildew. Therefore, if you dust the tops of books regularly, they will stay clean. In addition to a humidifier, a fan can help keep the library well ventilated.
Books should not be stored near radiators. Also, extreme heat can damage them. When heat occurs in a room with low humidity, the fibers in books dehydrate and make the pages brittle. Heat, combined with high humidity, creates ideal growing conditions for mold. Therefore, air conditioners and fans are a good way to keep the temperature down. Even if pests don't get to it, dust is always a problem. Regular cleaning will keep dust and pests away. Remove books before cleaning a shelf with a soft cloth and some polish. Wipe them down with a clean microfiber cloth or vacuum them.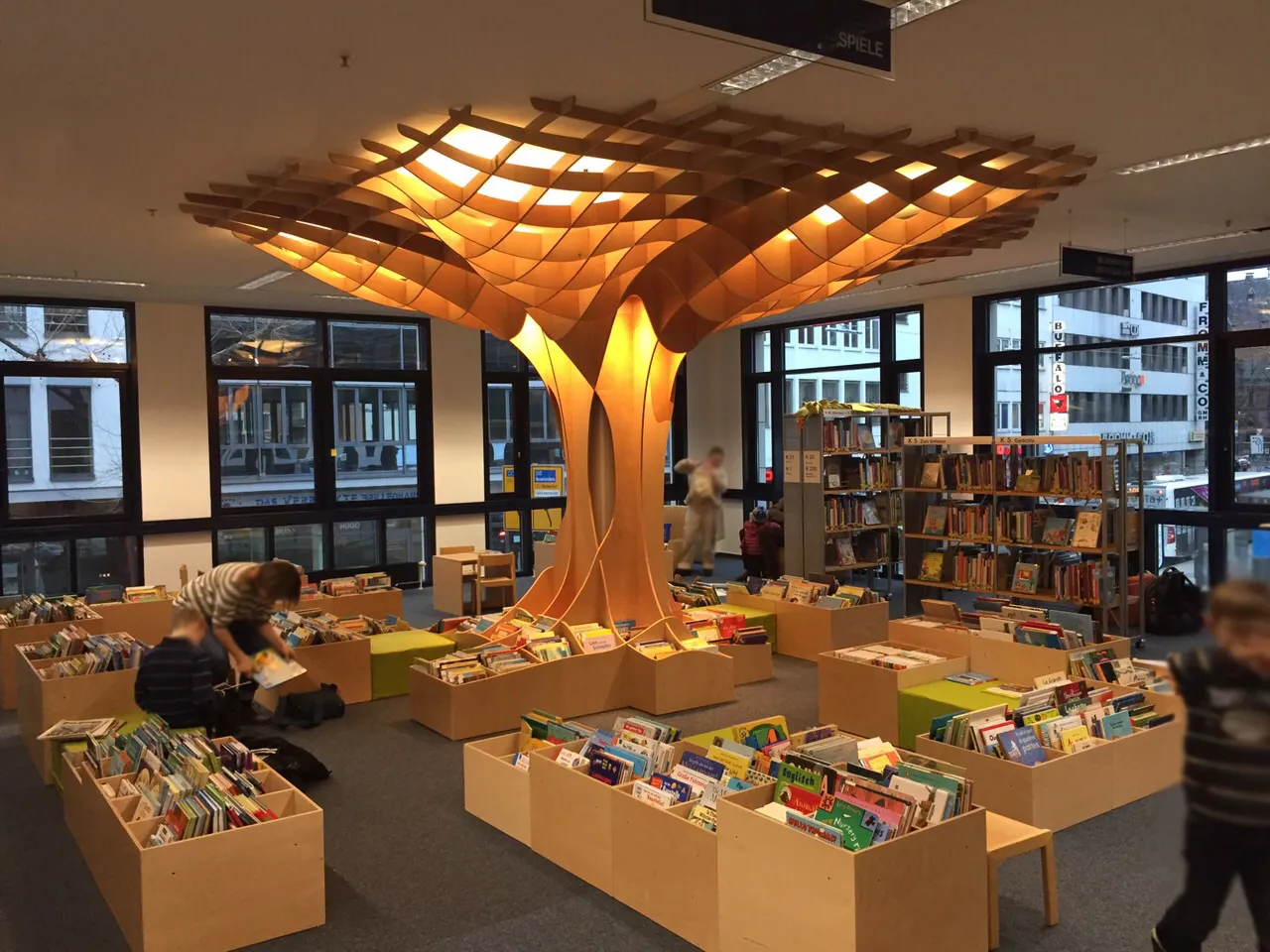 Alternative shelf ideas
Furniture made to measure from the carpenter or DIY solutions
There are many creative ways to find shelves to store your books with unconventional and cheap options.
Multimedia shelves designed for DVDs and Blu-rays can store many paperbacks or smaller books. These shelves are usually much cheaper than a bookcase. Some inexpensive bookcase models also have glass doors that can be used to display the collection while protecting it from dust. An inexpensive bathroom shelf can also provide a suitable remedy and is ideal for integrating into narrow spaces. Free-hanging installations such as nets or wall shelves offer another cost-effective option. These options freshen up the space and add volume to your home library.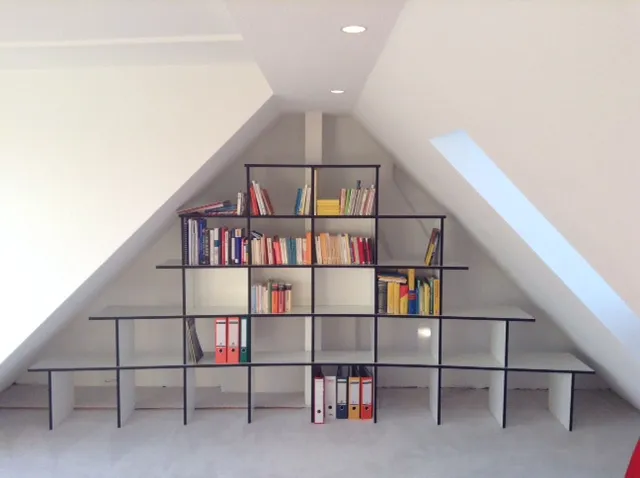 Motivate your children to read
Encourage children to develop good reading habits by also setting up a miniature home library for them, for example in each child's bedroom. In fact, some studies show that the presence of books in the home has as great an impact on children's future educational attainment as their parents' employment and educational attainment.