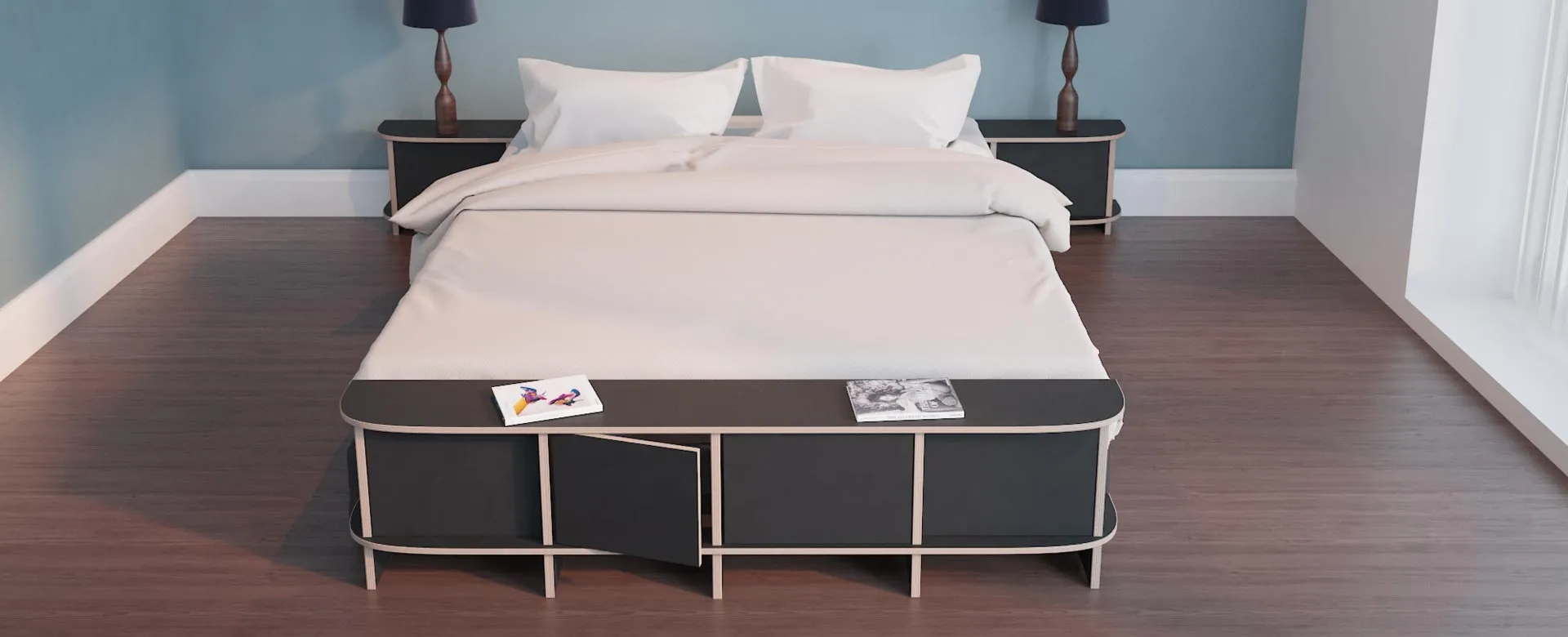 Feng shui in the bedroom
for relaxation and harmony
Since we spend a lot of time in our lives in the bedroom, it is important to create an individual space in which you can feel completely comfortable and which has a calming effect on you. To ensure a deep and relaxing night's rest, you should decorate your bedroom according to Feng Shui. Of course, the room must also meet the functional requirements, so you can put everything you need in your bedroom.
Highlights of form.bar for your Feng Shui bedroom
Choose your favorite design and customize it
Furnishing according to Feng Shui
To help you with the Feng Shui bedroom furnishings, we will give you valuable tips for Feng Shui sleeping and provide useful living ideas for your new furnishings. It makes sense to create a Feng Shui bedroom plan at the beginning, as you imagine your dream bedroom. Then you should proceed step by step to implement your wishes. We show you some fancy furniture from our online store and tell you which color combinations are most favorable for the Feng Shui bedroom. Find inspiration on our inspiration page and convince yourself of the many possibilities!
The appropriate position of the bed for best feng shui
The right bed position plays a big role in feng shui. In the following guide, we will give you some tips on how to create a relaxed and comfortable atmosphere with the right positioning of your bed, which will ensure a deep and restful sleep.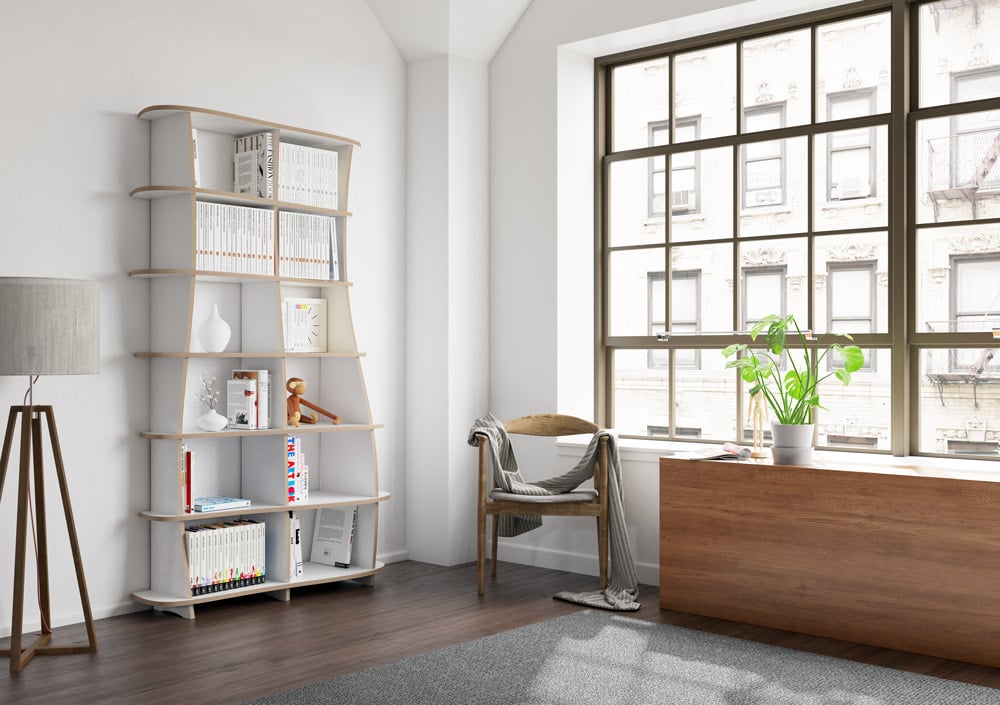 The head end should extend to a solid wall
According to Feng Shui, your bed should be placed with the head end against a solid wall or have a solid headboard, as this symbolizes protection and safety for us. Unsuitable is the positioning of the bed directly under a window.
Do not sleep under heavy objects or ceiling beams!
You should avoid heavy wall pictures, wall shelves or wall cabinets above the headboard, as this can be oppressive for most people and thus interfere with sleep. If there are ceiling beams in your room, you should not place your bed directly underneath them. This is because they can also be oppressive and have an impact on your sleep.
Avoid Qi draught
Your bed should ideally not be in the door line. The position between the door and the window is also extremely unfavorable. This is because a so-called "Qi draught" can occur between opposing windows or doors, which can have a negative effect on your sleep. For this purpose, the foot end of the bed should not directly face the door.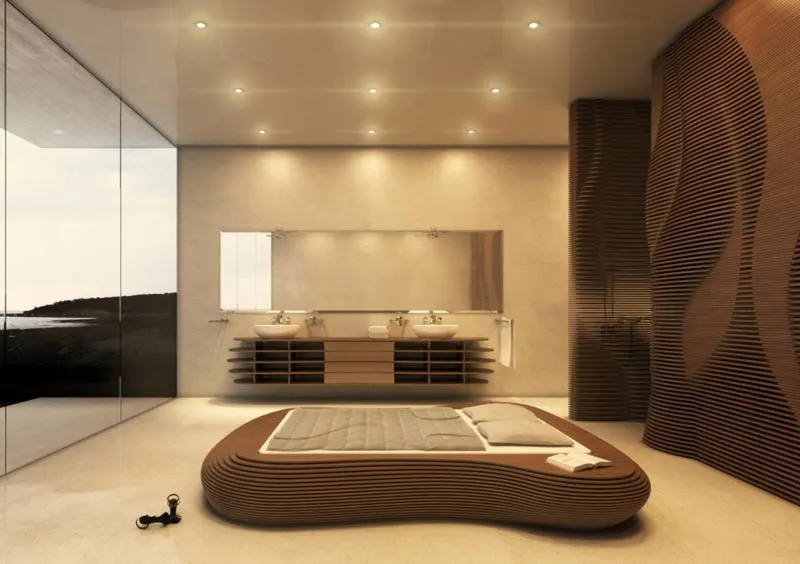 Clear view for a safe feeling
Rather bad is the positioning of the bed directly under a window. It is better to have the window directly in view, so that you can look at nice weather when you get up in the morning. In addition, the view from the bed to the door provides a feeling of inner security. A view of the door and window leads to a visual control over the entire bedroom.
The appropriate cardinal direction for better Feng Shui
It is important to make sure that you sleep in a direction that is favorable for you. Your sleeping direction can be easily calculated with the east-west system. With this classic Feng Shui method, you can easily find your suitable Feng Shui bedroom bed cardinal direction even as a layman. The people who belong to the west group should have their head towards the west, northwest, northeast or southwest. For people who belong to the East group, the ideal orientation is towards the north, east, south or southeast. Important for a pleasant sleep is also the selection of the appropriate mattresses.
Design according to Feng Shui
Here you will learn how to furnish or redesign your bedroom with the help of Feng Shui, in order to ultimately obtain a room for sleeping with a relaxed feel-good climate that ensures restful sleep.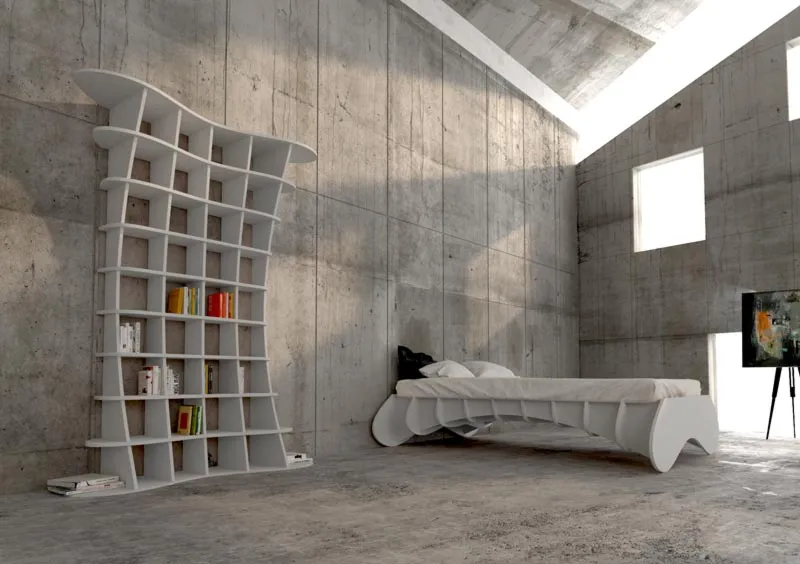 Maintain clear view and order
Basically, for every bedroom, tidiness and cleanliness are essential for a pleasant and relaxed atmosphere. Therefore, there should be no chaos in your bedroom. In the morning, when you're stressed out looking for clothes, a little chaos can quickly ensue. Modern closets with a system of organization can help. You can put them together according to your needs and get enough storage space for all your clothes. However, even a modern closet does not tidy up by itself. Regular cleaning out is also necessary to keep order and to get rid of unnecessary ballast. Also, your bedroom should not be overloaded with furniture or home accessories, to keep a clear view.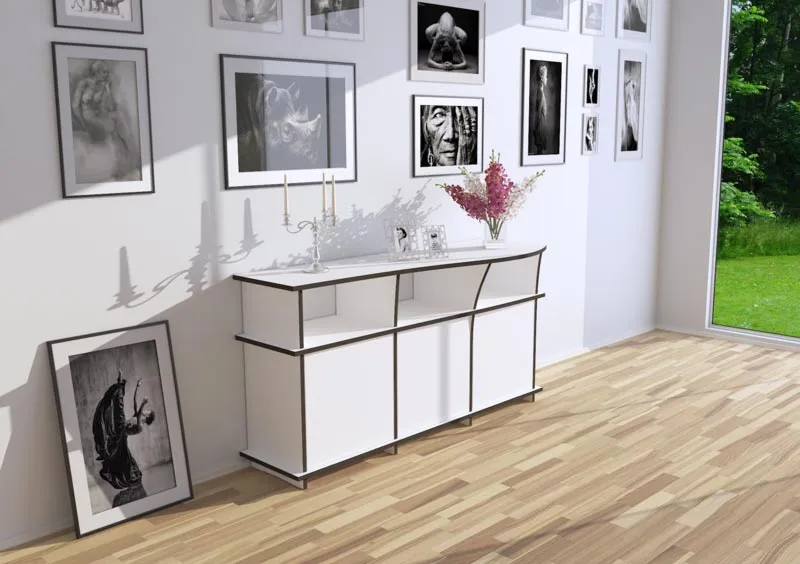 Avoidance of the yang qi
If there is a Feng Shui mirror in the bedroom, it should not be opposite your bed. Since it reflects, it causes too much yang qi. Also with Feng Shui houseplants you should pay attention that they are not too big. Because this leads to a restless atmosphere, as too much "activity" is generated, which can also prevent a peaceful sleep. The same applies to large Feng Shui indoor fountains.
Accessories and Symbols
To complete the overall picture in your bedroom you can use accessories and symbols. If you live in a partnership, you can use accessories that strengthen your relationship and convey duality. These can be, for example, photos of beautiful moments together, such as the wedding or the vacation and all objects that invoke positive memories and connect. In Feng Shui furnishings, it is assumed that mirrors exude a restless atmosphere, which is why it is better to do without them in the bedroom.
Atmosphere to feel good
Design yourself with form.bar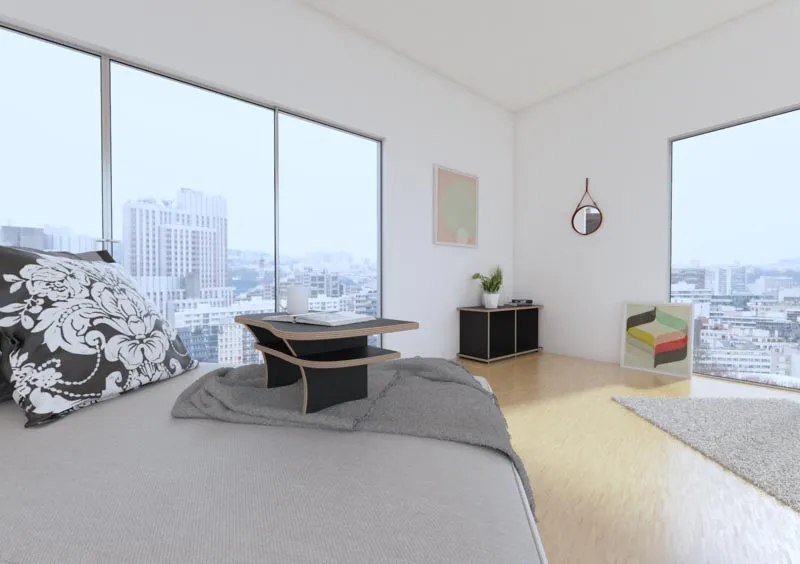 Feng Shui bedroom is clearly a place for relaxation. It is all the more important that this room exudes a balanced atmosphere of well-being and relaxation.
Basically, your Feng Shui bedroom should always be tidy, just like your Feng Shui living room. For example, things like a laptop belong in the study, the ironing board in suitable storage rooms and the TV in the living room. Because if you always see the "work" or distraction in front of you, you can not come to rest. You should also avoid hard materials and angular furniture in your Feng Shui room. We at form.bar offer you made-to-measure furniture that can be adapted to your room situation with millimeter precision. Whether Regale, commodes, sideboards or room dividers - they can be freely configured according to form and color, so that they fit perfectly with your home decor. So if you want to do without angular furniture due to Feng Shui, you can get modern, curved furniture from us as an alternative modern, curved furniture that will make your Feng Shui bedroom something special!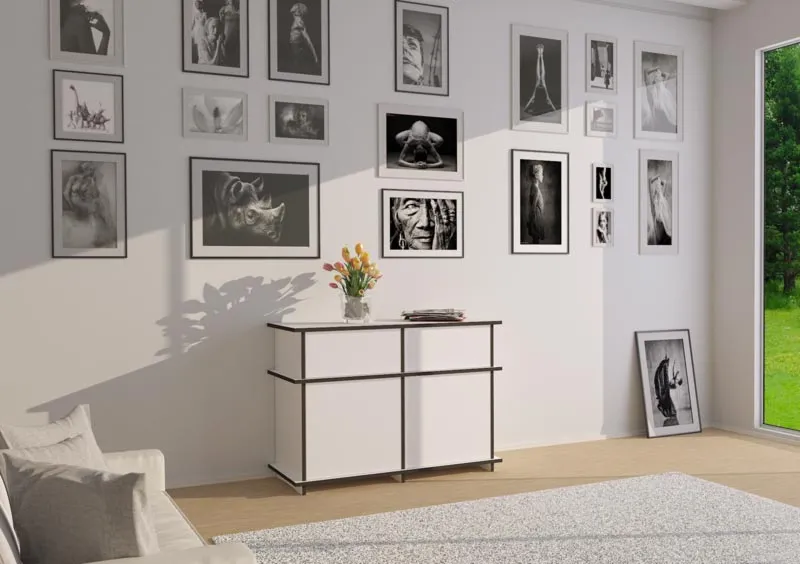 Symmetrical arrangement of furniture
The proper placement of your furniture, especially the bed, is especially important in a feng shui bedroom for positive qi. Ideal is a placement of the bed diagonally opposite the bedroom door.
You should avoid dark ceilings or massive walls of cabinets, as they are oppressive and inhibit the flow of energy. For a bedroom in Feng Shui style, you should also only use furniture with doors or always keep your shelves in the bedroom neat and tidy or, if possible, leave nothing open. This ensures a clear flow of energy and is also more pleasing to the eye. In addition, the furniture arrangement should create a harmonious overall picture to create a place of relaxation. Try to avoid open cabinets and choose pieces of furniture that fit together and do not look restless.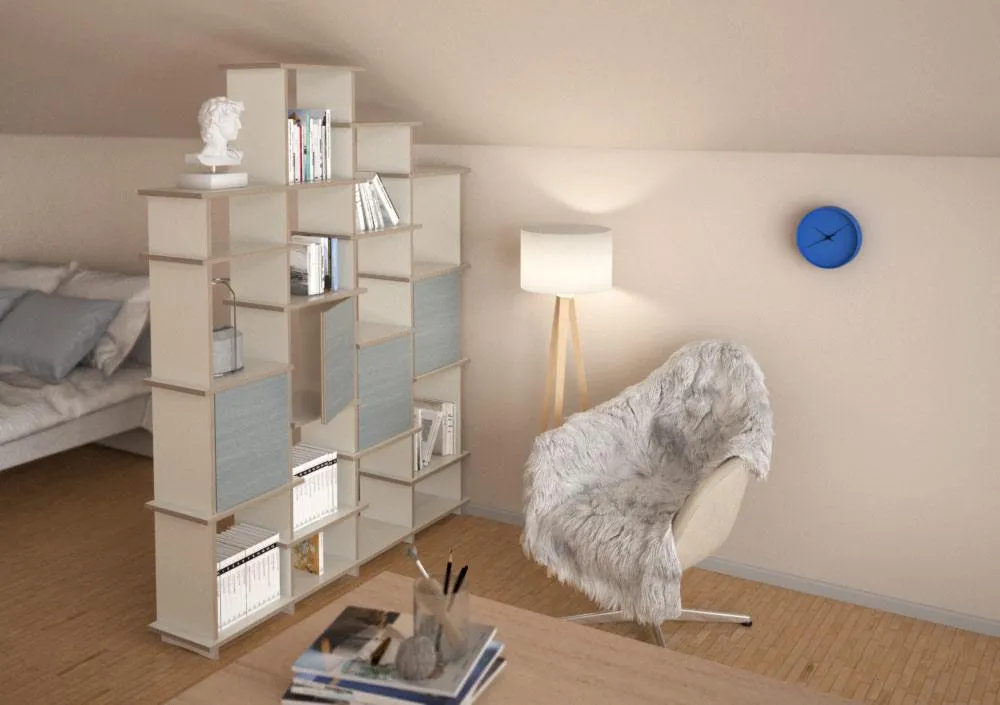 Adjustment to slopes
If you want to set up a Feng Shui bedroom that is located in the attic, you should pay attention to the positioning of your bed. Ideally, you should place it so that you can see out of the slope. This is because looking out of the bed towards the slope can create an oppressive feeling. Also, wall ledges with corners and sharp edges should not face the bed. If it cannot be avoided, these should be covered or rounded.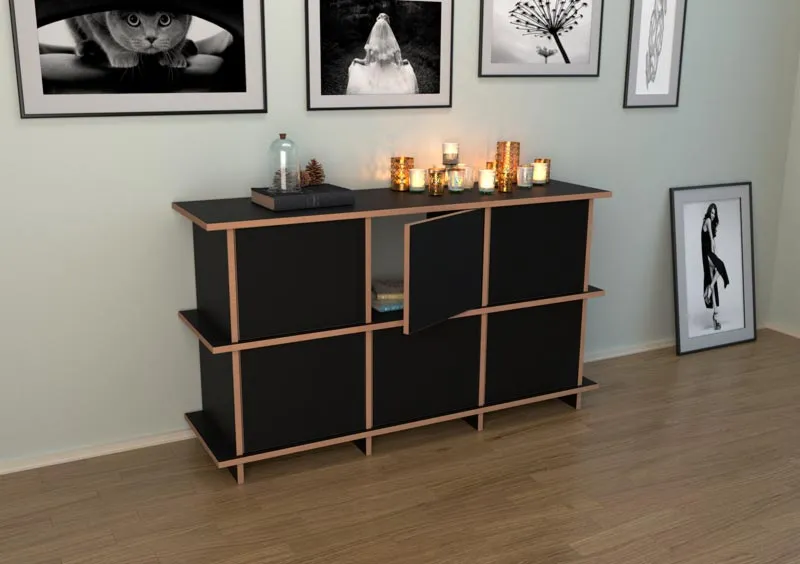 Relaxing light
During the day, it is important that enough daylight enters your feng shui bedroom to bring the chi with it. However, your bed should not be exactly illuminated by the sun, as this can lead to waking up early in the morning or even cause problems falling asleep. An orientation to your garden is ideal. This is because the plants and flowers bring you positive energy and lead to a positive yang qi. To protect your bedroom at night from disturbing light or prying eyes, you should use window blinds or curtains. This way you have the possibility to darken your bedroom at any time and thus take advantage of your night's rest. If you are more of a morning person, you should choose a room as your bedroom in the east. For evening people, on the other hand, a room facing west is more suitable.
We plan your Feng Shui bedroom for you
Get your Feng Shui bedroom designed by our professional team of designers.
To the design service
Feng-Shui colors
Colors play a special role in bedroom design according to Feng Shui. Basically, you should keep your Feng Shui bedroom colors rather soft. Bright, flashy colors like red, green or pink are rather out of place. Also too dark colors such as brown or dark gray have an unfavorable effect on the balance in the Feng Shui bedroom and cause unrest. Set rather on a neutral, cool color palette. This creates a relaxed feel-good environment and leads to restful sleep. Also make sure that your bedspread does not have a restless pattern or motif. In Feng Shui there is a schematic tool called Ba-Gua, which is used for the optimal design, division and use of your space. These different areas are called houses and represent for example friends, children, family, partnership, wealth or knowledge. In addition, each of these houses is still assigned an element such as earth, water, wood, fire and metal. If these are properly coordinated and you choose the appropriate Feng Shui bedroom colors, you can restore the balance of all areas of life.
Element earth colors
The element earth stands for fertility, growth, maturity and stability. It symbolizes the groundedness, reliability and security. Thus, the appropriate season is late summer and brings natural colors such as brown, yellow and orange tones as well as beige. They are connected with the houses knowledge as well as partnership. Gladly seen are materials such as clay, stone and ceramics. In addition, flat, lying, low and square or rectangular forms are particularly suitable.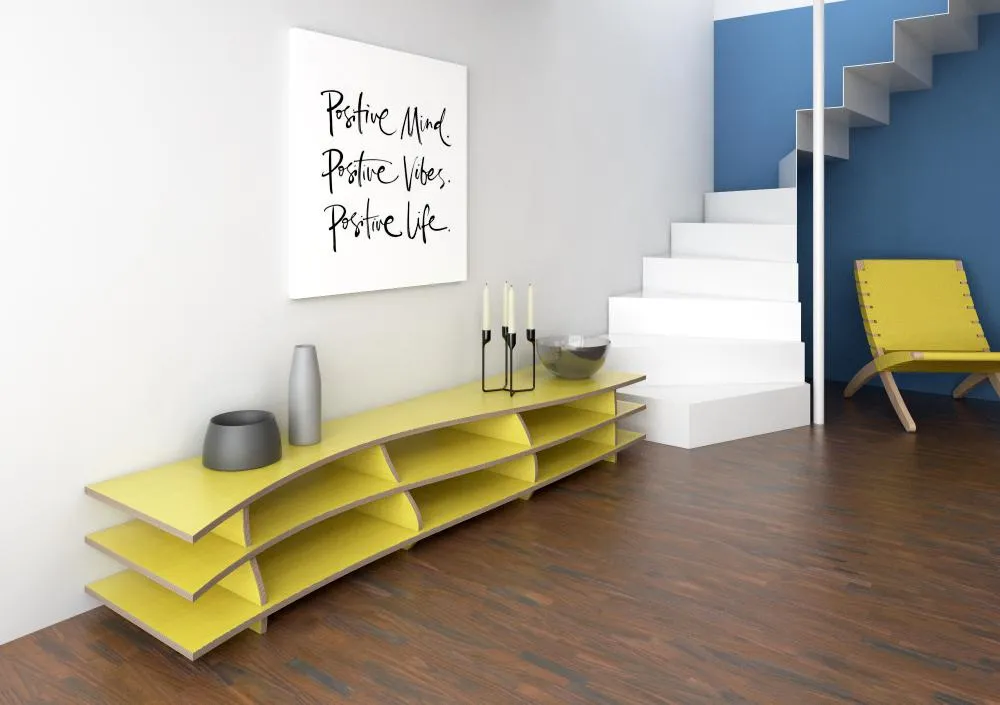 Element water colors
The element of water symbolizes winter and stands, among other things, for tranquility, exchange and mobility. Colors like blue have a calming effect and black radiates power and money. This element is one of the most powerful elements in Feng Shui and signals the path of life. To promote water energy, you should use flowing, irregular as well as wavy forms in the room. A nice example are wavy curtains, Feng Shui bedroom pictures of an ocean, a real aquarium with plants or a small fountain with water. Suitable materials are, for example, glass and also silk.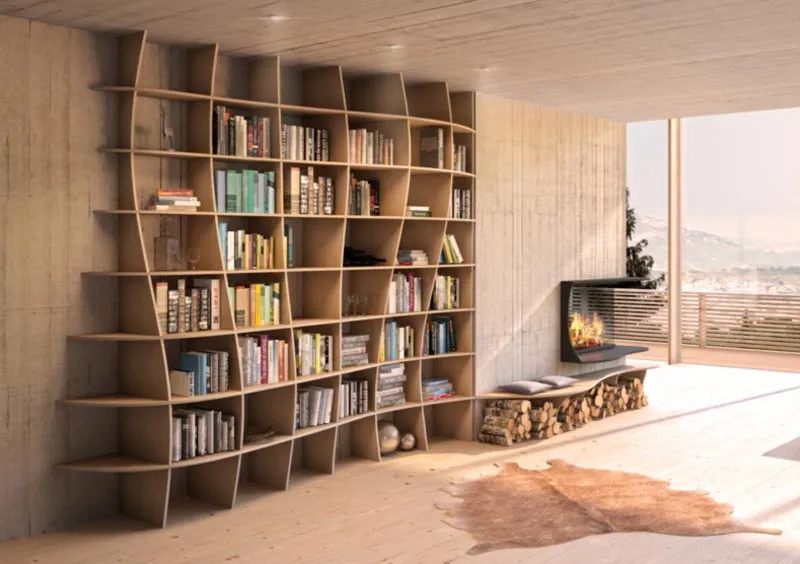 Element wood colors
This element represents life, development and growth, as wood grows upwards. It signals the spring and represents, in addition to yellow and blue , mainly the color green, which symbolizes hope, peace and balance.
The natural material is also very popular in home furnishings. Whether chic, modern or simple, thanks to the wide range on our form.bar page, you can now choose your perfect wooden shelf and configure it as needed. By inserting Feng Shui houseplants, you can additionally strengthen the element. You can also beautifully integrate wooden or wicker furniture or bamboo into your bedroom. In this element the houses are family and wealth. Suitable accessories are beautiful family photos or heirlooms!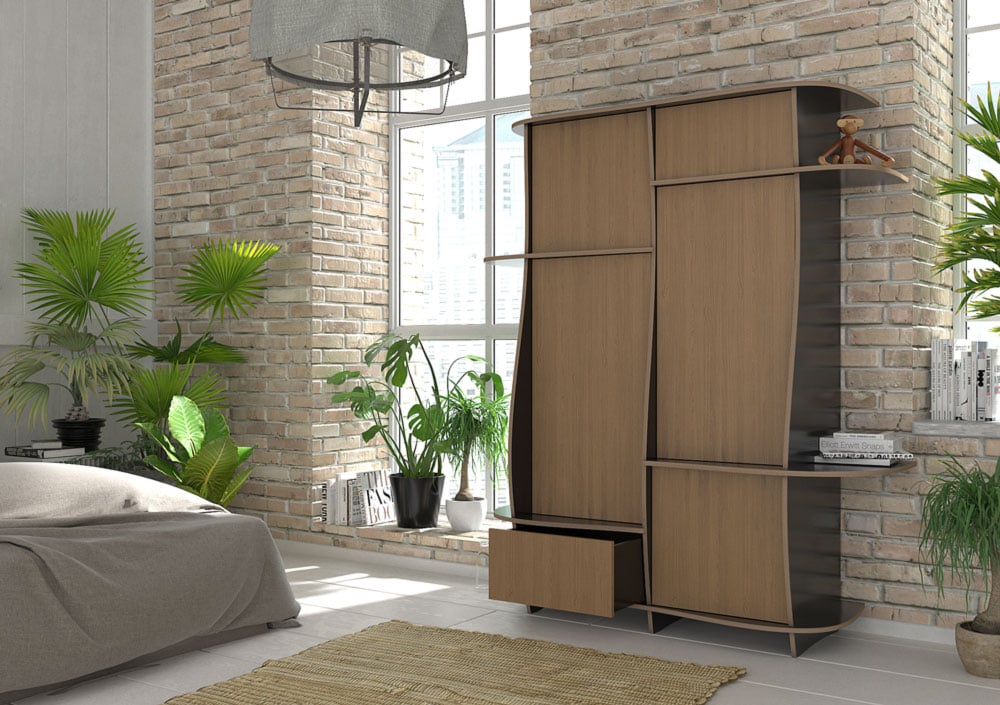 Element fire colors
Fire energy represents passion, warmth, joy and hatred, as well as dynamism. Colors like red and orange are the main colors here and symbolize passion, energy and joy. Red also stands for heat and is associated with the warmest season - summer. Purple tones are also best suited in this area. When choosing furniture, you should stick to particularly angular and pointed forms. Warm lights and especially candles and red accessories are very popular. To promote this energy, you should let as much daylight as possible into your room during the day. You should also choose wooden furniture, because wood feeds the fire.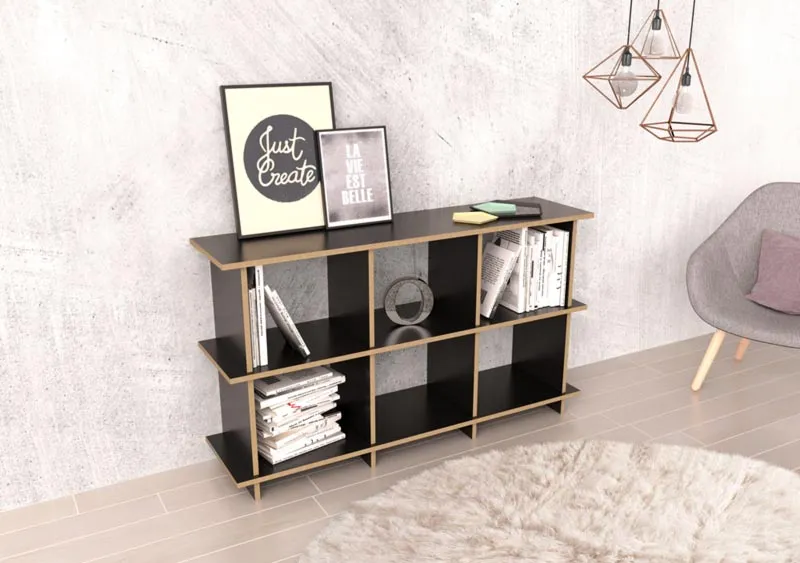 Element metal colors
The element metal is associated with friends and children and is assigned to autumn and the cardinal direction west. So your environment should be inviting, because the house of friends stands for protection and support. Suitable colors are for example white, which stands for innocence and purity, gray tones as well as gold (wealth) and silver (noble). Suitable are furnishings made of metal such as lamps made of copper, precious stones or even flowering plants. Earth elements with colors like ocher or brown are also optimal. Round and domed forms are also well suited. Whether matte or shiny accessories - let your taste decide.
Avoid voltage sources
To ensure a deep and restful night's sleep so that the feng shui can flow in the bedroom, you should consider a few things.
Relaxed environment
When setting up your feng shui bedroom, you should always avoid immediate distracting factors. For example, the wall chosen for the head of your bed should not contain regularly used water or heating pipes. This is because they can rush during the night and prevent you from getting a good night's sleep.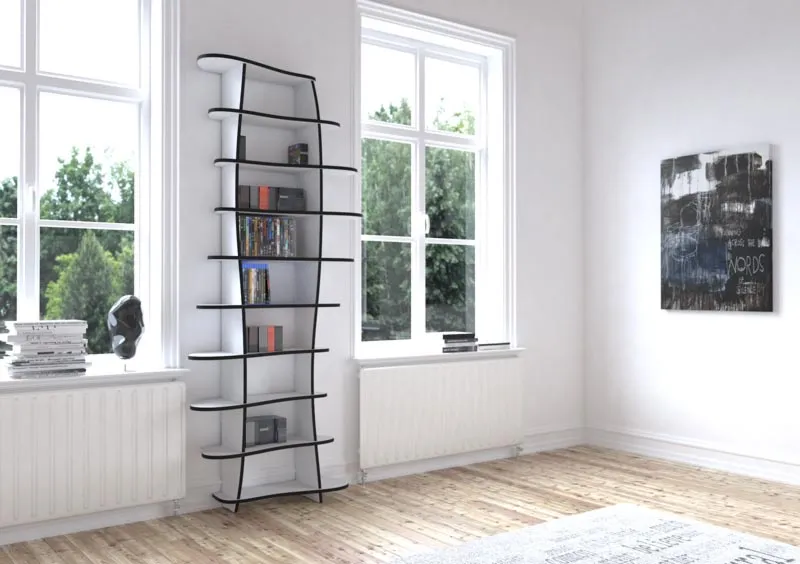 Avoid sharp corners and edges
Sharp corners and edges should be avoided at all costs in your bedroom. Since everything flows in Feng Shui, corners have a negative effect on the room climate and can hinder the energy in the room. Therefore, it is important to avoid them or to round off already existing edges with cloths or targeted decoration. Since most furniture is angular, we offer you custom furniture that you can easily deform as you wish with our online configurator. Because our curved furniture is unique and offers you the optimal conditions for your Feng Shui bedroom. Simply enter the desired dimensions of your commodes and then further configure according to color and form. If you have any questions, our designers will be happy to help you.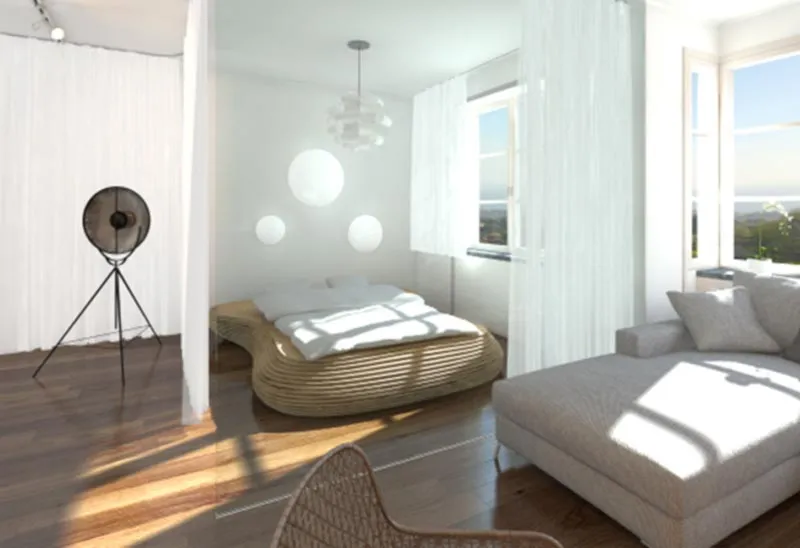 No metals in the bed
When choosing your bed, you should first of all pay attention to functionality and design. However, it is advantageous to choose a bed made of wood, as beds made of metal have a high conductivity and can therefore increase disturbing influences. We at form.bar offer you individual beds, which are very easy to assemble thanks to their child's play plug-in system. In addition, they do not have any metal connections, so they are ideal for a Feng Shui bedroom. You should also avoid water beds. Because in the long run standing water leads to negative Qi from the point of view of Feng Shui.
Avoid electromagnetic sources
Since the bedroom is a place of rest and relaxation, you should avoid electrical appliances in your bedroom. Because electrical disturbances can lead to the fact that the atmosphere and tranquility in your Feng Shui bedroom. If electrical devices such as computers or televisions cannot be avoided due to lack of space, you should make sure that they are make sure that the devices are completely switched off at night. This will allow you to have a good night's rest without any electrical disturbances in your bedroom.