TV furniture made to measure
Furniture should adapt to you...not vice versa
Solutions for every room situation
Individual TV lowboards made to measure
What defines a TV lowboard?
The TV lowboard is usually a flat TV furniture to position your TV in the best possible way. It is a popular furniture for the living room. It shows design and enhances your living room and especially your entertainment area. In contrast to the TV rack, which is used exclusively for positioning a TV, the TV lowboard offers the opportunity for decoration. It often offers additional storage space for electronics such as receivers, consoles or DVDs. This storage space is usually created by a combination of open compartments. But also compartments closed by doors, flaps or drawers offer advantages for your TV board, such as an extremely 'clean' look. With form.bar you can design the compartments individually and adapt them to your ideas. Change the number and size of the compartments as well as the fronts until you have the perfect mix for your TV lowboard.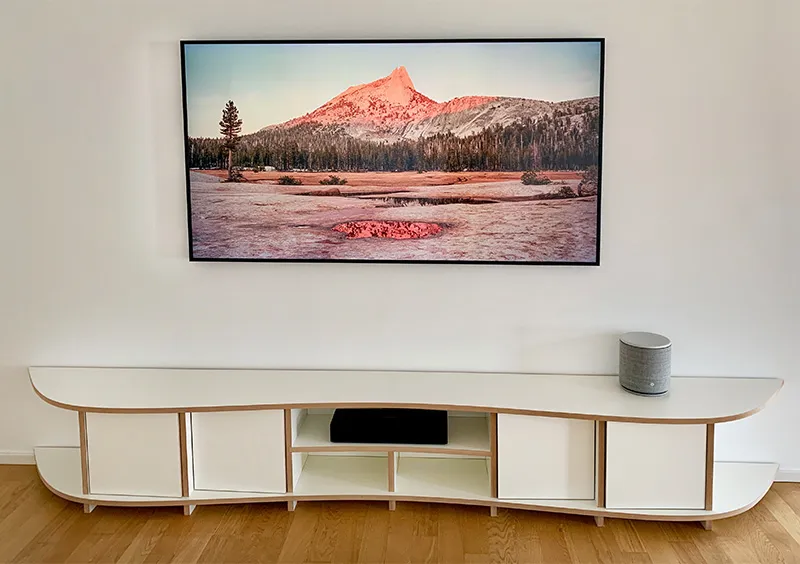 TV-Lowboard completely individual
The TV lowboard from form.bar adapts to you
The most important thing about all types of furniture are the dimensions. Define the height, width and depth of your TV lowboard with a few short clicks or manual entries. You should always pay attention to where the lowboard will be placed in your apartment and how much space is available to you. TV boards are usually found in the living room. There the differences from apartment to apartment are very big. Depending on taste and conditions, the dimensions of a TV lowboard vary greatly. As a rule, however, a TV lowboard is 200 cm wide and 50 cm high. Also consider how many inches your TV has. The proportions between the TV and the lowboard should be well proportioned. The depth depends entirely on the contents that you want to store in the TV lowboard. Use a depth of 50 cm to be on the safe side. Allow more space, especially for electrical appliances, to ensure adequate ventilation. The perfectly adapted TV lowboard with a unique wave shape will make you excited and your guests amazed.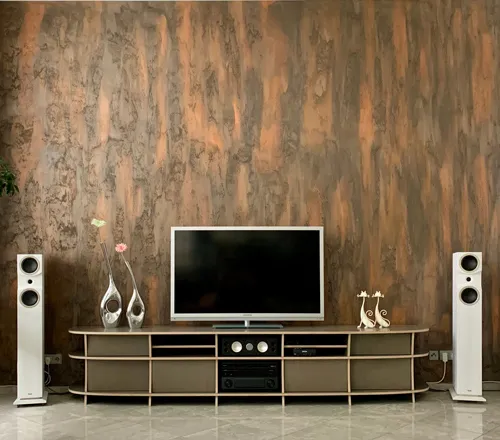 Configure TV Lowboard
Freely formable is to be understood literally
At form.bar there are no limits to your ideas. You can freely develop your imagination and creativity and design your own personal TV lowboard. Whether rather flat and wide in the form of a lowboard or slightly higher, stand like and square like a TV rack - you decide on all important details of your TV furniture in our online configurator. You can get plenty of inspiration from us in the run-up to your creation. Browse through our range of TV lowboards to get an impression of the numerous possibilities. Or browse through our customer gallery, which is a kind of quick view of beautiful customer designs. The curves of our shelves are inspired by the organic shapes of nature. You can determine the waves yourself when designing. Whether you have in mind a rather straight form or strongly pronounced waves - the decision is entirely up to you. There are no restrictions here.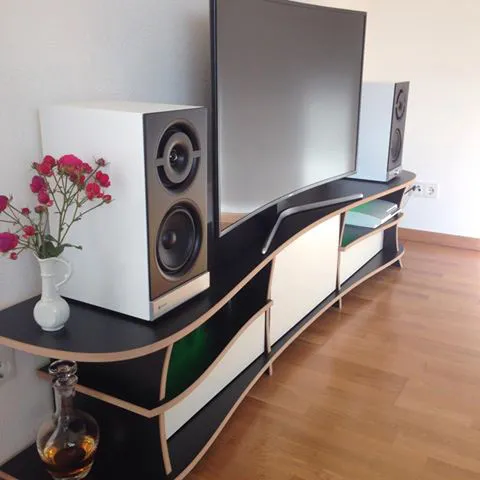 TV lowboard flat, high, wide or deep
Your TV lowboard, your decision
Storage space should also be provided. Because your TV lowboard should not only look attractive and be an eye-catcher, but also be practical and functional. You can determine the number of horizontal and vertical boards yourself. In connection with this are of course the compartment sizes, which you can adapt to DVDs, CDs, books or records in the design generator. You can then customize the compartments in the downstream configurator. You can make cut-outs and move horizontal shelves, for example to design compartments so that a receiver, speakers or a video game console fits perfectly. Various items can be stowed away by the targeted addition of doors or flaps, to protect them from prying eyes or simply from dust. Many fronts provide a tidy appearance that invites you to feel good.
Numerous possibilities
Choose from over 20 different colours to harmoniously integrate your TV lowboard into your room. In addition to classic colours such as various shades of white, grey or black, you will also find funky colours such as green, blue or red in our range. We also offer various real wood veneers such as oak, beech or walnut as natural brown tones. You can also give your TV lowboard different types of fronts, which you can colour independently of the main colour of the furniture. You can also choose between two available wood materials: multiplex birch or MDF. You are welcome to request two free material samples from us to convince yourself of the look and feel.
A head start through digital innovation
We at form.bar follow the approach that everyone should be able to design furniture made to measure for their living space. This is made possible by our innovative way of producing. Because each of our furniture is a custom-made product, made by a carpenter, but at an affordable price. Through the regional production of carpenters from your geographical proximity, we save long delivery routes and thus sustainably protect the environment. At the same time, we support traditional craftsmanship. Despite the fact that each piece of furniture is unique, the delivery time is limited to 4-6 weeks. In addition, you can design your dream furniture yourself online. Every change can be visualized and understood simultaneously in the 3D view. The digital design is personal as well as time and cost efficient. So your new TV lowboard is a unique piece of furniture from the carpenter next door.
form.bar delivers your personal TV lowboard-unique
Don't hesitate, just get started with the design.
Our 3D configurator has been developed so that you can use it intuitively.
If you still can't find your way around, feel free to contact us to get advice on your design. Our design service ranges from simple drafts to complicated special solutions.