Designer TV walls made to measure
Select a design and configure it
Solutions for every room situation
Individual TV wall units made to measure
Design your own wall units with form.bar
Especially in the personal home cinema, a wall unit from form.bar is the non-plus-ultra. It represents the ultimate living room furniture if you want to combine TV furniture, storage space and visual appeal. Our wall units combine aesthetics, functionality and the highest standards of quality. These are no empty phrases, but reality. Because we make your ideas of perfect TV furniture come true. Our award-winning 3D configurator allows you to adapt your wall unit to your needs. Our design corresponds to the organic forms of nature. Your TV wall becomes an eye-catcher in your living room and also provides a subconscious feeling of well-being. We offer FSC-certified materials for sustainable and durable furniture. Through our innovative process, we digitalise the furniture production: your wall unit is always made by one of our partner carpenters from your immediate surroundings. This not only revives the traditional and regional carpentry trade, but also guarantees short delivery routes and enables you to receive a professional assembly service.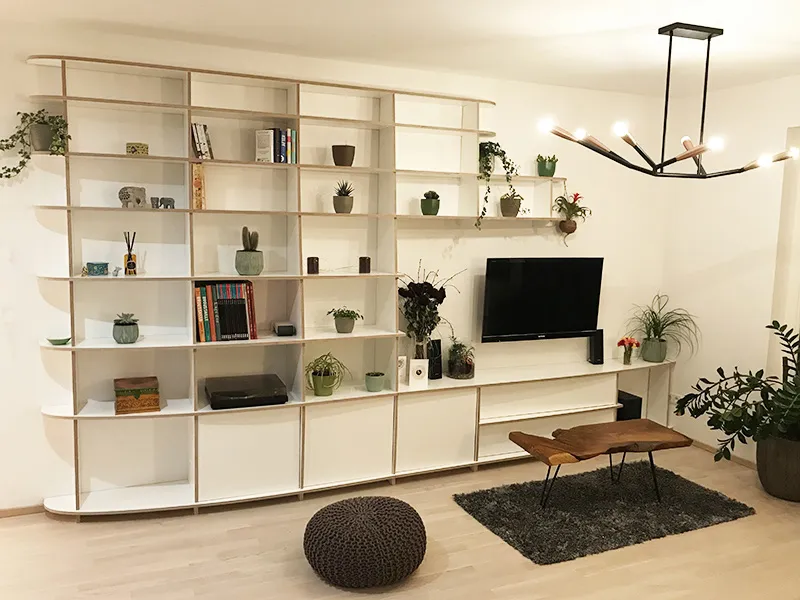 What exactly is a wall unit?
The TV wall unit as ultimate living room furniture
A wall unit can be a combination of different pieces of furniture that can be combined to create the ultimate living room furniture. Often this involves hanging wall shelves, a TV lowboard and living room cabinets - everything can be part of a wall unit. With them, the TV, the hi-fi system as well as your book and DVD collection will have a fixed place and enough storage space in your living room. In addition, a wall unit offers a lot of storage space and enough room for your books, DVD's photos or simply for decoration.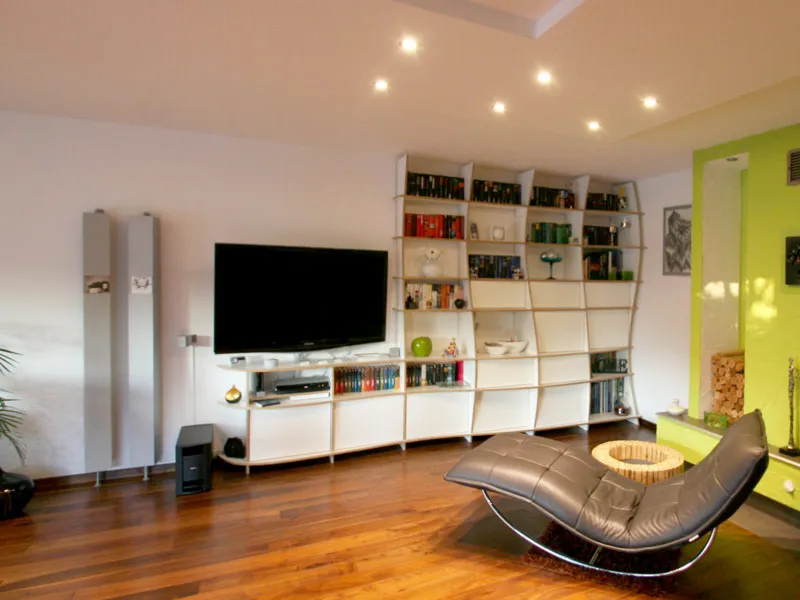 A new interpretation of the wall unit
Freely formable is to be understood literally
We combine the various components of a classic wall unit to form.bar furniture. Our 3D configurator makes it possible. Thanks to its intuitive interface, you are able to design your own wall unit. Define the measurements of your TV wall so that your TV and all your devices fit into it. At the same time, you can make the most of your living space by planning exactly to size. Think in advance how many compartments you will need and how large they will be to accommodate everything in your living room furniture. Finally, you can choose the form, colour and material. Become the designer of your new TV wall unit yourself. If you need help with the configuration, book our friendly and free design service.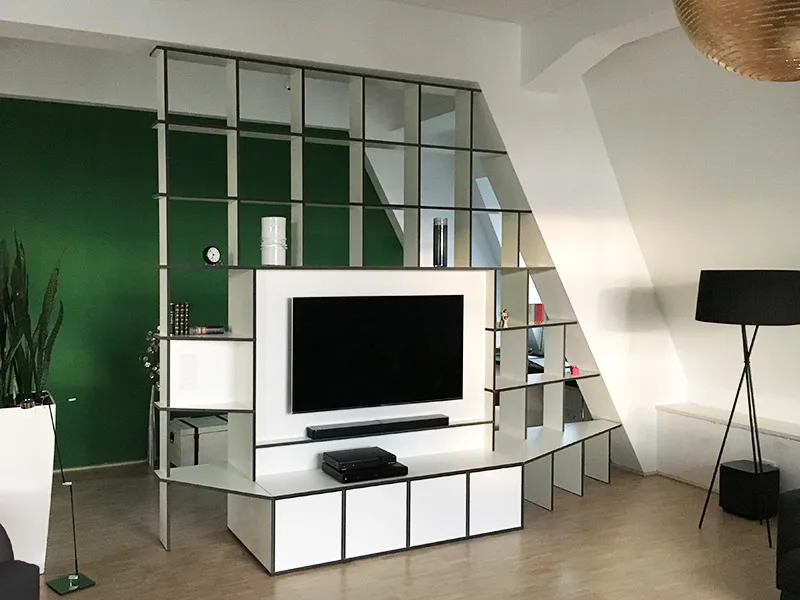 Wall units from form.bar
You know best what you like
At form.bar there are no limits to your ideas. You can freely develop your imagination and creativity and design your own personal TV wall. Whether rather flat and wide in the form of a lowboards or slightly higher like a sideboard - you decide yourself about all important details of your TV furniture in our online configurator. You can get plenty of inspiration from us in the run-up to your creation. Browse through our range of TV lowboards to get an impression of the numerous possibilities. Or browse through our customer gallery, which is a kind of quick view of beautiful customer designs. The curves of our shelves are inspired by the organic forms of nature. You can determine the waves yourself when designing. Whether you have a rather straight form in mind or strongly pronounced waves - the decision is entirely up to you. There are no restrictions here.
Configure your wall unit yourself
In a few steps to your dream home
We make it possible for you to create top quality wall units for your living room, which you can form according to your individual needs. Your wall unit will be manufactured in a carpentry workshop near you and shipped to your home in comfort. Only FSC-certified wood materials from sustainable forestry are used. With our award-winning online furniture configurator you can create your dream furniture ein simple steps: Select the furniture you want and then change the measurements, materials, form and colours to suit your personal taste, just as you would like your home to be. Everything is possible, there are no limits to your imagination.