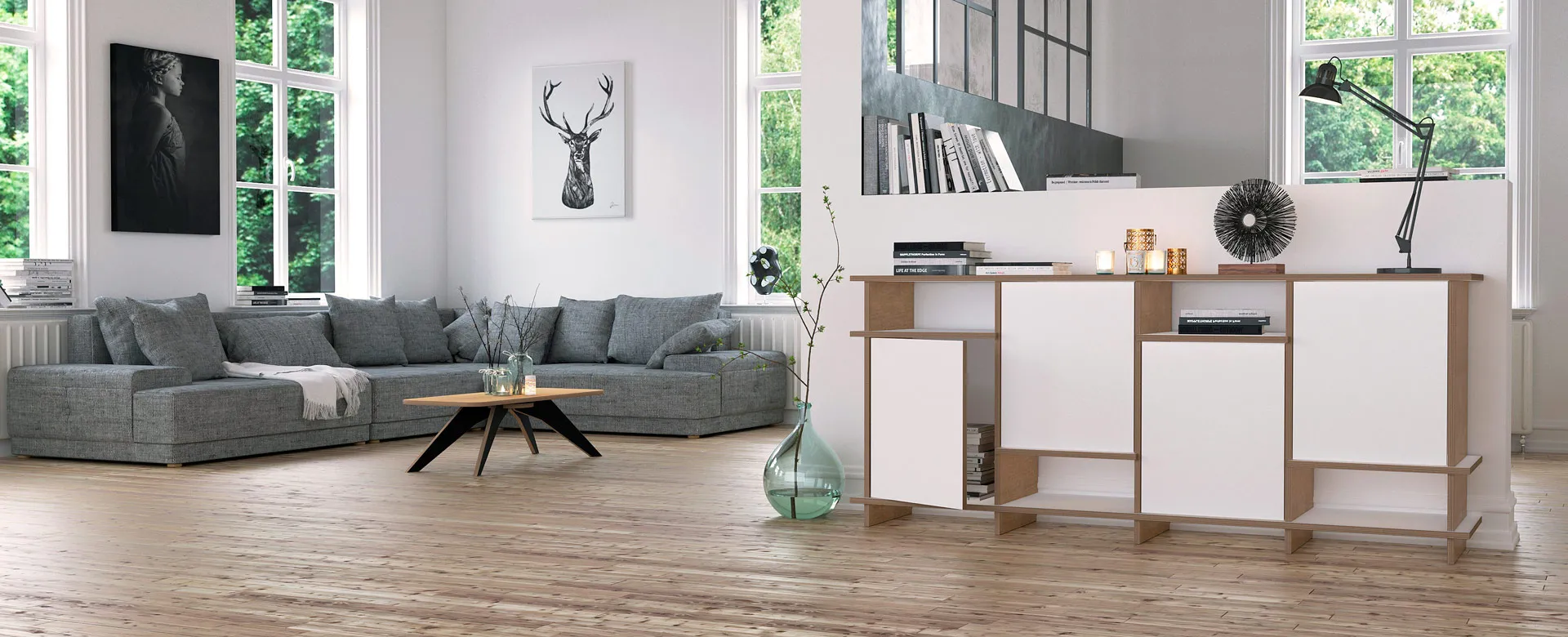 Modern living
Do you like simple, tidy and well-structured living spaces? Then it's time to take a closer look at one of the living trends of 2021: Modern Living. When it comes to home decor, "modern" is a word that is often used when defining a certain style.
Highlights of form.bar for modern living
Choose your favorite design and customize it
The secret of modern living
What exactly is understood by it and how we can furnish our living space according to it, we clarify in this article. From wall colors, furniture forms, lighting concepts to parametric designs that create an organic image, we took a closer look at this minimalist style.
What is a modern style of living?
Although modern and contemporary are often used interchangeably, there is a distinct difference between these two styles. "Modern" refers to a specific time period in the early 20th century, while contemporary style depicts the "now-period." Modern style is represented by a set of style standards, such as minimalist decor and neutral color palettes. While this can also be contemporary, a contemporary style is what is currently trending and changes accordingly with the times.
Minimalist-modern design is also something for maximalists
Modern minimal usually relies on clean lines and a consistent color scheme. A living room with a running color scheme across the walls, furniture, paintings and lighting creates these clean lines. Interior designers love to use neutral whites and grays in minimal living spaces. These form a basic building block for the design.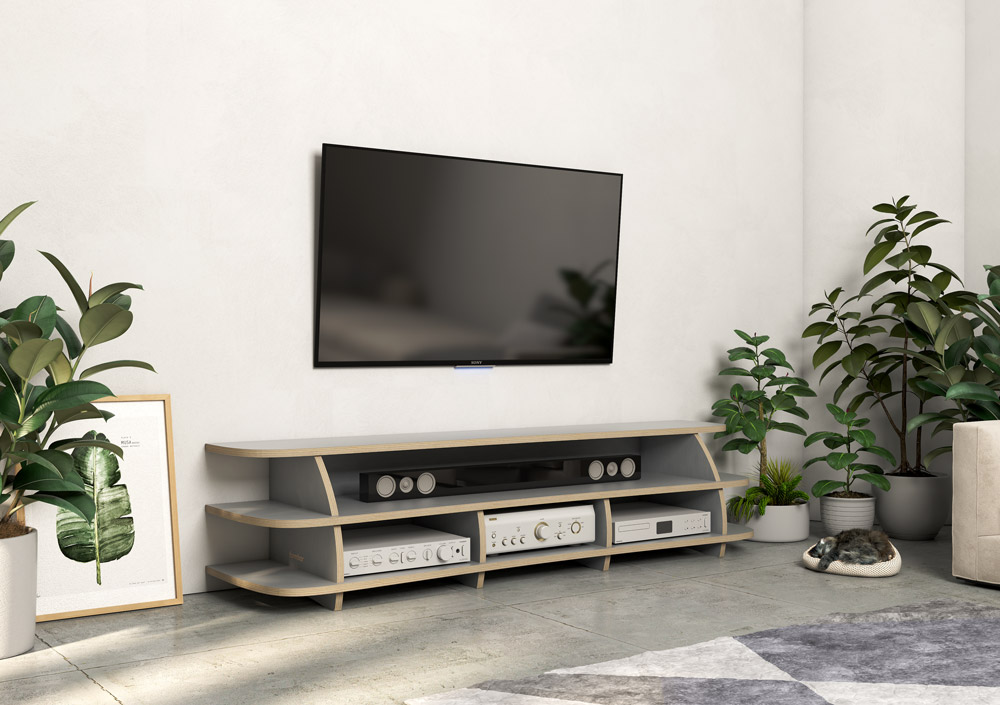 The central theme for a minimalist living room that is not boring is an accent piece. It can be a sofa, art or even sculptural decor complemented by other minimal pieces in the room. Minimal living rooms like to highlight the excess space, which makes the area stand out and look more chic.
Minimalist-modern design can also work for maximalists. Thus, color and texture experiments lead to a creative space that can be both eye-catching and cozy. For example, large black and white prints and a bold shade of blue scattered throughout the room create a sense of stylish unity. A strategic interplay of minimal and maximal design elements creates hybrid living spaces that particularly emphasize the individuality of their inhabitants.
Modern furniture and the play with colors
Creating a modern living room starts with the right furniture. A modern sofa or modern coffee tables can completely change the feeling of a room. The goal should always be to find the perfect mix of design and quality. Sustainability and fair production conditions play an important role when choosing new purchases.
The path to conscious consumption and sustainable home furnishing clearly limits the mass of furniture and decorative objects. Modern Living brings simple furniture to the forefront. Popular vintage furniture with gaudy patterns should be used minimally in this living trend - even if they are still in good condition. If you want to implement Modern Living as a concept of your home furnishings, then consciously buy less, but with higher quality, which promises you a significantly longer useful life.
Modern and minimalist living room interior
The place where we all gather and spend most of our time is undoubtedly the living room. To create a modern and minimalist living room, you do not need to restructure everything. Even simple steps are enough to achieve this effect.
For example, center modern furniture around a cubic rug. Forge a concrete paradise with vibrant walls on sofas. Use futuristic and colorful clocks that glow metallic. Design your lounge creatively. If you have a spectacular view, it makes sense to choose a modern, minimalist living room that focuses on the perfectly manicured garden. A simple color scheme that blends beautifully with the surroundings, clean lines and minimal furniture will help us implement modern style in our living space.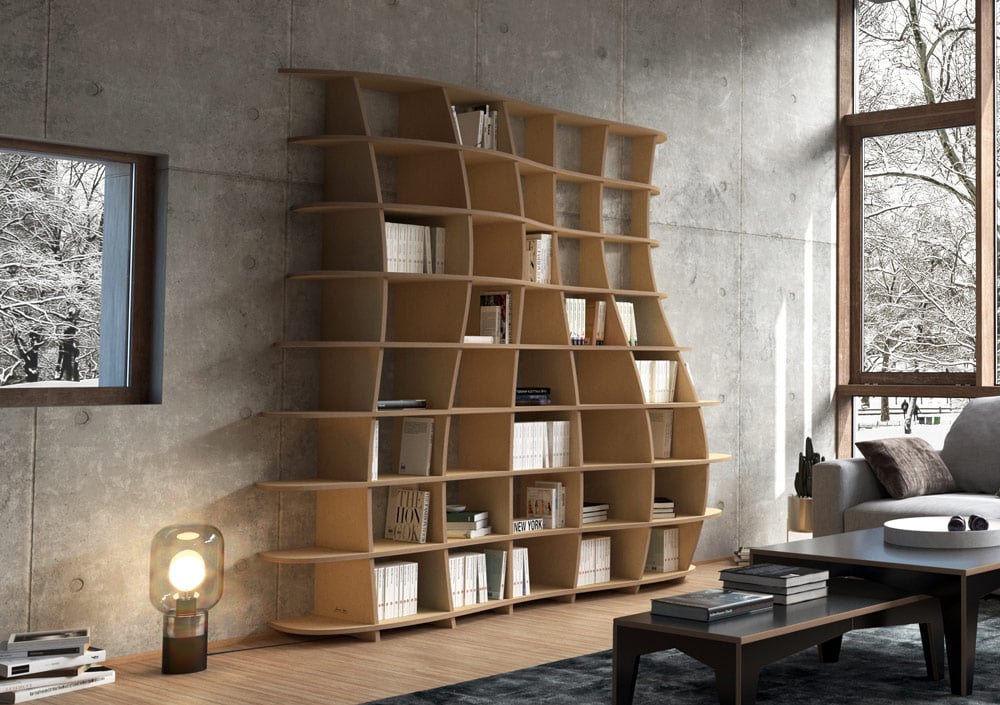 Use a planter room divider for the main living area, enlivening the space with gorgeous greenery. Flat-pack furniture with a mid-century retro flair sets a welcoming tone. Combining classic pieces with modern interiors is one of the hallmarks of modern style.
Create modern seating arrangement
Create the perfect seating arrangement for large living rooms with a mix of, for example, recliners, rocking chairs and modern sectional sofas. Fill the space with a variety of modern seating options. If you need extra seating or storage, consider an ottoman or stool. For smaller and more intimate spaces where large living room furniture just won't fit, use modern benches and low stools to provide seating. These furniture pieces not only provide functionality, but can also serve as design statements.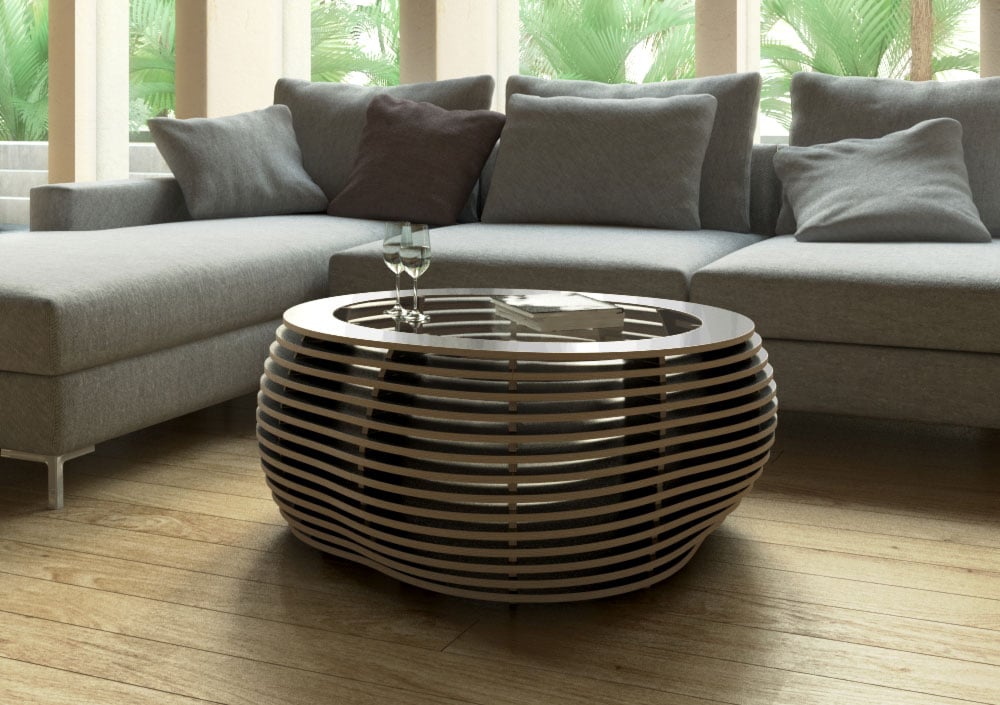 Pair your seating with side tables, consoles and a coffee table for a fully functional space. Store everything in style with a variety of options, including sideboards, bookshelves, media cabinets and modern sideboards. Top it all off by adding the right accessories to truly personalize a modern living room.
Match the colors
Overall, the modern style embraces clarity and functionality, which is reflected in its color scheme. In terms of colors, gray, white and anthracite are the shades of choice. Pastel shades of turquoise and aqua also dominate the walls, along with earthy muted colors and warm grays. Together with dark marine colors, they accent the otherwise muted color space of the Modern Living style. Light neutrals and minimal tones in sleek designs create a fresh, clean ambiance and offer an easy way to add a touch of color while maintaining an uncluttered aesthetic.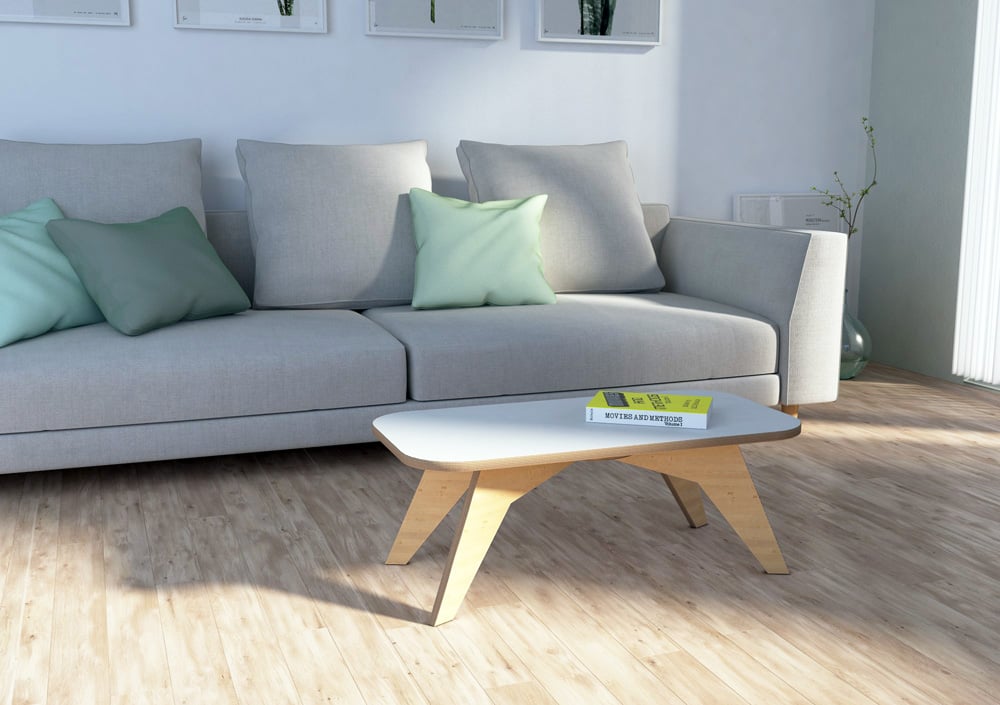 Furniture and decor in beautiful splashes of color, define what modern decor means. Keeping the walls white while spreading vibrant hues around the room will accentuate the furniture in your space. Always be mindful of how you accent your interior without overpowering the harmony of the room. When in doubt, remember: a classic and neutral color scheme will work in any modern living room.
We plan your modern furniture for you
Get your modern dream furniture designed by our professional designer team.
To the design service
Modern textiles and patterns as statement objects
Home textiles, fabric prints and patterns are stylish ways to personalize modern interiors and add a touch of style to any room decoration. Mixing fabric prints is a great tool to create bright and beautiful room decorations. Natural materials like linen and coarse cotton textures go perfectly with the minimalist look. Bold colors and patterns are allowed to fade into the background for now, while home textiles tone-on-tone emphasize the immaculate expression of the rooms. However, here and there a strong accent may not be missing, such as dark blue and strong sea green.
Prints help to make interiors playful, attractive and modern. Eye-catching decor accents and decorative patterns spice up modern interior design and are popular as statement pieces. Sometimes it's difficult to find the right way to mix fabric prints in a room, but current interior trends allow you to experiment with creative combinations. Use the following guidelines to guide you:
Use one motif per room:

Use a colorful pattern to add an eye-catching accent. The stunning design of a floor rug or colorful and patterned pillows is a clever, stylish and inexpensive idea to add excitement to room decor.

Use decorative patterns in similar colors:

Geometric patterns and fabric prints in one color create a bright and playful look. Similar, darker or lighter room colors enhance the effect of a beautiful interior and add an edgy touch to room decor. Matching shades can unify furnishings while combining different designs and decorating patterns in a room. Unified color schemes create more room harmony.

Combine decorative patterns of one style with each other:

Just like with the uniformity of color choice, decorative patterns with similar motifs create a harmonious finish. You can combine large prints with small ones and mix matching colors. All combinations of decorative patterns in the same style are suitable for a modern room decoration.

Dare to experiment with colors. Neutral tones call for eye-catching motifs and designs. You can combine several different patterns to create an eye-catching interior design with neutral colors. Geometric prints offer a nice way to spice up living spaces. Combining a few decorative patterns will add zest and a playful look to the room's look.
Vinyl tiles for modern floors
Living room floors often mean a large investment and are not easy decisions. After all, we do not want to take the risk of not being satisfied with the result after installation. There are many ideas for floors and the right solution is determined by numerous personal factors and needs.
When choosing a floor, think carefully about the use of the space and the existing color scheme. Work with contrasts: If the living space is already loaded, a plain floor can bring calm back into the design. Or look at bold and patterned options to spice up a neutral space. Regardless of the stylistic differences, always opt for a durable and hard-wearing material with high stain resistance, as this is essential for high-traffic areas like the living room. A real wood floor adds warmth and rustic flair to a room. Concrete floors, on the other hand, support an industrial look. The polished concrete look has become increasingly popular in recent years with the rise of open-plan living.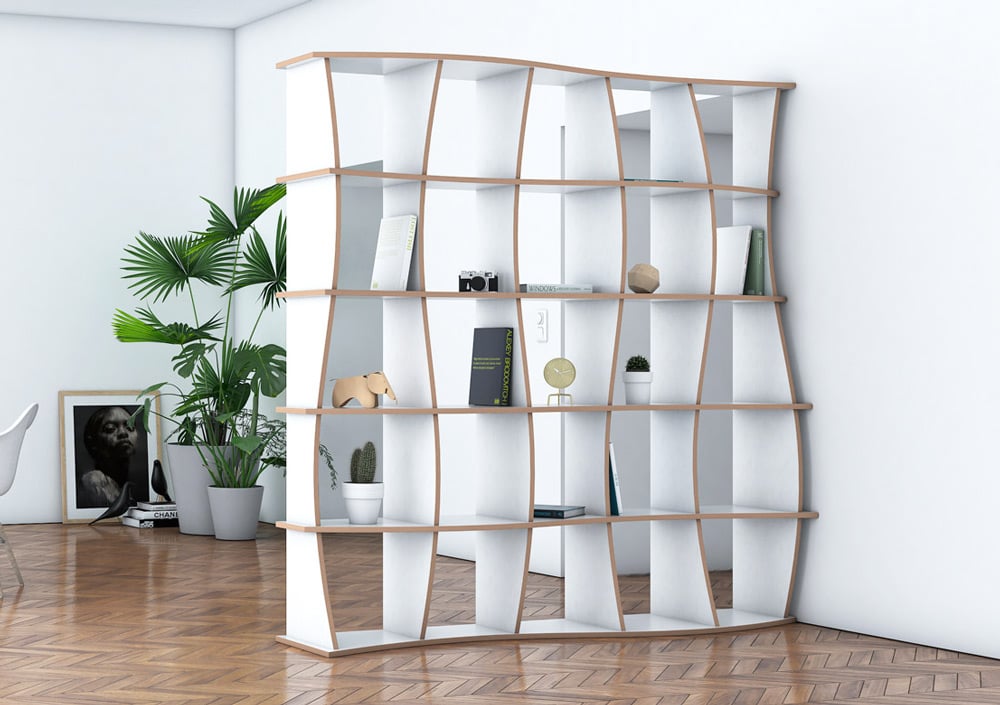 Remodeling a floor can be a challenge that comes at a high cost. Vinyl tiles offer a good and relatively less expensive alternative to change flooring. Modern vinyl tiles can mimic wood, stone, slate and concrete effects that look just like the original. This is an ideal option for open living spaces. A strategically placed rug can help separate areas and add warmth - as these modern surfaces can sometimes feel a bit cold. The beauty of vinyl over real materials is maintenance. Imitation flooring is often more durable and easier to clean than the original because the material is less porous.
Lay vinyl tiles yourself and save money
DIY projects can save a lot of money. Fortunately, if you want to lay your own vinyl tiles, you can do it without much effort. However, be sure to follow the manufacturer's advice and watch video tutorials if you're tackling this project for the first time. Numerous vinyl tile models are available as planks with a simple click system. This makes them incredibly easy to install and requires no adhesive. Each plank clicks together, creating a seamless floor with a smooth, authentic finish.
Stage the room with lighting and decor
Well-made, beautiful furniture and a strategic layout are important elements of a successful modern living room design, but what sets the mood and the feel is the lighting! From understated and recessed to over-the-top statement pieces, there are endless ways to use lighting and decor to set the stage for the room.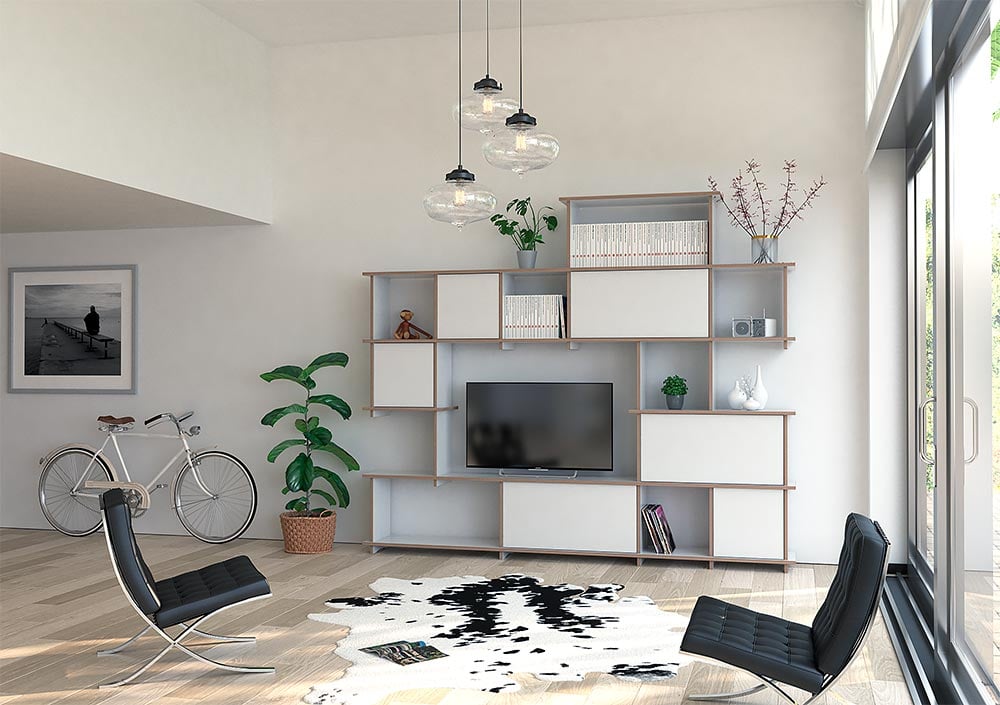 Existing lighting can often be integrated into new designs. Spots and spotlights shine here preferably only the walls, retreat behind shelves or larger plant pots to set highlights with the light influence. The following light pendant tips can often be purchased inexpensively and are among the timeless design classics you can't go wrong with:
Multi-stage lamps:

Want to get a little glamorous without looking too flashy, add minimal brass accents, like a metal-framed coffee table and eye-catching metal lighting. Multi-tiered lamps work well in both small and large rooms. Position them so they capture seating and reading nooks well.

Paper shade and DIY lamps:

Paper shade lamps are very affordable and have been statement classics for quite some time. Additionally, they emit a soft glow and beautifully complement the all-white home aesthetic. The best part: Paper shade lamps are also easy to make yourself. Check out a video tutorial on how to do so and get creative!

Sculptural wall sconces:

Opt for a sculptural wall sconce that doubles as a piece of art and spices up your living room wall. This is a particularly effective way to transform a minimalist living room.

Headlights:

Modern and minimalist spaces can be warmed up with earth tones, layers of plush materials and ornate accessories. The use of spotlights allows for targeted focus on these statement objects. Even without shining on a specific object, spotlights can be used as design objects themselves.

Besides the right lighting, other decor means also change the feeling of space. Even the smallest details can make the living room stand out. Use rugs, pillows and blankets to add a touch of color to the room. Objects like newspaper racks, mirrors and clocks can become decorative and functional pieces.

Also in vogue are small pots with succulents. The survival artists of the plant world are unpretentious, live in a small space in case of great drought and additionally strengthen the minimalist aspect of the modern living style. The colorful clutter of the previously popular picture walls, on the other hand, has had its day for the time being. In their place are a few, large-format motifs that are matched as closely as possible to the main colors of the rooms.
Parametric design: architecture in motion
Increasingly, parametric design is being used in the interior and exterior design of living spaces. The basis for this is the creation of geometric forms using computer-generated parameters. Relationships can be created between these variables to form new shapes. With CAD (computer-aided design) systems, architects and designers create customized products, that are characterized by complex forms and structures.
In the meantime, we are increasingly finding parametrically designed built-in furniture that is individually and ergonomically adapted to the living space in question. The result is a modern organic design with often round and curved shapes. By the way: With our 3D configurator you can easily develop furniture and furniture ensembles in parametric design. Use one of our basic forms and configure it into curved forms that can be organically integrated into your living space.
What is an organic modern interior design?
Organic modernism is a combination of mid-century modern design and organic elements - thus the name. The organic is evident in both the forms and the materials. This style places great emphasis on embracing the natural world and uses soft and natural materials. Thus, it is an interior design style that emphasizes the quality of life, as it fits organically in the lifestyle.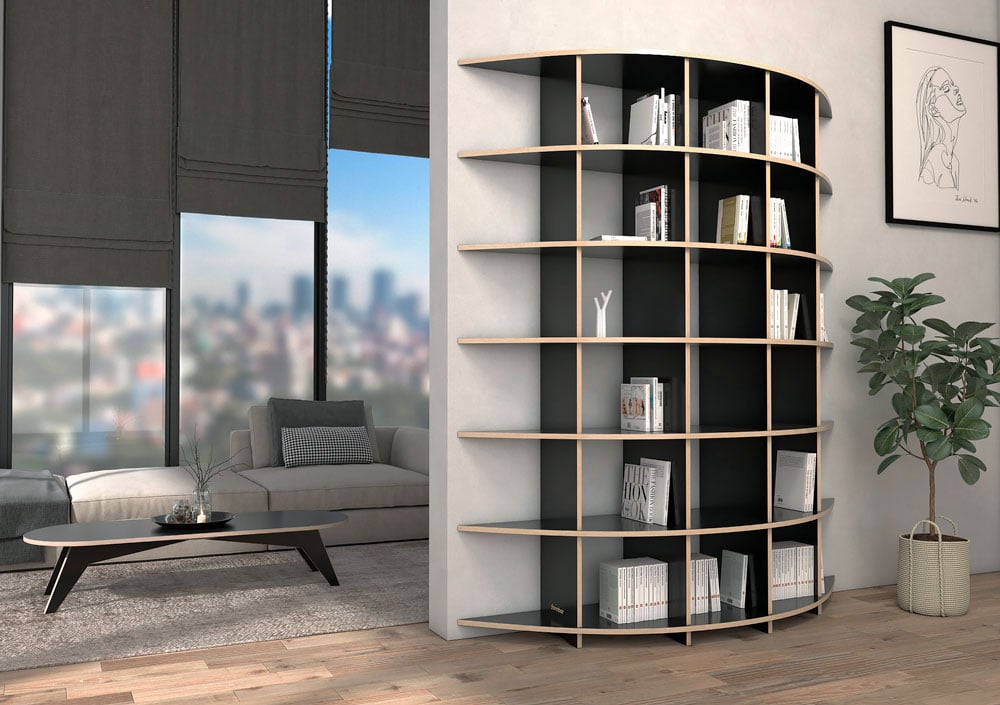 For example, center modern furniture around a cubic rug. Forge a concrete paradise with vibrant walls on sofas. Key elements of this modern design style include a limited color palette, use of natural textures and organic forms - from geometric to curved and abstract. Furniture and decor are unfussy and less ornate. Organic modernism also takes a minimal approach to design.
Organic Design Ideas and Modern Green Living
Organic design and interior decor ideas celebrate the natural beauty of materials, furniture and room decor, supporting green design ideas and creating the look of a nature-inspired living space. Contemporary man-made materials can be used to create organic design forms that add softness, create balance and bring nature-inspired themes to modern interior design and decor.
You want to furnish your home in an environmentally friendly and modern way? Then follow the Modern Green Living trend and go for natural materials like wood, bamboo, rattan and textiles made from natural fibers. Organic design ideas include nature-inspired shapes, natural stone and rustic wood pieces, natural home accessories and organic furniture that look like they were created by nature and make up the Modern Green Living Trend.
Organic design ideas are a healthier choice for interior design and home staging. Natural and environmentally friendly materials, products and modern furnishings, furniture and room decoration accessories that feel natural and pleasant, make modern living spaces more attractive, relaxing and comfortable.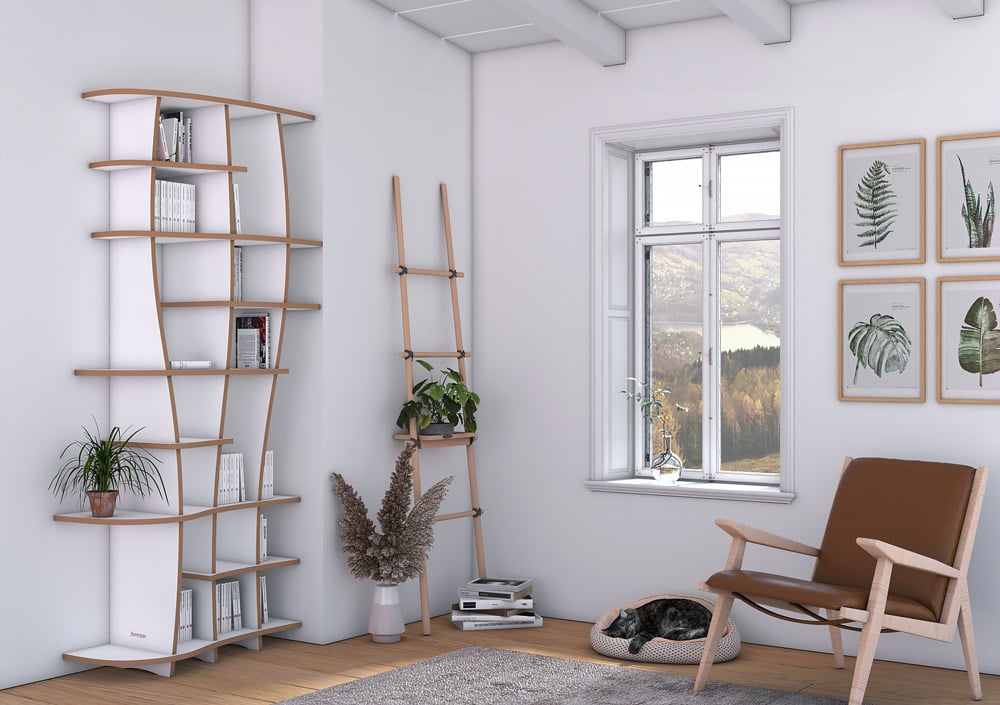 Bring some nature into your home
Beautiful wood and brown tones, light and soft interior color schemes used for organic home design, interior decoration or staging make modern living spaces bright, airy and cozy. Natural stone and rustic wood pieces, natural home textiles and organic furniture, green houseplants and flowers bring elegant eco-style interior design themes. Unique textures, organic forms and calm color schemes create a unique atmosphere, which brings some nature into our home.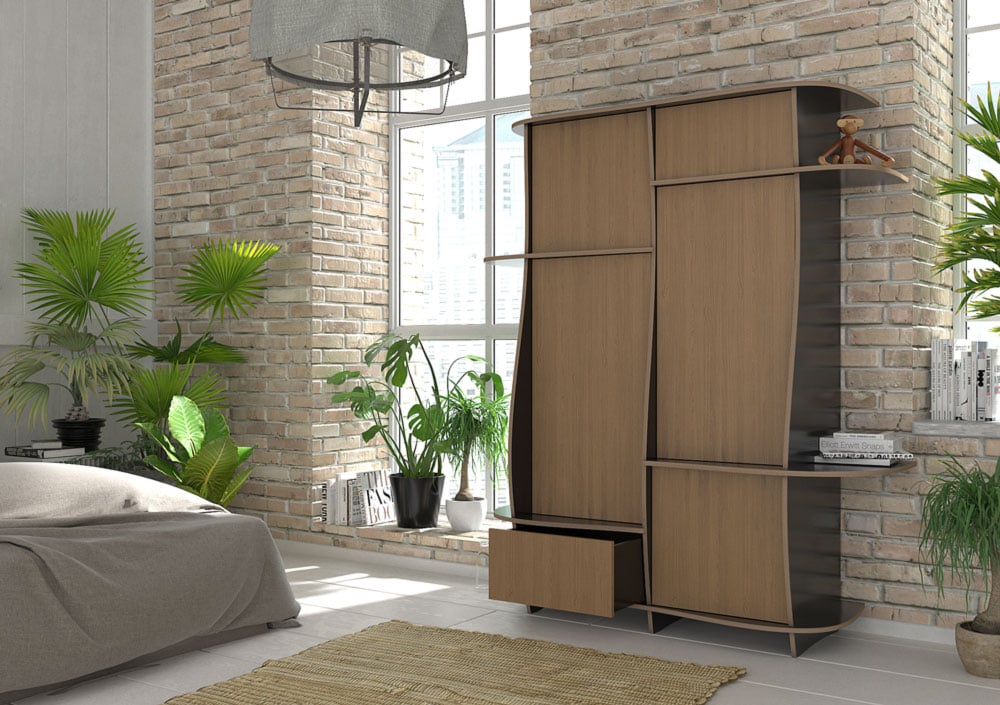 To enhance this effect, get houseplants that purify the air and add charming room decor accents. They combine modern interior design or staging with nature or add natural beauty and style to living spaces, creating pleasant and comfortable retreats from modern busy lives. Organic home ideas suggest soft, curvy forms and more light into homes. Natural or eco-friendly materials, recycled and green design ideas, natural elements with rich brown colors of wood or natural stones create a relaxed, comfortable living space where people can switch off and recharge their batteries.
Fazit
Modern living is the living trend that consistently combines the development of minimalist design with industrial chic. Modern living offers structure and order in a fast-changing world without being too cool or opulent. To create a modern and minimalist living room, we need to pay attention to the overall look of the room. This is where modern textiles, patterns, lighting, decor and vinyl tiles help us make the necessary visual corrections.
By creating our living space and furniture using parametric designs, we develop curved forms that promote an organic living atmosphere. Experiment with forms and colors in our 3D configurator. Don't forget: in today's world, sustainability is not just a trend. It is therefore worth investing in high-quality furniture and accessories. This saves resources and disposal processes. For more tips and ideas, we will be happy to advise you!