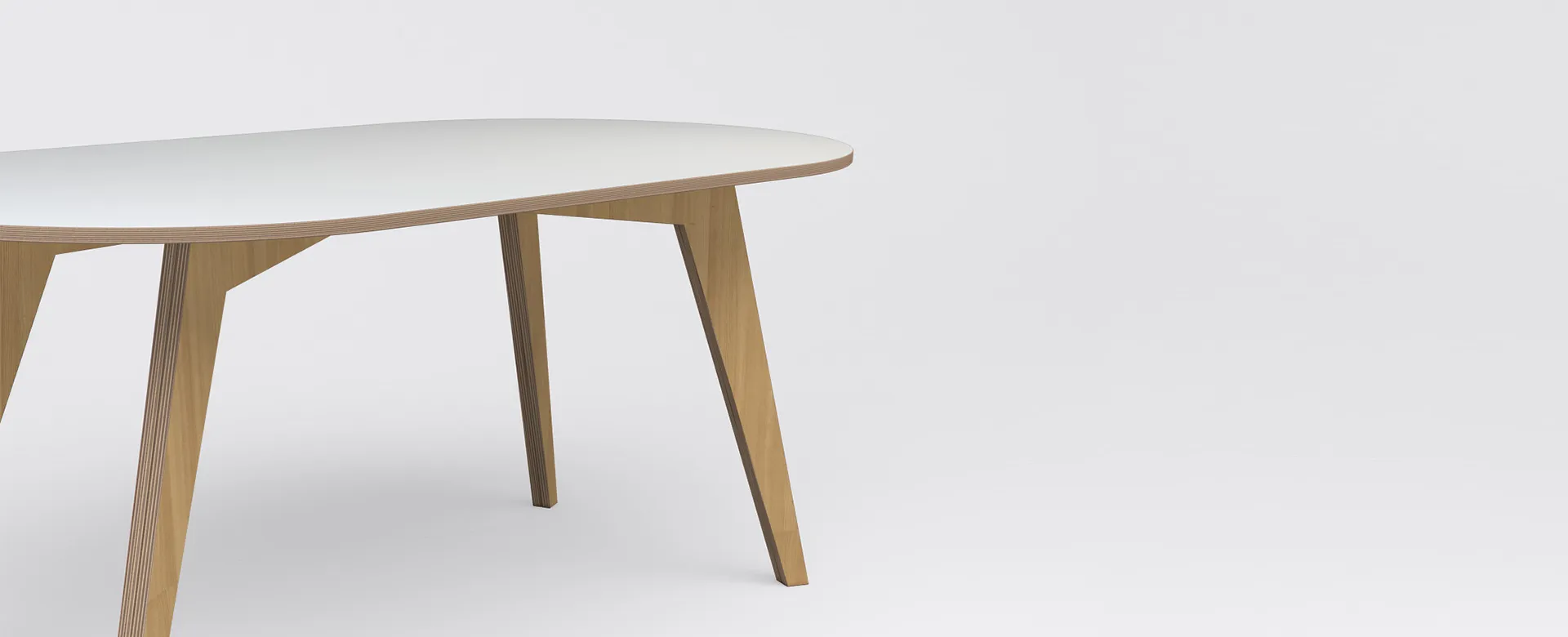 Wood cut
You need a custom countertop, want custom-fit furniture for angled rooms or are looking for boards, with which you can realize a completely individual furnishing project? Then we can help you with your desired wood cut. Custom furniture is a cornerstone in the world of interior design. Their ability to meet specific dimensions and requirements, gives them a significant advantage over store-bought furniture.
Proposals from form.bar
Choose your favorite design and customize it
Wooden cutouts for any living situation
The design and manufacture is a dynamic process between manufacturer and customer that allows for a custom-fit end product. What are the advantages of custom furniture and wood cuttings and how to get the most out of awkwardly shaped living spaces, we take a closer look in this article.
Advantages of furniture and wood cut to size
Buying new furniture is not as simple as it sounds. Often people think that buying a bed, a couch or a wardrobe should be as simple as going to a furniture store, choosing the perfect item and bringing it home. Nevertheless, you can walk out empty-handed, because in practice, we often find that it can be very difficult to find the "perfect" furniture. Often it fails even the smallest measurement deviations.
This is where custom furniture and wood cuts come into play. Instead of surfing the web all day or running from store to store, professional 3D configurators allow you to commission your own custom furniture to a cutting service. If you already have matching furniture and just need custom enhancements, then easily create a custom-fit wood cut for your interior. What are the advantages?
Practical and versatile
While it may be quicker to buy furniture off the shelf, it could prove impractical in the long run. Often, customers are looking for specific features, extra storage space, or a particular shape to fit into a gap or difficult section. With custom wood cutting, these specific needs can be easily met. Whether more storage space, specific dimensions or a specific material is desired, at form.bar we get the maximum functionality out of the furniture and the existing environment.
From a custom built-in kitchen to custom cabinets and commodes, remodeled suites and countertops can be designed to perfectly match existing furniture. If you need a hidden drawer under the bed or extra storage on the nightstand, matching add-ons can be easily and versatilely integrated with existing furniture.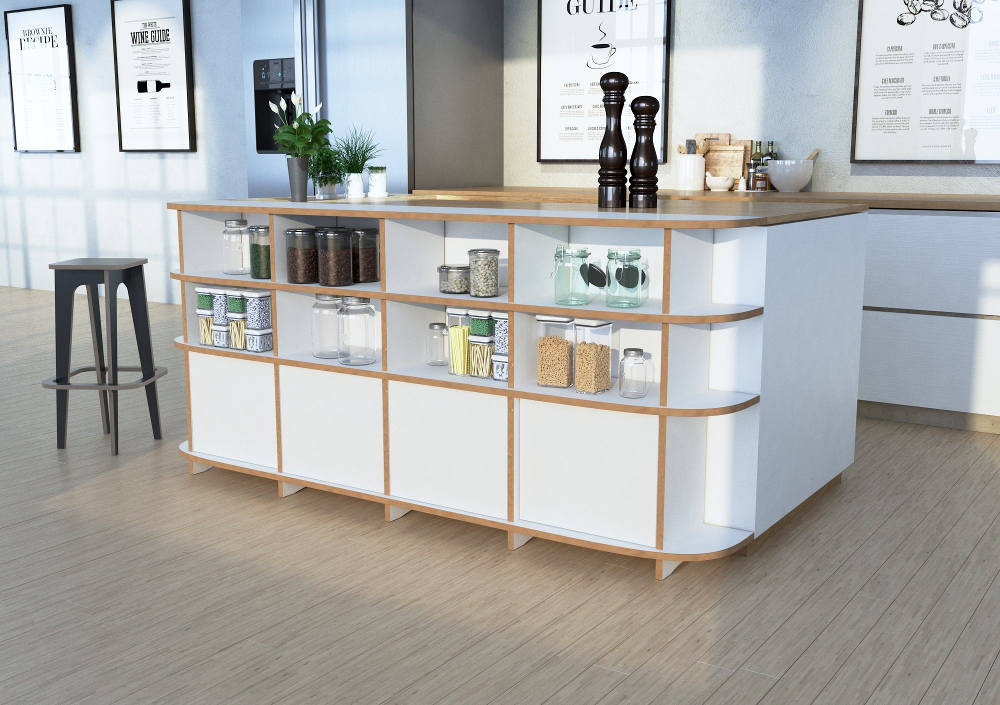 Unbeatable price-performance ratio in top quality
Even though custom products have a reputation for being extremely expensive, this is not the case when you consider their value. If you compare mass-produced furniture to custom-made, the quality of materials and overall construction is higher in custom-made products. More care and time is put into the manufacturing process. In addition, this furniture is better against daily wear and tear. This means that in the long run, you get more for your money and get a much more advantageous price-performance ratio.
Working directly with furniture manufacturers gives customers the added assurance that products will stand the test of time. One of the main problems with mass-produced furniture is the tendency to use inferior materials and finishes, which results in the final product having a limited lifespan. Investing money and time in this collaborative approach pays off in high quality and longevity. Even with premium brands, custom furniture is comparatively inexpensive in terms of cost and quality.
Create a unique style
Moving from one furniture store to another, looking for a piece of furniture tailored to individual needs and style, is exhausting. Often, compromises have to be made with standard products. With custom-made furniture and wood cuts, there are no compromises and each creation carries its own personal style and charisma.
The same principle applies when decorating a room, an office or the entire home. It can be a challenge to source different furniture that complements each other. The problem can be circumvented by matching the different elements to each other. Creating your own furniture is therefore the ideal opportunity to create a customized style that matches each other.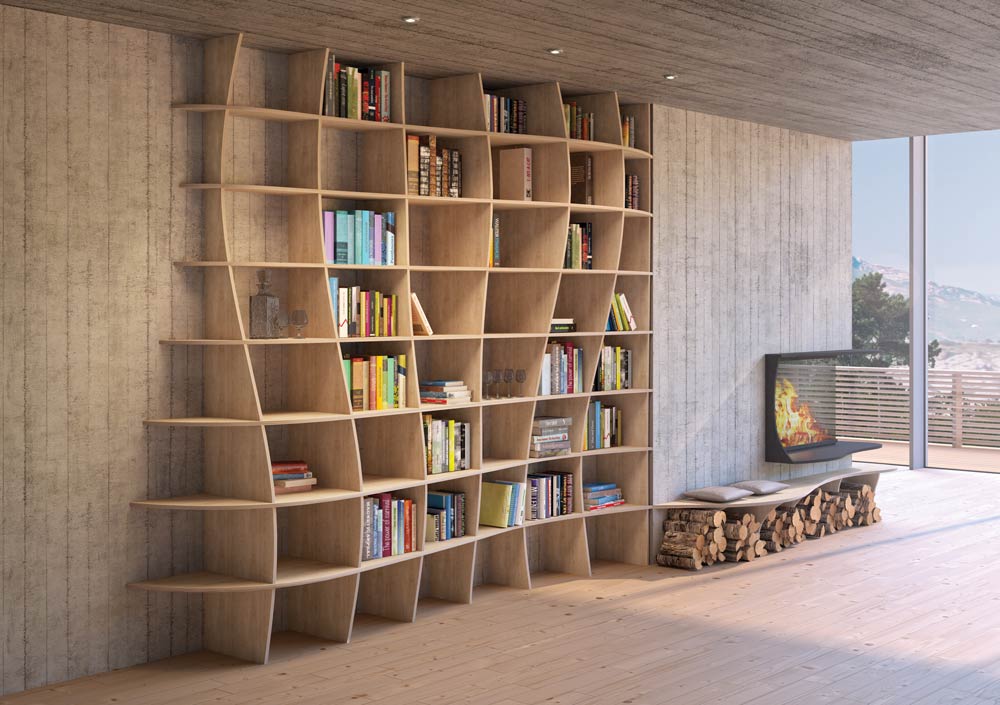 Reduce electricity and heating costs and ensure sustainability
Custom furniture and wood cuts help to reduce both electricity and heating costs, because with the right planning you can bring more light into the respective living areas and create additional space for insulation. There are studies that speak to thermal performance when it comes to custom cabinetry, so in addition to the purely aesthetic benefits, there are clear electricity and heating cost savings.
Another benefit of our collaborative cutting service is the sustainability-oriented production chain. With custom cuts, you get an eco-friendly option at a cost-effective price. The transparency of the process ensures you can track the source of materials and monitor any waste.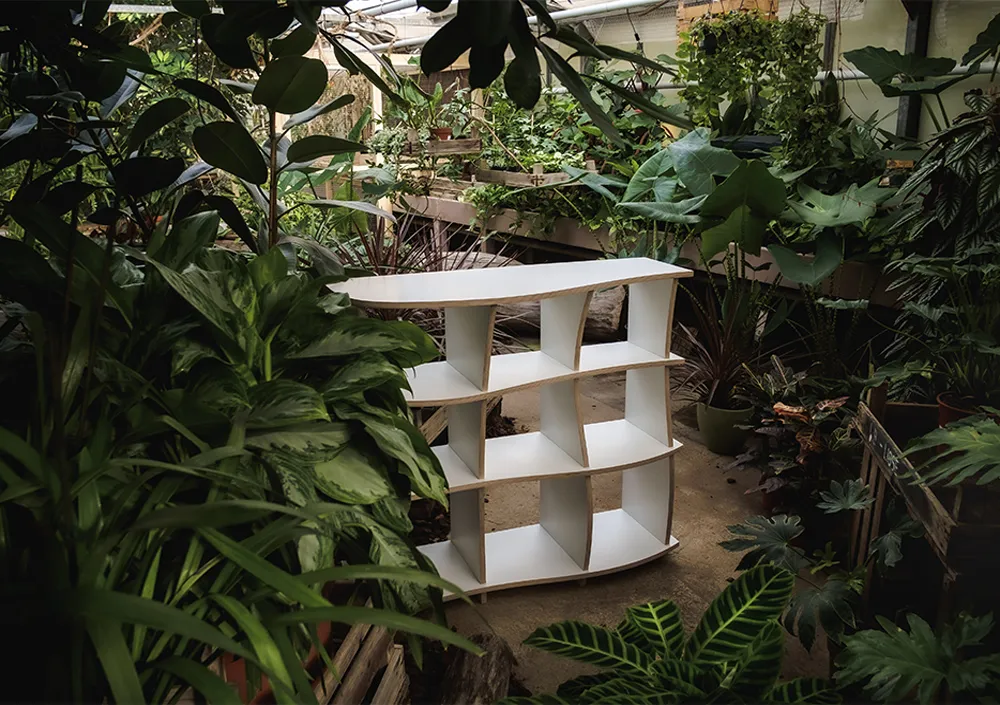 Wood cutting for all needs
The advantages of furniture and wood cut to size are many. Even in combination with ready-made furniture, custom manufacturing can be perfectly combined. Working with regional craftsmen allows them to have the experience, expertise and resources to implement custom designs for all needs.
With us you will find an extensive selection of wood boards for your custom wood cuts. Choose the type of material you want online, create your desired design, and we'll deliver the wood cut to your address quickly and easily. Experiment with our wood cutting configurator and modify the following areas according to your personal needs:
Choose a basic shape: rectangle, rounded rectangle, square, parallelogram, L-shape, circle or ellipse
Define the total size
Edit the corner points and curve areas individually
Choose the shape of the contours
Add cutouts
Then simply save your design, put it in the shopping cart and in just 4-6 weeks your creative unique piece will be delivered. With the help of precise CNC technology, every wood cut succeeds exactly according to your specifications.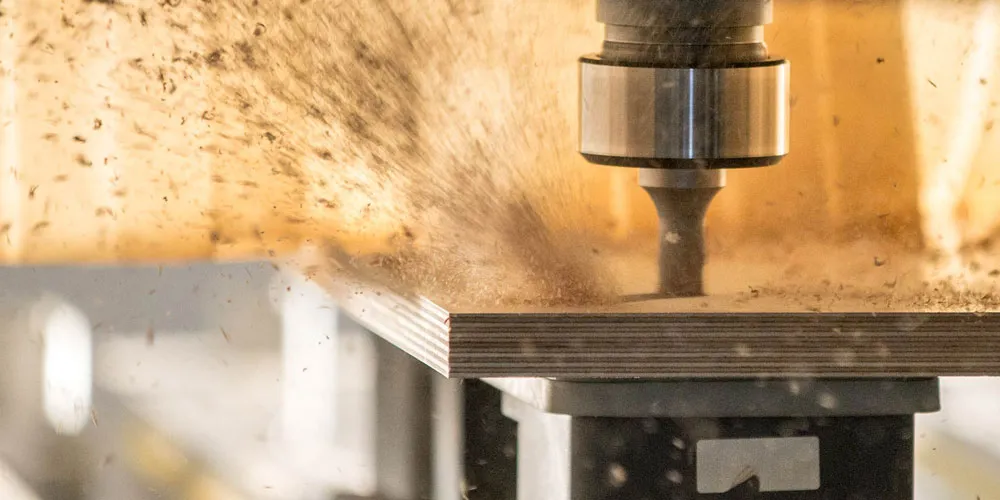 What is CNC technology?
Anyone who has worked with thick pieces of wood knows how difficult it can be to make a cut with manual tools. Thanks to computer-controlled equipment, however, time and effort can be saved. A computer numerical control (CNC) router is a computer-controlled cutting machine that typically takes a hand-held router as its spindle, which is used to cut a variety of materials. CNC routers can perform the tasks of many machines in cabinet shops, such as the panel saw, spindle moulder and boring mill. They can also precisely mill carpentry work such as slots and tenons.
We plan your sustainable furniture
Get your sustainable furniture designed by our professional designer team
To the design service
Wood cutting from MDF and multiplex
Wooden cuts made of MDF and multiplex are versatile. These boards are suitable for a wide range of areas, such as interior, furniture, model or vehicle construction. The main advantage is that this type of materials are particularly easy to process and uncomplicated sawing, drilling or painting. Our offer therefore includes the selection:
Finnish birch veneer laminated wood with resistant melamine resin coating
Medium density fiberboard made of bark-free softwood with resistant melamine resin coating
Finnish birch veneer laminated wood with oiled real beech wood veneer
aPerf® material in gray felt look made from recycled polyester fibers
With our board configurator you can edit all important parameters as you wish. You can get more information and inspiration on our product pages.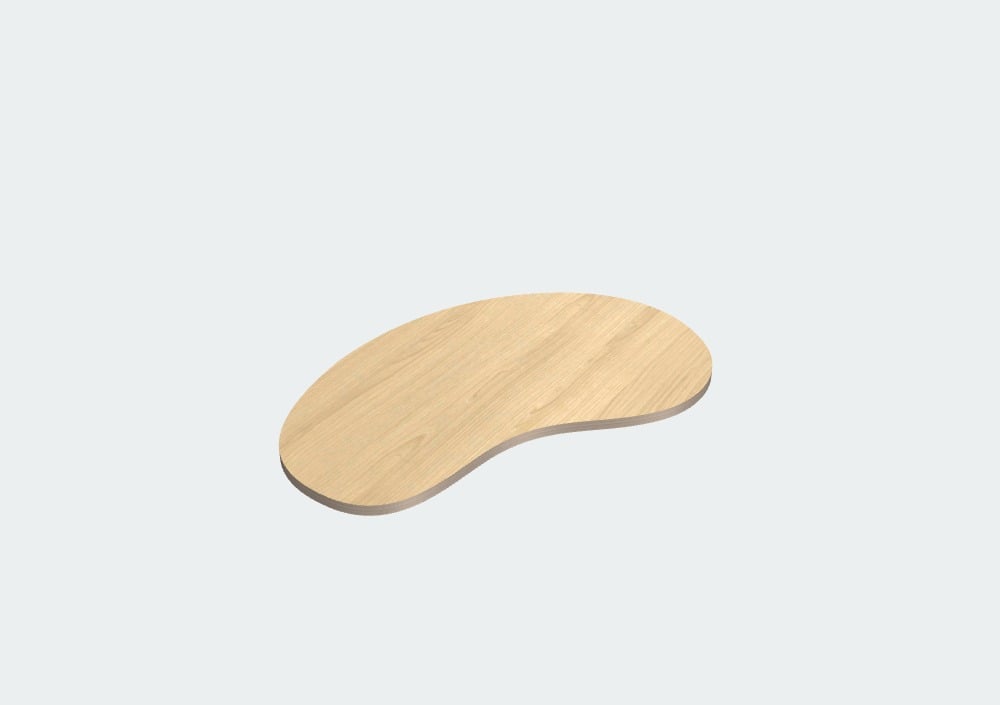 What are melamine resin coatings?
A thin melamine resin coating is often pressed onto decorative or veneered chipboard. This process makes it possible to imitate surfaces in numerous materials, such as wood look or concrete look, but also colors look stronger and are more durable on melamine resin. Additionally, melamine resin coatings add robustness to the particular wood finish.
Wood cutting for matching table tops
Our tabletop configuration options ensure that they ideally complement the existing style and design of the living space. Whether you're looking for a table for a rustic setting or a more modern interior, you can choose from flexible sizes and customize corners, contours, and cutouts. First choose the function of your table top:
Kitchen top
Dining table top
Worktop
Office desk top
Measure as precisely as possible the required and the existing environment area. Then configure the individual categories. Edges are made with care to give a pleasant texture and feel. Create your perfect table tops with our wood cutting configurator and give the table a unique and fitting feature!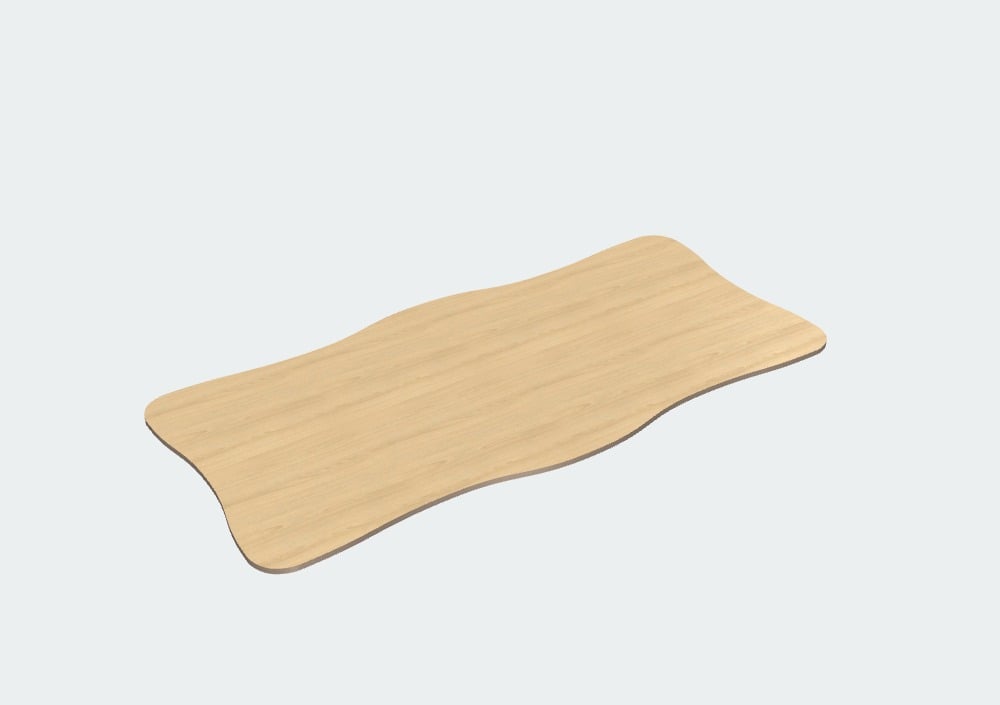 DIY wood cutting for kitchen and dining table tops
Many dream of building their own kitchen furniture or kitchen and dining table tops. With the wealth of information and instructions available online, it's possible to accomplish quite a bit on your own. Depending on the level of a DIY project and individual know-how, we recommend making a thorough plan and choosing an appropriate tutorial.
The trick to assembling a stylish but functional kitchen cabinet lies in the initial design sketch. If you want to build your own kitchen furniture or kitchen and dining table tops, you can save a lot of money. However, for difficult cuts it is advisable to use a professional cutting service to match the overall design precisely.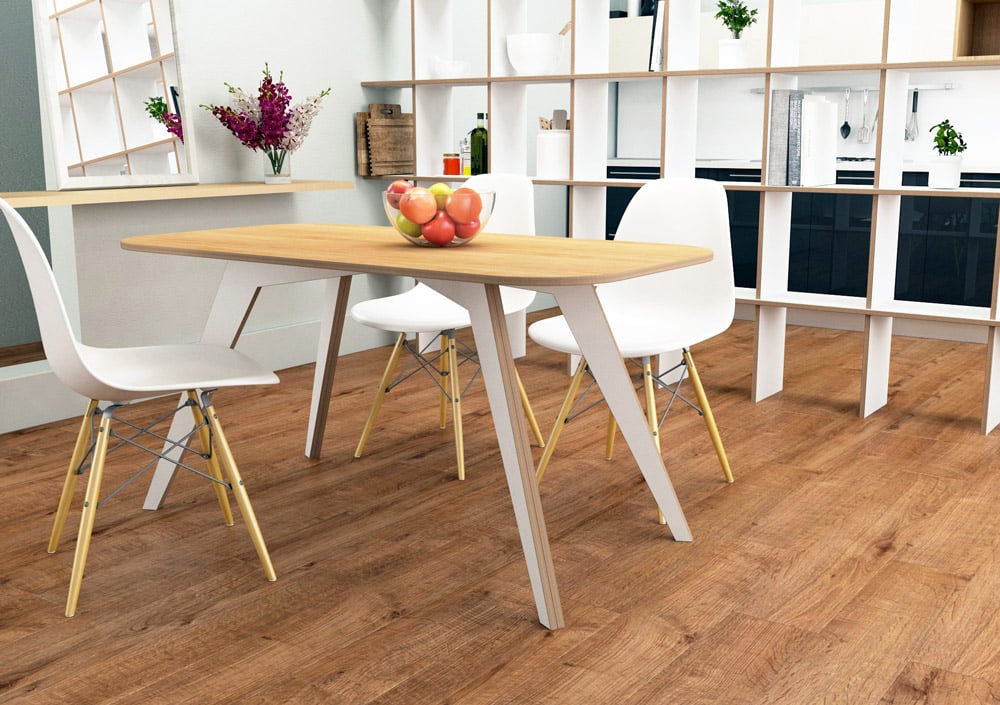 Correctly implement recesses of sinks or ceramic hobs
When it comes to home decor projects, sinks or ceramic hobs in our homes aren't exactly the first thing we get creative with. But especially when designing kitchen or bathroom furniture, it's important to pay attention to the correct cutouts of sinks or ceramic hobs. This is where your own DIY projects are particularly tricky, so we recommend discussing your own dimensions and sketches with a professional craftsman first.
Wood cutting for office designs
The right furniture is always the hallmark of a good interior. It must provide just the right amount of comfort and functionality to guarantee full efficiency. An adjustable chair and a flexible desk with a minimum size to work well will improve the work environment, thereby increasing work productivity. This also reduces the risk of incorrect back and body strain.
With the right wood cuts for your office furniture, you ensure ergonomically correct shapes. For example, indentations in the seating area can create a necessary dynamic. In places where electronics should be located, strategic recesses can be used to bypass holes for cables. First sketch out what you need and we'll be happy to help you implement it!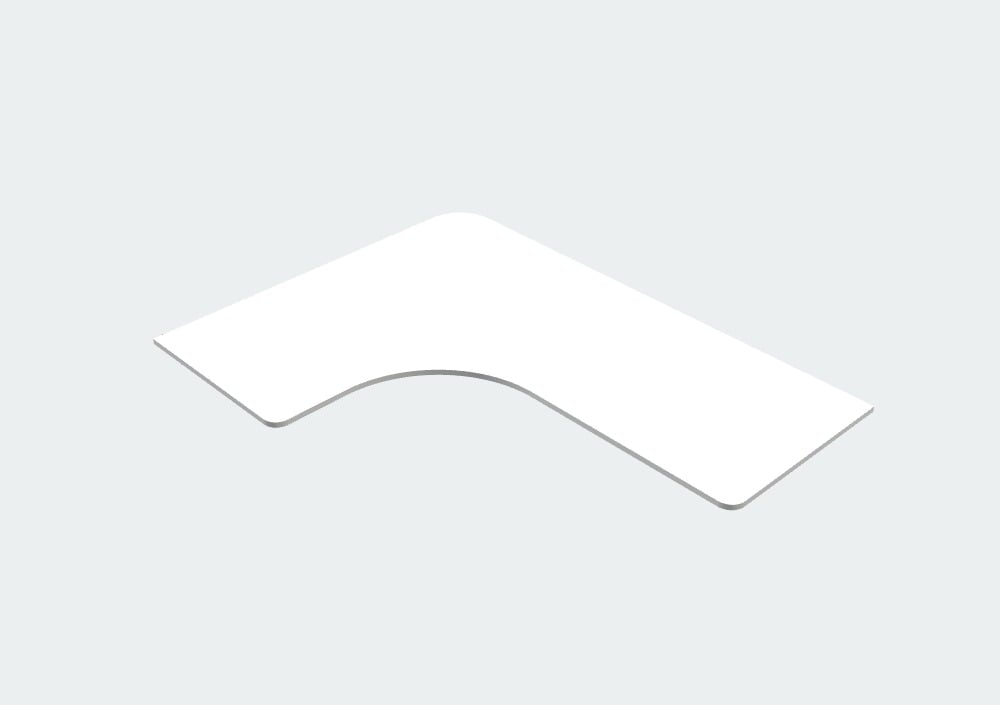 Create custom hanging shelves
Tired of shelves that take up too much room space? Then hanging shelves or wall shelves are an optimal way to use the unused wall space as new storage space. The best thing about suspended shelves is that you can easily and inexpensively build them yourself and integrate them on any wall side.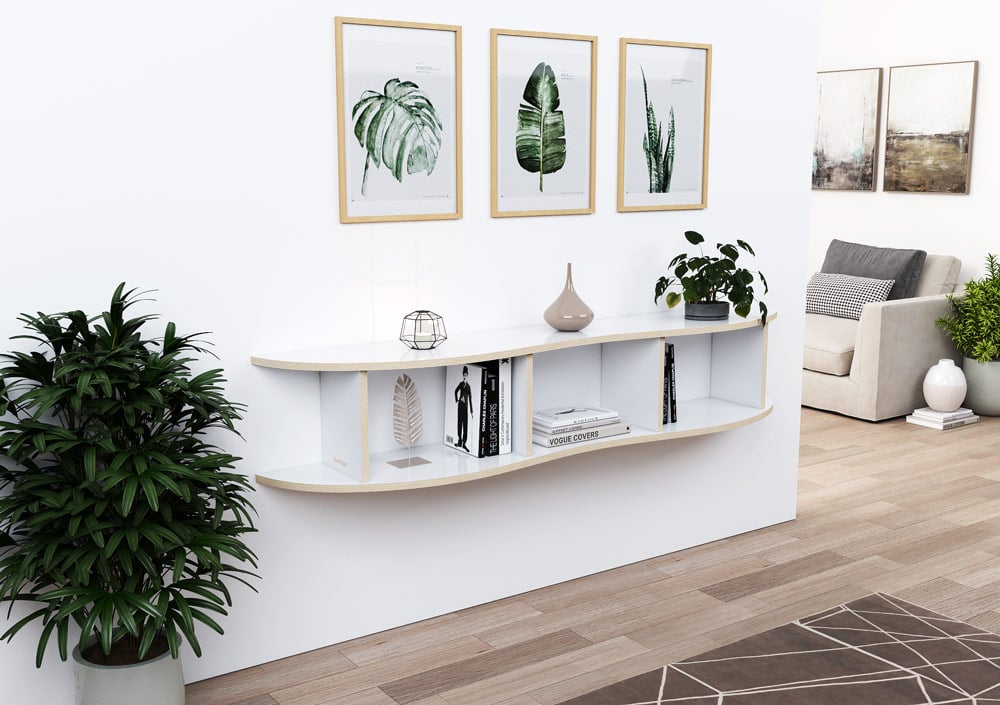 Build hanging shelves yourself
Floating shelves can be placed almost anywhere. Create a clean look whether in the kitchen, bathroom, bedroom or living room. The trick is to drill holes in the wall to invisibly mount the steel rods that hold these floating shelves. To do this, grab the lumber or wooden slats to create both the shelf frame and the shelves. Sand the material and give it a custom finish with water-based polyurethane. You'll find countless DIY tutorials online.
Many online stores on the market offer models that a beginner can easily build and install yourself. The invisible mounting hardware is the best option when building a floating shelf. Alternatively, you can opt for a swing-style floating shelf that can hang in loop brackets, which adds an extra dose of rusticity and complements certain interiors in particular. Many DIY variations work particularly well for smaller constructions. For larger assemblies or when you want to create specific designs, wood cutouts for wall shelves are recommended to make all units fit together perfectly.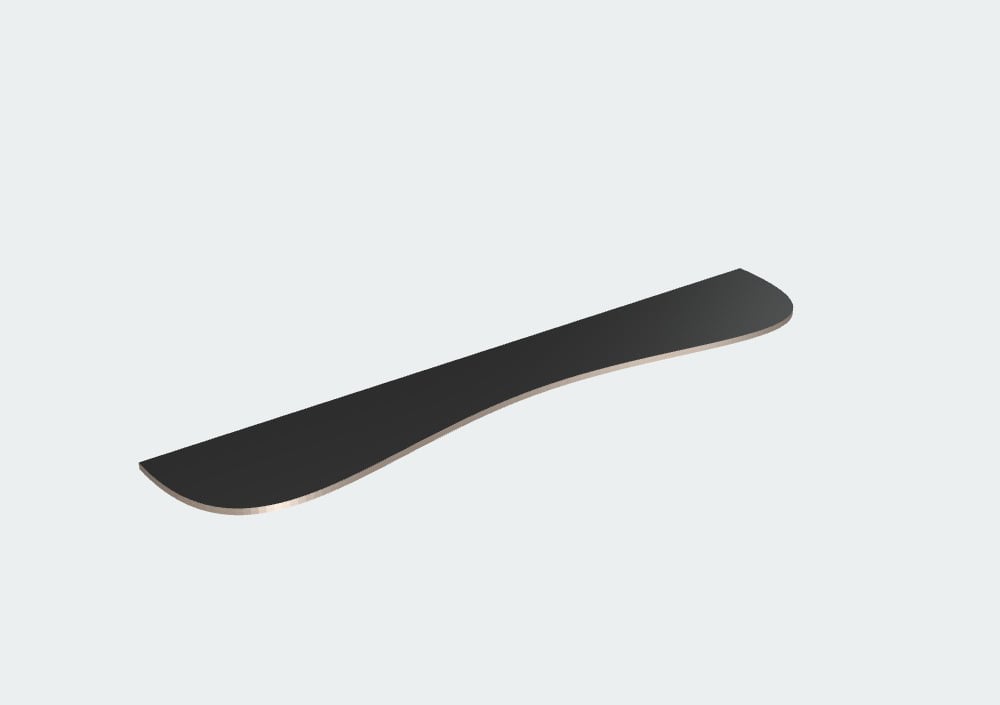 Regional crafts near you
As you can see, the advantages of custom-made furniture and wood cuttings are obvious. At form.bar, we stand for individual design, quality and sustainability: globally unique technology, certified woods from Europe and regional manufacturing with expertise and fair working conditions.
Our furniture and wood cuts are not produced anonymously in a large factory, but are made by regional craftsmen with modern CNC milling machines and finished with loving handwork. The innovative technology of form.bar enables the production of your individual furniture by a local carpenter at an affordable price. A Germany-wide manufacturing network with regional master craftsmen - that's only available at form.bar! Your advantages:
form.bar professionals help you on the way to your dream furniture
From measurement service to planning and construction - everything from a single source
Free consultation near you - reliable and competent
Get professional advice from one of our more than 70 partners in Germany, Austria, Switzerland, Luxembourg, France, Italy and Holland. The form.bar network offers a masterful service in all aspects of custom furniture and interior design. This includes on-site measurements, planning, manufacturing, delivery and assembly. Find the right partner with passion and expertise in your area now.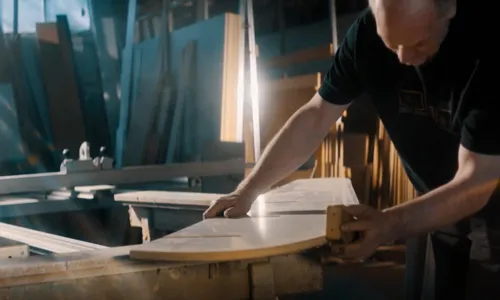 What to do with irregularly shaped rooms?
Irregularly shaped rooms come in all shapes and sizes - from sloping walls to tiny rooms, all of these can pose a challenge when designing the existing environment. The living room, for example, is the focal point of the home, but if it's oddly shaped or has whimsical features, it can feel impossible to match it with the living room furniture and styles you want. For this reason, let's take a look at some of the most common environment challenges and how to transform them with simple solutions or matching wood cuts.
Segment the room
The most important thing to do with irregularly shaped rooms is to create segments and then rearrange the furniture in each area accordingly. For example, you can put a reading chair and bookshelves in one area, while a sideboard with the hi-fi system is in another. If the room is suitable for different functions, you should definitely take advantage of this. Therefore, segment the room by rearranging the furniture to delineate different areas with different functions. Custom wood cuts can be ideal helpers in segmenting rooms or supporting the multifunctionality of furniture.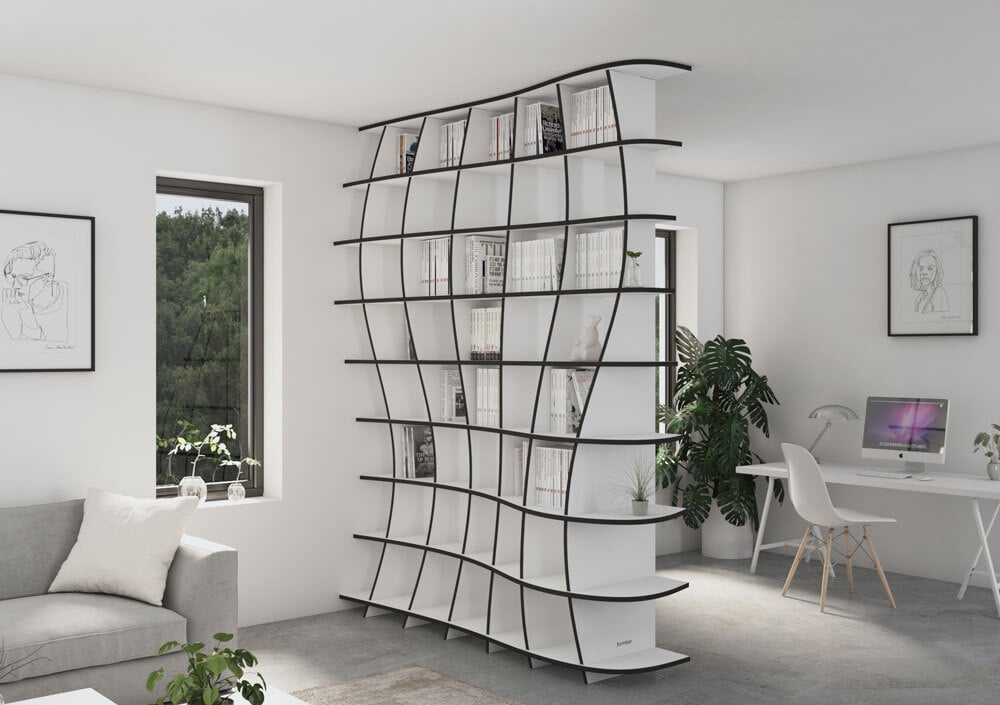 Scale the furniture and remove it from the wall
Using furniture that is too large or too small in an irregularly shaped room, can make the arrangement look disjointed. Therefore, scale your furniture to the size of the room so that it flows better and distracts the eye from the difficult shape. For example, a coffee table that is too large can dominate a small living room and consume walking space. If you want to make a room appear smaller, it is enough to move the furniture away from the wall and closer to the interior of the room. For example, you can place a sofa table or a floor lamp behind the seating area to fill the space and create more light. Coordinated side tables can be used to anchor the room and create a cozy area.
Equalize large elements and open passages
Placing a bookshelf or TV cabinet on the same wall can make the room look small and cramped. Instead, spread out the larger elements of the room to create balance. Place large pieces of furniture or large decorative items on opposite walls or in different areas of the room to make the space feel more open and harmonious. A small room with more than one entrance may contain a narrow passageway, making the space feel even more cramped. Instead, separate the room into two small spaces, such as a reading nook and a conversation area. It's a good idea to open up the passageway through the room with a rug, bridging the two areas. This will create the illusion of more living space.
Rooms with sloping walls
Sloping walls present a challenge when designing a room. The awkward shape of the room creates a lot of hard-to-handle nooks and crannies that are not easy to fill without making the room look unruly. A simple and popular solution is to create centered conversation layouts with a sofa and an armchair. This provides a comfortable space for various leisure activities. For rooms with sloping walls, the awkwardly cut angles can be used as a sunny home for plants, helping to brighten up the space and distract from the shape. Rooms with sloping walls can be transformed into an ideal multifunctional space with custom wood cutouts.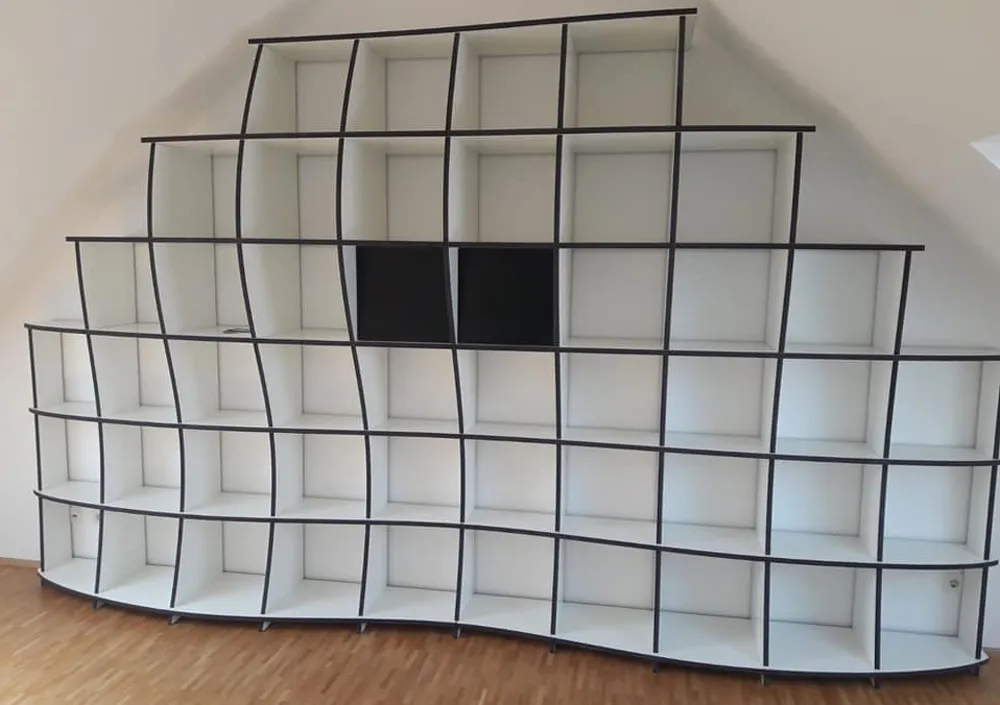 Rooms with high ceilings
High ceilings can be uncomfortable because we tend to decorate at eye level and below. Often this creates a lot of unused wall and ceiling space if your ceilings are 3 meters or higher. In such cases, it is recommended to match the layout of the room with the height of the ceiling so that the room is not unbalanced. High ceilings can be ideally balanced with a set of tall bookshelves that fill the empty wall space. Custom cabinets act as convenient storage and minimize the cavernous look of high walls. It's a great use of vertical and horizontal space, providing both storage and a tie of structure that unifies the lower half of the room with the upper ceiling.
Optimize the lighting
Provide good lighting in all areas of the room to make it feel more open and unified. Using different lamps can additionally help distract from an irregularly shaped room. For example, place a floor lamp at one end of the sofa and a table lamp on a side table at the other end. Wall sconces above a fireplace or wall shelf create a cozy nook, while overhead lighting in a dark corner makes the room seem more open. Avoid blocking the natural flow of light by always keeping the window region clear.
Fazit
Custom-made furniture and wood cuttings are unbeatable in price-performance ratio. Especially for irregularly shaped rooms or custom tabletops, custom-fit configurations guarantee the most qualitative and sustainable solution. Take advantage of our dynamic manufacturing process and experiment with our 3D configurator: Choose a basic shape, define the overall size, edit the corner points as well as the contours and add recesses - ready is your custom wood cut, processed by a regional craftsman. The delivery will reach you in 4-6 weeks. For questions or advice, we are happy to help you via live chat, during the week from 09:00 - 18:00.