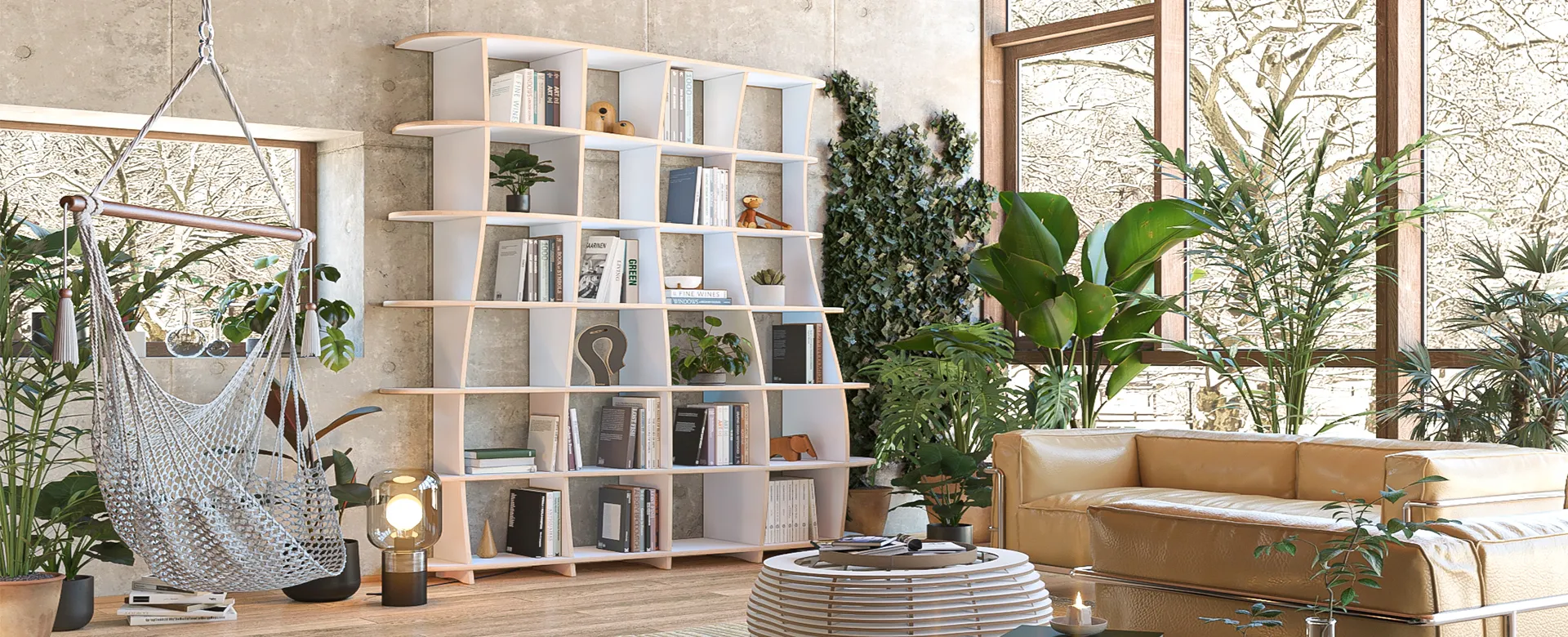 Living trends 2022
After the turbulence of the last two years, we are looking hopefully towards 2022. After two rather difficult years, it is important to create places where we feel comfortable. And the interior trends 2022 reflect this need. Many of the top interior trends in 2022 are repeats of what we have seen in the last two years. This is mainly because we have noticed what feels good in our homes.
Suggestions from form.bar
Choose your favourite design and customise it
What is the focus in 2022?
Similar to the fashion world since the last few years, interiors are less about following trends and more about personal expression. Instead of certain trends receding, we see the boundaries between different styles blurring. Our homes have evolved a lot, not least because we need multifunctional spaces. With well-being, mindfulness and sustainability as needs and drivers, home trends 2022 show us exciting possibilities for our interior designs.
Multifunctional rooms and modular furniture
The pandemic has led us to rethink the importance of spaces as places of refuge and work. We will continue to see a demand for versatility, where a space can be reconfigured and shaped for different activities. For example, a common multifunctional option has been to use a dining table or kitchen island as a desk for the home office at the same time.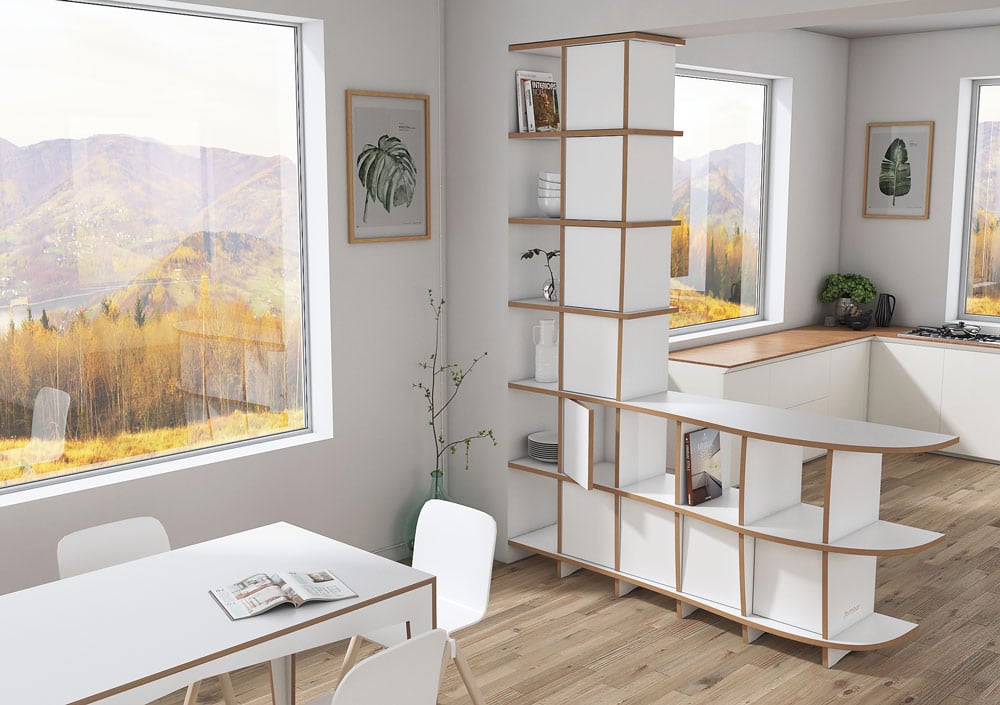 Using rooms for only one purpose is long outdated for many living situations. Take a close look at your space and invest in shelves, ladders and platforms that enhance the interior and enable multifunctional use. Whether dual-purpose rooms, multi-purpose furniture with innovative storage solutions or modern room dividers - modular furniture is also in demand this year.
Transforming the home office
With the changing times, we are increasingly rethinking the way we live. It's less about how certain spaces should look and more about how we want to feel in our living spaces and how we can create the most comfortable home that meets our personal needs. We are thinking more about the environment and what sustainable living means.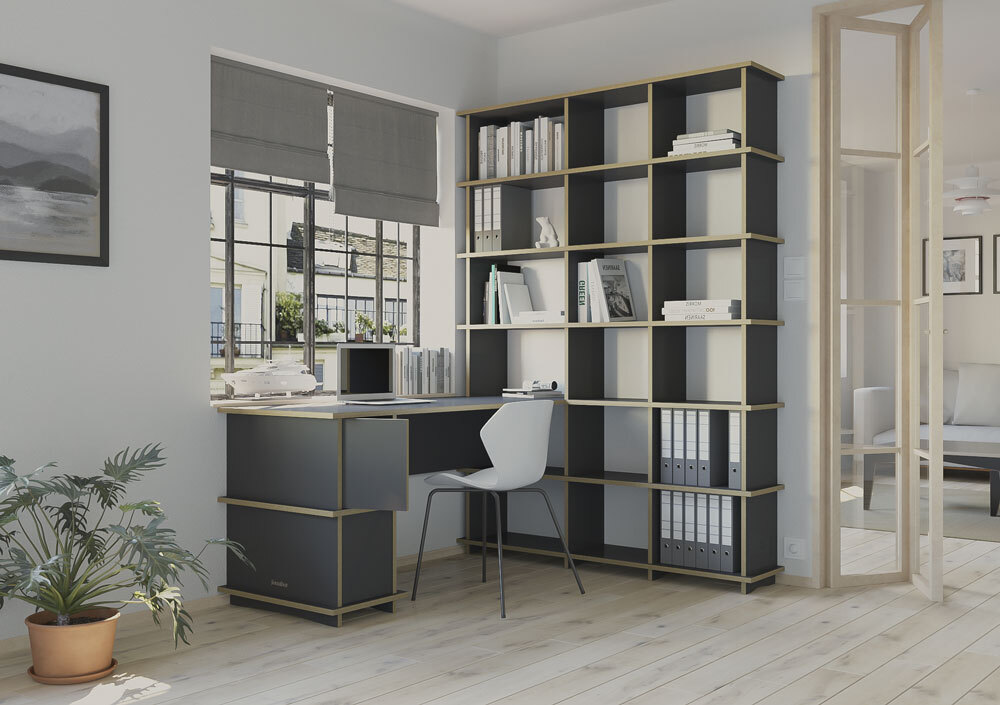 At the beginning of the pandemic, many employers made remote work in the home office available. About two years later, most people are returning to the office and the need for home offices may decline, according to trend forecasts for 2022. In some surveys, around 80% of people would prefer to work from home at least some of the time, however online furniture retailers are seeing a decline in home office equipment. As a result, many workers are predicted to convert their temporary office furnishings back into a guest room, playroom or walk-in wardrobe.
Natural materials and round organic shapes 2022
One of the overarching themes of the 2022 home trends is nature. Home designs show a continued focus on natural materials. Consumers are looking for a more responsible approach to designing their spaces to promote sustainability, fair production chains and quality. Natural materials and round organic shapes are the links of sustainable design. This living trend is balanced, well thought out and stimulates the senses. Different shapes contribute to different effects and moods. Round organic shapes add softness to a design and give rooms a calming ambience. The love of nature is also reflected in the furnishings and décor.
Dried flowers and dyed or dried grasses remain extremely popular decorative accessories, harmonising with fresh and artificial houseplants to further blur the lines between outdoor and indoor living. Expect more rounded organic home decor and furniture in 2022. Sofas with rounded edges, organic prints on the décor and organic home accessories, give the home a soft and natural look.
Using sensory experiences
Natural materials and round organic shapes are more than visual highlights. Our interior design must feel good on all levels. Users increasingly appreciate the interplay of different sensory experiences.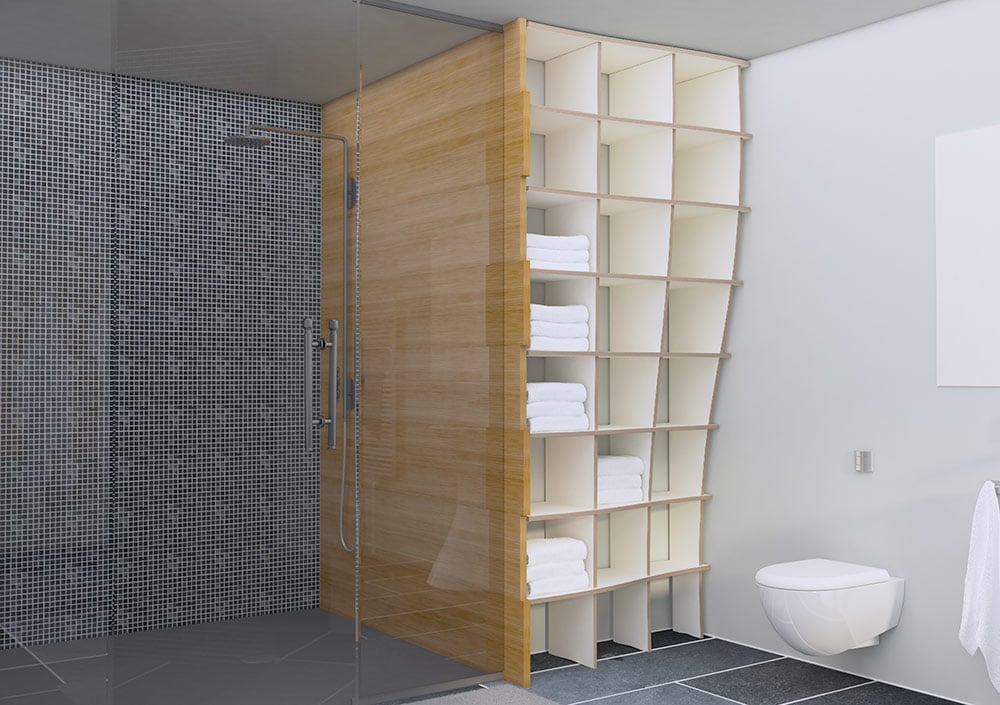 Thus, fragrances and essential oils were the focus during the pandemic. Here, certain areas of the home were scented with different aromatic substances in order to experience the space more fully. For example, the home office was scented with sage to promote mental sharpness, the bedroom with orange blossom to promote calm and sleep, and the living room with earthy essential oils to promote more relaxation.
Texture-rich materials and olfactory highlights, create a sensory stimulation that is dynamic and unique, individualising the space. Experiment with exclusive patterns, textures, natural materials, fragrances and colour combinations with green tones to make your space more appealing to all the senses.
Delineate open spaces with natural fragrances
Many open spaces lack contrasts between exposed and private areas that can make a large space more attractive. Movable furniture allows for different types of arrangements for diverse social interactions and design features. For example, niches or corners can offer privacy and quiet places that make a space more comfortable. Fragrances can help to aromatically delineate these created zones.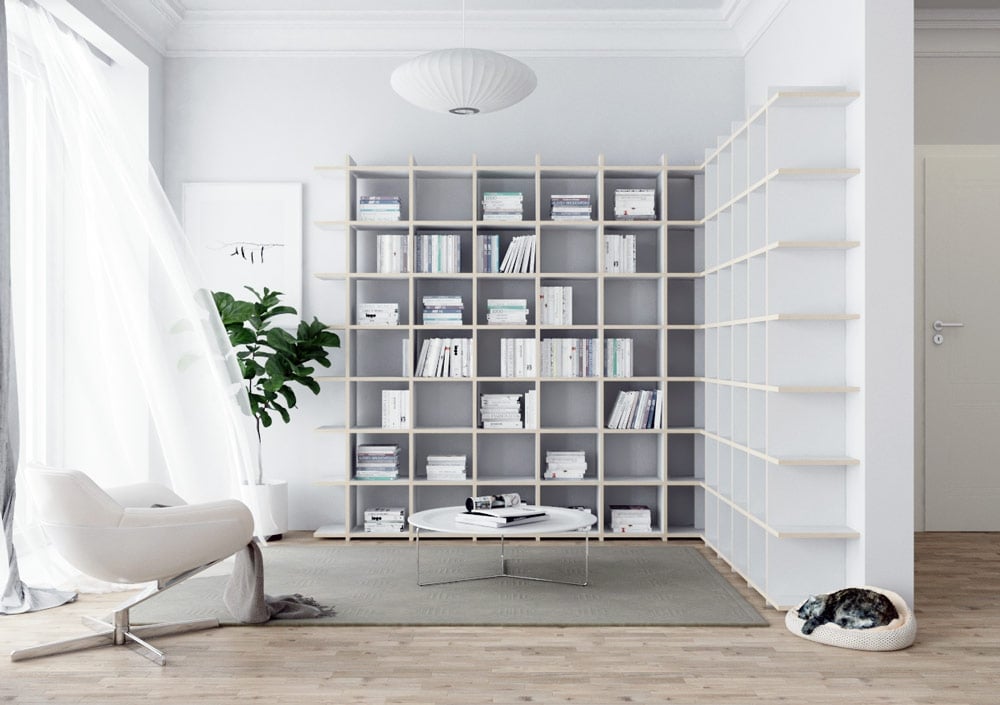 Fragrance blends of bergamot, neroli, cypress and sandalwood, suit the flexible and relaxed feel of open spaces. They can be used to promote a calm and cosy ambience when relaxing or casually entertaining. Fragrance blends of lemon, rosemary, Siberian fir and incense, provide a stimulating ambience, which can be particularly beneficial in work areas.
Trend colours 2022
Consumers' love of soothing green and earthy tones is reflected in the search queries of online retailers. Not only aesthetic reasons play a role in this result. Research shows that natural colour schemes and organic shapes found in nature reduce stress, lower blood pressure and heart rate, increase productivity and creativity, and make us happier. Whether for our walls or our furniture, the preference for neutral and natural colour tones continues to advance.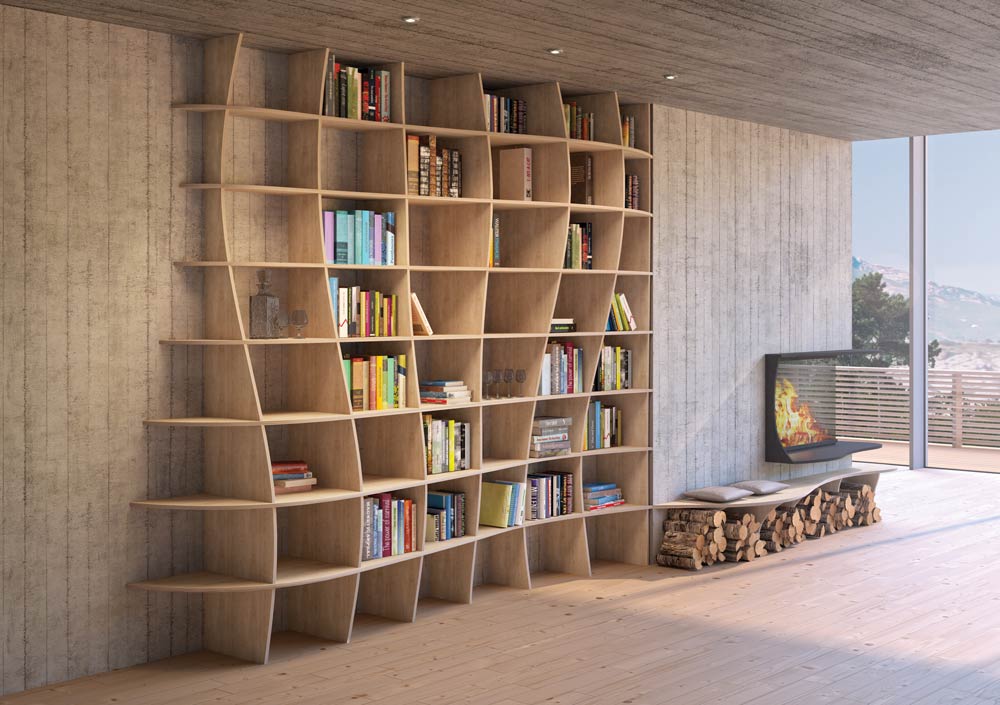 Neutral and natural shades
Neutral and natural colour palettes never go out of fashion. This year, too, home designs are sticking to this classic. Grey, beige, white and brown in warm and rich undertones are favoured as wall colours. After more than a year of living and working at home, we are inclined to create a peaceful environment, which is especially successful with natural colour tones. The need for warmth and comfort in our home is manifested through organic tones such as chocolate brown, cappuccino and ochre. Adding exclusive textiles and organic materials, such as wood, helps to preserve and emphasise the perceived warmth of the room.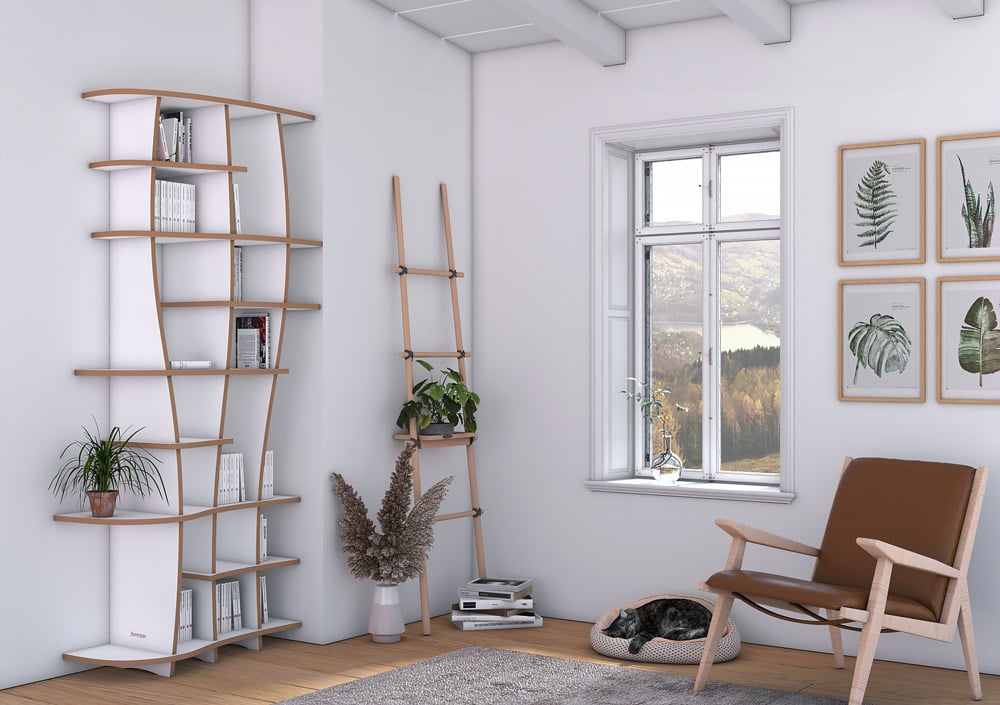 Black accents
When it comes to striking home details, we can expect black to take on a special role. Many designers use black accents in interior design for visual highlights, through black window frames, trims, doors, taps or door frames, for example. Black is a great way to add edge and depth to more minimalist spaces.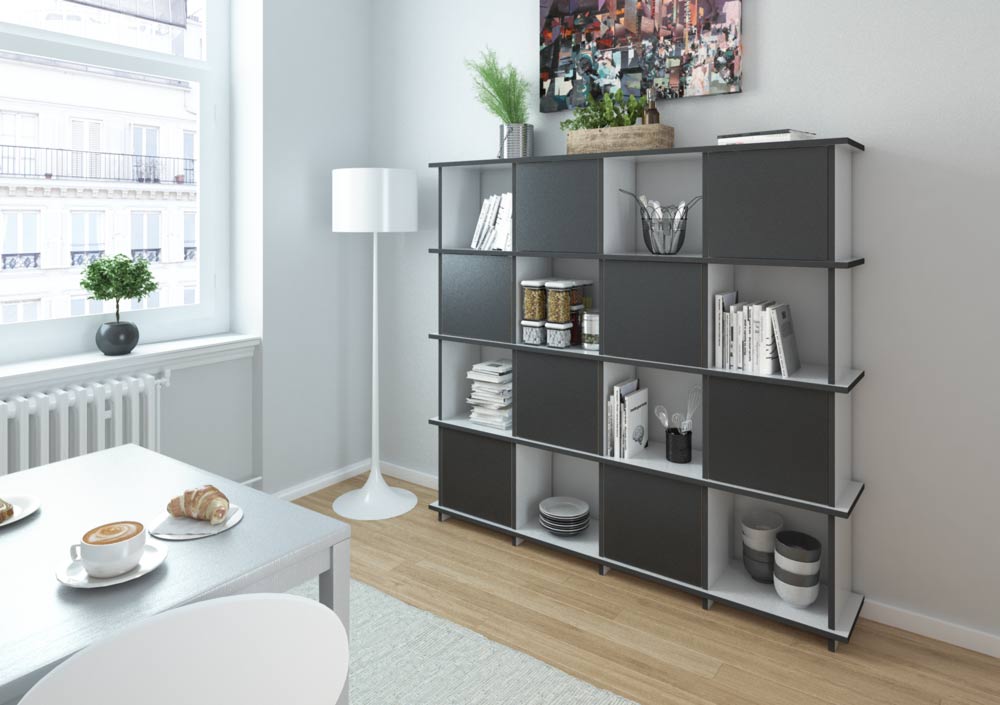 Some designers recommend using light, neutral colours for the main elements of the room or for the walls and black highlights, such as lamps or black décor to accentuate the room. Even replacing existing furniture, such as side tables or TV cabinets, with black handles adds contrast and sharpness to a room. Black is always timeless, modern and goes with all colours, which is why you can't go wrong with black.
Emerald green decor and pink accents
The online shop Etsy has seen a sharp increase in searches for emerald green home decor. Emerald green is a vibrant, darker shade of green that adds a colourful, luxurious touch to a room. Add emerald green highlights with tiles, cushions, throws, bedding, glasswork or art. Emerald green décor counters the constant stress of work life and helps restore balance with organic naturalness. Shades that mimic the wild help harmonise the space.
Alongside green, pink is also high on the list of trend colours for 2022. Complementing deep jewel-toned greens, pink accents, such as terracotta tones, are popular as a colour duo. Emerald green décor and pink accents complement each other perfectly. Both colours have a colour-psychologically calming effect and signal safety to the brain.
Create modern colour combinations with green tones
In the world of colour psychology, green is associated with nature and natural elements, health, wealth, generosity, vitality, happiness and creativity. Green also has a rejuvenating and uplifting effect. Besides green and pink, the following colour combinations with green tones set modern accents: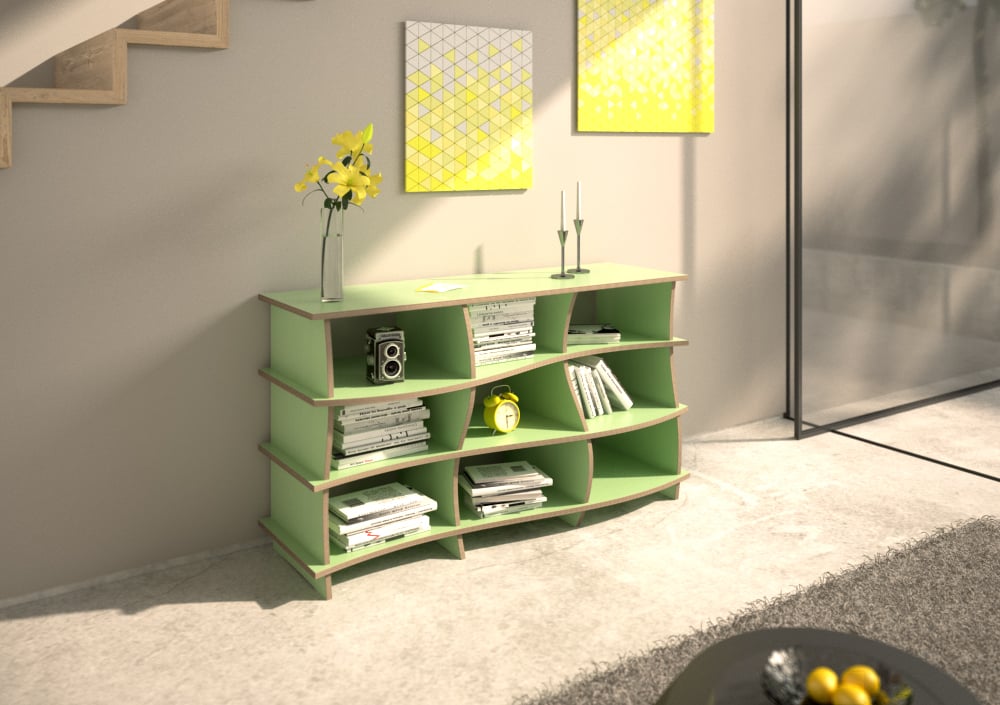 Green and yellow:

Green and yellow together look sunny and lively. This is the ultimate combination if you want to convey a feeling of vitality. Yellow is naturally warm, inviting and activating. Combined with green, it makes a creative statement. For a calmer and more relaxed ambience, toned-down greens and yellows are recommended.

Green and blue:

Green and blue are next to each other on the colour wheel and thus work well together. Mixing blue and green makes our designs look calm and harmonious. In colour psychology, both colours convey a sense of security and fullness.

Green and white or black :

Green and white or green and black is classic and crisp. Either way, the décor looks elegant and timeless. Or you can combine all three colours for an even more effective effect.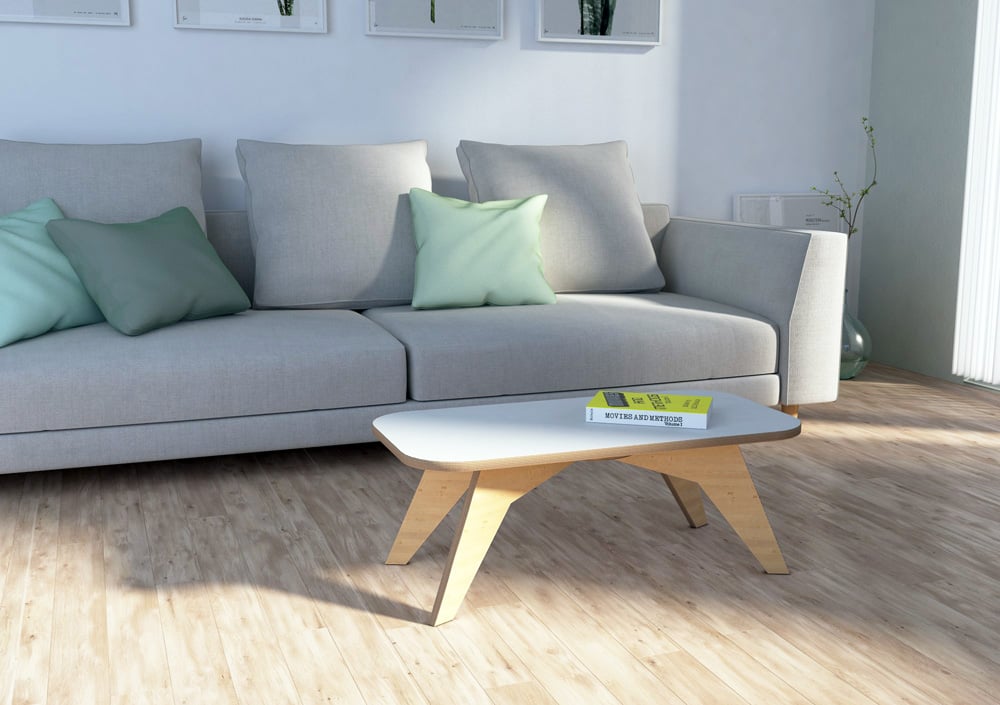 If you want to use green in your home décor, the effect depends on which shades of green you use and with which colour palette they are mixed. Depending on the shade, the rooms can look creative, activating, calm or conservative. Green tones in the bathroom create freshness, especially when set against neutral colours such as white or black.
In the kitchen and bedroom, deeper shades of blue-green such as emerald tend to suit better as they have a calming effect and invite you to linger longer. For the living room, lighter shades are recommended to create a fresh statement. Green furniture, rugs and other furnishings convey positivity and creativity.
We plan your home according to the trends of 2022
Let our team of professional designers create your dream home.
To the design service
Decoration trends 2022
As we can see, home trends 2022 imitate the beauty of nature. This trend is particularly evident in the 2022 decorating trends. Here, the focus is on naturalness, sustainability and individuality with the help of DIY creations.
Upcycling and DIY creations
In the course of sustainability, so-called upcycling is particularly in demand. Upcycling means using unwanted parts or waste materials to make a new product. For example, curtains are made from PET bottles and new carpets and cushions from fabric waste. This trend can now also be found in popular shops, such as IKEA or other online retailers.
Another advantage of upcycling is that it is great for DIY projects, which is noticeable in the countless DIY creations for decorations and accessories. Our homes are not just spaces we live in. They tell us about who we are and what we love. That's why DIY creations have become an indispensable decorating trend. Interior designers are also noticing this, which is why many of them are foregoing polished high-end looks this year and decorating their rooms with DIY creations.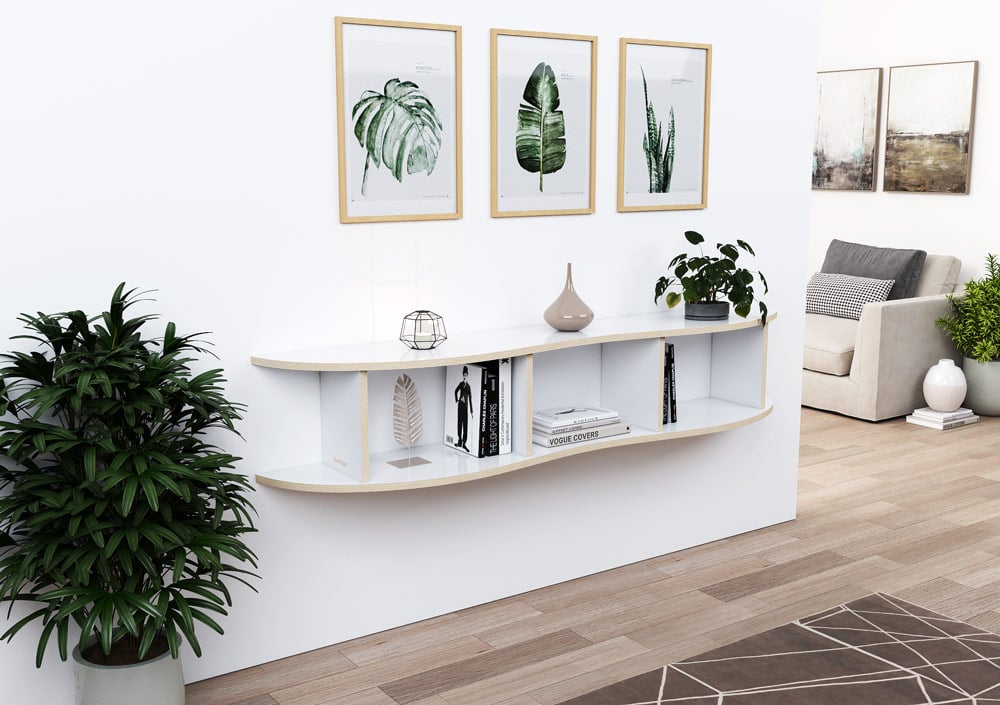 Sculptural vases and luxurious textiles
The finishing touch is an essential part of interior design. To complete the look and make a room a home, vases are becoming statement pieces in 2022 thanks to innovative materials and unique designs.
A popular trend found on Instagram, Pinterest or Etsy are stunning DIY sculptural vases that feature abstract shapes and lush curves in a variety of bright, airy colours and patterns. Take inspiration from the endless creations for your own personal DIY project to add artistry and creativity to your décor.
Another trend is the use of luxurious textiles and fabrics to balance or accentuate neutral and warm tones in a room. Although monochromatic white designs are not going out of fashion, interesting textiles and exclusive patterns are popular to bring rich colours or contrasts into a room and enhance sensory experiences. This can be done, for example, by layering different fabrics or materials, on a bed or couch.
Natural materials, such as linen or silk, add a warm and elegant touch to the interior. This year, teddy fur is one of the must-have textiles. This fabric is modelled on real lambskin and is used both in the fashion world and in interior design for winter creations.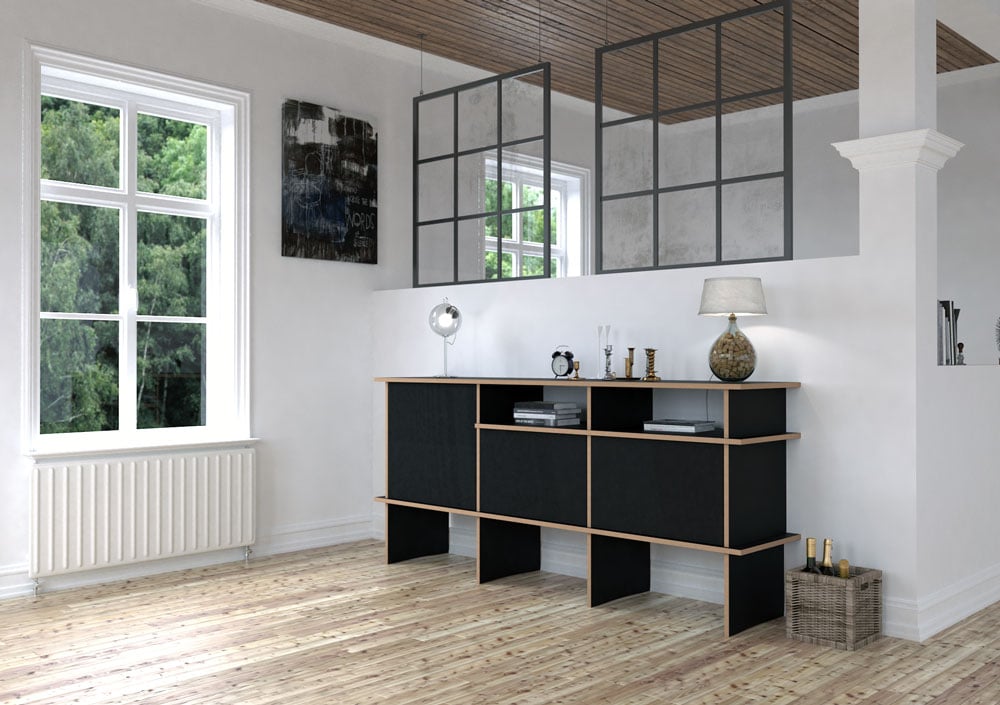 Glass lighting and artistic table design
Im Jahr 2022 werden auch Pendelleuchten zu Statement-Stücken. Das gefragte Material ist Glas. Allowing for a deep, warming hue with variations in colour and texture, the use of glass in lighting becomes more experimental. From fluted designs, a key trend for 2022, to bubble-like spheres, glass can be used to position eye-catching light fixtures in any residential or commercial space.
Alongside stylish glass lighting, we find artful table designs on the decor trend list for 2022. Decorating the table to impress is not a new trending topic for social media savvy interior design enthusiasts. Clever table details with expressive, styled decorations and handcrafted interesting serving ware, always get people talking.
The key to a creative and refined tablescape is to combine plates, tablecloths and glassware of different textures while keeping to a complementary colour palette. Again, handmade products, mats, tablecloths and candlesticks are preferred items as they cannot be topped for individuality.
Customised living room bars
Interior designs 2022 show that living room bars and drinks trolleys are becoming the new must-have furniture. This trend started during the lockdown and continues as we have had to get used to attending few to no social bar visits and instead spend more time indoors. Customised living room bars bring a bit of lounge ambience into our homes and serve as multifunctional furniture at the same time.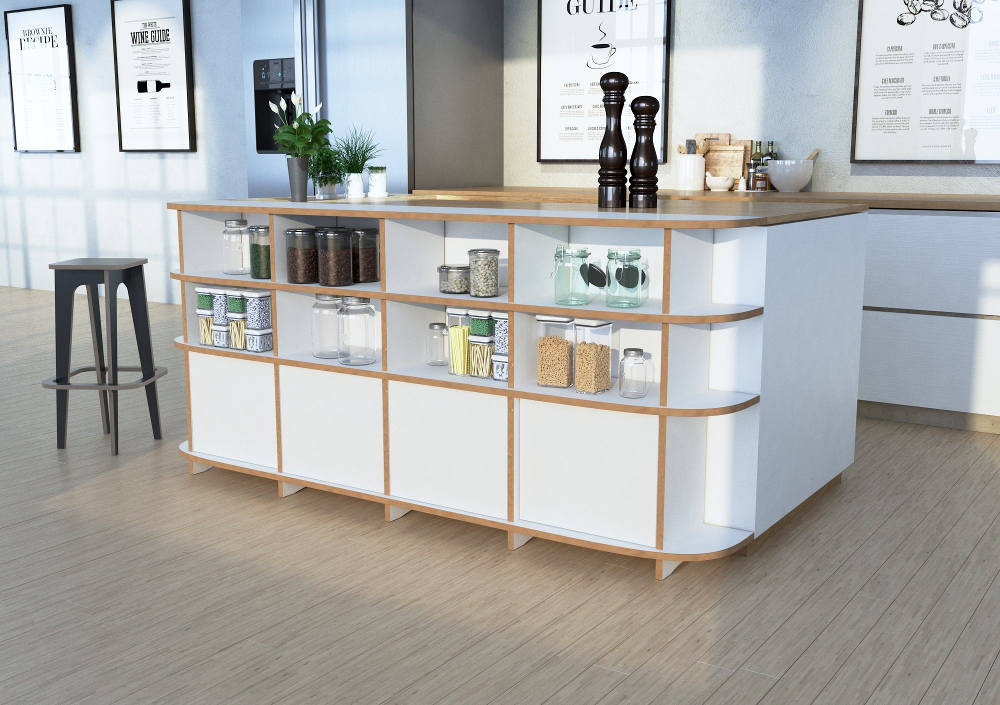 What distinguishes a living room bar from a house bar?
The main distinction between a living room bar and a house bar is size and mobility. As the name suggests, living room bars are part of a living room, while a house bar can occupy an entire room of the house for this purpose. Living room bars are ideal for a corner or designated space in a living room thanks to their compactness, as they can either be freestanding or built in, like a bar cabinet or bar cart. Thus, they can be moved around as desired and also transferred to other rooms.
A custom home bar, on the other hand, is more of a complete set-up that is used as another room or area in the house that is used for making drinks and as a gathering place for social evenings. A typical home bar setup includes a bar counter, some storage and a preparation counter.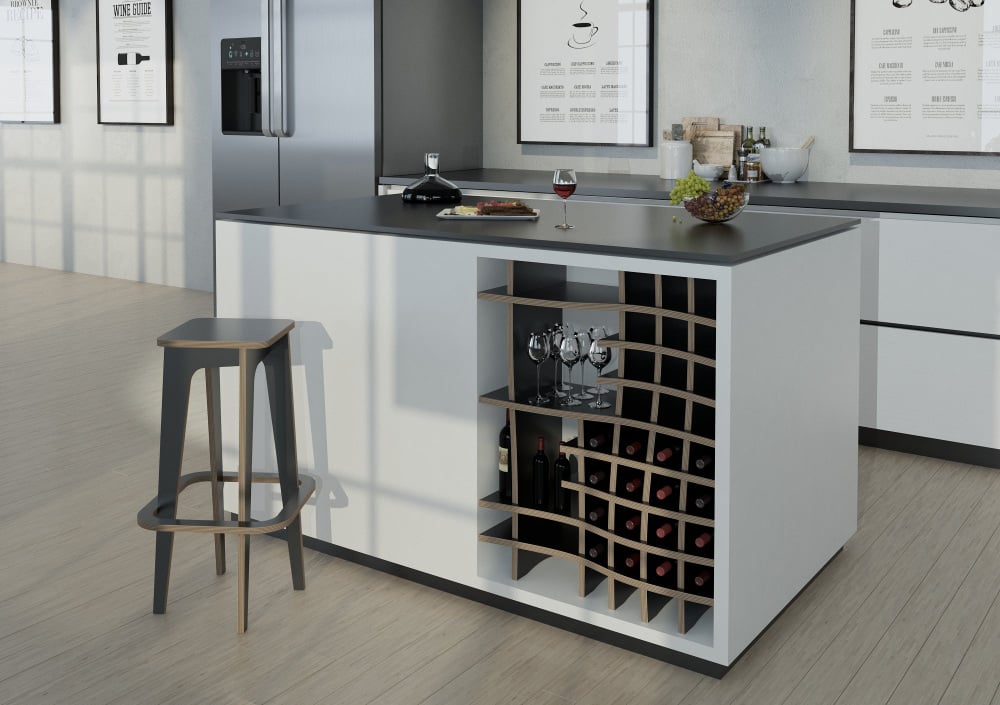 A living room bar, much like the home bar, usually has a storage area at the top, with open undersurfaces below that either serve as a preparation area or are used as a storage area for bottles and glasses. Bar cabinets and other freestanding bar furniture are readily available in most shops. For a custom living room bar, check out our wine shelves. They can serve as the basis for creating your own bar lounge. You'll end up with a unique multifunctional piece of furniture that you can also use as a coffee table or dining table.
Mix antique and modern furniture
As mentioned in the introduction, we see the blurring and combining of the most diverse styles in the 2022 living trends. This can be seen in the mixing of antique furniture with modern interiors. The combination of both elements contributes to uniqueness and refines an individual look. Here are some tips to help combine old and new furniture to create a layered interior that transcends time.
Find the right balance
When it comes to mixing antiques with modern pieces, almost anything is possible, but the balance should be right. A home is a collection of things you love and find meaningful. Just rearranging antique and modern furniture can be enough to make the overall look fresher and more coordinated.
Note the sizes and colours of the respective furniture: many dark, heavy wooden pieces create a visual focal point in the room, so it is important to consider in which part of the room they fit best. Conversely, very light and leggy pieces should be placed next to items with more mass to break up the arrangement. A balanced relationship is created in the interplay of spatial open spaces and the colours and sizes of the respective furniture.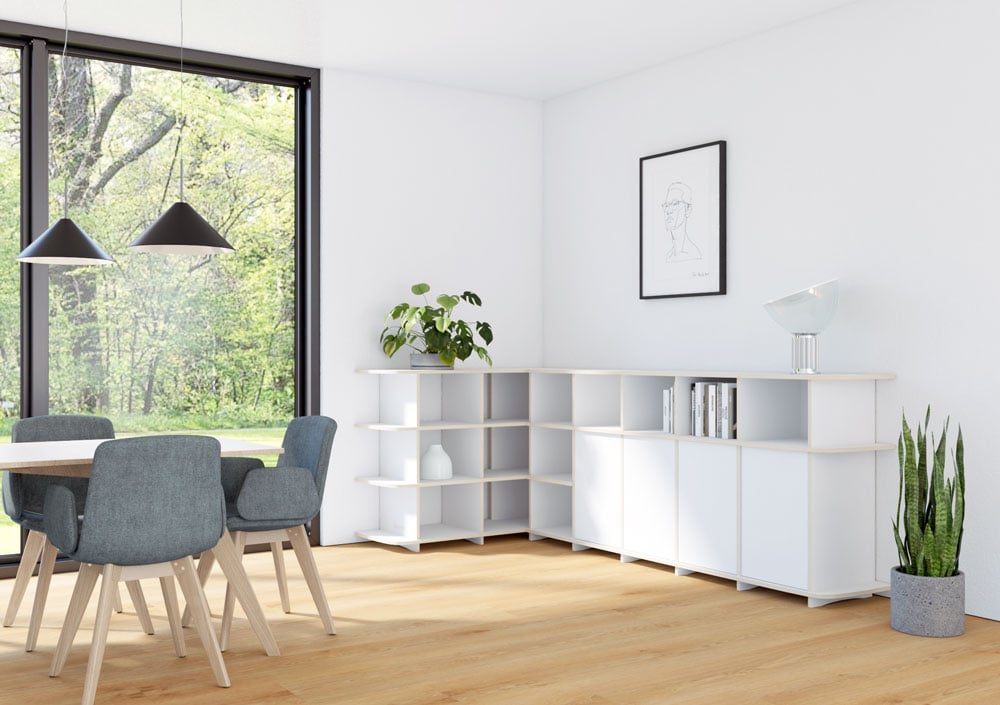 Uniting different styles with colour
When considering keeping an older piece and incorporating it into a modern design, it is important to think about form as well as function. Antiques often display fine craftsmanship that is harder to come by today and feature intricate wood carvings, inlays or decorative flourishes not found in modern furniture.
One challenge of mixing old and new pieces is figuring out how to blend eras and styles while maintaining an overall sense of cohesion.
While mixing different materials, such as wood and metal, is an art in itself, the easiest way to integrate different elements together is to pair them with objects from the same colour palette. Especially when there are many different styles and furniture, one colour unit is often enough to synchronise the layout and create visual order.
Showcase statement pieces with modular furniture
If you want to achieve maximum impact in a modern space with an antique piece, be bold. Make these pieces functional and suitable for the modern lifestyle by repainting (if possible), refinishing, renovating. Replace the upholstery on antique bed frames or armchairs to give the piece freshness.
This strategy works particularly well in a neutral space that needs a focal point or sense of drama, which is achieved by introducing contrast and juxtaposition. Modern modular shelving in particular, expertly showcases antique statement pieces through its organic shapes and minimalist design. Those who do not dare to integrate large antiques into their interior design can experiment with smaller antique furniture pieces, such as side tables, wooden stools or antique gilded mirrors, lighting fixtures and rugs.
Fazit
Housing Trends 2022 continues to stick to the theme of sustainability. More and more consumers are asking how their furniture is made, where the materials used to make it come from and the distance it has to travel to arrive in our homes. Choosing local producers and suppliers helps support a sustainable and fair production chain.
Natural, organic decorations, accessories and furniture are also preferred elements in our furnishings this year, whether in the bathroom, living room, bedroom or for the kitchen - designs made of natural materials harmonise with any interior. In addition to colour combinations with the trend colours of the year for our walls and furniture, the use of textiles with exclusive patterns and textures, or the use of selected fragrances, can sensory enrich the room. Those interested can find numerous tips and ideas for holistic interior design online. We are happy to help you get the most out of your design with customised furniture.