Designer room divider made to measure
Choose a design and configure it
Solutions for every room situation
Individual room dividers made to measure
Configure room divider
Use our online furniture configurator to create your individual room divider in your own personal design. Our form.bar furniture configurator is intuitively structured and very easy to use. Our tutorials clearly explain the various functions of the online configurator, such as the 360° view. In addition, when you register, you can save all your designs and thus compare your designs and later decide on a shelf element.
In just three easy steps to your wall shelf: Choose your type of wood, the colours and plan the measurements of your partition according to height, width and depth. In the twinkling of an eye you can design your own room divider . Additional options, such as doors, make your shelf perfect. There are no limits to your imagination.
Do you have any questions or need help planning your room divider? In our FAQ areawe have answered the most frequently asked questions and put them together for you to read. If you still have questions, contact us and convince yourself of our friendly service.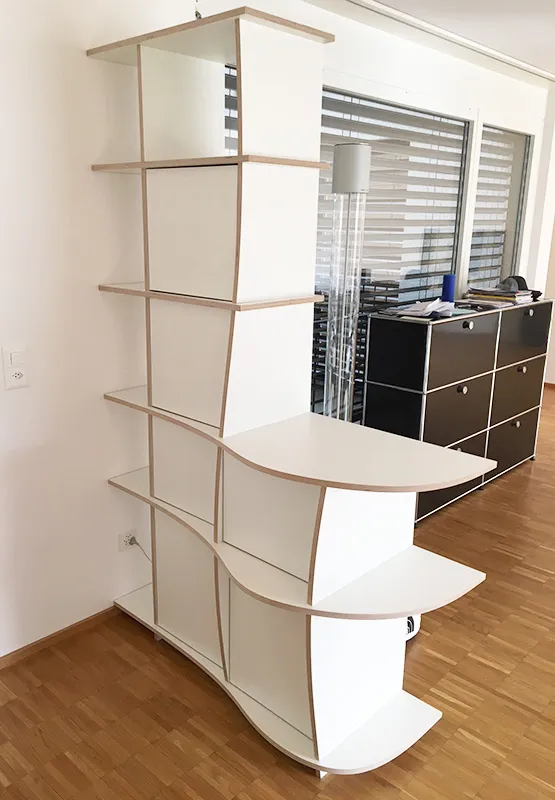 Room divider self-made with form.bar
Room divider options
You often have very special requirements for a room divider. Especially the size and the number of compartments play a decisive role if you want to separate rooms with a room divider. A room divider from form.bar will certainly meet your requirements:
Measurements: determine height, width & depth yourself
Curved forms
Regional carpenter quality
Various types and colours of wood
Free planning service
Shipping included
Free wood sample on approval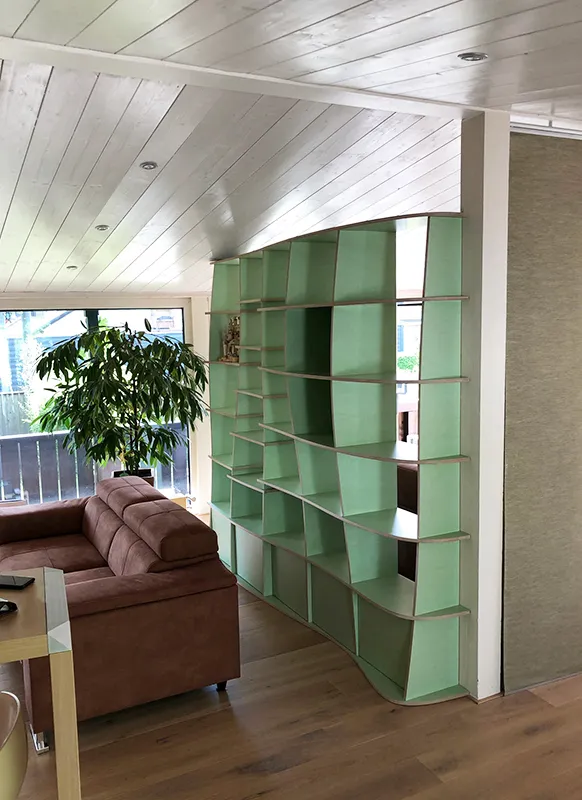 Room divider ideas
Room divider as a practical solution for your home
Wooden room dividers are available in various shapes, types, colours and sizes. Especially if you want to create additional storage space and give your home a modern atmosphere, a separating shelf from form.bar is the perfect solution. It is particularly practical, as it not only visually separates the room, but can also be used and filled from both sides. The compartments of a room divider offer a lot of space for your favourite objects and decorations in your living room. The shelf is best suited for heavy objects. Very popular room dividers are so-called stair or step shelves. As the name suggests, this is a shelf that is built up in steps.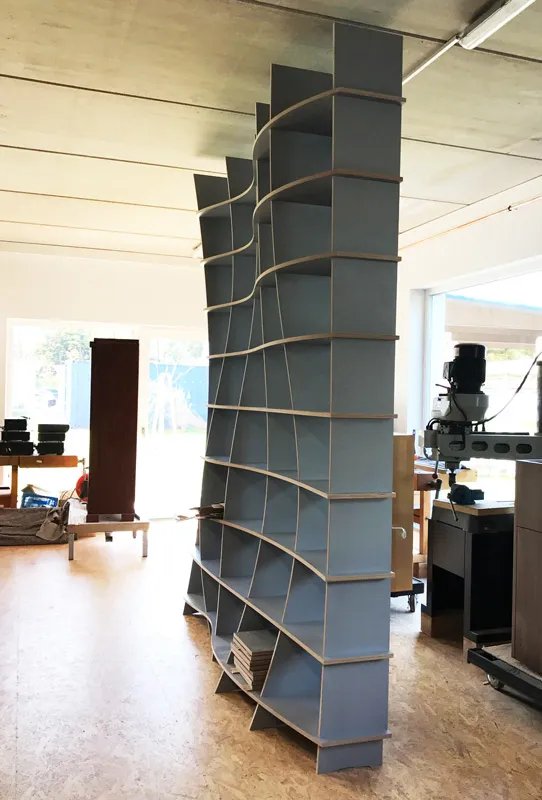 Better use of rooms with room dividers
Room divider for the division of rooms
Room dividers are an ideal way to divide rooms into several zones. These practical furniture are often used in large rooms and also offer a lot of possibilities for dividing your home. With this type of shelf you can easily divide your living space into different areas without reducing the size of the room. Especially large rooms can be used more efficiently. A great side effect is that a cosy atmosphere is created through the targeted use of room dividers.
It is quick and easy to set up a quiet workplace or a reading corner in your living room, for example. Loft-like living is very modern and a harmonious room image is created. Furthermore, room dividers are also a good solution for Changing areas inside the bedroom.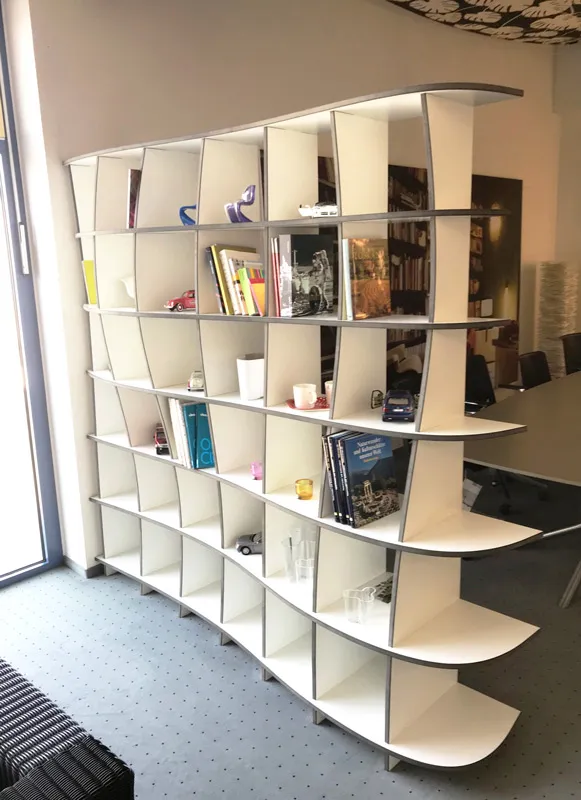 Which rooms are suitable for room dividers?
Create more privacy in the office with a room divider partition
A workplace in an open-plan office often entails a high risk of stress. Whether it's work noises, conversations or telephone calls from other employees - everything can distract you and disturb your concentration. Employers should therefore ensure a pleasant and calm working atmosphere. A wooden filing rack not only offers enough space, storage and filing space for work documents and folders, but also reduces the noise level. In addition, a file shelf, which is used as a room divider, offers you more space and privacy, as it also serves as a privacy screen. So in future you will be protected from prying eyes. In this context, our acoustic shelves are also in great demand. They not only function like conventional shelves, but also absorb the sound in the room and thus provide a more pleasant working atmosphere. They can also be designed as room dividers in the 3D configurator.
Office in the bedroom - room dividers provide a solution
If you don't have an extra room for your home office, you have to resort to creative solutions. Here, a beautiful room divider is the means of choice. If you have another room in your living space that has enough space, you can divide it into zones. This makes it very popular to create a work niche in the bedroom or living room. For this purpose you need a desk of a suitable size and a beautiful and functional room divider.
Dining room and living room are one room
Equally popular is the division of the living area into a couch area and dining area. In many households the dining room and living room are one room. This has the practical advantage that guests will usually stay in this combination room. This allows you to concentrate your decoration, art and souvenirs in this room.