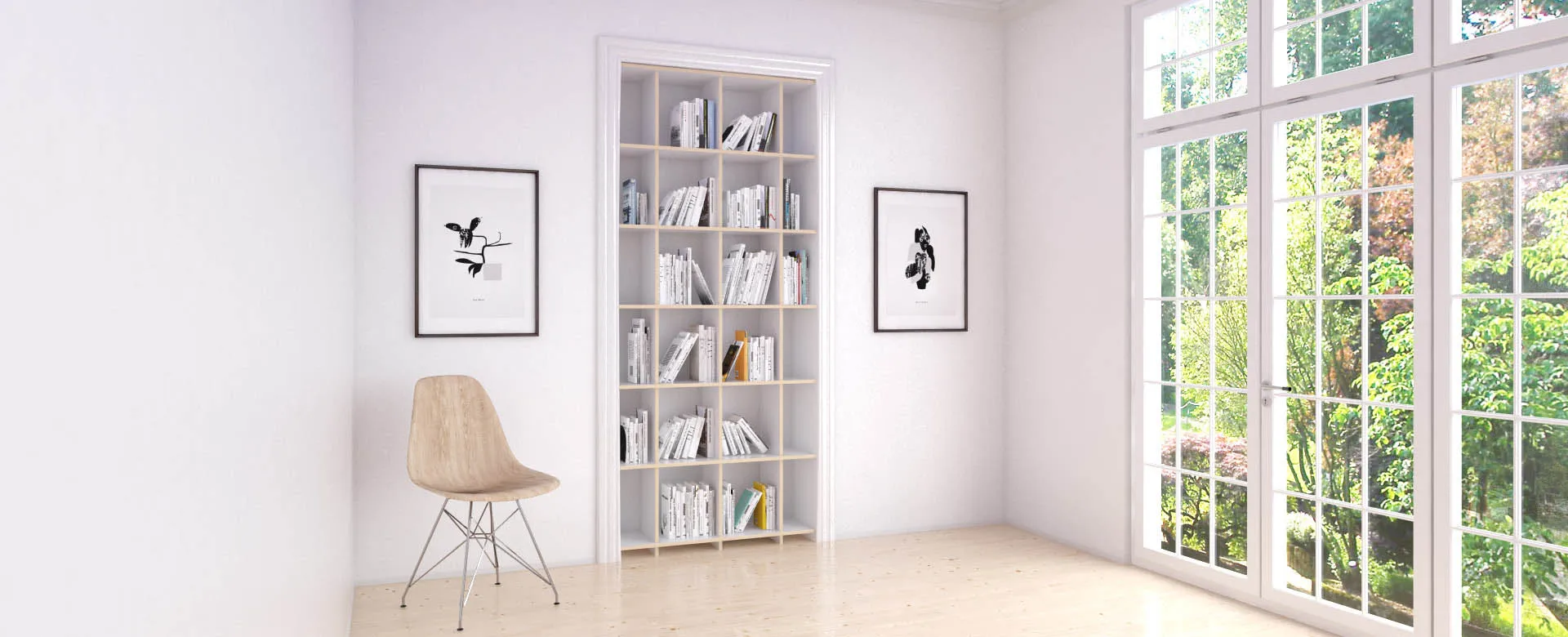 Niche shelves
Small corners very big
In every apartment there are small, difficult to use corners and niches, with which it is difficult to do anything. This is due not least to the fact that the desired furniture, unfortunately, does not have the right dimensions for this very corner. However, there is usually more space hidden here than the first glance would suggest. With the right niche shelf, the bare corner can quickly be used as storage space. Thus, the space at your disposal is used efficiently and elegantly.
Perfect fit furniture for niches
Our made-to-measure furniture offers the optimal solution to use the unloved niches in the best possible way for the organization of your home and at the same time to set them in scene. Individually tailored to your needs and the conditions in your home, our shelves fit into every nook and cranny with millimeter precision. Niche shelves from form.bar are versatile and can be used in any room, because you can design them yourself with our configurator.
Become the designer of your furniture with form.bar.
Advantages of niche shelves in your home
Take advantage of your living space
The biggest advantage of a custom niche shelf is that it makes space usable that would remain unused without it. Whether under sloping ceilings, between other furniture or in an indented wall - storage space and floor space can be created everywhere.
Suitable furniture off the rack can often be found only with a lot of luck. It is even rarer that a shelf, which meets the conditions and requirements, additionally pleases. Alternatively, if they fit the interior style, rolling carts and niche carts can be placed in the corners of the house. However, they don't offer nearly as much storage space as shelves or cabinets. In addition, carts usually don't offer locked compartments or doors so you don't have to store things openly in them.
With a shelf, which is adapted to the dimensions of the niche, the entire space offered can be used completely. The individual piece of furniture will enhance your interior and give your apartment a personal, homely character.
Thus, order becomes not only simple, but also beautiful.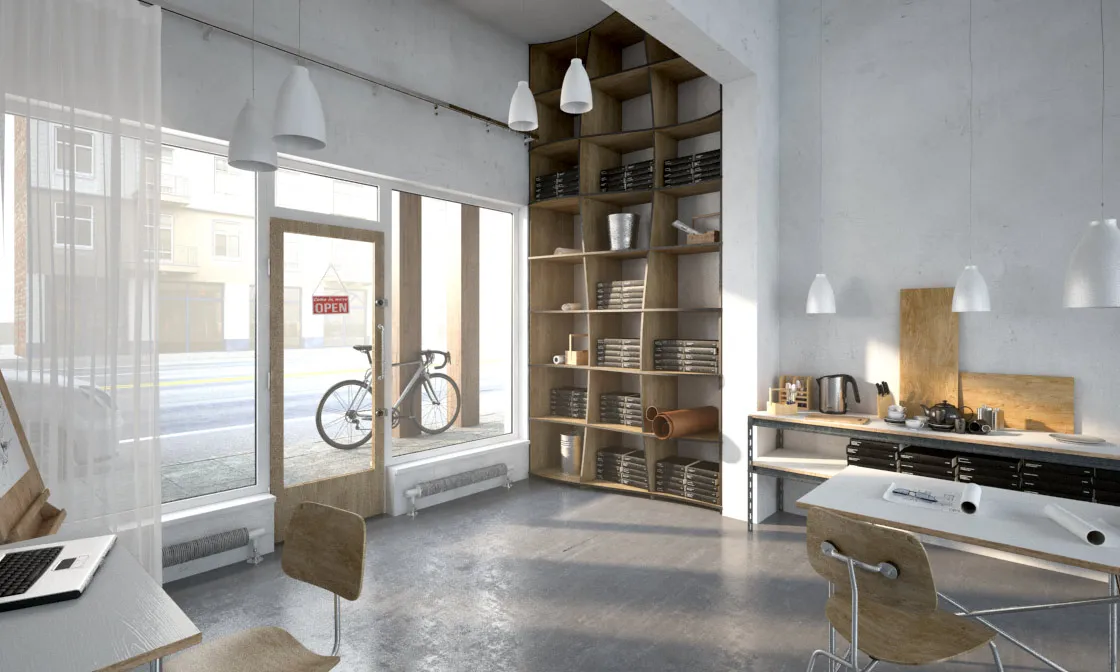 Small rooms
Living in a small space can be more pleasant than it may sound at first. Even the smallest apartment can be individual and chic. The available space must only be used properly to effectively create space.
Unsightly household and utility items should be hidden behind cabinet doors and in storage closets. Thus, the visible space can be decorated. Often, however, only difficult to design small corners and niches remain for this. So it is all the more important for the coziness of your rooms to design them beautifully while using them efficiently.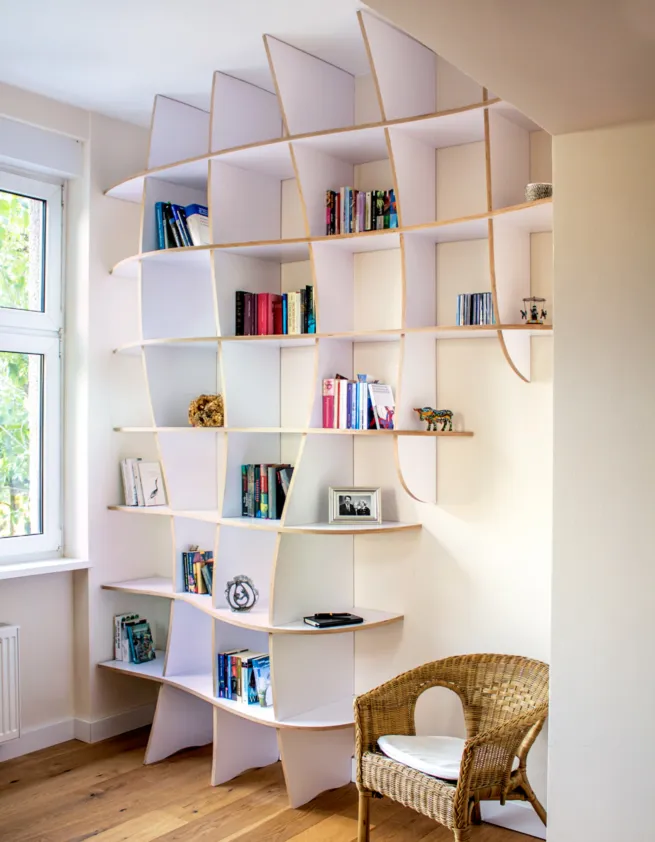 In small nooks perfectly create storage space with a shelf made to measure. Choosing the configured niche shelf in a light color additionally helps to brighten up the often darker niches a bit. Books and photos will find a nice place in your home. If you choose the furniture in a bright color like red, the dull niche will quickly become the eye-catcher of the room.
The eye-catcher simply distracts from the limited space. With a form.bar niche shelf there are no limits to your imagination. You decide which of your needs the furniture is tailored to and how it looks.
It is also possible to close some of the compartments with cabinet doors. This also gives your niche shelf additional space to store things not visible to everyone. Here you can store papers or even christmas decorations. Every corner of the apartment can be efficiently used for organizing your home.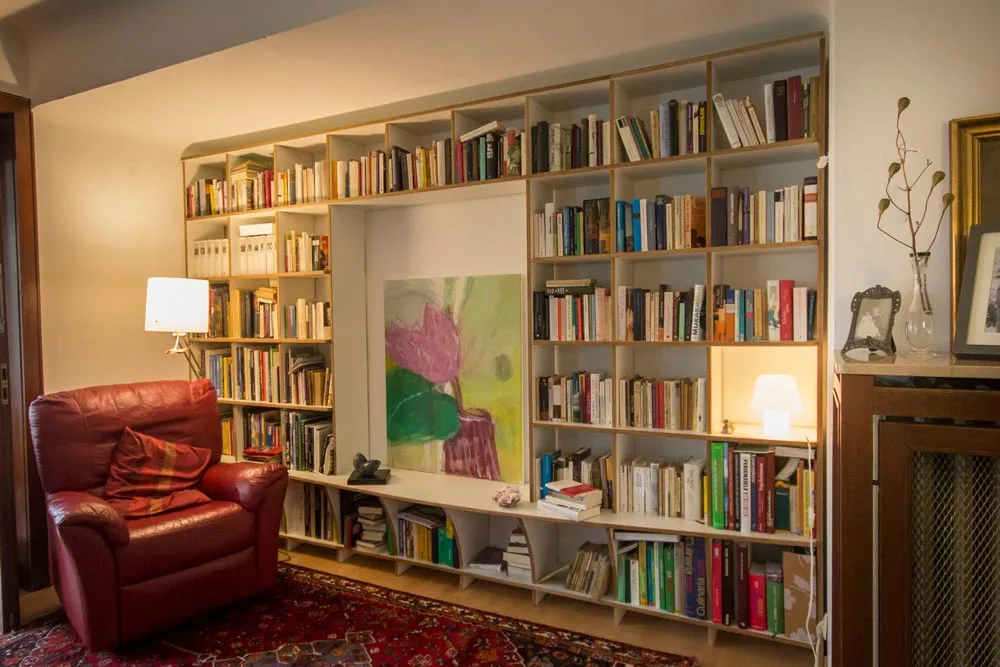 Niches under sloping ceilings
Everything is usable with form.bar
Furnishing rooms with sloping ceilings is often a real challenge. But with the right living tips and tricks, even a cramped-looking attic space can be transformed into a cozy living oasis.
So that the attic room does not look uncomfortable, it must not be placed too full in any case. Under the slopes opens up a lot of space, which can be used ideally and space-saving with the right shelving system. It doesn't matter how low the knee floor is. With the right niche shelving, the adjacent corners also offer plenty of space to either beautifully display or also hide all kinds of small items.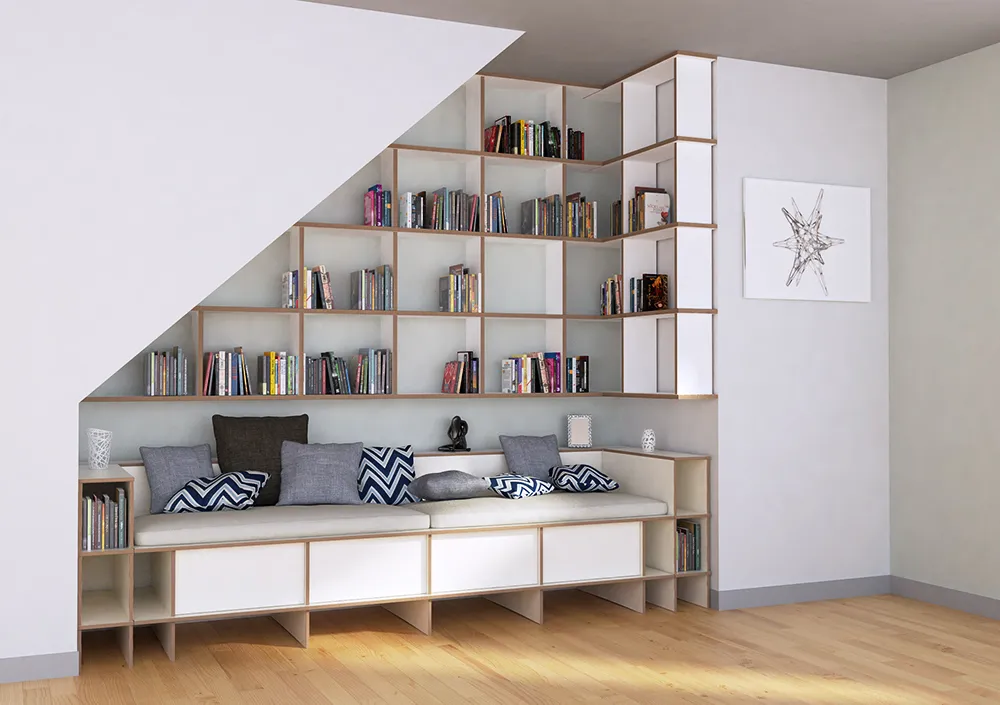 Especially the niche under a skylight is perfect for a shelf. Because above it offers a well-lit floor space. On it you can round off your room design with houseplants. In addition, photos or other beloved things can be displayed here very well in the light.
Color design in rooms with sloping ceilings
Dark colors quickly make the room look smaller and oppressive. A bright and cheerful color scheme in combination with good lighting, on the other hand, helps to open up the room. This is a good basis to convey the desired feeling of home. When choosing furniture, this should also be taken into account. For example, if a shelf in a dark corner is white, it brightens the whole part of the room. Also, the individual compartments will look less poorly lit.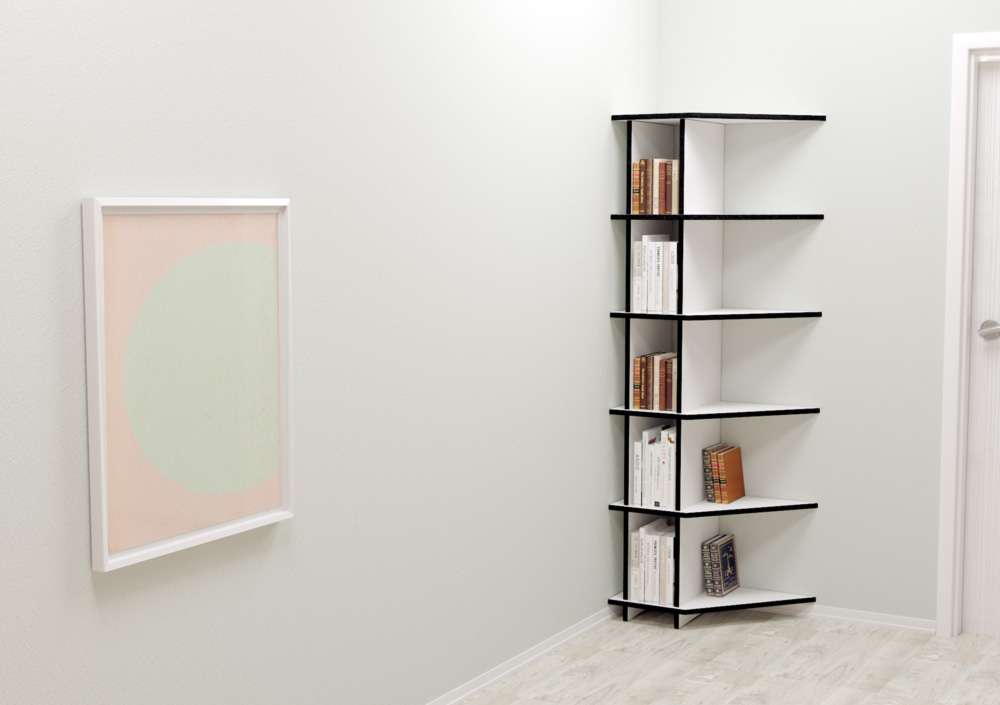 Of course, your effective, individual shelving system can also bring color into the niches. Furniture in eye-catching colors is like a magnet for glances. If you intentionally place one in a niche, it will quickly become the centerpiece of your room design.
Since in the attic the slopes particularly characterize the room image, it is not wrong to flatter them with the furnishings. Bright color accents in niches clearly show that the slopes as a spatial element can enhance your living space and not try to hide them or distract from them.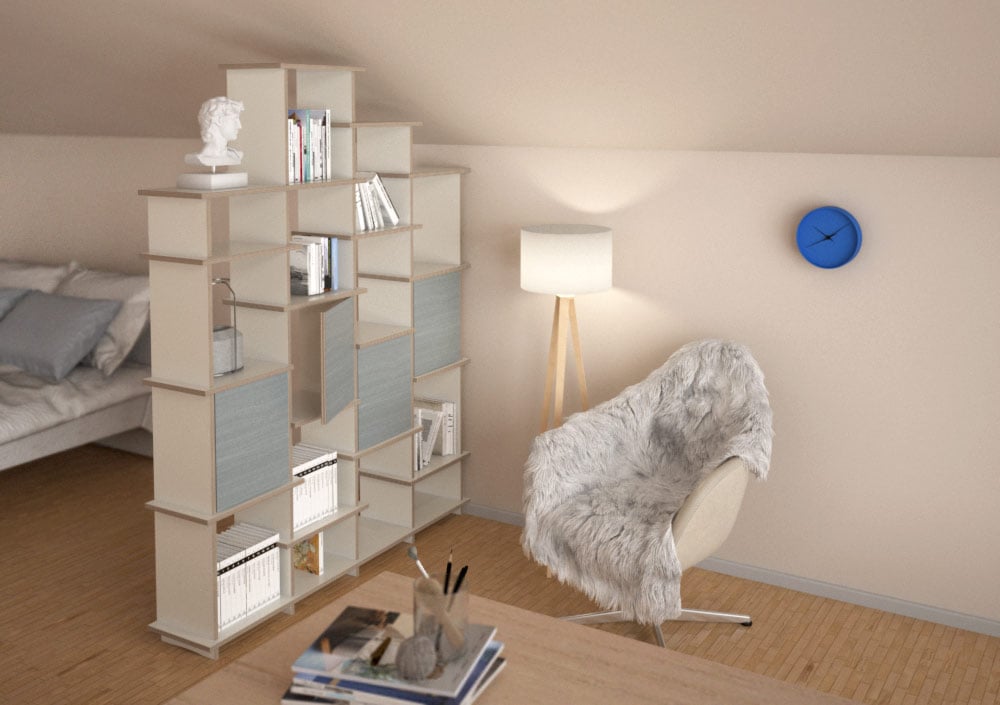 We plan your niches for you
Get your unused space or storage filled by our professional team of designers.
To the design service
Niche shelves for special rooms
The right planning makes the difference
In certain rooms of every house and apartment, it is particularly difficult to find the right furniture. Whether due to the cut or the pre-installations of the room - with standard furniture here you quickly reach its limits. The still free niches are simply too narrow, too angled or too special. With custom furniture, exactly these corners of the house can be ideally equipped, and tailored to your needs.
The form.bar configurator offers you the possibility to form furniture according to your ideas.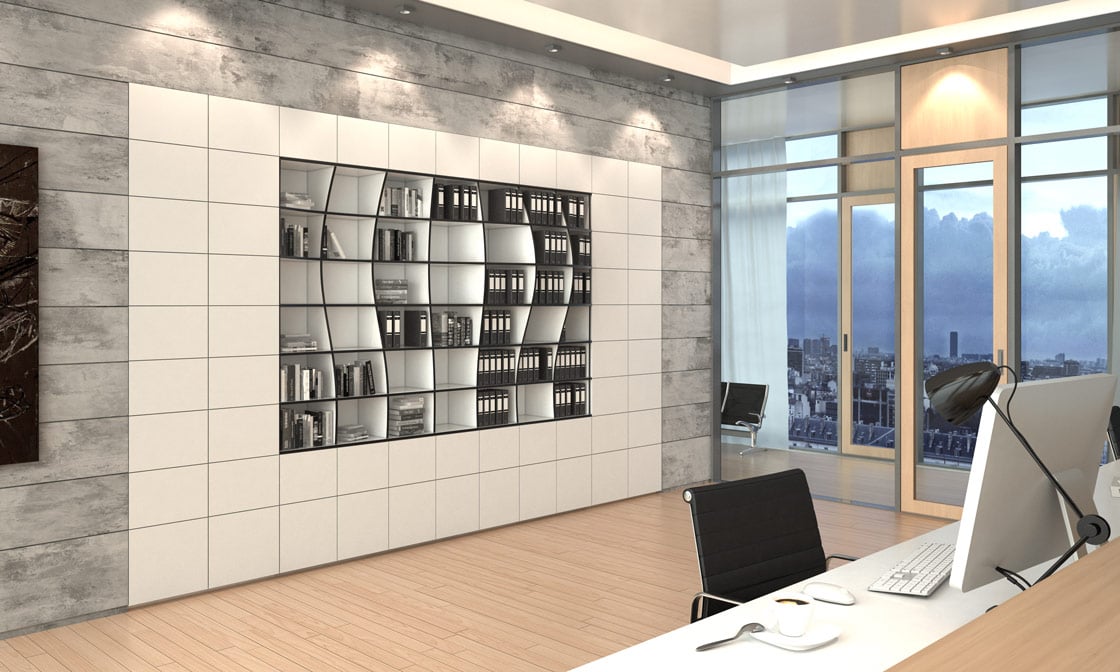 Bathroom shelf in a niche
In the bathroom need to accommodate a particularly large number of things. Some of them should not be visible in the bathroom. Cosmetics and care products are usually preferred to be stored behind cabinet doors and in drawers. Towels and perfumes, on the other hand, you can place visibly.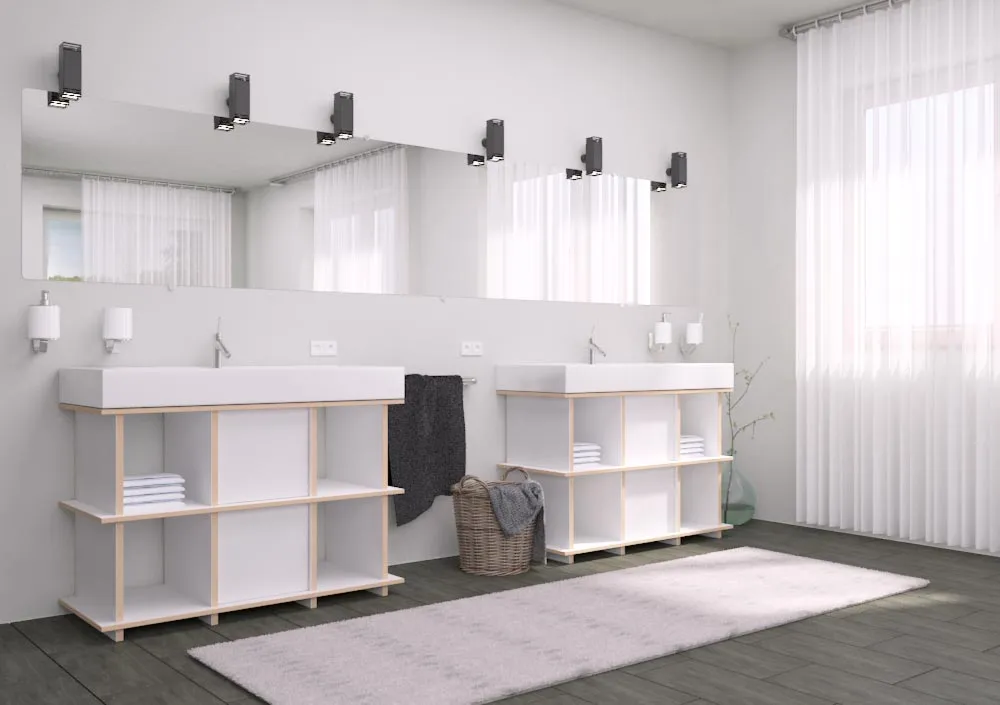 In the right shelf, both variants are possible. A shelf as a storage space for appealing items is welcome. On the other hand, locked shelves with handleless tip-on doors are usually necessary. But the bathroom ceramics permanently installed in the bathroom often limits the choice of furniture that can be considered. Bathroom furniture must be planned around fixtures. For this purpose, there are countless possibilities, which, however, rather rarely can be elegantly used by off-the-shelf furniture.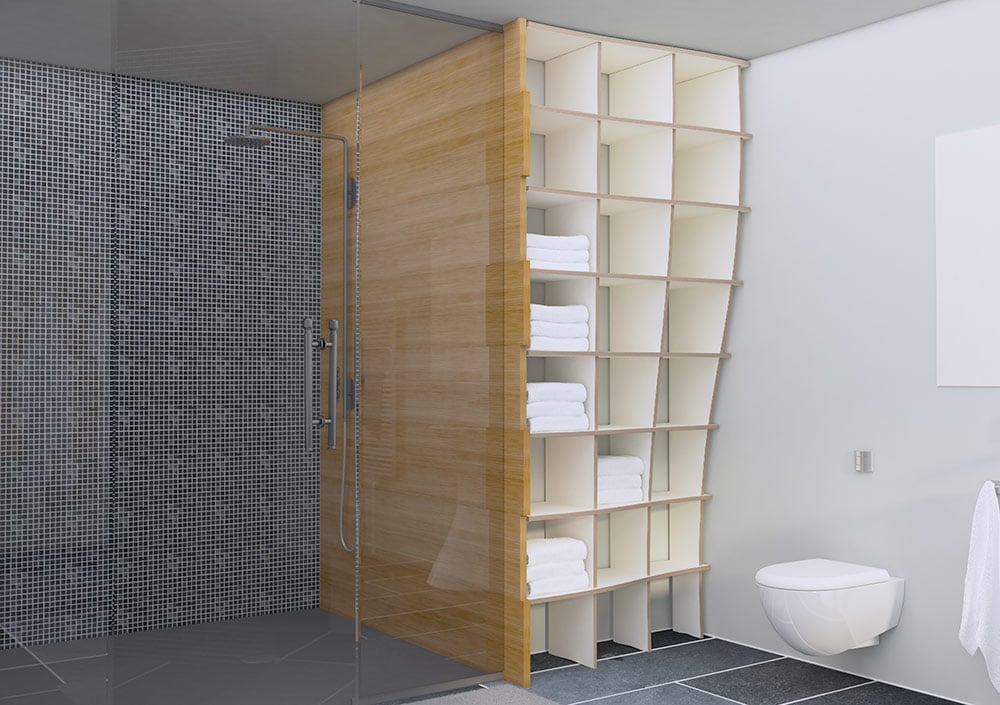 The ideal solution here is made-to-measure furniture. With such, you can create shelves in every niche of your bathroom. Whether it's a corner shelf for washing lotions and creams behind your sink, or a floor-standing shelf in which towels, bath additives and the like can find their place next to the bathtub. With the form.bar configurator you can adapt your desired furniture to any niche. For example, if there is only room for a bathroom shelf above the toilet or bidet, a hanging shelf is a good solution. If you configure it with a rather shallow depth, it won't look obtrusive on any wall. Every gap can be be used.
Kitchen shelves for niches
In many apartments and houses, the kitchen is one of the showrooms. It is one of the parts of the house that guests enter and spend a lot of time in. Therefore, everyone should feel absolutely comfortable in his kitchen. The first step on the way to the right living feeling in the kitchen is to keep it tidy.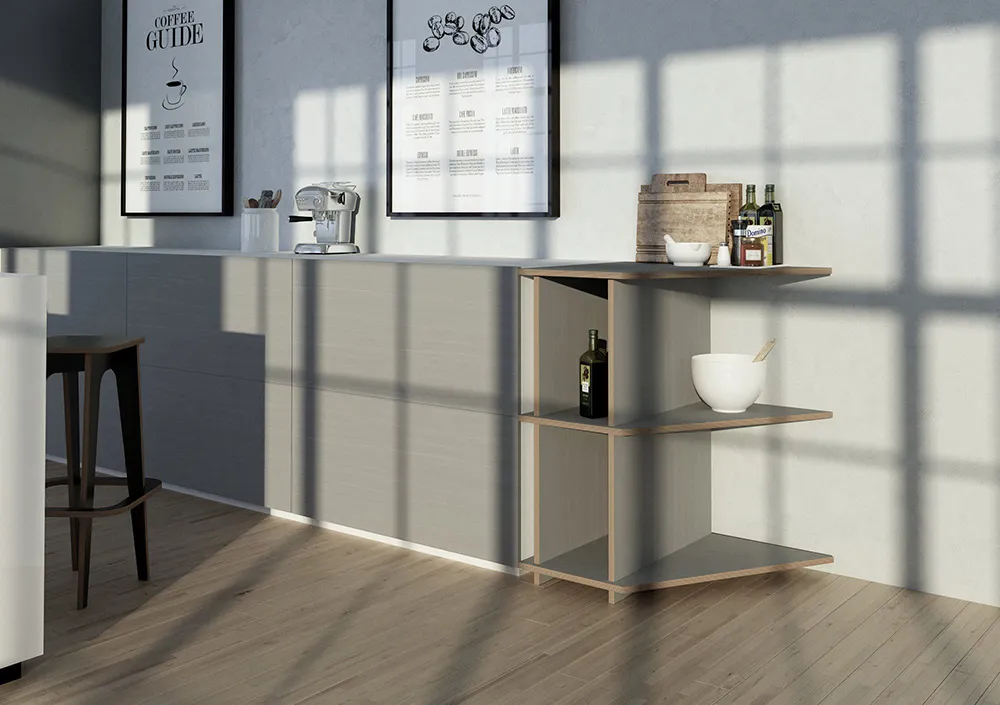 Utility items are best stored in closed cabinets. Crockery and glasses can also be well and happily presented. On a shelf, sets of dishes can be stored well and always be at hand. Is in the Fitted kitchen, however, does not already include a shelf, it is not always easy to find the right place for a shelf off the shelf. Due to kitchen cabinets, refrigerator and dining table, usually the best places are already occupied. With a kitchen shelf made to measure you are absolutely flexible. Every free niche can be the location of your shelf.
Not only for dishes, but also for storing bottles, niche shelves in the kitchen are excellent. In a wine shelf, you can display your bottles without them taking up valuable countertop space. By adapting the bottle shelf to a niche that would otherwise be unused, it also doesn't take up any space in the room.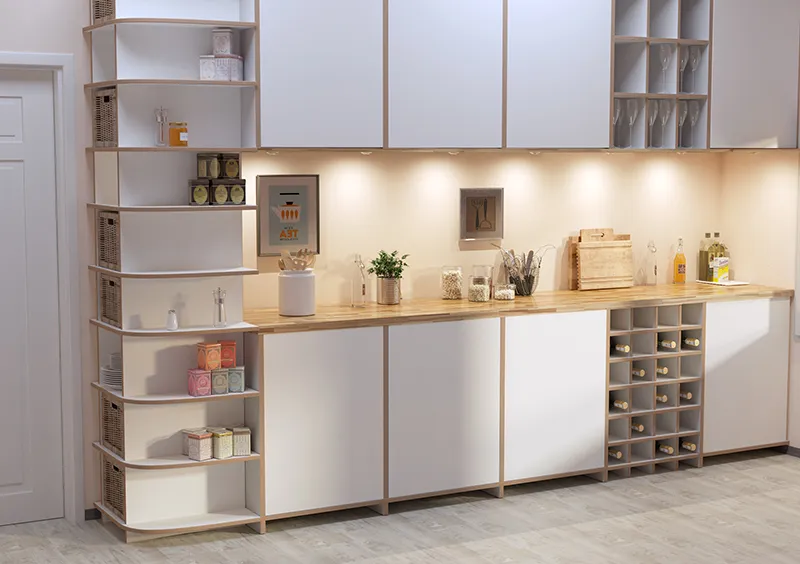 A niche shelf can also be used for spices. In a spice shelf, indented between the kitchen cabinet and the hood, for example, your spices are exactly where you need them when cooking and always within reach. Spices and bottles no longer take up cabinet space, but are openly displayed in your kitchen without blocking kitchen shelf space.
You can make more out of the niches in your kitchen than just another reserve of space. A shelf in a bright color with matching lighting quickly makes it an eye-catcher or even the highlight of your kitchen interior. Whether striking or simple, an individual shelf for bottles or spices gives your kitchen a feel-good ambience that invites you to long cooking evenings with friends.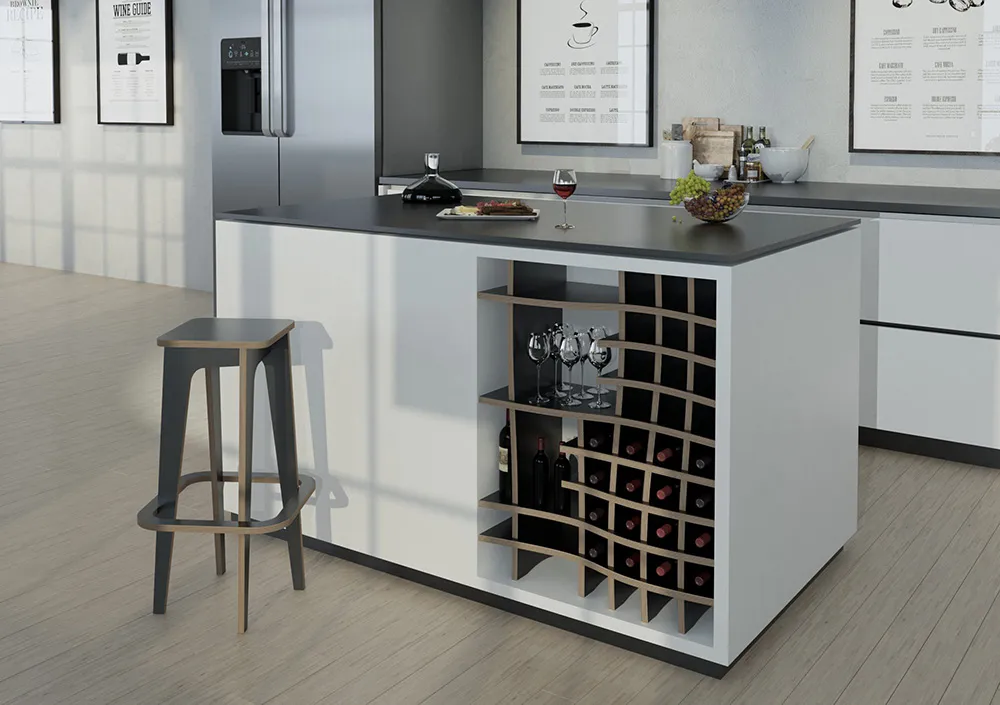 Niche shelves for storage
In every apartment there are things that are not beautiful, but just needed. These are preferably stored in a storeroom. So that this does not sink into chaos, a good shelf systemis necessary. Shelves with many compartments are especially recommended. This makes it easier to sort and organize the things that should find their place here. It is especially efficient to to equip the storage room with a single, large shelf. This can cover only one wall, or run across several of the side walls. This allows the corners to serve as additional storage space. Here, larger items can be excellently stored here, as the horizontals of the shelf are particularly deep here.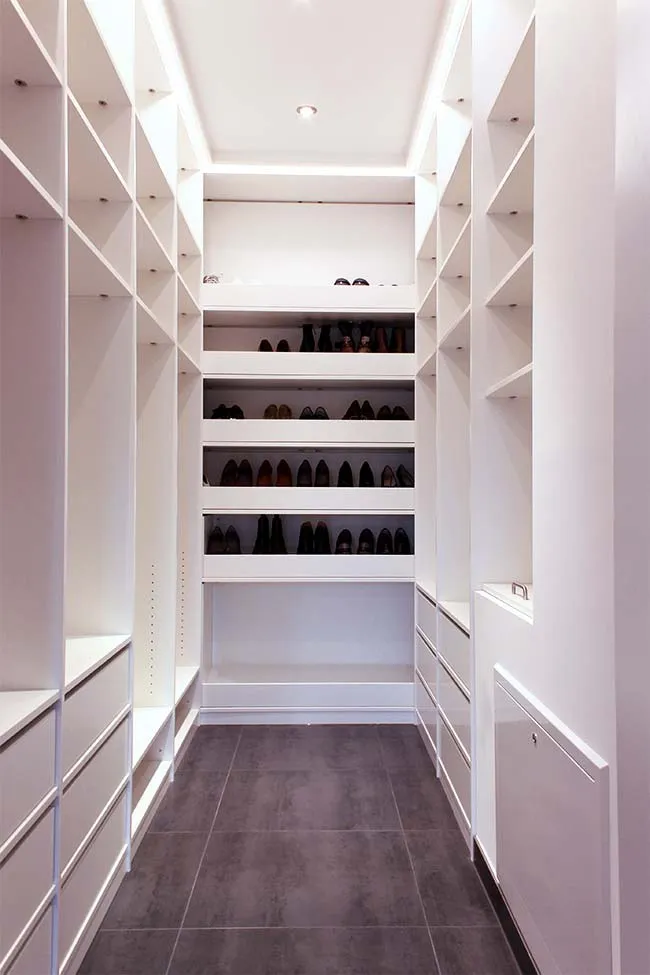 In the form.bar configurator, you can tailor your shelf to any room with millimeter precision. No matter how narrow and angled - our shelves adapt to any room situation. If your storage room is rather small, you can use every last centimeter of space with a made-to-measure shelf. The number and dimensions of the compartments are determined by you.
If there is no storage room in your home, niche shelves can replace it. The unloved niche is a reserve of space, which can be optimally used with the right piece of furniture. Cleaning utensils or supplies can be optimally stored here. At the same time, another area of your living space is designed.
Niche shelves for books
Lovers of printed books are many, despite e-books. Every single one of you owns a whole lot of books. These want to be housed somewhere and that takes up a lot of space.
A previously unused niche provides a wonderful home for all those collected books. A custom bookshelf, which is tailored to the niche, puts your favorites especially beautiful in scene. Thus, the books become part of the decoration of your home. Especially in the hallway or living room, a large bookshelf is a beautiful design element. Even in a niche all your reading material finds its place here.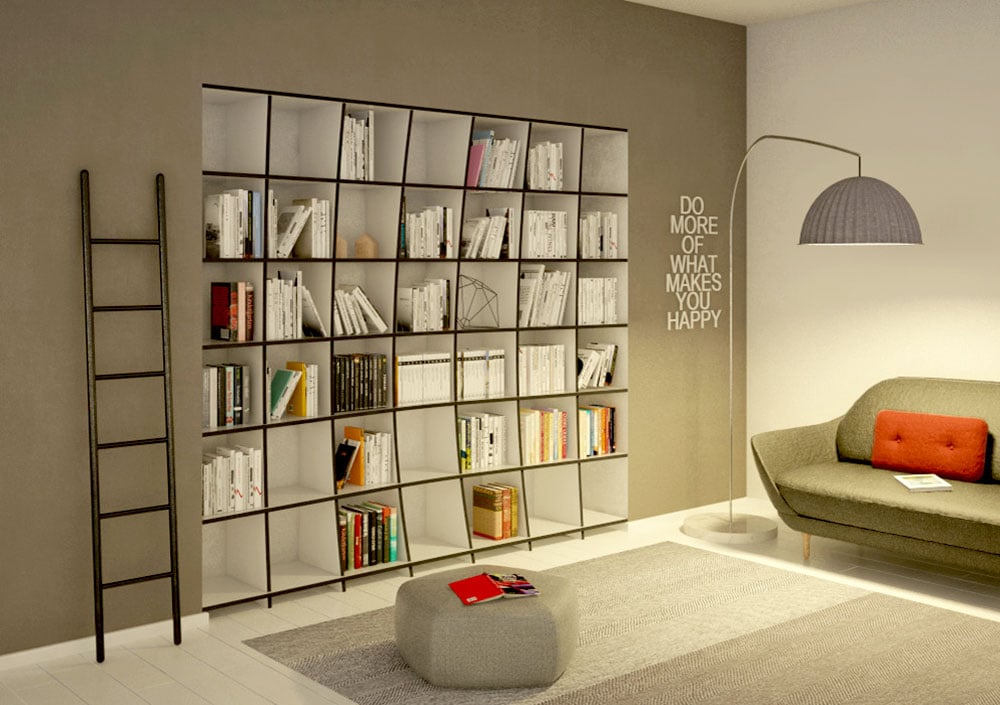 Shelves full of books are reminiscent of libraries and often give an impression of education and wordiness. Additionally placing small sculptures or similar in a few compartments can reinforce this association. At the very least, the small decorative elements break up the mass of bindings, making the filled bookshelf seem more inviting to the viewer. It becomes a design element of your interior and doesn't give the impression of being there for purely practical reasons.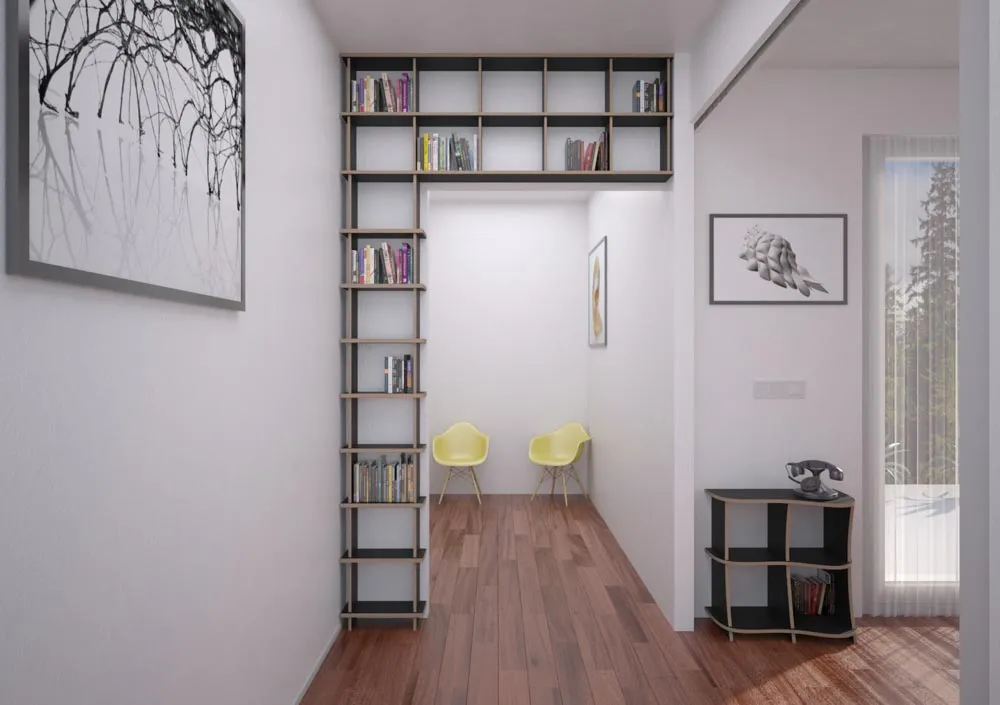 Other niche furniture
Of course, not only a shelf can find its place in your niche. Basically, any kind of furniture can be placed in it - provided it fits. At form.bar it is possible to give all furniture the required dimensions, not only shelves.
For example, if the niche is under a sloping roof, it is convenient to place flat furniture here: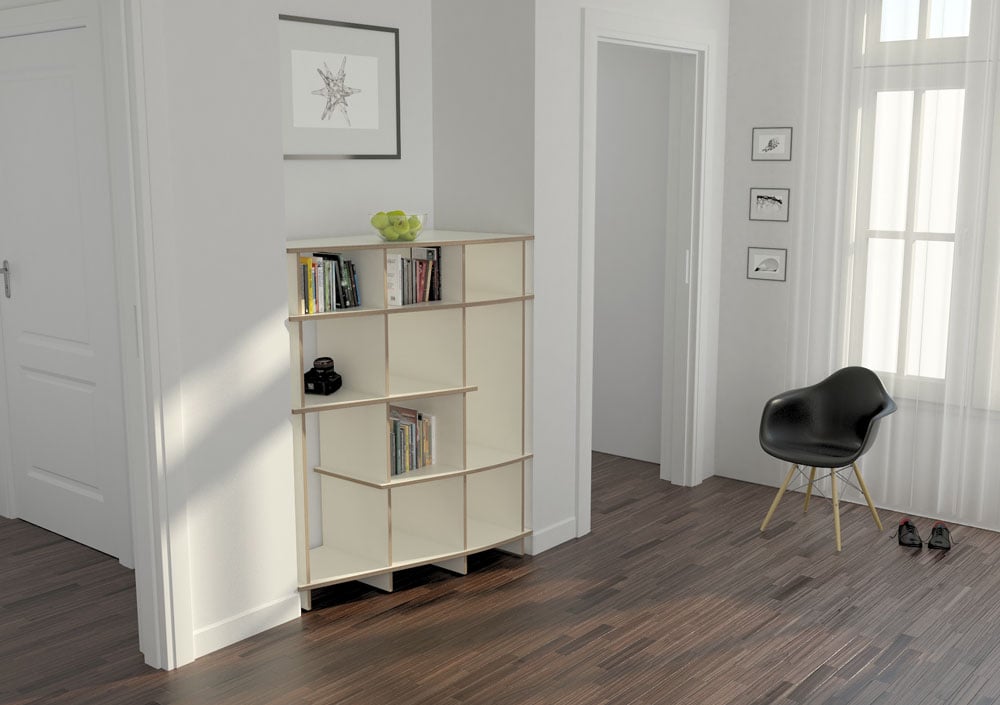 A sideboard , along with a shelf, is also a great niche furniture. In the lower shelves, for example, books and DVDs can be stored. At the same time, the top offers a space where a few plants and photos can quickly decorate the bare niche. On a lowboard, you can also set up your own small home cinema here with a TV, stereo and co. - space-saving in an niche. If the niche is located in your study or office, a highboard is ideal to accommodate folders and books. To better structure your work environment, office accessories can also be sorted into drawers. Putting the printer on the upper shelf of the highboard helps to create more free space at the desk. Documents can be sorted directly into folders on the spot.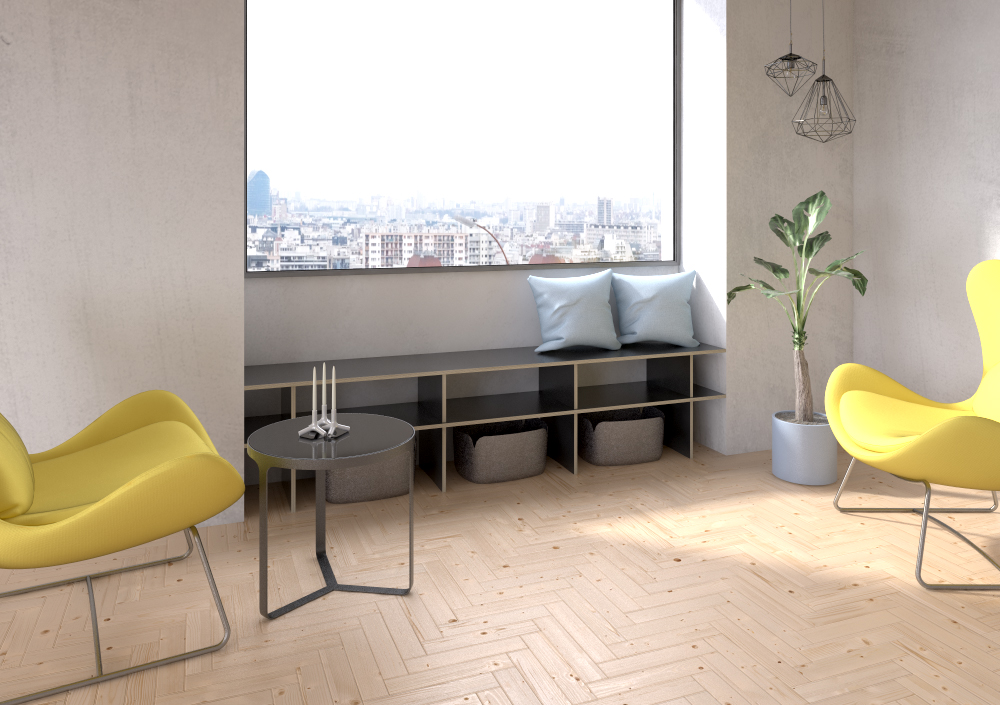 In the hallway, a niche is perfect to place a bench in it. This can also serve as a practical shoe bench. In it you can store your shoes without making the entrance area of your apartment look untidy. Thus, they no longer need to be stored in other rooms to make the hallway neat and tidy. Annoying running through the apartment to get the desired shoes has come to an end. The compartments of a shoe bench quickly bring order to any motley collection of various shoes. Even for boots extra high compartments can be planned in the configurator. Whether they are to be hidden behind doors or openly accessible, is entirely up to you.
Especially for a small hallway is recommended shoe or wardrobe bench. They combine shelves and seating compactly in one practical piece of furniture. This can save a lot of space, especially if it is also placed in a niche with millimeter precision.
Configure niche shelves at form.bar
At form.bar you are the designer of your dream furniture. In the configurator, there are no limits to your imagination. Whether bench, shelf or side table - you can give each piece of furniture the desired dimensions. The number and size of the compartments is also up to you. Should they be provided with doors or drawers? No problem. Just choose the desired material and your favorite color. As a final touch, you can give your configured piece of furniture an individual touch. The designer team of form.bar will be happy to help you with words and deeds when designing beautiful furniture.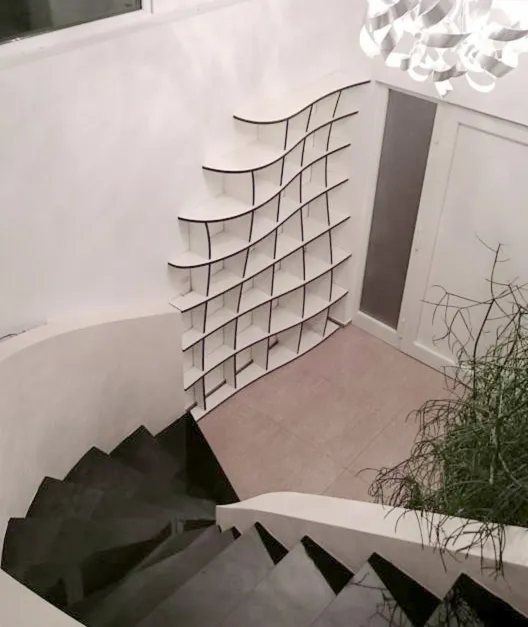 Fazit
The right niche shelf for you
Niche shelves are ideal furniture to create additional storage space in any apartment. It is important that it corresponds to your style and conveys the living ambience you want. If you have decided on a style for your home, form.bar offers you countless possibilities to implement it in furniture. Hopefully we were able to give you helpful tips, tricks and suggestions in this guide. We would like to support you on your way to the ideal niche shelf for your living situation. We hope you have fun designing and experimenting.