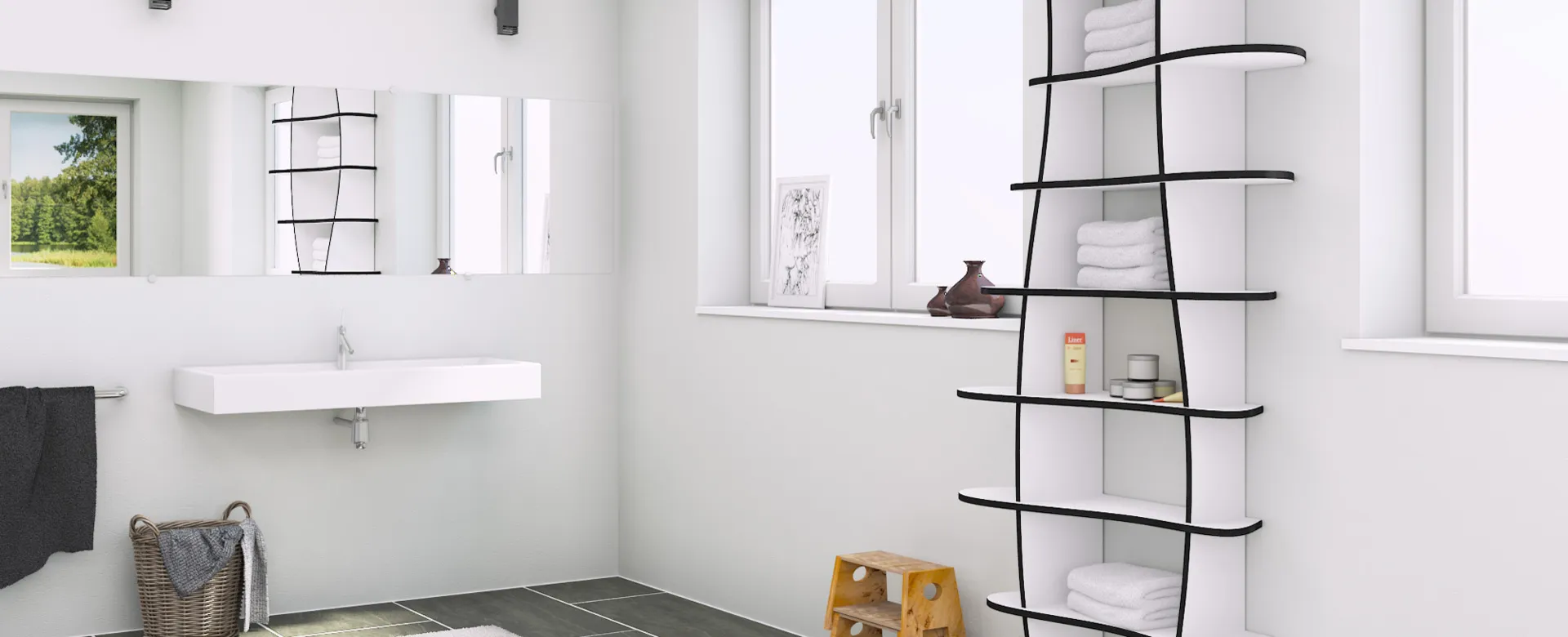 Bathroom furnishings
Planning, procedure, examples and much more
Morning rituals or a regular morning routine help your body to start the day fresh and with full energy. The way to the bathroom for showering, washing or brushing your teeth is part of it. In order not to start the day in a bad mood, you should enter your bathroom in the morning and feel comfortable. That's why you should choose your bathroom fittings carefully so that you can have a retreat with a wellness feeling later on. However, most bathrooms are narrow or small, usually have no windows and thus appear gloomy and cold.
Bathroom planning
Step by step to the perfect bathroom
To help you with your bathroom decorating and to make the most of your space, the following guide tells you how to best proceed and plan your new bathroom step by step. First of all, we will discuss the floor plan, furnishings and room elements, explain the purpose of the bathroom and deal with the subject of budget planning. We also provide you with some bathroom ideas and inspirations and show you some unusual bathroom furniture from our form.bar online store. What else needs to be considered and what furnishing styles are available? You will find the answers in the following text!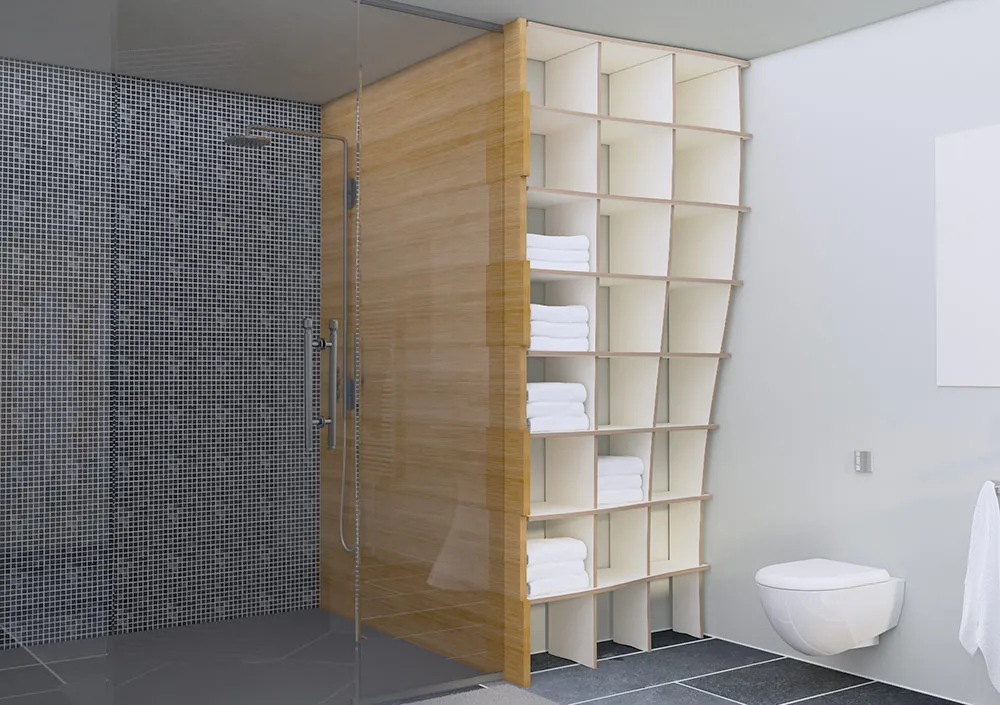 Whether new equipment or renovation - at the beginning there is always a well thought out planning of the bathroom. First you should be clear about your requirements for your new bathroom. Who uses the bathroom? Do children or needy seniors live in the house? Should it be a family bathroom or just a guest bathroom? Once these basic questions have been clarified are, it goes to the interior decoration and/or equipment. Which WC do you need? Would you prefer a shower, a bathtub or even both? In addition you need the matching washbasin and Bathroom furniture and accessories. Afterwards the technical equipment has to be planned. What kind of heating should it be and what about ventilation? Adequate ventilation is particularly important in small bathrooms without windows a big issue. A mechanical ventilation, an air shaft or a fan are good alternatives to a window, but here the daylight is missing. Whereby we are already with the topic light in the bathroom. Additional wall or ceiling lights or spots or spotlights should not be missing.
Note floor plan and room elements
Whether with a bathroom planner or by hand - be sure to draw the plan of your bathroom once. Measure your room carefully and pay attention to door and window sizes, corners and wall projections. Don't forget light switches, sockets, slopes, radiators as well as electricity and water connections. For the equipment such as shower, bathtub or toilet, there are either templates to buy or the possibility to cut them out of cardboard. Move the templates back and forth on the floor plan until you have found a sensible and practical arrangement. However, it is important to leave enough room for playing or moving in front of the objects. Our recommendation here is at least 75 cm. You should also allow about 3 cm of air behind shelves or the washing machine to prevent mold. The size of the bathroom plays an important role in the planning. The larger your bathroom is, the more diverse the design options are, of course, but even in a small room you don't have to sacrifice every comfort if you plan everything properly. High-quality materials, innovative furniture and your own creativity will lead you to your personal dream bathroom even in a small room.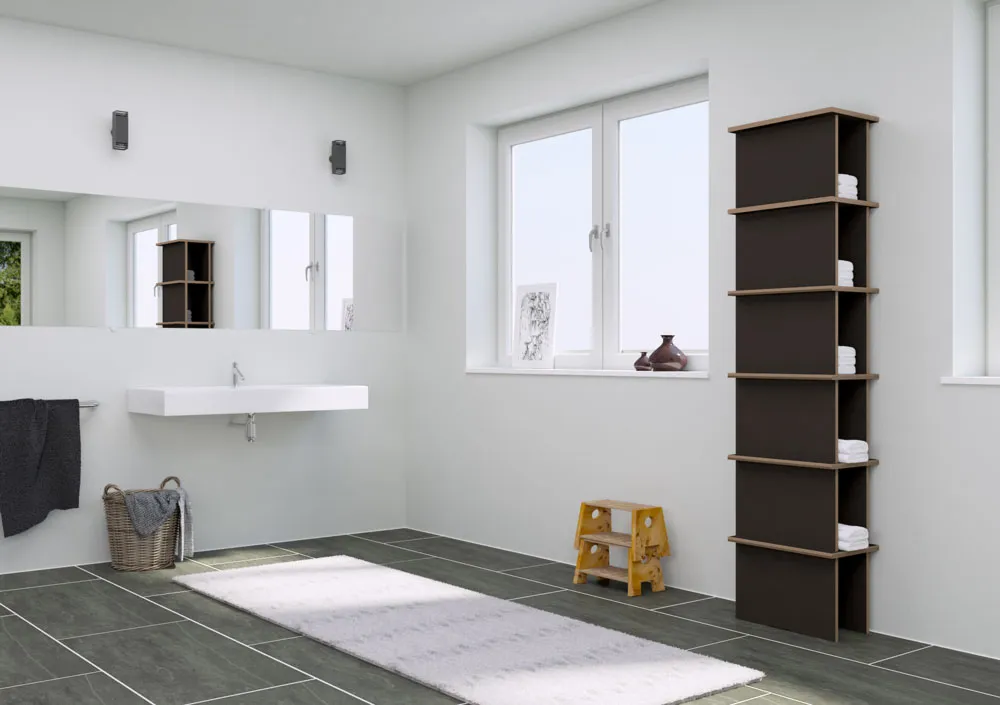 Would you like to learn more about the topic "Mini bathroom furnishings"? We have written an extra section on this topic at the end of the guide.
The purpose of the bathroom
Whether a family bathroom, parents' or children's bathroom, senior citizens' bathroom or guest bathroom, all requirements usually involve time-consuming planning and implementation. Especially for a family bathroom with children you should pay attention to a child-friendly furnishing that can be adapted to the age and size. Even with increasing age, the bathroom must be safely furnished. This includes, above all, furniture suitable for senior citizens such as shower, bathtub and washstand. You should also make sure that there is enough space in the bathroom so that a wheelchair user has enough freedom of movement. The floor should also be non-slip, stable and matt. In addition, there should be enough storage space in every bathroom.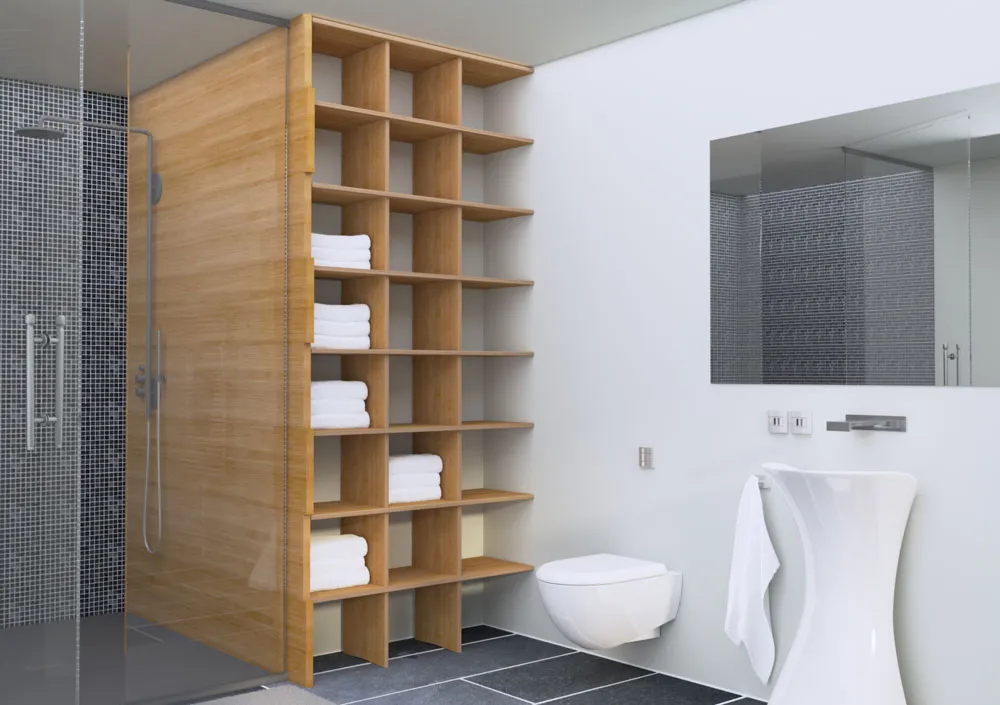 What budget do you want to spend?
The redesign, renovation or refurbishment of a bathroom is always a budget issue.Therefore you should think in advance how much money you have at your disposal and are willing to spend. Especially buying new sanitary furniture such as a shower, bathtub with whirlpool or a toilet can be very complicated and expensive. Also consider that you cannot do all the work themselves and therefore have to include the costs of a plumbing company for the installation. There are many ways to see the whole picture without to improve renovation measures. Even small jobs that you can do on your own can significantly improve the atmosphere of a room. For example, replacing a shower curtain with a new shower wall, new decoration, mirrors, pictures or new cabinets or shelves. Also a new wall color, ceiling or floor covering can directly improve the room positively. In addition there are the possibility to over-tile or paint the tiles.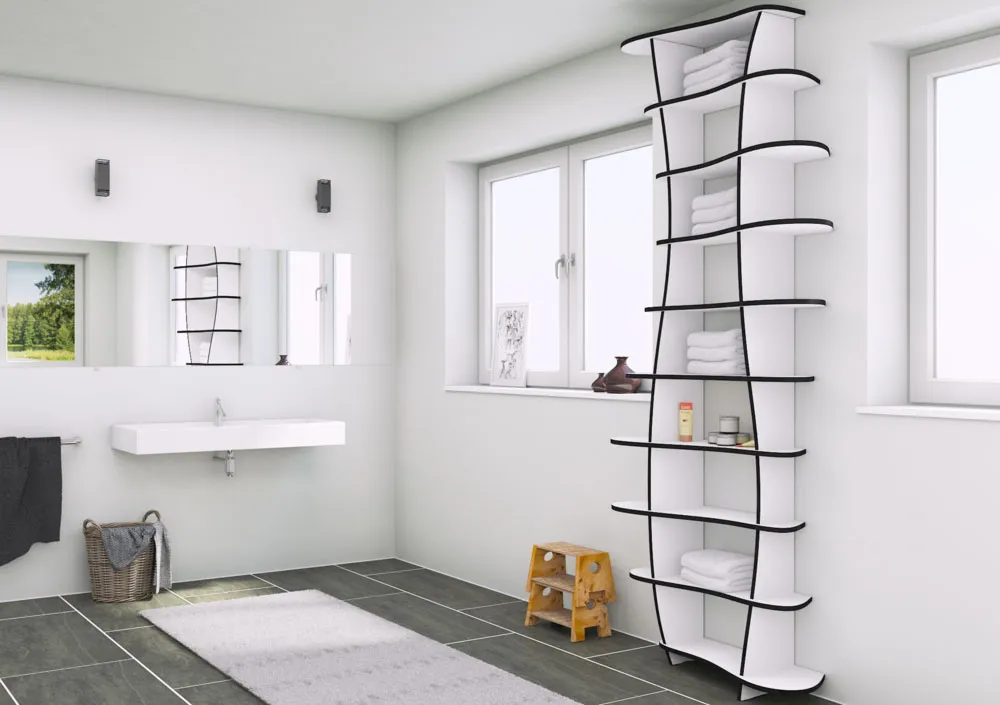 Bathroom planner offline
You don't have access to the Internet or a 3D bathroom planner? Then use the old method of bathroom planning - pen and paper! After you have carefully measured your bathroom and the floor plan and room elements are in place, you need to draw in the furnishings. Customize your bathroom according to your wishes and add a washing area, toilet, shower and the matching furniture. Do you have complicated bevels and niches in your bathroom? With our form.bar online configurator you can create custom-made furniture according to your own ideas, which will fit exactly into any room situation! This way you make the best use of your space and do not waste it.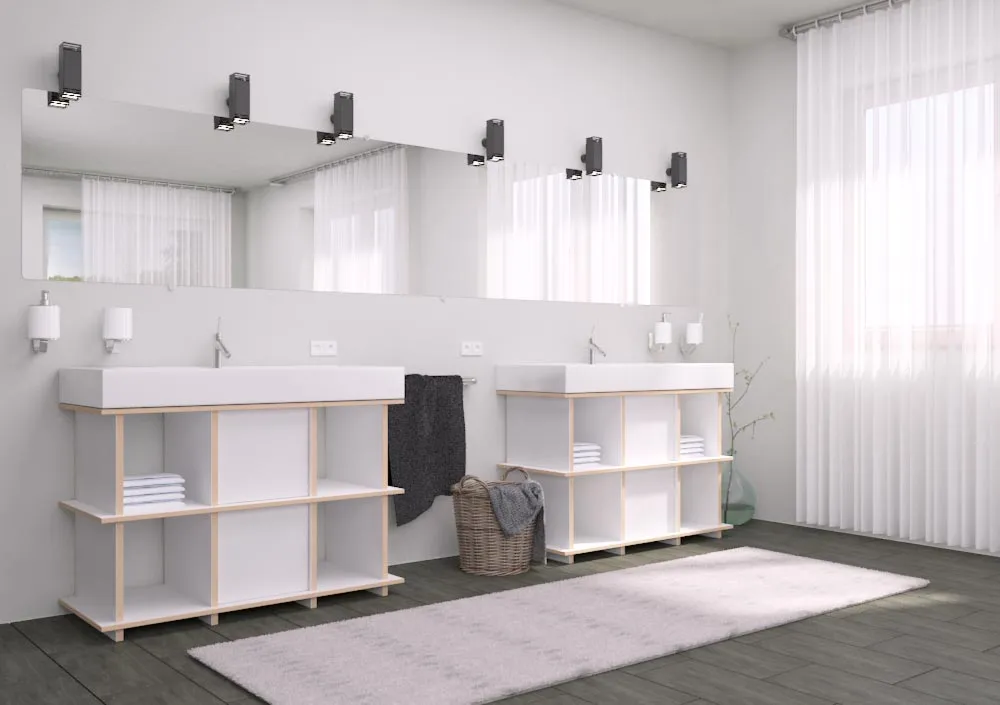 Furnishing styles for your bathroom: ideas, inspirations and examples
You want to furnish your bathroom in a modern way? Here you will find enough information and suggestions about the different styles of bathroom furnishing. Everyone has different tastes, interests, customs and habits. The aim is to create an individual bathroom according to your own preferences. An orientation can be different styles of furnishing. First you should think about which styles you like best. From modern to rustic, minimalist, classic or fancy - there are no limits! We will show you different furnishing ideas and inspirations from which you can choose your favorite style.
Planning the fancy bathroom
For those for whom simple furnishings are not a solution in the long run, they should opt for an unusual bathroom. As far as patterns, colors and forms are concerned, there are no limits to your imagination. With fancy bathrooms, just about anything is allowed that is not standard and causes a stir. You should not be afraid to break the style! On the contrary - fancy colors combined with patterns are welcome as long as you like it and feel comfortable! How about colorful tiles combined with extravagant mosaic stones, for example? Also the decoration as well as accessories can shine in an individual design. Set colorful accents with extraordinary prints, shower mats, curtains or even furniture and amaze your visitors!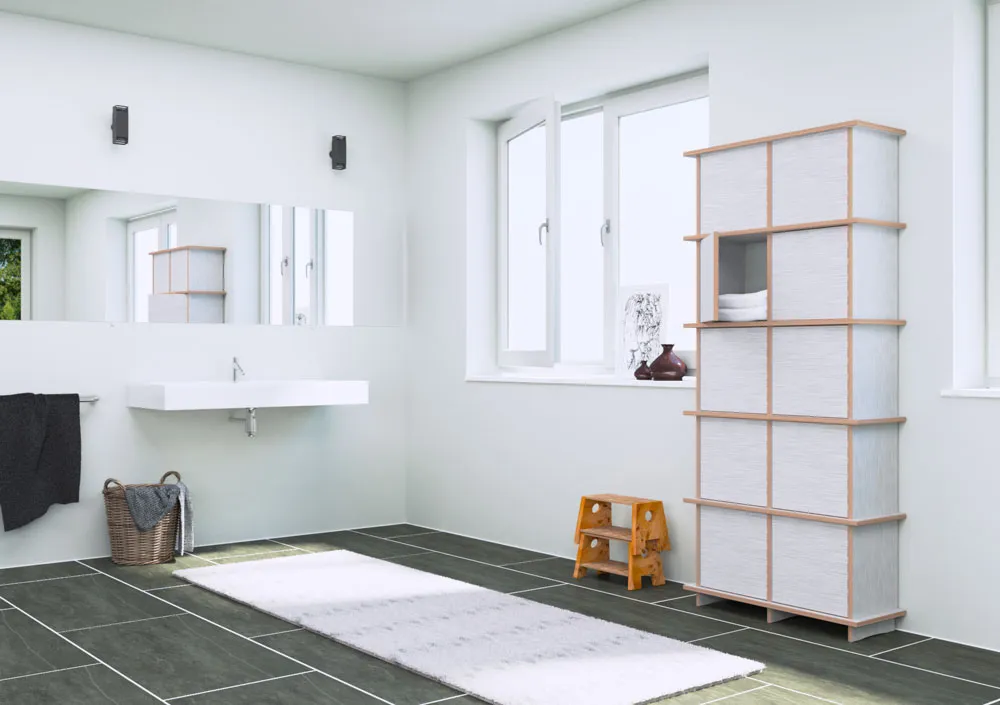 Create a minimalist bathroom
The motto of the minimalist style is: less is more! This means that this style of furnishing combines clear lines and simple colors. The furnishing is based on the Substantially reduced and pieces of furniture are carefully selected. The reduced design brings peace, simplicity and order to your space, as everyday life can sometimes be complex and stressful enough can be. With regard to the floors, ceilings or walls, it is above all the combination of similarly colored materials and forms that provides the decisive, minimalist framework. When you but you can't do without a lot of decoration and you like playful things, you should choose a different style.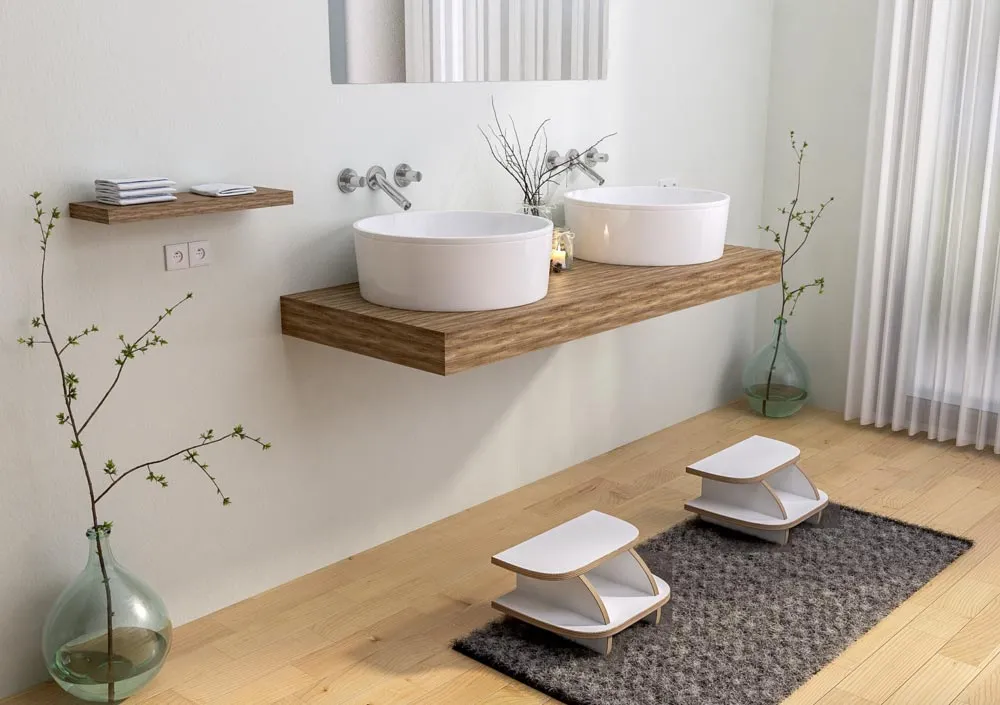 A modern bathroom for the modern house
You want to furnish your bathroom in a modern way? Floor-level rain showers, double basins or towel radiators: modern bathrooms leave nothing to be desired! Besides comfort, functionality is also important. What definitely makes a modern bathroom is its multifaceted and uncomplicated design, modern forms and clear lines. They are elegant, clean and tidy. Modern bathrooms are usually characterized by shiny surfaces and materials such as glass or stainless steel. While concrete radiates cool elegance, wood or materials such as natural stone create a harmonious atmosphere. The walls are usually designed in light shades such as white or cream. In addition, bathroom mirrors with LED lighting, steam showers or whirlpool bathtubs very popular.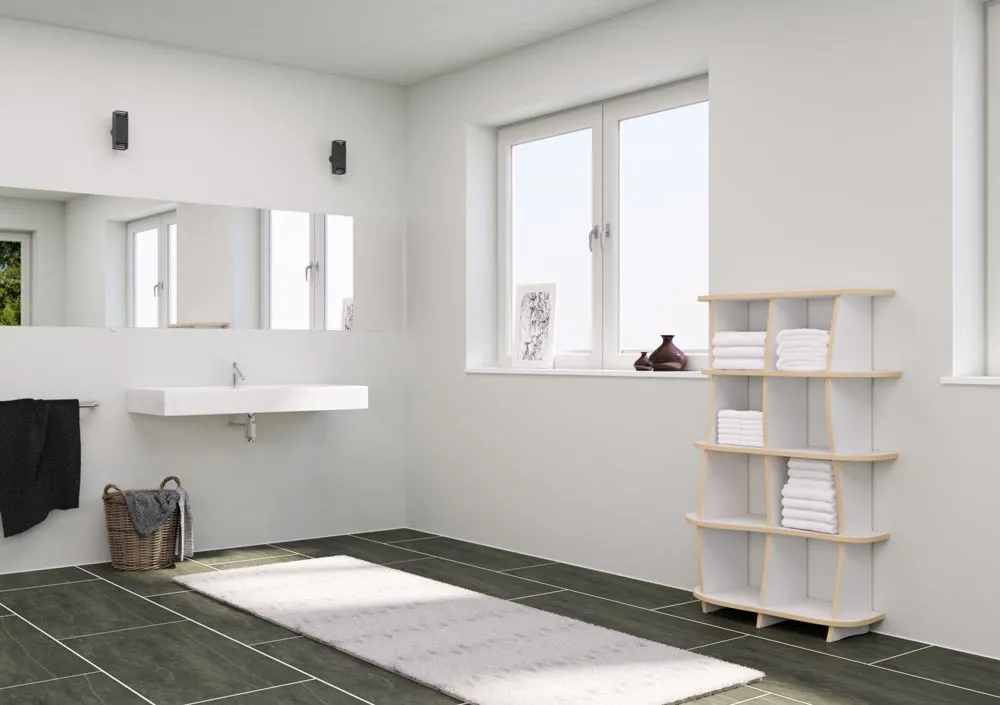 The bath in country house style
Over time, different country house styles have developed, influenced by people, the land and nature. Especially wood radiates warmth and security and is very popular for the design in a country house bathroom. So this style of furnishing brings a rural, romantic touch from the past. This style is also known for the use of natural materials such as untreated wood or natural stone. This style is no longer only present in village or country houses, but also in urban areas this style is very distinctive. The contemporary country house style, supplemented by rustic elements, is even considered more luxurious. The forms here are rather playful or curved. Here one hardly limits oneself to colors and combinations of wood. But not everyone is a fan of this style. Younger people in particular tend to prefer a modern style. That is why some designers have reinterpreted the country house style in a completely new way: modern!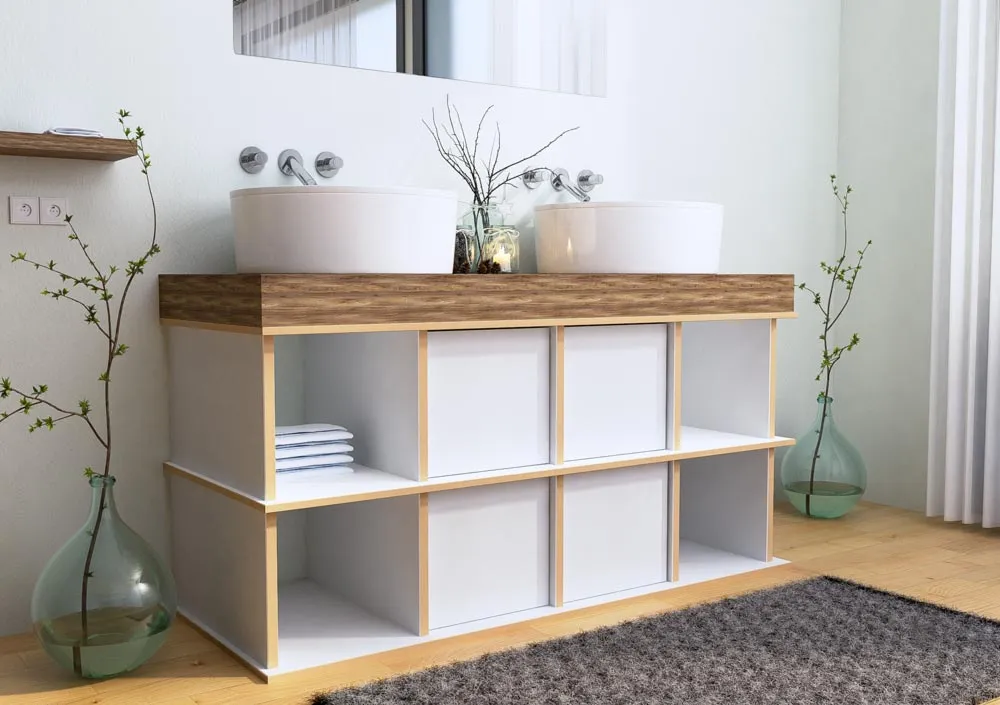 Rustic bathrooms
If you decide on a rustic bathroom, you should definitely like wood. Rustic bathrooms are very easy to furnish. Everything in the decoration must be old or old look. Very dark wood tones are used. This wood can tell an old story and warms up the room visually. Natural material, round stones, wooden floors and decoration like Candlesticks or photographs are of course a must for this style of furnishing. However, these items do not necessarily have to be traditional.
We plan your bathroom for you
Let our professional designer team configure your bathroom for you.
To the design service
Furnishings in the bathroom
An important step in bathroom planning
Once the planning phase has been successfully completed, the second step is to find the right products for your bathroom furnishings. Because with the right bathroom furniture and accessories, your bathroom will become a home spa. In the following, we will discuss the various pieces of furniture and explain their advantages and disadvantages.
Showers and bathtubs
A shower bathtub or even both? This question usually depends on the size of your bathroom. If you have a small bathroom, you should think about your showering and bathing habits. If you can't do without both, you should think about a combination tub and shower zone. You should also consider how many people use the bathroom at the same time and especially how old they are. With small children you should rather prefer a bathtub. You should also take your budget into account. Basically, a shower is cheaper than a bathtub. Also in the aspect of water consumption a shower is the cheaper option. However, it also depends on your habits. If you shower for half an hour in the morning under permanently running hot water, you will of course use more water than if you take a bath.
Bathroom fittings
Finding your own bathroom style is not always easy with a wide selection. We try to give you some guidance so that you can quickly find the right fitting for your bathroom, shower or bath. A very important point when choosing faucets is the quality and workmanship. So if you want a fitting that will work reliably even after years of use, you'd better invest a few extra euros in brand-name fittings. There are three different types of fittings: bath fittings, shower fittings and wash basin fittings. Most bath fittings have an additional connection for a hand shower. Whether you decide on a shower set, a multifunctional shower, rain or waterfall shower is up to you. The design also includes many different facets: from modern, neutral or classic to elegant and luxurious fittings in the different materials. You should also make sure to buy a fitting with a temperature regulator and temperature limiter to better protect yourself from scalding!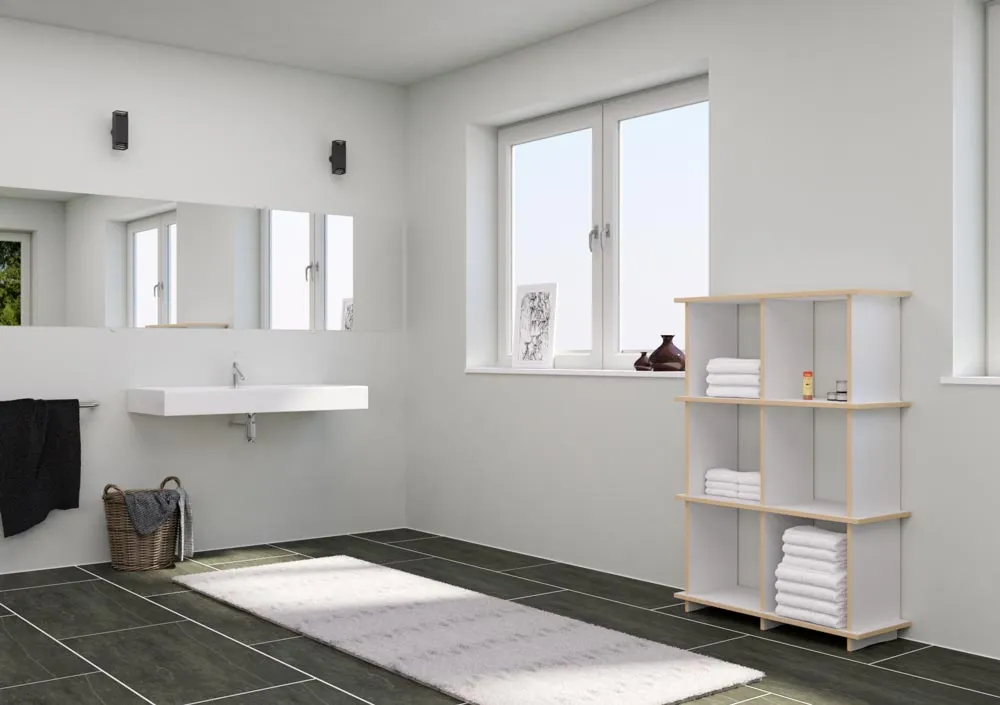 Shelves
You want to furnish your bathroom comfortably and gain practical storage space? When choosing the right bathroom furniture, it is therefore important to have an attractive appearance as well as a high degree of functionality. In addition, the design and material should match your tiles and the rest of the bathroom furniture. Shelves are available in many different designs. Whether a wall shelf or standing shelf or corner shelves or hanging shelf, you are completely free in your decision. For most bathrooms a combination of both hanging and standing shelves is recommended. We at form.bar offer you custom-made bathroom shelves that you can adapt to your individual room situation according to your ideas and wishes. Especially in small bathrooms you can make optimal use of your space and also use sloping walls or niches. Simply enter your measurements, choose material and color and then form your shelfas you wish. Of course you can also add doors or drawers to your shelf.
WC's
When furnishing the bathroom, a suitable WC should not be missing. Now you should be aware of the technical requirements you need and how much you want to spend for your new toilet. You have the choice between a wall-mounted or suspended WC, a washer, a washer-dryer or even a shower toilet. Again, you should ask yourself the question which persons use the WC. Especially for seniors and children the seat height plays a big role. Do you need supports or supports or is the toilet paper safely within reach? In addition, the matching toilet lid should not be missing. These are available in the most diverse designs.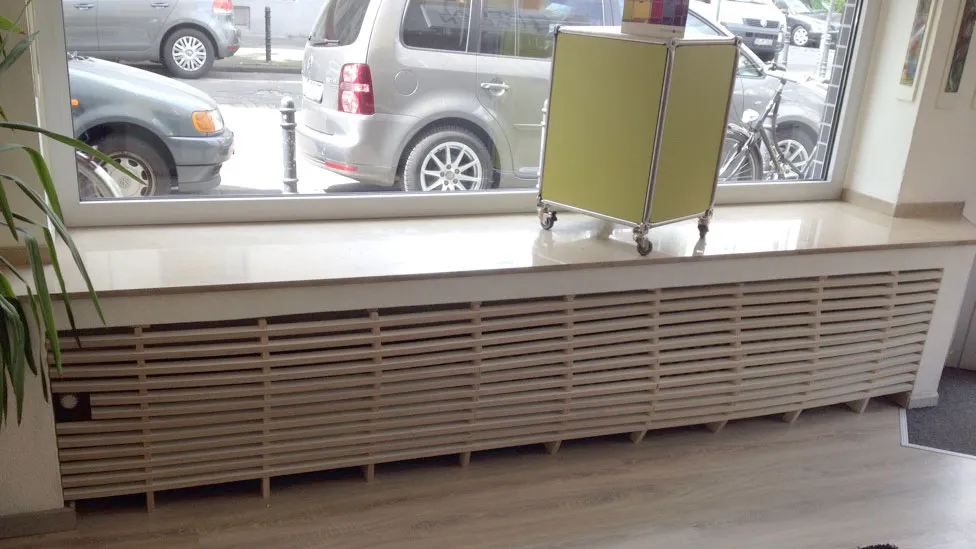 Radiators
Also bathroom radiators are available in different sizes and designs. From electric floor heating to functional heaters or radiators in different design models. Very popular are the so-called towel radiators. These are not only space-saving and modern, but also provide you with a warm and cuddly towel after showering. In addition to the optical eye-catchers in the bathroom, underfloor heating can also be optimally combined with the tiles. So the otherwise cold tiles are nice and warm and an even heat is distributed in the room. However, if you still have an older radiator in your bathroom and you don't have the time or money to replace it, you also have the possibility to cover your radiator or even make a seat out of it. We offer you custom-made coverings or benches that you can place and adjust optimally on or above your heater!
Bathroom accessories and decoration
There is no easier way to set accents than with beautiful accessories. Of course, in the bathroom you should always make sure that function is the main focus, but with the right bathroom decoration, weaknesses in a room can be cleverly concealed and strengths can be ideally highlighted. From harmonious candles or shells to colored soap and shower curtains in various designs. Color-coordinated towels, bath mats, soap dispensers and toothbrush cups round off the needs for your bathroom. There are plenty of decorative elements with which you can easily embellish your new bathroom - and without much effort!
Create storage space for the bathroom
Furnish the bathroom: Examples
If you don't have room in your bathroom for large cabinets or a commode, you should cleverly incorporate your walls. With shelves or wall shelves you can create additional storage space in the small bathroom. You should also not leave corners, niches and the wall above the bathtub unused. If you live directly under the roof, custom-made shelving systems are ideal because they fit perfectly into the pitch of the roof and offer enough space for bathroom accessories, towels or cosmetics. Furniture with sliding doors is also space-saving and practical. Also look out for furniture with double functions, as these also save valuable space. Room dividers are also a good way to create storage space and divide the room at the same time. Just test our online furniture configurator and create your personal bathroom shelf made to measure.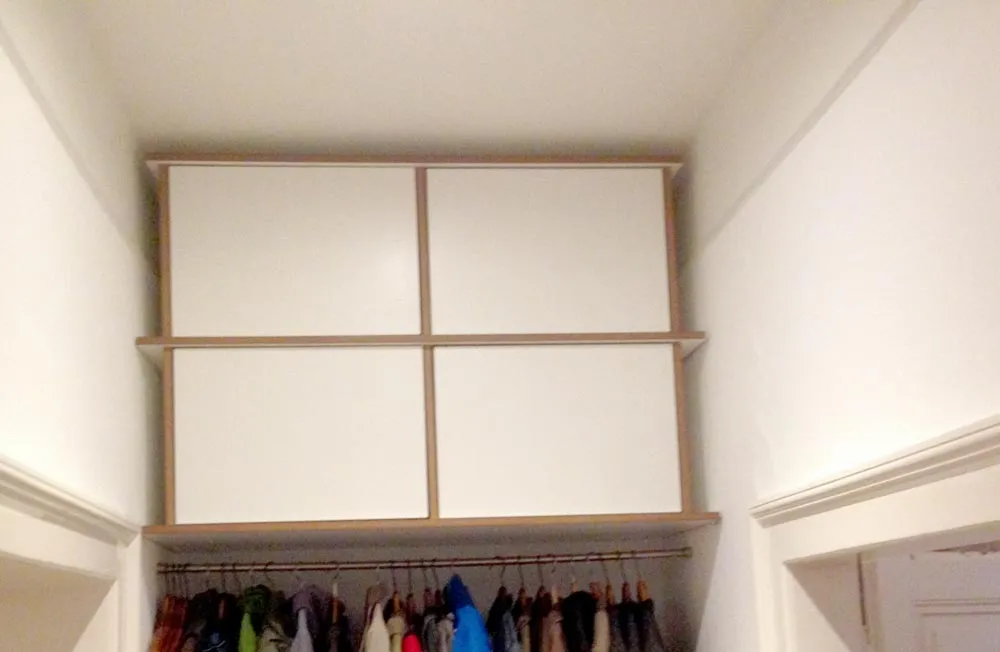 Bathroom furnishings - Ideas
Furnish the bathroom: Examples
In the following we will show you some inspirations and form.bar furniture that are well suited for your bathroom and will help you with your bathroom planning.
Small bathroom furnishings
The art of space utilization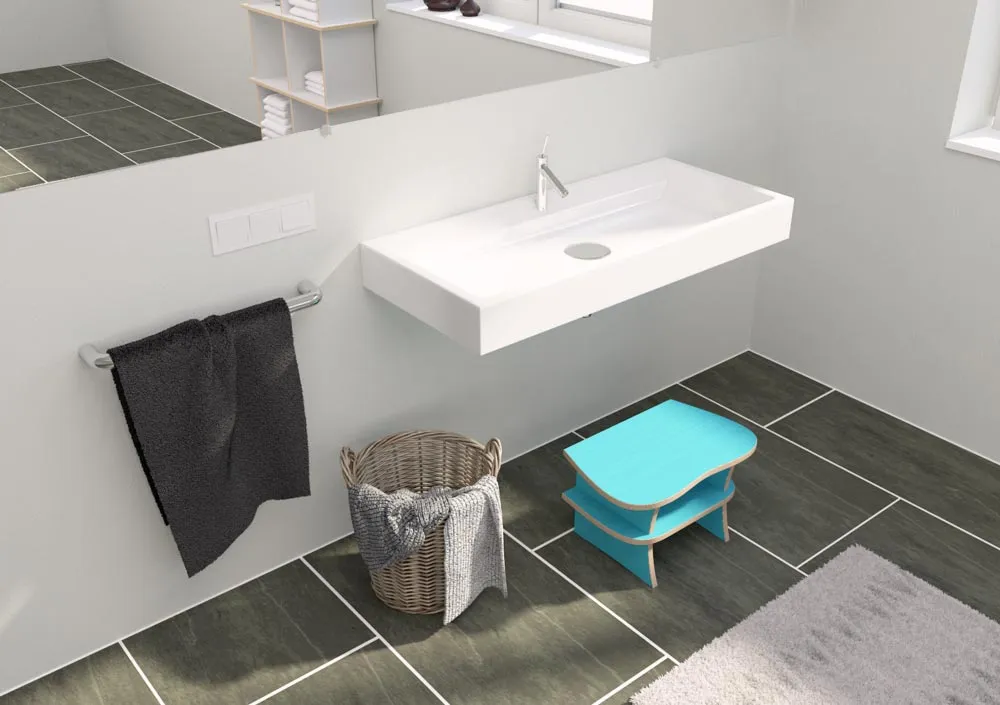 Save space and create storage space: A bathtub is unfortunately less suitable for small rooms. Rather rely on a fully tiled shower area.
Use natural materials: Materials like stone and wood make a small bathroom sensual and comfortable. The light surfaces of wood make the room appear larger and visually expand the room. In order to achieve unity, it makes sense to design the walls and floor with the same materials.
A lot of light makes a small bathroom look more spacious. Daylight sources should therefore not be covered and large luminaires or several spots or spotlights are also ideal.
Mirrors are a good trick to enlarge a small or narrow bathroom optically and pretend depth in the room. They also look elegant.
Narrow tile gaps make the bathroom appear larger
Dark or bright colors should rather be avoided in a small bathroom. Light colors make the bathroom look larger and accents with patterns or bright colors distract from any weak points.
A towel holder as heater saves space and allows you to have warm towels.
Treat yourself to luxury: Exclusive tiles and high-quality materials refine small bathrooms and give your bathroom a special style despite the small area.
Small bathroom furnishings
Make efficient use of corners and niches
Furnishing a small bathroom is more likely to cause problems than furnishing a large bathroom. So if you have only little space in your bathroom, you should plan the bathroom beforehand and then buy the furniture and accessories first. In a small bathroom, it is important to use the height of the room and use multifunctional furniture. The basic rule for these rooms is: less is more! In order to furnish your small bathroom in the best possible way, we will give you valuable tips and tricks for small bathrooms in the following.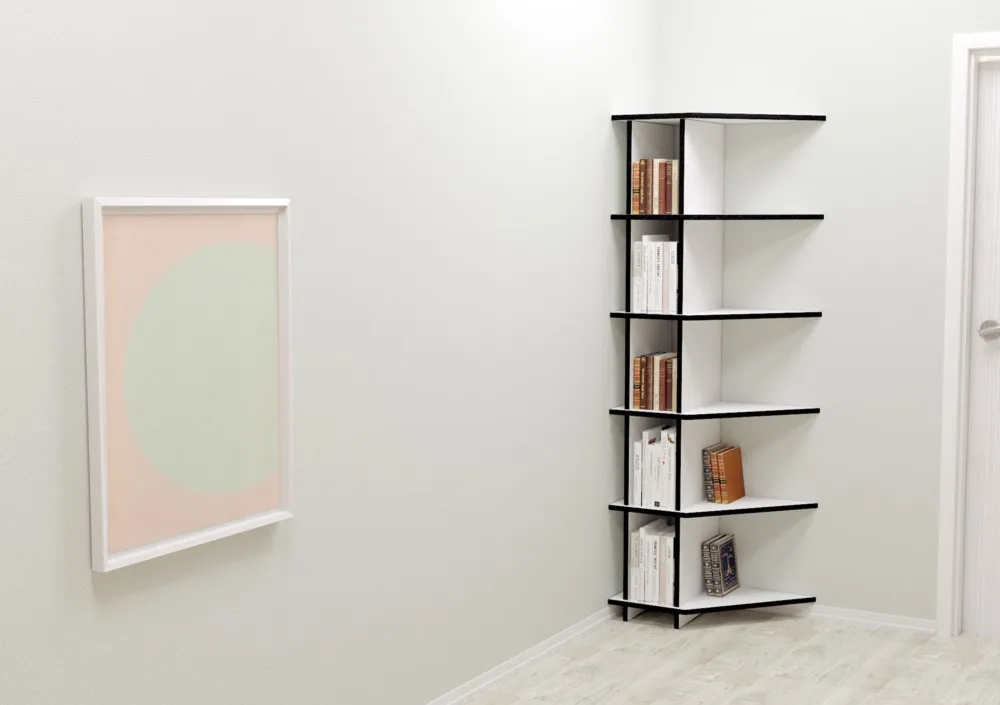 If you want to create a narrow bathroom, you should design your bathroom open and not divide it up with additional areas. A fully tiled bathroom with an open shower makes a bathroom look much larger. In addition, you should avoid bulky furniture and not place it across the room.
Some tips for bathroom design
Light and shadow: Work with sufficient lighting, so you can emphasize individual elements.
Privacy protection: Frosted glass panes, privacy films, blinds or roller blinds protect your bathroom from prying eyes.
Floor and wall design: a clear concept in the bathroom makes the room look homely.
Decoration: Using decoration and accessories to cleverly conceal the weaknesses of a room
Storage space: furniture with dual functions is practical and saves valuable space.
Fazit - The way to the perfect bathroom
With our mentioned ideas you can create an oasis of well-being in your bathroom despite limited space
Find out about the latest trends for your new bathroom and define your personal furnishing style.
Let yourself be inspired by form.bar and our living ideas for bathroom furnishings.
Determine your maximum budget.
Plan your bathroom carefully.
Configure your individual furniture that fits to you and makes your room something very special!
We hope our bathroom decorating tips and examples are helpful for you and hope you enjoy decorating your bathroom!
Configure your favorite piece now!
There are no limits to your imagination!
To the Design-Generator