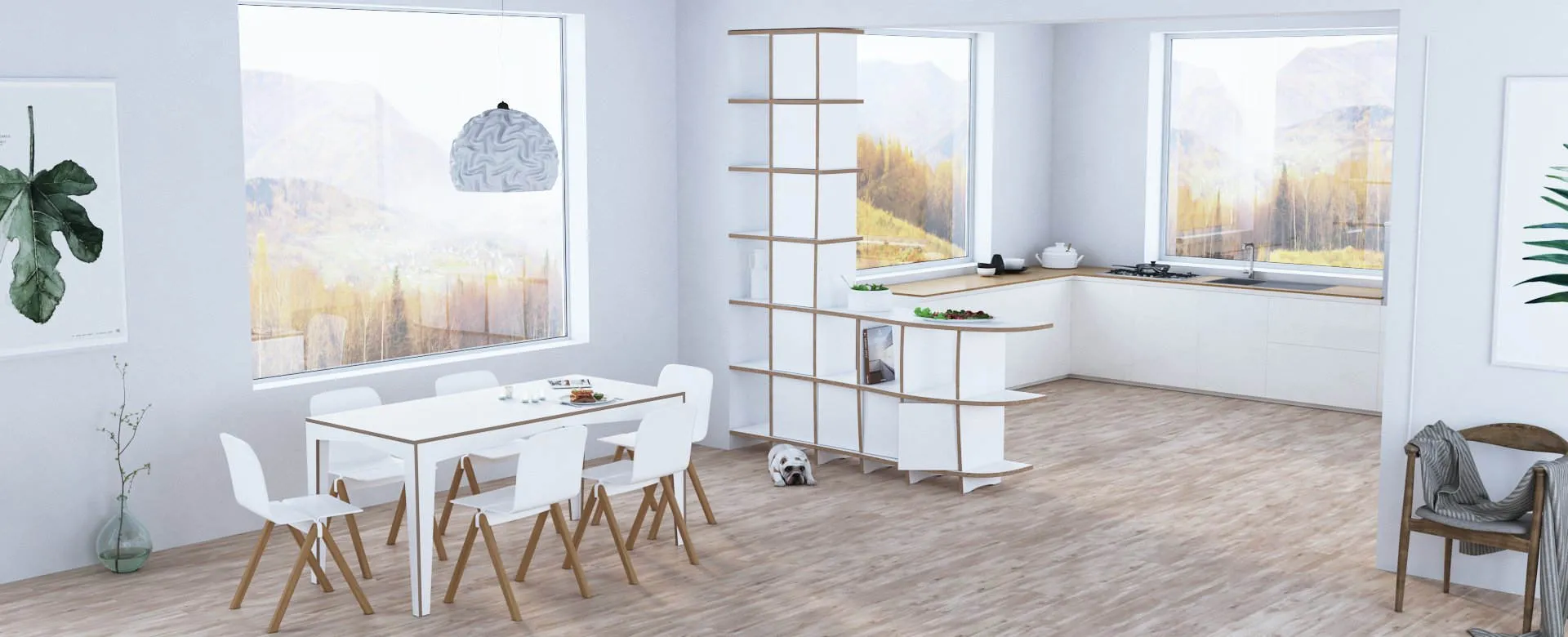 White furniture
Furniture in classic white is timeless and therefore enjoys great popularity. Maritime, country house or vintage - white furniture can be combined with any interior design style and can be integrated into any room. Depending on the room in which they are placed and how the room is otherwise designed, these provide a very special room atmosphere. Bright furniture brings rooms a certain modern lightness and gives the room a clear and calm ambience.
Suggestions from form.bar for white furniture
Choose your favorite design and customize it
How do I use white furniture properly in my home?
In the following guide we give you useful tips on how you can combine furniture in white. We also show you the advantages of white furniture and how versatile it is. In addition to tips for wall design, we provide you with inspiration for your home and useful living ideas. We show you which extraordinary furniture is possible with our award-winning 3D configurator and how you can integrate it into your own four walls.
Become the designer of your furniture with form.bar.
The color white
A fresh all-rounder
The effect of white
The color white makes small rooms appear larger, because the contours are no longer so clearly perceived by the eye. White looks clear and pure, however, when designing the living space, you should also set other color accents, otherwise the room can appear sterile and this is not very cozy. The color is very popular for furniture, as it can be combined with all other colors and is timeless. It gives furniture a neat and clean look. White looks friendly and inviting and is suitable for all rooms. Pure white furniture is best for a bright and radiant ambience.
Not all white is the same
White comes in many different designs and variations. Different materials make these tones look different. You can distinguish many different types of white. If you compare different color gradations, you will notice that some have a slight yellow tint, some appear more radiant and luminous than others, and others have a gray tinge. Cream white appears warmer and cozier than pure white because of the yellowish tinge. White with a gray tinge, does not appear as bright and is therefore more inconspicuous.
There are various white materials to choose from in our diverse online store. For example, our Finnish birch veneer laminated wood is available with an opaque or transparent melamine resin coating. In the variant with the transparent coating, you can still see the grain of the wood well and is therefore perfect for all nature lovers. An inexpensive alternative is our edged chipboard in white. Our medium density fiberboard (MDF) is available in pure white with a natural edge, but also solid black. The contrast with the black edge makes your unique piece of furniture a contemporary eye-catcher and provides a modern flair. Find the material that suits you the most and fits your home best.
Combination with other colors
White can be perfectly combined with light pastel tones. This combination is inviting and brings freshness into your home. But also with dark colors you can combine white very well, thereby the bright furniture is excellently emphasized. A white wall combined with a gray or anthracite-colored living room landscape or with a black sideboard looks modern and stylish. If you want exclusively white furniture, then you can set individual colored accents, so as not to make the room look too sterile and make it more cozy. For example, a colorful bouquet of flowers is very suitable for this, but also appealing paintings or extravagant sculptures. In children's rooms, white shelves with colorful doors will bring order and at the same time will be a child-friendly furniture in any playroom.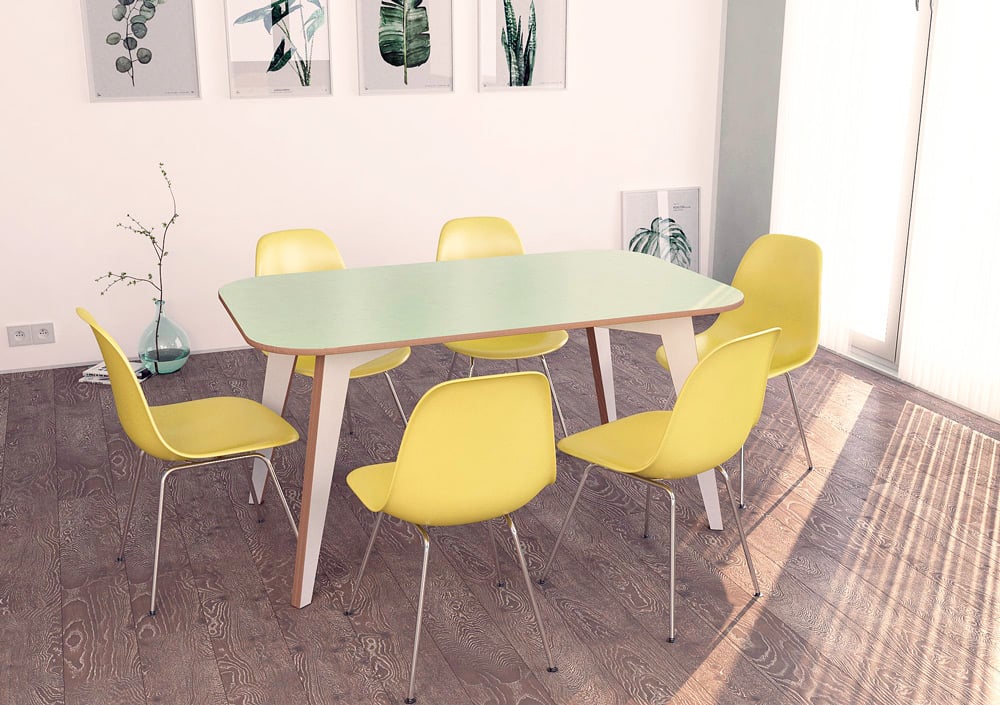 White with wood
White and wood- is a perfect duo. The warm and characteristic grain of the wood makes the ambience look more cozy and comfortable. Oak is particularly popular, but beech also comes out perfectly in combination with white. In general, you should make sure that the design of the living room does not look too monotonous and cool. A table with a tabletop made of classic oak with a light table frame gets a modern look through the interaction of the different materials.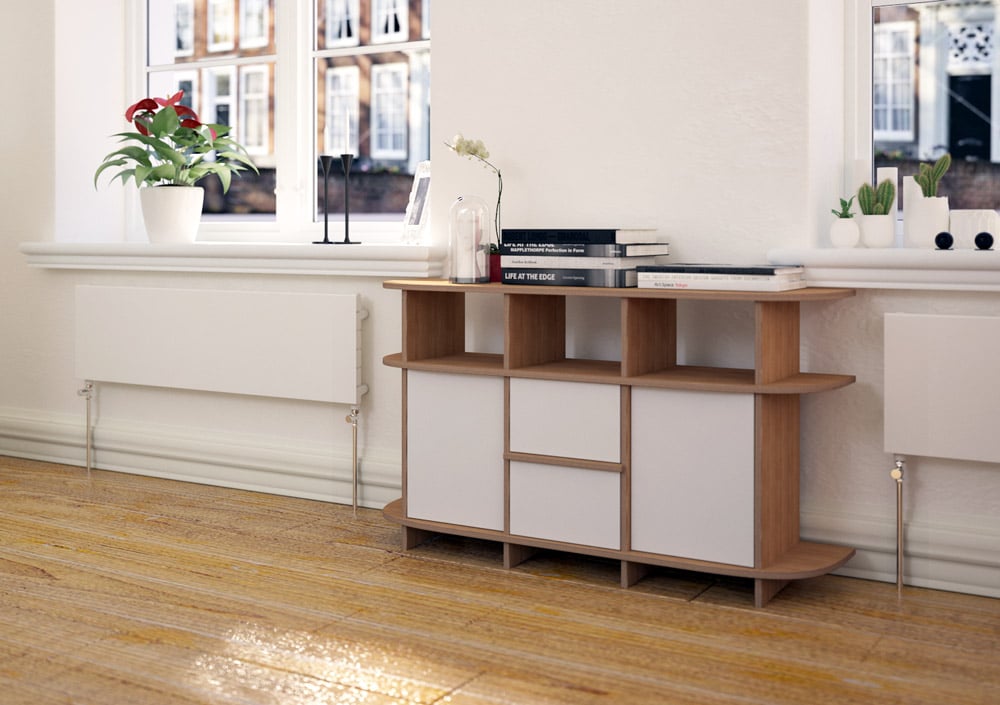 White furniture with style
Become clear about the possibilities
Scandinavian style
Typical for the scandinavian style are friendly colors, many light sources, natural materials and clear forms. Discreet furniture in white is very popular and therefore often combined with other furniture made of wood. Straightforward and simple design is the be-all and end-all for this style, playful details are very rarely found. Bright open spaces with straight furniture in white are standard for scandinavian style. Contrasts are set with pure colors, these are classically a warm red or a strong royal blue. Cushions or tablecloths with graphic patterns in bold colors serve as decorative elements. However, these are used only very reduced, because the style is oriented entirely on the principle of simplicity. The motto less is more is writ large. Individual color accents can also be created in pastel tones. To round off the scandinavian style, lambskins or cozy plaids are draped on the sofa.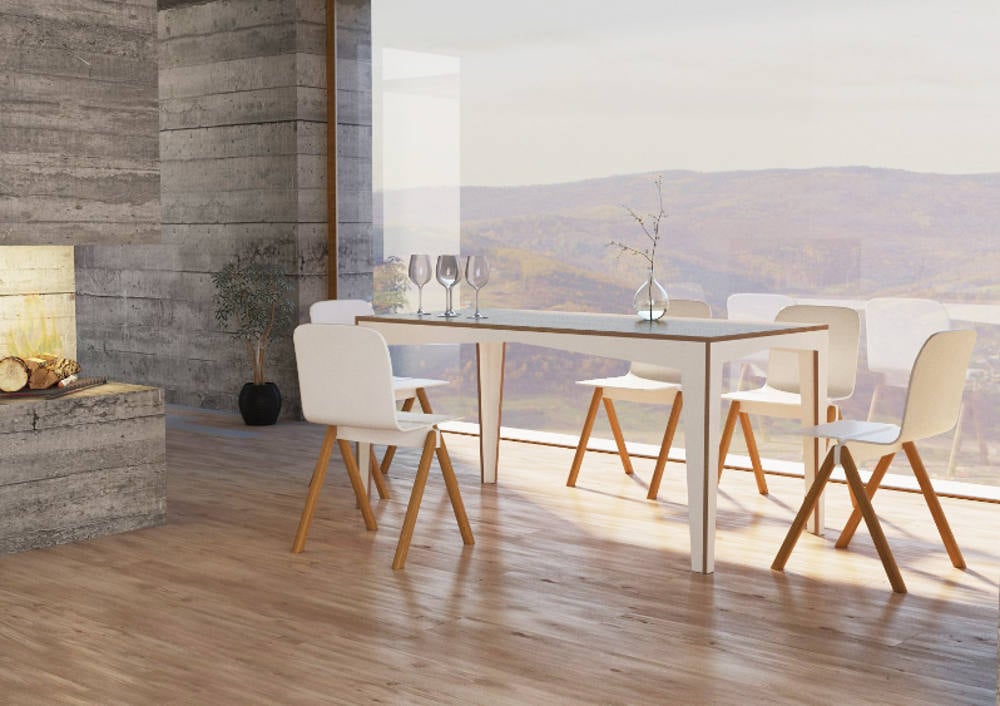 Country house look furniture
A house decorated in the country style definitely includes white light furniture. These are often with elaborate details, such as detailed floral decorations. Also characteristic of the country style are curved or elaborate table legs. For the natural ambience, rattan, linen and clay are popular. In general, natural colors as well as muted tones are predominant here. In Shabby Chic, traces of use are desired on furniture. Natural colors and simple patterns provide the nostalgic charm of the country style. In the decorative elements, traditional patterns such as checks or floral patterns are picked up. In a white display case with glass doors, the elaborately decorated dishes with floral patterns are perfectly staged. Bouquets of flowers or wreaths of willow are decorated for natural accents.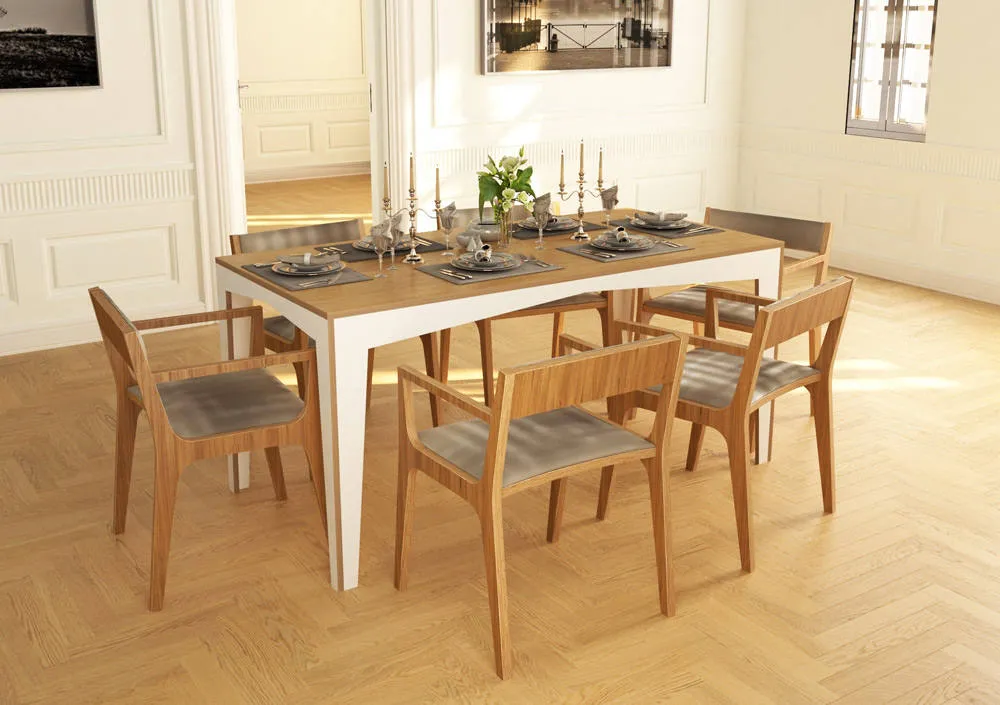 Industrial look
Rough rugged materials, metal elements and untreated wood bring the charm of a factory into your home. Shelves with clear forms made of metal emphasize the style. A chest with an eye-catching pattern in rust red and mustard yellow follow the same pattern. A dining table with clear signs of use is joined by white chairs and a large dark gray ceiling lamp. The design here is clean and oriented to straight unobtrusive forms. For the authentic look, concrete is chosen as the flooring. Predominant colors are gray, natural tones and dark colors.
Mediterranean flair
Characteristic of the Mediterranean style of interior are terracotta-colored walls, striking wooden beams, high-quality leather furniture combined with light furniture. For example, a large oval wooden table in white is combined with matching leather chairs. In a living room painted with earthy natural tones, a bright sofa set with a coffee table with eye-catching floral flourishes can be found. To complete the style, large houseplants and opulent vases and bowls are showcased. Precious marble floors added a certain elegance to the room. Elaborate paintings in bold warm colors are part of the wall design. Typical for the Mediterranean style are royal blue mosaics, as well as the wood species pine or olive. The decorative elements are made of natural materials such as wood or stone.
Maritime interior style
Maritime style is inspired by seafaring and that's why the main colors there are white, red and blue. Furniture made of untreated wood looks very authentic. In this style, light furniture is combined with decorations made of natural materials. Other design elements include nets, driftwood, sand, shells and stones. For a personal touch, shared vacation photos are particularly suitable.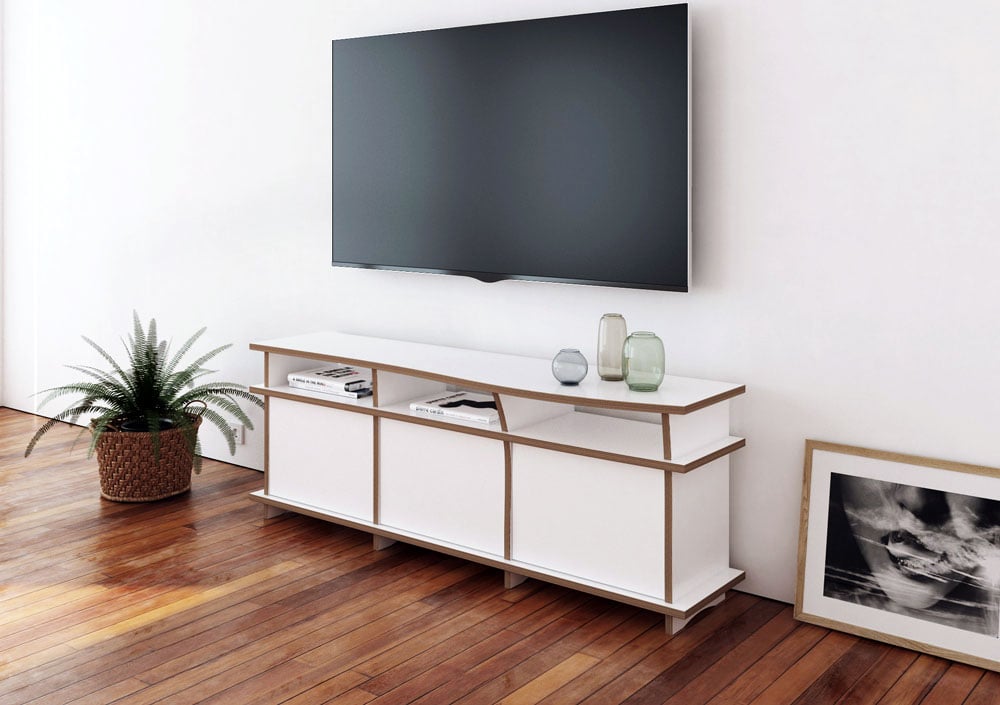 Purist white
Minimalist furniture in white with a clear design provides order and tranquility in your home. Linear design elements, generous window fronts and light furniture give living rooms a modern and airy ambience. Furniture with doors and drawers keep things tidy and support the style. For a natural look, plants and coordinated decorative elements are perfect. Here, less is more: therefore, decoration is used sparingly. The main focus is on the functionality of the furniture, which is part of design. Therefore, furniture that is adapted to the particular living situation is excellent, but also furniture that can be used in many ways is very popular here. For example, a small dining table in the kitchen can be used for breakfast and at the same time serves as an additional work surface in a small kitchen.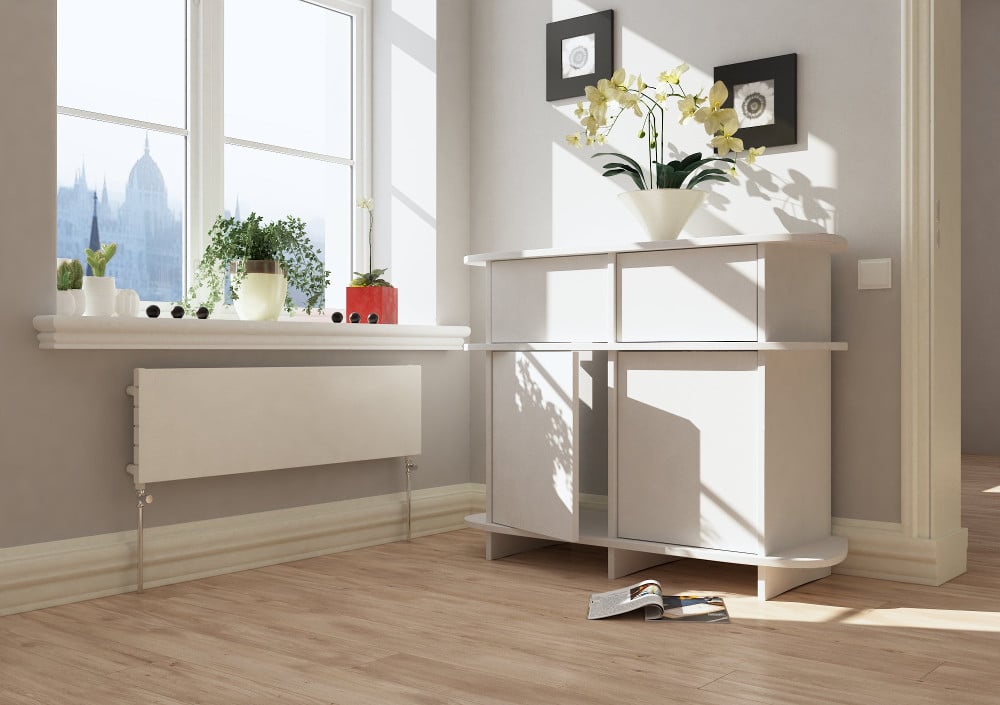 We plan your white furniture with momentum for you
Let our professional team of designers plan your bright and friendly interior.
To the design service
White furniture is incredibly versatile
With form.bar there are no limits
White furniture in small rooms
Especially in small rooms, white walls are advantageous, but also a bright and friendly interior. Light colors make rooms look larger, whereas dark colors make the room look smaller. Of course, you can use colorful accents and plants to make the room more cozy. To make the most of the limited space in such rooms, adapted furniture is a great option. Room divider can visually separate the living room from the dining room and provide additional storage space. An elongated bench in white with a large mirror in landscape format supports the effect and visually expands the space.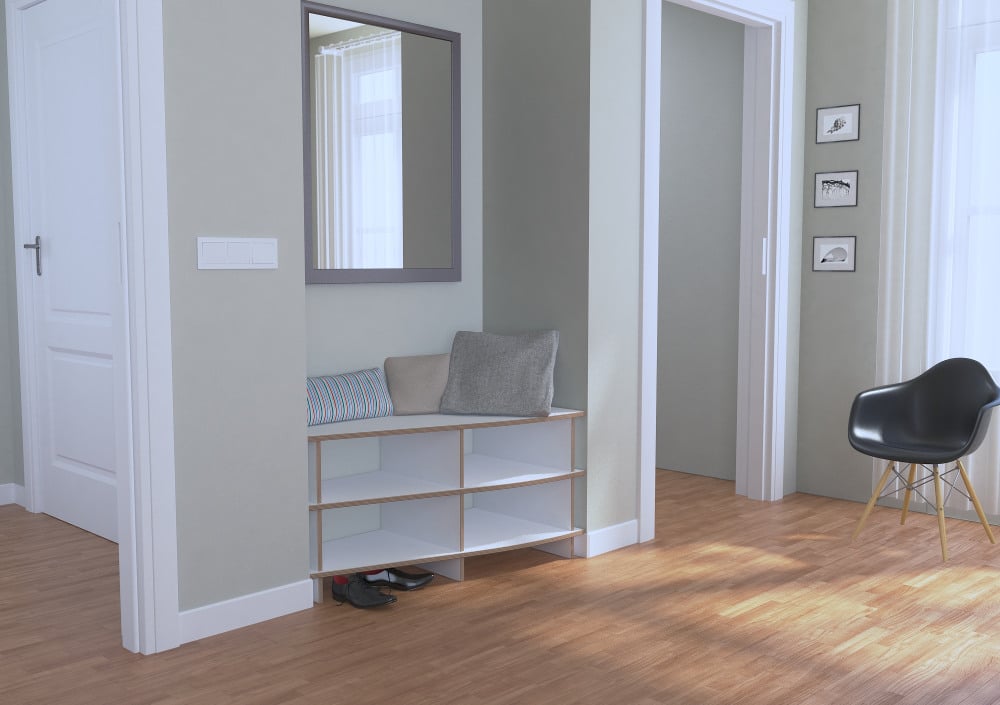 White furniture in large rooms
Room dividers can visually separate the living room from the dining room and provide additional storage space. In large rooms that are used multifunctionally, room dividers give the room a structure and divide it into different living areas. Due to the open design, the room looks flooded with light despite the shelf. Doors and flaps provide a neat ambience. In addition, special decorative elements, such as a modern vase, can be perfectly staged in the shelf.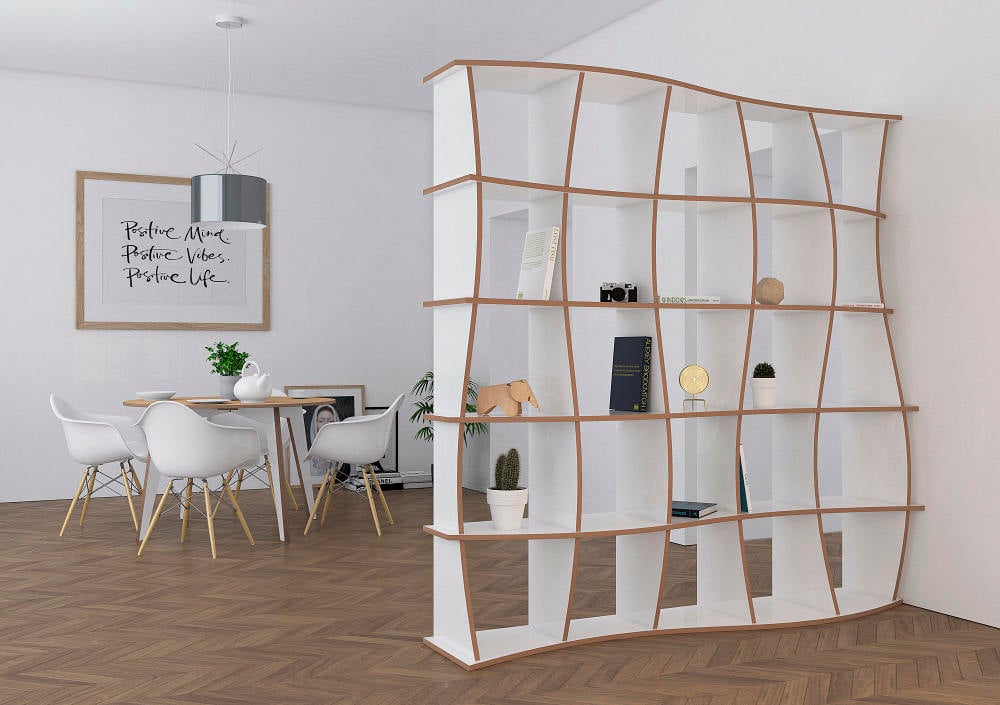 White furniture in kitchens
In kitchens, light-colored furniture is very popular, as it gives an impression of cleanliness and order. Practical kitchen shelves, integrated into niches, not only provide enough storage space for dishes, bowls and glasses, but also make the most of the available space. Wall shelves in white look less oppressive than dark materials.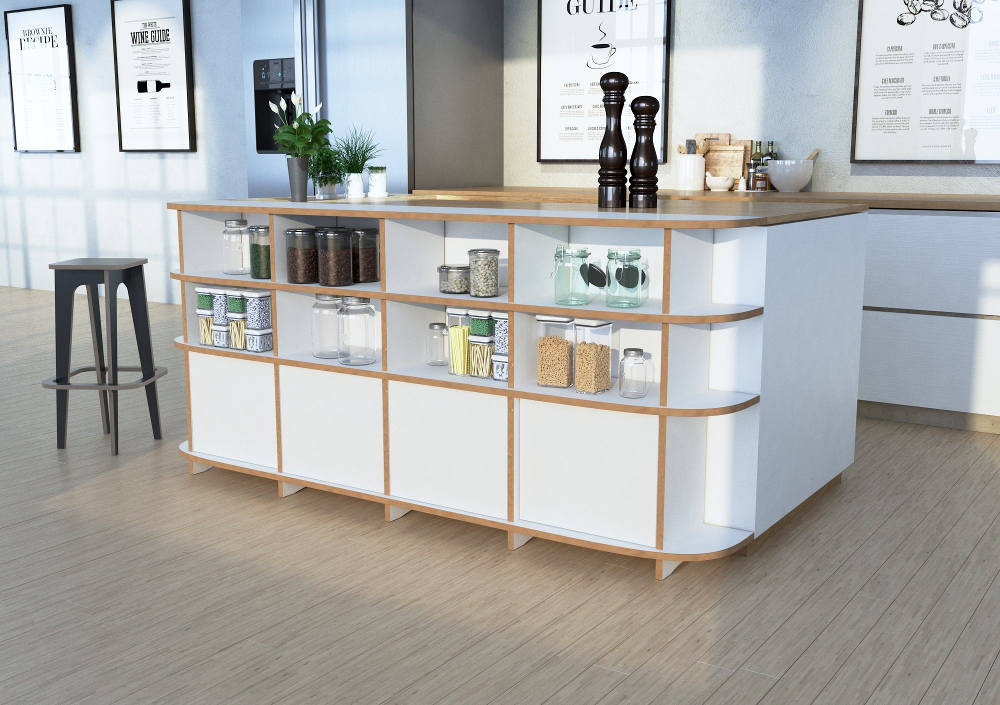 Friendly entrance area
In hallways and corridors friendly and inviting ambience is advantageous. Not all hallways have a supply of daylight, light-colored furniture and walls do not darken the room additionally. In addition, you should include sufficient sources of light. In hallways, sideboards or commodes are particularly practical. On the one hand, shoes, hats and scarves can be stored there, and on the other hand, keys can be placed in an attractive tray, so that they are within reach, but the appearance is still neat. Shoe benches not only provide practical storage for your sneakers, but can also add visual interest to the room. These can also be used as seating and with a matching seat cushion, these bring colorful accents to your entryway.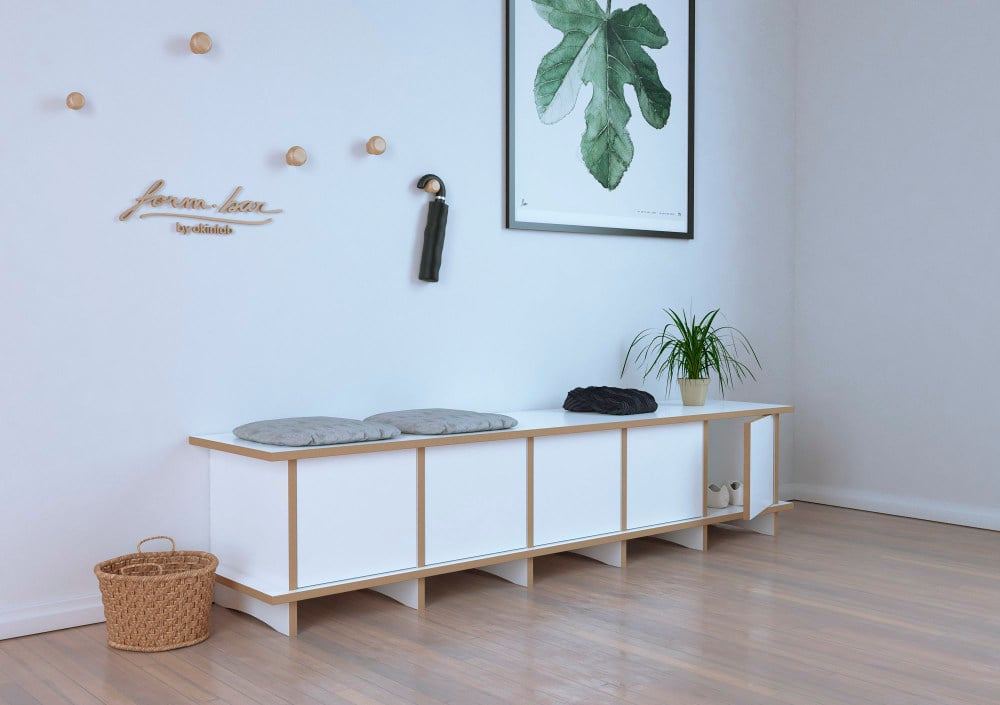 Bright and friendly workspace
To make it easier for you to work efficiently, light-colored furniture with plenty of storage space is particularly suitable. Shelves and commodes can be used to store work materials, so that your workplace is tidy and you are not disturbed by things lying around. White desks, which are adapted to the respective body size, support you to work undisturbed.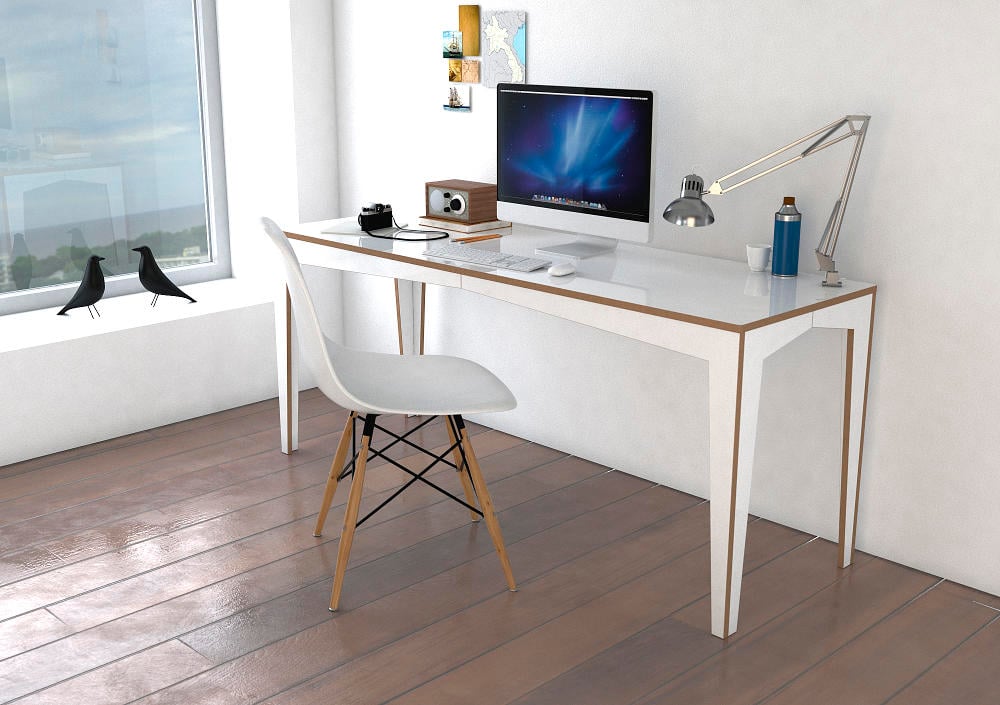 Coherent overall concept
White furniture is perfect to combine
Harmonious wall design
White furniture in front of a white wall looks sterile and not very cozy. With attractive artwork, the white walls look much more harmonious. There are no limits to the wall design of your apartment. Painting is less complicated and takes much less time than wallpapering. Light natural colors and pastel shades are suitable as wall colors for white furniture, but strong colors can also perfectly set off light furniture. Compared to wall colors, wallpapers usually have a warmer effect and radiate coziness. These are available in different variants. Paper, woodchip or a modern vinyl wallpaper? The choice of wallpaper is up to you, but make sure that the room looks harmonious. Who wants something more unusual can paste a wall with a special photo wallpaper. This automatically attracts all eyes on itself and the white piece of furniture comes so also optimally to the validity. In kitchens, tiles are the most practical, because dirt can be wiped off easily and quickly.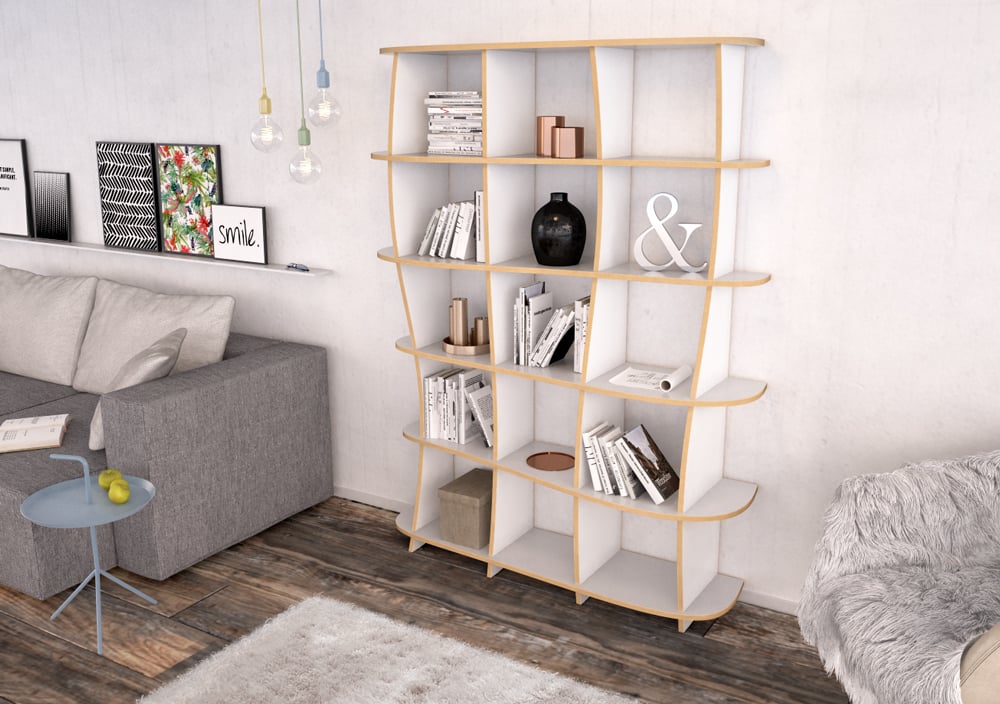 Atmospheric lighting
For a coherent and cozy interior design lighting is an important criterion. Depending on what a room is used for, you should use different illuminants. Especially for predominantly white furniture, the light should not appear too cool. In kitchens or bathrooms, however, cool white light can be advantageous. Make sure you get enough daylight and go for individually decorative lamps or imposing floor lamps. These will turn your home into an oasis of well-being. In the living room or bedroom, indirect lighting creates a cozy atmosphere.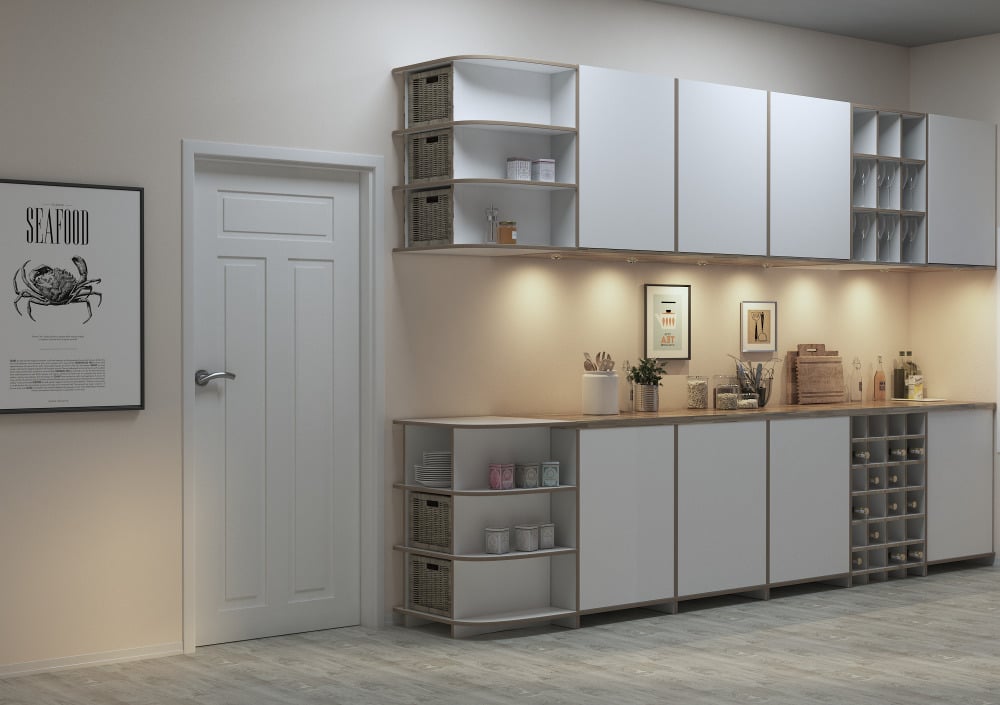 Suitable floors
The choice of flooring depends on what room it is and what it will be used for. In kitchens, tiles are the most practical, as they are very low-maintenance and easy to clean. Large tiles in stone look are currently very fashionable. In living rooms, parquet floors increase the feel-good factor. A cheaper alternative is laminate. White furniture and wooden floors give the room a stylish ambience and provide a warm coziness. Especially in living rooms, bedrooms and children's rooms, wooden floors are more suitable because they make you feel more comfortable. A carpeted floor in a children's room is very practical, especially for small children, as they often play or crawl on the floor. Of course, you can also place a carpet on parquet or laminate floors. For a coherent room concept, matching pillows can be placed to the carpet.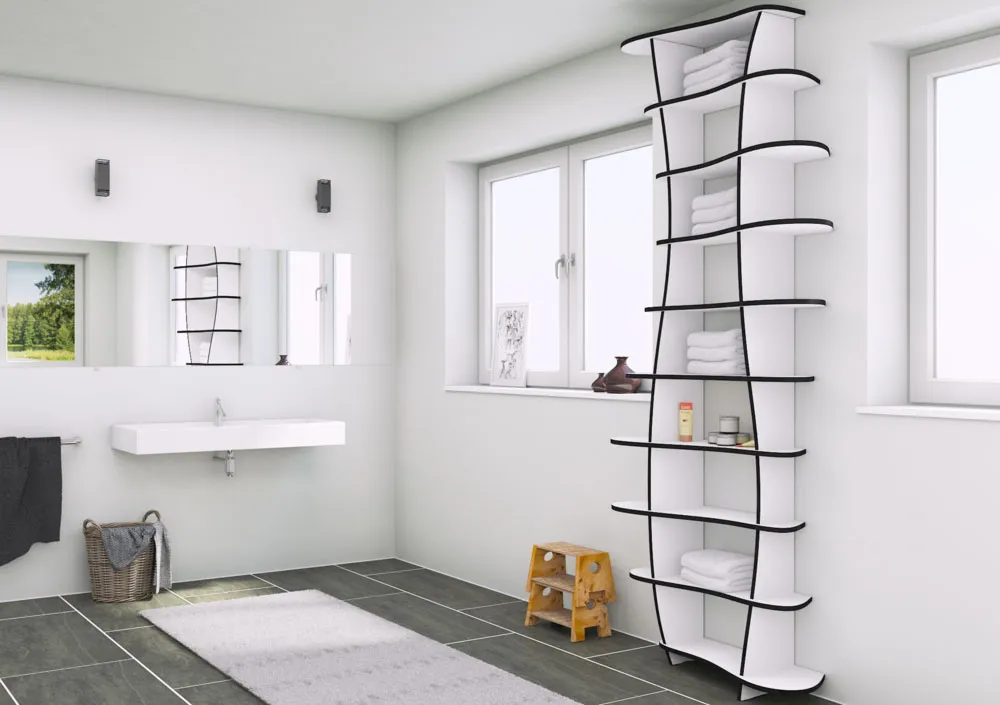 Color decoration
To set a few colorful accents and let the coziness move into your home, decoration is perfect. Of course, you should adapt them to the respective interior style and choose according to your taste. To white materials, metallic accents look particularly noble. A large silver designer bowl in the middle of a white table brings modernity into your home. If you set on a natural ambience, then materials such as wood, linen or felt are particularly suitable. Driftwood and shells. These will bring a maritime feel to your bathroom. Carpets, curtains and cushions should be color-coordinated for a harmonious overall look. Family photos in attractive picture frames make your home individual and homely. But also impressive art prints on walls, just like houseplants are welcome and give a room the final touch.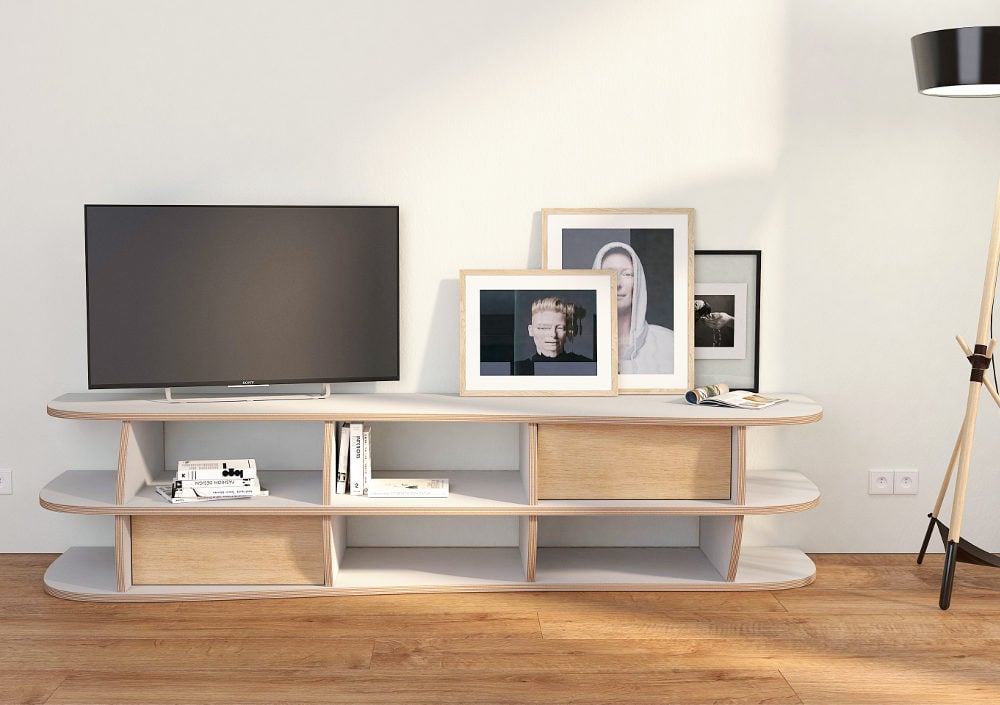 5 useful tips for white furniture
You should pay attention to the following
Combine white furniture skillfully with bright color accents

Make sure that there are enough color accents. This will create a pleasant atmosphere and make you feel comfortable in your home. Self-painted pictures or watercolors give your room a special color accent. Plants are ideal for a natural ambience.

Provide suitable lighting

Bring enough light sources into your home and choose the right bulb for each room. Cold white light is practical in bathrooms and kitchens. Living rooms, however, should look cozier, and warm white lights are more suitable here. Indirect lighting gives a room a soothing warmth.

Find the right shade of white for you

There are numerous gradations of white. The material also makes the white shade look different. Bright pure white or white with a yellowish undertone? That is entirely up to you.

Make your living space an oasis of well-being

Not only the right lighting is crucial for this, but also a harmonious room concept. This includes, for example, the design of the walls and floors. So that your white furniture pieces don't look too sterile and pure, the walls and floors should look harmonious. Light natural tones on the walls and parquet floors bring coziness into your home.

Give your piece of furniture the finishing touch with matching decoration

Decorations made of natural materials such as wood or plants make your home more cozy. Individual plants or candles create a warm aura and make you feel more comfortable. If you prefer a modern or classy look, you can choose decorative elements in copper, gold or silver. Candlesticks in modern copper are currently very much in demand.