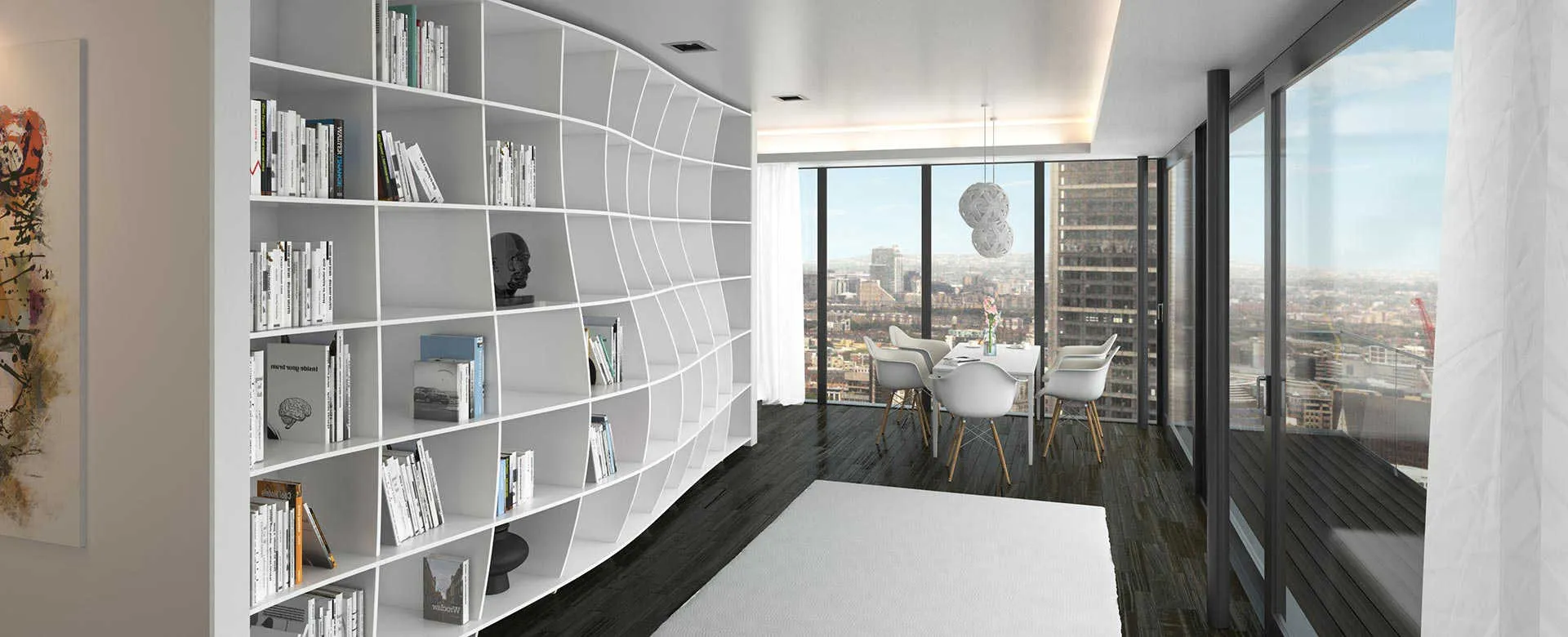 Your penthouse apartment
skillfully furnish
To live in a penthouse - the dream of many people. It is also your dream and you want to fulfill it soon or you already have it, but are still looking for ideas for furnishing, decoration, ...? Then you are exactly right here! But what exactly is a penthouse apartment and what distinguishes it?
Highlights from form.bar for your penthouse apartment
Choose your favorite design and customize it
What distinguishes a penthouse apartment?
The apartments are built on the top floor of the house and were originally intended for servants. But with the growing population, they provide additional living space, especially in crowded metropolises such as Munich, Hamburg or Berlin, for example. Thus, in the 1940s, exclusive apartments began to be built. Due to their high location, the much fresher air and great views quickly became an advantage. With the growing modernization, the penthouse finally became a luxury apartment, because many are now also equipped with their own elevator. In addition, the apartments are usually surrounded by a terrace, so the rooms are very bright. To make you feel comfortable in your home, below you will find some tips and tricks so that you can make your penthouse apartment as cozy and beautiful as possible. Let this page inspire you with everything from flooring, furniture and wall coverings to accessories.
Your penthouse with atmosphere
Good planning enables better living
Create the right ambience
One danger of decorating a penthouse apartment is that it can quickly seem uncomfortable or cold due to its size. Therefore, you need a bit of flair to make your home feel comfortable. In the next sections, we'll start with a few suggestions for choosing the floor. It forms the basis for the interior design of your home. The color scheme is important for the overall interior design.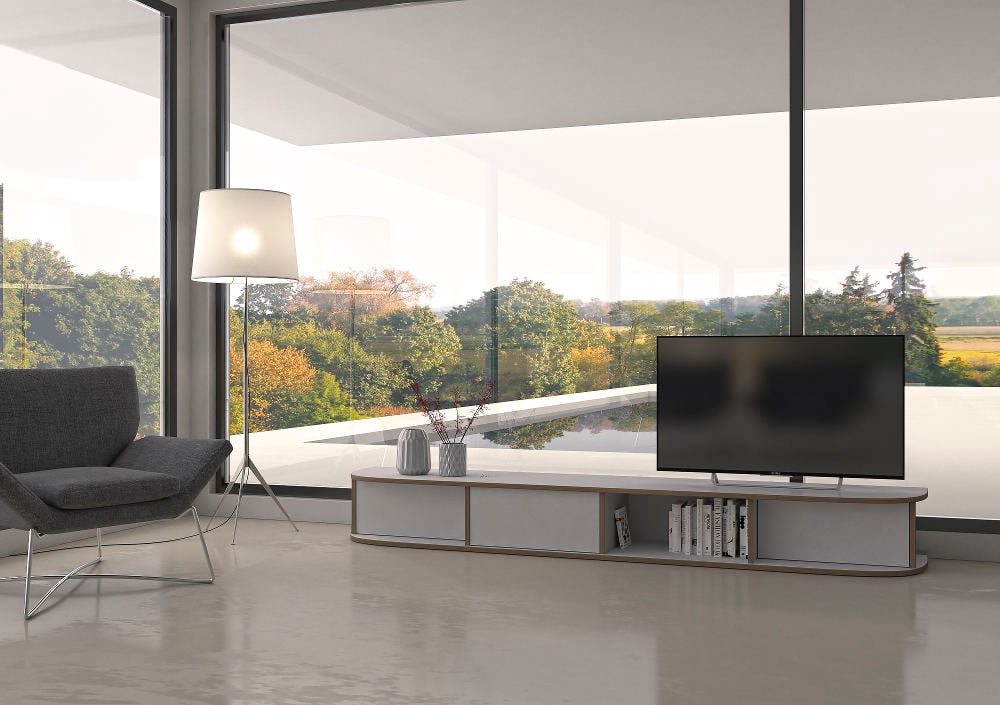 Interesting wall covering
But the flooring does not achieve its full effect without the appropriate wall design. To get coziness in your own four walls, you should choose a beautiful wainscoting or paneling. Here, too, you can definitely resort to a beautiful wood design. This makes it easy to adapt the interior to the mostly modern architecture and the room layout of the building. Design your walls according to your taste and your own ideas. Let your do-it-yourself spirit run wild and decorate your walls with pictures, paintings, photos, or whatever else comes to mind. This is how you give your penthouse apartment your very own flair. Use the different color families as a guide.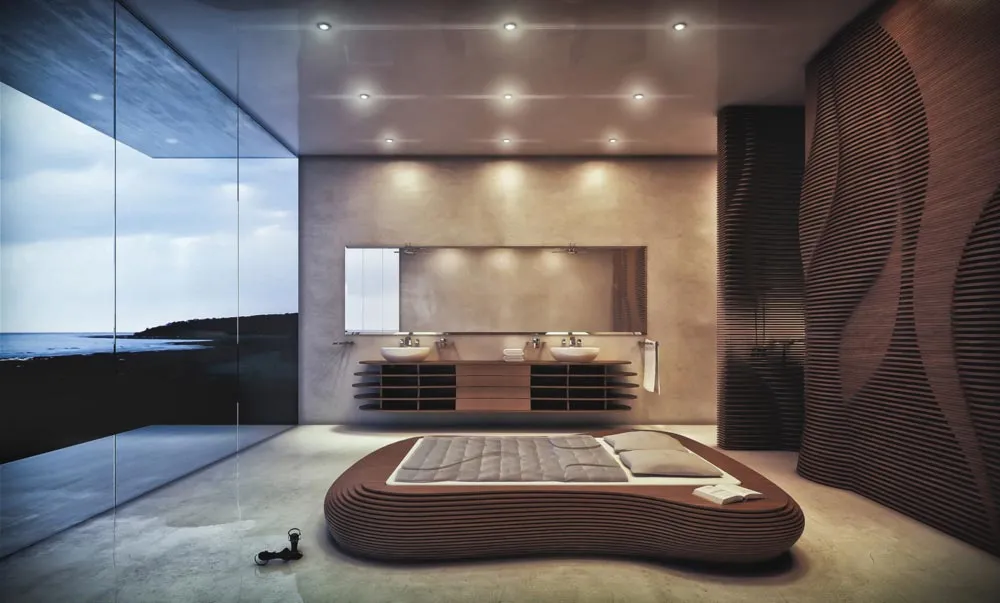 The right flooring for your penthouse
Parquet, laminate, tile or something else entirely?
Wood floors
A beautiful wooden floor is especially suitable for your penthouse apartment, because wood often has a warmer effect than other floor coverings. This is especially important in large rooms, which are often found in penthouse apartments. Materials like stone or stainless steel, on the other hand, can quickly make the apartment look uncomfortable and cold if the furnishings don't match. In addition, wood never goes out of fashion and remains one of the most popular floor coverings. Unlike carpet, the special flair of a penthouse apartment is underlined by the rather noble wooden floor. After all, everything in your apartment should match. That way, you'll feel right at home as soon as you walk in.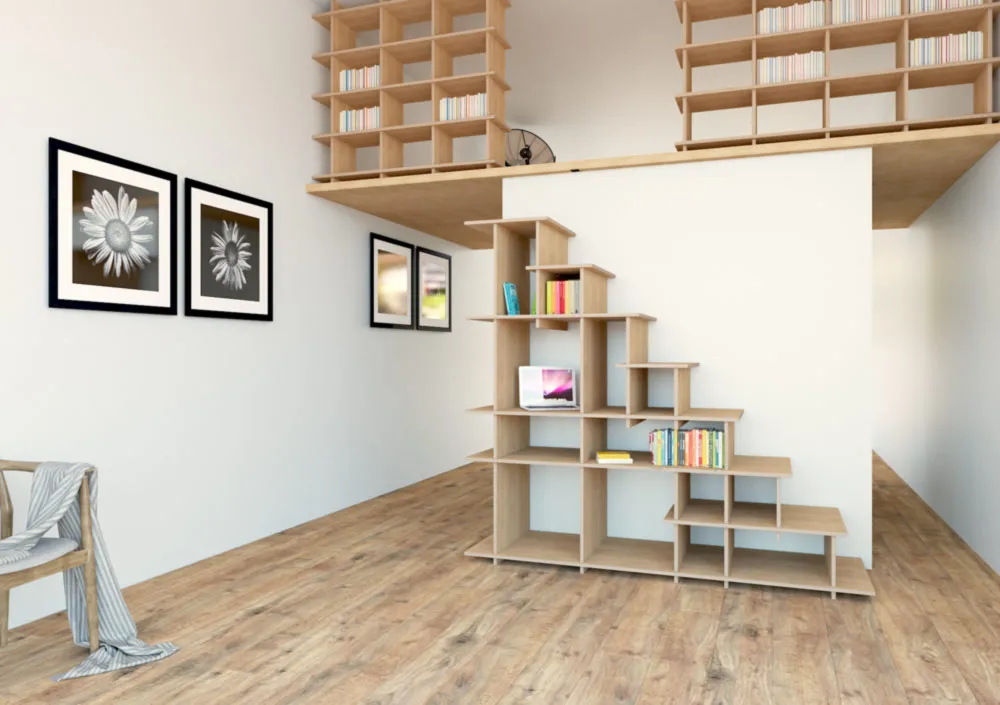 Whether merely wood-look or real wood; you can find something for every type and use. You should definitely consider wood materials such as laminate or parquet. After all, wood is the most sustainable material in the world. The furniture from form.bar is also made of wood materials such as multiplex birch and MDF. We always source our wood from FSC®-certified timber cultivation. The FSC® stands for ecologically adapted, socially beneficial and economically profitable management of forests under the aspect of sustainability. High-quality and sustainably produced flooring is also FSC® certified.
Which wood suits you?
Parquet floor
Parquet flooring, of course, looks particularly chic and high-quality. It is versatile and lives from its naturalness. However, in order to enjoy your parquet floor for as long as possible, it requires good care. Many parquet floors can be sanded several times and thus last for many years. There are numerous variants and colors for parquet floors. Just look around in a hardware store.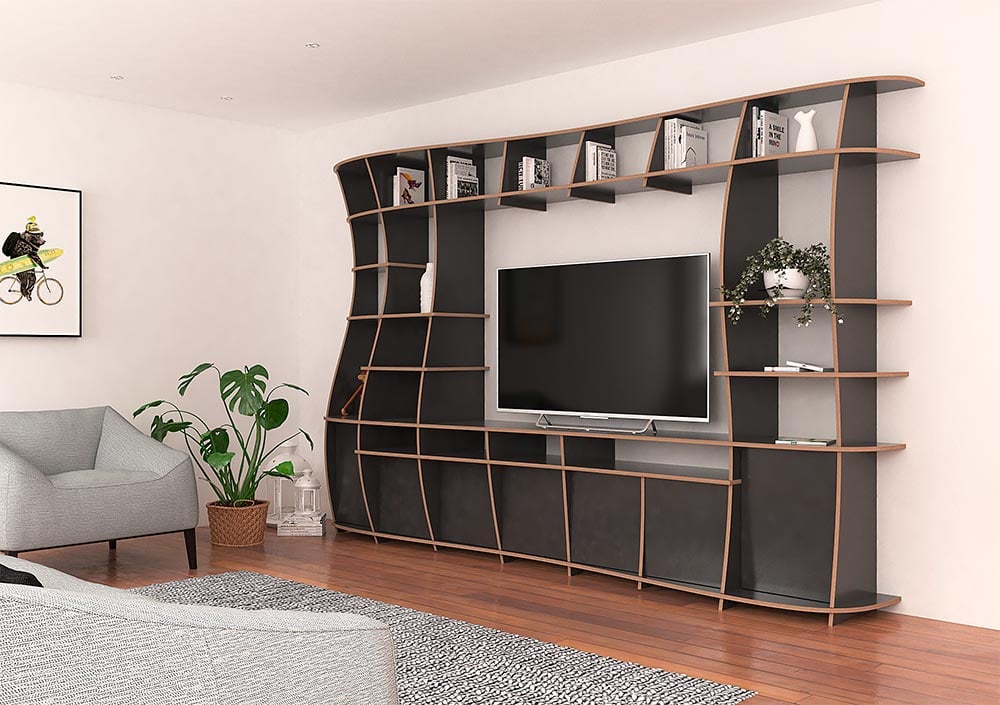 Laminate
Laminate, on the other hand, is probably the cheapest and easiest to maintain option and is particularly suitable for the DIY type. Thanks to the click system, the floor is even quite easy to install yourself and looks very similar to parquet.
If you like dark floors, you should go for wenge, mahogany or walnut. For the rustic look is recommended ash, olive or douglas fir.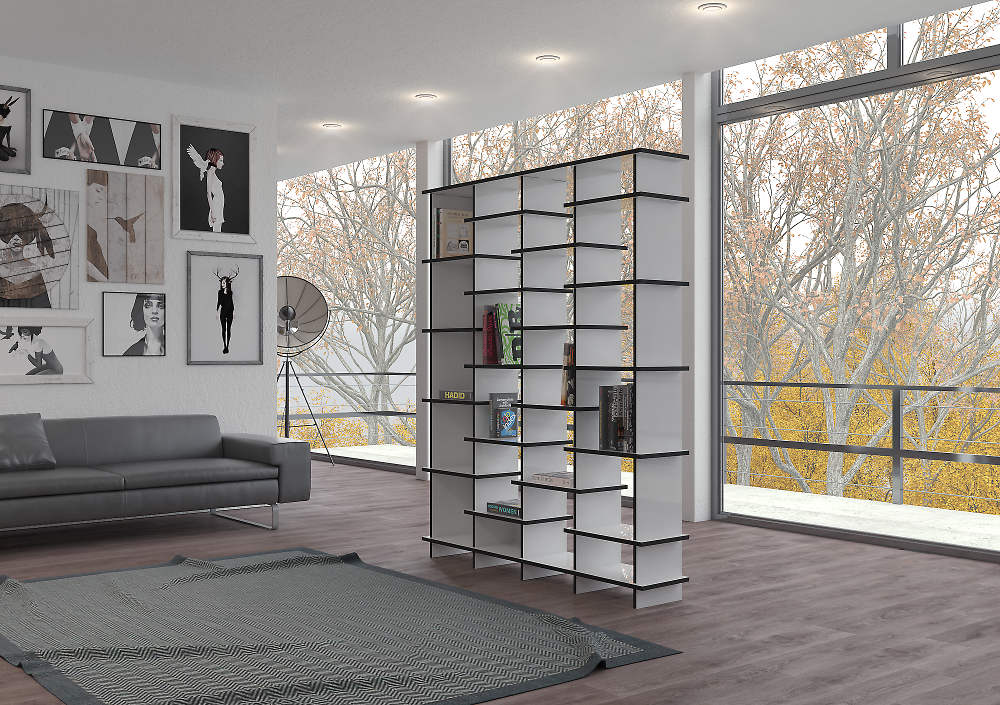 Tile floor
If you are looking for an alternative to wood flooring, you might like tile flooring. This flooring is also very easy to clean with water. The only disadvantage in winter: The material does not store heat and can therefore get cold.
By the way, thanks to the wide range of colors, form.bar furniture can be perfectly matched to any floor covering.
We furnish your penthouse for you
Get your penthouse designed by our professional team of designers.
To the design service
The right lighting for your penthouse apartment
When designing the interior, also keep an eye on the lighting. Because this also contributes to the coziness! Fill all your rooms with enough direct and indirect light sources.
Indirect light
Indirect light is reflected from the ceiling or wall, thus it casts little shadow and produces a soft light. There is less glare and the room is evenly illuminated. Indirect lights, such as floor lamps or side lamps, for example, provide additional warmth, several small lamps awaken the special ambience in a penthouse apartment. A dimmable light source is particularly effective here. With beautiful lamps in different colors you can also bring colorful accents in your living space. In this way, you can combine utility and decoration in an optimal and modern way. Especially for the large rooms of your penthouse apartment, it is recommended to use large lamps. These fill the entire living space and create a sense of coziness.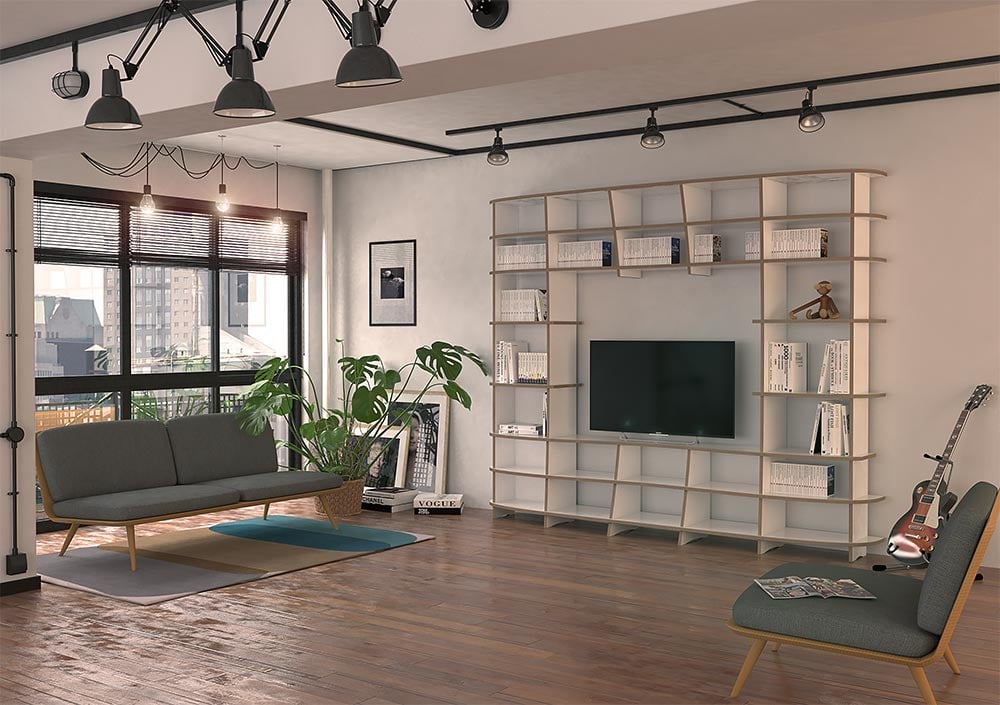 Direct light
Direct light is necessary everywhere you want to relieve your eyes during concentration tasks. The most important places for direct light sources are, for example, the writing or work desk, a reading lamp by the bed or a lamp directly by the mirror in the bathroom. However, since penthouse apartments are usually very bright by themselves due to the surrounding terrace, you should definitely use natural light as much as possible. It illuminates the apartment most beautifully and you can benefit from the sun.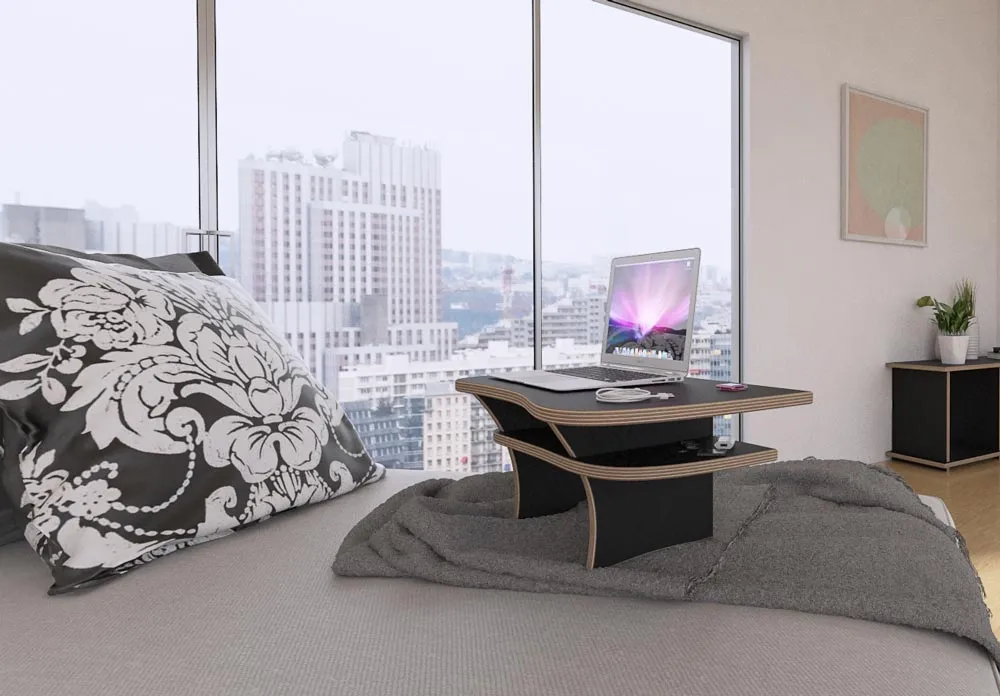 How to find the right furniture for your penthouse
Appropriate furnishings for your penthouse
The style of your choice
When choosing your furniture, you should be very careful not to disturb the flair with inappropriate interior design. Try to make the most of your penthouse apartment's own impact. So take your time when designing the room and choose your furniture wisely. If you want to maintain the open character of the apartment, you should use a more minimalist style of furnishing.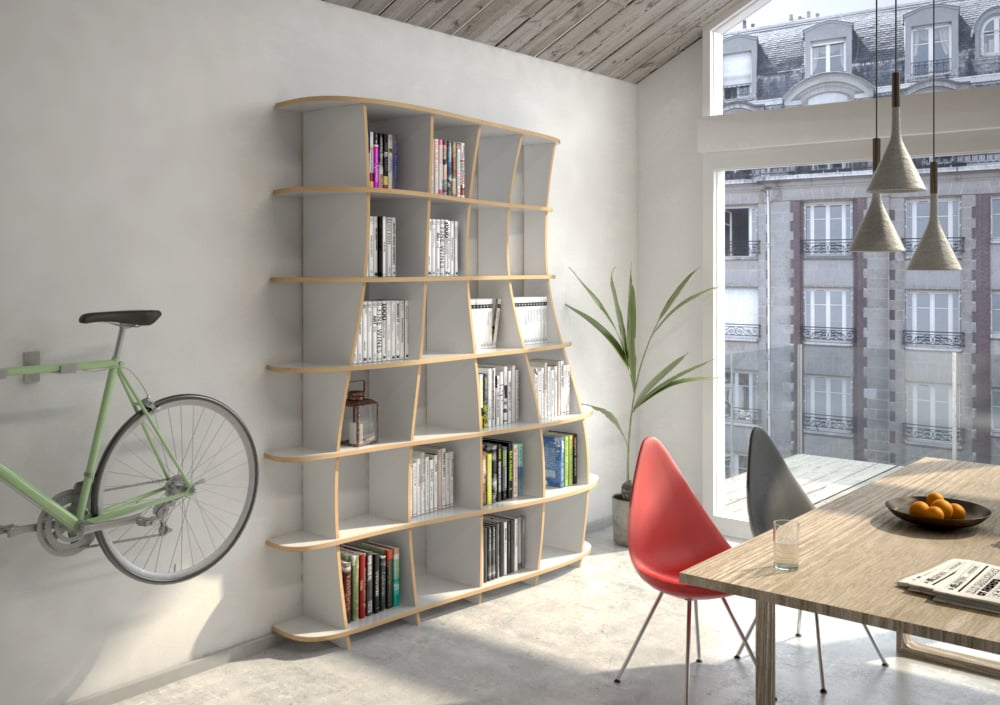 The minimalist interior style
In the minimalist style, you want to carefully select a few pieces of furniture that fit together, rather than a lot of jumbled ones. Large furniture is also more suitable than small. The latter tend to get lost in large rooms. A nice sideboard, for example, looks good in the living room, bedroom or children's room and offers a lot of storage space at the same time.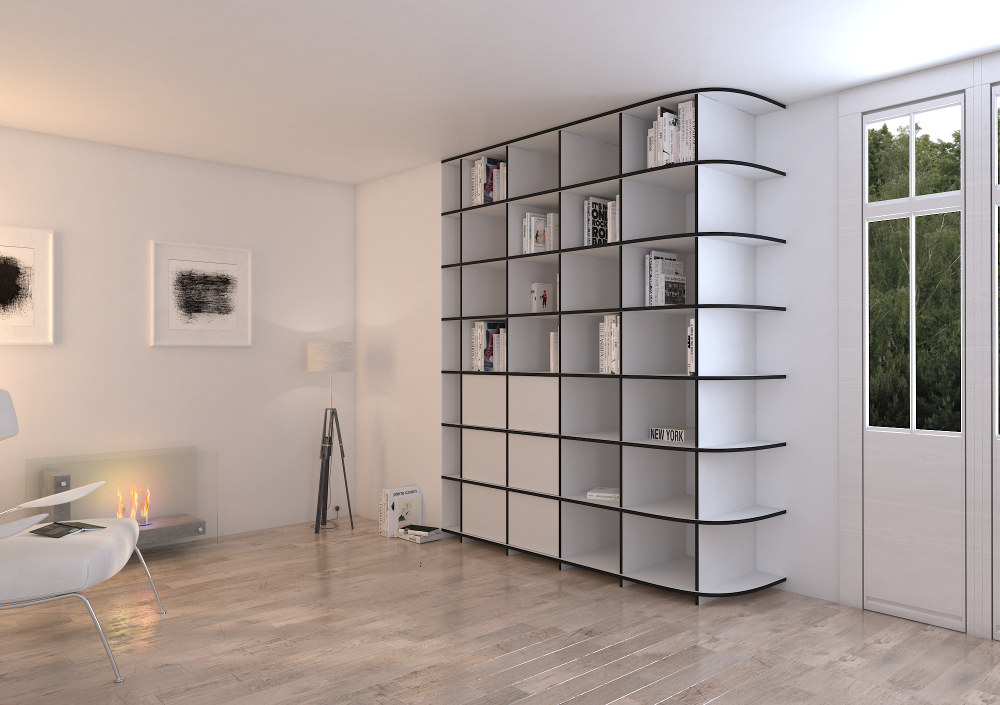 High quality furniture pays off
On our form.bar page you can collect many interior design ideas. Take a look at the configurator, where you can create your own individual furniture tailored to your home and wishes. So you can also prevent furniture thrown together and design your inventory with one type of material and color family. Whether classic or modern, whether for the living or dining room, whether coffee table or room divider look around and find your individual favorite design. Keep in mind that you are furnishing an exclusive living object: Your noble home also deserves noble furniture. But the main thing is that you feel comfortable with your family in the penthouse apartment.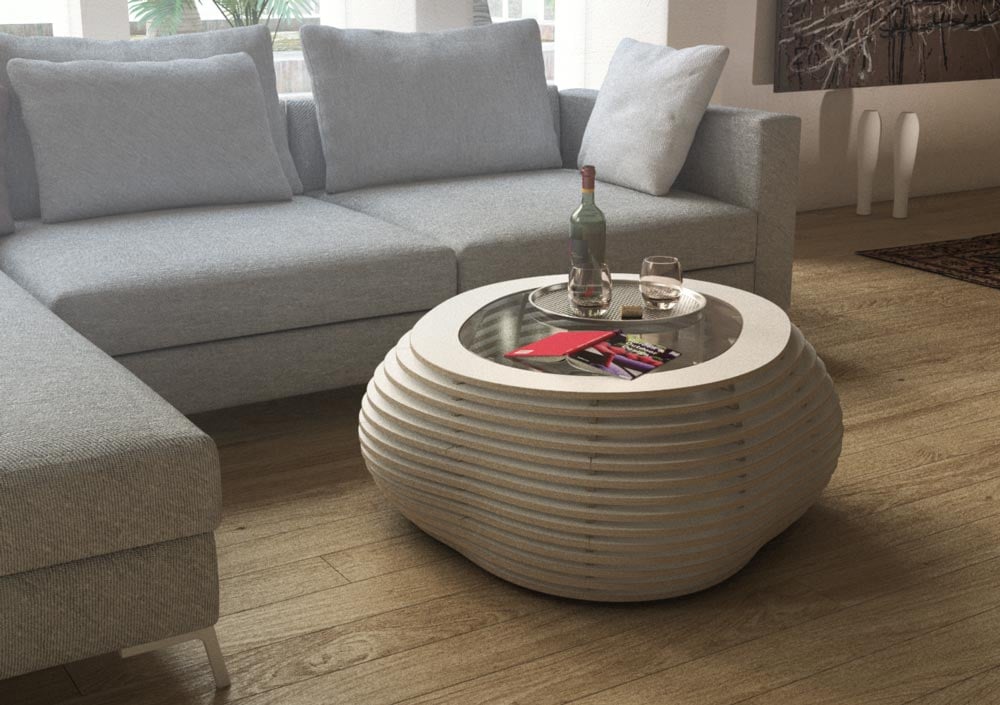 Penthouse decoration and accessories
It's the little things that count
The final touch: the right accessories for your home
Helpful tips for lighting have already been mentioned above. Therefore, at this point, the accessory of the illuminants should be put aside for once. After you have furnished your penthouse apartment, you can add the finishing touches to your luxury apartment with a few accessories. The important thing here is that you match the decoration to the rest of the room design. That is, the flooring, walls and furniture of your apartment, because accessories are the easiest to renew.
What you should consider when decorating
Try to create unifying components in your decoration, for example, by using the same color families, the same materials or similar patterns. Too many different elements can cause disorder and uncomfortableness. Start by collecting ideas for your rooms. How about a large clock, for example?
You can also arrange decorative clusters of at least three pieces that coordinate with each other in color or theme. If you are a DIY enthusiast, you can also create individual decorations. Do you have an idea for a photo wall, a calendar, ...?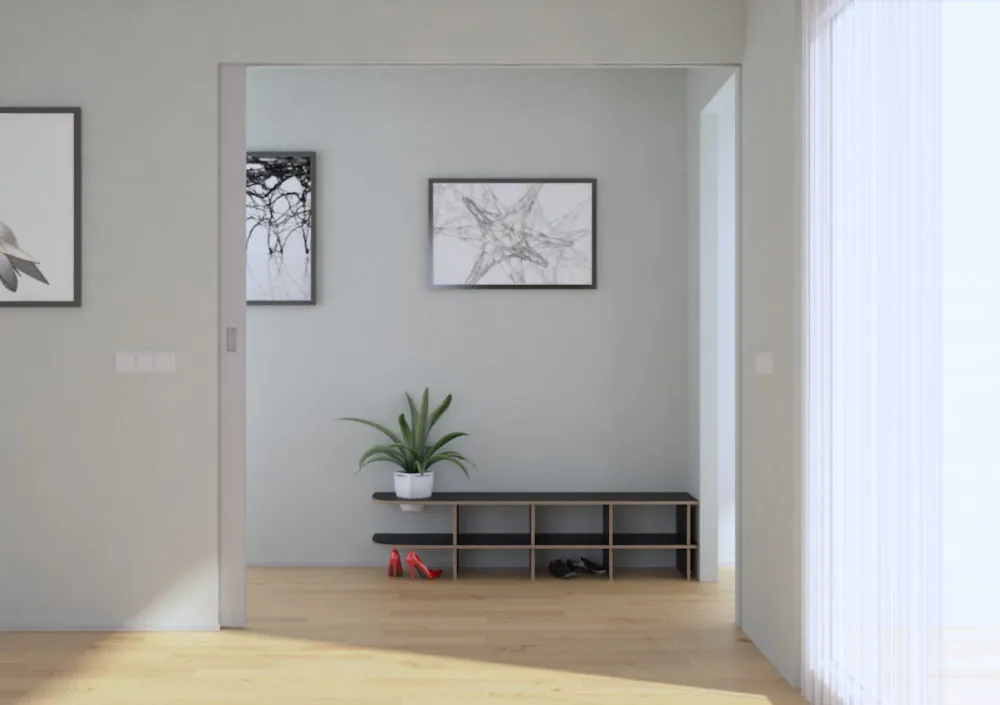 Beautiful plants for your penthouse apartment
Plants have many advantages. They freshen up the look of the apartment and bring color. Some plants even act as a natural humidifier.
There are plants for every type of interior, from low-maintenance to demanding, potted, climbing, hanging or air plants, there is something for everyone. In order to show off your plants to their best advantage, the color of the flowers or the flower pot on the wall or in the sofa cushions should be reflected in the room.
You can create a real eye-catcher with a planted wall. With a waterproof insulation layer between your plant system and the room wall, your penthouse apartment can definitely score points. This way, your penthouse apartment will be cozy in no time.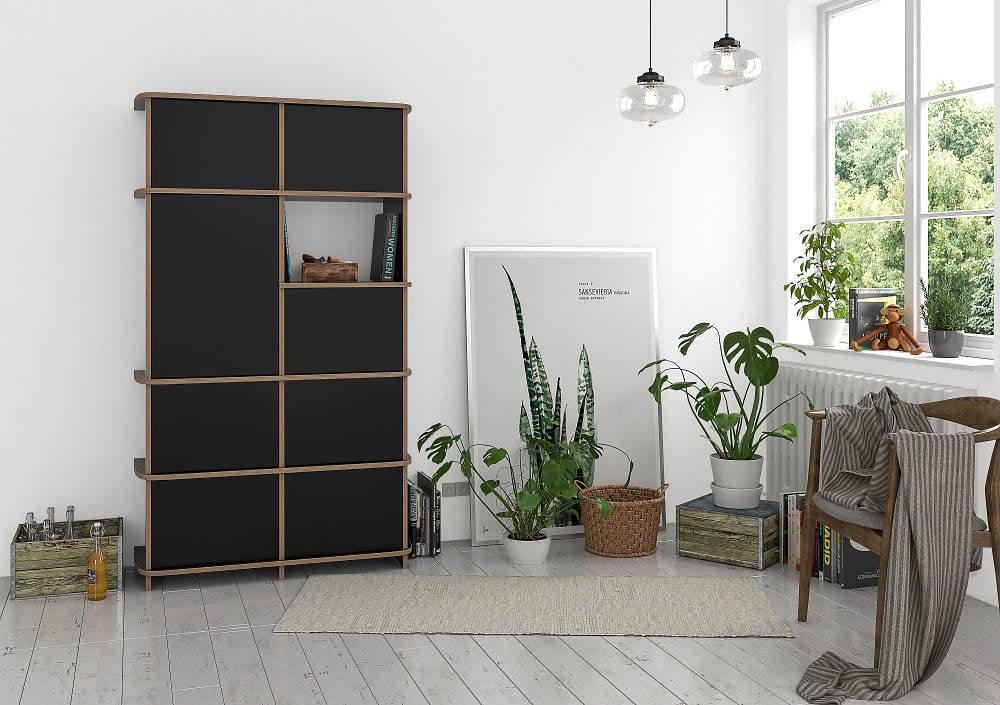 Practical tips for your penthouse apartment
Trust our expertise
The interior of long-cut penthouse rooms
If your penthouse apartment is rather elongated, the living room, for example, can be optimally converted into a combination room. For example, a living room with a dining area or a separate area in the bedroom as a work corner offer good combination possibilities. Just make sure that the areas are visibly separated from each other, otherwise the room will quickly look chaotic or restless. But this is easier than it sounds. Just by consciously positioning the pieces of furniture, you can somewhat cancel out the elongated form of the room. Below you will find tips and tricks on how to divide your rooms wisely into different areas.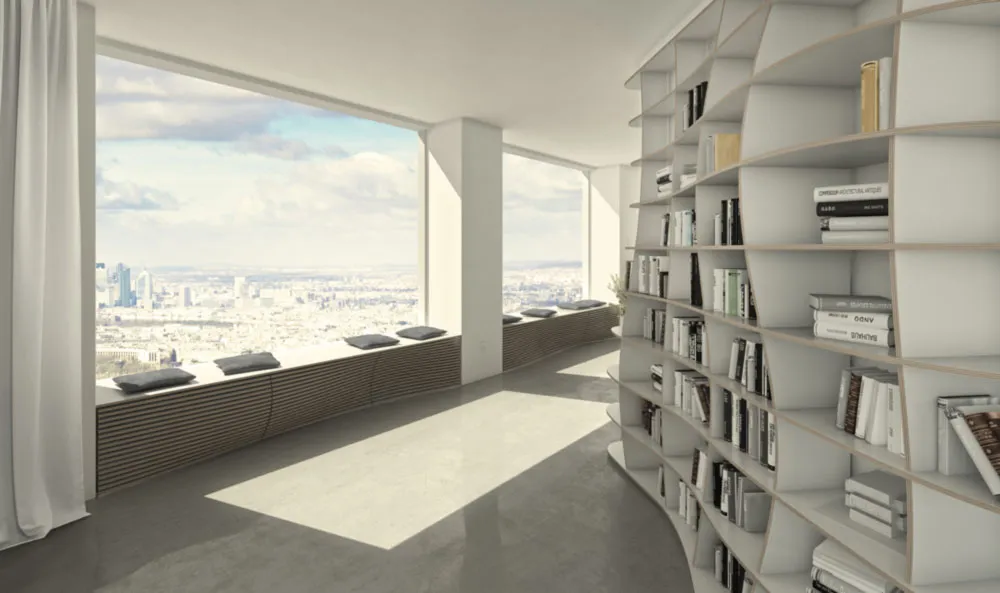 Room separation in combination rooms
If you decide to use a combination room, there are many ways to visually separate the different areas. In the bedroom you can make use of a screen. It fits thematically super in the bedroom and also looks beautiful.
In the living and dining area is a separation by, for example, a bookshelf. Why not configure your own individual room divider that exactly matches your floor coverings, furniture and materials, your interior design features and the architecture of your penthouse apartment? Or how about a beautiful sideboard?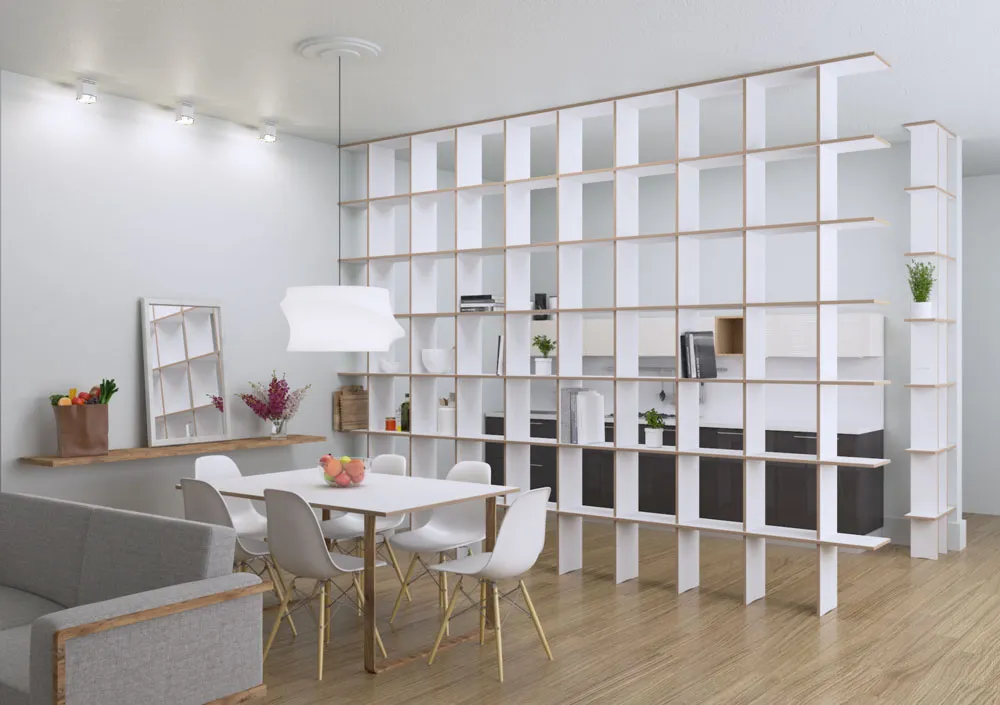 More ideas for dividing rooms
If you don't like a shelf or a sideboard as a room divider, you can also create a spatial separation with different floor coverings. For children, the creation of a play corner by a single carpet in the room would be a nice idea. This way, they can play while the parents watch TV, for example. In addition, the carpet also provides spatial separation here.
For example, you prefer to separate your room with a sofa? A corner sofa is especially recommended for this purpose. Because you can either place it in the middle of the room or let it protrude into the room, according to your ideas and wishes.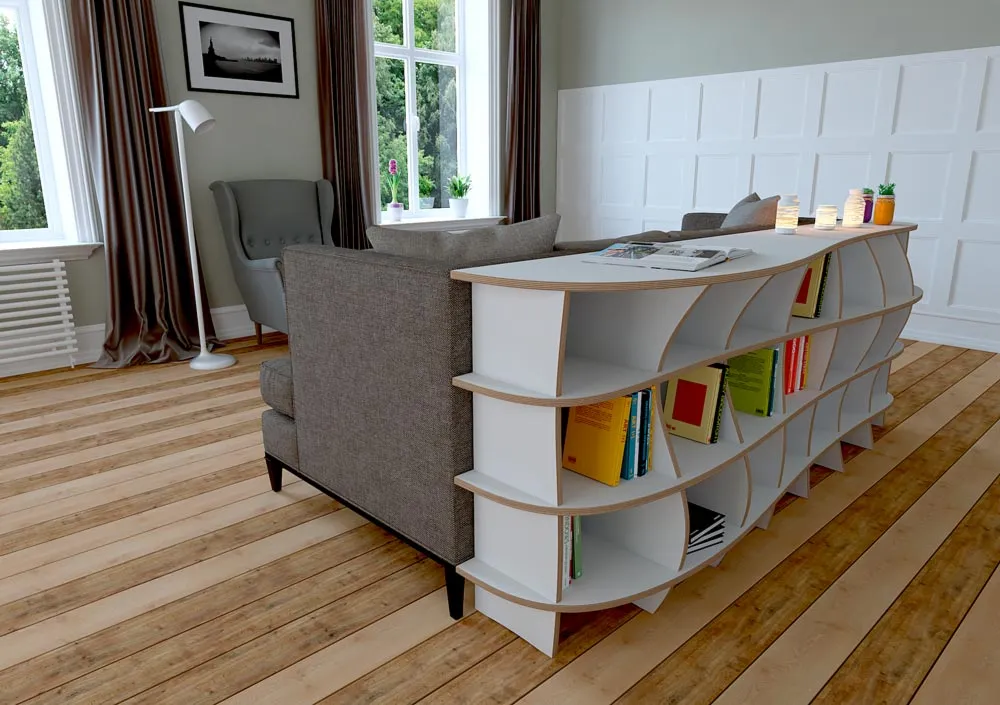 With color
The best tip to avoid a cramped look in your apartment is first of all to use light shades. Most of the time, penthouse apartments as a penthouse are already bright anyway due to a surrounding terrace, and light color families make them look even friendlier and bigger. Pastel shades on the wall and light floor coverings, for example, visually open up the rooms. First and foremost, the end walls should be considered here. To make the elongated room look a bit more square, these two walls in particular should be painted in light colors, as this will visually draw them into the room. If you like it more colorful, you can also choose delicate patterns for the long sides and larger patterns for the end walls, this will take away the tubular character of the room.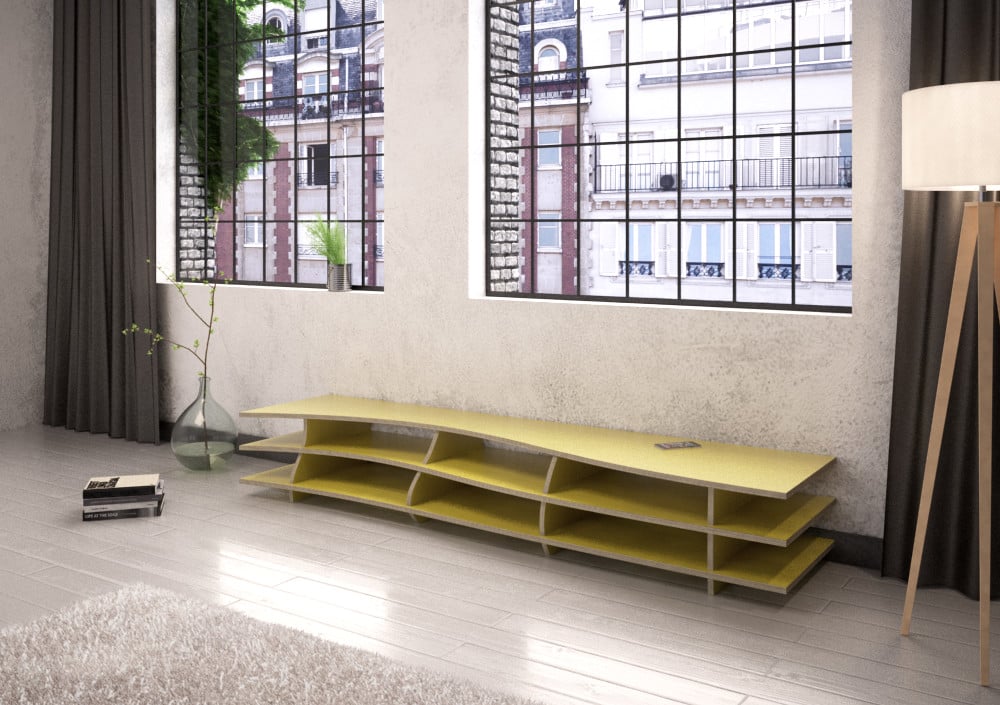 With accessories
Those who prefer decoration to defuse this tubular trait can also work with mirrors, for example. Placed on the long sides, they can remove the boundaries of the room. But also in the removal of the boundaries of the room can be well worked with accessories. Pictures, plants or lighting help to make the room look less elongated. If you use different light levels and lamp heights, the room looks more structured. You can also distract from the walls by using eye-catching or shimmering accessories spread throughout the center of the room.
Penthouses and large rooms
Consider in advance how you will use your space
Practical tips for decorating large rooms
Basically, it's not that difficult to furnish a large room nicely - there's enough space, after all. But try to find a good balance: Too much furniture constricts the room and makes it look untidy, too little furniture makes the room look empty. As you can see, there is a lot to consider.
Effective use of the living space
Long dining tables or entire sofa sets are great for a large combination room, as they fill the space proportionally much better. It also allows you to use your large space as both a dining room and a living room at the same time. By creating different zones within the room, you'll prevent your space from looking randomly arranged or looking unruly. This means that one part of the room is divided off as a dining room, for example, the other as a living room, and then maybe a small part as a sitting or play area, depending on the size of the room. A working zone can also be divided in the living room. The only important thing is that you clearly separate the individual zones from each other and do not mix the furniture in the apartment.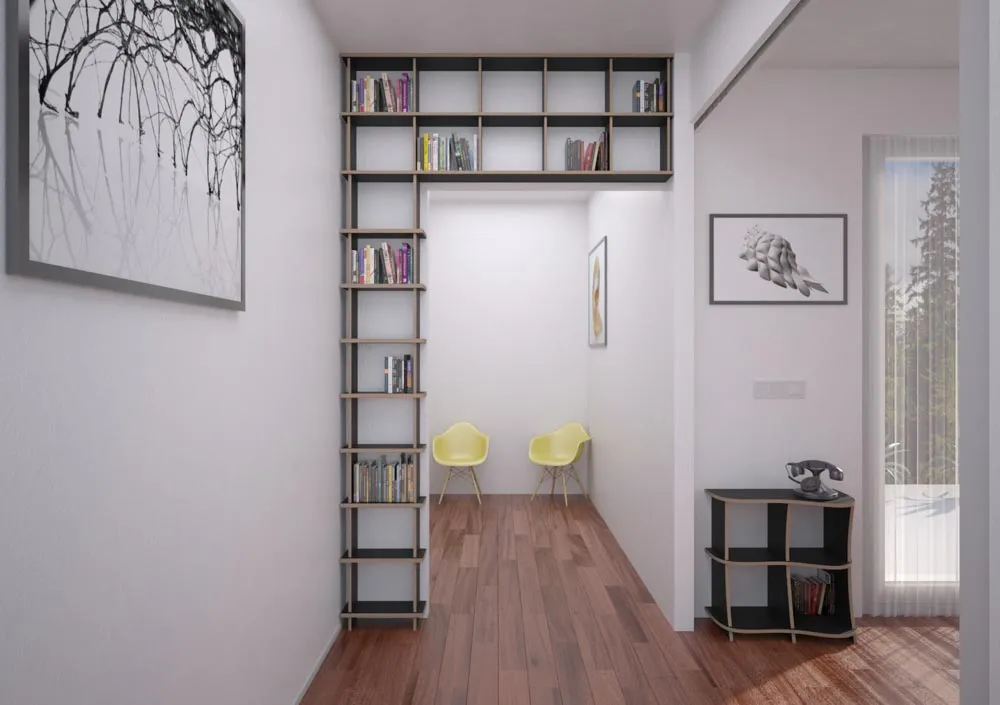 The exterior of your penthouse
Good weather is enjoyed outside
Design of your outdoor area
On the wrap-around roof terrace of a penthouse apartment, there is usually enough space to customize the outdoor area. With the following ideas, you can make the most of your roof terrace and enjoy the beautiful view over the city to the fullest.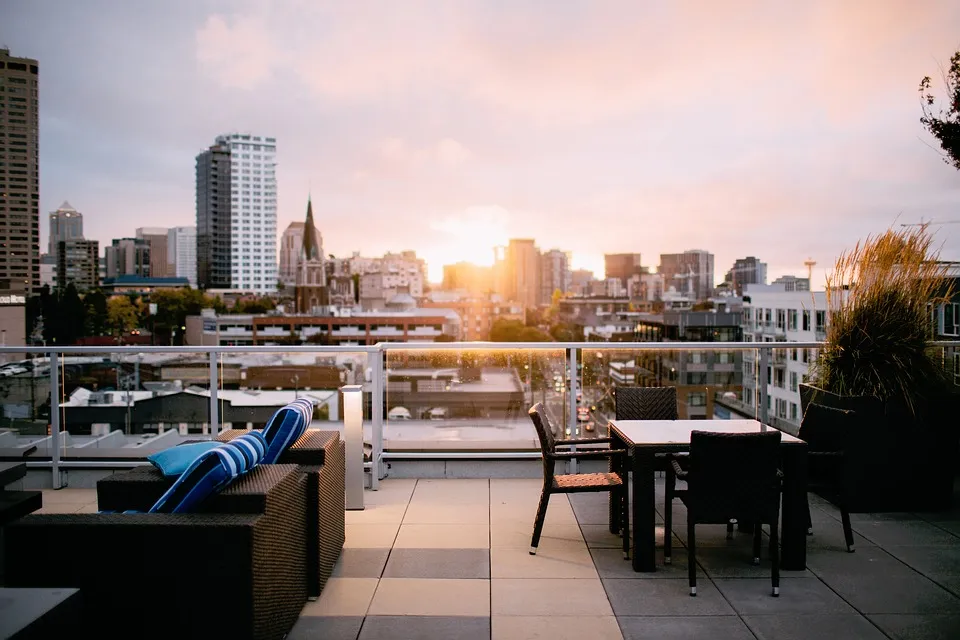 Installation of a roof terrace swimming pool
A swimming pool is super for cooling off, especially in summer. Due to the high location of the apartment, the roof terrace is also often warm. Surrounded by beautiful garden furniture, a swimming pool makes quite an impression. If it should be a little smaller, you can also choose a nice whirlpool. Covered, this can even be used in any season.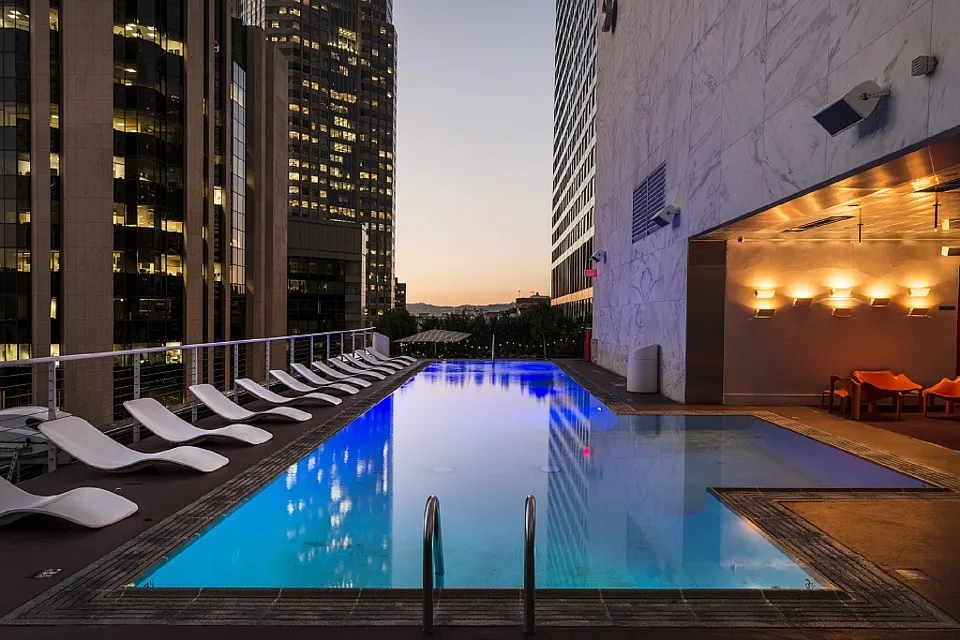 Creation of a roof garden
If you prefer it dry, you can also create a small garden on your roof terrace. It offers you a green space with the possibility of growing your own food and herbs. At the same time, the garden creates a place for your children to play. A few colorful flowers will help to set color accents. With beautiful garden furniture your roof garden will gain additional coziness.
Furnishing a roof terrace
If those two options don't quite suit you, why not design the outdoor area as a rooftop patio? A beautiful weatherproof flooring combined with patio furniture will make the area a place to feel good. A Hollywood swing, for example, perfectly complements the picture. But do not forget about decorations, accessories, plants and barbecue.
Suggestions for the interior of spacious apartments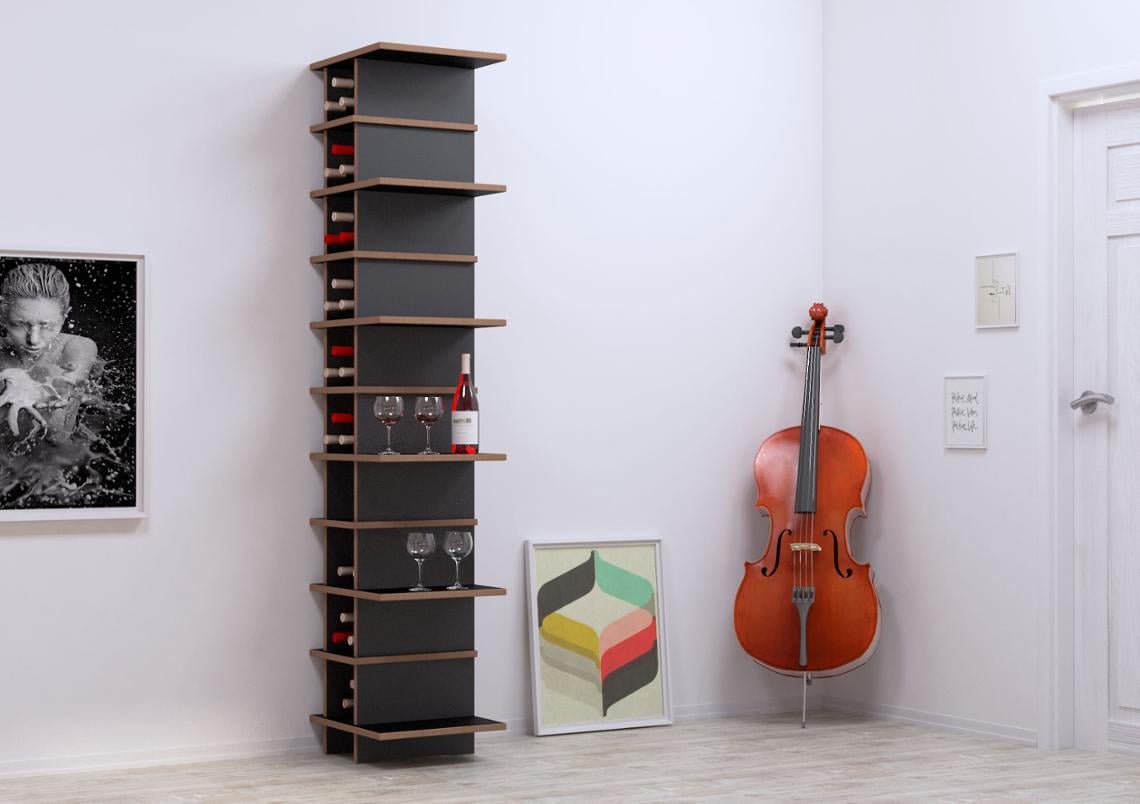 You are a wine lover? Maybe a wine shelf is the perfect piece of furniture for your living room or hobby room. On the site you can design your own wine shelf. Whether clever as a coffee table, rustic formed or classic. There is certainly something for you!
The idea appeals to you, but you're not the biggest wine drinker? Then configure your own little home bar. It also makes a great room divider between the dining area and the kitchen.
Wine shelf or house bar is all well and good, but enjoying your drinks with a nice movie in the home cinema is even more fun? Then take a look at the home cinema guide. A beautiful living room wall or TV rack with a place for your TV will be a real eye-catcher in the living room.
10 interior design tips and tricks
for your penthouse apartment
Underline the special flair of your penthouse apartment with matching furniture.
Coordinate flooring, furniture and decoration.
Set sparing color accents in warm tones, so the apartment does not look cold.
Set more on minimalism, so the beautiful, large spaces remain.
Look for color charts at the hardware store, this will help you stay in a color family.
Use and respond to the existing spatial structures and architecture.
Avoid placing wide furniture at the front. Instead, use warm colors and large patterns./li>
Clearly separate different zones from each other.
You want to design your own shelf, but you are still missing the right idea? Then let yourself be inspired in our customer gallery. There you will find photos of pieces of furniture that our customers have created individually.
Get inspiration for decorating other rooms from our other guides.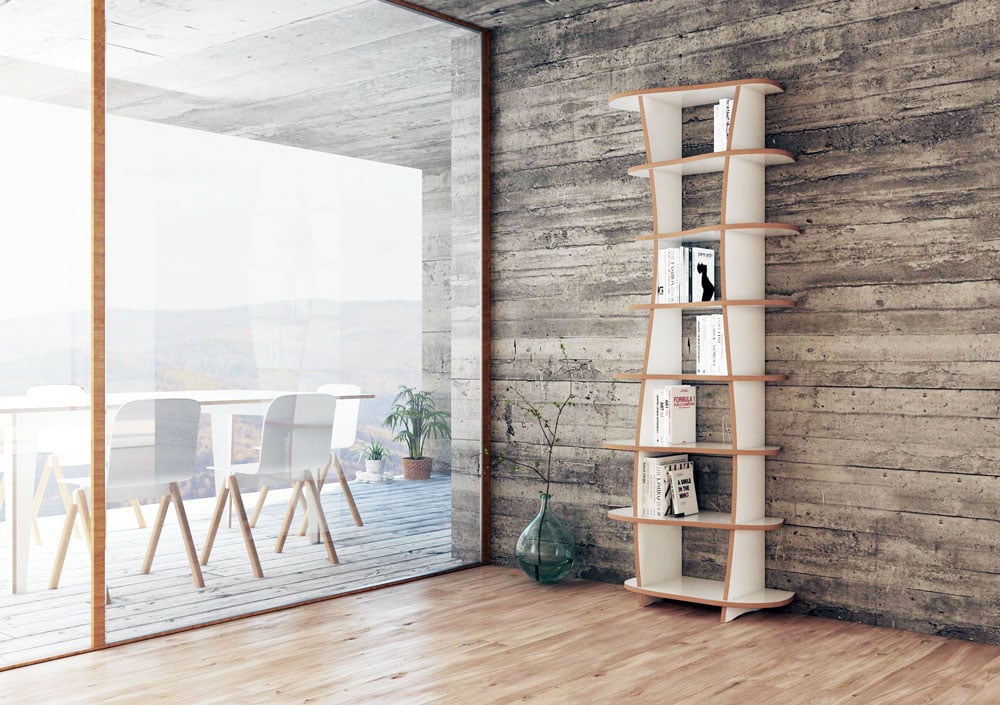 Fazit
Well, do you feel like designing your home beautifully? Have you found some inspiration? Then go wild with furnishing and decorating now! Let your creativity run free and dare to try things out. Design your personal dream furniture with the unique configurator only on form.bar. The main thing is that you feel comfortable in your penthouse apartment and everything is furnished according to your taste. Don't be discouraged by the room layout either. After all, you should feel at home in your apartment.
So, let's go! Fulfill your own dream home! Have fun designing and getting creative.
Contact us if you have any questions about your custom design.