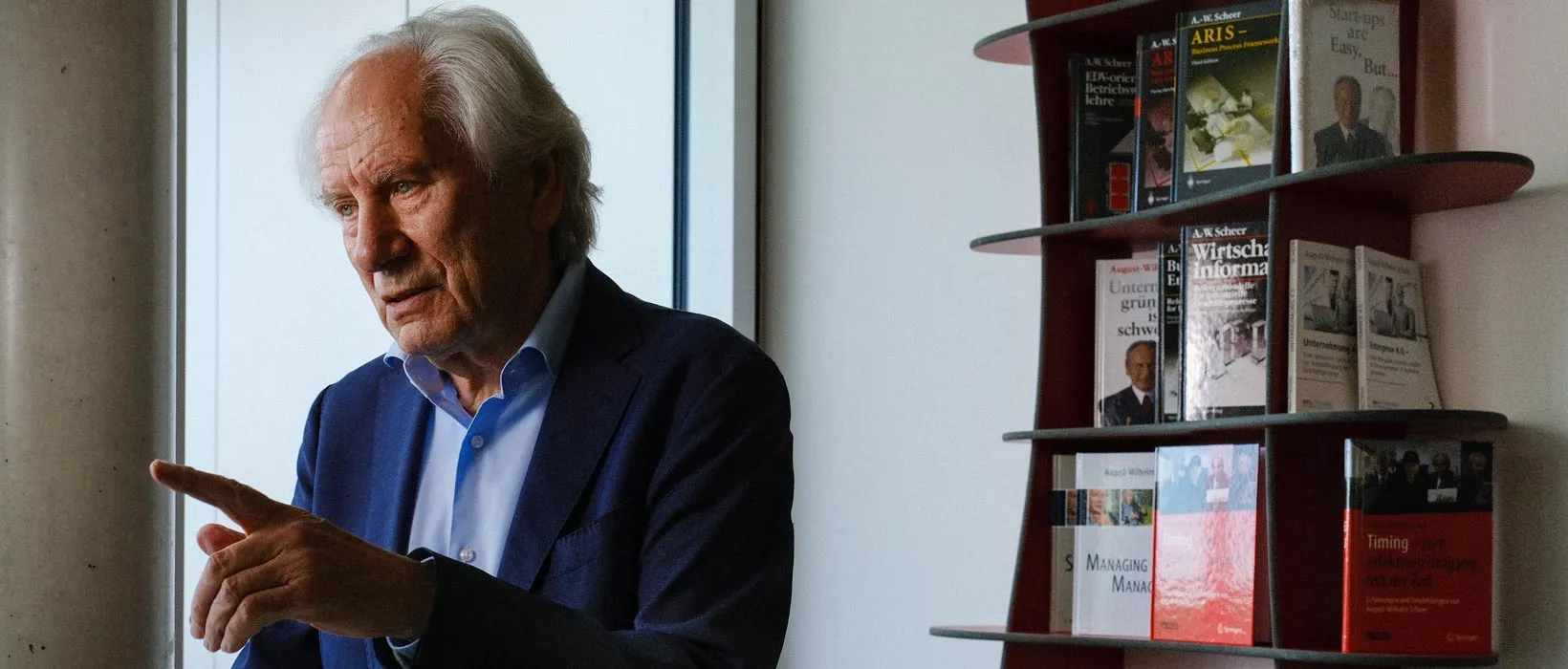 "I am interested in teams that want to conquer the world"
Prof. August-Wilhelm Scheer is one of the most influential scientists and entrepreneurs in the German business information technology and software industry. The IT pioneer has created thousands of jobs and made millions in sales with his companies. In this interview, Scheer talks about success, decisions, discipline, charisma, his passion for jazz music, banana software and his enthusiasm for form.bar.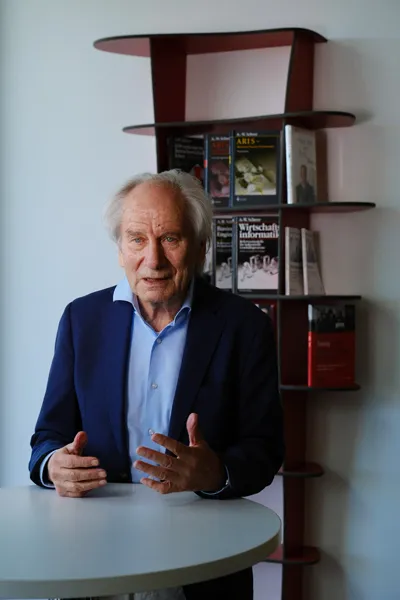 Dear Mr. Scheer, we at form.bar are convinced that life is malleable - how did you manage to shape it according to your wishes?
To achieve great goals, you need comrades-in-arms. Because alone, you really are alone and can't make much of a difference. That's why persuasiveness and enthusiasm are important. You have to try to win others over to your ideas. So much so that they identify with them and help you realize your ideas.
So a good team is crucial to success?
Absolutely. But at the same time, there needs to be room for individuality in order to develop ideas. Beethoven did not compose in a team. I once used that phrase in a lecture to emphasize the importance of individuals who change our world. But if Beethoven had never found anyone to play his music, he would not have become world famous. It is a dualism.
What makes leaders stand out?
I know a number of important entrepreneurs who have created huge companies, and what the vast majority of them have in common is charisma. That is very important. You have to be a credible personality that others can relate to, that they might even admire a bit. It's about skills that are not so easy to find. In addition, timing is also important. The quality of a manager is the connection of his skills with the situation. When you're in a crisis, you need someone who's tough. But someone who can do that may not be good when a company is swimming in calm waters.
"When you power through, you push your idea through"
Does that mean there is no one type of success, success depends on many factors?
Exactly. You know this from soccer, too. A coach is fired from one club, but wins the Champions League with the next. You can't say absolutely when someone is successful, but the situation must also fit. For example, if you come up with an idea too early, no matter how good it is, if the market doesn't take it up, it will fizzle out. You have to encounter a situation where the need meets the supply. This also applies to research, where I myself was sometimes too early, for example with industrial automation. The ideas were right, but the technology was not yet ready. Today, under the buzzword Industry 4.0, the technology is much more advanced, and the ideas from back then can be implemented.
Who comes too early, the life punishes?
That's how it is. On the other hand, if you're not ahead of the market, you can't be innovative. Being innovative means creating something that doesn't yet exist, ideally a disruptive technology. But if you're too early, things go wrong. The best thing to do with a small company is to push an idea little by little. If you're small, you can grow into the market and also manage exponential growth. If the market was already there, the big ones would occupy it right away.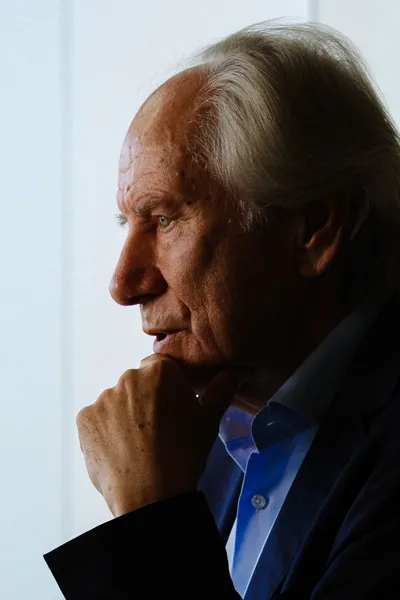 From your personal experience, what is the most important quality to have in order to succeed?
Perseverance. If you really believe in something and keep at it, you'll do it successfully. Who would be interested in always putting up resistance to you? When you persevere, you push through your idea. This refusal to give up can be seen again and again in the biographies of important inventors. Rudolf Diesel, for example, had to cope with many setbacks, Adolph Sax, the inventor of the saxophone, went bankrupt several times, and Elon Musk also faced bankruptcy twice. He was only able to save his companies because friends lent him money. You just have to keep at it and not let the first winds push you out of the market. Of course, this also requires discipline. You can't lead a successful life without discipline.
What about courage?
I wouldn't say I'm particularly brave all the time. Rather the other way around, a lot has to do with feelings of fear. As Intel founder Andy Grove put it, "Only the paranoid survive!" Especially in industries that are as fast-moving as IT, it's quite important to recognize where the new ideas are coming from, which start-ups can be dangerous. If you always just go through the world confidently and especially courageously like Hanns Guck-in-die-Luft, believing that nothing can happen to me, you are more likely to be at risk than if you are cautious. Nevertheless, this must not lead to being cautious and not daring to do anything. You have to be prepared to take risks very quickly. I believe that I have these two qualities to some extent. I'm cautious, but I can also make decisions very quickly. For example, when buying back parts of IDS Scheer AG or when taking on positions such as president of Bitkom.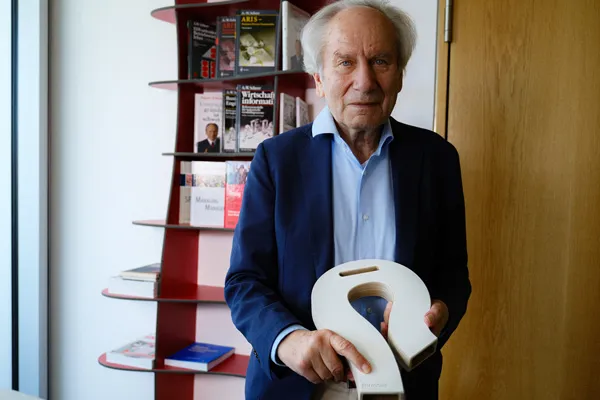 "form.bar fits exactly into today's time"
How do you usually decide?
It's not bad to go with your gut, because a lot of experiences are already linked in your brain. This leads to a very quick check of what could happen, and I routinely run worst-case scenarios. And if I can then say that it won't cost me my life and that I won't be poor afterwards, then I can move within a certain range.
Why did you decide to support form.bar as an investor? What convinced you?
Basically, what interests me most are the people who start new companies, whether they have the qualities you need. I'm interested in teams that are ambitious, that have power and want to conquer the world. With the form.bar founders, it's a very good combination of different types with different strengths. In addition, the business concept, i.e. a platform company, fits exactly into today's world. What I also like very much is that form.bar is designed with the consumer in mind: What does the end consumer want, what individual wishes does he have?
Do you also have a passion for good design?
I'd be happy to show you my house, and you'll see that it's tastefully furnished, and I've always worked closely with the architects. I'm interested in art, in design, so that also fits in with form.bar.
"The best way to live creatively and self-determined"
What advice would you give your 20-year-old self?
To lead an entrepreneurial life. Because I still believe that this is the best way to lead a creative and self-determined life. After all, I'm still working at 80 and I get great pleasure from it, where else can you do that?
What is the price of being an entrepreneur? In your latest book "Timing" you write of a permanent state of alarm...
I was and am not always in a state of alarm, but I am in certain situations, even over longer periods of time, when difficult human or economic situations have to be dealt with. For example, when I sell my company or buy it back, or when special personnel decisions have to be made. There are never 100-to-0 decisions, so you think about it a lot and sometimes waver.
Have they made really bad decisions in your life?
That is difficult to answer. The rating right or wrong does not depend on the decision period, but on how things develop. We once bought a company for several million, but then realized that the software was not mature. So we couldn't sell the product, had to redevelop everything, so everything was negative. Nevertheless, today it's good that we did it, because in the end it became a great success.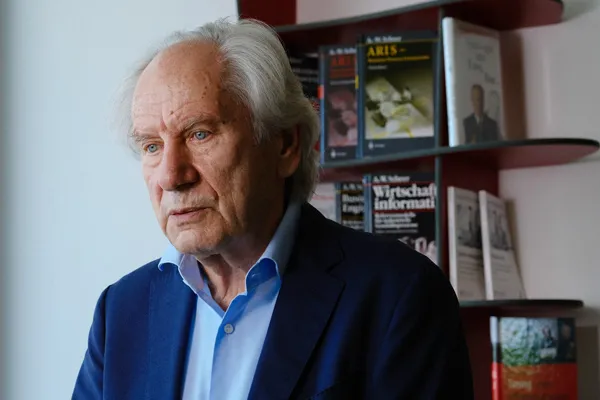 "Lazy lying on the beach? Terrible! A horror idea!"
Is success what drives them? Or what is it?
I can't put my finger on it. Maybe my drive is simply to lead an interesting life. I had a phase after the sale of IDS Scheer AG where I was out of the business overnight. I didn't fall into a hole directly, but I didn't feel comfortable. And filling the time with going on a trip or something like that was not enough for me. Today I can say that it was good that I started my entrepreneurial life again.
Have you never had the goal of putting your feet up and lying lazily on the beach?
No, that's terrible, a horror scenario. Very bad. I also don't use the word vacation.
Is life too precious for that?
Look, what is man? One is a system that has somehow come into being, a product of chance. If another sperm would have been a little faster, you wouldn't be there, that puts a lot of things into perspective. To push this system to the limit and to see what it is capable of is an interesting adventure. In this respect, I think it's simply nice to be active, as long as your health allows it.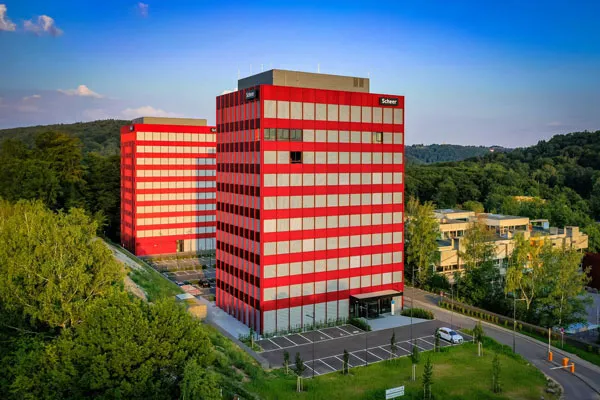 What do you do for your health?
I try to lead a reasonably healthy life. Not to exaggerate, but I run through the forest for two hours every morning, for example, to keep fit. I don't see this as an end in itself, but it's necessary to keep me healthy and fit. Otherwise, I wouldn't be able to do anything else. The challenge for me is that I have to deal with highly intelligent people, especially younger ones, who naturally challenge me. If I couldn't talk to them on the same level, that would be bad, of course. So I have to see that I continue to educate myself, that I can have my say, this tension also keeps me fit and that's actually quite a nice feeling. It's like riding a bike: If you stop pedaling, you fall over.
You are successful as a scientist, entrepreneur, political advisor and also as a musician. Would you have liked to become anything else? Professional soccer player, perhaps?
Sure, why not (laughs). I'm interested in sports, but I wasn't that talented. But proving myself in competition naturally appeals to me. However, I wasn't born with a great talent for soccer.
"It does not work without torture"
Are you particularly proud of anything in your life, particularly satisfied with anything?
I have often been asked this question: Are you satisfied? I can never give a concrete answer to that. I can look at whether I have fulfilled the expectations that I have set for myself. I'm certainly not dissatisfied, but as a North German, I'm rather reserved, I don't cheer around the whole day. It is a nice feeling when I drive up to the Scheer Tower in Saarbrücken in the morning and see what has developed there. But I'm not exuberant.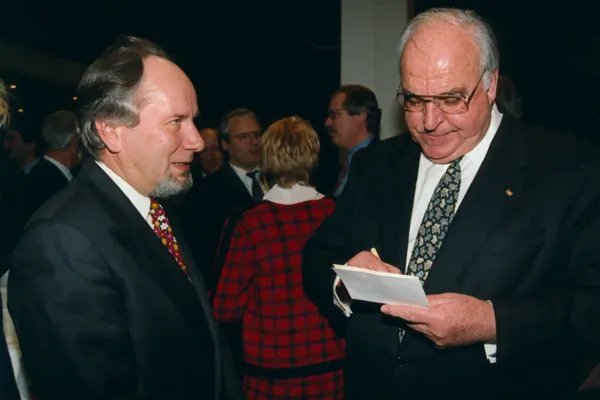 Music also makes up an important part of your life. You are an enthusiastic jazz saxophonist and regularly tour with your band "Groovin' High". When did you last practice?
Honestly, last night. And the night before that, too, and the day before that, too. We've been doing some livestream concerts lately and real gigs are coming up again. I already do a lot because it's fun.
What can you learn from music for your life as an entrepreneur?
Discipline. It doesn't work without torture. I alternate between feelings of happiness and depressive moments when something hasn't worked out. And improvisation in jazz can be transferred to many other areas. The certainty that you can handle unexpected situations well. That you have a fund with which you can extricate yourself from a critical situation, that you don't panic. During Corona, it became clear that many politicians were not prepared for the unexpected. Before vaccines were ordered, they spent days studying the guidelines, whereas a manager at Lidl or Aldi would have been more likely to manage a large order in these uncertain situations, because he has the experience Reacting quickly in unexpected situations - I certainly learned that a little bit from the music.
You once said that many entrepreneurs in Germany are "not sausagy enough". What do you mean by that?
I'm referring to the perfectionism that prevails in Germany, which sometimes makes you late. But a product doesn't have to be perfect right from the start. The Americans have understood this, they have no problems with "banana software" that is still maturing at the customer. That, however, is contrary to German engineering thinking.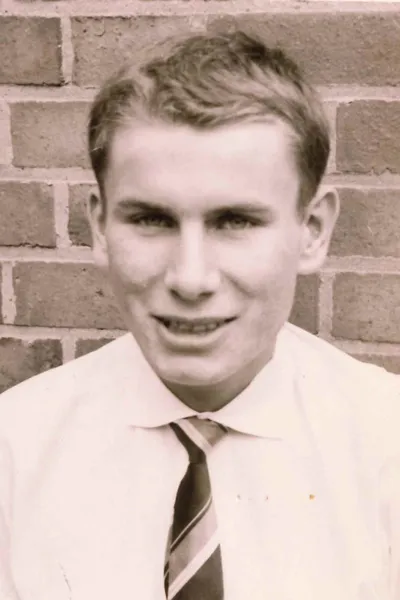 Finally, are there any quotes or words of wisdom that you particularly like?
When I was a student, around 16 or 17, I lived with a landlady in Bremen. She was a nice lady, a good one, and she gave me a few sayings for life. One of them was: You can't put everything in the store window, you have to have something in the store. If you can't add to it, that's bad.