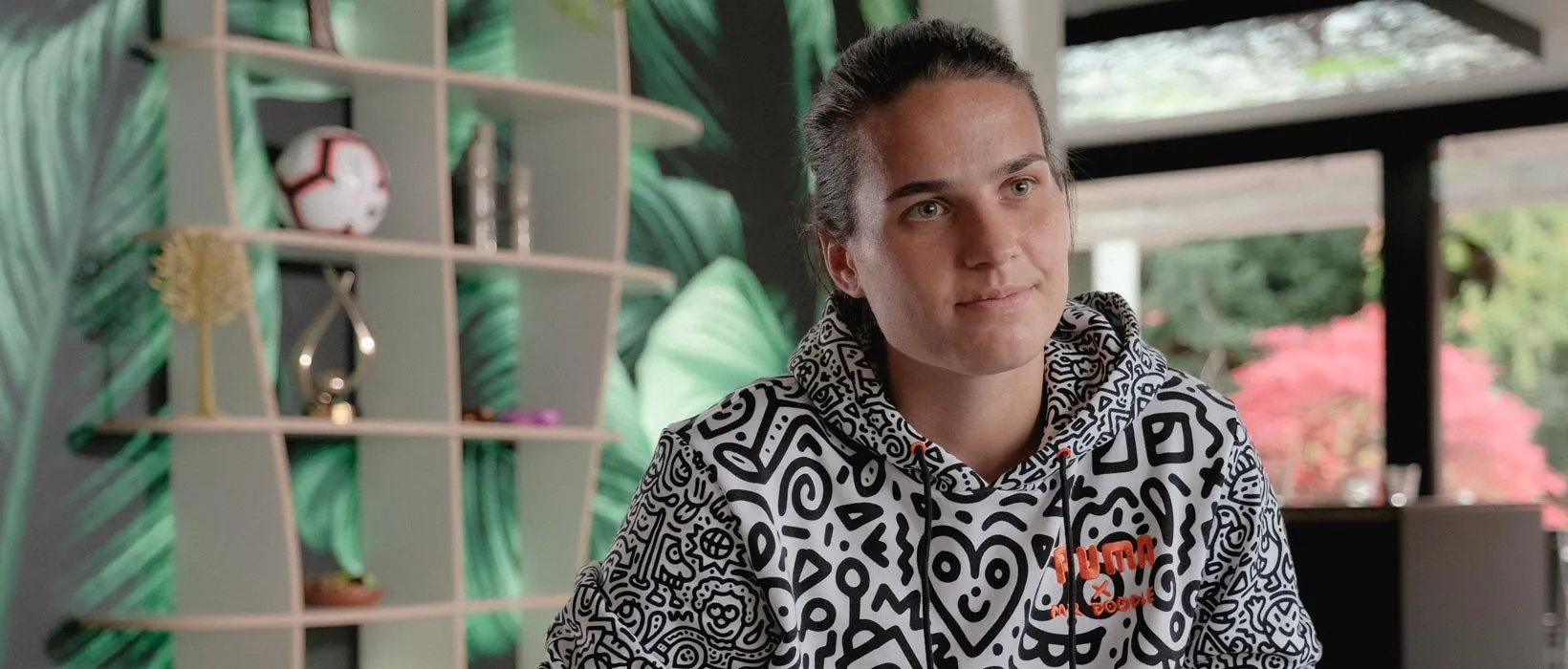 "Playing field or Champions League: I always want to win!"
Five times Champions League winner, gold at the Olympics, European Champion, U20 World Champion, Footballer of the Year in Germany and France, many other championships and cups, she has even managed to win the "Goal of the Month": As a footballer, Dzsenifer Marozsán has won almost everything there is to win. In the form.bar interview, the 28-year-old talks about her greatest motivation, the most difficult moment of her career, about role models, ambition, soccer on the soccer field and a beautiful home.
"Soccer makes me happy, soccer is like medicine"
As one of the best female soccer players in the world - do you still have role models and favorite players?
Yeah, sure. For me it's been Cristiano Ronaldo since I was little - and my big brother David. I always looked up to them, wanted to be like them. I usually wore a Ronaldo jersey on the soccer field. Even today I still stand behind him, even if he's maybe not on the level he used to be. But I know what his attitude to soccer is like, he is a perfect athlete, a monster of mentality. Even though he has won everything, he is still the first on the training field and the last to leave the field, that is just inspiring. Cristiano is a role model and will always remain so.
You have met him several times on different occasions. But what was special was your very first meeting...
At a Fifa-Gala 2009 in Zurich. As best scorer of the U17 World Championship in New Zealand I was invited there as guest of honour. And I remember my mother asking me a few weeks earlier what I wanted for Christmas. My answer: To meet Cristiano once. And then just one day later the invitation to Zurich was in the mailbox! That was funny. So I was already able to be there live in January when Ronaldo became a world footballer. Of course I still have the joint photo.
Ronaldo has collected an infinite number of titles in his career, yet he still wants more. Is this exactly what it takes to become an outstandingly successful soccer player?
This ambition is a key to success. That you really work more than anyone else. But there is much, much more to it: Always being professional, even off the court, always being disciplined.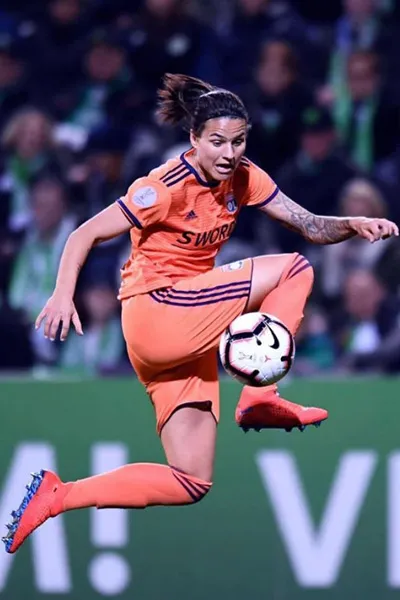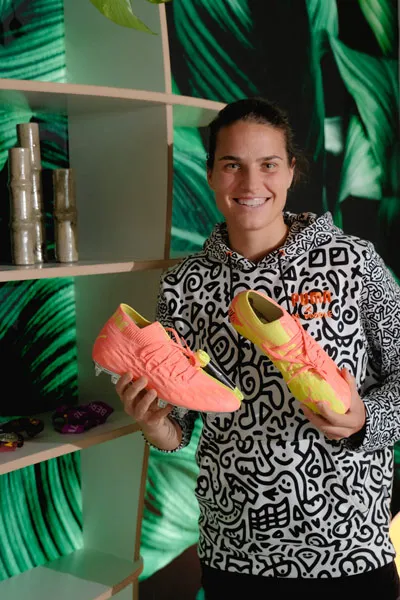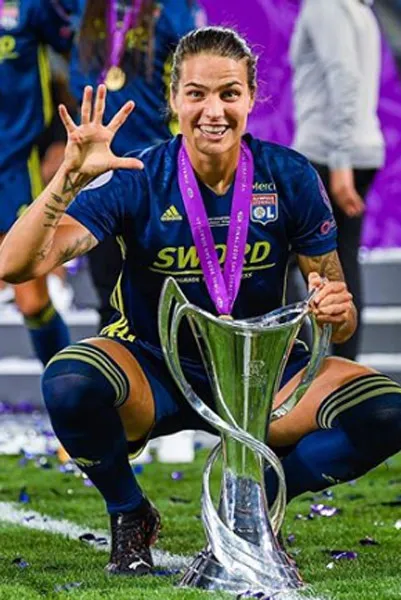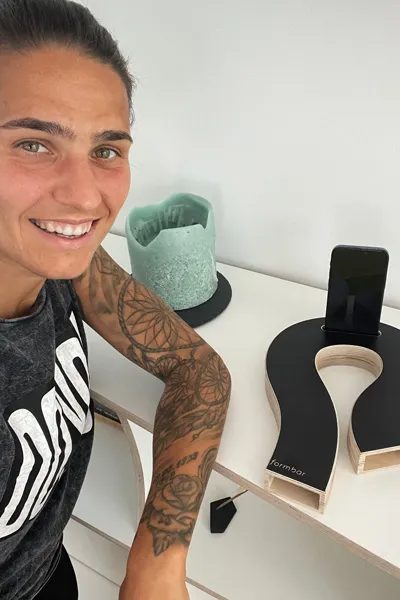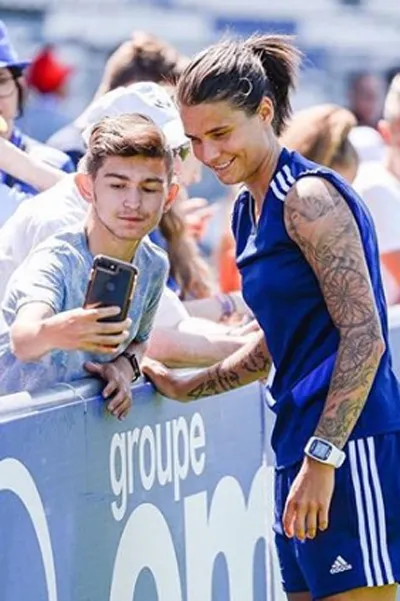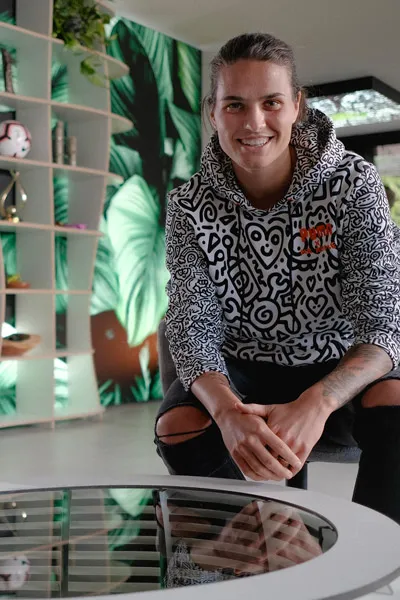 Are you such a role model?
I always try to get the maximum out of my team and I act accordingly. I've been living soccer since I was little, I love the sport because it simply makes me happy, and that's why I really try to do everything I can to always deliver top performances.
What exactly is your enthusiasm for soccer?
It is difficult to put into words. When I enter the court and have the ball in front of me, I forget everything around me. No matter what bad or stupid things happened before, soccer is like a medicine, I can completely switch off. I am a person who is very calm, but I can let my emotions out in the game. Soccer makes me happy.
"We kicked until the lanterns went out"
Has it always been like this?
My dad was a professional soccer player, also a national player for Hungary, so I was literally given the ball in my cradle. As soon as I could walk, I kicked the ball and my brother showed me how to do it, he loves soccer as much as I do, I always wanted to play with him. Later on the soccer field, when he kicked with his boys, he was a bit uncomfortable at first, having his little sister with him. But already after a few weeks he liked to take me along because he noticed that the boys accepted me and saw that I had talent. That was naturally nice.
How old were you then?
Six, seven years old. We kicked from morning to night - until the lanterns went out. Then I always knew that I had to go home now, otherwise there would be trouble with mom. I still had to do homework and all that. But it was simply important to me to use every second of daylight to play soccer.
So the passion was there very early on, almost like an obsession?
You can say obsession - or simply love. This is the way it is until today. Even when I'm not on the court, I watch every game on TV, no matter if Spain, Germany, France, England, I watch everything. It is simply a great love for the game.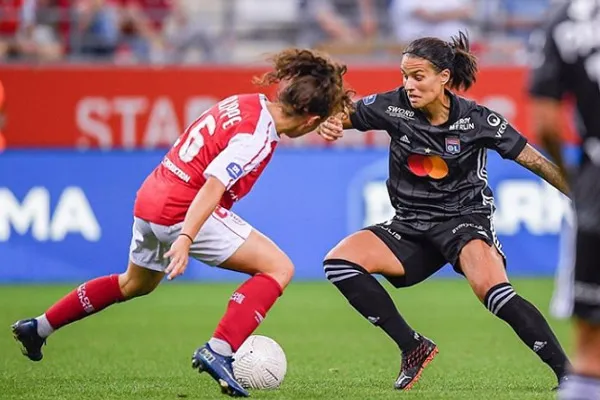 Is it possible that your mother wasn't enthusiastic about your love of soccer at first, that she would have preferred you dancing, playing the piano or other things that girls at that age tend to do?
Yes, it was indeed so. Mom was a little fed up, as the wife of a professional athlete she experienced everything, she already knew the dark sides of sports, not everything is always nice, there are difficult times. So it was already a shock for her. She didn't forbid me to play soccer, but she already tried to make other hobbies appealing to me, bought me a piano, which was anything but self-evident at that time, sent me to dance lessons. For her sake I tried everything. But then after the piano lessons I grabbed the ball and went to play soccer. There was simply no way around it.
Ten years have now passed since your first international match - what do you especially like to think back on?
There were so many very nice moments, my first success with the national team in 2013 at the European Championship or of course the gold medal in 2016 as an absolute highlight. By the way, it was a very big wish of my mom that I participate in Olympic Games. The fact that I would even win gold was of course a real blast.
I also chose the right way at club level, I am very grateful that my family was always there for me. Today I do not regret a single moment. It was right to move from Saarbrücken to Frankfurt and then to Lyon, because in these ten years I have been able to celebrate so many successes and experience so much, it is unbelievable. That makes me proud, I am simply grateful for it.
"I had fears of failure"
In retrospect, your path looks very well thought out and straight. But surely there were also extremely difficult decisions?
Yes, just the first transfer to Frankfurt. It was my family that encouraged me to take this step. Because I was very anxious. Anyone who knows me knows that I'm an absolute family person, that I need contact, 200 kilometers were too far for me back then, I was only 17. That was certainly the most difficult moment of my career. Because I also had fears of failure. You come to a club at the top level with top stars like Birgit Prinz, Nadine Angerer and many others, and you ask yourself what happens if I don't make it. The second step from Frankfurt to Lyon wasn't so difficult for me anymore, although it was a different country, a different culture, I took it much more easily. Because I had more self-confidence and also a completely different standing, especially after the Olympic victory in Rio.
So courage was also crucial, especially at the beginning of your career?
Absolutely. Especially the courage to leave family and friends as a 17-year-old.
But not leaving Saarbrücken was not a serious option, was it? You were too good for that?
I often thought at that time that I did not want to go. But my dad explained it to me very calmly: If I want to get ahead in sports, I have to dare and switch to a top club. He made it clear to me how important this moment can be. I am grateful for that. Even though it was difficult for me to understand at 17.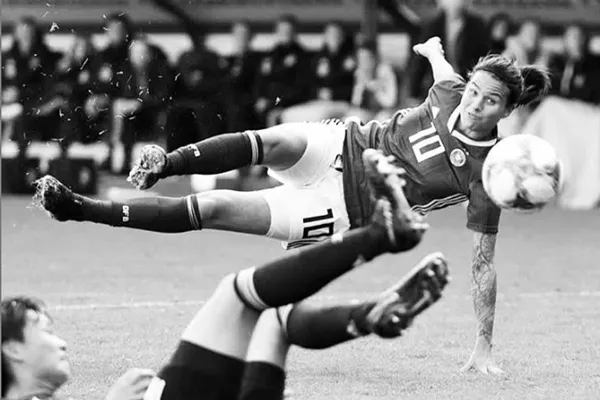 With all your victories and cups - which success means the most to you personally?
My first Champions League final 2012 with Frankfurt. Winning the Champions League is the greatest thing for every soccer player. That's why it was very, very emotional. We lost the final and I was devastated, but in retrospect it was a very important moment to experience that, to live through it, to let such an important cup out of your hands. Afterwards it was difficult to look up again and set new goals. But the saying is true: You learn the most from defeats.
What do you learn from defeats?
In a finale the smallest details decide. You have to be there 100% the day before, the week before, be focused, analyze the opponent, find solutions to defeat him. In my first final I was not really aware of what it takes to be successful. When I go into a game today, I am much better prepared. I only learned that over the years. I have become much more active, I get a lot of information about my opponent myself, I am much more responsible.
"The biggest motivation is my family"
Your successes prove you right...
In the meantime I have five Champions League titles, that's crazy, that makes me really, really proud. Because it's really not a sure thing, not even with Lyon.
Although you (almost) always win...
It's really crazy, we talked about it in the booth the other day. Since I've been in Lyon, we've only lost one game! And I can count the draws on one hand! It's so crass, almost scary.
How do you manage to stay at the top?
I can only say that it is getting more difficult from year to year. We feel it in every game. Every game is almost like a final. You can see that everyone wants to beat us, which is understandable. For me a lot happens in my head. What the team achieves mentally is incredible. Sure, we have unbelievable quality, they are all top athletes, but to keep it up mentally over the season and over many years, that is really something special.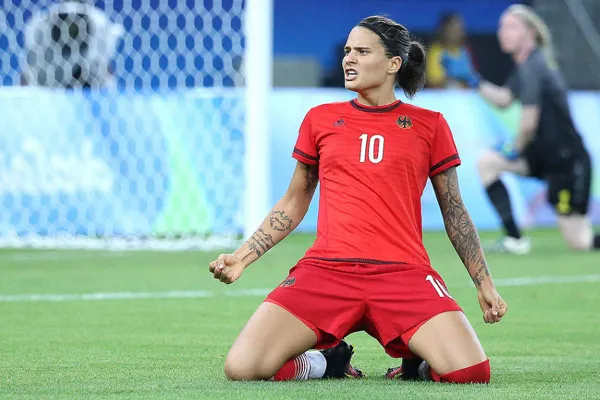 How do you manage to always give your all, to throw yourself into every training session?
The biggest motivation is my family. When I see them in the stadium with shining eyes, it makes me proud. Makes me happy. That is a feeling that nothing and nobody else can give you.
Do you sometimes have to pinch yourself whether all this is reality or just a dream?
Absolutely. I am a person who does not take this for granted. All the victories with Lyon, I know how much hard work is behind it, that every game is fought, even if it turns out 5-0 later. For me it's not natural to win the Champions League five times in a row or to win the league four times, to be hungry all the time, to win every game.
"I really thought it was over"
Your game doesn't look like hard work, everything seems light-footed. The FAZ recently published a nice sentence: "She plays as if she could outwit her opponents even on the width of an airplane corridor." What do you think about that?
That's nice to hear, of course, because it means that people like the way I play. But I would never say that about myself. I am actually reserved and calm. I always say, no matter who we play against, I respect everyone, but I always want my team to win, I do everything I can to achieve that, I give my all.
Ambition, discipline - what else is important for a great career?
The environment is most important for you to be able to go your way. Like my best friend, who always stood behind me and never tried to question what I do, never tried to persuade me not to train and go partying.
The same applies to my family. They live soccer, they love soccer. My father, for example, never put pressure on me, never said, today you were bad, you have to train more. On the contrary. Even after a bad game he emphasized the positive and didn't put me down. Because he knows how self-critical I am anyway, hard on myself. He always said to me, play your game, nothing else. Then I knew that he trusted me 100 percent. He made me feel that I was on the right track. You need an environment that knows you 100 percent and supports you 100 percent. Because you will never go the way alone. Soccer is nice, but there are a lot of difficult moments.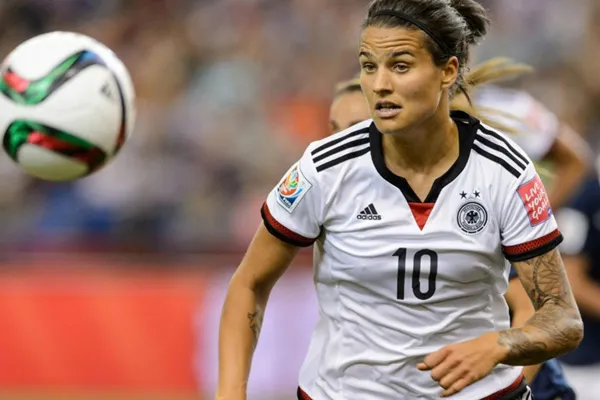 With you it was mainly a serious illness, a pulmonary embolism.
That was a shock, I really thought it was over, I have to hang up my soccer shoes, it's over. Or my first serious injury before the World Cup 2011 in Germany, which I missed. And other injuries before big tournaments, which I played sometimes - instead of listening to my body. I have learned from that as well, I know better today where my limits are. But you have to gather these experiences.
How do you manage to carry on after brutal setbacks?
The will is very, very crucial. If you are not prepared to torture yourself for five or six hours in rehab, you will never make it. Especially mentally, rehab is very exhausting. The same thing day after day. Without a ball. That is hard.
"I have to clean just like everyone else"
The hard sides of the profile level are often overlooked?
Nobody can see how you get on the bus after the game, how you go to bed with pain sometimes, how you can't sleep because you have so much adrenaline in you. Most people only see the beautiful sides.
Do you know something like a normal everyday life?
Sure, I have to clean just like everyone else, do the shopping and paperwork just like everyone else. I also do the things that everyone does when they come home from work.
What drives you on?
Since I was little I have played soccer because I want to win. No matter whether it's a training game or a Champions League final: I always want to win. That was already the case as a girl on the soccer field. Sometimes I played against boys who were five or six years older, four against four, the winner stays. My goal was always, I never wanted to get off the court. That was my attitude and that's still the case today.
Was it also your goal, your dream to play national team?
Honestly, never. It was rather outsiders and friends who said that one day we will see you on TV. I laughed about it.
But then things went very fast. With 14 years youngest Bundesliga player of all times...
Yes, then to Frankfurt and the national team, I never planned it, it just happened. Today I believe that it's not so bad if you don't want something with all your might and then you get tense, but simply see every game the same way, whether it's a football field or a big stadium.
You just want to play... But is it possible to keep this looseness in a grand finale?
Of course there is some tension in the cabin beforehand, but when I enter the court, it's over, only victory counts.
"This is cool, this is modern, this suits me"
How did you discover form.bar?
Through a friend. It's really cool stuff. The table, for example, that looks like the arena in Munich, where I played - I've never seen anything like it before. Simply special. That's something I really like when something is special. It's cool, it's modern, it suits me.
How important is a nice home to you?
Very, very important. We athletes travel a lot, are on the road a lot, always among people. You can hardly do your own shopping without being recognized, without being addressed. That is all nice. But sometimes you just want peace and quiet, so a nice quiet home means a lot to me.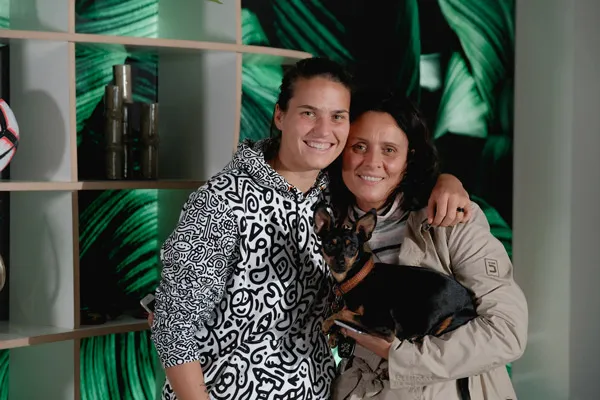 Is it true that your career almost failed because of the German bureaucracy?
You could say so (laughs). A friend of our family, Peter, has been very active in getting me appointed to the Saarland selection committee. The problem was that I wasn't in any club at that time, I only played on the street, on the soccer field. That's why they didn't want to invite me, also for insurance reasons. But Peter annoyed the coach for so long and raved about my talent so much that I did get an invitation at some point. That was really funny.
Was there a moment when you didn't feel like playing soccer anymore?
Never
"The fun must be in the foreground"
Love never ends?
I can't imagine. What my family and I owe to soccer is sensational. What we were able to experience, where we got around, who we got to know, whether it was Ronaldo, Messi, Griezmann or many, many other great people. Without soccer this would never have been possible.
Today you are no longer the girl from the soccer field, but a role model for many children yourself. Do you have any advice for her?
Not pretending to be who you are, playing soccer with your heart, everything else makes no sense. The fun must be in the foreground. If it is not there, it becomes difficult.