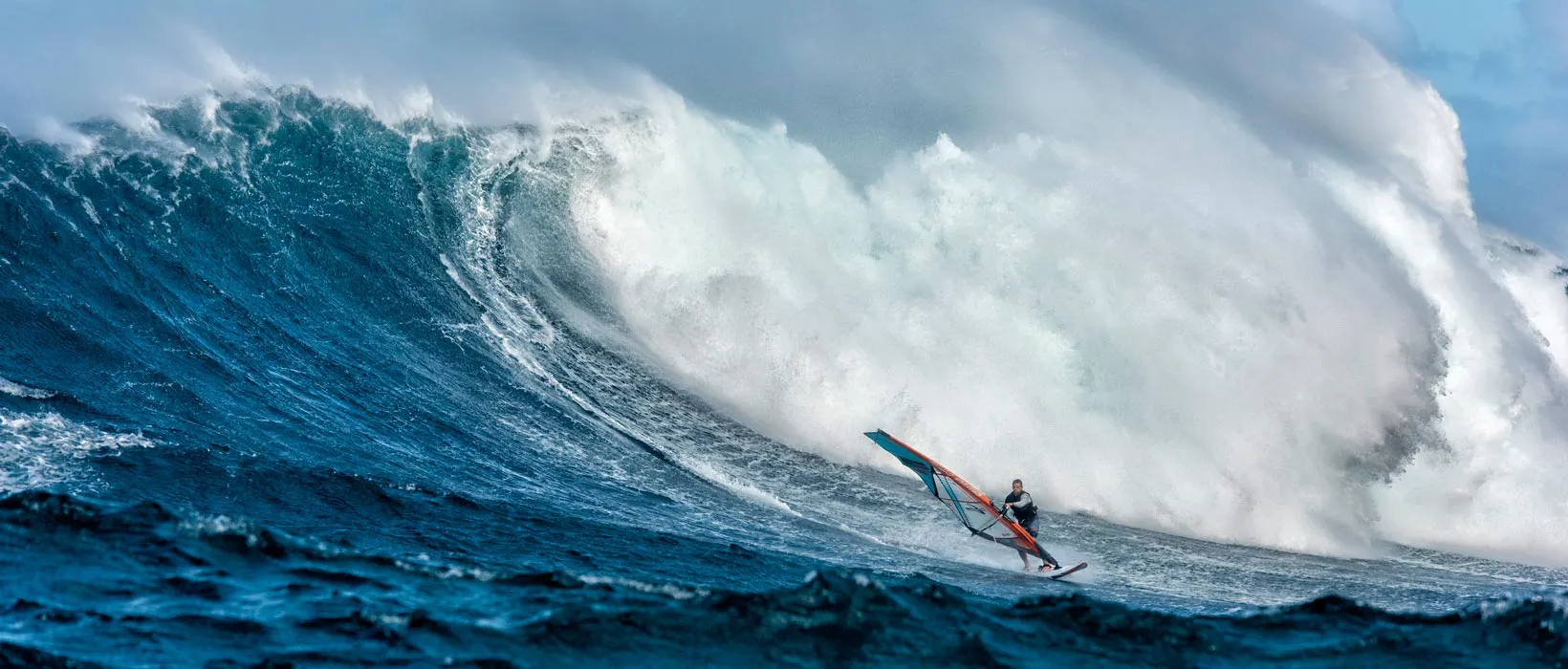 "The bigger your goal, the more you have to do"
Florian "Flo" Jung is one of the best windsurfers on the planet - but this planet is in great danger. Climate change, environmental pollution, especially the littering of the seas with tons of plastic have made Flo Jung an activist for a better world. With spectacular actions such as a surf trip in front of melting glaciers in Alaska or the Atlantic crossing "Aquapower Expedition", which took him from the Caribbean to France via the Atlantic garbage carpets together with scientists, environmentalists and other water sports enthusiasts, he has been setting important signals for years and tries to wake people up. In the form.bar interview, the father of two talks about courage, passion, his secret of success, doubts and a perfect home.
"It all starts with passion"
Dear Flo, you grew up far, far away from the sea. Nevertheless you managed to become a world class windsurfer. How does that work?
You need a clear goal. If I have a goal and feel that this is the right thing to do now, that keeps me busy day and night, then there are few things that can stop me. When I decided at the age of 15 that I wanted to become a really good windsurfer, when I developed a passion for it, I looked for ways to fulfill my dream. It was a big dream, sure. And of course I didn't know if it would come true.
When was your dream born?
As a child I tried a lot of sports, tennis, soccer, karate, field hockey and more. Nothing really got to me. One day I found a surfboard in my uncle's garage, on a lake in France. I was immediately fascinated. In the beginning everything was very difficult. But I realized, wow, this is fun. In nature, on the water, that's what it is. That's the sport that flashes me, that I want to put my energy into. Then I read every surf magazine for hours and the fascination grew. And then one day there was a report about a surf school in Hawaii, a kind of surf boarding school. Immediately it was clear to me: I have to go there!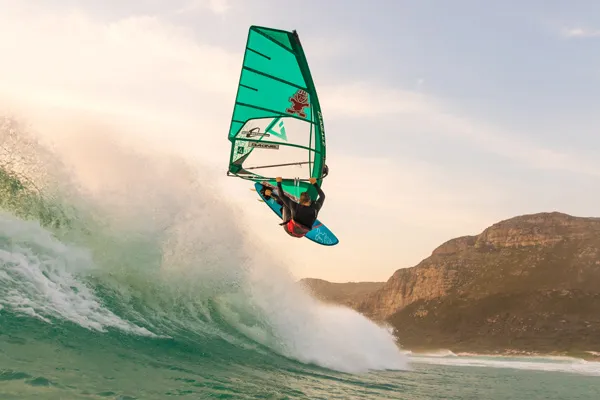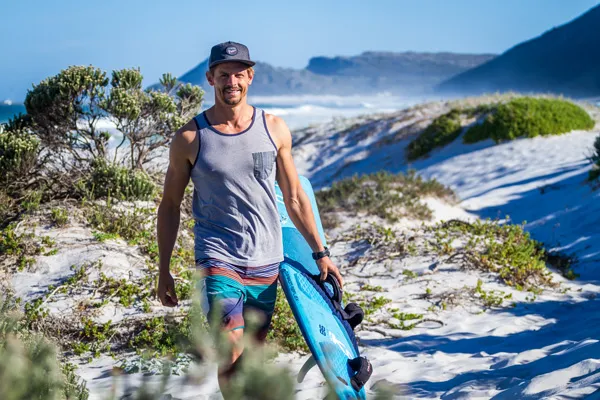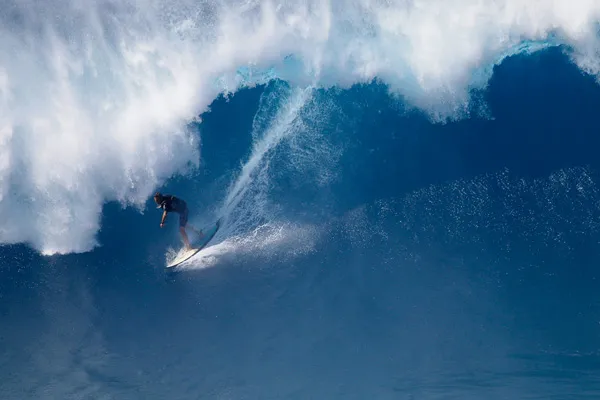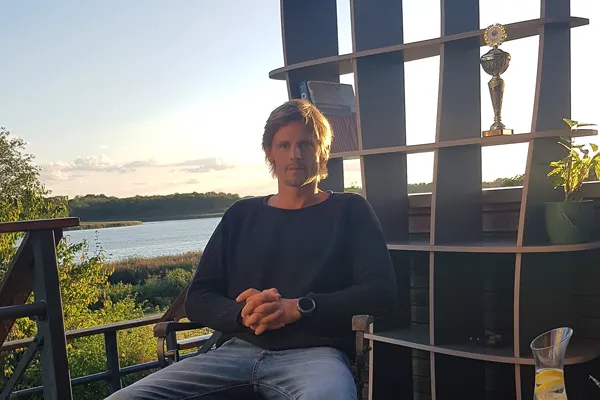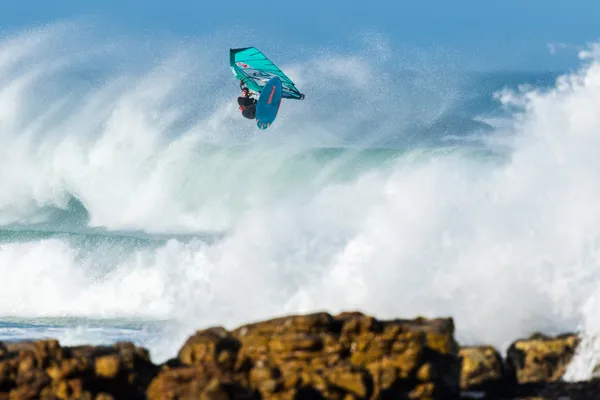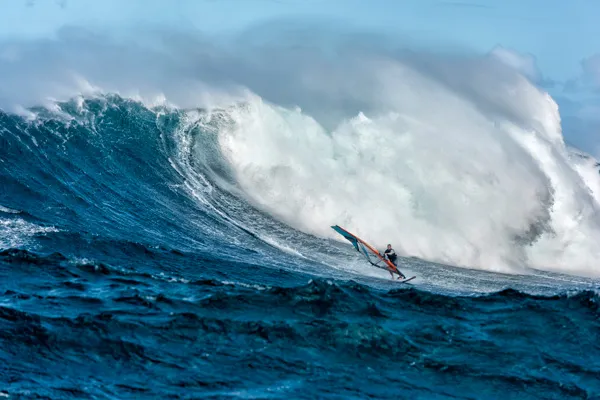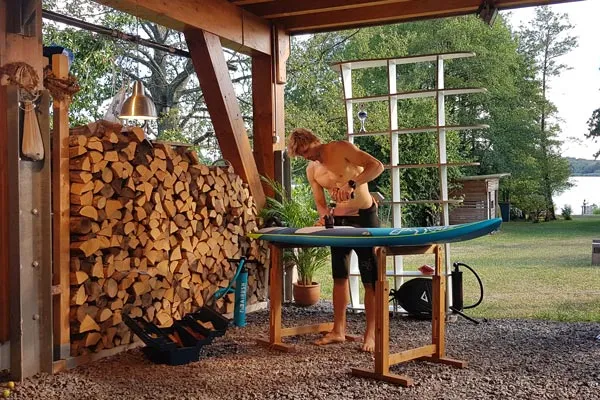 A true key experience?
Yes, for me it was clear: No matter how hard I have to work for it or what I have to do - I'm going to Hawaii. It has changed my life, it has been a dramatic experience. And the conviction was there: I will keep bugging them until I am accepted. I did that for almost two years.
You had to be so persistent?
Definitely. Besides, I needed money. So I worked, packed sails, at the company Gunsails, which is still one of my biggest sponsors today.
"Always stay positive, then life is easier"
And then you went to Hawaii at 17...?
Initially for half a year. There I learned a lot in a very short time. Free Style was a new discipline, I was one of the best when I returned to Germany, then quickly found other partners and sponsors and then I realized: Hey, I can do this, I am now exactly where I wanted to go. I can go pro.
Why do you love your sport so much? Can you describe it?
Windsurfing gives me a fulfillment that I don't feel anywhere else. The experience of nature and then the mastery of the forces of nature, which you can feel like in no other sport. While surfing you control the sail pressure with your hands and with your feet you control the sea and the water. And then a wave comes and you take off and fly like a bird, that is something very, very impressive.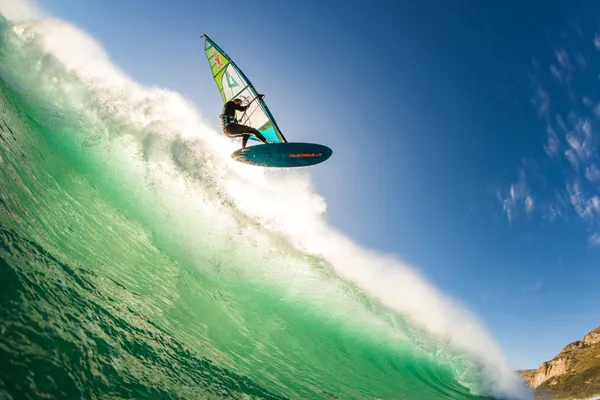 The fascination does not diminish?
No, because you can push yourself more and more, there is always a bigger wave and always new places to discover.
No doubts in all these years?
I tried not to let the doubts get in the way. Of course, there were always setbacks. I was also on the verge of giving up several times. But only shortly before. I always looked for ways to keep trying, in very small steps. That was my motto for success. It's like that everywhere in life. Nothing is given to you, you always have to work hard, but if you pursue a goal every day, the probability that your goal will be fulfilled is much, much higher than if you don't try. And the bigger your goal, the more you have to do. But the more intensively you work on something, the more fun it is in the end and the greater the chance that it will be successful. I think it always starts with the right goal. Even in windsurfing, whether I'm on the water or making a film, there are of course phases where it's not much fun, where money is lacking, where an editor has dropped out or you think you won't make it. That's when you have to grit your teeth.
This attitude of not giving up, of always going on, did you always have that inside you or were there role models?
It's actually also a question of people you meet. I've always had good mentors, for example the head of Gunsails, an innovative founder. He told me: Use the strengths you have. And one of those strengths is creativity. That's why I emphasized beautiful, special photos early on. That's how I made it onto the covers of well-known magazines before I even had any World Cup successes. Throughout my life, I've met people who have inspired me in some way. You have to try to go through the world with your eyes open, then maybe the universe will send you the people you need at the moment.
It depends above all on yourself?
It often depends on your own thoughts, on your attitude. And you have to be willing to work on yourself, and you should do things that give you pleasure and that make sense.
Are there any quotations or wisdoms that have accompanied you for a long time?
Not directly. Many people have said a lot of clever things, but in the end it always starts with yourself. And how you shape your everyday life, whether you want to actively achieve goals or just react to things that happen to you. You have to actively think about what can I improve now, what gives me the motivation to get up in the morning and be ready to start the day? I find this ability fascinating, that you can determine your life yourself, form it yourself by dealing with your thoughts. You have to believe that you always find a way.
"And then you take off and fly like a bird"
Do you have an example from your life?
Over the last year I have been busy thinking about how I can always learn something new when I go out on the water. As an athlete you come to the point where the days are very similar, where you don't really appreciate what's happening anymore. Then I had a knee injury. It was clear that I had to change my attitude towards my sport. I then decided to try to get into the flow with every training session. Small goals, not always the most spectacular maneuver, but to feel inner joy, then many things will go much better. This is a process you have to learn and you have to develop it further in your mind - inner motivation. Always stay positive, which is not always easy, but then life is much easier.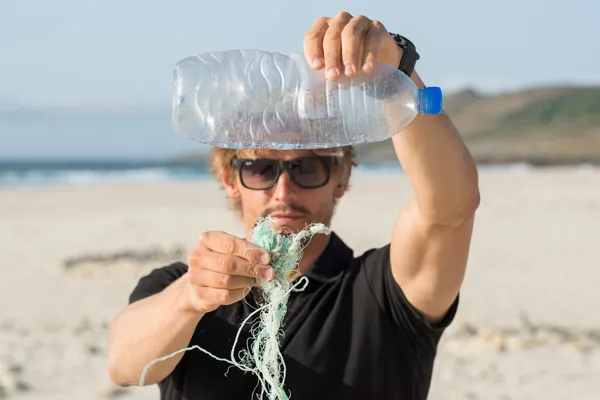 What is for you the most important characteristic for success?
It all starts with passion. Whether you are an athlete, father, husband: There is always the will there, I want to do it well, and then it is more fun.
How important is courage?
Courage is definitely one of them. I myself have to kick my ass again and again and overcome my fears. That can be calls to sponsors or a fat day on the water, where it can be life-threatening. But behind courage there is always the feeling to get to the next level, to grow. This growth is extremely important so that you can simply develop further.
You have recently become a father again. How important is a nice home for you and your family?
Because I am usually on the road a lot, a feeling of well-being at home is very important. And this special home is just being built, it is even almost finished. It is an eco-house in South Africa, at the Cape of Good Hope, one of the best surf spots. It is also a project to show how to build a sustainable house with a low budget and the latest technologies and how to live in harmony with nature. The walls, for example, are made of hemp, there is a water treatment system, we use the sun to generate electricity, we want to live as self-sufficiently as possible. Our goal was and is to build minimalist and use only what is really necessary. That is why form.bar furniture fits so well into this house, it helps to create a special atmosphere. One comes into the house now and has a good feeling, just feels good, is happy, feels positive energy.
"form.bar furniture creates a special atmosphere"
Besides family and sports, another thing is very close to your heart, in the true sense of the word: "Mon Coeur" - what is that and who can you help with it?
"Mon Coeur" is a non-profit organization that I founded together with my wife well over 10 years ago. The mission of "Mon Coeur" is simple: we want to create opportunities for positive change. We want to share our own happiness and enrich the lives of people with fewer opportunities through education and inspiration. We do this by selling products, bracelets, leather bags, jewelry, postcards and much more. And also by manufacturing the products, with which we create jobs, for refugees in Germany as well as for people in the townships of South Africa. The money we earn from sales goes to schools, kindergartens and educational projects. Over the years, a real "Mon Coeur" community has developed, which is very nice, because this way you can create a positive cycle.