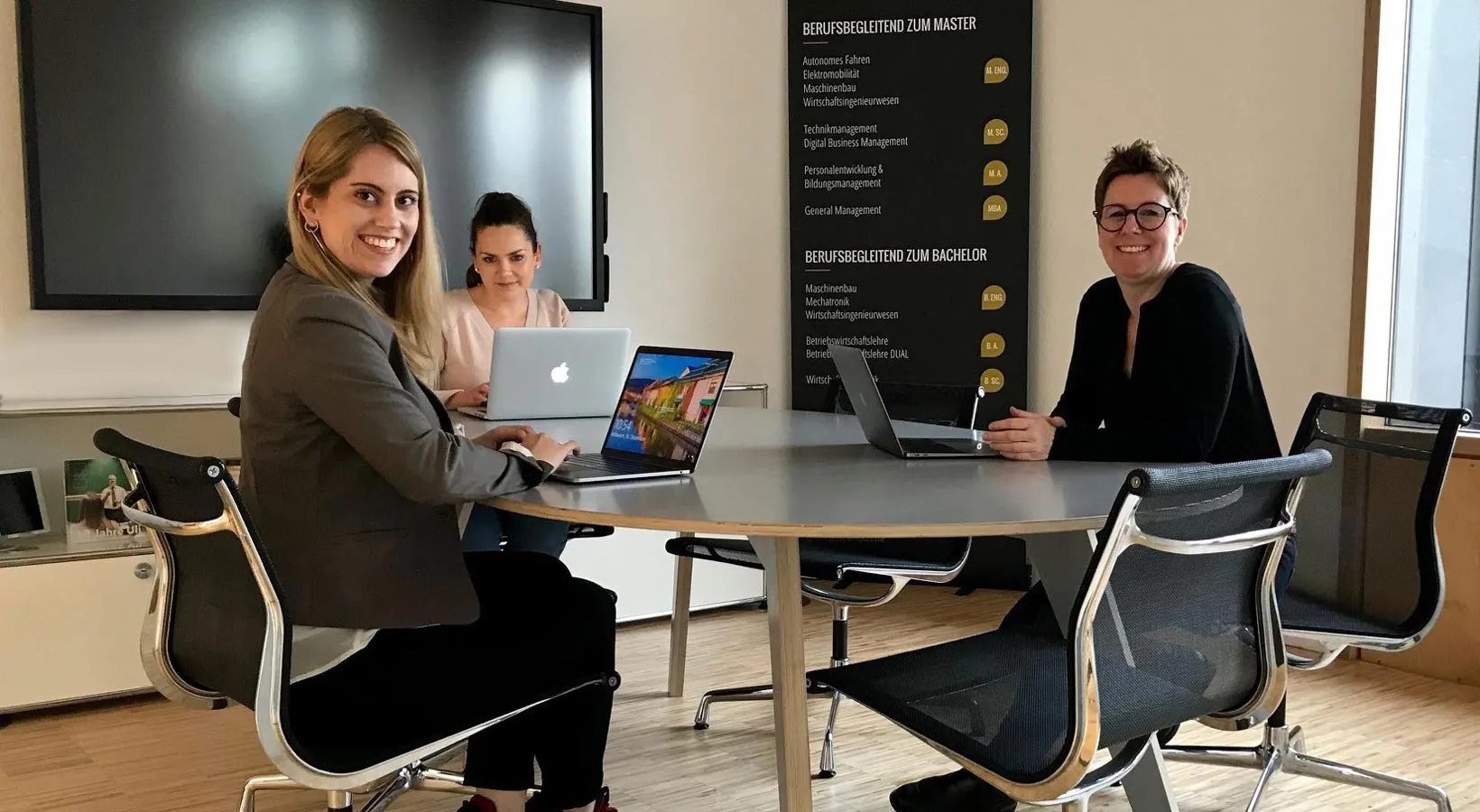 With curiosity and persistence to great goals
Dr. Alexandra Jürgens is Managing Director of the Graduate Campus at Aalen University, a multi-award-winning beacon of academic continuing education in Germany. Every year, several hundred people there expand their knowledge in classic subject areas such as engineering, mechanical engineering and mechatronics and deal with highly topical issues such as autonomous driving, electromobility and fuel cell technology.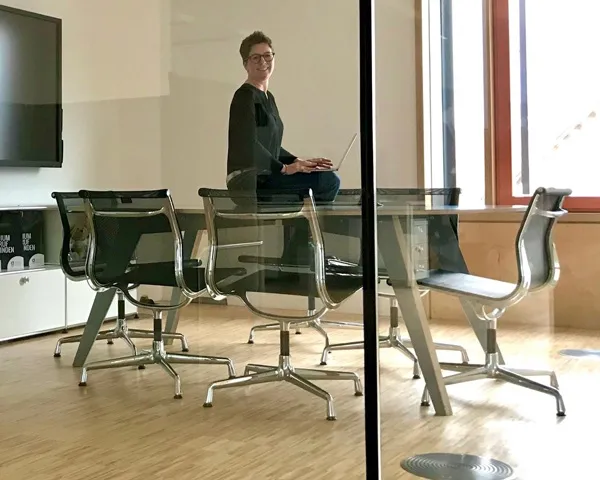 "Anyone who wants to develop good ideas needs an office in which they feel comfortable"
Dear Ms. Jürgens, education is a mega-topic of the present. Education is always a mega issue. Where is your focus at the moment?
Academic continuing education is still a relatively new topic in Germany, even though a lot has happened in recent years, which is very good and important. Especially now, when the digital transformation is in full swing. Global digitization is making our lives more complex, it is changing culture and communication, and it is massively changing the world of work. For example, among engineers, where many more disciplines are being linked together, where data and software are playing an ever greater role. In the past, you did an apprenticeship or studied once and that was it. But that no longer works today.
And that's where you come in...
Right. Because the new knowledge you need doesn't fall from the sky. Many companies are asking themselves, what will be important and where do we want to and can we go? Because they realize that they are in the middle of the digital transformation. They have a lot of good employees, but the skills that will be needed in the future may not yet be there. There is a great need here, we notice that clearly. And this is exactly where we come in with our offerings and want to close knowledge gaps.
What are the main topics?
Automation, artificial intelligence, also data and networking. For example, the mechanical engineer must understand how the software developer works. It is no longer enough to be a technical expert in one discipline. Interfaces have become crucial.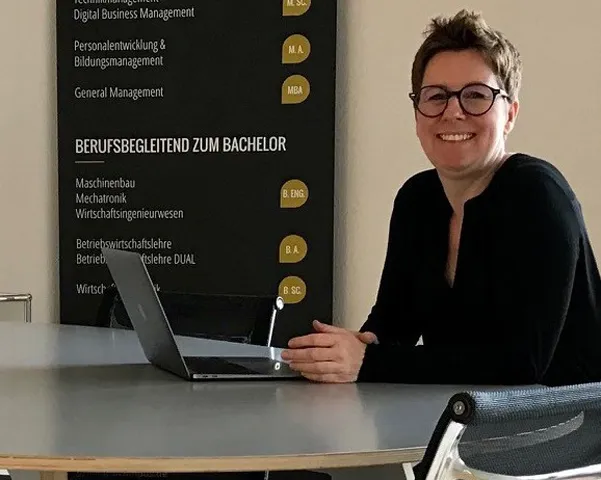 "Ordered on the web, manufactured in the region - that's cool"
It is noticeable that there are a particularly large number of women working in your company. Is this a coincidence or are women simply smarter?
Many women have always worked in education; this is certainly related to their choice of studies; after all, there continues to be an extreme male surplus in the technical field. Perhaps women also have a greater need for well-being in the workplace and choose appropriate professions.
Do you have this feel-good atmosphere?
Of course, if you want to develop good ideas and concepts, you need an office where you feel comfortable. That's where the special table from form.bar fit in really well.
How did you come across form.bar?
I actually looked for a custom table on the internet. Because the room demanded it, it's our meeting room and I wanted a table that would make the most of the free space. We often sit there for many hours and develop new training concepts, which should be as comfortable as possible for everyone. Sure, I could have asked a carpenter, but when I researched on the internet, I got stuck. I also like the laminated wood, I've always liked that.
Then you just got started in the configurator?
Yes, exactly, and that worked out great. You have to be a bit brave when you press the order button, because you don't know 100 percent what it will look like. But everything is already very well presented in terms of visualization, there's no other way to put it.
Have you also looked at the form.bar concept with decentralized manufacturing?
Yes, that is very exciting. I only really became aware of it when the table was delivered by a local carpenter. It's cool that you order something online and it's not made somewhere in China, but actually in the region.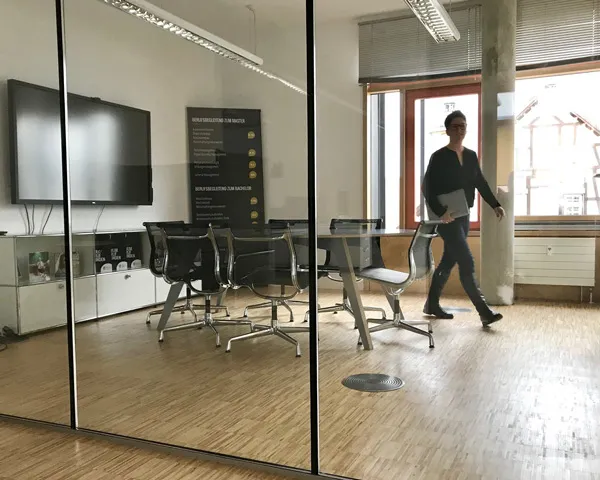 "Elon Musk impresses me because he thinks across boundaries"
How did you manage to shape your life according to your wishes?
I never really pushed it, never worked towards running this company. It all happened over time. But it's very important to always create lots of options for yourself and to see what's happening around you, where you can get inspired.
How do you create options?
Take, for example, any job advertisement - there are people who see a lot of possibilities in the job, while others see very few. One should be open, should not reject things immediately, but also be surprised sometimes, then the situation arises rather that one can choose.
How do you get inspired?
From very different sources. I read newspapers, books, just look at a lot, I'm interested in things that surround me, that's how you constantly learn. For example, I've always been interested in design. You have to look for the sources that inspire you and that suit you, that can also be digital platforms or social media groups.
What qualities do you value most in yourself and do they help you in your job?
In any case, curiosity. Wanting to understand. And persistence, even a certain amount of positive stubbornness.
Who do you think of when you think of successful people?
That's a difficult question; there are many clever minds. Elon Musk comes to mind spontaneously. He's just cool because he thinks outside the box. When someone says it can't be done, he says it can. That's impressive. Even though not everything he does is good. I also like someone like Richard David Precht because he questions things critically. Or Frank Thelen, who motivates people to think about the future. Because that's one of the big problems in this country, that many people have made themselves too comfortable.
"Many people have made themselves too comfortable"
Worried that change will take too long?
Yes, because I believe that many people are not open enough to deal with new topics.
That's where education helps?
Education forces people to deal with new things.
How can you get people excited about it?
Basically, it's always easier when someone has already had positive educational experiences. If my school years were reasonable, if I thought my studies were cool, if I noticed that this also enriches my personality, then it's naturally much easier for me to take an interest in new topics. We are lucky that the people who come to us are usually very motivated. They want to get ahead.