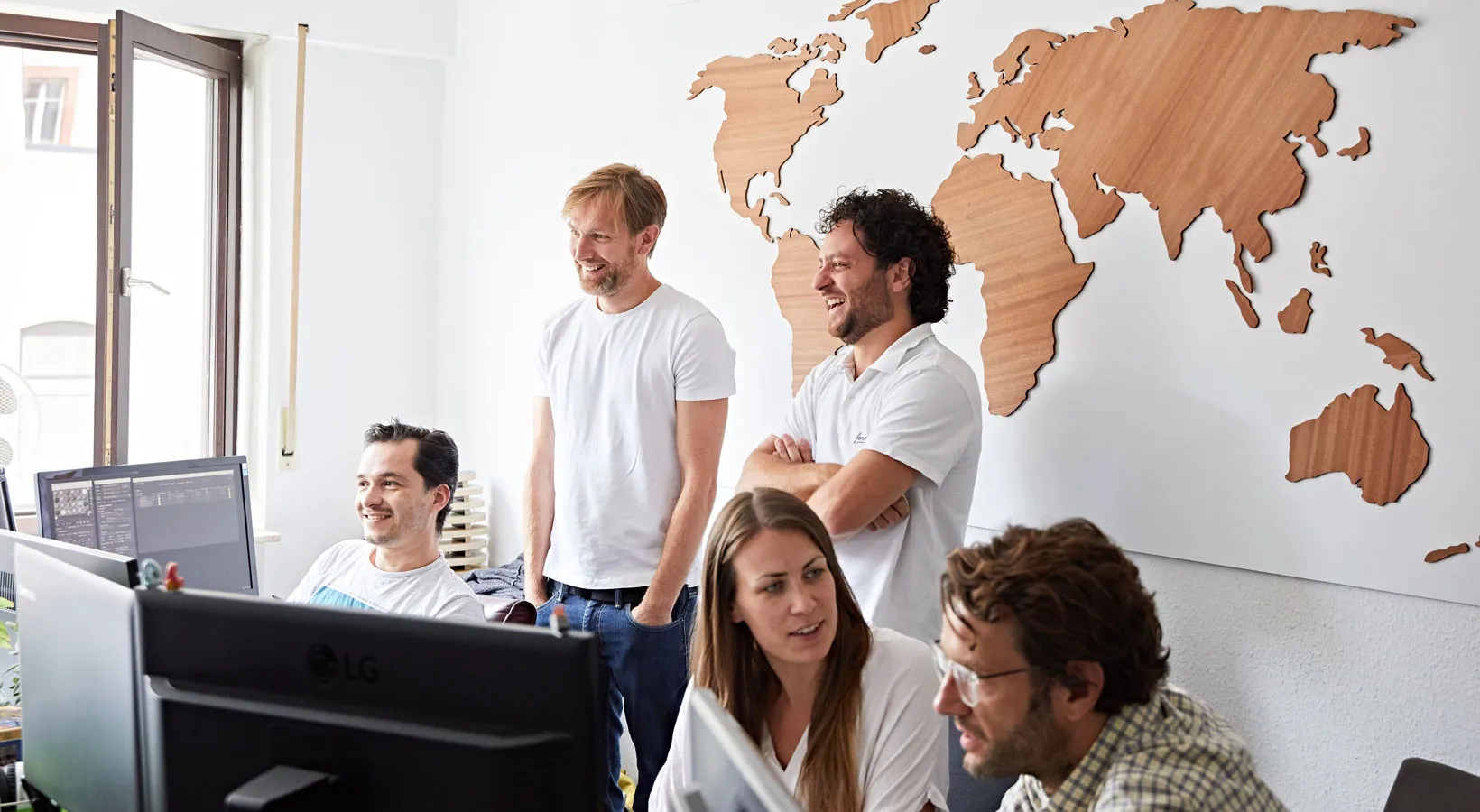 "Sweepingly rounded and unusual forms, as you rarely see in furniture"
In recent years, the Hamburg-based magazine "brand eins" has developed into one of the most important business magazines in Germany. In the October 2019 issue, an interesting background report on the digitalization of the furniture industry appeared under the title "Von wegen bequem" (So much for convenience) with form.bar as a positive example of how change can succeed. The renowned photographer Michael Hudler provided the appropriate images for the following text by "brand eins" author Stefan Scheytt.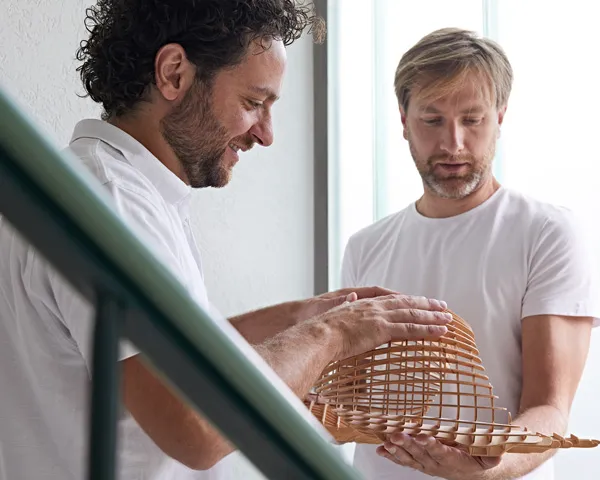 "So you save the carpenters?"
"So you are saving the carpenters," asked the carpenter's son and Federal President Frank-Walter Steinmeier when he met one of the managing directors of the Saarbrücken-based furniture company Okinlab in 2018. The start-up, founded in 2013, does not employ any carpenters. It also has no circular saws or planing machines, no workshop and no warehouse. Just a cramped office in downtown Saarbrücken, which houses almost twenty computer scientists, designers, architects, marketing people and customer consultants.
What they create, furniture searchers on the Internet can see on their screens on the Formbar platform: Shelves, tables, cabinets, beds or sideboards, which they can enlarge or shrink with a click to the centimeter and change in color and material until they like it and it fits into their own home. The price of each variant is also displayed. The algorithms in the 3-D configurator allow for sweepingly rounded and unusual forms that are rarely seen in furniture. Only the statics, the nature of the material and the machines used to produce them set certain limits to creativity. At the end of the self-design process, the start-up sends the data set to one of around eighty carpenters with whom it cooperates. This joiner manufactures the piece of furniture and delivers it.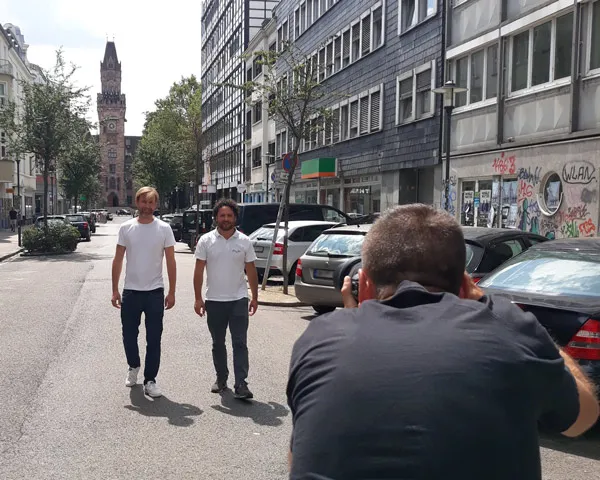 Faible for free form constructions
Alessandro Quaranta and Nikolas Feth, both in their late 30s, are the brains behind Okinlab and the online platform Formbar. Quaranta is a business economist and former start-up consultant at Saarland University, Feth is an architect with a faible for free-form constructions. A few years ago, both of them, who have known each other since their school days, were commissioned to set up a store on the campus of Saarland University, where university fan articles such as caps or T-shirts were to be sold. It had dimensions that were unsuitable for standard furniture. So they designed the furniture themselves and asked carpenters for quotations for custom-made items, which ranged from 15,000 to 40,000 euros. The duo then experienced two things: customers in the university store who were thrilled by the shelves, but said: "I can't afford furniture from the carpenter. And they noticed that there are many carpenters with expensive, but often under-utilized milling machines for custom-made products.
This gave them the idea of founding a company. The concept: The customer uses Okinlab's software to design his piece of furniture on screen, saving the carpenter time and money. Because he does not have to come to the measuring and does not have to make an offer. It also helps him to better utilize his machines and to get in touch with people he would probably never meet otherwise. In the best case scenario, they in turn revise their opinion that they cannot afford individual furniture from the carpenter because Okinlab is supposed to be cheaper on average. The start-up, which uses its software to automatically convert customer designs into production data, mediates between the two sides. "We are connecting relatively small craft businesses to e-commerce that could hardly afford to do this on their own", says Nikolas Feth. In this way the little ones should be able to keep up with the big ones.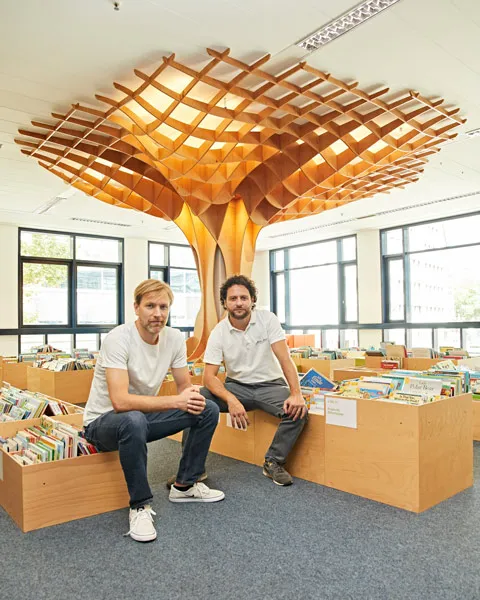 "Regional production close to the customer again"
Okinlab has been online since 2015, generates a low seven-digit turnover with Formbar and is growing at rates of sometimes more than 70 percent per year. The company plans to expand its network to about 1000 carpentry businesses and other countries. "It doesn't matter whether we send the data to Munich, France or Brazil," says Alessandro Quaranta.
The start-up, in which venture financiers as well as the former Bitkom president and IT entrepreneur August-Wilhelm Scheer hold shares, recently received a strong boost from EU funding of around two million euros. But one thing is clear to the founders: they do not want to set up their own production facilities or have them produced in countries with low wages. "That would contradict our philosophy," says Quaranta. "We don't have to buy machines and materials, manage warehouses and have to deal with transport damage that occurs on the last few kilometers to the customer when shipping to anywhere in the world. We want to use the technology that is already available at our partner carpenters so that we can once again produce regionally close to our customers."
The form.bar principle is not limited to wood
His company, he emphasizes, wants to reverse the process in which designers classically create a piece of furniture that is then manufactured, stored and sold with a high marketing effort many thousands of times over. "Only when the customer presses 'Enter' for the self-designed furniture on the PC does the milling machine start milling. This principle is not limited to wood, says Feth: "You also have to think of other materials and uses - glass, mirrors, facade elements or upholstered furniture. "Any product that customers like to individualize and that is manufactured on computer-controlled machines - even on 3D printers - is in principle interesting for us."