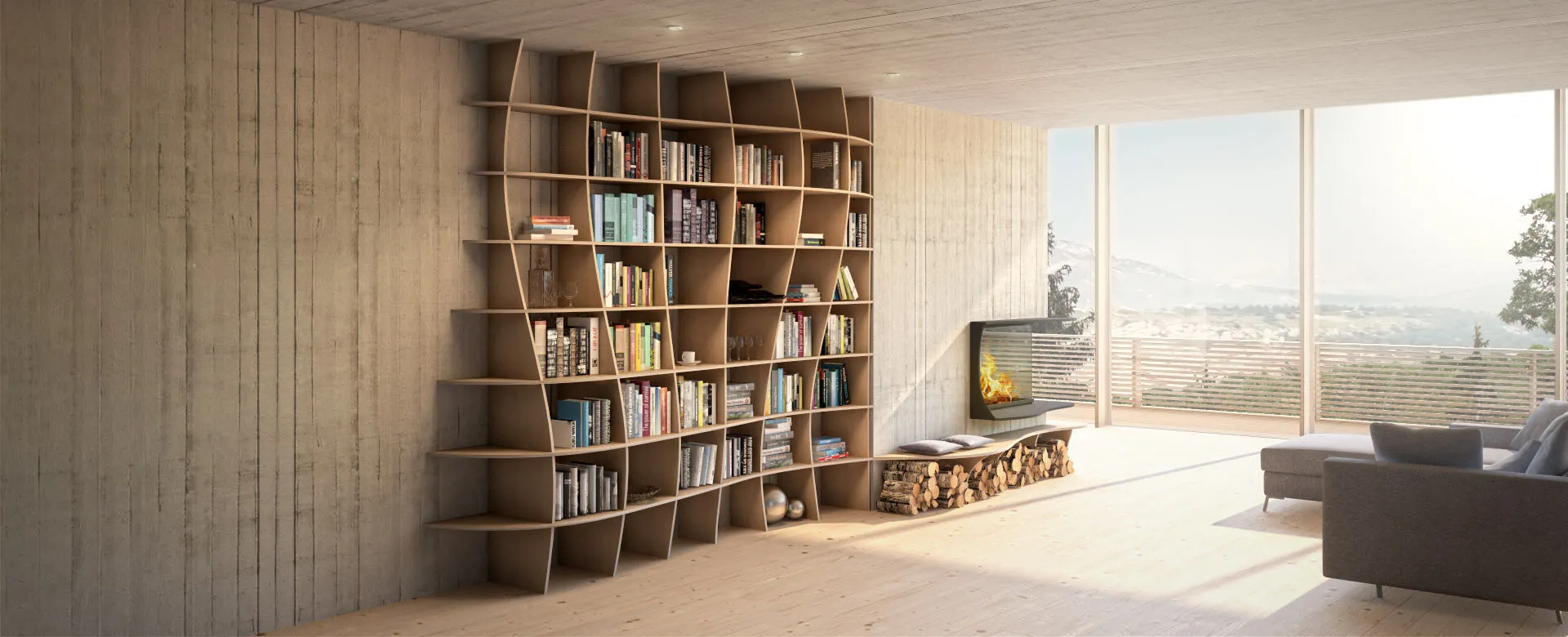 Furnish fireplace room
Interview and valuable tips
It's cold, wet and dark outside. So you'd rather snuggle up in a blanket on a cozy wing chair and keep warm inside. But one detail is still missing in the living room: a fireplace! The crackling flames, crackling fire and the smell of firewood exude pure romance. What could be more cozy than sitting in front of the fireplace with your favorite book and a cup of hot cocoa?
Below you will find an interview with lifestyle blogger Friederike von der Kuhlen as well as valuable tips on the topic of furnishing a fireplace room.
Highlights of form.bar for your fireplace room
Choose your favorite design and customize it
Interview with Friederike von der Kuhlen
For this guide we have thought of something new: An interview with lifestyle blogger Friederike von der Kuhlen, who recently fulfilled her dream: "Set up my own fireplace room." To get to know her and her blog better, we first asked her a few personal questions.
1. Since when are you a blogger and how did you get into it?
I founded Lebenslust in 2013 - crazy how time flies. At that time I had a very stressful time with a lot of worries and sorrow. To bring some joy back into my life I started blogging. Just deal with the beautiful things in life again, because there are more than enough of them in everyday life.
2. what do you enjoy most about blogging?
These said beautiful things that I deal with every day. We live in a complaining society. Nothing is good enough. Especially not the everyday life. Yet there is so much beauty to be discovered even in the everyday.
3. There's a lot going on in your life, whether it's moving, renovating or traveling, how do you ever really switch off?
At home. Because that's actually where it's most beautiful, right?! My favorite places are my bathroom and the new fireplace corner in the living room. It's totally cozy and the perfect place to let your hair down.
4. Where do you get your ideas for your blog posts?
From everyday life. That sounds so trite, but that's how it is. Go through life with open eyes and let yourself be inspired. Then the ideas come all by themselves. For example, if I feel like trying out a new recipe, I report on it. And when I get the wanderlust, I simply take the readers with me.
Thank you, Friederike, for the insights into your blog. Now let's move on to your newly designed room in your apartment: your fireplace room.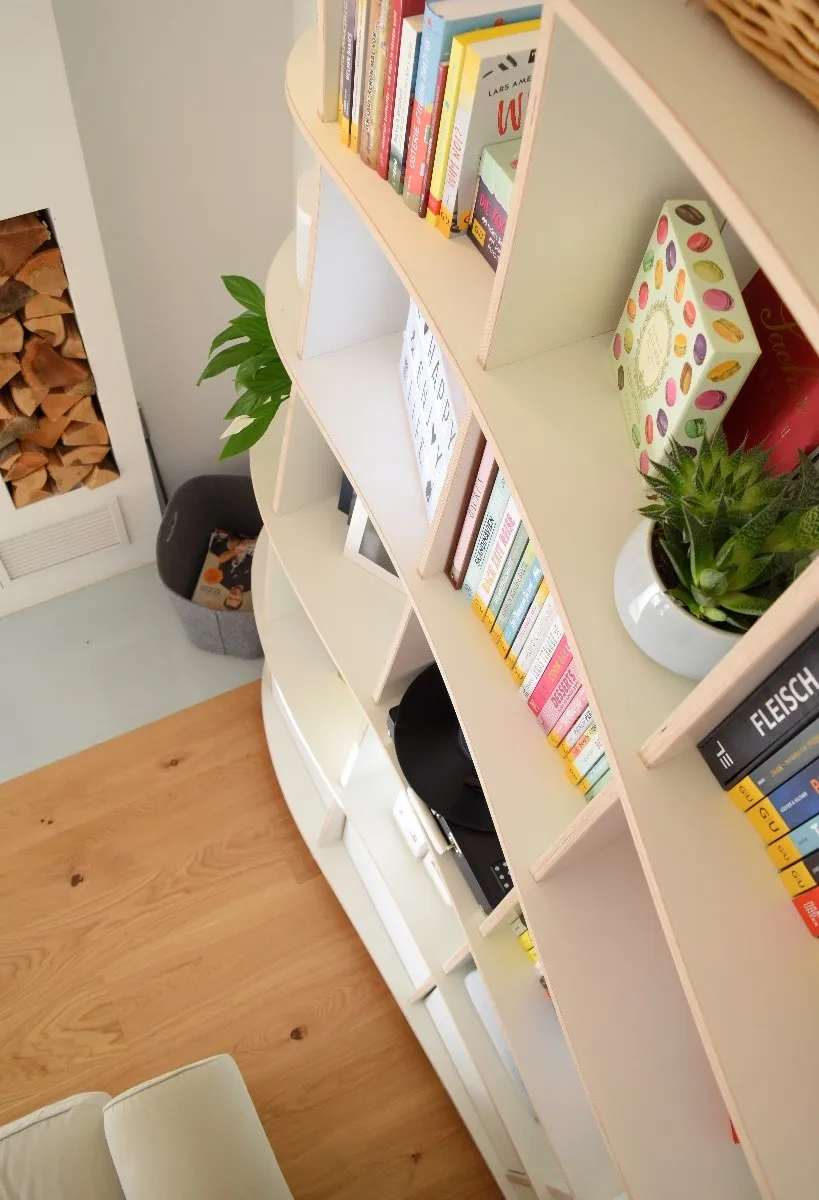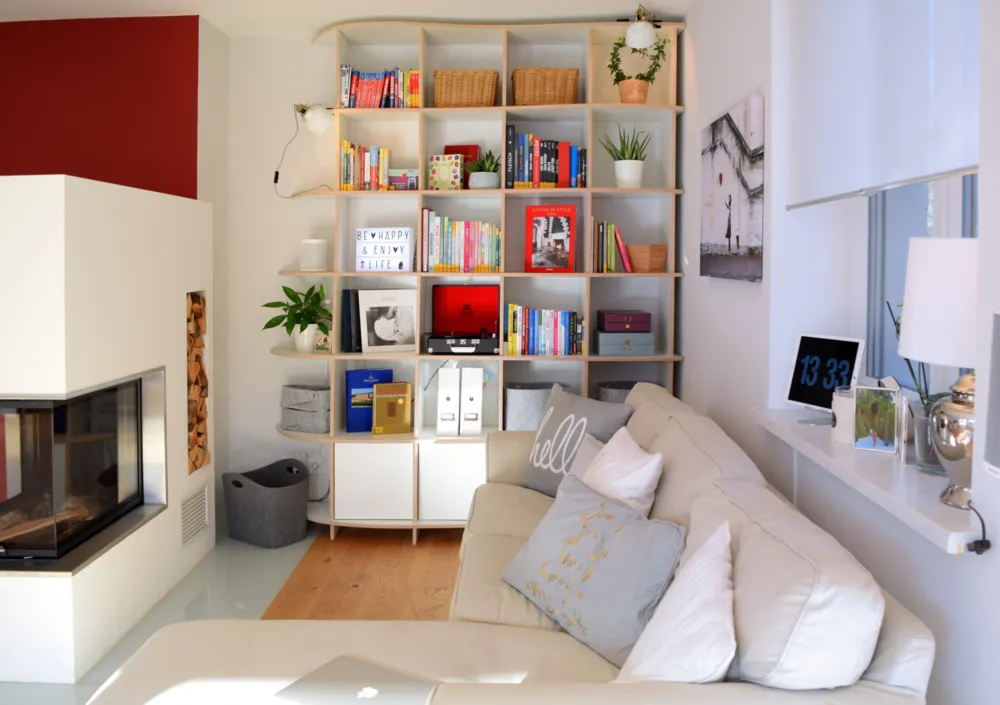 1. Where did the idea come from to buy you a fireplace?
I am a frostbite. I need it cozy and warm around me to feel comfortable. And stylish. A fireplace combines both. How convenient, right?
2. You've just renovated your fireplace room. What did you pay particular attention to, for example, in terms of the flooring or similar?
The challenge was to create a cozy, warm atmosphere while still keeping the design clean and uncluttered. Many fireplace rooms are far too cluttered for my taste. One, maximum two eye-catchers are enough, the rest remains in elegant restraint. In the focus of my fireplace room is next to the fireplace (logical) the form.bar shelf with its soft curves. Two eye-catchers that are functional and stylish at the same time. In addition, a gray wall color that frames the room with a dark red stripe on the fireplace.
3. What do you like most about your fireplace room and how do you bring the maximum coziness to the space?
A lot happens over colors. We painted the wall behind the fireplace a dark red to play with warmth in the color scheme as well. In addition, cool tones for the sofa and cushions to create a contrast. Feet up, music on and watch the crackling fireplace with a glass of wine. Wonderfully cozy.
4. What accessories should not be missing here?
The right amount of decoration is quite a fine line. Accessories like candles, pillows, pictures, plants or coffee table books create a great atmosphere and make rooms feel homely right away. Too much of it, however, is counterproductive and makes especially small rooms even smaller. The important thing is to add a few highlights. There are accessories that act as eye-catchers and others that remain discreetly in the background.
5. Often a fireplace room is rather associated with the cold, dark season. Your fireplace is a real eye-catcher. What do you do with your fireplace in the summer?
Did I mention that I am a frostbite? Even in summer, there are cool evenings and then it's off to the fireplace.
6. Finally, do you have a pro tip for our readers?
Take your time. The design of the fireplace room took me over half a year. Rooms have to evolve. What looks beautiful in your head or on paper often doesn't work in reality. Design rooms step by step, piece by piece. And you will see: there is a moment when you say: yes, now it fits. Now it becomes a feel-good space. And this moment is magical.
We plan your fireplace room for you
Get your fireplace room designed by our professional team of designers.
To the design service
What you should consider when decorating
your fireplace room.
Combine floor, furniture and fireplace correctly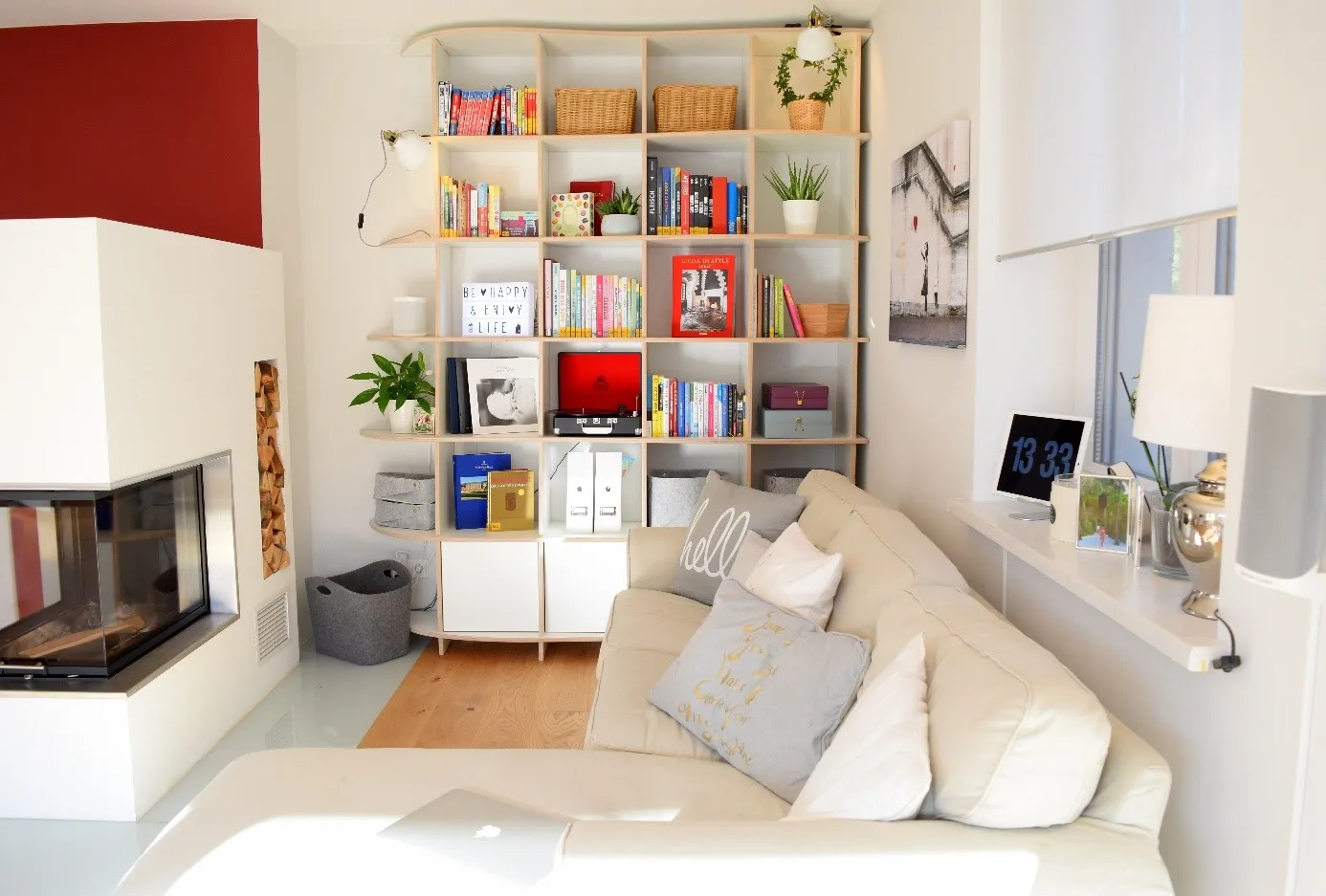 If you have a traditional fireplace, you should be aware of the new guidelines. Since new laws were passed a few years ago, it may be possible that your fireplace needs to be retrofitted.
The important thing to remember when decorating is that you should integrate your fireplace into the room. You shouldn't feel like it's "just sitting there" when you walk into the room. Pick up the colors and maybe even the forms and decorations of the fireplace in the room. This will allow the coziness and romance to unfold in the room. With the help of small accessories, the right color family and matching furniture, the charm of your fireplace will shine throughout the room. When choosing the floor, furniture and interior design, you should pay attention to the following things.
Find the right floor
When choosing the floor, you should think carefully, especially for your own safety. Of course, a noble wooden floor in the fireplace room looks great and fits the ambience, but fire and wood are known not to be the safest companions. Nevertheless, this should not stop you from choosing a chic wooden floor, whether parquet or laminate, whether a plain floor or an eye-catcher with a fancy pattern, for your fireplace room. That's because there are ways to minimize these dangers. When it comes to flooring, simply make sure to cover the area around the fireplace with a fireplace floor or glass panel so that the combustible floor material is protected from sparks that the fire can spray. That way you can still benefit from the wood floor atmosphere.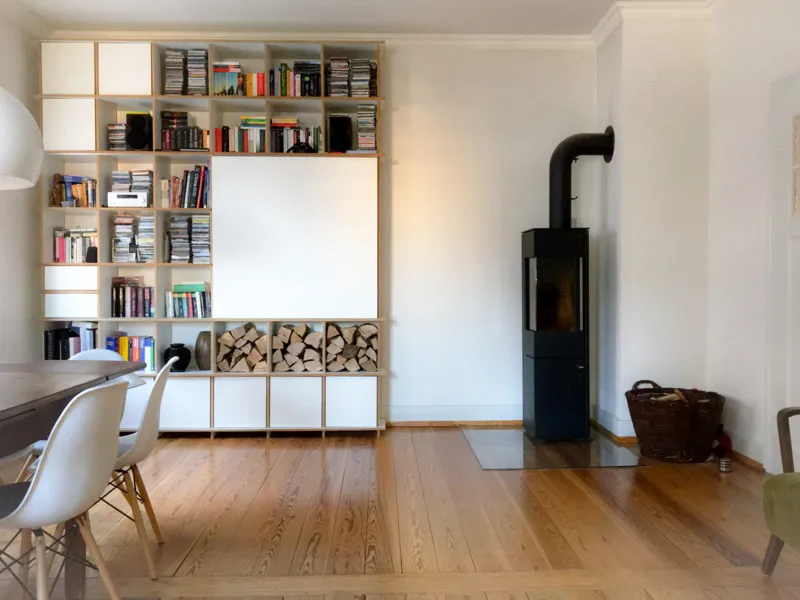 If you prefer different flooring, the possibilities are endless, from chic tile to carpet. Because a cozy carpet also looks good in your fireplace room.
The matching furniture
You are hardly limited in the choice of furniture. You should only maintain a certain minimum distance between the furniture and the fireplace, so that the furniture is also protected from the fire. Otherwise, there are no limits to your interior design wishes. For a fireplace room, sober colors are recommended so as not to steal the show from the fireplace, which is the centerpiece of the room.
For a fireplace room, of course, a cozy seating area is ideal, which invites you to relax. In front of the fireplace fits a coffee table or a sofa, or even better - a wing chair. And next to it, of course, depending on your taste, belongs a nice bookshelf or a good TV.
If you have large window sills, you can also line them with seat cushions so that you have a view of the fireplace room and the landscape outside at the same time.
Interior design of your fireplace room
Integrate the fireplace
The fireplace in your room is the most important element. However, you can still enhance the interior of your room with other decorative items. You don't need to pay attention to much, the most important thing is to match the decoration with the rest of the interior and especially with the fireplace. If you have an old fireplace, you should include it in the room. You can do that by picking up the color of the fireplace in the accessories. A light vintage style will complement the "old-fashioned" feel of the fireplace.
However, such a fireplace can be a great contrast even in a relatively modern room. To achieve this, modern elements should be combined with selected vintage accessories. These can be, for example, a carpet in retro look or an old, refurbished commode. In this way, the different styles harmonize with each other and create a unique living ambience, in which it is great to relax.
Even the firewood you need can contribute to the design of your fireplace room by storing it in a decoratively appealing way. Stacked in a stylish box, the wood not only looks beautiful, but also gives the room a cozy, rustic style. Then, when you place a chic fireplace set next to it, the fireplace scene is perfect. But don't forget to match the rest of the room, i.e. curtains or sofas, in terms of color and style.
Accessories and decoration for your fireplace room
For very special accents, you can set small light accents with candles. These radiate a cozy warmth and comfort, especially in the cold season.
With fabrics of different textures you can emphasize small parts or corners of your fireplace room. Accessories with a bit of a rustic touch will complement the ambience, because here traces of use are no shortage.
Plants should not be missing in your fireplace room! By releasing moisture into the air through their leaves, they help keep the indoor climate in balance. This is especially important in rooms heated by fire, where the air is particularly dry. Plants with large leaves that come from humid areas are especially recommended here. Unlike cacti, succulents and many palm trees, they are not specialized in storing as much water as possible, but constantly release it through their leaves. At the same time, they round off the furnishings and give the room a calm ambience to feel good.
If you are unfortunately not blessed with a green thumb, a vase of flowers or a small bowl of water will also help to freshen up the air. And who knows, maybe it will work out with a low-maintenance cactus?
Last but not least, personal home accessories are a must in your fireplace room, so that you feel at home in the room. Choose photos, pictures, memories or your favorite books and decorate your fireplace room with them according to your heart's desire.
Design the walls
The smaller the room, the lighter you should choose the wall color in your fireplace room, because dark colors visually reduce the space. The advantage of colored wallpaper is that you will not see the soot and dust deposits so quickly. Also, when choosing wall coverings, it is a good idea to match the walls to the vintage flair of the fireplace.
But if you prefer a more modern look, you can also opt for a glass front. This provides a lot of light and, in the dark season, possibly even a view of a snow-covered winter landscape.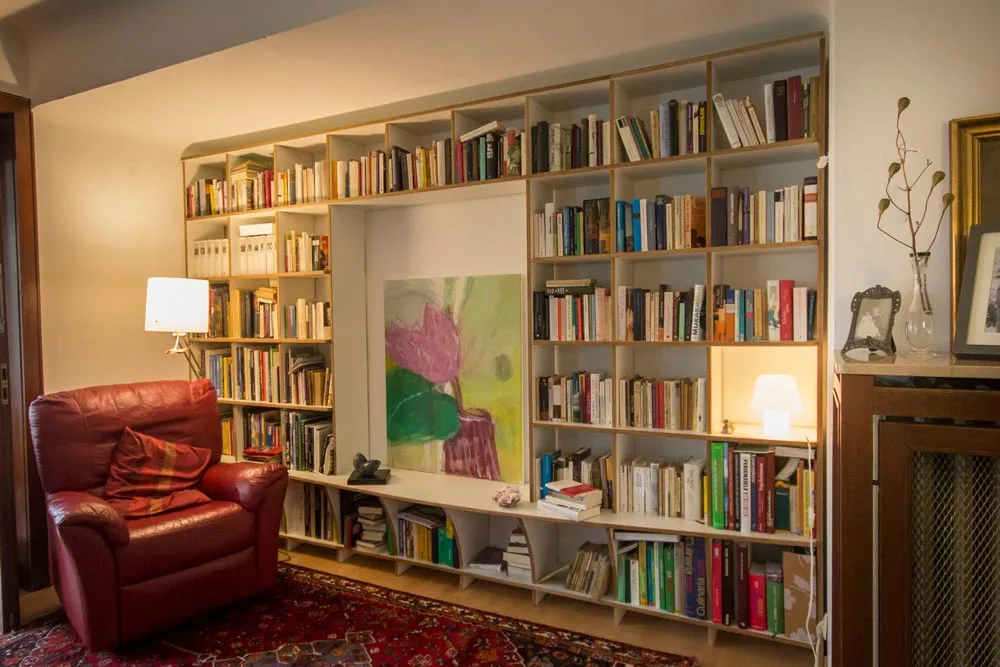 To tickle the last bit of coziness out of your space, you should also design the walls with pictures in fancy frames or photos. Or you can set accents by illuminating the walls with uplighters or floor lamps.
Advantages of a fireplace
Besides the coziness with which the fireplace fills the entire room, it also brings other benefits. The cozy warmth and the cozy crackle of firewood has a calming effect. Besides, it is excellent to relax in front of the fireplace with a hot cocoa, tea or a glass of wine on a wing chair. Almost even this atmosphere has a kind of therapeutic effect.
Also, heating with the fireplace is not more expensive than other heating, so the purchase of a fireplace is worth it for this reason alone.
Different fireplace variations
An important part of the 2018 home trends is the selection of the color of the year, chosen by the color institute Pantone. A lot depends on it - home experts and designers match entire collections to this color.
If you do not have a fireplace at home, there are different alternatives to the traditional fireplace. The market has developed in recent years, so today we benefit from quite a few different variations. The most popular fireplace variations, besides the wood fireplace, are the gas and electric fireplace. However, there are other options that are less known and work with completely different fuels. Some of them serve only decorative purposes, with others you can even heat.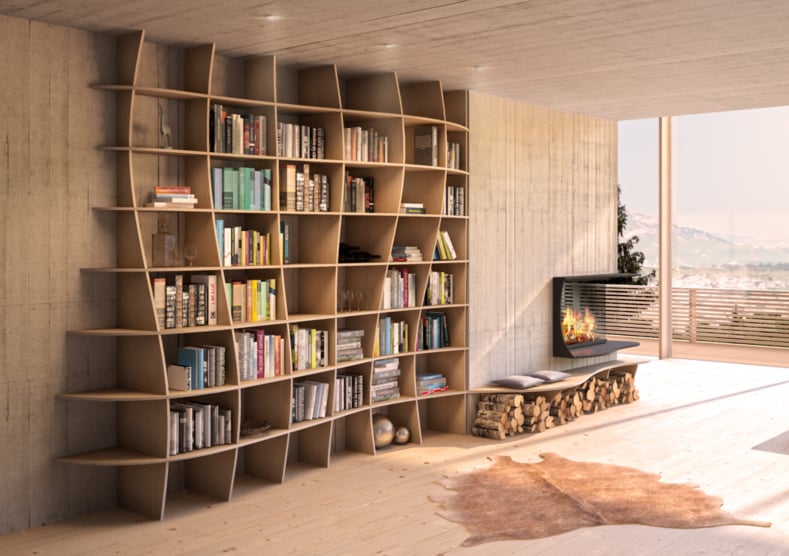 Gas fireplace
Often powered by liquid or natural gas, gas fireplaces not only look beautiful, but also provide an additional source of energy for your fireplace room. In most cases, a natural gas connection is required for a gas fireplace. With more environmental regulations that may be imposed in the future, you are usually well advised with a gas fireplace, as it emits very little particulate matter.
If you want to avoid frequent firewood replenishment, ash disposal, regular cleaning or even soot accumulation, the gas fireplace is a convenient solution. You can control your gas fireplace comfortably with a remote control, but you will still have real flames in front of your eyes. Besides, nowadays the market offers so many options, so you can choose your fireplace individually with color, form and design. What could be a better match than a piece of form.bar furniture that is also individually configured?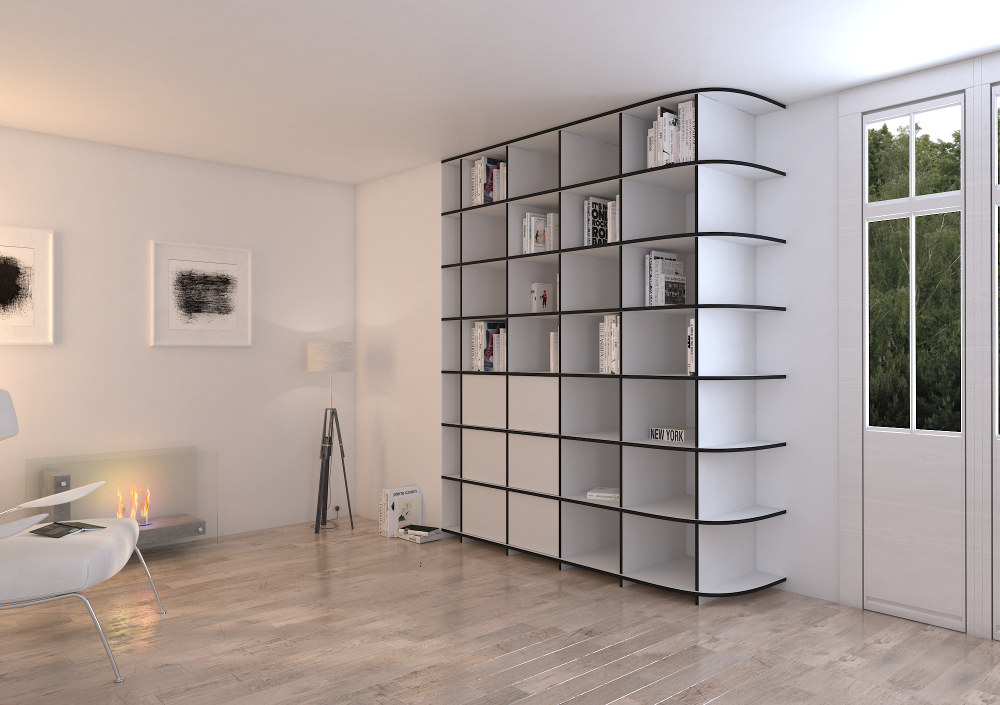 Electric fireplace
Electric fireplace is basically a heater that has a fire for decoration. The fireplace is simply plugged into an electrical outlet. Similar to the gas fireplace, with an electric fireplace you don't have the need to constantly put on new firewood, nor do you have to clean the unit frequently. Also, the soot deposits are eliminated by using an electric fireplace.
However, as already mentioned, there are many other options if you do not want to give up the fireplace romance. For example, small table fireplaces are also offered. This burns ethanol and thus also produces no soot. Due to its size, you can place and transport it flexibly.
7 tips for the perfect interior of your fireplace room
Do not use too much and not too little decoration and accessories.
"Spaces need to evolve." Take your time when setting up and planning.
Integrate your fireplace in the room.
Be careful when choosing the floor. Remember to plan for fire protection.
For large rooms, dark wall colors are suitable.
For every taste there is a suitable fireplace variation.
Make sure your decor and accessories are both color and style coordinated.
Fazit
You see, a fireplace room actually has only advantages. So why wait instead of setting up your own fireplace room now? Make your cold winter days now with lots of warmth and coziness instead of frost and cold. The luxurious feeling and crackling atmosphere will surely fit well in your living room. With the amount of different fireplace variations, you are sure to find the right model for you.
Now set up your fireplace room so that soon your fireplace or living room will also be filled with the warmth, flickering flames and the smell of burning logs.