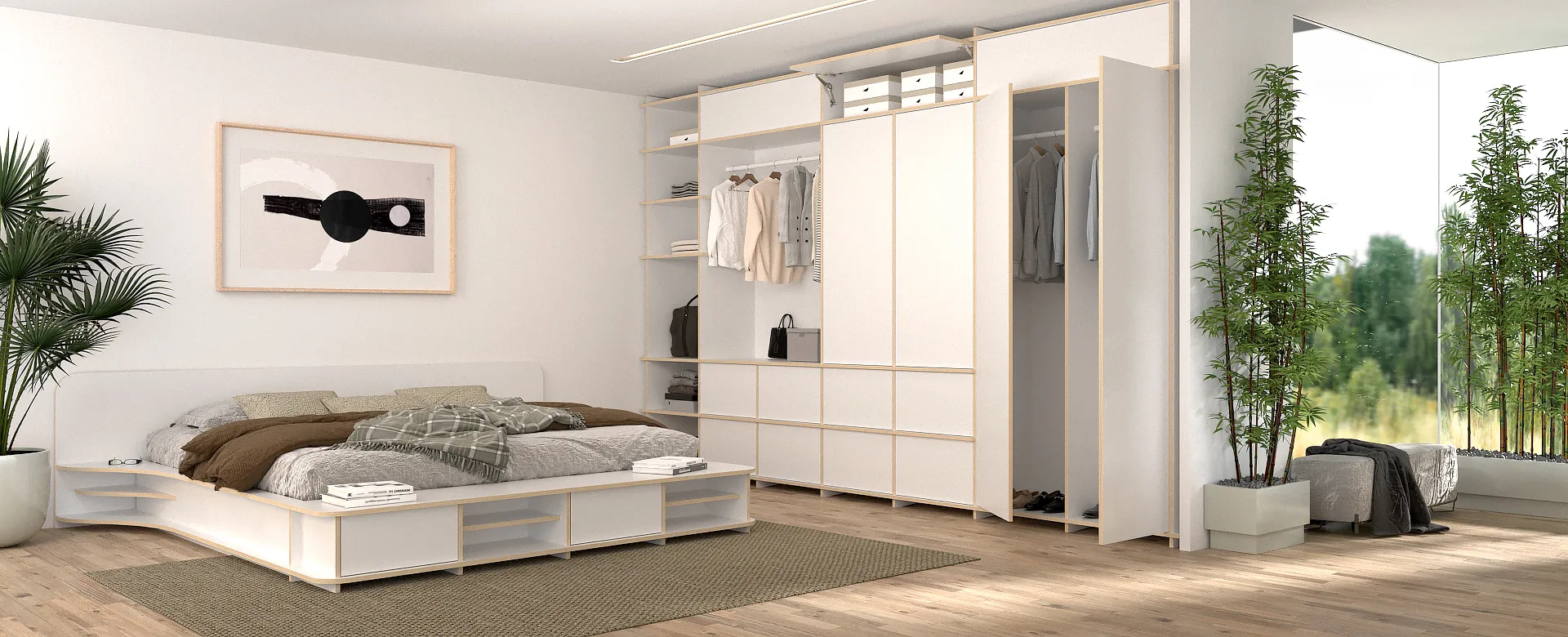 Furnish guest room
Hosting guests requires organization and planning or a permanently perfect setup. Most hosts make sure their house is clean, the refrigerator is well stocked and the laundry is done. Whether it's planned holiday visits or spontaneous overnight stays, being a good host is no easy task.
Suggestions from form.bar
Choose your favorite design and customize it
The virtue hospitality
A good host does not stress or feel uncomfortable when hosting guests. To avoid unnecessary stress and hassle, a smartly prepared guest room is half the battle. Use our tips and find out how you can set up your guest room optimally and receive your guests royally: Because hospitality has to be learned.
Which furniture does the guest room need?
The best way to identify the problems in your guest room is to spend a night in the room yourself. Quickly, all the problems will become tangible and you'll get a clear picture of what's missing or needs improvement. First, let's look at what furniture and decor features the guest room needs.
Furnishings and design of the guest room
When it comes to furnishings and design, there is no hard and fast rule regarding colors and exhibits. The best tip is to allow the room to present the personality of the host and in parallel provide comfort and coziness. However, the display of personal photos should be avoided. It is inappropriate for a guest room. Instead, resort to cityscapes or local art that showcases your city or community.
Popular tones for guest rooms are lighter colors like dove gray and light blue or creams. When in doubt, keep the color palette neutral, simple and avoid bold tones like red, orange, yellow or green. Not everyone likes the same colors, so it's best to keep things neutral. In addition, it is easier to decorate with neutral colors because they are so versatile to combine. Furniture can also be kept light, or used with dark elements for contrast.
The common rule of thumb "Keep It Simple" applies especially to the design of a cozy guest room. In a room where you want the guest to feel at home, less is more. Don't overload the room with personal knickknacks and poorly placed furniture. Instead, try to provide only the necessary interior that has an independent stylistic flair - because a neutral room is everyone's cup of tea.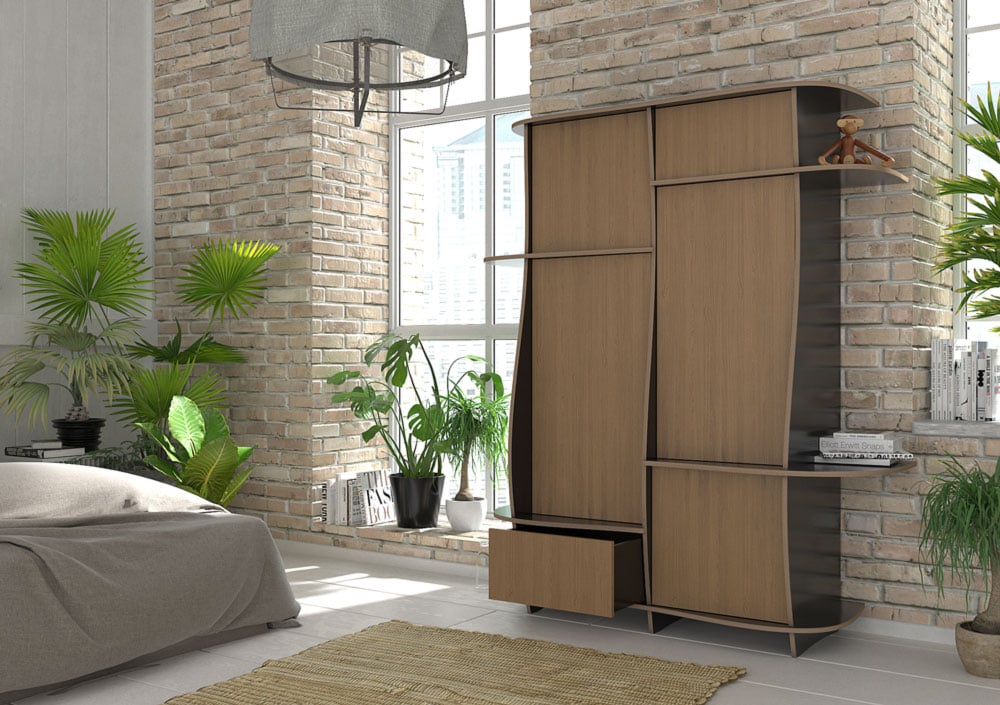 Closet to organize clothes and luggage
Unless your guests are staying long-term, most visitors live out of their suitcases. However, it's still a good plan to have some storage space available if they prefer to put clothes in a commode or hang a suit. If there is a built-in cabinet, leave the doors open, as many guests will not open a closed door, even if it is in a guest room. One tip is to set up collapsible luggage racks like you would find in a hotel. This way the guest does not feel forced to keep their luggage on the floor.
Even a small carry-on requires space to stay out of the way. Make sure carry-on luggage doesn't get in the way and still remains accessible, especially if you don't have room for a commode or cabinet. Otherwise, a stylish commode and two nightstands is a good start to providing your guests with storage space for clothes and luggage.
A few hangers - 2 or 3 per person - and a few drawers in a commode should be more than enough. It's only a small investment, but this extra will make your guest feel welcome and not force them to live out of a suitcase. A woven basket for used towels and linens also ups the hospitality factor.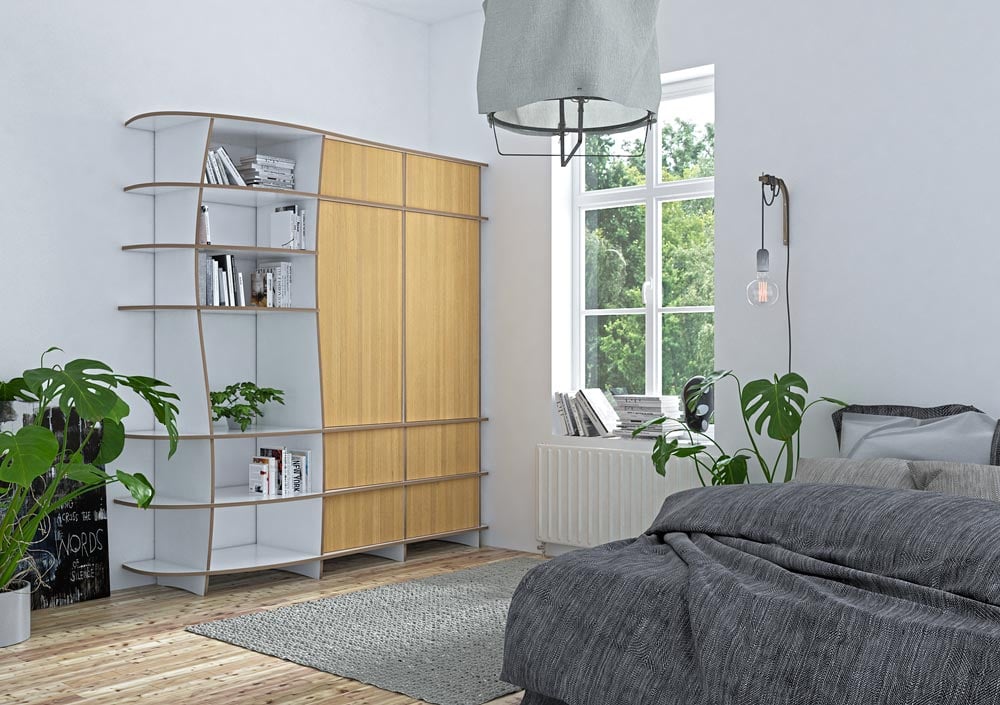 Space to unpack and create a personal space
After they drag their suitcase into your home, your guests will appreciate finding a place to put their luggage and unpack. Bedside tables, chairs, and windowsills alone won't cut it when it comes to accommodating guests' personal clothing and belongings. Therefore, place a bench or a pair of stools at the foot of the bed. This is also an ideal place to take off shoes or get ready for the day. A padded bench at the foot of the bed doubles as a seat and a place to put bags and suitcases. Some stools often provide additional storage space.
Give your guests a place to relax and unwind with a cozy reading nook or desk. Add a bookshelf with old and new books so guests have something to read. Mount an area for treats like coffee, tea and snacks. Ultimately, it's these small finishing elements for a Modern Living that really make a space homey for visitors.
Guests need not only space for their belongings, but also a functional space that is both convenient and comfortable to use. Dressing areas are an effective solution that consist of a chair, counter or desk, and vanity mirror. Get creative by mixing and matching styles based on the look of the space. Keep in mind to keep walkways as open as possible.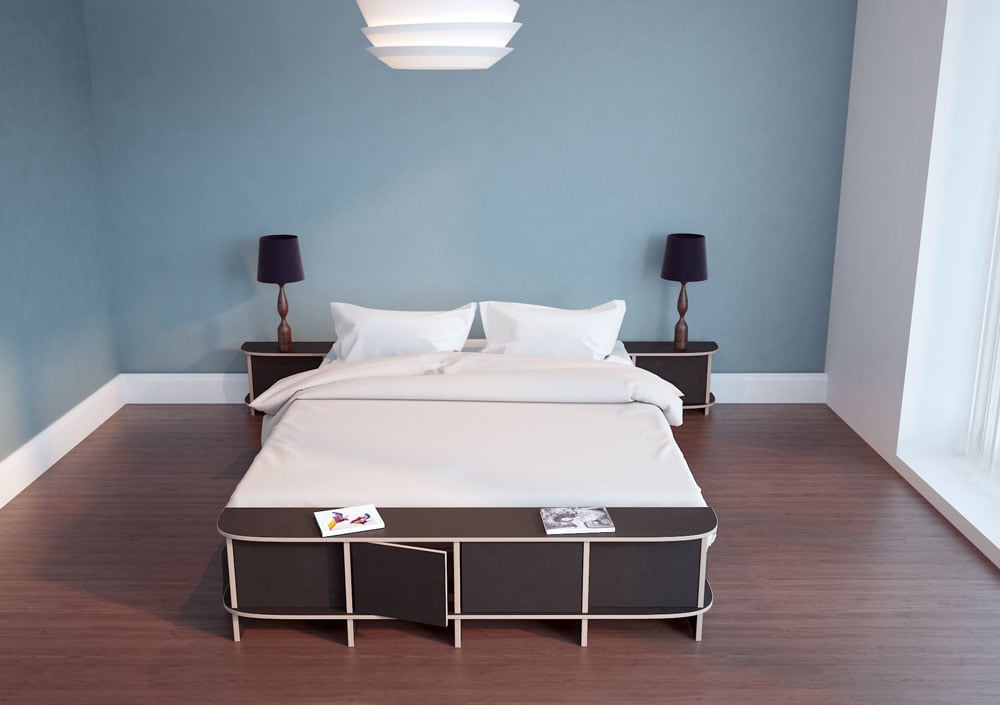 A nightstand and the right lighting
Everyone likes to have some things near him when he sleeps: A glass of water, a book or their glasses. Guests don't want to leave their things on the floor, so a nightstand is an inexpensive way to make sure they are easily accessible.
A lamp is another important addition to the nightstand. A lamp with a three-level bulb provides everything a guest needs: Soothing night light for reading and a brighter light for getting dressed in the morning.
Don't forget to think about lighting for the rest of your guest room, too. Wall lamps above a commode or on the wall opposite the bed can create a warm ambience, while a floor lamp by a window can provide the necessary luminosity to read a book, for example.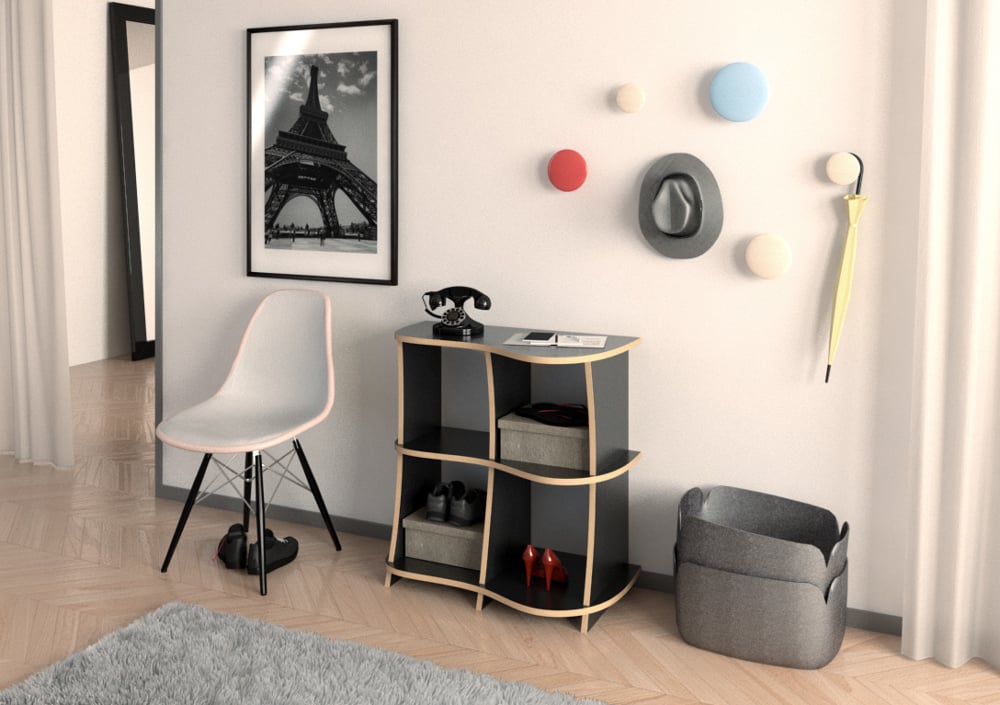 A place for electronics and entertainment
Often guests have different sleep schedules, especially if they are arriving from a different time zone. Some guests feel uncomfortable wandering around your home after bedtime. Therefore, it's always a nice gesture to offer entertainment and amenities in their room if the option is available. Sideboards are especially useful for this purpose as electronics and entertainment furniture.
If your room has a TV, it's helpful to create and include a small guide as well as a program guide. This should include things like networks, news and sports channels, special interest channels, movie channels, or the Netflix login information. Test the remote in advance to make sure it works and doesn't require batteries.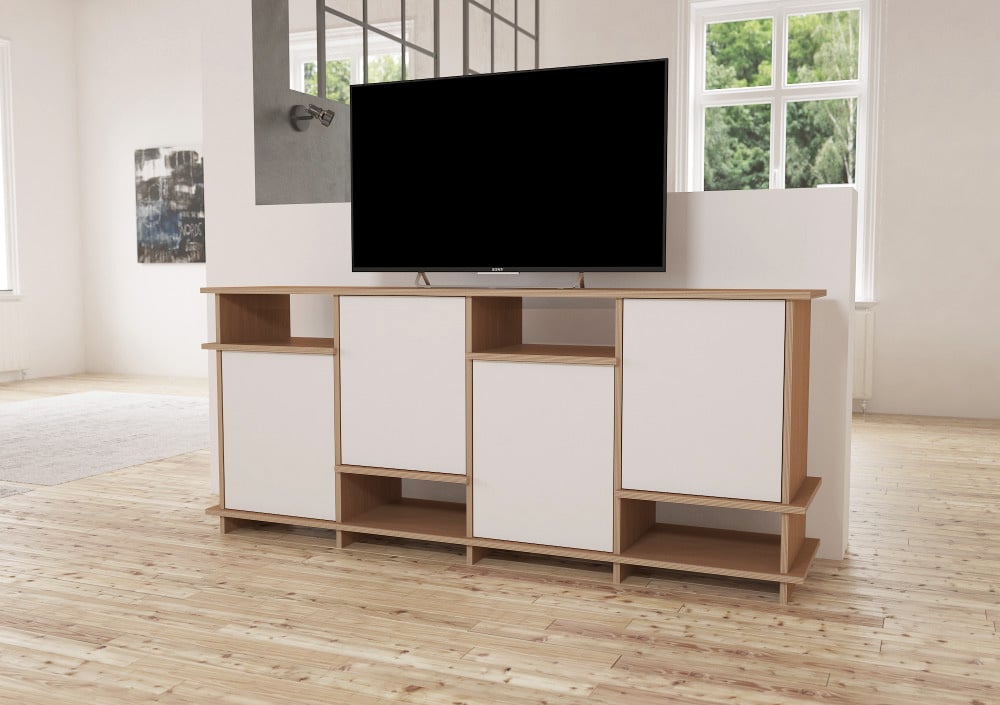 Furnish guest room with little space
Use the space properly
Set furniture made to measure
If you're looking for ideas for spare rooms, it can be helpful to find a way to separate the space you have. A low piece of furniture and a well-placed rug can separate the office area from the guest room area. You can also use a curtain in the middle of the room to divide the two spaces. Bookshelves provide a visual and a spatial separation of the room.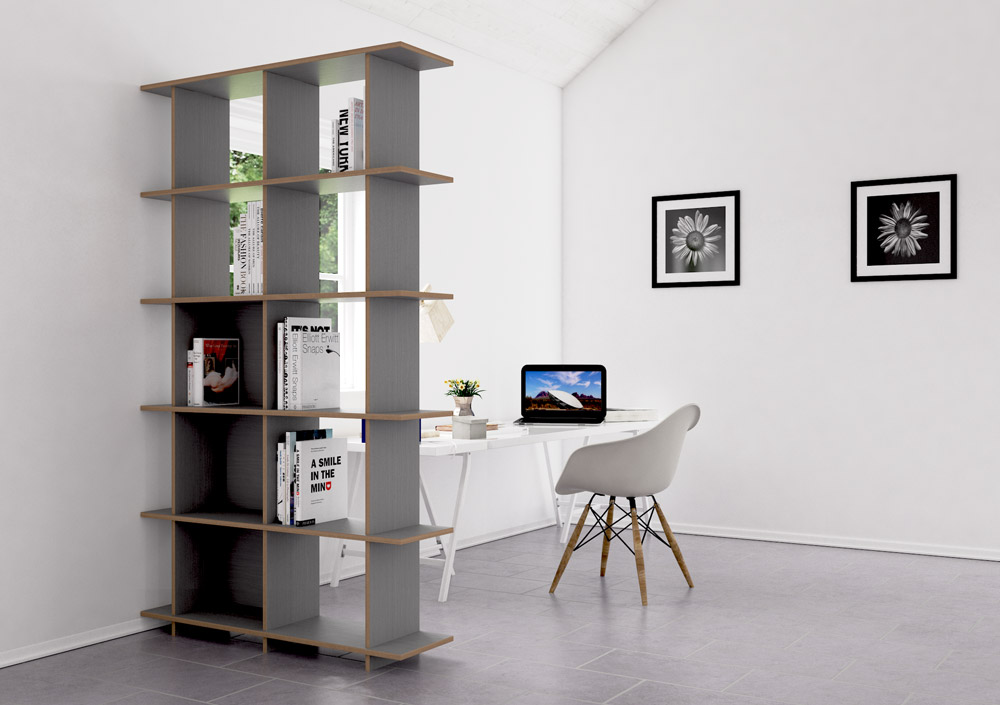 Find organizational solutions
If you want to double up on storage, it helps to be creative and sketch out the space. Think through the use of large shelves, baskets, storage boxes that slide under beds, additional closet shelving, sideboards or modular cabinets. Our 3D configurator will help you design your interior plans smartly and with a perfect fit.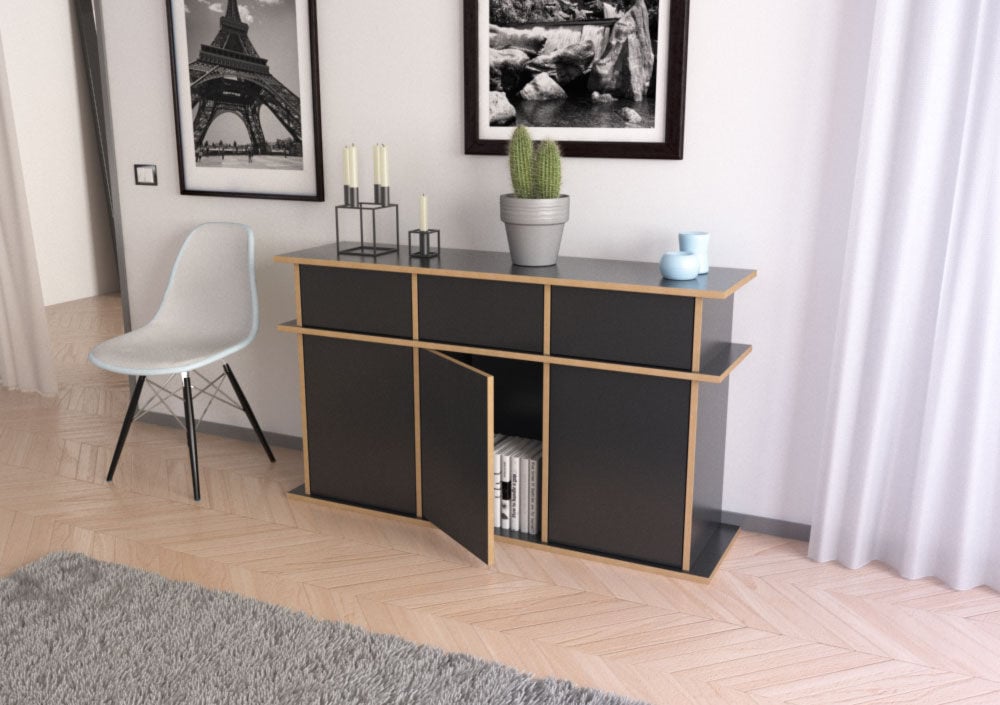 Also consider the possibilities of folding work desks, floating shelves, or corner shelves that make the most of every available corner and help keep the space organized and uncluttered. When it comes to guest room/home office combinations, the motto is: less is more. Divide the cleared storage space into two areas: Yours and your guests'. Always keep some of the storage space free for your guests to use comfortably. That way, you won't be forced to move your stuff every time you receive visitors.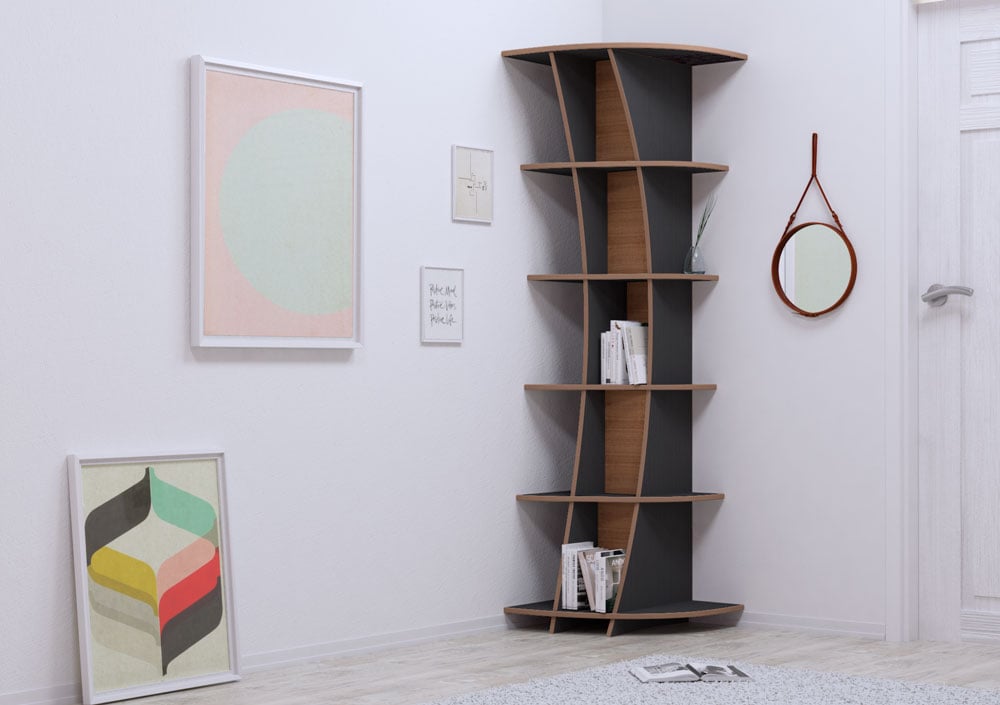 Four multifunctional furniture ideas with little space
Folding or reversible table can be the ideal option for small spaces. When not in use, you simply fold the flexible elements, which is very space-saving. Another compact solution is tray tables with folding legs. They can be wonderfully used as multipurpose side tables. Your guests can also use this furniture as a breakfast table.
Nesting tables or set tables are highly underrated in the multifunctional furniture department. When not in use, they can be stacked together and stored compactly. Pull them out only partially for a modern-looking coffee table, or use them as nightstands for an asymmetrical look.
Folding step ladders are stylish and multifunctional. Whether you need a small step ladder to reach the top of a bookshelf, need extra seating and storage for visitors, or want to build a series of mini shelves to showcase your favorite items, fold up step ladders are straightforward and affordable storage solutions.
We plan your guest room for you
Let our professional team of designers design your cozy guest room for you.
To the design service
Find the right bed
How cozy do you want it to be?
Real bed or folding couch?
If you want to arrange a guest room, you can not miss a place to sleep. Beds are difficult to choose for guests, because there are so many different types of sleepers and each user has different needs. If you don't have a specific guest room and the area where guests stay is also another room, a sleeper sofa, crib or futon can easily be used. In fact, modern futons and sofa beds can be quite comfortable for short-term use.
As you make your bed, so you lie
With enough space, a king size bed is a spacious option that evokes a hotel feeling. This includes all beds with a minimum width of 190 cm and a minimum length of 200 cm. For this, take a look at our Idra series. With a proud king-size size of 234 x 38 x 275 cm, the organic structure of the bed system ensures good air circulation under the mattress. In addition, Idra can be combined with all standard slatted frames and mattresses.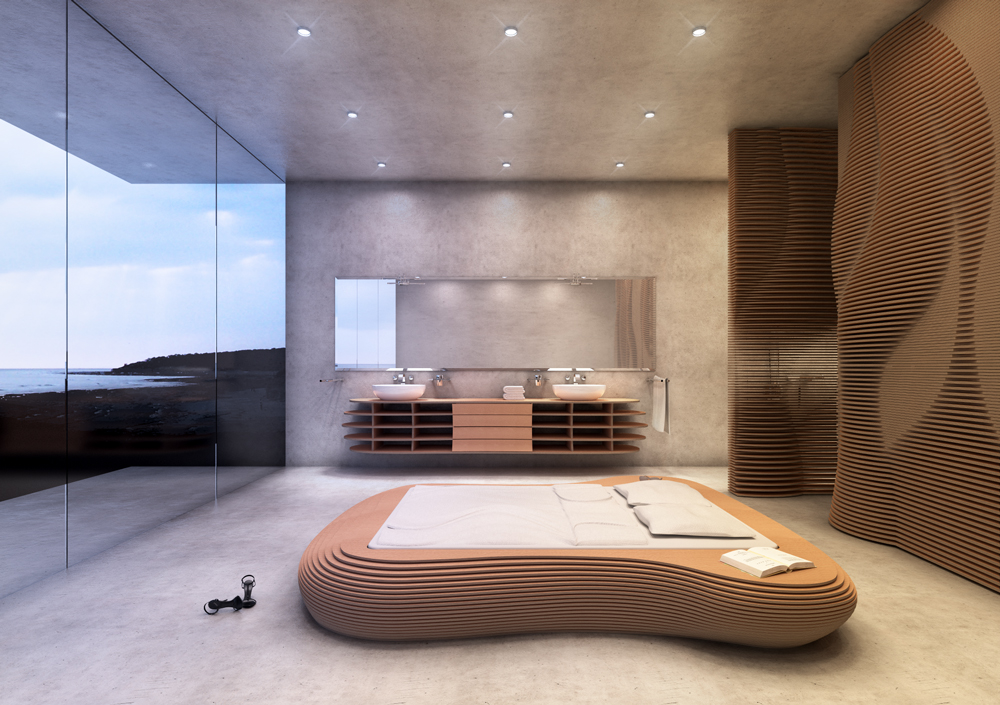 Multifunctional beds
Murphy beds greatly facilitate the design of a versatile guest room and give the room a secondary purpose. Modern Murphy beds are easy to install and come in a variety of styles and finishes. Many of them come with custom built-in storage units and shelves that add functionality to the guest room.
Our guest rooms are often used in a variety of ways. So don't be afraid to turn the room into a multifunctional area by adding shoe storage or a desk. A day bed is perfect as a single bed if you don't have much space. Daybeds can be used as a sofa and a bed at the same time, which gives you the advantage of using it as a reading or sitting area during the day.
Good mattresses do not have to be expensive
Make sure you have a good mattress. Too often people use their old mattress as a guest room mattress. This sometimes results in guest room mattresses that are decades old and saggy, which can lead to restless sleep. Nowadays, good and cheap mattresses are no longer a rarity. If the room is not used very often, it is not worth it, spending a small fortune on special orthopedic mattress. Instead, check the popular online mattress stores. Many inexpensive models are made of foam. They provide sufficient support and help limit the movement of the bed partner.
Furnish the guest bathroom
Privacy & feel good factor
Living room and bedroom trends 2020
Furnishing a guest room goes hand in hand with organizing the guest bathroom. If your guest room has an attached bathroom, it's an ideal place to store guest towels and toiletries. If the bathroom is in the hallway but exclusive to guests, let them know it's their own bathroom during their stay and they're welcome to treat it as their own. If you have a smaller home where everyone shares a bathroom, the following tips will help make them feel comfortable to each user:
Make sure the bathroom is well stocked so your guest doesn't have to worry about it. Clean the bathroom thoroughly before guests arrive and remove items from the counter that are not for everyone. Empty the sanitary bin before arrival and place a can of air freshener next to the toilet.
Have a new and packaged toothbrush with floss and a travel-size bottle of toothpaste ready at the sink. In addition, have a small bowl of shampoo and conditioner, also in travel size, ready.
Keep an eye on the common amenities. Keep a few extra rolls of toilet paper, a hair dryer and a box of tissues visible. Many guests don't feel comfortable looking for or asking for these items, but are relieved when they see them and can easily access them.
If budget (and space) allows, organize a folding ironing board and iron just for guests.
Need hygiene
What should also never be missing is to leave a set of clean bath towels, hand towels and face towels neatly folded in the guest room. This way, the guest will know which towels to use and will not feel uncomfortable having to ask for a guest towel in case they forgot to bring their own. Not necessary, but thoughtful is to provide a guest robe and a pair of slippers.
Create a small spa retreat. A few small spa items will help guests feel pampered. A small basket of sponges, nail files, cotton balls and extra hand lotions makes an unexpected and lasting impression. These are just a few examples of items that people commonly need and often forget to bring themselves.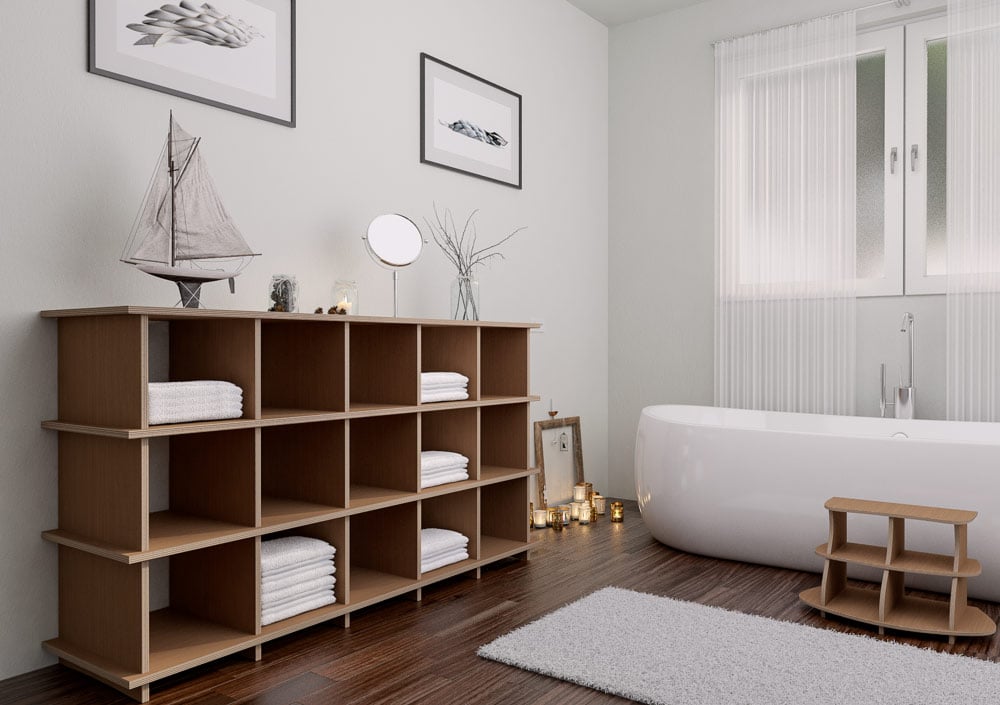 Deco tips for the perfect guest room
Decorating your guest room doesn't have to be elaborate. Sometimes it's the little touches that really round out the ambiance of the guest room. Not only does this add comfort, but it also makes the guest feel appreciated. Here are some tips for the perfect guest room.
Create a welcome card and display magazines
Of course, any good host will warmly welcome his guest, offer a tour and show him the common things. A smart gesture is to create a welcome card for guests that can be left visible in the guest room and used as a helpful summary. The welcome note can include anything you deem necessary. Here are some suggestions:
Start with a brief greeting and list the most important phone numbers.
Point out where extra blankets, pillows or other amenities are stored.
Include a map of the area and a list of interesting stores, tourist attractions or restaurants.
Enter the Wi-Fi password for your home and the required alarm code.
For a nice welcome, display magazines and city guides to point out places you want your friends or family to see. Make sure the magazines are no more than a year old. If children are visiting, put out age-appropriate magazines.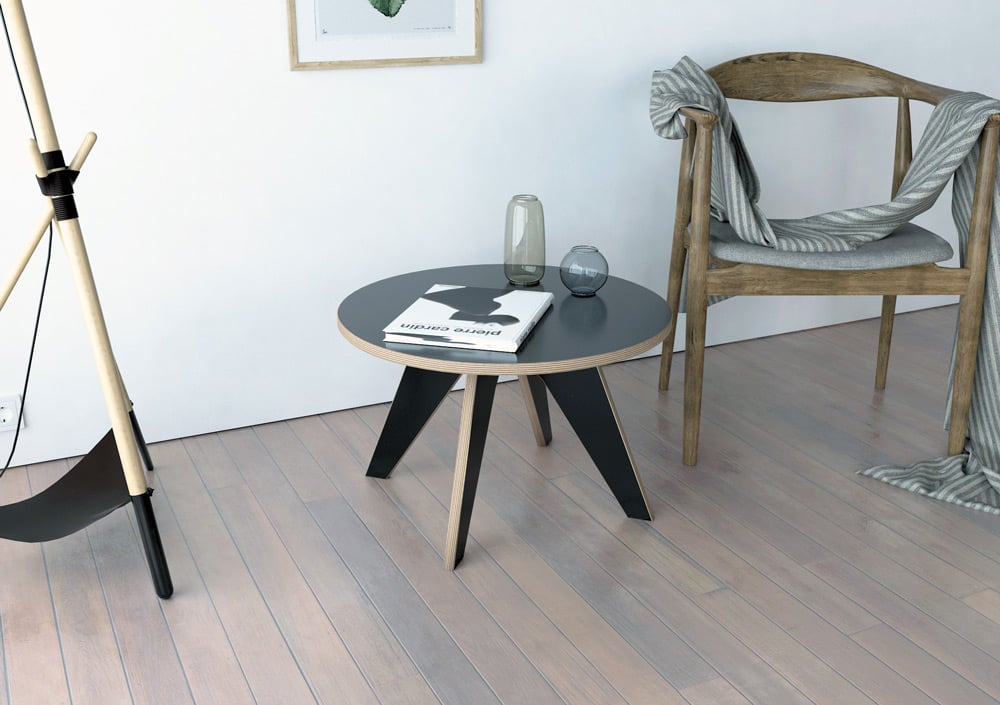 Snack corner and supply
Offer your guests the opportunity to drink something in the middle of the night. Water bottles on the nightstand are also visually appealing, but if tap water tastes good, a clean drinking glass works just as well. Just as with drinks, preparing a basket of snacks is a sign of attention. This is always a nice treat and can include a variety of items such as pretzels, chocolate or fresh fruit. Before their arrival, it is worth asking guests about their preferences to avoid potential allergies.
Accessible sockets, baskets and mirrors
Almost everyone has a smart phone and other devices that they need to charge overnight. Give your guests an easy way to access outlets without first having to move furniture or crawl around on their hands and knees to find the connection. Extension cords with universal outlets on both sides of the bed are always handy.
Give your guests the hotel treatment no matter the season by accessorizing the guest room with a basket of extra linens, pillows and blankets. Think cozy cashmere throws, cable knit blankets and fluffy pillows for winter or linen and cotton throws for the warmer seasons.
Mirrors are one of the design secrets par excellence, as their reflective surface makes the room look brighter and bigger. A full-length mirror is always a good choice. This is especially necessary if the guest room does not have a bathroom where guests can examine themselves.
Bedding and pillows
For bedding, quilts and towels, it is recommended to go for light and neutral colors. Avoid homemade quilts and stick to hotel-style bedding and towels that suit every taste.
Make sure the sheets are washed and the bed is made at most a couple of days before visitors arrive to maintain a pleasant feeling of freshness. If the bedding looks noticeably worn, or has stains that won't come out, be sure to invest in new sheets. White colors are ideal for a chic hotel feel, although you can definitely play around with colors if you have a specific look in mind.
When it comes to pillows, the rule is that there should be two pillows for use on the bed. However, you can add extra pillows in a commode drawer or a shelf in the closet, as well as a warmer comforter and an extra set of sheets. When choosing bedding and pillows, try to find ones that are soft and comfortable. Since some people prefer a firmer pillow while others need a softer one, it is recommended to have both options to choose from. Avoid pillows or comforters filled with animal feathers, as some people are allergic.
Whether you decorate the foot of the bed with an extra cozy comforter or stack blankets in a storage bin in the corner, make sure guests always have plenty of warmth available. Plus, there's something about a well-finished textile stack that feels cozy and inviting.
Curtain color with amazing effect
If there is a large window with natural light, add blackout curtains to avoid direct sunlight. If there is not much natural light, it helps to use multiple lighting options with ceiling lights, wall sconces, floor lamps and table lamps. Ideally, the guest should have control over how bright or dark the room should be.
A significant change can be made with long curtains. White curtains, for example, soften the light and make the guest room very appealing. When done right, the curtains make an otherwise small room appear larger.
Fazit
The most important role of a host is to ensure that the guest feels comfortable. This succeeds regardless of whether there is a lot or little space in the guest room. Furnishing a guest room means considering a number of points. In addition to factors such as furniture and sleeping space, lighting and catering for guests play an important role. Coziness and functionality are high on the priority list. With our 3D configurator you can customize your interior exactly to your needs. We are happy to support you in creating your perfect guest room.