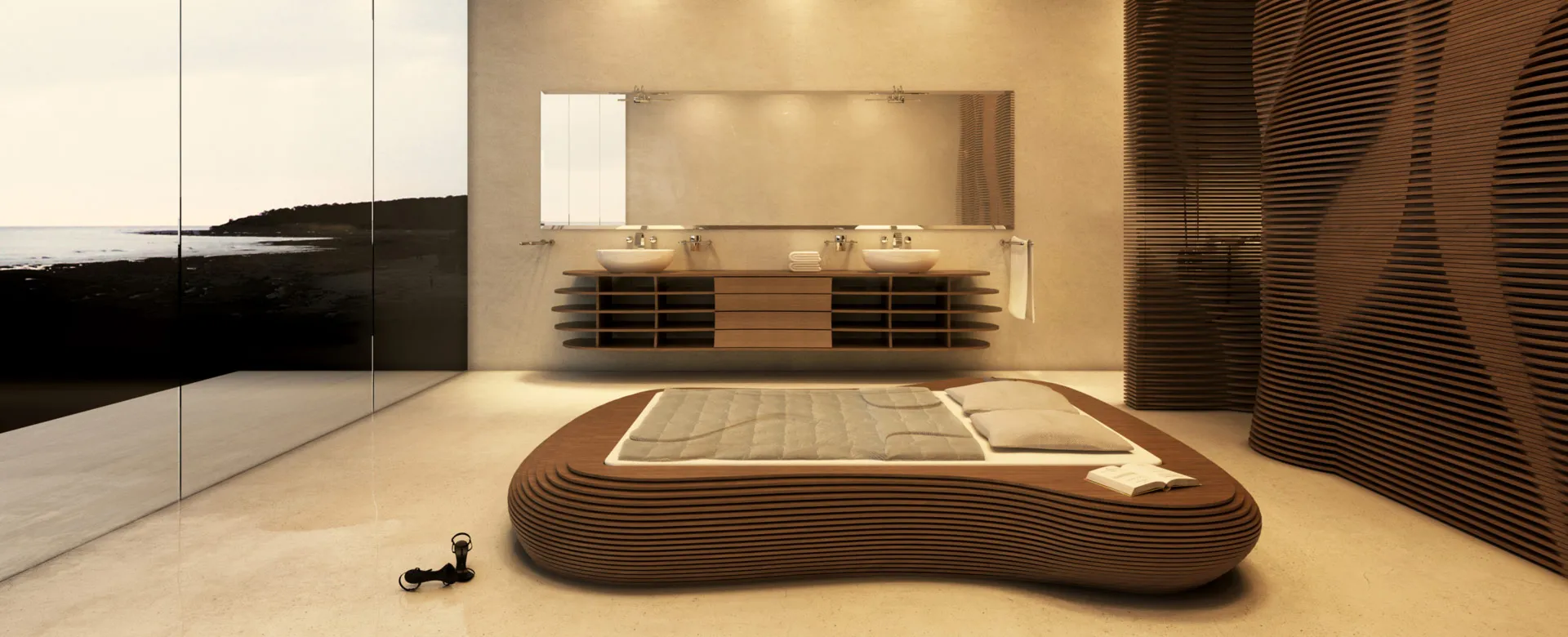 The perfect dressing room
exactly measured and individually designed
Honestly - who doesn't dream of a walk-in closet or even a separate dressing room? It is a must-have for everyone who loves clothes or shopping and spends a lot of time in front of the closet. The way you dress, you can furnish yourself with form.bar.
A good dressing room makes your life easier
The dressing room can be a great added value in your household. Here you can stylishly store and present all your clothes, shoes and accessories such as bags. A dressing room not only offers you a lot of space and practical, but also a perfect overview of all your treasures. There are many different ways to plan a dressing room - at form.bar you can configure it. However, the furnishing is strongly dependent on the spatial conditions, since not every apartment has a dressing room. Therefore, a custom-made configuration makes sense. As an alternative to a dressing room, a walk-in closet under a pitched roof or a separate area in the bedroom are suitable, for example. form.bar provides you with valuable tips and useful ideas for your new dressing room. We help you to choose the right furniture, show you some fancy dressing room furniture from our form.bar online store, show you the different types of furniture in a small or large room and familiarize you with different styles.
Adaptation to the spatial conditions
With the free-form configurator of form.bar everything is possible
Customized room solutions
Especially apartments in popular big city districts are usually very small. However, it is quite possible to furnish a very small dressing room. However, the dressing room is the be-all and end-all here. Don't give away space by sloping roofs or niches, but convert it into a walk-in closet. There is also the possibility to divide a larger room into two smaller areas and thus get a separate dressing area.
However, if you have enough space, you can also configure a large open dressing room.
Walk-in closet under a pitched roof
You want to furnish a dressing room with a sloping roof? No problem! Because orphaned niches, wall projections or unused sloping walls are real storage space wonders! However, due to the special dimensions it is difficult to find suitable furniture for your dressing room with sloping roof in the store. We at form.bar offer you flexible shelving systemsthat adapt to every walk-in closet with a sloping roof with millimeter precision. Simply enter your desired dimensions and then configure them according to form and color. This way you can make optimal use of the available space in your dressing room right up to the ceiling and create a lot of storage space even in the tightest of spaces, so that your clothes and shoes can be stored without any problems.
Large open dressing room
A large open dressing room has of course the advantage that there is more space available and you have different design possibilities. In contrast to a walk-in closet, a dressing room is much more spacious, clearer and above all brighter. You also have the possibility to put an additional dressing table or jewelry table. You can also choose a cosy corner with a small sofa, armchair or a comfortable bench. A nice big mirror makes the overall picture perfect in the end. Treat yourself to a little luxury, which in the form of a dressing room is not only beautiful to look at, but also has a practical use. You can find the necessary furniture and inspiration here at form.bar!
As a separate area within a room
You have a big bedroom of which you can easily give away a piece? With a room divider you have the possibility to create a walk-in closet. So you have bedroom and dressing area in one. Our room dividers from form.bar fit exactly into your living room and allow you to use the space optimally. You have the possibility to design the shelf compartments according to form and size as you like it best. You can also equip your room divider with doors so that your things are not visible for everyone. Open compartments allow light to enter the partitioned area and the room does not lose its spaciousness.
First planning, then cladding
Think about your dressing room in advance so that you can really enjoy it later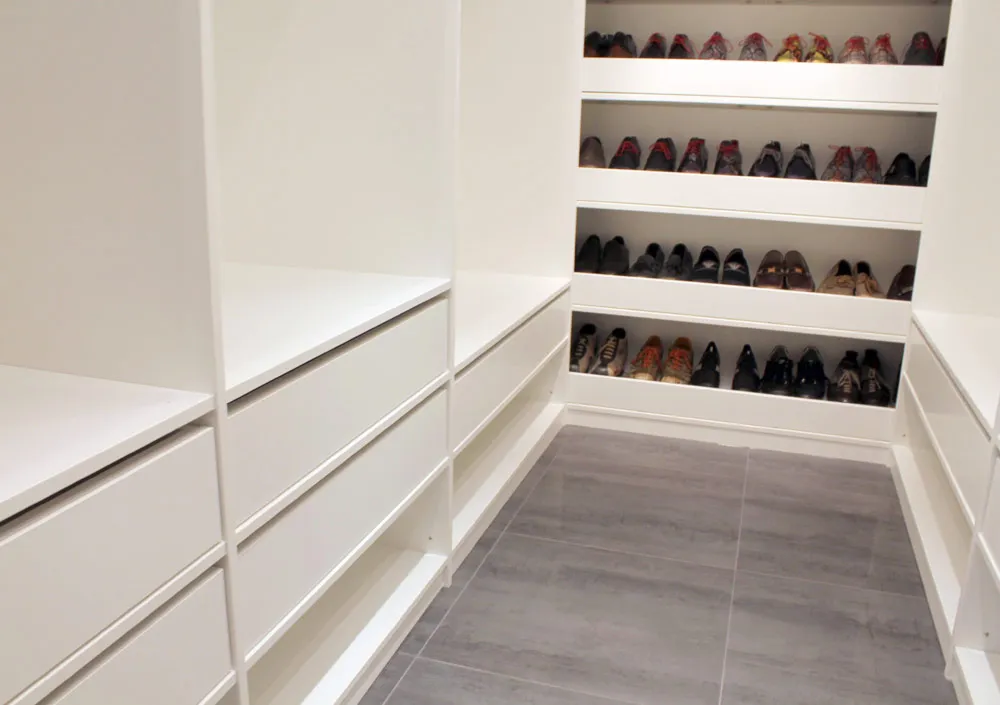 Selection of furniture
The best thing to do before you buy is to make a plan of how you would like your new dressing room or walk-in closet to look like and what to store. If you have chosen a walk-in closet, shelves are an advantage. Since open fronts look unsteady, closed wardrobe fronts are the better choice for smaller rooms. Of course you also have the possibility to cover your shelves with a curtain or install a sliding door. These are not only practical, but also space-saving. If you prefer to furnish a whole dressing room, you have the possibility to combine several pieces of furniture in one room. How about a large wardrobe for your clothes and an additional commode or sideboard for scarves, hats or other accessories? Of course you can also integrate a shoe cabinet into the room or plan a noble dressing table. Another option would be to completely furnish the room with open shelf systems.
Closets in the dressing room
If the dressing room can be arranged in a separate room, there are two different possibilities. Choose either one large closet or two smaller ones. Closets for dressing rooms with sliding doors are favorable because they do not have bulky doors and are therefore more space-saving. Another option are doors with mirror fronts. These make the room look bigger and you do not need to buy a separate mirror. If you can't put up closets, adjustable open wall shelves, dressing room systems or wall hooks are a good alternative. Visually coordinated, they easily create a chic walk-in closet. In an orphaned niche you can install clothes rails or corner shelves. These can be designed individually according to your needs. Of course you can also build your own shelves for your dressing room.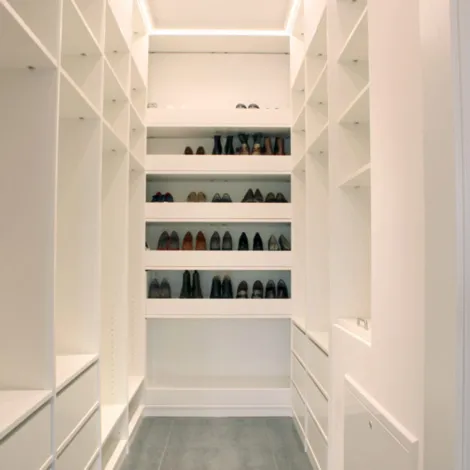 Shelves in walk-in closets
You want to design your dressing room and are looking for a practical shelving system for dressing rooms? Then you are in the right place. We offer you various designer shelves that can be customized to your needs and make your room unique with their special form. Depending on the size of the room, it is important to use every inch of the dressing room to create as much storage space as possible, for example with extra high shelves.
Create your personal wall shelf with our award-winning furniture configurator. Whether straight or curved, with or without doors, free-standing or as a corner shelf or niche shelf, with us you can let your fantasies run wild! You decide, comfortably from home, which shelf design you like. Width, height and depth can of course be freely determined.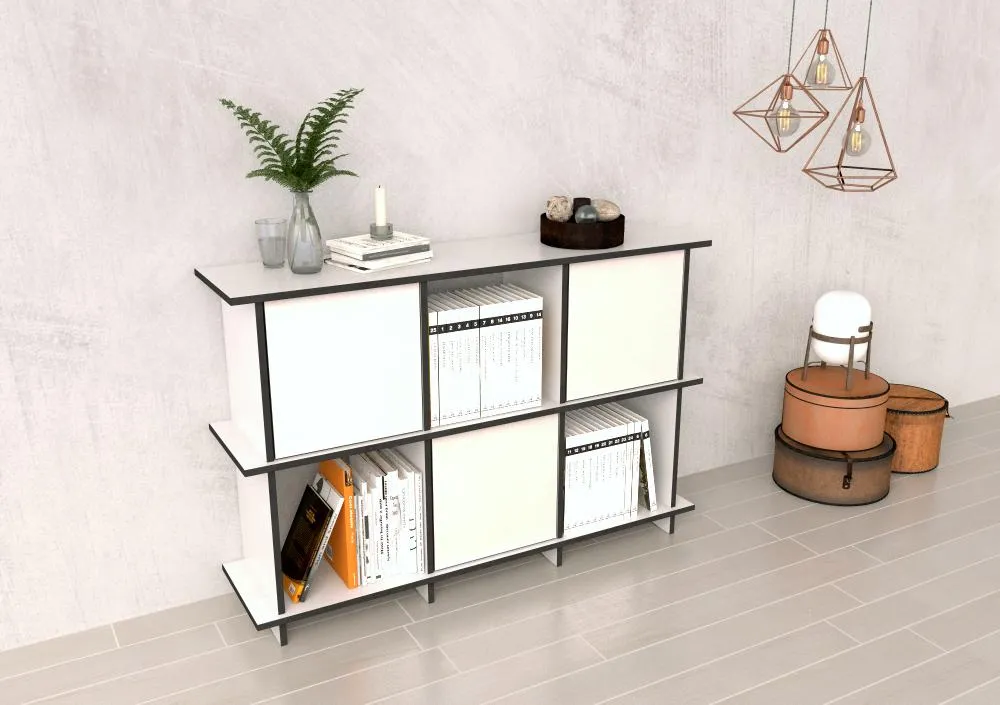 Sideboards in the dressing room
If you want to furnish your dressing room, you should make the best use of every centimeter. Under the window you can place a nice sideboard to store your jewelry or underwear. This way you still have enough light in your dressing room and you don't waste any space. Of course you can also place your sideboard under a clothes rail or freely in the room. Our sideboards adapt to your wall with millimeter precision and can easily be designed according to your measurements, form and color with our furniture configurator.
Create your personal wall shelf with our award-winning furniture configurator. Whether straight or curved, with or without doors, free-standing or as a corner shelf or niche shelf, with us you can let your fantasies run wild! You decide, comfortably from home, which shelf design you like. Width, height and depth can of course be freely determined.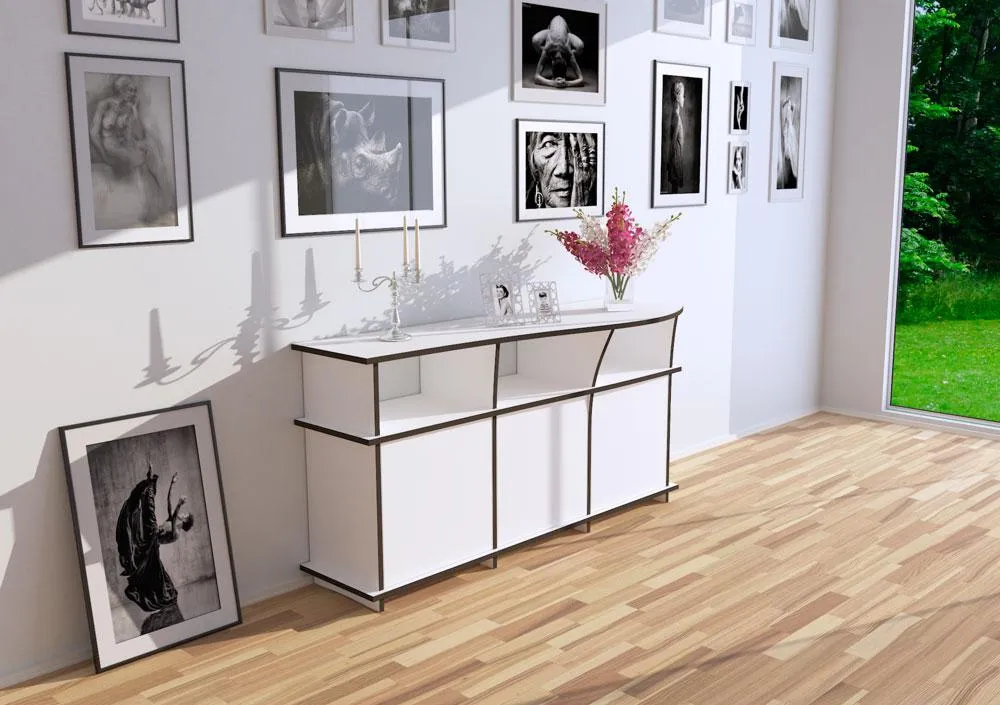 Commodes in the dressing room
The commode is a good alternative to the sideboard. A commode usually has drawers, compartments or doors and, unlike the sideboard, does not have open shelves. In addition, it is usually higher and also narrower than the sideboard. The commode is perfect for storing jewelry, ties, socks or underwear. So your things are optimally stowed away and protected from dust. You can also use the commode as a storage space for your make-up or accessories. A beautiful mirror above the dresser and your make-up table is ready. Height, width and form can be easily adjusted to your needs with our configurator!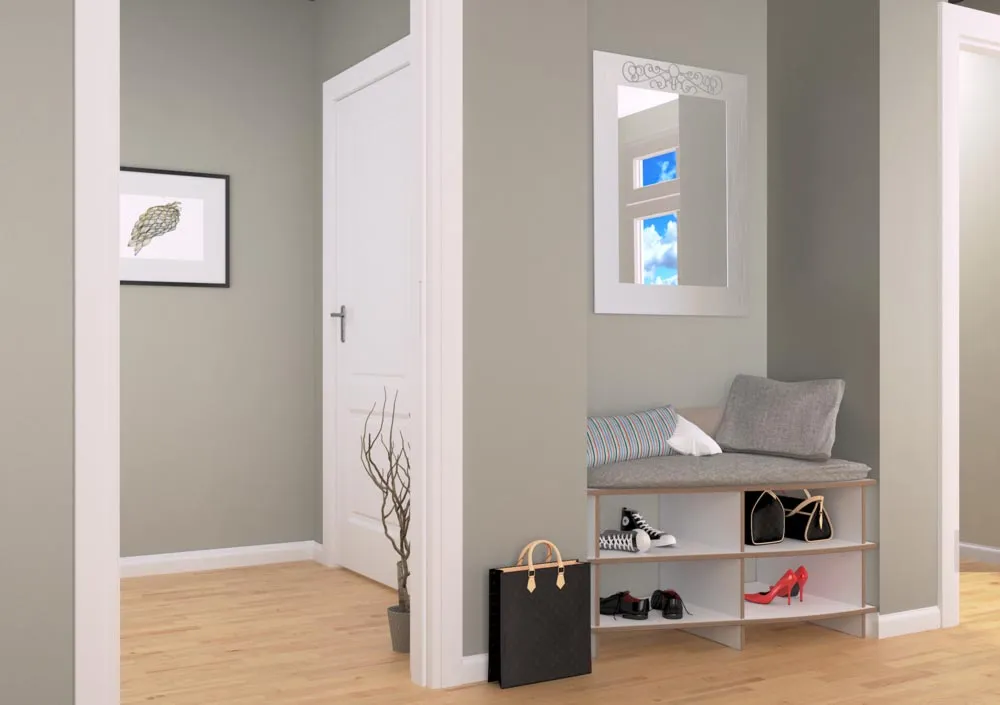 Shoe cabinets in walk-in closets
If you have a preference for shoes, they should perhaps be the center of the dressing room. Narrow shoe shelves are an optimal solution. Depending on how much space you have available, you can configure your shoe shelf in height or width. You also have the possibility to determine the size of the compartments yourself, so that your high heels and knee boots also fit in without problems. Another possibility are practical shoe benches made to measure. These have the advantage that they offer storage space for your shoes and at the same time provide seating possibilities. Whether small or large, colorful or monochrome, with or without doors, you alone decide what you like!
We plan your dressing room for you
Have your dressing room configured by our professional design team.
To the Design Service
Equipment for your dressing room
From lamps and mirrors to practical compartment inserts
Lighting and pleasant light
Light and equipment are of great importance in a dressing room. After all, you want to appear in the best possible light when you try them on. However, it is up to you to choose the right lighting. Whether it's a recessed spotlight, a modern ceiling light or a magnificent chandelier that adds style and elegance. Another possibility are clip-on or clamp lights. These are a good addition for the place where straight light is missing.
Mirrors in walk-in closets
A large mirror is a must-have in a walk-in closet. In front of the mirror you can try out your different outfits and check your closet before going out. If you have decided on a solution with sliding doors, you have the possibility to buy them in the form of mirror doors. If you want to use your walk-in closet for styling and make-up, we recommend a dressing table with an integrated make-up mirror. These are not only practical, but also give your dressing area a special look. Another idea is a mirror with integrated lighting.
Ceiling lights and LEDs in dressing rooms
Basically, ceiling lights provide good and even illumination throughout the room. For comfortable light, you should also get a floor lamp. But there is also the possibility to use halogen or LED spots. You can adjust and align these individual spots as required. They make it possible to illuminate pictures or shoes. In addition, LED lamps are particularly energy-saving.
Clamp-on and clip-on lamps in walk-in closets
Another possibility are clip-on or clamp lights. These are easy to install in the room and are a good addition to the place where there is a lack of light. These are available in different versions - whether battery operated, with rechargeable battery or power cable.
Cosy extras to feel good
Decorate your dressing room
No matter how your dressing room is arranged - comfortable details should not be missing! Accessories that you can use in your dressing room are for example beautiful baskets or boxes for jewelry or scarves. Also a dress-up doll is a great decoration idea, because it can set your most beautiful outfit in scene. In addition, an armchair, a stool or a comfortable bench are practical furniture for your dressing room. Here you can sit down and think about which outfit you want to wear. Of course you can also equip your dressing room with fashion magazines that inspire you and help you find the right outfit. Open shelves or glass cabinets are the perfect place for beautiful accessories and decoration. You can also present your make-up utensils or perfume. A beautiful mirror, a bouquet of flowers and a fluffy carpet will make your dressing room perfect.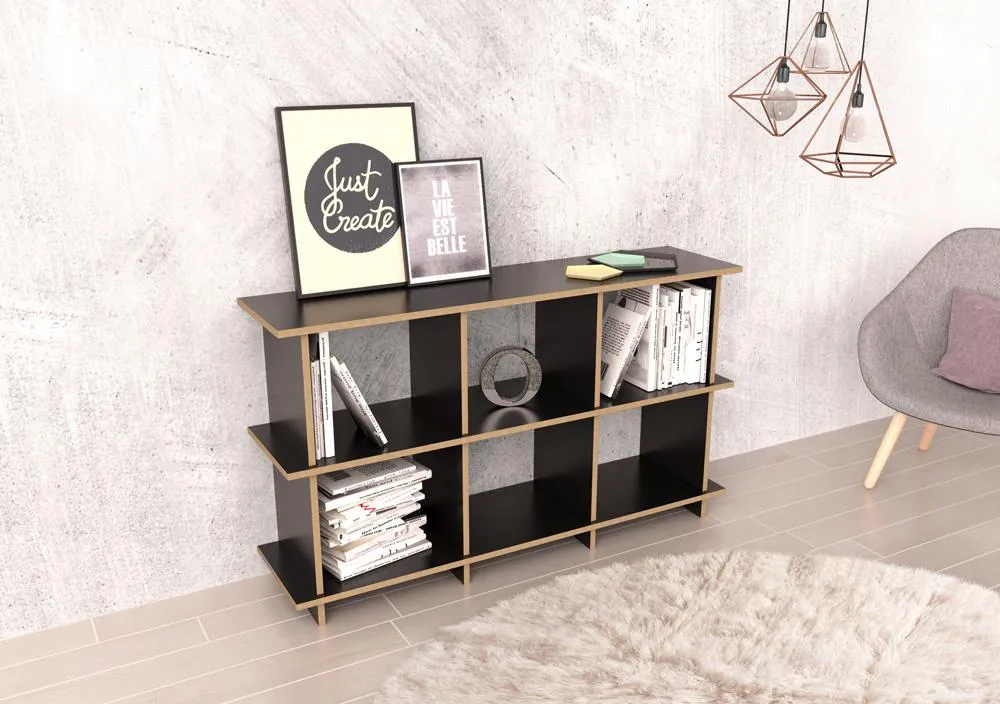 Carpet in dressing rooms
A soft, fluffy carpet is the ideal option for the floor in your dressing room. This way you have a comfortable, warm carpet under your feet when dressing and you can also walk barefoot on it. Carpets also have the advantage that they look homely and comfortable and also absorb sound.
Wall clocks and pictures
So that you don't forget to keep track of the time while dressing, you can hang a beautiful clock on the wall as an accessory. There are many different models from which you can choose your favorite clock to match your interior. Pictures are also inspiring examples to design your walls.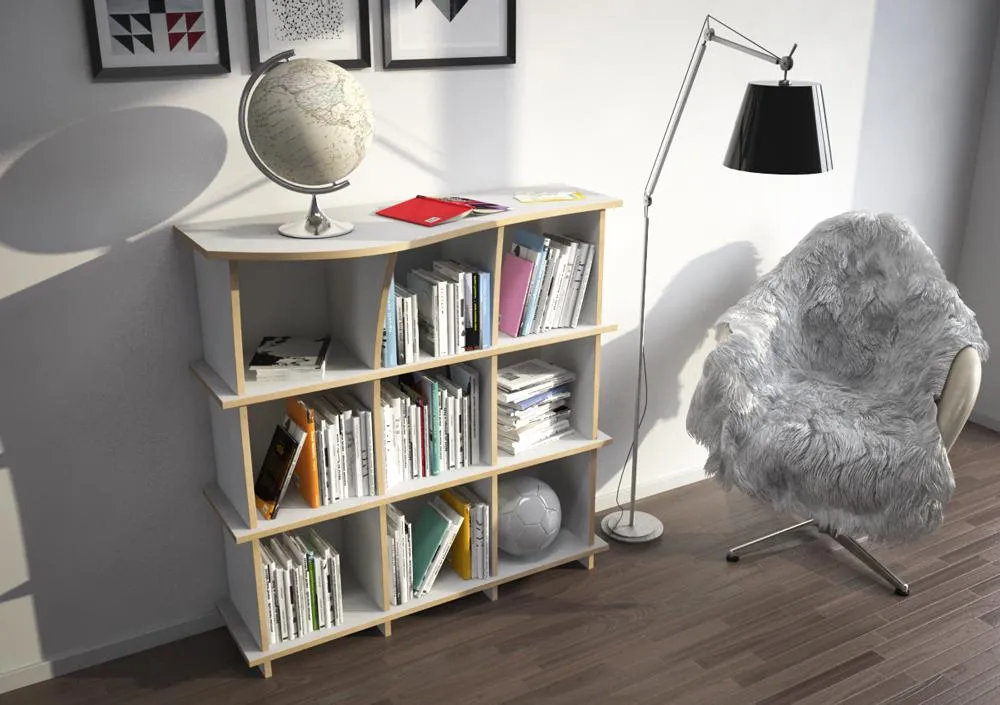 Armchairs and upholstered chairs
If you still have space in your dressing room, you have the possibility to integrate a comfortable armchair or a bench into your dressing room. They are especially practical because you can comfortably put on and take off your shoes. Of course, you can use the room as a retreat for making phone calls and you can also sit back and relax with friends over a glass of champagne before you leave your dressing room freshly styled. A bench seat not only offers space to rest, but also a lot of storage space for your shoes. Our benches are freely configurable and adapt to any room situation. Whether small or large, low or high in color or classic in black or white. Let your fantasy free run and create your own personal bench.
Ventilation systems in dressing rooms
To avoid musty smells in your dressing room, make sure you air the room regularly. Closed wardrobes should ideally have a rear ventilation and to avoid unpleasant odors, you should get a laundry basket for the clothes you wear. Shoe closets should have a ventilated floor so that damp or wet leather soles do not stain. An airy dressing room always looks better, too. That's why you shouldn't overload your shelves with your clothes, but rather sort out clothes that haven't been worn for ages.
Wall color and style of the dressing room
Creating the right ambience in the dressing room
The walls and the floor can be designed according to your personal preferences. Because only in a pleasant atmosphere in which you feel comfortable will it be much easier for you to choose your clothes. There are also many different styles in which you can design your dressing room. In the following we will discuss a few styles of interior design and give you some tips on how to decorate your walls.
Warm or cold dressing room
With colors you can create certain moods or give a room a completely new atmosphere. First and foremost you should choose the colors or the style according to your taste select. However, you should also pay attention to the spatial conditions. In small rooms, light colors are recommended because dark colors visually reduce the room. The darker the color is, the smaller, but also more comfortable a room looks. Light colors give the impression of width, are inviting and create a comfortable atmosphere. Cold colors such as blue provide a cool, relaxed and refreshing impression. Warm colors, on the other hand, such as red or orange, have an encouraging and activating effect. Whether you choose a neutral color or you decide for a strong, expressive color is up to you. Of course you also have the possibility to make your walls white and to decorate your dressing room with colorful to spice up patterns and accessories.
Wood style dressing room
A walk-in closet, in which wood is the main furnishing material, immediately looks much more comfortable. Open shelves made of wood, a beautiful bright wooden ceiling and an elegant parquet floor for a sophisticated look. For your shelves you can choose between different types of wood such as solid birch veneer laminated wood (FU) with real wood veneer, medium density fibreboard (MDF) with coloured coating. However, if you don't have a big budget but are talented in craftsmanship, there is also another option: build your own walk-in closet!
Walk-in closet in traditional style
In a dressing room in traditional style, antiques should not be missing. They often have beautiful decorations and give your dressing room a nice atmosphere. Golden handles and a traditional chandelier are beautiful details and create a great effect. Also a noble bench with a Victorian footstool fits perfectly into a traditional dressing room.
Country style dressing room
A real country style dressing room is a combination of a walk-in closet and an elegant cosmetic table. In addition, long curtains should not be missing. Furthermore there is natural lighting and a subdued interior with classic wooden cabinets.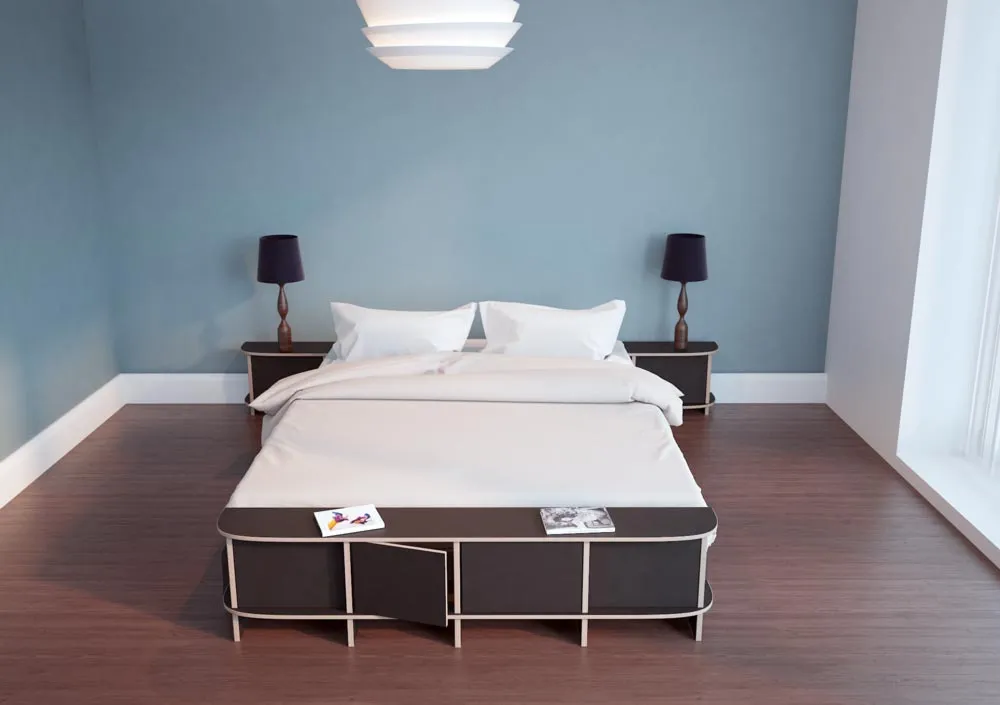 Dressing room in modern style
With inspiring furnishing ideas and flexible wardrobe systems, a modern dressing room can be created in almost any room. The minimalist style looks great in modern apartments and houses. This style adheres to clean, clean lines and mainly with the colors white, gray and black. A modern dressing room style has enough mirrors and lighting to make the room bright and friendly. The use of sliding glass doors is also combined with a modern design. A sliding door walk-in closet is also particularly space-saving.
10 tips for decorating your dressing room
Careful planning before you buy: Consider your personal wishes, the used space for your clothes and of course your budget.
Measure the room thoroughly: A proper measurement of the room is essential, since an empty room usually seems much larger than it actually is.
Use the available space: Don't waste space and use your high walls by using wall-high shelves.
Proper lighting: If there is a lack of daylight in your dressing room, you should install additional light sources.
Shelves made to measure adapt optimally to your room situation: Don't leave your room corners, niches or wall projections unused, but fill them with your personal unique shelf.
Sufficient storage space: Make sure you have enough compartments, shelves and drawers to store your clothes.
Matching color selection: Choose your wall color carefully. For a small room a bright and neutral color palette is suitable.
Accessories lend a cosy atmosphere: details and extras help you to feel good.
The right arrangement: Separate zones in your dressing room ensure good organization.
Muck out clothes regularly: So that your walk-in closet doesn't look too full and therefore restless, you should muck out regularly!
Configure your favorite piece now!
There are no limits to your imagination!
To the Design-Generator