Take the time to create a furniture for life: Your new form.bar Shelf.
form.bar revolutionizes the way furniture is designed. is designed: Namely, 100% by you.
You determine the shape, size and functions in the smart configurator, which helps you intelligently. way.
You can choose from many high quality materials.

f

+

Design service: Our team helps you on request with your your personal design.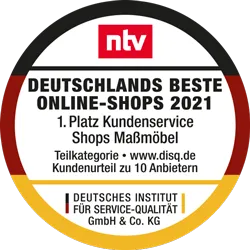 In the category of custom furniture, we were particularly convincing as the winner in terms of customer service.
Inspired by nature
One thing in advance: we do not produce Fast Furniture furniture. The protection of nature and outstanding quality through regional craftsmanship and high-quality materials are enormously important to us.
This not only looks good on the environmental balance sheet, but also in your home.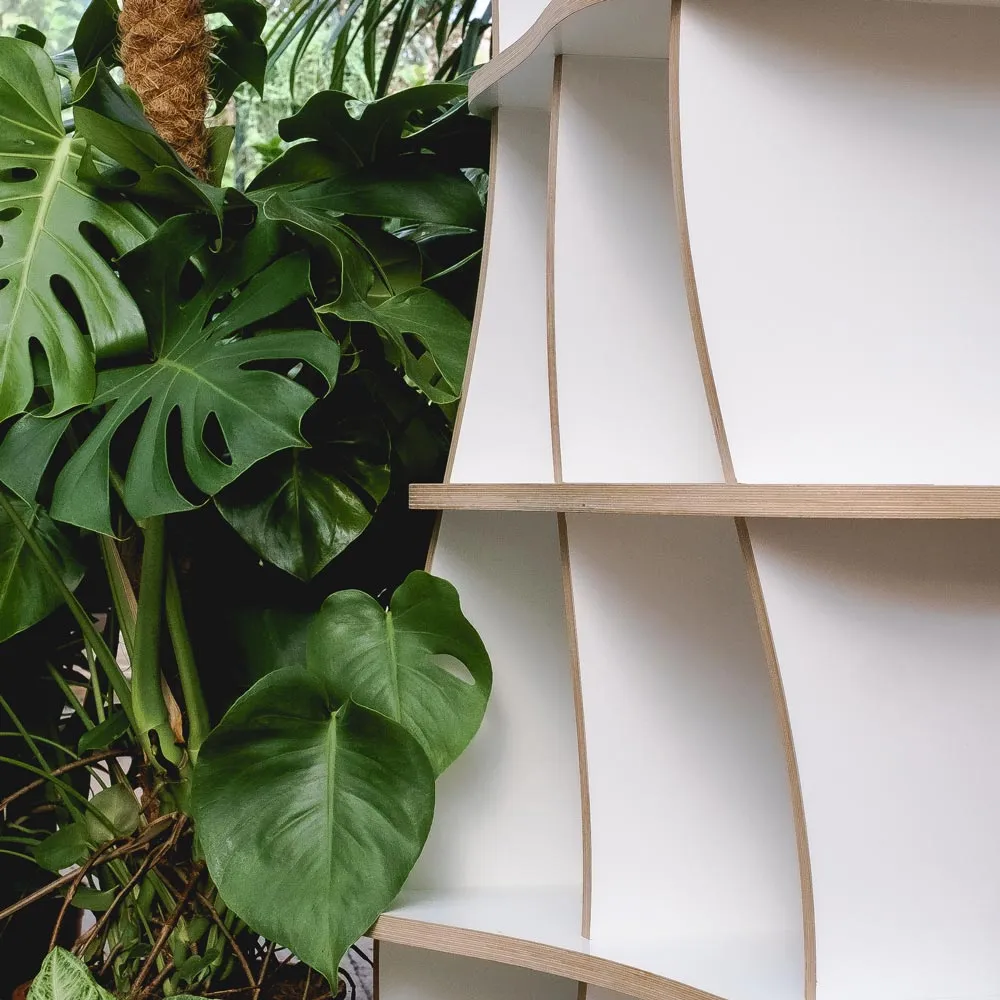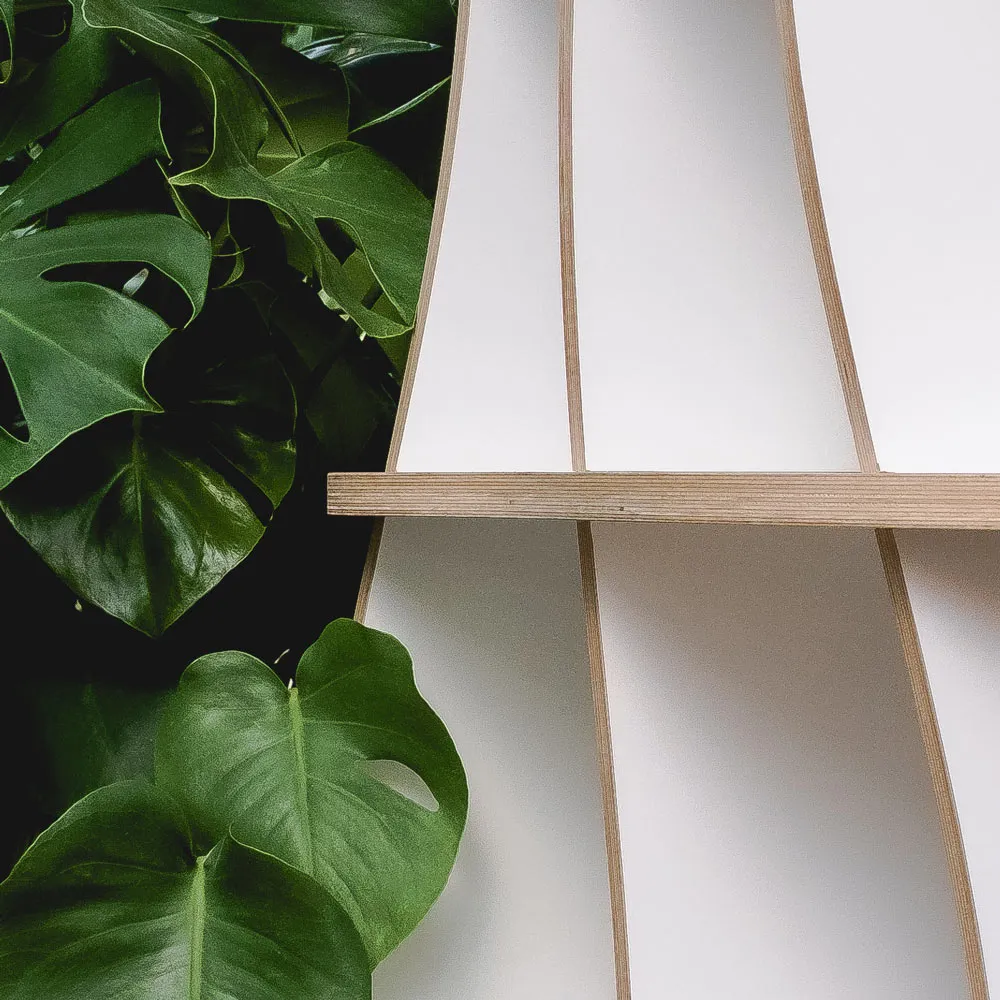 form.bar means diversity - In every respect.
Find your favorite design and customize it according to your needs in the 3D configurator.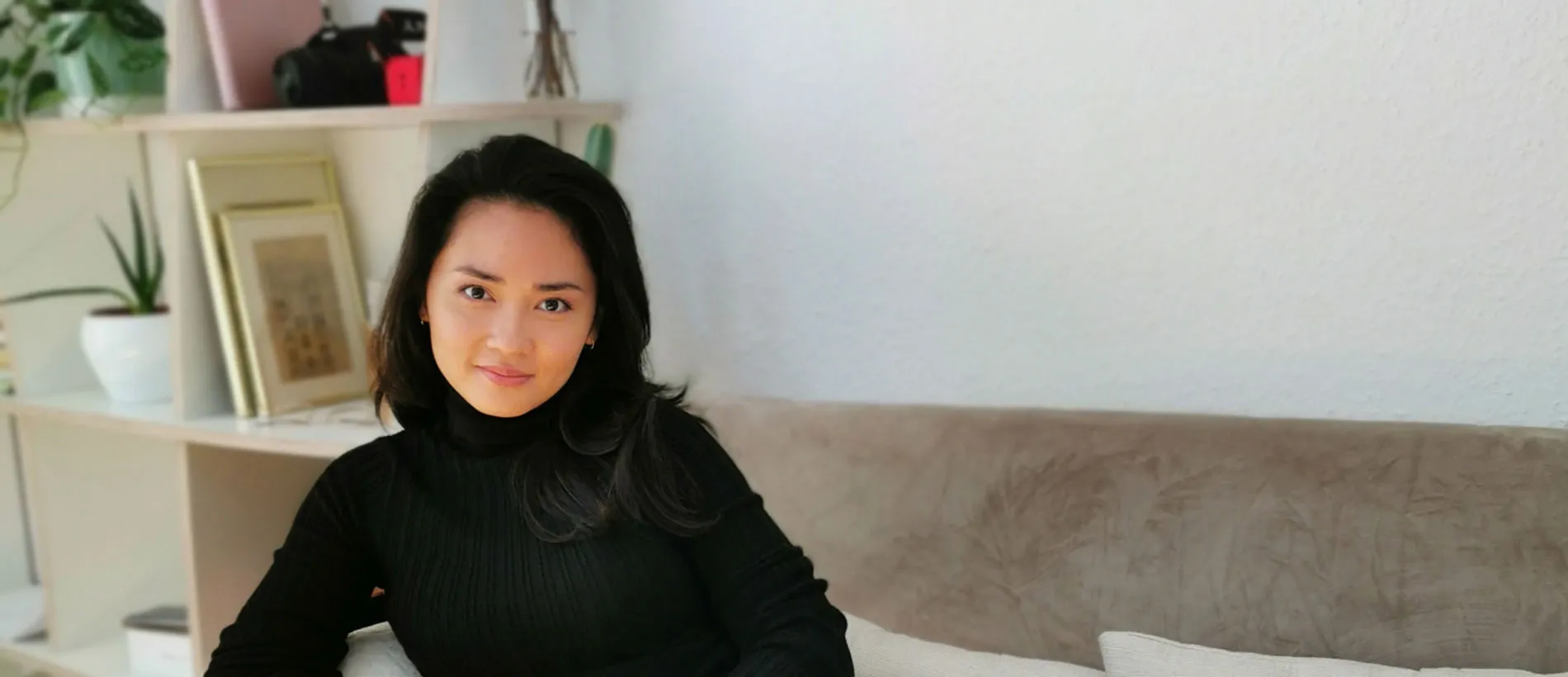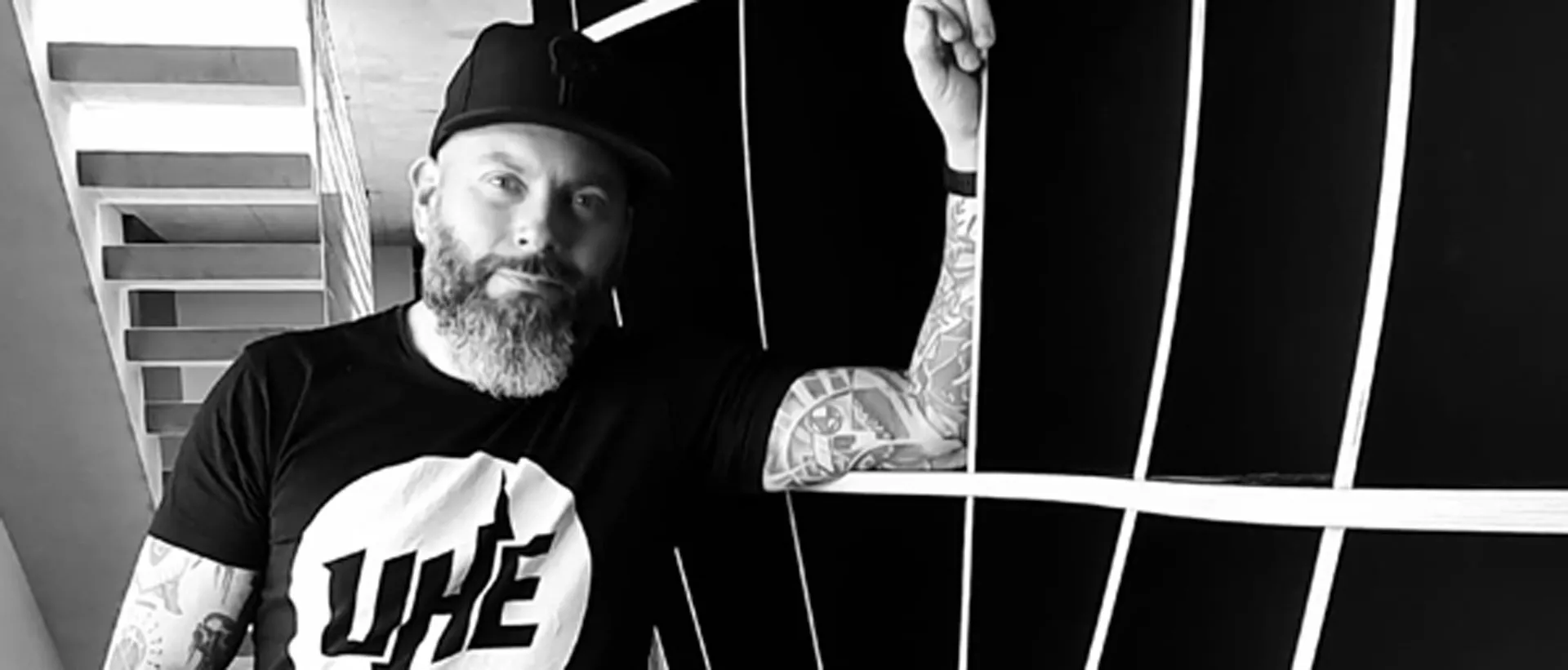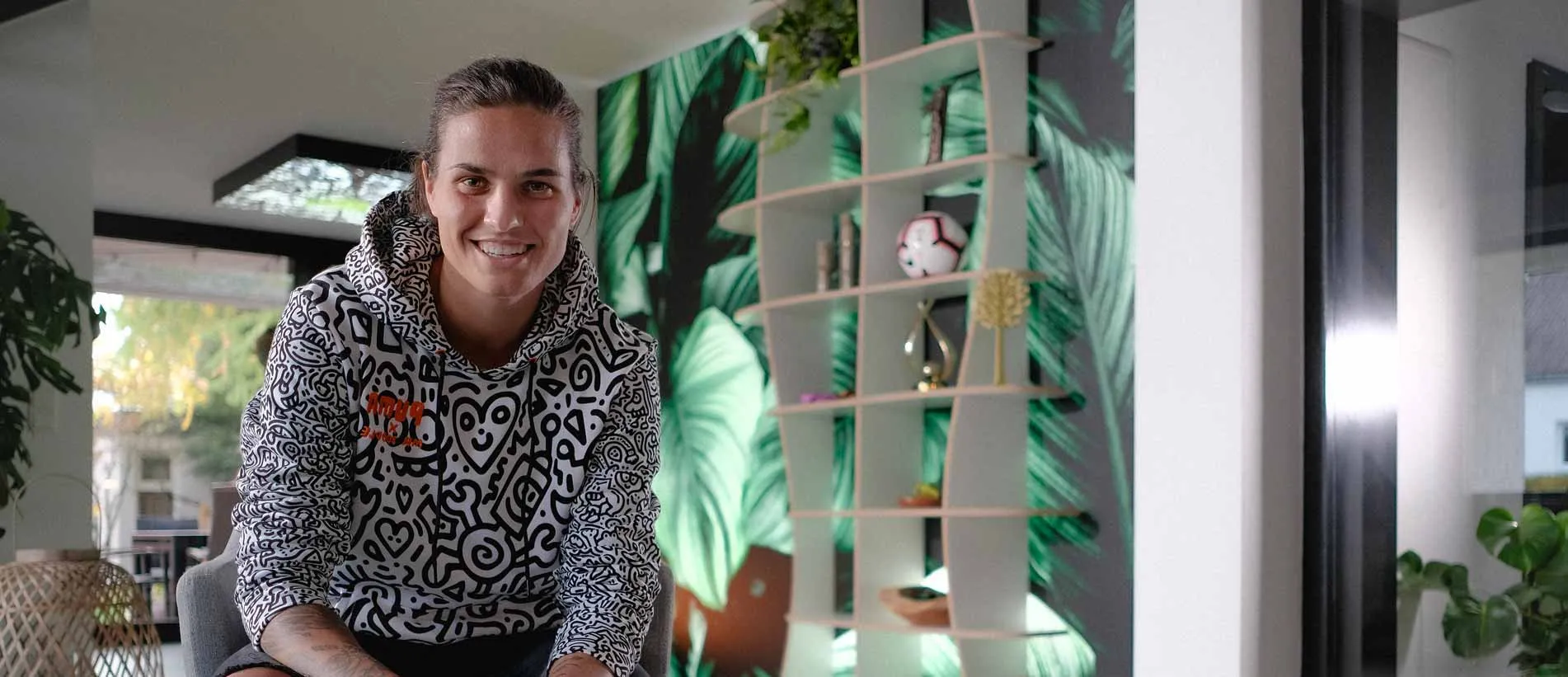 Trusted Shops Rating:
Very good
Germany's best online store:
4 years in a row!
Awarded worldwide:
More than 40 awards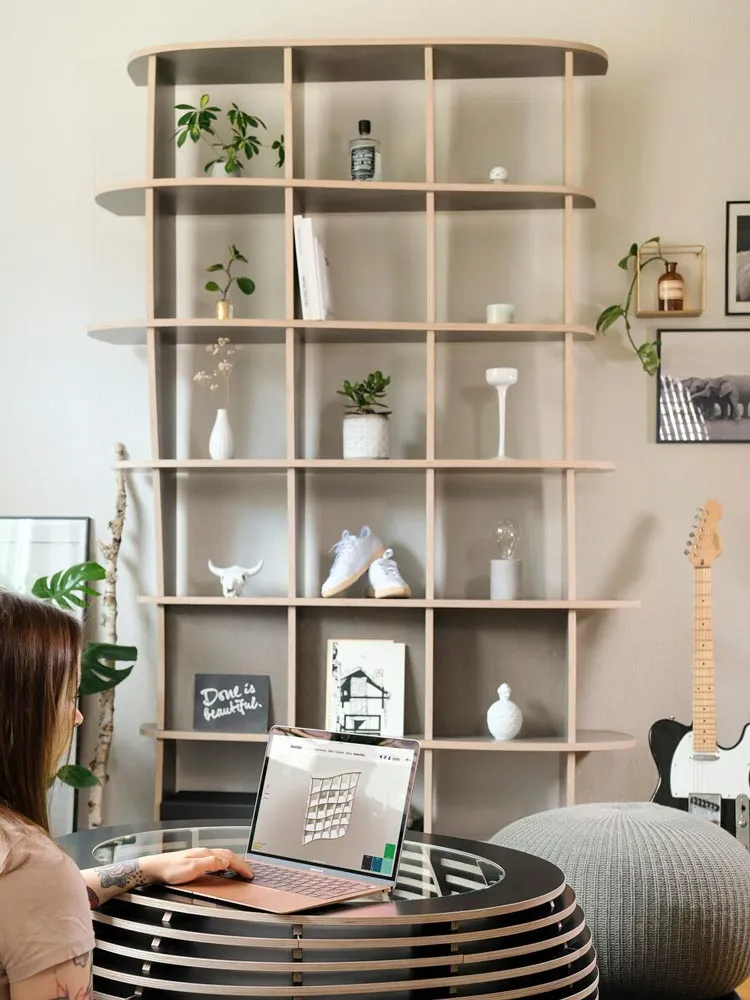 Hotline
+49 (0)681 410 976 42
Monday till Friday
9:00 - 18:00
form.bar by Okinlab GmbH • Ursulinenstraße 35 • 66111 Saarbrücken
Selection of our awards
Awarded and certified

Frankfurt, 07.02.20 - form.bar is named the winner of the German Design Award. The design prize has been awarded annually in February since 2011. It honors German manufacturers and designers for their innovative and unique design ideas that are groundbreaking for the international design landscape.
---

For the fourth time in a row, form.bar has been awarded the coveted title of "Germany's best online shop". In the category of made-to-measure furniture, we were particularly convincing as the winner in terms of customer service and Internet presence. In the consumer survey with around 50,000 customer opinions, brands such as About You, Amazon and Edeka also achieved top positions.
---

What makes us different from everyone else? Regional, climate-friendly AND beautiful We work with over 70 regional carpenters. Your unique piece of furniture is not produced in a large factory and shipped across the globe, but manufactured and delivered regionally by one of our partners. This shortens delivery routes, protects the environment and is fair. Especially in times of Corona, stimulating the local economy is of even greater importance. We do not produce for stock, but only on demand. No throwaway products are produced, but beauties for eternity. Inspired by nature, designed by you. Material is only used where you need it. Freely shaped, precisely milled from certified materials. No greenwashing or just blah blah. Real, well thought-out and healthy design-to-production principle. This makes form.bar one of the top companies in the field of sustainability.
---

Berlin, 19.09.2019 - For the 3rd time in a row form.bar is awarded the prestigious online store prize "Germany's Best Online Shop" in the field of custom furniture awarded. The consumer vote from over 40,000 customer opinions has shown that we are the No. 1 in customer service! We thus join the list of well-known names such as IKEA, Samsung or LIDL.
---

Grandiose international success for the unmistakable form.bar style: At the Architecture Awards of the British "Build" magazine, form.bar was named the most innovative and and most committed design concept in the world. The title "Contemporary Furniture Designers of the Year" is considered a Champions League win in the industry.
---

On September 20, 2018, form.bar was named Germany's Best Online Shop for Customized Furniture 2018 in a customer survey conducted by the German Institute for Service Quality and the news channel n-tv with more than 42,000 opinions as Germany's Best Online Shop for Customized Furniture 2018. We were also named the price-performance winner.
---

Affordable furniture, individually designed by the customer on www.form.bar and manufactured by the carpenter's workshop with this innovative concept, Okinlab not only impresses design lovers, but also the high-carat occupied expert jury of the German founder price. This earned the duo from Saarbrücken a nomination for the Deutscher Gründerpreis 2016 in the StartUp category.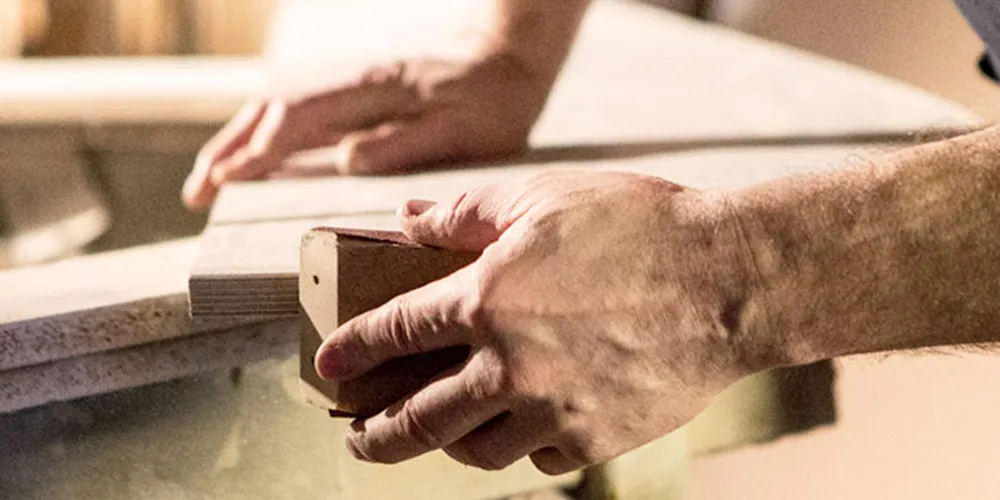 Your unique piece of furniture will be made on request by a carpenter who is part of our partner network. He is a master of his craft and the quality of his work is checked by tested by us. Our carpenter partners have a total of over 1,000 years of valuable experience you can rely on.
Our worldwide unique partner network enables a decentralized production of your unique piece of furniture. We always commission a master carpenter from your immediate vicinity. You regional craftsmanship with your order and thus help to avoid mass production. avoided.
We are paving the way for the digitalization of the furniture industry and thus triggering a new way of thinking. way of thinking. Because these days, individuality can be automated. With our 3D configurator we want to make it possible for you to access the capacities of state-of-the-art CNC milling machines. Per mouse click you determine the design of your furniture and thus indirectly control the manufacturing process by a CNC milling machine.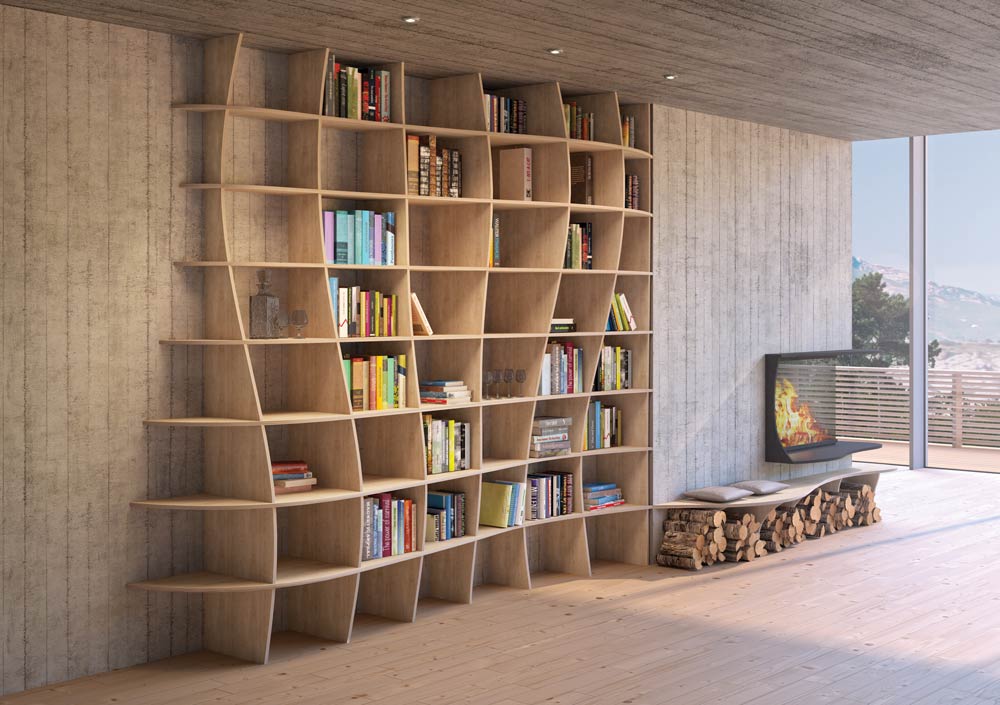 Don't know what to do with your empty corner? Then we have the perfect solution for you! With the Charlotta shelf, corner situations in particular can be ideally exploited. The diagonally oppositely curved lines of Charlotta make the bookshelf appear always different from different angles and thus bring variety into your everyday life. The organic shapes provide momentum in your home and leave no room for boredom.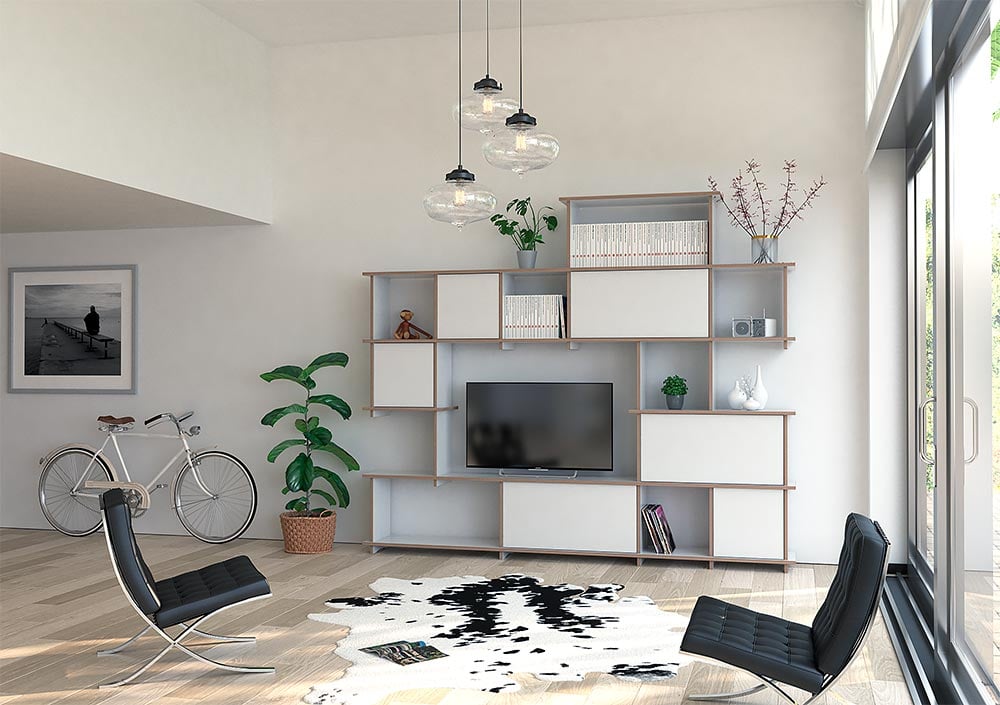 The living wall Theo convinces with its unique composition of varied compartments. A total of 14 different sized compartments adorn the TV wall; three of them are closed with Tip-On doors and three with Tip-On flaps. Tip-On means that you can open and close the handle-less doors and flaps with a gentle push. The small square compartments are 37 cm x 37 cm x 30 cm (W x H x D). The cuboid compartments, on the other hand, are 75 cm wide. The TV recess is 105 cm wide and 70 cm high, enough space for a 45 inch TV. The TV furniture is made of our premium wood multiplex birch with white melamine coating. If something about the TV wall Theo does not fit you, you can make it fit in the 3D configurator. All important details such as dimensions, color, shape or compartment sizes can be changed there. With the "Measurements Tool" at the top left of the screen you can measure all distances in the TV-Wall Theo yourself. If you need help, feel free to contact our designer team. Depending on the design, wall mounts may be used for large recesses and long overhangs.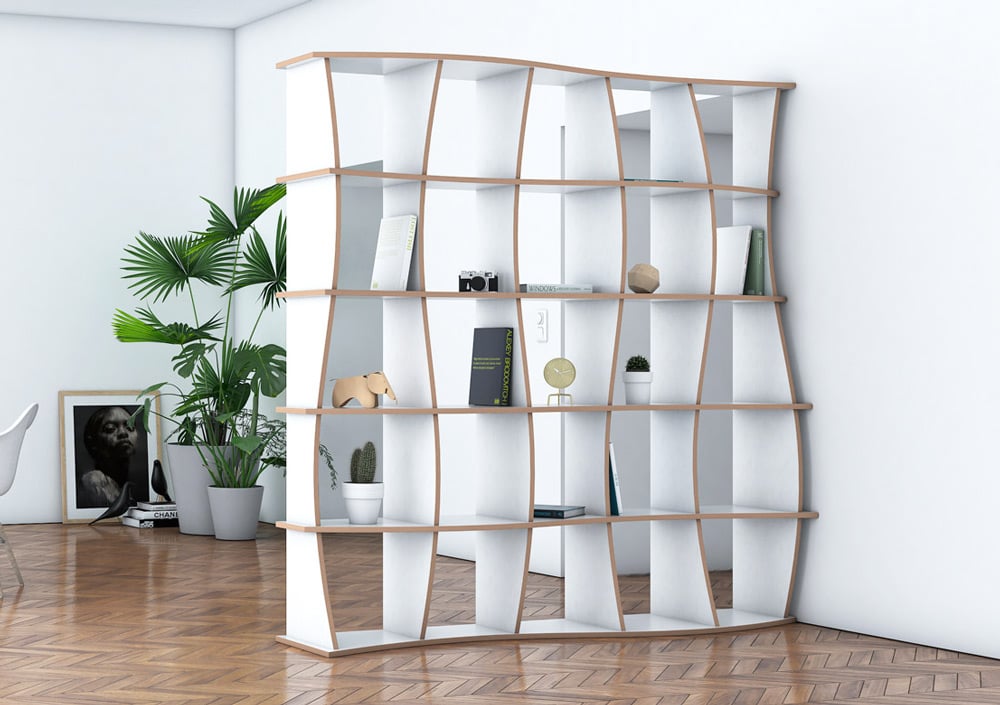 The room divider Maliya perfectly separates rooms from each other and additionally sets a modern accent in your home. Due to the curved shape, our 2 m long room divider creates a harmonious and friendly ambience. In addition, the room divider offers plenty of space for books, plants and other things. With decoration you set the shapely shelf perfectly in scene and make it a real eye-catcher in your home. In our award-winning configurator you can customize the room divider according to your wishes and needs.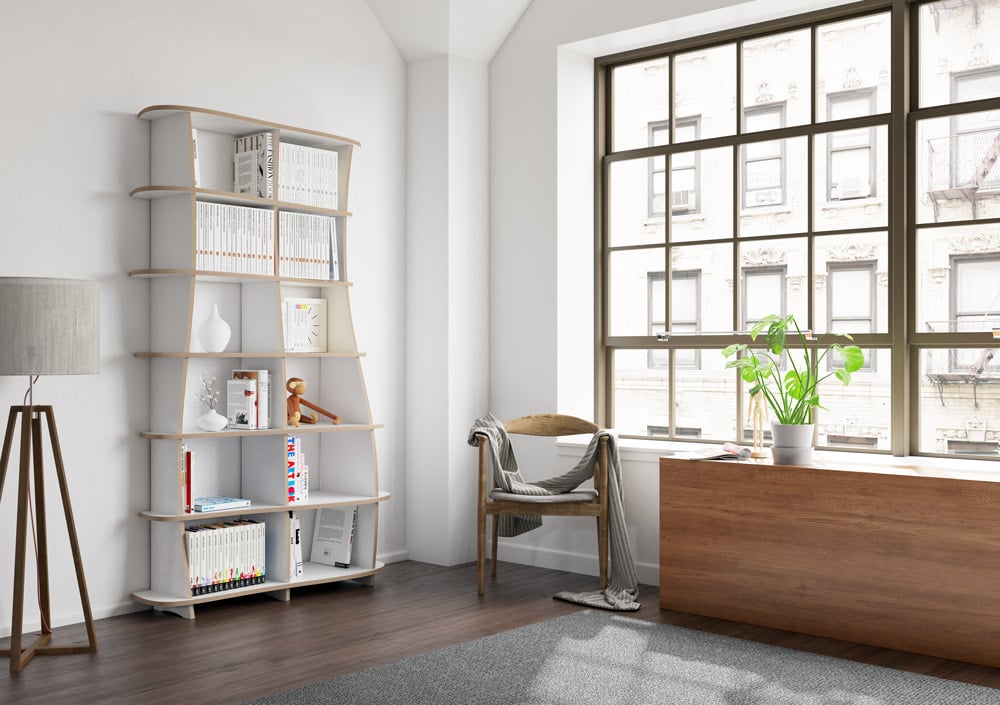 The Coco bookshelf is a eye-catcher due to its sweeping shape and offers plenty of space for books. The shelf is perfect for all book lovers. It's also a great place to show off your decorations in style. In the configurator you can not only change the dimensions of the shelf, but also the shape. Just try it out and design your unique piece. The shelf is made of medium density fibreboard (MDF) and is therefore very stable. The delivery time is 4-6 weeks.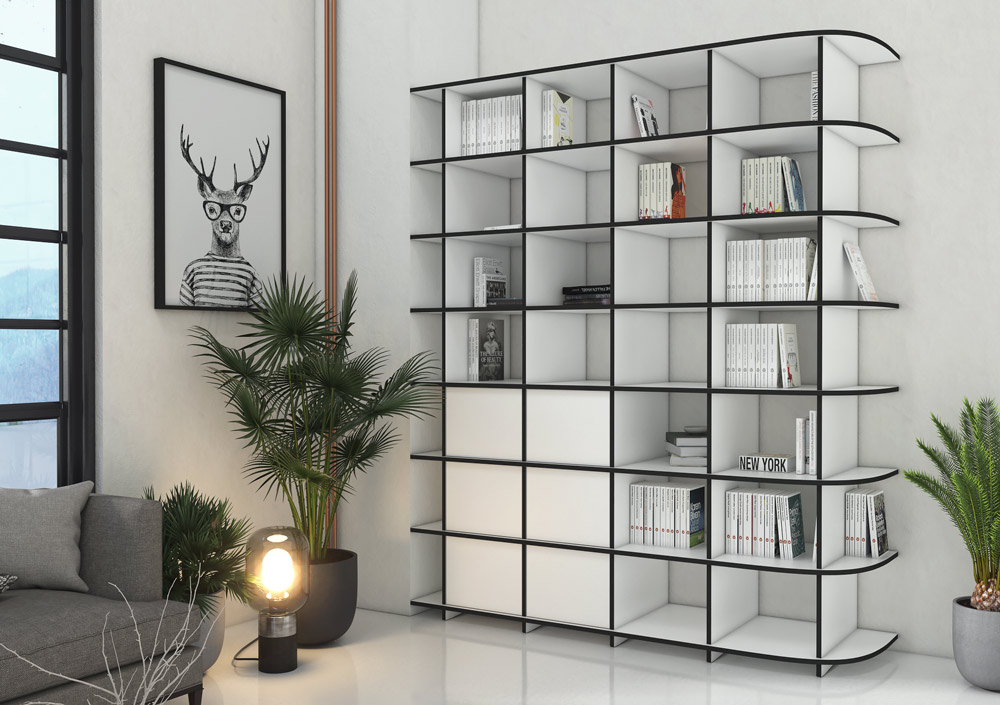 Do you love books? Then the Adriana bookshelf is just right for you. Numerous books will find their place there. Personal items and individual decorative elements give the large bookshelf the final touch and set your book collection perfectly in scene. In the lower part of the shelf are 6 doors, which can be opened with a tip-on system. These have no handles, but can be opened or closed only with a slight pressure.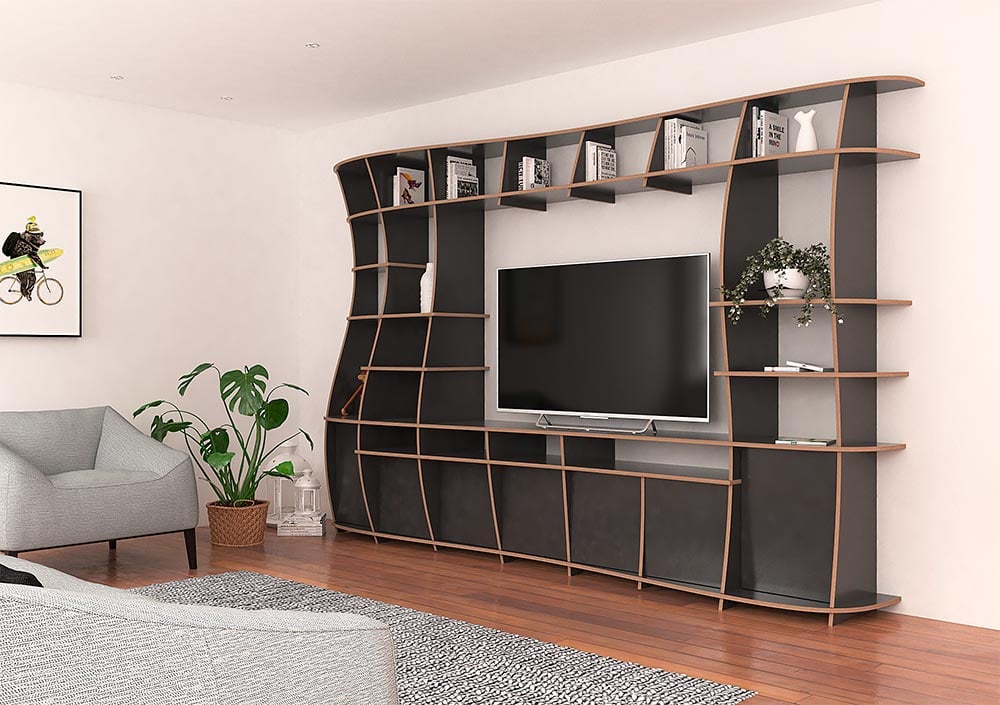 The Giuseppa living room wall brings zest into your home cinema. If you want to offer your valuable entertainment system an adequate place, is exactly right with the TV wall Giuseppa. The overall dimensions are (W x H x D) 365 cm x 220 cm x 55 cm. Furthermore, a total of 28 different sized compartments including TV recess offer storage space for DVDs, receiver, console, sound system, speakers and of course your TV. The TV recess has the dimensions (W x H) of 176 cm x 114 cm which is even enough for a 75 inch television. All important details such as dimensions, compartments, color and shape can be adjusted to your ideas and needs in the 3D configurator under "Self-shape". to your ideas and needs. Depending on the design, large recesses and long overhangs and long overhangs, wall mounts can be used.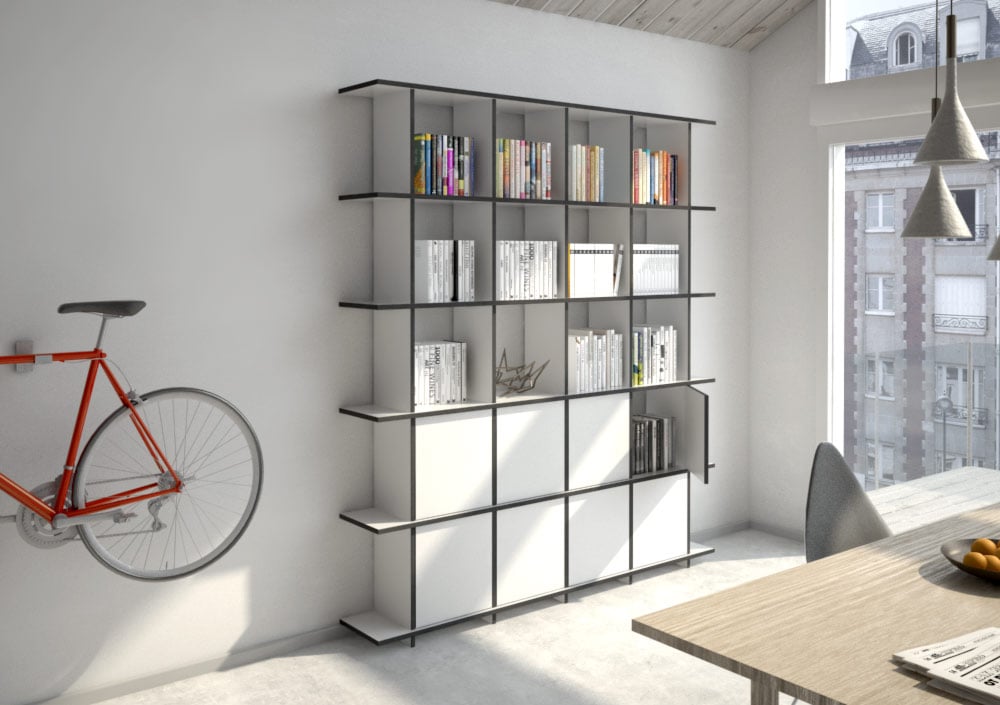 The bookshelf Strada M Porta is a modern storage miracle and versatile. In the shelf your books come perfectly to advantage, in the study can be neatly stored folders and other important documents. 8 doors in the lower part of the shelf provide further storage space for things that should not be seen from the outside. Customize the dimensions or the material according to your wishes and ideas in our award-winning 3D configurator.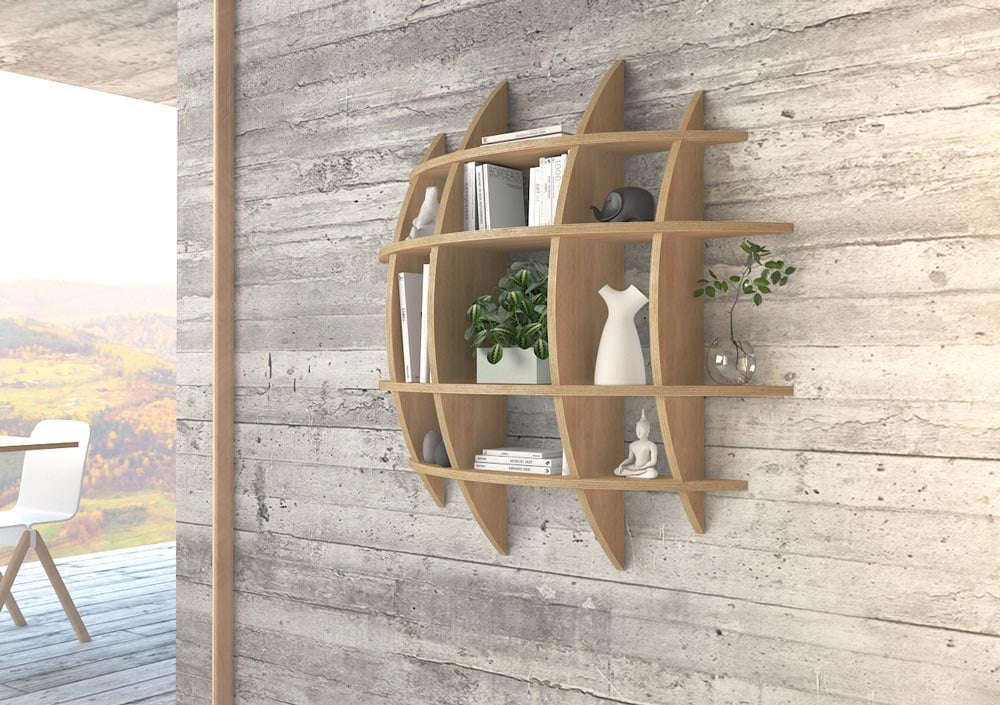 On this shelf, you can only configure the color
The shelf Luna with its natural convex shape seems to grow out of the wall with an airy lightness to float above the floor. From books to decorative items, your favorite things will find the special place there, they deserve in your life. Luna has another bigger sister named Sole, where you can put even more.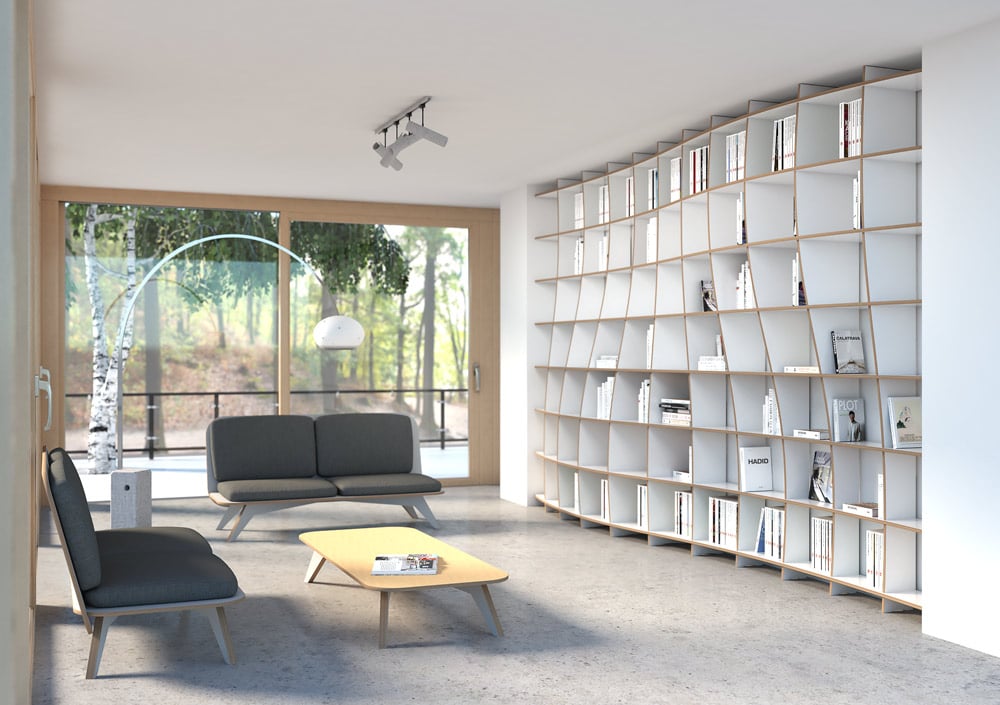 Library Sinfonia directly captivates every viewer with its organically curved shapes. The harmonious curve brings coziness and well-being into every living and reading room. Your favorite literary works and illustrated books are not only excellently accommodated in this piece of furniture, but are also set in scene. Do you have more books, than fit into the Sinfonia library? No problem - customize dimensions, colors and swing with the 3D configurator! Design now!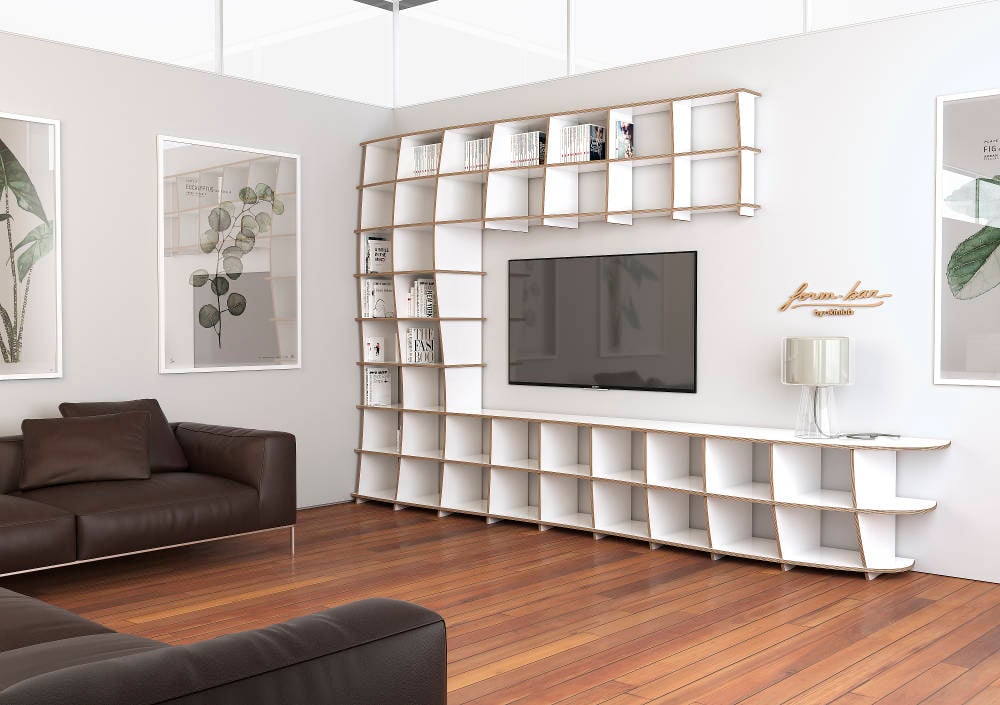 TV wall Cielo looks pompous and is just right for a large living room. The middle section is perfect for placing a large flat-screen TV. In the configurator, you can even trim away vertical board segments here. Depending on the design, wall mounts can be used for large recesses and long overhangs.