Designer bookcase made to measure
Select a design and configure it
Solutions for every room situation
Individual bookcases made to measure
Configure your bookcase
With form.bar and our award-winning 3D configurator you are able to design your own bookcase. Our configurator impresses with its numerous functions and intuitive handling. Think in advance about your configuration and what your bookcase should look like. Take measurements, get an overview of your book collection and look at your living situation. In the Design Generator you can create your basic furniture in just a few steps, and in the 3D Configurator you can put the finishing touches on it. With form.bar you can finally find the right and perfectly fitting place for your books. If you need even more inspiration or ideas for your individual bookshelf, you are welcome to browse through the customer gallery.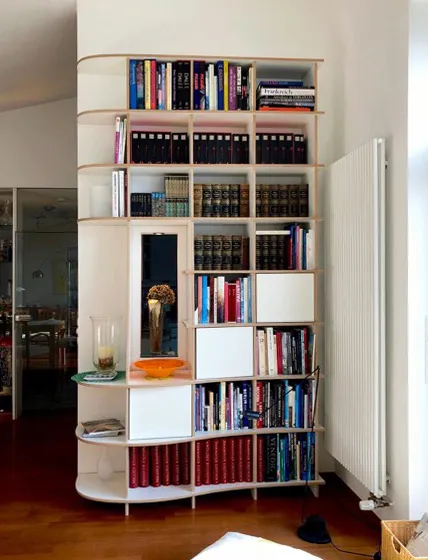 The characteristics of a bookcase
Use the design elements of your bookcase
As a rule, a bookcase is not a classic cabinet. This is because a classic cupboard is completely closed off by doors, flaps, drawers or sliding doors, especially in the case of wardrobes. The bookcase is usually a healthy mixture of shelf and cabinet. Because even if you don't want to present your complete book collection, there are certainly favourite books that should get some sun. Worn, uninteresting or spicy books are placed in closed compartments. You have the option to place doors, flaps or drawers in the compartments. These can be colored independently of the corpus material. Other books, which for example provide conversation material, are presented in open compartments.
Precious books in adequate furniture
Custom made bookcases according to your needs
One of the most important characteristics of a piece of furniture, including your bookcase, is its dimensions. Measure the space in your living room that is intended for the bookcase and record the height, width and depth in writing. In the case of niche furniture you should allow about 2 cm clearance to the ceiling and 1 cm on both sides. You can set the dimensions later in the configurator using the controls or enter them manually using your keyboard. Since the depth of our curved furniture can vary, there is the possibility to plan a tapering at the end of stairs or doors as well as in the entrance area.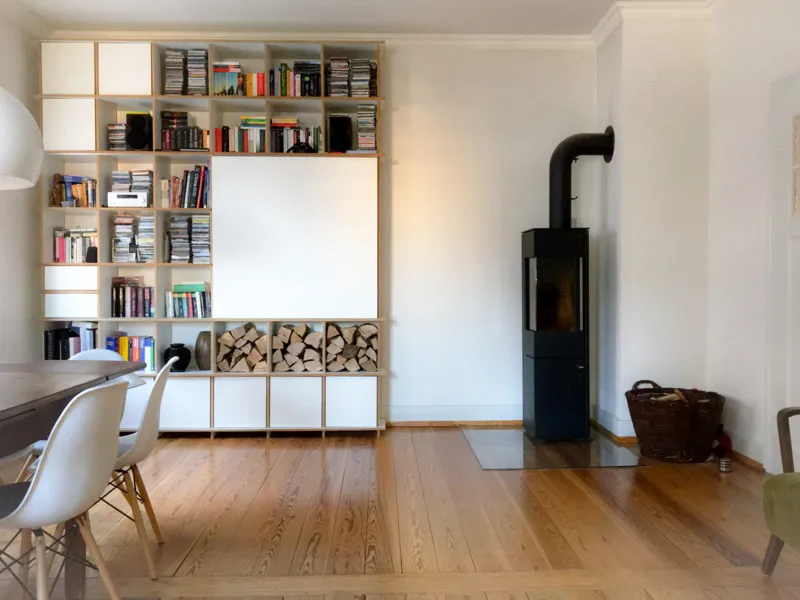 Material and colour of your bookcase as desired
The shoe bench Corridor
Harmonise your bookcase with your living space by choosing one of over 20 different colours for your furniture. There are basically two different types of wood: medium density fibreboard (MDF) and birch veneer (FU birch). We offer the wood composite MDF in three different versions: White with natural edge, white with black edge and black with natural edge. Our premium wood FU-Birch, also called multiplex, is also available in white and black. But also various other surfaces like grey, blue, red or mint are available for your bookshelf. Furthermore, we also offer the Finnish birch wood with noble real wood veneers such as oak, dark walnut or beech. Please ask for two free samplesto convince yourself of the wood. Nothing stands in the way of the natural look of your wooden shelf.
Bookcase wood
Especially our high-quality real wood veneers are perfect for your bookcase. The natural-looking appearance of the wood surfaces and the textured edge of multiplex in combination with the organic curves harmonise perfectly with the theme of literature and your book collection. We stock real wood veneers in oak, birch, beech and walnut, which are also the most popular wood species. On request, we can also organise more special wood types such as maple for your desired furniture. Simply contact our design service or leave a comment in the order process.
Bookcase or bookshelf
Configuring trays for your book collection
Creating a successful mix of shelf with open compartments and cabinet with closed compartments is both a challenge and a pleasure. A creative configuration makes your furniture a design highlight of your home furnishings. The 3D configurator offers three different functions to change the size and number of compartments. Under the button Dimensions you will find the possibility to adjust the number of horizontal and vertical shelves. On the left side of the screen you will find the function "Shelves" to move the horizontal wooden boards individually. In addition, you will also find the function "Recesses" on the left side of the screen. This allows you to remove horizontal board segments. This allows you to adapt your custom-made furniture even to sloping roofs.
Consulting and planning for bookcases
You do not have to design and implement your unique furniture on your own. You are welcome to contact our design team. They will answer your questions, help you with your design or take over your complete project. Especially for large projects such as a complete wall of books or a home library as well as for special requests it is recommended to fall back on our competent designer team. The design service is free of charge, so don't hesitate to pick up the phone, send an E-Mail or use the live chat.